Spooky season is here and other than lighting all the candles and drinking WAY too much Pumpkin Spice Lattes, my favorite way to get into autumn vibes is watching Halloween movies or shows.
But it's so dang hard keeping track of all the things AND where exactly to stream them this year. Thankfully, my Ravenclaw bestie Amy had already put together a spreadsheet of all the best Halloween movies and shows, plus where to stream them in 2021.
She was nice enough to let me share the list with you guys, plus her very own Hocus Pocus drinking game rules, which I highly recommend you play with your girlfriends and a LOT of wine.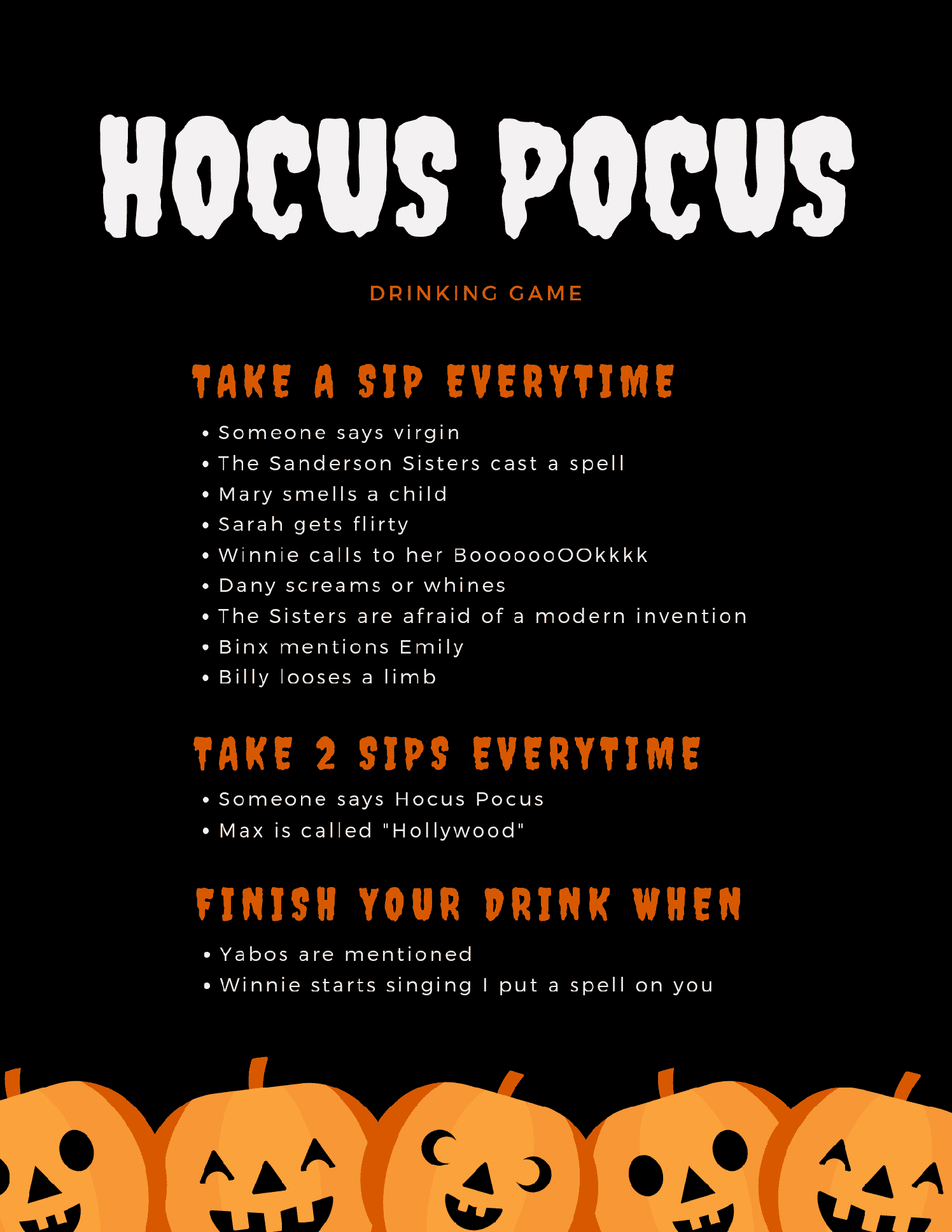 All The Best Halloween Movies & Shows + Where To Stream Them 2021
Like a true millennial, I somehow found myself paying for pretty much all the streaming services. It comes in handy during the fall and holiday seasons.
These are all the best things to watch in October! Either Halloween classics or movies with MAJOR fall vibes. It's important to note that I don't watch horror movies, so nothing on this list is horror (sorry!).
Netflix
Hubie Halloween
Chilling Adventures Of Sabrina
Nightbooks
Fear Street
Twilight
Stranger Things
Gilmore Girls
Dracula
Goosebumps
iZombie
Hulu
Hardy Boys
Scream Queens
Hotel Transylvania
What We Do In The Shadows (find our inspired cocktail here!)
Sabrina (classic TV show)
Sleepy Hollow
The Rocky Horror Picture Show
Edward Scissorhands
American Horror Stories
Buffy
Amazon
Knives Out
Young Frankenstein
The Voyeurs
Scary Movie
Disney+
Hocus Pocus
Simpson's Halloween
Zombie High
Nightmare Before Christmas
Halloweentown
Twitches
Haunted Mansion
Muppets Haunted Mansion
HBO
Practical Magic
Warm Bodies
Beautiful Creatures
Corpse Bride
The Witches (OG & New)
Harry Potter
Nancy Drew
Freaky
Peacock
The Munsters
The curated Halloween episodes playlist (The Office, SNL, Modern Family, Brooklyn Nine Nine, etc)
I Know What You Did Last Summer
Beetlejuice
Gremlins
The Sixth Sense
Freeform
Casper
The Craft
Ghostbusters
Other
Bewitched (Roku TV)
Scream (Roku TV)
Clue (Roku TV or Pluto)
It's The Great Pumpkin Charlie Brown (Apple TV)