Bison. Dutch windmills. A traditional Japanese tea house. An art museum. Rose gardens. Redwood groves. Paddleboats. All this (and so much more) are inside Golden Gate Park.
Yes, all of these are inside Golden Gate Park in San Francisco!!
I've lived near the park for the whole 5+ years I've been in San Francisco and I'm still constantly discovering new, cool things hidden in there. Whether you live in the city or are visiting, use my Golden Gate Park Map and guide in this post to find fun things to do in Golden Gate Park! Buckle up for a memorable adventure out in San Francisco…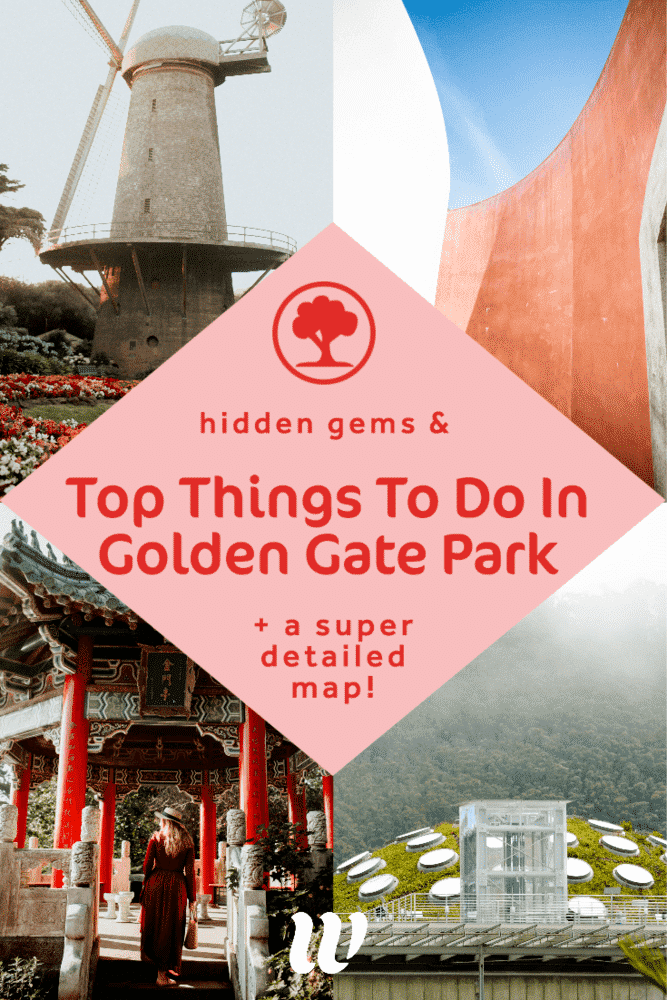 >> Got a question about Golden Gate Park that you need answered quickly? DM me on Instagram @thewhimsysoul and I'll be happy to help!
As I mentioned, I live pretty close to the park so Robin and I go on walks all the time. I grew up in the Wisconsin countryside, so I love using this massive park as my backyard. I feel home there.
And I think I know the park pretty dang well so it's finally time to share a fun map of Golden Gate Park full of my favorite hidden gems to help visitors fall in love with the park!
Oh, in case you are wondering, the park is NOT anywhere near the Golden Gate Bridge. I have watched way too many tourists get off the bus at a Golden Gate Park entrance and become VERY confused why they couldn't see the bridge. There is a Golden Gate Bridge park of sorts, you can learn more about it in this post.
Keep reading for my super detailed map of Golden Gate Park, my favorite spots to visit, the history about Golden Gate Park, photos and tons of tips. Let's go!
Golden Gate Park Guide: My Favorite Things To Do In Golden Gate Park San Francisco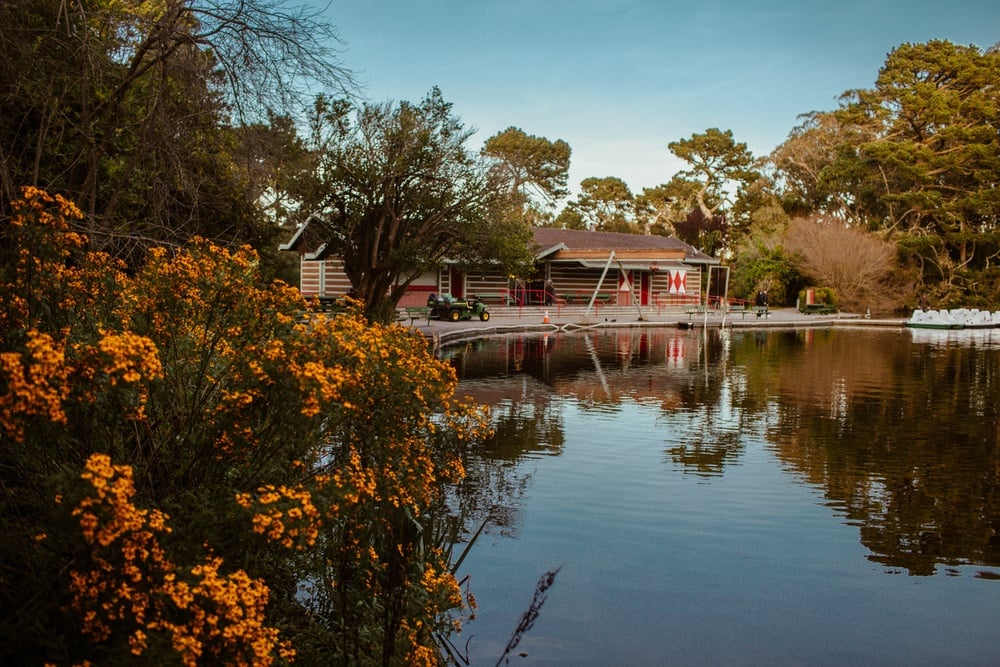 Do You Need A Car For Golden Gate Park?
YES! Did you know Golden Gate Park is bigger than Central Park? I got into an argument with a New Yorker once because she didn't believe me, but look it up.
Golden Gate Park is 1,017 acres big and stretches more than 3 miles long. It's also super wooded and parts of it are so secluded, you can't even hear traffic. Unless you are up for spending all day walking, I recommend using a car to explore the park at your own pace.
If you don't have one, it's super easy to rent a car from GIG Car Share via an app on your phone! It's an eco-friendly car-sharing service that's less than a ride-share service like Uber and better for the environment. Just download the app, find a car, get in and go! (Hey, it's San Francisco after all, we do everything via an app these days!)
Pro Tip
Use code WHIMSYSOUL to get $30 of GIG Credits that equal a 2-hour drive & download the app HERE
They have cars all over the city (multiple lots in different SF districts and in the Richmond area to park on the streets) and since parking is so easy inside Golden Gate Park (and you don't have to return your GIG Car in the same spot you picked it up) it's a no brainer to use them for your park explorations.
San Francisco Golden Gate Park Map
Want a Golden Gate Park map pdf? Get the download below!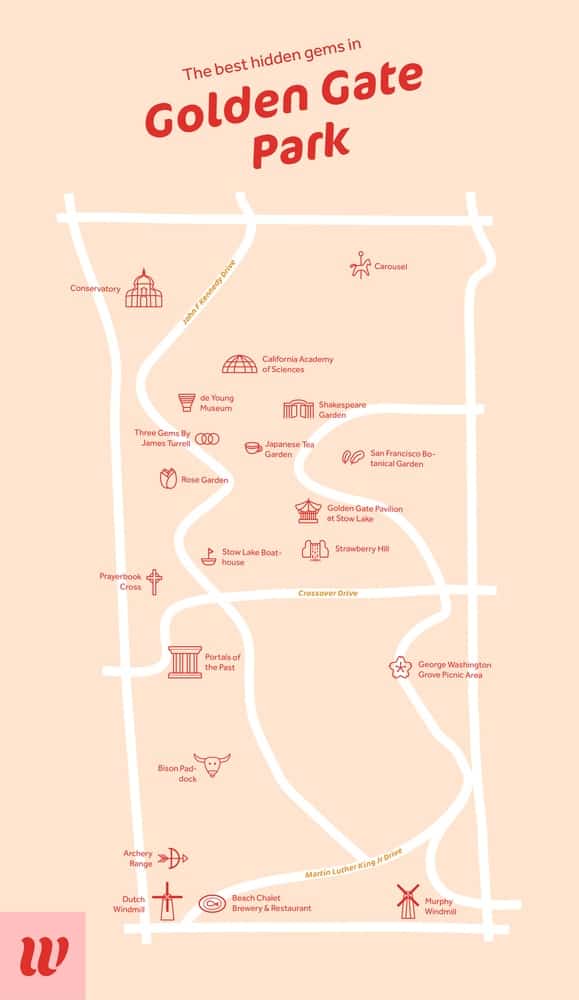 I want to tell you some insider tips and things to know about each of the spots on this map. Keep reading for my tips + photos!
Japanese Tea Garden
If I didn't know you were still inside San Francisco, I could be fooled into thinking the Japanese Tea Garden was in Japan. This stunning garden has multiple pagodas, a cool arched bridge (see above) and even a tea house that serves authentic Hagiwara tea.
San Francisco is home to one of the only Japantowns in the United States. The other two are in San Jose and Los Angeles, so Japanese culture is big here. Hence, we get a very stunning tea garden! Learn more about the garden in this post.
Bison Paddock
One of the most hidden Golden Gate Park attractions is the bison paddock. When I tell people there are bison in the middle of San Francisco, they never believe me, but it's true!!
The paddock was built in 1890 and American Bison have lived in the park ever since. I recommend you park your GIG Car on John F Kennedy Drive near the paddock's barn to start with. You may have to circle around depending on where they are grazing that day to get a better view of them but usually, they are hanging out near the barn.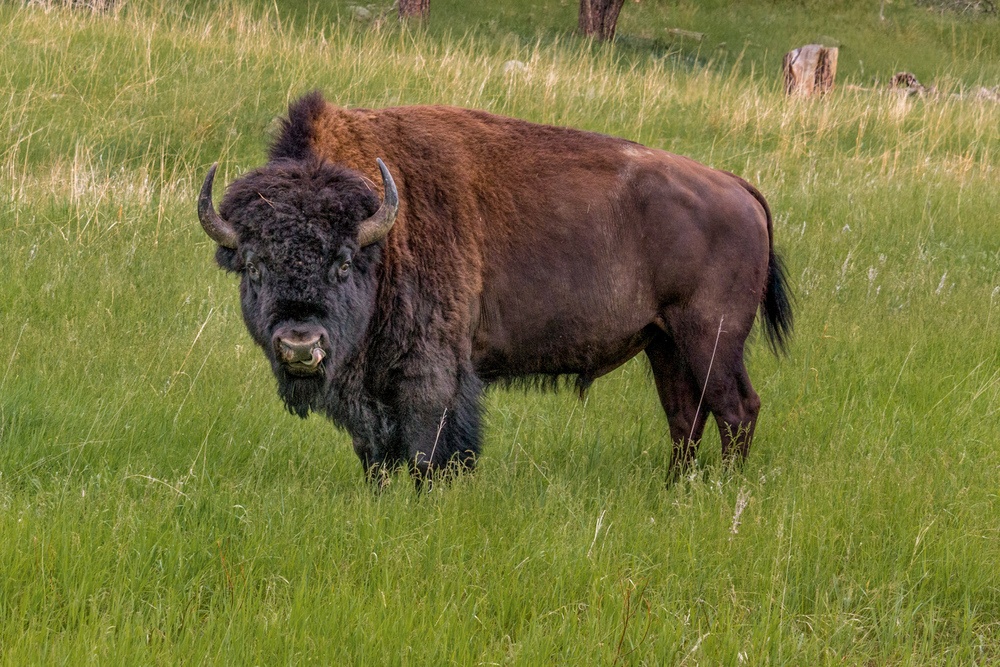 Dutch Windmills
My FAVORITE hidden gem inside Golden Gate Park are the two Dutch Windmills on the west end of the park. They have this super cool history. The windmills were built so they could help pump water to the rest of the park to aid in its development. They once pumped 1.5 million gallons of water A DAY!
Now, they are inactive BUT planted at the base of each windmill are the Queen Wilhelmina Tulip Gardens! Come springtime these gardens turn into a rainbow of colors and it's simply stunning. The windmills are just a few blocks off Ocean Beach so I like to come here at Golden Hour and then walk over to the beach after to catch the sunset over the water.
Stow Lake + Strawberry Hill
We live close to Stow Lake and like to walk around it at least once a week. It's this adorable lake always filled with birds and turtles. The lake has a big hill in the middle called Strawberry Hill and from the top of the hill, you can see the Golden Gate Bridge if it's a clear day.
Stow Lake has a lot of fun hidden gems. There's the Stow Lake Boat House, which offers paddleboats for rent (trust me, it's super fun to paddle around the lake on a nice day!) But there's also a waterfall and a Chinese Pavilion, which is super beautiful and makes a great photo.
Conservatory of Flowers Golden Gate Park
The Conservatory of Flowers is probably one of the prettiest buildings in all of San Francisco in my opinion. It all white and looks super delicate on the outside, I just love it.
Inside, find a huge greenhouse with plants and flowers. If it's a rainy or cold day in the city, the Conservatory is the perfect thing to do to stay dry while still exploring the park. If you are visiting during the holidays, make sure to check out Night Bloom! The Conservatory opens up for the night and has a light show and a bar.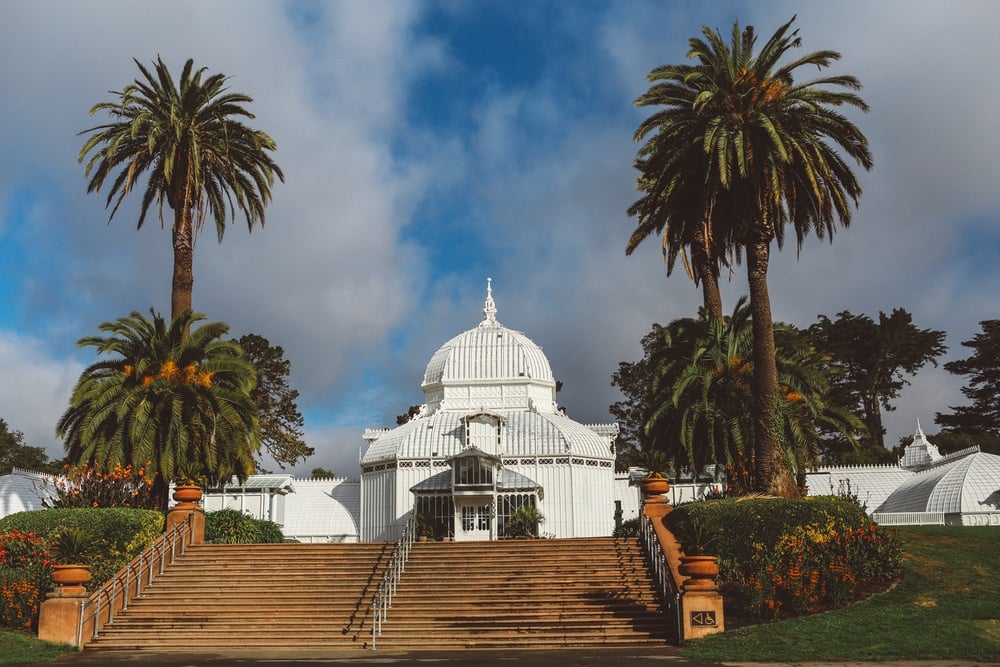 de Young Museum
This Golden Gate Park museum can't be missed. I mean that both ways. They always have super interesting art galleries and rotating exhibits, but the museum building itself is pretty hard to miss. It has a giant black tower, after all! The Hammon Observation Tower is so tall I can usually spot it from other parts of the city.
The de Young museum is located in what I would call the "center" of Golden Gate Park. It's not really in the proper center, but this field is the hub of most of the activity. Across the street is the California Academy of Scenic. To the right is the golden gate park music concourse (and yes, concerts still happen here from time to time!)
Behind the museum is the James Turrell Space and in the same area are also the Shakespeare Garden and Botanical Garden (more on those posts later) and the Japanese Tea Garden.
PS: They open de Young up for free on the first Tuesday of every month to everyone, and it's also free for Bay Area residents every Saturday!
California Academy of Sciences Golden Gate Park
This is the other museum in Golden Gate Park and it's a super fun natural history spot to visit, especially with kids. The California Academy of Sciences is four floors tall and houses an aquarium that's home to a 20-something-year-old albino alligator, a rooftop garden, a planetarium, rainforest and so much more.
If you're 21+ looking for something original to do for date night in the city, come for one of their NightLife events every Thursday evening from 6pm-10pm! There's something special about exploring this museum at night with a beer in hand.
Shakespeare Garden
If you're looking for a romantic picnic spot in the Golden Gate Park, look no further than the Shakespeare Garden! It's filled with plants commonly mentioned in Shakespeare's work, which is fun for lit lovers. Plus, even though the garden is right next to the California Academy of Sciences but most people have no idea it's there, so it's always super empty.
San Francisco Botanical Gardens
Robin and I visit the San Francisco Botanical Gardens ALL the time (it's totally free for San Francisco residents!) What I love about this large botanical garden is how diverse it is. Each section is home to plans from around the world, covering everything from Asia to New Zealand to California Redwoods.
That's right! If you're visiting from out of town and bummed you can't drive up North to see any Redwood groves, just head to the botanical garden! Oh, and every summer make sure to catch the Flower Piano event. Pianos are placed all around the garden for anyone to play and the whole space is filled with music, it's lovely.
James Turrell Sky Space
One of the reasons I love the Bay Area is all random urban art installations. The James Turrell Sky Space is one of them! (Pictured above.) The Sky Space is tucked behind the de Young Museum and is open 24/7 and no visit is exactly the same.
That's because this space is designed to change throughout the day and even throughout the seasons base on the position of the sun. So a visit at 3pm in July will look very different than a visit at 3pm in October. This spot is fun for Instagram photos if you're looking for Instagramable spots in the park!
Rose garden
Robin and I love strolling through the Rose Garden on a sunny day. During the spring and summer, this spot is filled with hundreds of roses in all shades you can imagine. If you're looking for a super romantic spot in the park to shoot photos (engagement, etc) this it!!
The Carousel
No park is complete without a carousel, am I right? Located right next to the Korbet Playground is the Golden Gate Park Carousel, which has 62 animals to ride. Tickets are just $2 for adults and $1 for children, so it's affordable to take a spin.
Near the carousel and playground is the Aids Memorial Grove if you are interested in visiting.
Portals of the Past
Does it sound a bit Ghostbusters-y? Yes. Does it look like a gateway to another dimension that Zuul could pop out of at any moment? Yeah, totally. This little portal is something I recently discovered on a walk through the park and I'm obsessed with it.
This archway as a really interesting history. It was part of a building in Nob Hill that was destroyed in the 1906 earthquake. Everything but the gateway, that is. It was then moved to the shores of Lloyd Lake where it stands today.
Prayerbook Cross
If you're ever driving along Crossover Drive, look towards the East into the trees and you just may catch a glimpse of the Prayerbook Cross. It honestly took me YEARS before I suddenly noticed it one day and I was so shocked it took me so long to realize it was even there.
The Prayerbook Cross is exactly what it sounds like: a huge Celtic-style cross that's over 60 feet tall and dates back to 1894. It's mostly used as a religious gathering place, especially for Easter Mass in the park. Make sure to check out Rainbow Falls first (a large waterfall at the trailhead to the cross!)
Beach Chalet Brewery and Restaurant
At the end of your day exploring the park, head to the Beach Chalet to grab a beer and watch the sunset over the ocean! There's a large parking lot there so you can easily drop off your GIG Car, grab a table near the windows and cheers to a successful day visiting all the wacky things in the park.
Golden Gate Park Parking
Parking in Golden Gate Park is pretty easy in most places. It's a bit harder near the deYoung Museum on weekends and you may need to park underground in their lot since it's a buzzing spot, but other than, we never had issues parking. The two main roads are John F Kennedy Drive and Martin Luther King Drive and sometimes those fill up faster than the side streets
Don't forget to use my code WHIMSYSOUL for $30 of Gig Credits that equal a 2-hour drive with GIG Car Share!
What To Do In Golden Gate Park For Free
Almost everything mentioned in this blog post can be done for free! That's probably one of the best things about the Golden Gate Park. Even the ticketed spots (like the museums, gardens, etc) all have some loophole available for entering for free.
Golden Gate Park Events
As you can imagine, there are a lot of events that take place in the park. These are the most notable ones to mention:
Hardly Strictly Bluegrass
One of my favorite Golden Gate Park activities is this free bluegrass music festival that takes place each October. It's totally free since alcohol is allowed in most San Francisco parks, we love to bring beer and hang out with friends at the concerts all afternoon.
Outside Lands
Outside Lands is San Francisco's big music festival that takes place each August in the park. I've never actually attended myself because I can always hear the music from my apartment (ha!) and tickets are a few hundred dollars. If music festivals are your thing, they've had huge headliners ranging from Metalica, Florence and the Machine and Janet Jackson.
Fun fact: The festival is held in the fields where the California Midwinter International Exposition of 1894 took place.
Night Bloom
As mentioned above, The Conservatory of Flowers has its special Night Bloom event during the holidays each year. They transform the conservatory with tons of colorful lights for some festive magic. There's even a VIP lounge with chocolate and bubbly pairings!
Corgi Con
Ok, technically this takes place on Ocean Beach right across the street from the Golden Gate Park, but I love this event so much I had to mention it here. Twice a year, hundreds of Corgis from around Northern California flock to Ocean Beach for a giant puppy party!!
It's totally free and you don't have to have a dog to come. We literally go just to pet as many Corgis as we possibly can. Oh, the best part? Most of them are dressed up in costumes for the costume contest. IT'S SO DANG CUTE!
I hope this helps you find Golden Gate Park things to do! I love the park and I don't think enough people really explore it well enough. It's so big and so vast, I think locals and visitors alike don't even know where to start, which is why I made this handy Golden Gate Park guide for you!
Definitely make sure to download the GIG Car Share app and use code WHIMSYSOUL for $30 of Gig Credits to help you get around the park easily. It takes just a few minutes to sign up and it's all pay as you go. If you're planning more adventures around the city or even outside of the city, you can easily use GIG Car Share for those trips, too! Learn more here.
Want more ideas of fun things to do in the city? Check out my San Francisco Travel Guide for literally all the best travel tips for exploring the city by the Bay!
If you have any favorite spots that didn't make it on my Golden Gate Park map, leave a comment below so everyone can see and learn. If you have questions about the park or using Gig Car Share, leave a comment or DM me on Instagram @thewhimsysoul and I'll be happy to help.
Other Posts You May Like
What to Wear In San Francisco At Each Season (According To A Local!)