I had just picked up a stack of Pesos from TravelEx for my trip to Cabo San Lucas and texted the friends I was traveling with, letting them know. One friend replied back "Oh, good idea, nice to have cash for tips!"
We're staying to an all-inclusive resort in Cabo, everything is included, so that got me thinking about tipping: are we still expected to tip?
It was my first time at an all-inclusive hotel. Short answer: it depends. I'm sharing when and when not to tip in this blog post!
Tipping in Mexico all-inclusive resorts: a guide for when and when not to tip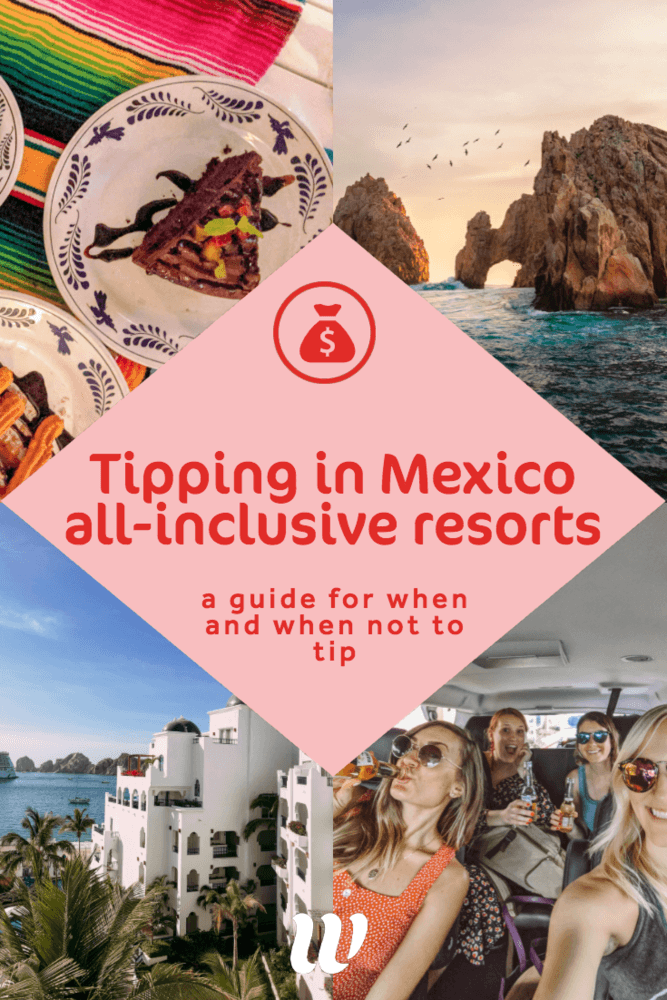 My friend Amy found a crazy good all-inclusive hotel deal (including air travel!) for about $750 per person from San Francisco to Cabo. Considering flights to Mexico alone can easily be a few hundred dollars alone from the United States, getting to spend 4 days at a Mexican resort with food, beach and drinks included felt like a dream come true!
I did a lot of research online ahead of time trying to figure out the tipping customs at our resort, and all-inclusive resorts in general. We stayed at Pueblo Bonito Los Cabos Blanco All-Inclusive Beachfront Resort and I honestly found it hard to figure out their tipping policy.
See, at most all-inclusive Mexican resorts say tipping isn't required… but it kind of actually is once you arrive. (Though some have policies that could get staff in trouble if they accept tips, so please check with your hotel first.)
Do you need to tip at an all-inclusive resort in Mexico? Well, sometimes.
See, you have to see the same staff people every single day, and if you didn't tip well or at all on day one, it's possible that you'll get crappy service for the rest of your trip (Example: waiters may take considerably longer to serve you at restaurants. They'll serve you, just not very quickly or well.)
One forum said it was recommended in person by front desk staff to tip $1 (USA) for every ride you take on a golf cart, which sounds like nothing but you're probably taking 5-7 rides a day which does add up. (We didn't stay at a resort that needed carts, so this wasn't an issue for us but something to keep in mind!)
Other people said they tip $10-15 at each meal always, so a couple can easily spend an upwards of $50 a day just tipping.
So, considering we were spending 4 days in Cabo, I suddenly realized that I may be expected to spend at least $200 on tips, which is a lot considering my entire package was $750.
It's totally an unforeseen expense I was not expecting to be so high. Was I expecting to tip? For sure, but not that much because it is all-inclusive. I just assumed that everything – including tips – was included.
So, when did we tip and when did we not tip? How much did we spend? I have a handy chart below for you!!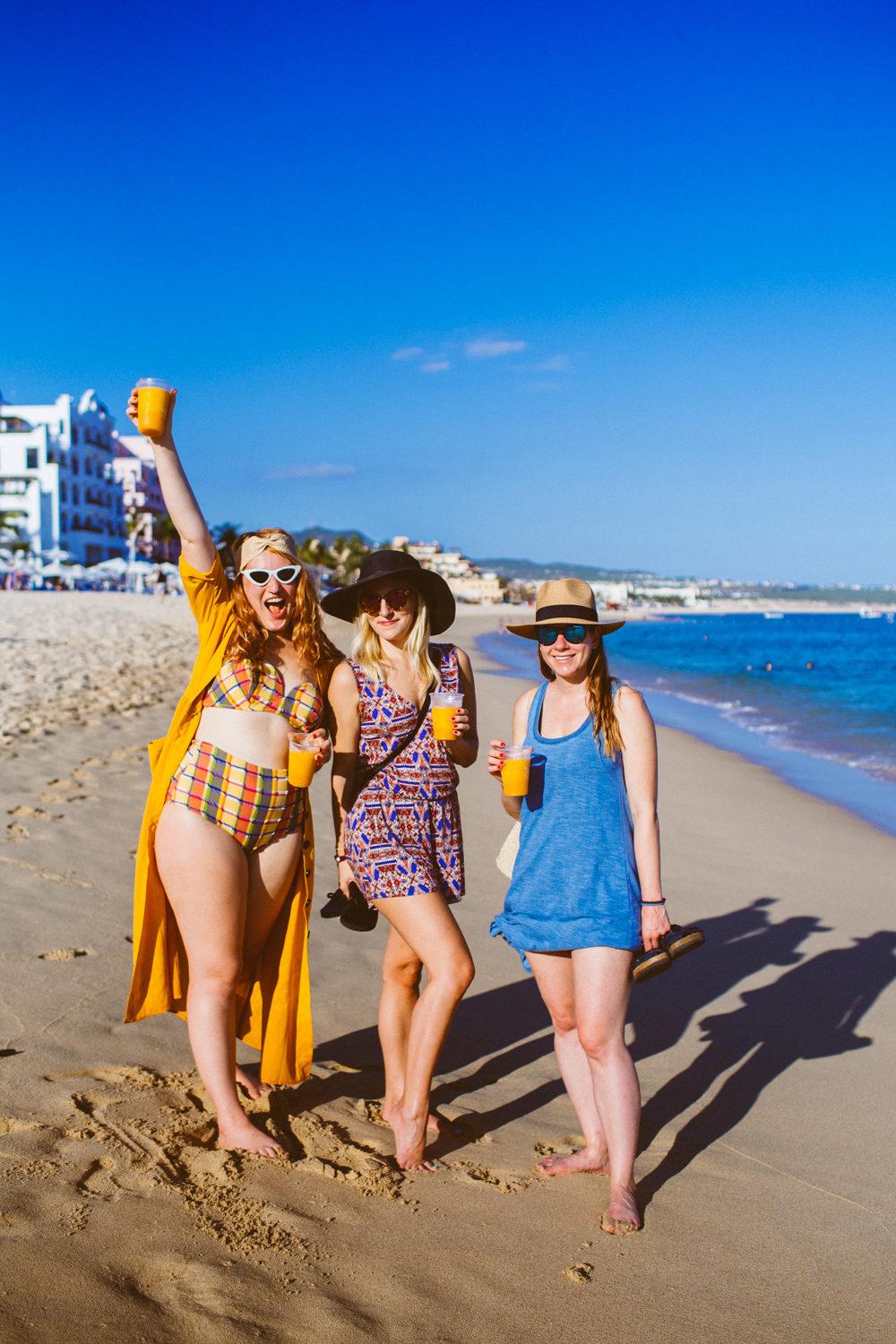 Who should I tip and how much at an all-inclusive Mexican resort?
After spending 4 days around all-inclusive Mexican hotels and getting feedback from the group on their thoughts for a tipping chart, below is a good guideline for how much you should tip for optional service without breaking the bank.
All-inclusive resort tipping etiquette
Bartender: 20 pesos or $1 every 1-2 drink orders, especially if you order complicated cocktails
Cart drivers: $1 per trip
Servers: $5-10 every couple of meals for good service or if your waiter went above & beyond (we usually tipped at dinner)
Shuttle driver to/from airport
Off-site activities (ex: sailing)
Car rentals staff members
Front desk staff
Buffet meals
Housekeeping (optional, unless you trash the room.)
*Make sure to tip in Pesos or US Dollar bills, NOT COINS. US coins can't be traded in for pesos and are harder to locals for actually use.
This Table Works!
Since I orginally wrote this post in 2019, I've been back to Mexico a few times with girls on vacation. Most recently we stayed a Paradisus Los Cabo, one of the top all inclusive resorts Mexico has in Cabo.
The girls used this all inclusive resort tipping guide to navigate the hotel, as this one had many experiences (wine tasting classes, work out classes, pool service, spas, etc).
Our biggest tipping expense here was at the pool. One day one we liked our pool service guy so we tipped him a lot and he gave us great attention the whole trip. Sought us out each day and literally always made sure we had a drink in our hand.
Do You Tip In Mexico?
Is it customary to tip in Mexico in general? Yes – Obviously, tips are expected for services outside the hotel (like, tip taxi drivers a bit, servers from restaurants not on-site, tour guides, etc.) We chartered a sailboat and budgeted about $30 US in total for a tip, which went a long way in service.
In the end, we didn't spend as much on tips as I was expecting to, which was a relief for me. This was supposed to be a cheap girls trip after all!
WHEN IN DOUBT, even in regular travel (aka not all-inclusive) if I'm not sure if I should leave a tip, I try to figure out if the person makes a minimum wage or not. For instance, here in America, most servers are paid just a few dollars an hour, so they need tips to make a living wage.
But maids that clean your hotel room are usually paid a fair hourly wage, so not everyone tips housekeeping and I think that's ok (unless you trash the room and make their job harder.)
I think tipping in all-inclusive can already cause a lot of confusion and stress and really, just keep doing you.
I don't like the concept of tipping "mystery people" or the expectation of tipping for literally everything just because I'm American.
I would rather pay more upfront in a package fee and not worry about tipping, then to be expected to barf US dollars for literally every little thing. But that's just me having a little rant over here.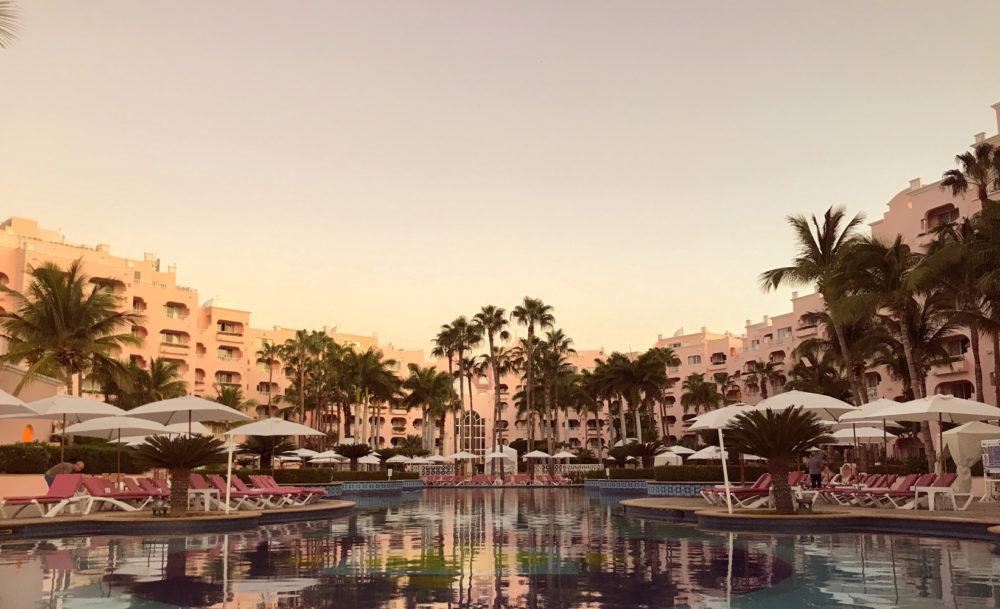 SO, in conclusion, even if your package includes tips, leaving tips can drastically increase your service and experience in certain places, especially if you dine at the same restaurants over and over again. The waiters remember you!
But for any place, tip at your own discretion and when you feel like it is deserved (not because you feel like you have to.)
I liked how at the resort we stayed at, tipping basically went back to the way tipping should work. We tipped when we felt like our service deserved a tip (not tipping because it's culturally expected even if the job is done poorly, which is what it's like in America now.)
FAQ
How much cash in pesos should two people take for a week in Cancun or Cabo? About $10-15 per day. Bring pesos (the local currency) and a lot of $1 bills. If you are planning an activity, like sailing, bring 20% of that activity fee for a tip.
How much to tip shuttle driver in Mexico? $5-$10 for the trip. Maybe more per bag if you have a lot of luggage!
I want to tip maid service. How much should I leave: Up to you on tipping the housekeeping staff. If you normally tip maids, go for it. Some people like to leave $4-5 dollars a day, others like to leave one big $40 tip on the last day. I personally don't usually tip maids unless I for some reason leave the rooms very messy or the staff goes out of their way to deliver me more towels, or something.
What do I pack for Cabo: Check out my packing guide here!
So, that's a guide for tipping at all-inclusive resorts in Mexico. I hope you found this helpful!
If you have visited a Mexican resort before, I'd love to hear your experience with tipping! Did you tip a lot or just a little? Did you tip in pesos or dollars? Did you feel forced to tip or not? Let's get a conversation going in the comments!
PS, if you have any questions at all, leave a comment or DM me on Instagram @thewhimsysoul. I'll be happy to help!