I won't lie, when I say Gen Z was making fanny packs fashionable again, I was giddy. As a 90's kid, I hold a special place in my heart for fanny packs. And now that I'm in my 30's and live in a city that charges for grocery bags, I'm always carrying around tote bags while shopping.
I'm a gal who loves to be stylish, but I also love to be comfy and wear practical items. That's why I'm such a Baggu fan girl. And it's not just me, our editor, Taylor, also loves their bags.
We've both had Baggu bags for over 3 years now so in my Baggue review I'll be sharing all the pros, cons and the best Baggu products to invest in!
Baggu At A Glance
Baggu popped up on the market as a new brand that put sustainability at its core. They also do a really great job at diversity, but more on that in a second.
The team started with reusable bags to help reduce the use of plastic bags but now also offers fanny packs, purses and other types of products. They value using the least amount of materials needed and reducing waste whenever possible.
They use recycled nylon, recycled cotton, have recycled paper packaging and even biodegradable poly bags. They're also pretty transparent about their manufacturers, aim to always do right by their team and make it easy for you to know they care.
In terms of diverse models, they do a great job at using models of all races and sizes (yay Baggu!)
Honest Baggu Reviews + My 3 Favorite Bags
My gateway to Baggu started a few years ago when I was looking for a fanny pack for travel, something what was stylish but also functional. I discovered Baggu and also went down a rabbit hole looking at all the pretty styles and designs of all their bags.
I love how much they love color!

1. Baggu Fanny Pack Review
My holy grail daily bag is my Baggu Fanny Pack. I have it in black and I bought it first for trips and quickly starting using it almost every single day here in San Francisco.
This Baggu purse looks small but it can fit SO MUCH STUFF. I'm always impressed by how much it can fit. The bag comes with an interior zipper pocket which I keep things like Lactaid (dairy-free girlie problems), mask, hair ties, etc.
It has a front pouch and main compartment and the strap is super comfy. I've worn it all over the world, from Copenhagen to New York City, and it's one of my favorite travel purses to date.
I'm constantly resisting the urge to get more of them in different colors, but the standard black fits all outfits so I'm sticking with just that for right now.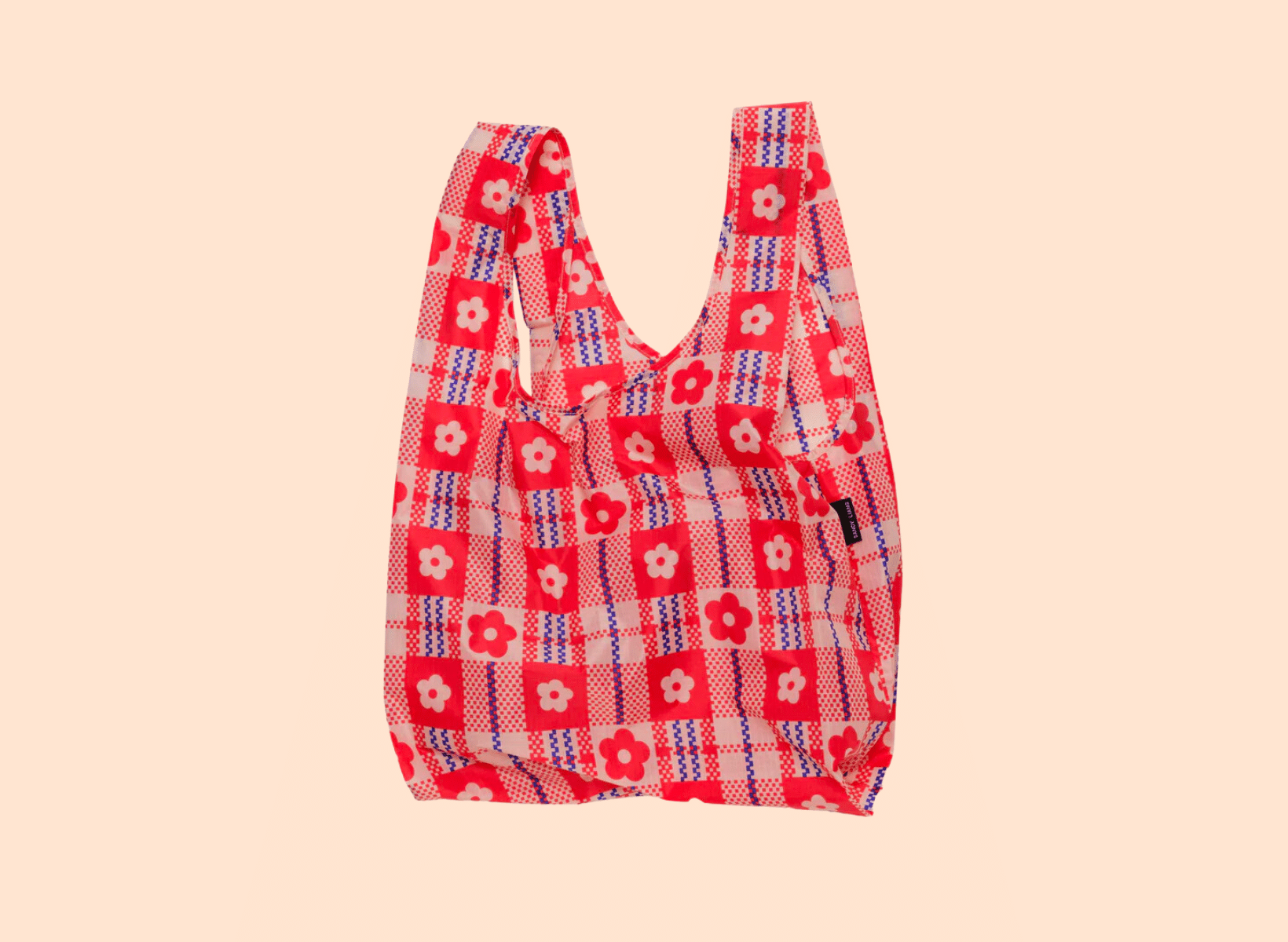 2. Standard Baggu Review
My other go-to bag is their grocery bag aka the Standard Baggu bag. I have literally so many reusable tote bags at home stuffed in a drawer from random events over the years and I really dislike how they are all different sizes and materials.
My husband uses those. I, instead, keep my favorite Standard Bags in their cute little pouches in my closet and use them whenever I go shopping.
They're constantly dropping new designs of the Baggu reusable bags, and I'm obsessed with how cute and fun they are, plus how easy they pack down. It's so dang easy to toss them in my purse and to keep a few in my car's dashboard.
And it's not just me, these bags always have very high reviews from customers.
PS these bags make great gifts if you're looking at birthday or holiday gift guides!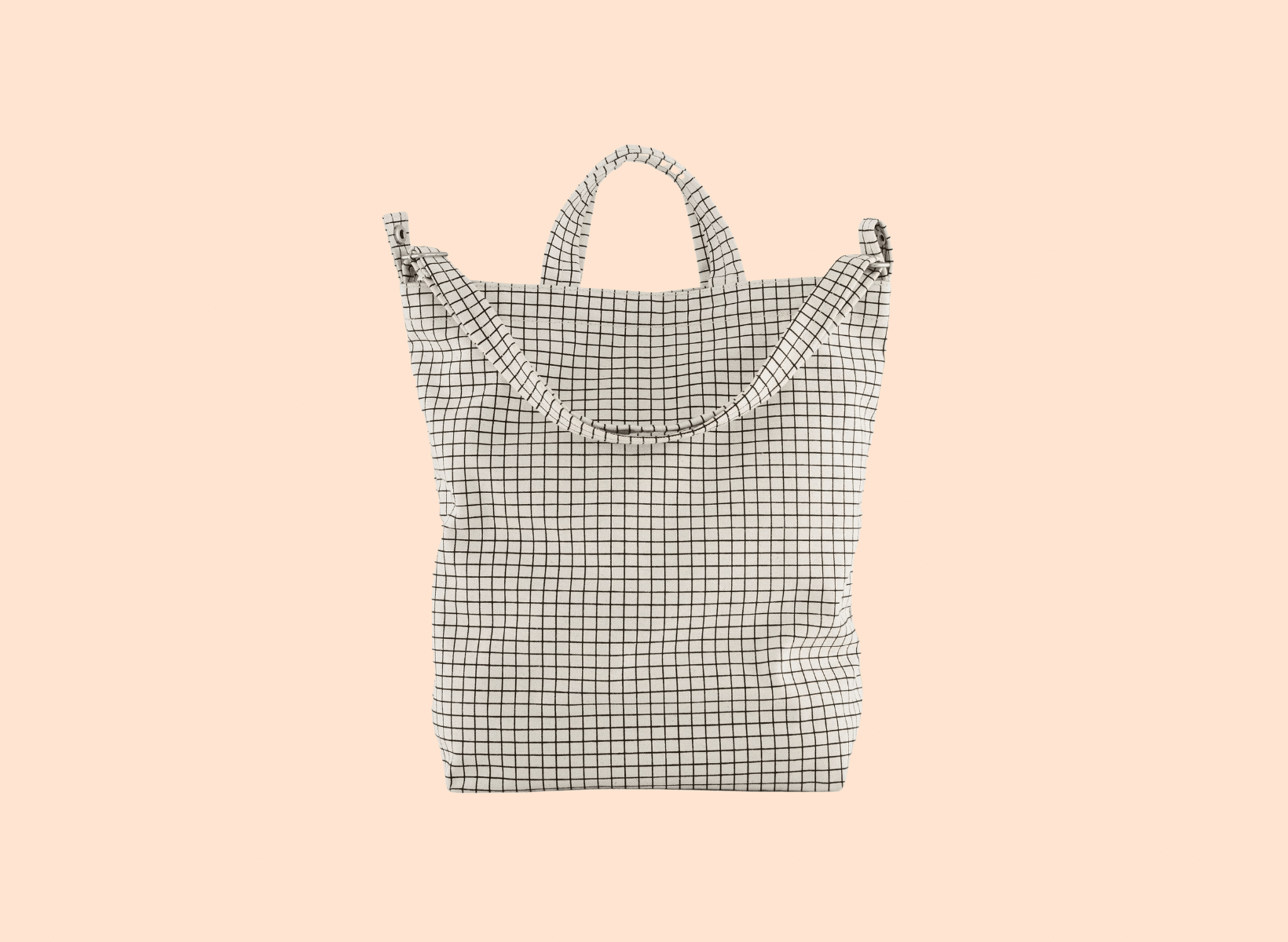 3. Baggu Duck Bag Review
This is the zaddy of tote bags. This Baggu shoulder bag has it all. Please read the following with Stefano from SNL's voice: it had cute patterns, it has a comfy strap, it's so dang DEEP to fit all your things and best part? It's machine washable!!
It has an interior pocket to keep organized and it's large enough to fit a laptop. If you aren't a backpack girlie, this Duck Bag is great for school or commuting to work.
I'm also in love with the strap design here. You can wear it as a crossbody but it also has handles so you can carry it, making it extremely use-case flexible. I'm also just a sucker for that black and white design.
A Closet Look At The Other Best Baggu Bags
Final Verdict – Are Baggus Worth It?
Yes, 100%! It's not common that I fan girl over every single product from a brand, but Baggu makes truly wonderful bags that are beautiful, fun, functional and sustainable.
They have a bag for every life situation you can think of – from trips to Paris to trips to the grocery store.
The fabric is sustainability-made, machine washable, and always comes in fun patterns to fit your personal style. We're big Baggu girlies over here, now and forever.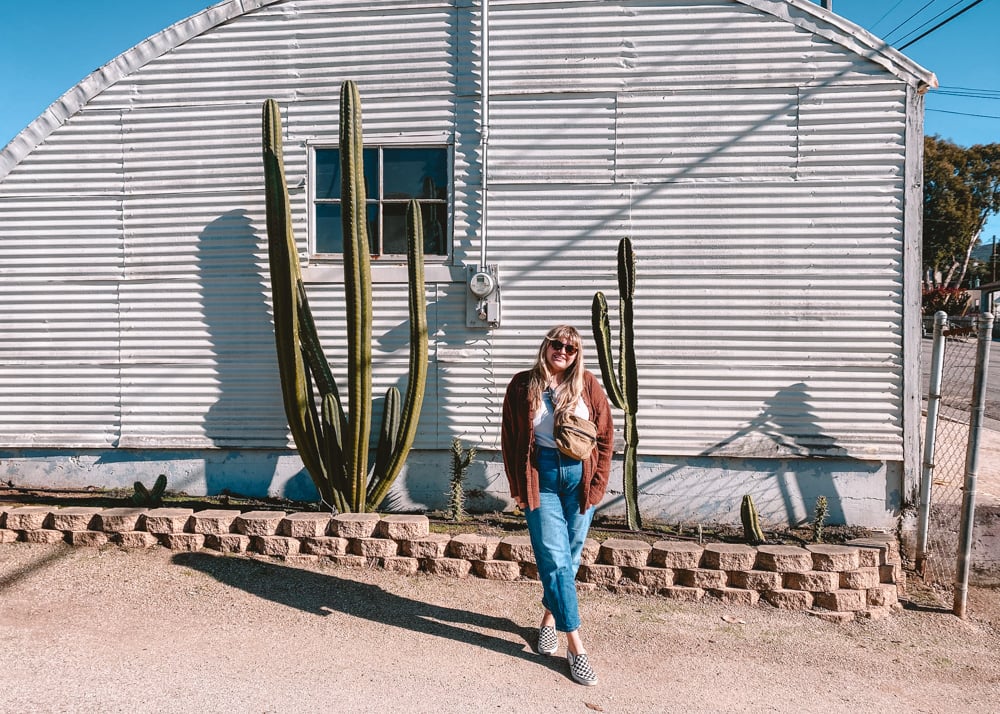 Frequently Asked Questions About Baggu
How Are Baggu's Returns?
They have a standard 30 day return policy but a $4.95 restocking fee will be deducted from your refund for most returns. Just keep this in mind when you order.
Is Baggu Good For Travel?
Omg YES. As I raved about before, I adore my fanny pack for trips. I also always pack a reusable bag or two into my travel backpack or suitcase since I never know when I may pick up too many souvenirs and need to have a little extra bag room on the way home.
Or, sometimes, I'm actually grocery shopping on trips or traveling in cities that also have bag fees, so it's nice to be able to pull these out and look like a local. They take up barely any room.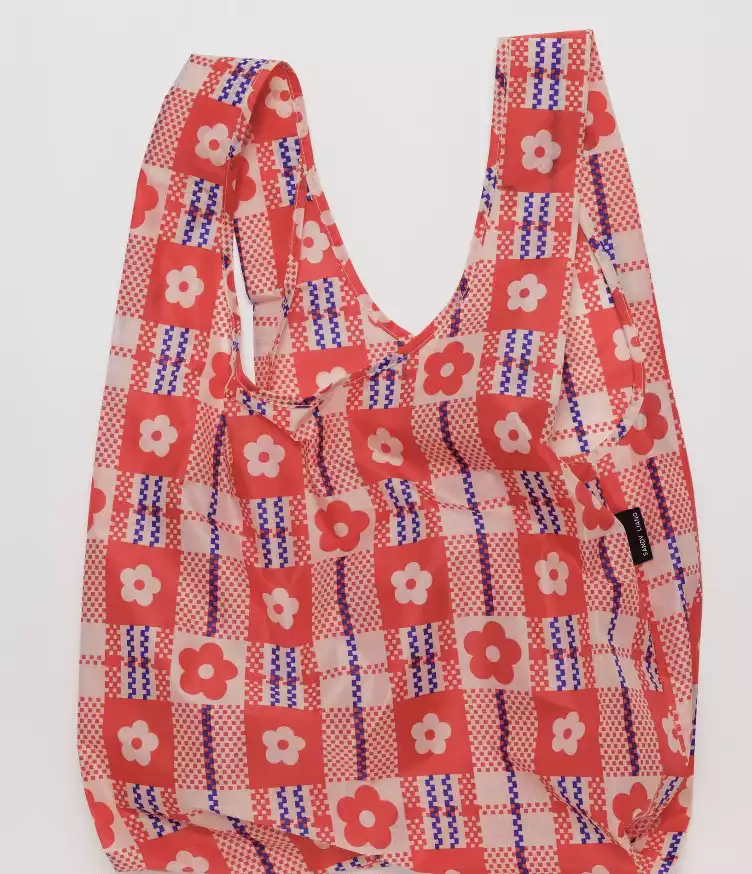 Standard Baggu
Carries 2-3 plastic grocery bags worth of stuff comfortably in hand or over your shoulder. They pack easy in pouches for travel, shopping and everything in between.
Pros:
Fun designs

Holds up to 50lbs

Folds into its own flat 5" × 5" pouch

Machine washable
Buy Now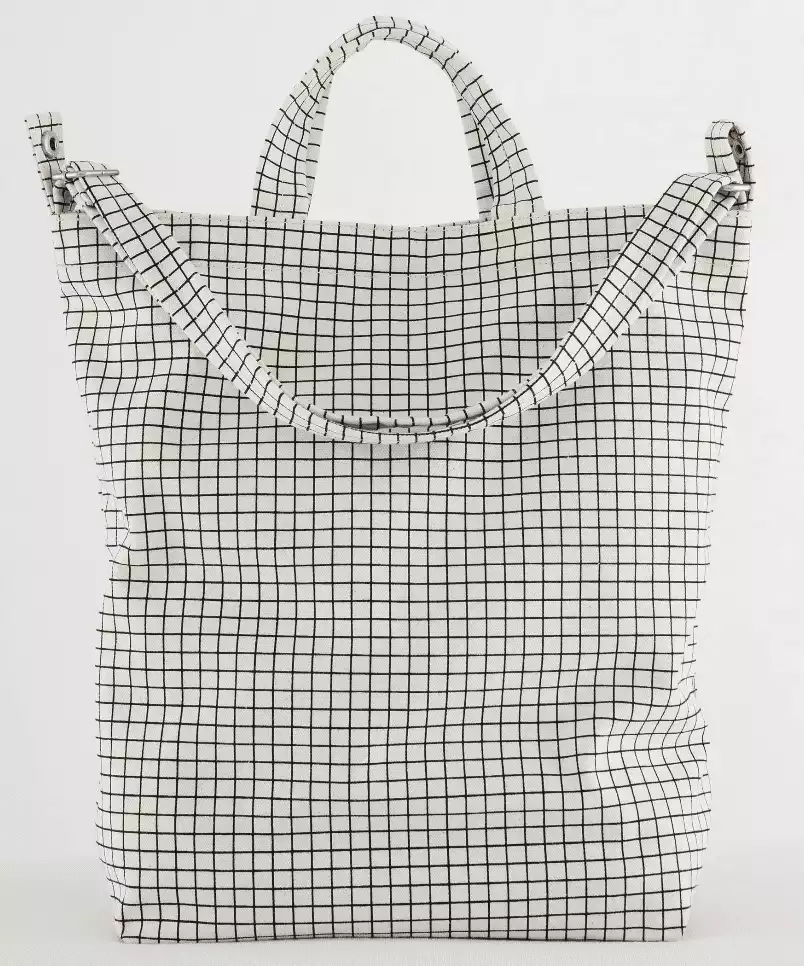 Duck Bag Baggu
A classic everyday canvas tote carries easily in hand or over shoulder. It's the perfect bag for toting your laptop, yoga clothes, LPs, art supplies, you name it.
Pros:
Fits a 15" MacBook

Interior zip pocket

Machine washable

Fun patterns

Can carry by hand or as a crossbody
Cons:
Could use a zipper top vs button
Buy Now
Our Fave!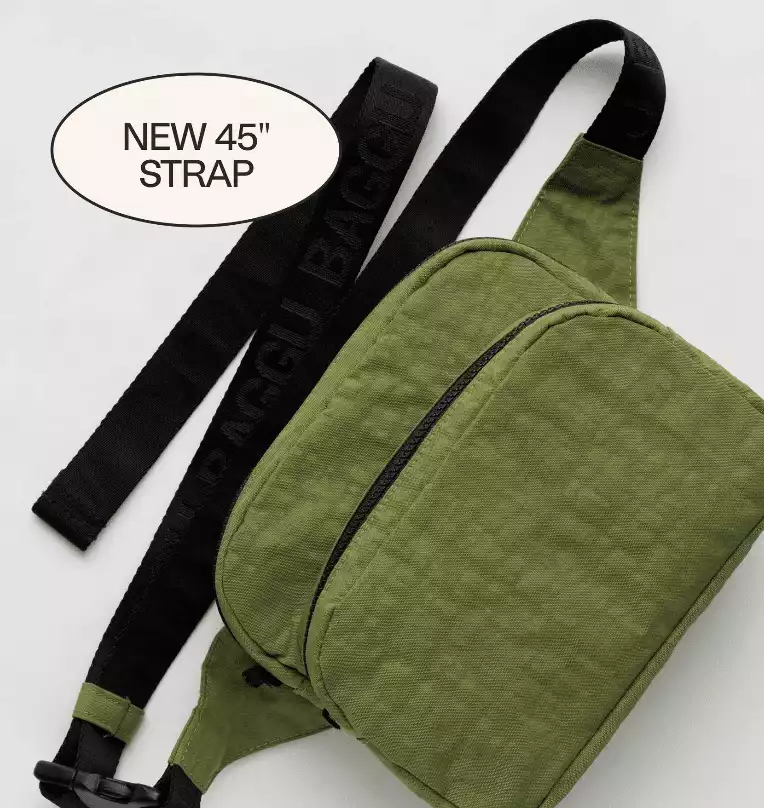 Baggu Fanny Pack
A hands-free bag for any outing. Surprisingly spacious and made from durable, heavyweight nylon for easy cleaning. Wear across your body, over your shoulder or around your waist.
Pros:
Two main compartments

Interior zip pocket

machine washable

comes in many colors

made with recycled materials

Packs well
Cons:
Harder to wear on waist if full of items
Buy Now
Is Baggu Ethically Made?
You're probably wondering: is Baggu actually sustainable? Yes! Baggu gets good ratings from 3rd party sources on their sustainable measures and commitment to fair labor practices.
Are There Baggu Sales?
Check for Black Friday sales! They always have something going on for the holidays, along with other random sales throughout the year.
Is Baggu Crescent Bag Worth It?
If you're looking for a bag that's basically a purse, then go for it! We still like the Duck bag best for a larger tote bag but the Baggu Medium Crescent Bag is a great option if the duck bag is too big and the fanny pack is too small. It's also smaller than the Baggu shoulder bag and some folks so really love that!
It's made out of the same material as the fanny packs so it's a good size upgrade.
Why Is Baggu So Expensive?
I would actually argue that they aren't that expensive at all, considering they produce their products in an ethical manner and use so much recycled material. They also last forever so you can trust the bag you buy today will last for years and years.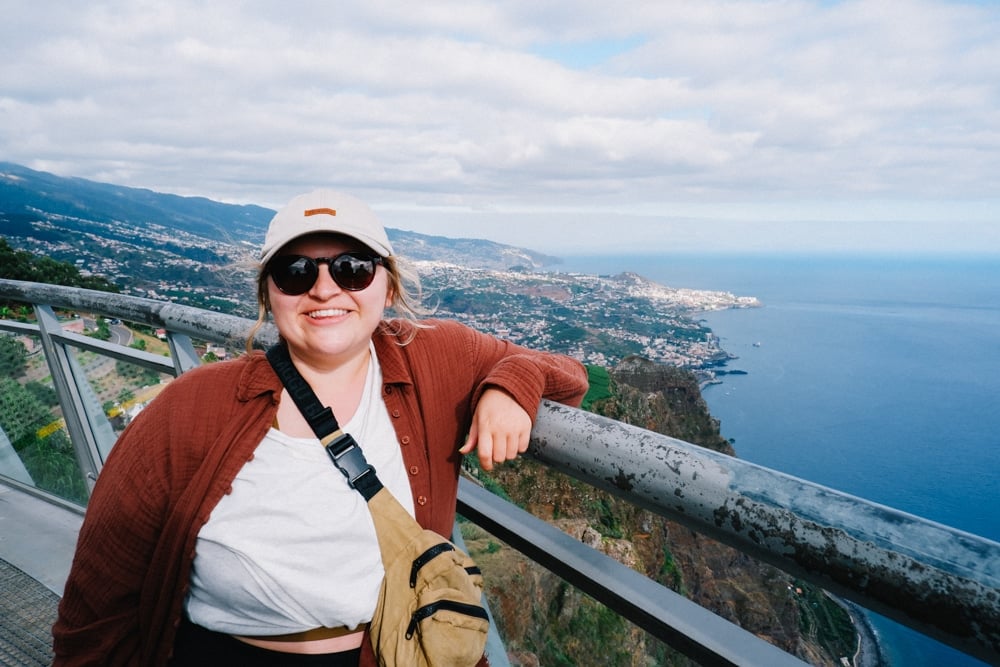 Got your own Baggu reviews to add? Drop a comment below so everyone can see your content and ideas!