Fantasy novel adaptations are experiencing a renaissance, and I couldn't be happier. Thanks to the commercial success of Game of Thrones, many more genre series have been given the green light for their own TV shows, including The Witcher.
The Witcher Saga started small as a short story first published in 1986, but just look at it now—about to premiere its second season on Netflix! Okay, I can see that some of you aren't as enthused as I am. Maybe you've been roped into watching The Witcher with your SO who loves the video games? I see you, and I gotchu.
Whether you're a diehard Witcher fan or wouldn't know Geralt from Gwent, I'm sure you'll enjoy these cocktail "potions" I've magicked up. I even made one especially for all you non-gamer girlfriends out there.
What Is The Witcher Saga, Anyway?
Fine, I'll admit it. I haven't read any of the Witcher books that the Netflix show is based on… yet.
Polish author Andrzej Sapkowski's original Witcher tale became so popular that he went on to write 14 more short stories and six novels following the adventures of Geralt of Rivia, the series' titular protagonist. The Witcher Saga has since been translated into 37 languages and has sold more than 15 million copies worldwide.
While the books have been hugely successful, the video game trilogy is what really put The Witcher on the map (and in my heart). These action role-playing games feature richly designed open worlds, engaging storytelling, and complex combat systems. Oh, and titillating cutscenes, if you know what I mean.
The Witcher III: Wild Hunt, released in 2015, was widely praised as the game of the year, with many gamers ranking it among the best video games ever made.
Henry Cavill would agree. As an avid gamer and megafan, Cavill played through The Witcher III several times long before he ever auditioned to be Geralt—a role he happily accepted and now embodies.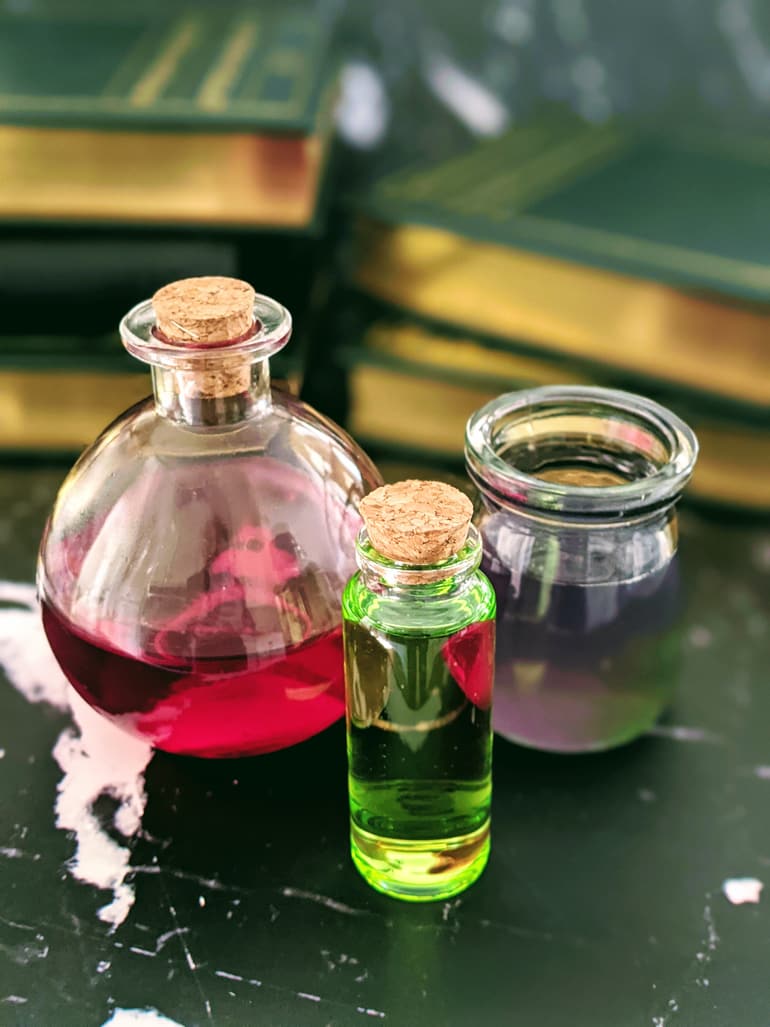 Bringing The Witcher to Life
The Witcher series on Netflix tells the story of Geralt of Rivia, a mutated monster hunter with special abilities, aka a "Witcher." Geralt struggles to find his place in a fantastical world in which people often prove more dangerous than the beasts he battles.
It's a dark adventure rife with magic, monsters, and… mature content. In so many ways, the first season can be interpreted as the poor man's Game of Thrones—high fantasy, low production value. But once you get past the inevitable comparisons and frankly confusing timeline, there's a lot to like.
Though Geralt is a man of few words, Henry Cavill brings plenty of humor and charm to the gruff protagonist. (Who knew he could deliver a terse "hmm" so well?!) The Witcher is clearly a passion project not only for Cavill but also for the showrunner Lauren Schmidt Hissrich, and their earnestness shows in every episode.
And hey, it's just fun to watch! I bet you can't listen to the infuriatingly catchy "Toss a Coin to Your Witcher" and not sing along.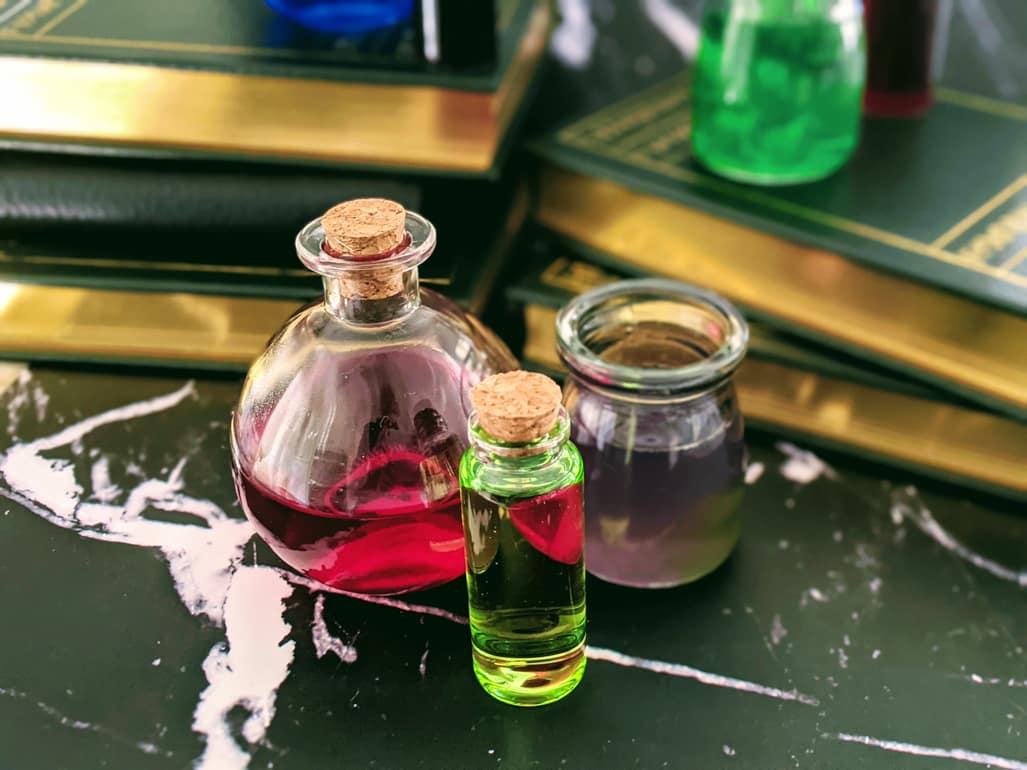 How to Make Real Potions
In The Witcher, especially the video games, Geralt will quaff potions to prepare for battle. Each potion grants different buffs and abilities, depending on its ingredients.
So just like Geralt, you can pick which of these cocktail potions best suits the occasion. Or, mix up all three for a really magical effect! I kept the recipes relatively simple so that you really can make them all.
Toss a Coin to Your Witcher Cocktail Recipes
Pick your potion: smoky, sweet, or earthy? This trio of complimentary cocktails will take you on a tasty adventure worthy of any Witcher.
Each recipe:
Yield: 1
Prep Time: 5 min
Total Time: 5 min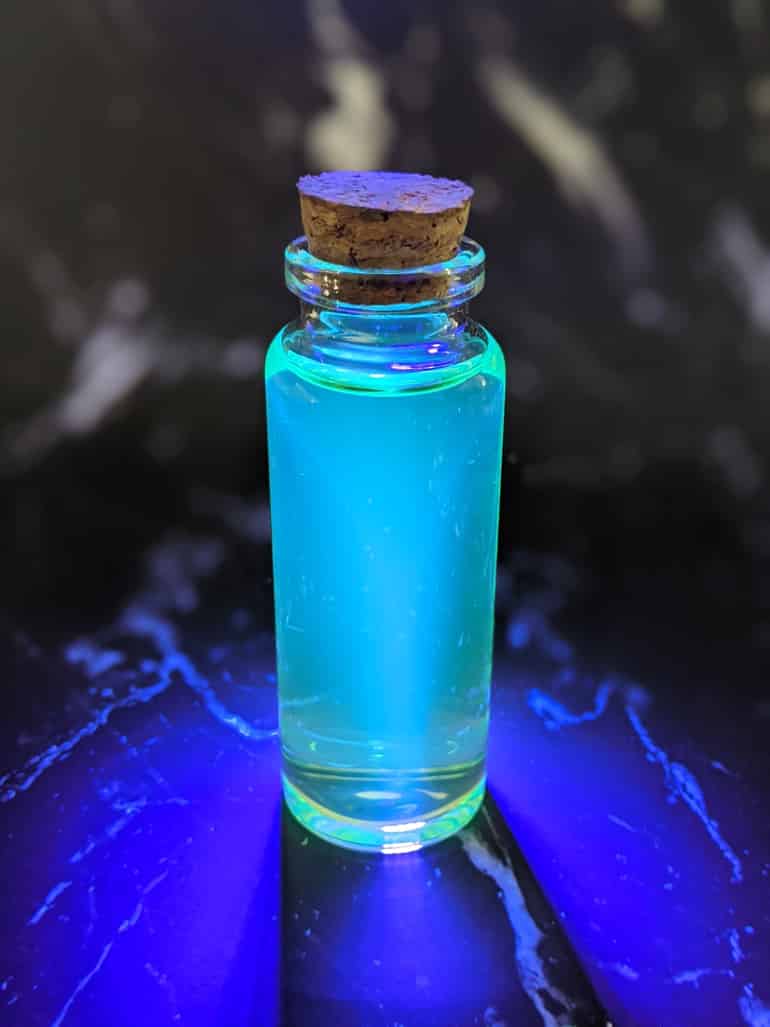 Cat Potion Recipe
Geralt has cat-like eyes that help him see in the dark, and the Cat Potion further enhances his night vision. This real Cat Potion recipe is smoky and citrusy, but that's not the best part—it glows in the dark just like cat eyes! Simply shine a blacklight on the potion to make the tonic water naturally glow an eerie blue.
Ingredients
1 1/2 oz mezcal (clear or unaged)
1/2 oz orange liqueur or triple sec
1 dash Midori (for color)
1 oz tonic water to top
orange wedge to garnish
Instructions
Fill a cocktail shaker with ice.
Add mezcal, orange liqueur, and Midori.
Shake until well-chilled.
Strain into a chilled cocktail glass (or potion bottle—use a funnel!).
Top with tonic water; stir gently to combine. (Note: If serving in a potion bottle, carefully top with tonic water using a funnel; skip the stirring.)
Garnish with an orange wedge as desired.

Tawny Owl Potion Recipe
In the video games, the Tawny Owl Potion increases Geralt's Endurance and Stamina (no, it's not as sexy as it sounds). But what I like about the Tawny Owl Potion is its mysterious purple color, reminiscent of Yennefer's eyes. Take a sip and luxuriate in this potion's sweet, floral flavors.
Ingredients
2 oz gin
1/2 oz Creme de Violette
1/2 fresh lemon juice
candied or maraschino cherries to garnish
Instructions
Fill a cocktail shaker with ice.
Add gin, Creme de Violette, and lemon juice.
Shake until well-chilled.
Strain into a chilled cocktail glass (or potion bottle—use a funnel!).
Garnish with cherries as desired.

Wives' Tears Potion
Wives or not, non-gamers might just shed some tears when their partners can't be dragged away from their video games. If this sounds familiar, this potion recipe is for you. It's as salty and bitter as your tears… and you. If only this Wives' Tears Potion worked like it does in the games, as an instant cure for drunkenness and hangovers!
Ingredients
2 oz gin
1 oz dry vermouth
1/2 oz pickled beet brine
small pickled beets or cocktail onions to garnish
Instructions
Fill a mixing glass (or cocktail shaker) with ice.
Add gin, vermouth, and beet brine.
Stir until well-chilled.
Strain into a cocktail glass (or potion bottle—use a funnel!).
Garnish with pickled beets or cocktail onions as desired.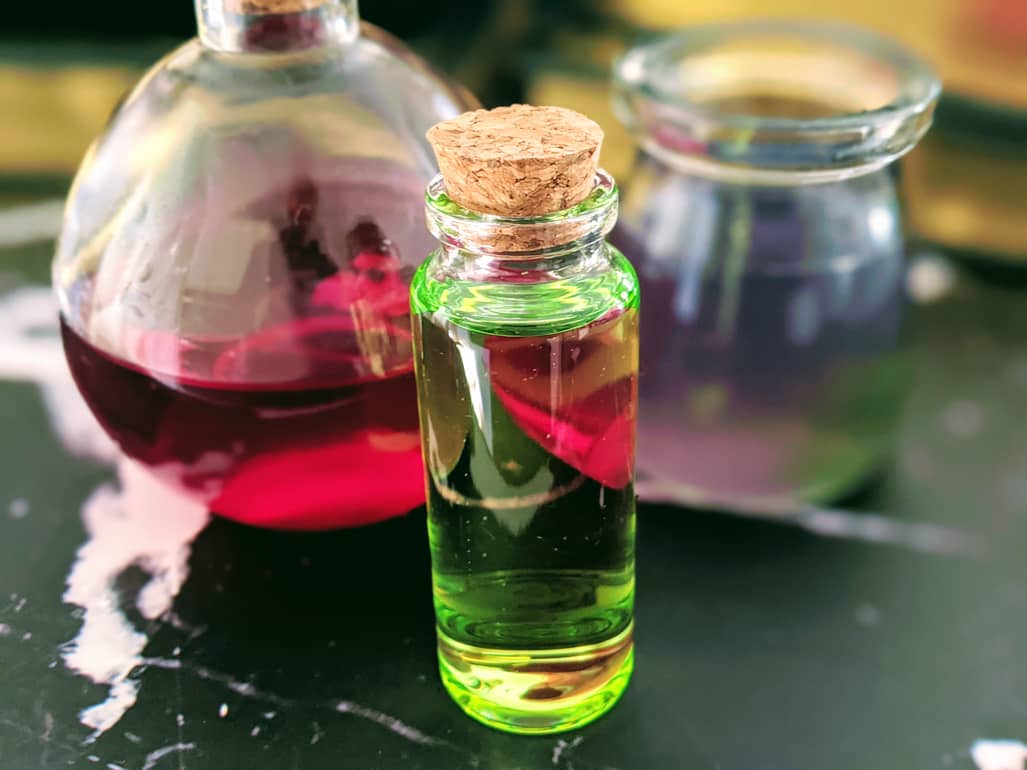 Geralt usually goes for a goblet of ale or wine (he does own a vineyard, after all). But maybe he could be convinced to try these improved alcoholic versions of his potions. I know that Jaskier, at least, would be down for some carousing and cocktails!
I'll be concocting these potion recipes—and summoning a few friends to help me drink them—while watching the second season premiere of The Witcher on Netflix come Dec 17.