Halloweentown is a real place that you can actually visit!!! While on a Pacific Northwest road trip this fall, I convinced my husband to swing by St. Helens, Oregon so I could nerd out and visit Halloweentown itself!
I put on my pumpkin shirt and channeled my spookiest vibes – and hot dang, it was the best way to get into the autumn spirit.
In this post I'm sharing more photos and tips for visiting the Spirit of Halloweentown in St. Helens Oregon (must-know hacks for having the perfect day!)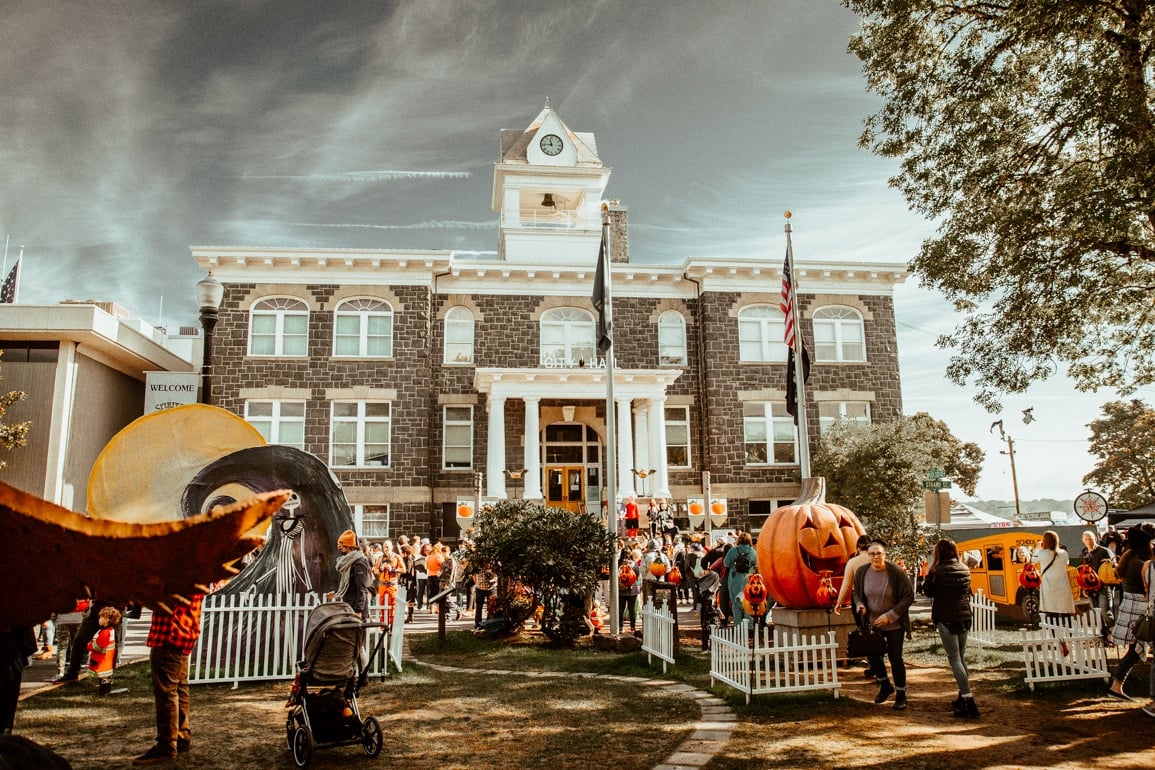 Robin and I are on a big road trip, starting in the Olympic Peninsula, then to Mount Rainier, and ending in Portland.
I realized St. Helens was just a short detour so I insisted on stopping by to finally soak in all the Halloweentown magic I've been dying to see in person for ages!
I had no idea what to expect but WOW, we pulled up to find a huge Halloween party!
Almost everyone was in a costume, the vendor village was popping with food and beer, there was a costume contest happening on the steps of the Courthouse and tons of themed cars lining the plaza around the Halloweentown Pumpkin.
One had a coffin jump scare, another was decorated in Dia de Los Muertos sugar skulls, but my favorite was Benny's cab.
Which was parked right next to the giant pumpkin AND a cut out of the famous bus so you can take nerdy photos!
Where Is Halloweentown Oregon 2022?
Halloweentown is in St. Helens, Oregon, which is a small city about 30 minutes north of Portland in Columbia County overlooking the Columbia River.
This is where they actually filmed the movie! You'll recognize the sign, City Hall plaza and big pumpkin they have placed in front of it.
I found St. Helens to be a little sprawling, but aim for the Riverfront District to find all the good stuff and photo ops!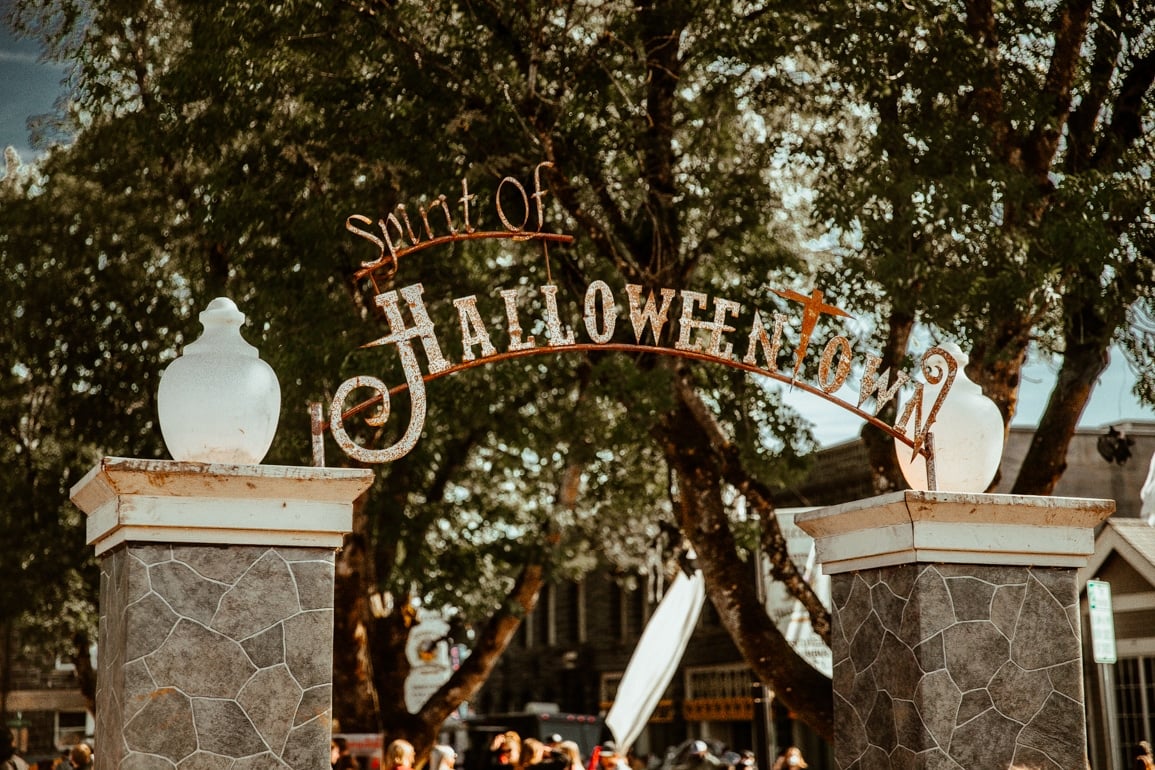 The Best Halloweentown Movie Locations In St. Helens
Here's what to expect when visiting!
Aggie Cromwell's House: 3814 SE Martins Street
Giant Pumpkin: Halloweentown Plaza
City Hall/Courthouse Plaza: Halloweentown Plaza at 275 Strand Street
Benny's Cab: Parked along Halloweentown Plaza (slightly different from the movie cab but Benny will be in the driver's seat!)
Bus stop: Halloweentown Plaza
Old Theater: 212 S 1st Street
And so many more little gems you'll just have to see for yourself when you travel here!!
When Are Halloweentown Events?
St. Helens is a real town so the plaza, City Hall and everything else you may recognize from the movie are there, 24/7. BUT the real fun starts in the fall.
Dates vary a bit year to year, but generally, all the festivities start around September 18th and go until October 31st!
I recommend planning a visit to Halloweentown during the fall ( the Halloween spirit just won't hit the same in the heat of June.)
Make sure to check their site for news and opening dates each year along with events like the costume contests and other things.
When Is The Best Day To Visit Halloweentown?
If you're looking for fun family friendly events, food trucks, a costume contest and tons of attractions, then aim for a weekend visit in October. Weekends are when everything comes to life, but that also means there's a lot of crowds.
If you want to avoid people, whether for covid reasons or you want to take a ton of photos without children photobombing you in front of Benny's Cab, then come on a weekday.
It was really sunny when we visited but I would have LOVED a rainy moody day for extra vibey Halloween photos.
Again, we stopped by on a road trip but if I were to plan this again, I would go on a weekday morning or evening well outside normal Spirit of Halloween hours to avoid the people.
We had to stand in line for 30 minutes to take a photo with the pumpkin, and there were lines for all the other spots (the cab, entryway sign, etc) and we didn't have time to wait for all of them.
Do I Need Halloweentown Tickets?
Only if you plan on partaking in all the events, like the Haunted Hotel Haunted House, museum, alien experience, etc. It's totally free to walk around and that's what we choose to do, because ticket prices are kinda pricey and we were only planning on swinging by on our road trip.
The giant pumpkin with the courthouse plaza view, Benny's cab, the bus stop sign and all the other buildings in town are free to visit and nerd out over.
If you have kids and are trying to make a day out of it, I would get the tickets. Otherwise, dress up, bring your friends and budget for food or beer, but skip the general tickets.
Shop My Halloweentown Outfit!

HACK: How To Save Money On Parking
The parking lot to the event area is at 471 Plymouth Street and while it's free on weekdays, they charge a $15 cash fee on weekends. You can save $15 on weekend parking fees by parking up the hill and a few blocks away from the event space.
You can just walk on down, it's not far.
Parking is included with general admission tickets so if you got a ticket, don't sweat it! Since we were on a longer road trip with a short amount of time, we just ate the parking fee but next time I visit I'll walk in.
BONUS: Twilight House In St.Helens!
Before heading to St. Helens Halloweentown, we were in Forks and I found all the filming spots to Twilight. He was a champ and even let me ride his back like a spider monkey.
As you may or may not know, Twilight wasn't actually filmed in Forks, but the book takes place there, so that's what we visited (all the book spots, like La Push.)
The movie was filmed in various parts of Oregon and Bella Swan's house just happens to be St. Helens, like 2 miles from the Spirit of Halloweentown location!!
Make sure to swing by her house to snap a photo before heading out of town. Find it at: 184 S 6th Street in Saint Helens, Oregon
I hope this helps you plan a fantastic trip to St. Helens Oregon Halloweentown! I already want to plan a trip back next fall, but this time bring my girlfriends so we can do a fun group costume or something. I always have fun with them.
Last year, we flew down to Los Angeles to find all the Office filming locations and dressed up like the characters. It was so much fun!!
And, this upcoming year (2022) the new movie of Hocus Pocus is coming out so I may just have to fly out to the East Coast to Salem for a real Halloween town spooky season…
Got tips to add for the city of St Helens and Halloweentown? Leave a comment below so everyone can see. Got questions?
Comment or DM me on Instagram @thewhimsysoul and I'll try and help ya out (I only accept messages from followers so make sure to hit "follow" first.)
Stay spooky!