I haven't seen this much rain in Northern California for years. Winding around rolling hills and vineyards on my way to Napa Valley, I suddenly remembered I meant to replace our windshield. Years ago. Opps.
The sky was grey outside, but the second I pulled up to our premier garden cottage at the Carneros Resort and Spa Napa Valley, my girlfriends threw open the door and handed me a glass of wine. They already had the fireplace turned on and the private soaking tub out back filling up with bubbles.
The Carneros Resort has been on my bucket list for years, and I was finally here.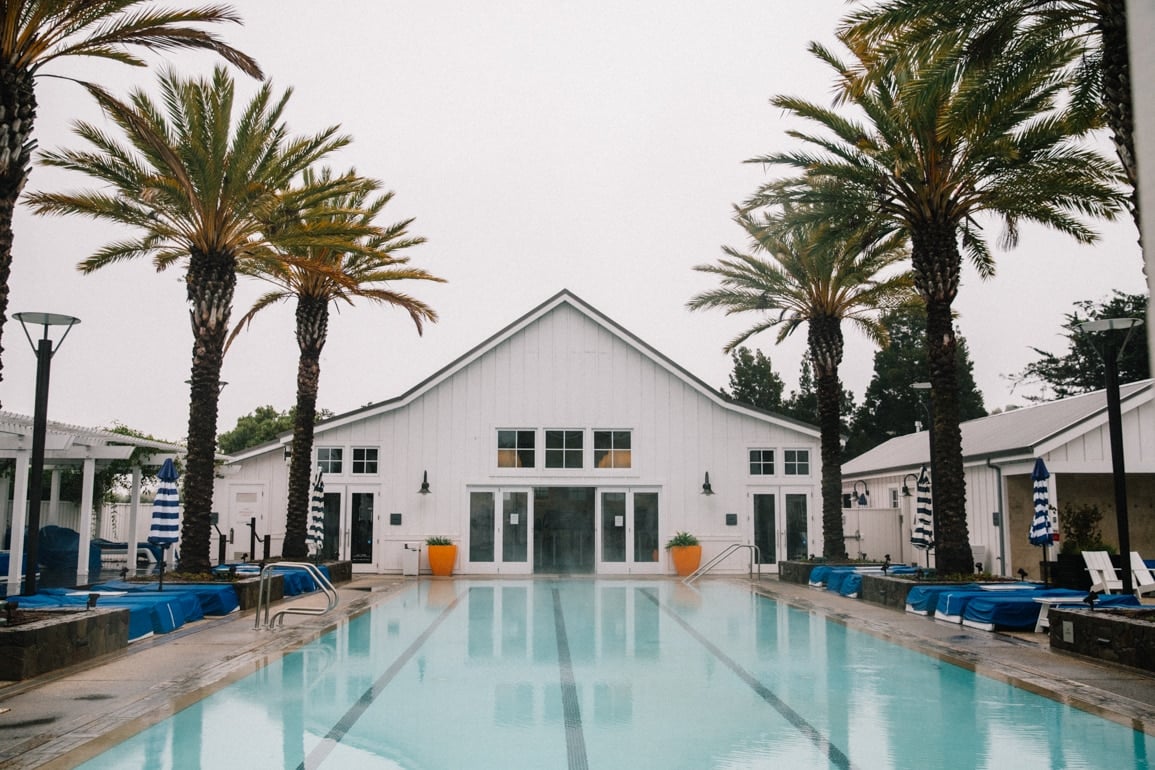 Is It Worth It? Napa Valley Carneros Resort And Spa Hotel Review
The Carneros is one of those hotels you book for special occasions, 40th birthday celebrations with the girls, babymoons, honeymoon, and anything else life throws your way. I drive past it every time I go wine tasting in Napa Valley and always have been so curious about what it's like inside.
The hotel is just about an hour drive from San Francisco where I live, and by the time I got there my car was sparkling clean with the rain. The property is huge, so huge that upon check-in you have to follow a staff member with a golf cart to learn where to park by your cottage. And of course, anytime you want to pop down to the restaurant or pool, you can call the cart back and they'll be there in a jiff.
This was a blessing in the rain!
I also spotted a stack of bright orange Carneros resort bikes near reception that looked so dang cute and I was suddenly a little bummed the weather wouldn't allow a spin on them.
But the clouds and moody vibes were still beautiful. There's something extra special about experiencing wine country in the rain, especially from this hotel. Our cottage was at the very back of the property and overlooked acres of vineyards, so we could see the storm clouds rolling in and out all day.
Oh, and pet a hotel cat. I swear all the best luxury hotels have a cat or two on the property (I quickly made friends with the kitties at the Farmhouse Inn over in Sonoma County!) This little guy was chatty and let us give him plenty of head rubs as we sipped our first glass of wine for the day.
Ok, enough about the outsides: hows the inside of the cottages? Well, beautiful and cozy and airy, all at the same time. We had a double connecting cottage, with one room featuring a King bed and the other a pullout couch, with a large courtyard in between with a fireplace, tub and tanning chairs. It was a lot of room and I think would be a great fit if you are traveling with family.
The bed – oh so comfy, and you control warmth and firmness setting with an ipad on the side table. The showers were my favorite feature, though. Each one had a back door that went straight outside into an outdoor shower. How cool!!
FARM Restaurant – A Meal To Die For
I've been lucky to travel all over the world and stay at some truly amazing hotels. But, not all of them have nailed the perfect guest room AND the perfect onsite dining. thankfully, Farm, the restaurant at Carneros, is maybe one of the best meals I've ever eaten in Napa.
Smooth and soft gnocchi with truffles. Perfect old-fashioned cocktails that hits the spot after wine tasting. Steak tartare. Creamy corn risotto that we were literally scraping the bowl to get every last bite. A gooey chocolate homemade candy bar. Non-guests can come dine here, so I'll be back again on a future wine trip (I can't stay away from the valley!)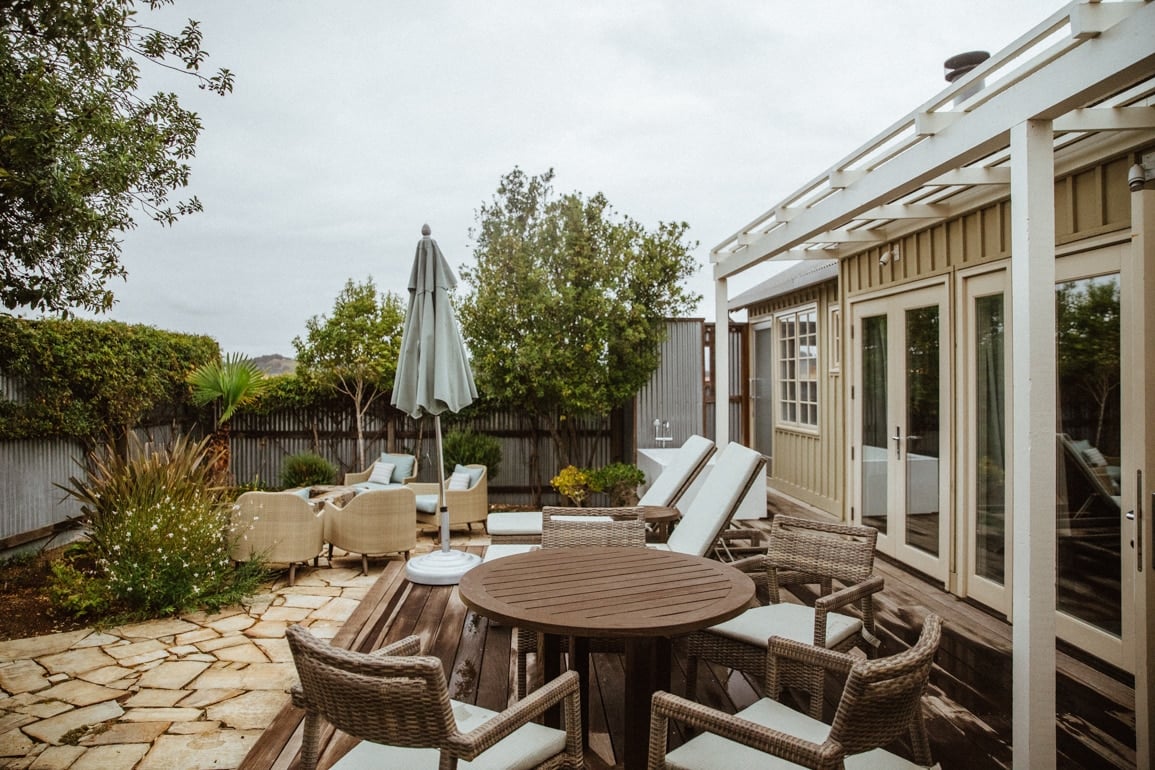 Carneros Resort And Spa Hotel Amenities
2 pools (Fitness Center pool and Hilltop Pool)
Hot tub with vineyard views
Carneros Inn Spa
Bikes
Fitness classes
Fitness center
Gym
Robes & slippers
Free parking
Wi-fi
Wine dispenser in-room
Coffee in-room
Room service
Umbrellas
Boon Fly Cafe
Hilltop Restaurant
FARM at Carneros Inn
Carneros Inn Market
Live Music
Early and late check-in available
Golf carts to drive you to rooms
All cottages with outdoor seating
Property fire pits
Book at the Carneros HERE to earn free rewards nights on future travel!
PS – Carneros Resort is about a 15-minute drive from Downtown Napa Valley and the town square. It's at the base of Napa County in the Carneros Valley region, hence the name. It's also down the road from Domaine Carneros Winery, one of my favorite bubbly houses in the United States. They have a really cool sparkling wine tour if you've never been.
If you need suggestions on the best wine tasting in Napa Valley, I actually have a TON of guides for you already! Here's my highlights:
So, Is It Worth It? My Honest Carneros Inn Review
Well, worth is always subjective, but if you're looking for a luxury hotel that gets it right on the little details, has amazing food and has sweeping views of wine country, you'll love the Carneros Resort And Spa hotel.
And, if you're looking for more amazing luxury hotels in Napa, may I suggest the Solage up in Calistoga on the other side of the valley?
Have you even been to the Carneros Resort or is it still on your bucket list? I'd love to hear from you below in the comments, or find me on Instagram @thewhimsysoul.