I've been on a quest to find the best cream blush on the market. Don't get me wrong – I love powered blush but liquid formulas just hit better for that dewy summer skin look. Plus, as a gal whose skin leans towards dry vs oily, cream beauty products are way more hydrating.
After going down a rabbit hole of beauty videos on TikTok, I picked up Rare Beauty Soft Pinch Liquid Blush, along with the Positive Light Liquid Luminizer. Together they make the perfect cheek makeup duo for a proper Rare Beauty Liquid Blush review and highlighter deep dive.
Rare Beauty is Selena Gomez's beauty brand and as a 90's kid who still loves Wizards of Waverly Place, I was thrilled to try her products out.
On top of the matte and dewy Soft Pinch Blush, some other best-sellers are mascara, matte liquid liner, bronzer and foundation in all shades. I swear every time I go online they're half sold out, especially after season two of Only Murders In The Building dropped. Mable Mora's Must-Haves collection sold out so fast, I blinked and they were gone.
So, if you're having your eye on any of the products, order sooner rather than later. You may be able to find shades on Sephora, which is where I ended up shopping my blush and highlighter duo.
Rare Beauty Liquid Blush Review
This $20 cheek color is made with a botanical blend of lotus, gardenia, and white water lily to help soothe, calm, and nourish skin. I find these hydrating elements are handy for supporting a minimal, dewy look without drying your skin out. Paired with my favorite Saie Beauty Glowy Super Gel and Slip Tint, this has been my go-to summer makeup products.
Dewy Vs Matte Blush
This liquid blush comes in both matte and dewy. Since I'm trying to channel those shimmery just swam in the ocean sort of looks, I went with the dewy blend in the color Joy. Though, if you have oily skin and are trying cut back on shine, opt for one of the matte shades instead.
The best Rare Beauty blush shade for you totally depends on your skin tone. As a pale gal with warm undertones, I love Joy but they have shades for all skin shades. I'm tempted to get the Bliss shade which Selena uses a lot. This is one of the natural matte shades that I can see being handy for days I want statement eyes or lips and a more muted cheek.
Find Your Shade

A Little Goes A Long Way!!
On that note, these are super strong colors! The first time I applied the blush to my cheeks I applied the amount I normally do with other makeup brands and holy cow, I looked like a clown after. I had a moment where I was like "omg, this sucks!" before I realized I applied way too much.
This blush is all about pigment, and a little goes a long way. It took a while for me to get the hang of using the foot applicator lightly on my skin and blending it so I'm left with a healthy flush look, not clown cheeks. But once I got the hang of it, I quickly fell in love with the summery, sunkissed glow it helped me achieve.
How To Wear Rare Beauty Liquid Blush
The key is applying one, maybe two dots on your cheeks and then using a beauty blender tool to blend the pigment. I've tried using both fingers and sigma brushes but the color is very strong. You need something like a blender to almost soak up a bit to sponge it on your face. You can always add more later, though I find 1 dot is best for a minimal look and 2 is great for a slightly bolder cheek.
3 or 4? Entering clown terrority.
Alternatively, you can instead apply your blush under your foundation. I viewed this video on TikTok where a woman applied a lot of blush color under her foundation. Blush can be tricky to apply in the right areas and doing this method soft of softens any mistakes to make a natural, just pinched my cheeks sort of glow. And since Rare Beauty Liquid Blush is so pigmented, this is the best brand to do this method with.
I tend to lean towards applying it on top of my makeup like you normally do with blush. It never smudges my Slip Tint foundation color since it's made to be applied without disturbing makeup. Not all cream blushes are like this.
Does Rare Beauty Liquid Blush Last?
Yes! Just as the website promises, the pigment stays in place upon application and is comfortable to wear (as it doesn't dry out in an awkward, itchy way as some cream colors I've worn can do). And, many beauty editors online confirm this.
Though, I do find it's important to let the soft blush Rare Beauty color dry on your face before doing your hair, as it is a bit sticky as it settled into your skin and your flyaways will plaster themselves to your face. But it just takes a few minutes, then I'm always left with dewy finishes that look natural and lasts all day.
Can You Put Rare Beauty Blush On Your Lips?
You can though it's not the best brand to double as lipstick. It has a very slippery feel, almost serum-like. You can feel it sitting on your lips and the color doesn't stay on the way it clings to your cheeks. If you're looking for a blush that can double as lipstick, trying something like Merit Beauty or Minori Beauty which are thicker creams will result in better coverage on lips.
I feel like you can't talk about the Rare Beauty blush without also touching on the Positive Light Liquid Luminizer highlighter.
Rare Beauty Positive Light Liquid Luminizer Review
Not onto the Rare Beauty highlighter! I had to lean heavily on the shade match feature to compare swatches since I always find highlighter to be harder to tone match. I went with the Outshine shade, but I don't think I got the best one for my skin if I'm being honest.
Half the tones were sold out. Rare Beauty Positive Light Liquid Luminizer Mesmerize is like THE shade to get since that's Selena's shade but it's been sold out for ages. I like the Outshine a lot, but sometimes it's a little too gold on my skin tone, like I used gold paint on my cheeks instead of a purposeful highlighter. I think the Enlighten which is very clear, would be better for my skin tone.
Find Your Shade

That being said, this weightless liquid highlighter a nice soft sheen that I adore. It's very silky and used light-catching pearls to create a glowy look when applied to your skin. It doesn't dry out weirdly by the end of the day and if anything, fades in a way that looks super natural. I know once I get the right shade, this will be my favorite blush and luminizer duo for summer skin.
How To Apply Liquid Luminizer
While the blush needs a beauty blender to soak up color, I prefer a Sigma brush or even my fingers to gently blot the luminizer onto my cheeks. I use 2-3 dots on either cheek, along with some on my nose and upper lip and gently pat the color until it looks right.
It lasts all day just like the blush and together they make a really wonderful cheek color for a glowy summer face. I usually spritz with some evanhealy hydrosol after to hydrate my skin even further and really channel that dewy feel.
Really, the key with Rare Beauty is finding your right shade and getting the hang of applicating color, but once you do, I think you'll love this as much as I do.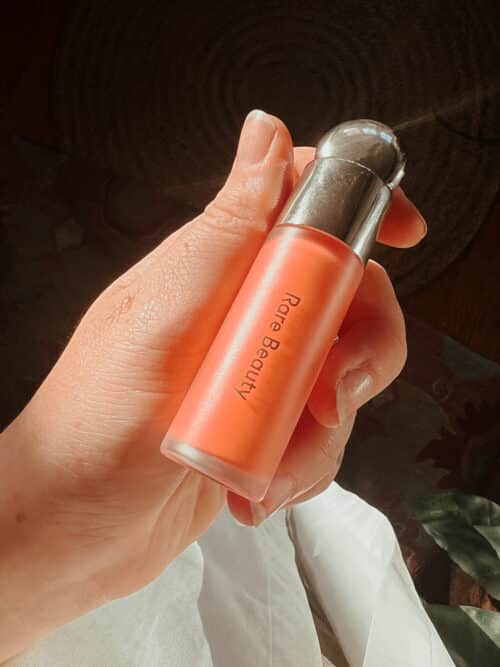 On top of making a great product, The Rare Impact Fund is part of Rare Beauty's commitment to raising awareness and increasing access to mental health services for young people. So far, they've raised over 1.2 million for mental health services! Wooho!!
Got your own Rare Beauty reviews to share? Drop them below!!