This post was sponsored by Vera Wang Fragrances as part of an Activation for Influence Central. I received complimentary products to facilitate my review.Thank you for supporting brands that support Whimsy Soul.
There's something about a sophisticated scent that feels so luxurious. I've gone through many scents in my life. Remember Britney Spear's Curious? Totally rocked that scent when I was 16. It was my jam. Now, I've grown and I think I have finally found a keeper in Vera Wang's new Embrace, a marigold and gardenia scent. It's subtle and bright, floral, but not too overdone. Perfect. I wear it daily, but spritz on extra for nights out. It pairs well with lipstick, linen skirts, midi skirts and heels.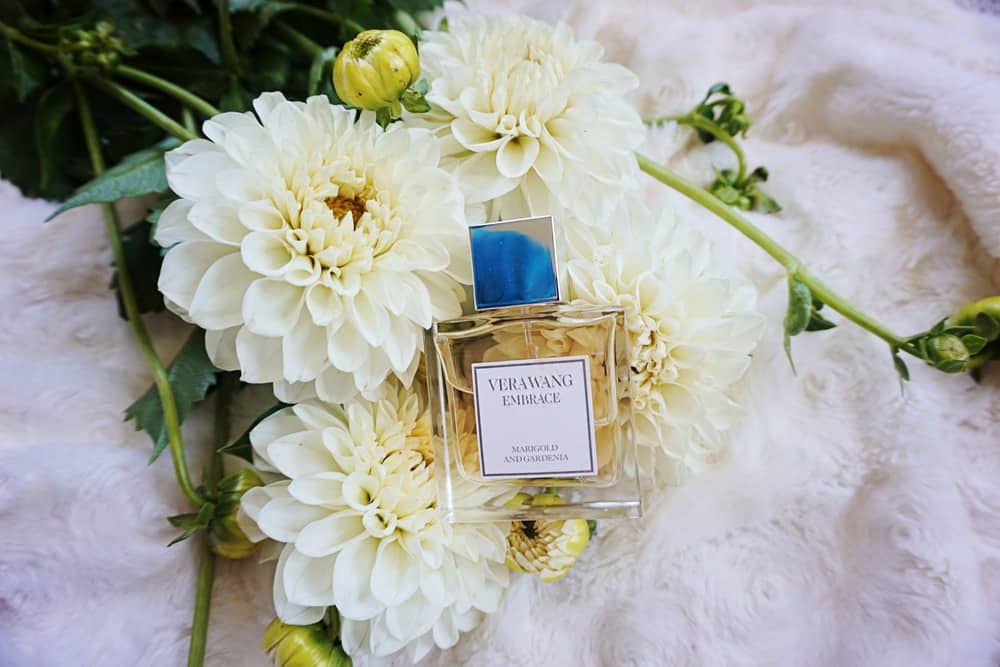 When us women spend so much on makeup, hair products, and clothes, it can sometimes be hard to spend a little more on a good perfume. After all, it's not something you can see like a bold lipstick, a purse or a new blouse. But that's the beauty of perfume. It's invisible but it can make or break an image. I'm sure we all have a mother, aunt or grandma in our lives who has a signature scent. You associate that smell with her, and it says so much. Maybe love, or caring. Maybe power and boldness. To me, Vera Wang Embrace says gentle elegance. Marigold and Gardenia flowers are beautiful, chic and timeless, but aren't overpowering in scent. The scent takes me back to my childhood gardens. My Mother loves growing flowers and our backyard would always smell so magical during the summer months.
If you haven't settled on a signature perfume yet, treat yourself to Embrace. It's only $29 and you won't be disappointed ( I promise!) Wear it daily for an extra bit of glam, or consider gifting it to mothers, sisters and best friends. I love this scent for gifting because it's soft and elegant, but not overpowering, making it a scent that many women love and can embrace.
Want to win a Vera Wang fragrance kit? Enter here before July 20, 2016 for a chance to win your very own Vera Wand Embrace collection kit to step up your perfume game: Vera Wang Embrace Fragrance Collections