It's Gemini season! Welcome to the first in our series of signature cocktails for every zodiac sign! You might turn to your star chart for guidance in relationships, work, and health, so why not recreation too? These zodiac cocktails will also be fun to pair with your monthly Whimsy horoscope.
All you Gemini babies born between about May 21 and June 20, keep reading to see which drink best suits your dual nature.
What's the Best Type of Cocktail for a Gemini?
Your insatiable curiosity will lead you to new tastes, Gemini!
As a traveler at heart who thrives in other cultures, you've no doubt tried the classic Italian cocktail, the Negroni. Its balance of bitter and sweet appeals to the duality of your zodiac sign. But, been there, done that, right?
So to satisfy your mercurial tastes, we're putting a twist on a twist on a Negroni—the Old Pal cocktail. Geminis are incredibly social and love to make friends, but they're not always so good at keeping them (who has the emotional capacity for that?!). Yes, maintaining old friendships may be your biggest weakness, Gemini, but you can always have an Old Pal.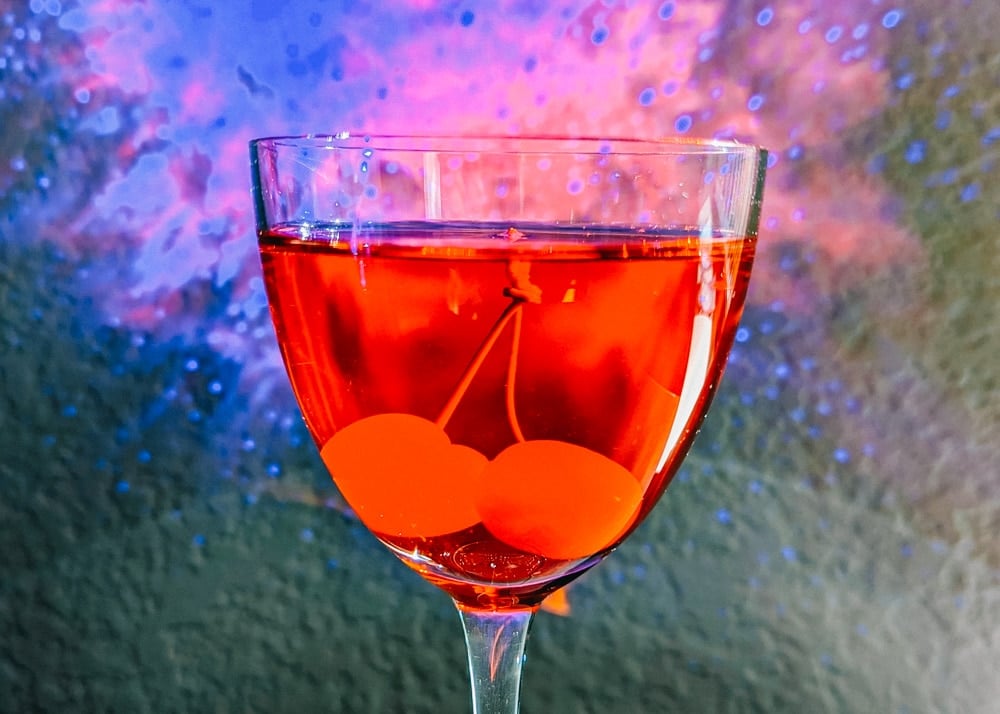 And since you're ruled by Mercury, you want things done fast—even your drinks. Not to worry, this cocktail only takes a couple of minutes to make (and as long as you want to drink). It's also a beverage that's a great kick-off to an adventurous meal or a night of partying!
Twinning and Winning: The Signature Gemini Cocktail
My real expertise is in mixology, not astrology, so let's move from your star chart to the bar cart! I'm here to tell you more about the Negroni, the Old Pal, and the cocktail made just for Geminis: a little drink I like to call "Twinning and Winning."
The Negroni was created in Italy in the early 20th century and became an instant classic. More recently, the Negroni got a big bump in popularity during the pandemic, thanks to Stanley Tucci's viral Instagram vid. This quintessential cocktail is also incredibly simple and straightforward: equal parts gin, Campari, and sweet vermouth garnished with an orange peel.
Because the Negroni is so beloved and so easy to make, this drink has inspired countless variations (it's almost as flexible as you are, Gemini). Some of its more well-known variations include the White Negroni, the Boulevardier, and the Old Pal, a cocktail created in the 1920s by the famous bartender and author Harry MacElhone.
The Old Pal substitutes rye whiskey for gin and calls for dry vermouth instead of its sweeter counterpart, making this cocktail a lighter but still spirit-forward drink. It also swaps the traditional orange peel garnish with a lemon twist.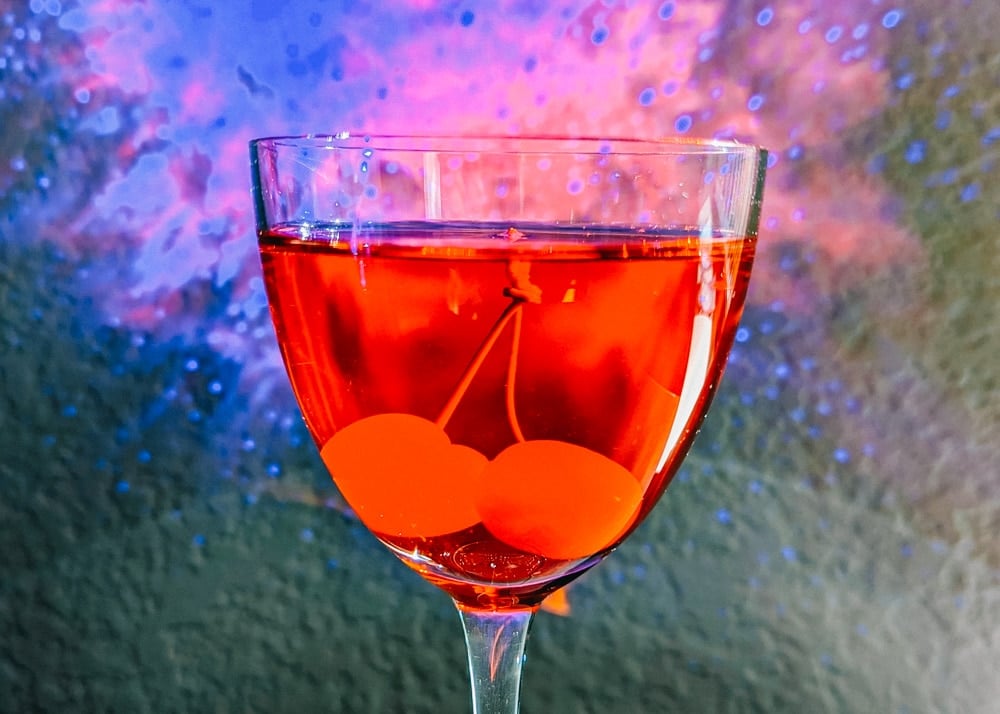 But what makes Twinning and Winning, our variation on the Old Pal, the cocktail for Geminis? Instead of a lemon twist to garnish, the Twinning and Winning cocktail is topped off with juicy twin cherries! We're also adding a glug of maraschino liqueur to complement the cherries and counterbalance the dry vermouth.
How to Make a Gemini Cocktail
Twinning and Winning is smart, sophisticated, and surprising—perfect for people with curious palates, like you, Gemini! You'll find notes of zesty citrus, stone fruit, and warm spice in each sip.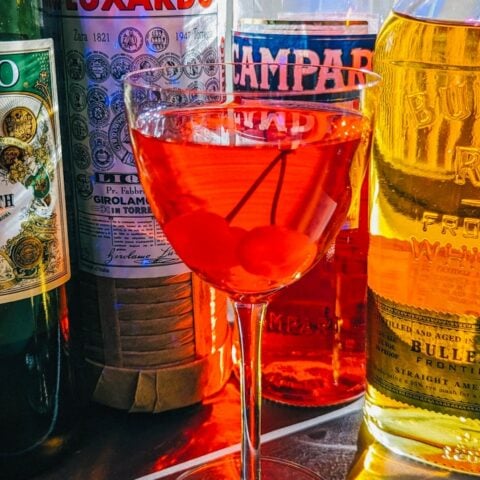 Twinning and Winning: Gemini Cocktail
Bitter and sweet, smooth but sharp, this rye whiskey and Campari cocktail with zesty-tart cherry notes speaks to your dual nature, Gemini.
Ingredients
1 oz rye whiskey
1 oz Campari
1 oz dry vermouth
1/2 oz maraschino liqueur
2 maraschino cherries to garnish
Instructions
Add rye whiskey, Campari, dry vermouth, and maraschino liqueur into a mixing glass with ice.
Stir until well-chilled.
Strain into a chilled Nick & Nora glass (or a chilled coupe glass).
Garnish with maraschino cherries.
Notes
To recreate the drink as shown, you'll want maraschino cherries with stems—be sure to double-check the label! I can't guarantee that you'll find twin cherries that share a stem in every jar, but two unpaired cherries will do just fine, too.
I love the Luxardo brand of maraschino liqueur, and Luxardo cherries would be a great alternative to make this drink extra fancy. Instead of regular maraschino cherries, consider garnishing with two Luxardo cherries on a cocktail pick to step up the sophistication.
When to Serve a Gemini Cocktail
As an air sign, you love to mingle, Gemini, and our signature Twinning and Winning cocktail is sure to be a crowd-pleaser at your next dinner party.
You probably don't need any social lubricant for yourself, but this spirit-forward drink will encourage your less social guests to loosen up and enjoy the party. Plus, this cocktail easily scales up and can be made in a pinch, so you can juggle playing hostess and bartender without missing a moment of juicy gossip.
You no doubt know which of the 12 zodiac signs you are, but what about your rising sign? Or your houses? If you need a crash course in astrology, check out Whimsy Soul's complete guide to Astrology 101. You'll learn about moon signs, sun signs, cusps, and everything else!
And while Mercury is the ruling planet for Geminis, Mercury retrograde can affect everyone. But WTF is Mercury retrograde, and how can you not only survive but thrive during this turbulent time period? Well, Whimsy Soul has the secrets to surviving Mercury retrograde.
Gemini, I hope you enjoyed this peek at how your sign influences your signature Gemini cocktail. Cancer, you're up next! Stay tuned for our more zodiac cocktail recipes coming your way over the next several months.