When my girlfriend Jackie's dad asked if we would want to visit him in the Exuma Islands, we bought our flights within the hour. Who says no to the Bahamas??
While I'd been to the Bahamas before, I'd only ever been to Nassau. Nassau is the biggest city in the Bahamas, and is the most touristy spot due the fact that it has the country's international airport.
As we'd never been to the Exumas before, it was a first time experience with totally new islands and beaches. My girlfriend's dad was chocked full of travel tips and advice on the coolest things to do in the Exumas. 
What to Know Before You Go To Exumas, Bahamas
For anyone living on the East Coast of North America, the Bahamas is a pretty standard vacation destination. It has the tropical vibes of the Cook Islands but is only about a three hour flight from New York City. 
However, it might be a little unfamiliar for those living anywhere else.
So, here's a couple things to know about the Bahamas from the outset.
Nassau vs. Exuma Islands
First, there's a big difference between the Exuma Islands and Nassau. Both are gorgeous, but provide two totally different vacation experiences.
Nassau has some of the largest resorts in the country. It's probably most well known for the Atlantis Resort, which has tons of fantastic amenities such as waterslides and an in-house casino.
We spent one night at a motel in Nassau (I wouldn't recommend–it was pretty gross), but had so much fun enjoying the Atlantis casino! You don't have to be a guest to visit the casino, and there are day passes if you'd like to enjoy the pool or spa.
There are a couple all-inclusive resorts in Nassau as well. The Sandals Bahamian is likely your best bet. 
The Exuma Cays are more remote and far less touristy than Nassau. The hotels are boutique and the main draw is the natural beauty of the islands. Think more hiking and kayaking than slot machines and pools.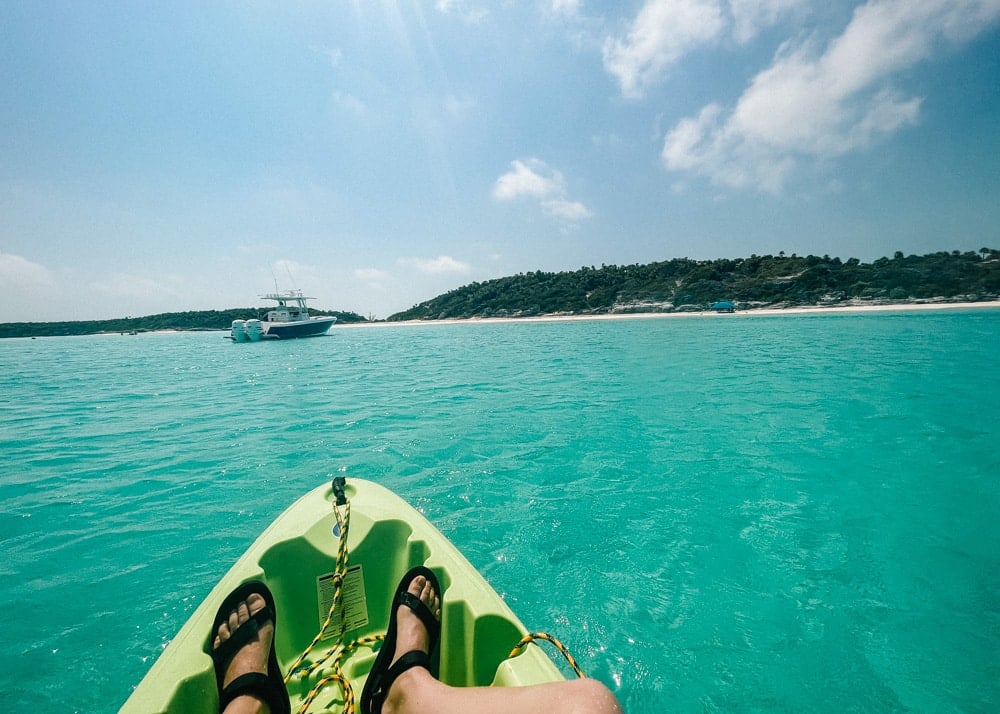 How To Get From Nassau To Exuma Cays
There is not a direct flight from the United States to the Exumas. Getting there isn't too hard, but definitely requires some travel resources and finesse.
Your best bet is to fly into Nassau and then take a jumper flight to one of two Exuma Cays. The air field is teensy tiny but the flight is super short.
We used Flamingo Air and flew into Staniel Cay to meet Jackie's dad. The flight was one of the most scenic and beautiful experiences, and wasn't pricey.
WiFi/Internet Service
Unlike Nassau, there is close to no service around the Exuma Cays. Unless you're connected to the hotel wifi of wherever you're staying, you will have little to no cellphone access. 
Personally, that was one of the biggest pluses of this trip. I have gotten so used to working on vacation because of work from home culture that I haven't had a work free trip in almost two years.
So, make use of your time! Use the Exumas as an excuse for a phone detox. 
There Are SO Many Islands
This is probably the thing we were most naive about. There are just so many different islands that make up the Exumas! Some of these islands are good to stay at, while others are more of a day trip destination.
All of the different spots have pros and cons. The list below includes the best areas to hit, what to do while you're there, and all the Exuma travel tips. 
Exumas Travel Guide: 9 Best Things To Do & Where To Go!
All of the Cays and Islands have different things to do. It can be a little confusing, so this guide breaks it down by location.
Of course, each of these islands are just a boat ride away from one another. Just because you stay at Highbourne Cay doesn't mean you can't have an amazing day trip to Major Cay or Stocking Island.
Here are the top things to do in each of the major islands of the Exumas.
1. Compass Cay & Pigs Beach
Compass Cay was one of the coolest parts of our trip. It's a very remote section of the Exumas, but tons of tour groups come for one very special reason.
The Compass Cay Marina is the perfect place to pet some nurse sharks. I was totally terrified at first (I actually refused), but was convinced after watching Jackie feed one of them a hotdog right out of her hand.
They're like the puppy dogs of the ocean, and couldn't have been friendlier. The clear water is perfect for viewing if you don't feel like getting up close and personal.
I suggest lumping the sharks together with the other Compass Cay attraction– Pig Beach! Pig Beach is on Major Cay, which is a short boat ride away, and many tour guide boats include both destinations so you get your money's worth. 
The famous swimming pigs of the Bahamas are a top Exuma destinations bucket list item. The pigs were equal parts adorable, rambunctious, and Instagram-worthy.
Just be careful– the pigs tend to go to the bathroom where they please and are not shy about approaching for food.
2. Highbourne Cay
Okay, this is where you can get bougie. Where Compass Cay lacks in restaurants and opportunities to be extra, Highbourne Cay makes up for it. This may be the best area of Exuma Bahamas to stay in.
We stayed at the Highbourne Cay Resort for half of our time in the Exumas and have never felt more relaxed. 
The best thing about Highbourne Cay was how calm it was. There were other guests, of course, but the vibe of the island was pure relaxation and privacy.
One of the best parts of this resort are the amenities. Bikes are included with your reservation, so we were able to bike all around the island. There are multiple different beaches, and we were able to visit all of them thanks to the bikes.
After suntanning on one of the totally private beaches, we went over to the outdoor gym. It's located on top of a hill and has an insane view overlooking the entire island. The outdoor shower directly next to the weight rack allowed for an easy transition back to the beach. 
At a larger resort like the ones in Nassau, it is near impossible to get a spot at the tiki bar. However, at Highbourne Cay Resort, we were first in line at the tiki bar, which was right on the beach.
Other highlights included an adorable water swing set and a surprise bus stop friend you have to see for yourself.
They have several swim platforms that are easy to get to, so we spent the rest of our afternoon drinking piña coladas and daiquiris in the middle of the ocean. Pretty ideal. 
3. Staniel Cay
Staniel Cay seemed like it was the most populated and busy of all the places we visited. For that reason, it's a safe bet as the best place to stay!
The Staniel Cay Yacht Club was a stupid amount of fun. The food was delicious and the vibes were immaculate.
I had the fish tacos and Jackie had the conch fritter sandwich, and we slipped blissfully into a food coma by the beach. The Miami Vice super cocktails probably didn't help.
Beyond the great food, the Yacht Club is home to one of the best Exuma resorts. Amenities include pool access, fishing, and tons of water sports including jet skis and flight boarding. I suggest you try both– exploring the Exumas on a jet ski was next level.
From the Yacht Club, there are tons of different beaches to hit, each with its own tiki bar. We hiked across the island for most of the day and found a couple completely empty beaches.
Once you're ready to get out of the Yacht Club, I'd start with the Thunderball Grotto. Especially if you're a James Bond film fan.
The Thunderball Grotto is located right off the coast of Staniel Cay, and was featured in the James Bond movie Thunderball.
You'll likely need to book a boat ride through a tour group like the one linked in order to get out to the grotto and for all snorkeling gear! They can pick you up right by the Yacht Club port. We got lucky– Jackie's dad ferried us out and already had all the gear with him.
We hopped right off the side of the boat and snorkeled under the rocks and into the grotto. We had the most incredible experience exploring the open rock formation and all the fish beneath us. They were pretty comfortable with us in their space, and swam right up to us.
You're definitely going to want to go to Thunderball at low tide– otherwise you have to work a lot harder and hold your breath a lot longer to get under the rocks and in!
4. George Town
Similar to Staniel Cay, George Town is very populous (as far as the Exumas go).
The Grand Isle Resort is an insanely gorgeous hotel and includes many of the amenities that will make it a bang for your buck. It's very close to the airport, and has one of the most gorgeous pools with a swim up bar.
Also– there's a taxi service. No need for a car rental!
As far as things to do in George Town, I'd start with Odyssey Picnic on the beach. Whether your trip is romantic or with friends, this picnic is a must. The cost includes the set up and take down of a gorgeous lunch or dinner right on the beach.
Be sure to check out the Straw Market, too. It's such an authentic shopping experience and will help you to practice your bartering!
5. Emerald Bay
Emerald Bay is perfect if you're looking for more of a classic resort stay in the Exuma Islands. You can't beat the crystal clear blue waters of the Exumas, but it's totally valid to still want that Nassau feel.
Located in the Great Exuma, Emerald Bay is home to the largest resort of the Exumas, The Sandals Emerald Bay. 
There are a ton of activities included through the hotel including scuba diving, parasailing, and golf designed to snake through the unique shape of the island.
The Exuma nightlife isn't exactly popping off (like I said, it's remote), but there's a cool bar and club at the Sandals resort. 
6. Side Quests
We spent a lot of time ferrying around different locations that were not located on any of the larger Cays. I advise looking into a water taxi company so you can do the same.
Most of these are day trips and if you make it to the Exumas, you absolutely cannot miss them. It's all about the outdoor time. That's what makes this place so special.
7. Rachel's Bubble Bath
Rachel's Bubble Bath was probably my favorite thing we did on this trip. It was straight out of a movie scene. I'm thinking specifically of The Little Mermaid.
After a short beach hike, you'll find a hip-deep pool of clear blue water located on a rock formation. All you have to do to understand the name of Rachel's Bubble Bath is get in.
The water is warm because of how shallow it is, and feels like sitting inside of a La Croix. Every thirty seconds, waves crash over the rocks and into the pool, creating a bubble effect that feels more like a jacuzzi than the ocean.
We spent over an hour laughing and giggling while getting slapped around by the waves. Everyone around us had the exact same reaction. It was contagious!
Try to get there earlier in the day, as it gets super crowded in the afternoon. Oh, and bring water shoes– this place is notorious for pesky sea urchins. 
8. Kayaking in Shroud Cay
Whichever resort you decide on will likely have access to kayaks (or at least rentals!), and while it's fun to just kayak around the resort, I cannot emphasize enough how incredible it was to kayak the mangroves of Shroud Cay.
We got dropped off at the mouth of the mangroves via water taxi with nothing but a couple of granola bars and our sunscreen. It took us a little over an hour and a half, but we were able to paddle all the way through the mangroves and back out to the ocean.
Shroud Cay is as remote as it gets, so we were able to see the wildlife in a much more natural way. We made friends with a couple of turtles and a manta ray. It was full on Finding Nemo out there.
One of the really cool things about the mangroves is that many of the motorized water vehicles are prohibited from entering. This means completely calm waters and not a lot of people. We pretty much had the entire place to ourselves. 
9. Underwater Drug Smugglers Exuma Plane Wreck Snorkeling
I know, it's a mouthful. But the Underwater Drug Smugglers Exuma Plane Wreck Snorkeling is one of the coolest things to do in the Exumas, and the thing I'm saddest about not checking off my list!
On the day we were supposed to taxi out to this spot, it was far too rainy and stormy to snorkel in. *sob* Here's hoping you get the chance to see what it's all about.
The story goes that on a normal evening a couple of decades ago, an emergency call was radio'ed in from an unknown plane. The plane ended up crashing almost immediately afterwards, and was found to be stuffed to the brim with nothing but weed.
Tourists can go visit the plane now via water taxi. The plane is only about ten feet under water, which is completely clear anyways. If you're in for a bit of spooky fun, 100% add this to your list. 
10. Dundas Cay
Dundas Cay was another world. We took a water taxi from Compass Cay and snorkeled around the Cay before swimming beneath the rock and entering this insane grotto.
Again, you're going to want to get to Dundas on the earlier side to beat out any competing tour groups. The grotto isn't very big and I wouldn't want to be squished in there with a bunch of other people.
The other key for us was to go at low tide to make the entrance to the grotto a little less scary. The lower the tide, the less you have to hold your breath to make it under the rocks and into the grotto. 
Once inside, you'll find stalagmites and stalactites taller than you and water the strangest colors of bright blue and green. Light comes in from a hole at the top, so if you're able to get photos, they'll turn out great.
Where to Eat In Exumas
We cooked a lot on our trip! My girlfriend's dad is a pretty accomplished fisherman and wanted to show off what he caught. 
On the nights we did go out to dinner, these were our favorite spots.
1. Lorraine's Café
We had the best time drinking and eating at Lorraine's Café. The vibe was super authentic and the staff couldn't have been sweeter. We got to chat with Lorraine herself, and it felt like more of a backyard BBQ than a restaurant in a lot of ways.
We had blackened shrimp and a jerk chicken sandwich with rice. Both were delicious and washed down with the classic Bahamian Kalik beer.
2. XUMA at Highbourne
This was the fancy dinner of our trip, and whoa was it amazing. XUMA at Highbourne is connected to the Highborne Resort, but you don't have to be a guest to stay there.
We had the most insane beach view during our dinner. The restaurant is so close to the beach it feels like the waves are going to crash right on you.
The food could not have been more delicious and fresh. Definitely opt for seafood, as most of it has been caught just that morning. I had the sea bass and wished I could have ordered it twice. The seafood risotto was absolutely amazing, too.
3. Staniel Cay Yacht Club
I could never forget about the Staniel Cay Yacht Club! This place was seriously such a good time.
If I could change anything, I wish we had carved out more time to stay and drink here. We had the Miami Vice cocktails, which were basically sherbert ice cream with a hint of rum.
We had to get back on the water taxi and couldn't stay for more than a couple of hours, but I would suggest you carve out the whole afternoon to try more drinks on the menu.
We went for lunch and got the conch fritters and fish tacos, but they serve dinner too.
What to Pack For A Trip To Exumas
During your time in the Exumas, think of some of these as NEEDS and not wants. It'll make your trip so much more seamless!
Like I said earlier, the Exumas are a bit more rustic than other Caribbean vacations. Some of the items on this list will be essential so you don't feel stranded.
1. Sunscreen
If you're as fair skinned and prone to burn as I am, then perhaps this one goes without saying. There's no such thing as shade on the Exuma Cays, and we found ourselves reapplying every thirty seconds. 
Even my girlfriend, who has more of an olive toned complexion and doesn't typically burn, was bright red by the end of our kayaking day.
We used this Blue Lizard SPF 50 and were very happy. It is specifically for sensitive skin, and we didn't have any flare ups as a result of using it.
Also, the bottle has UV radiation detectors, and glows blue when it detects dangerous levels of UV. This was so helpful when deciding whether or not it was time to reapply.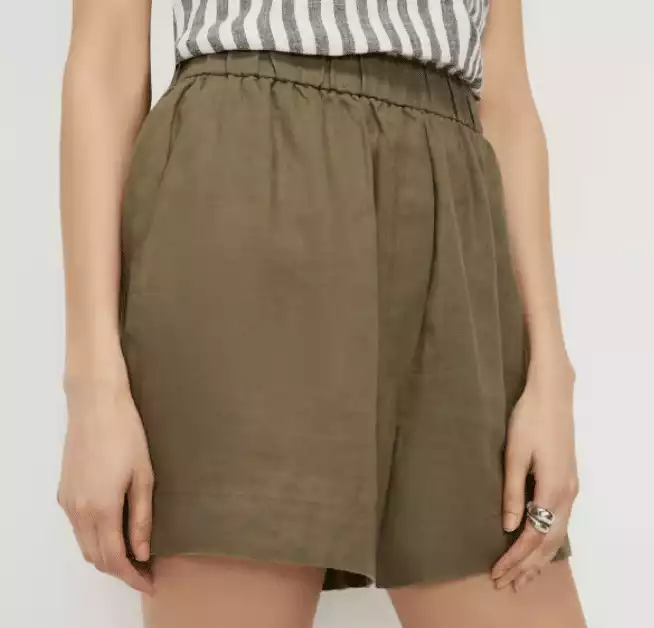 2. Linen
The Bahamas are not just hot, but are insanely humid. Denim is a no go here. Ditch the jean shorts for some linen to stay dry and comfortable.
I'm obsessed with these linen shorts from Everlane. They come in a couple of different color options and are a good price.
In terms of shirts, I always look to Banana Republic for linen shirts because of the quality. The price point is a little higher, but I love the cut of this linen shirt– it falls exactly where I want it to.
3. Bathing Suit
Again, this may go without saying, but I just wanted to float it out there! We spent more time in bathing suits than in clothes, so make sure this is top of your packing list!
Lately I've been very into the Abercrombie swimsuit line. I love the color options and the variety between classic full pieces and fun bikinis. 
If you're looking for a more extensive breakdown of bathing suit options for this Exumas trip and beyond, we've got you covered.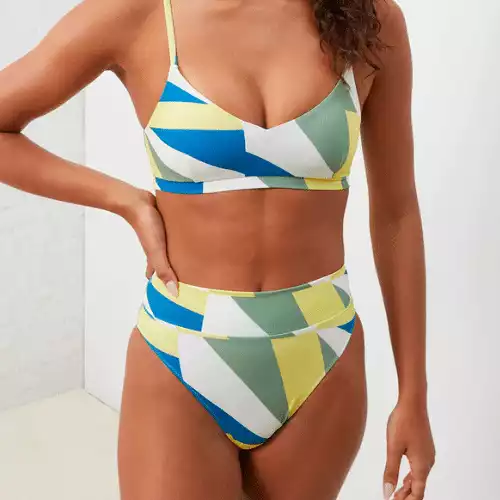 Organic Geo Bralette Bikini
The only poolside energy you need is the playful pattern on this bralette bikini. Made with recycled nylon, it's soft and sustainble. Includes removable cups.
Buy Now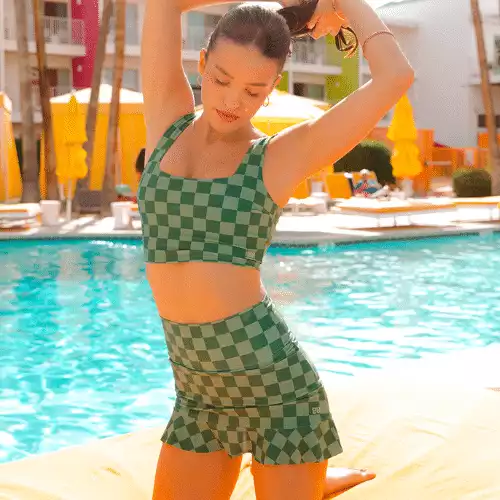 Green Swim Skirt Bikini
Green checkered pattern, high waisted and built in bottoms makes this the best curvy swimwear for active looks. I've never seen a bikini like this!!
Buy Now
4. Waterproof Backpack
This was so essential to our trip. With all the water taxiing you'll be doing, you're going to need some place to keep extra clothes, towels, snacks, and sunscreen dry during the journey. 
We were using this Sea to Summit bag the entire trip and it was the best money I ever spent. You'll want clothes and towels after snorkeling, parasailing, and jet skiing. The dry bag is a must.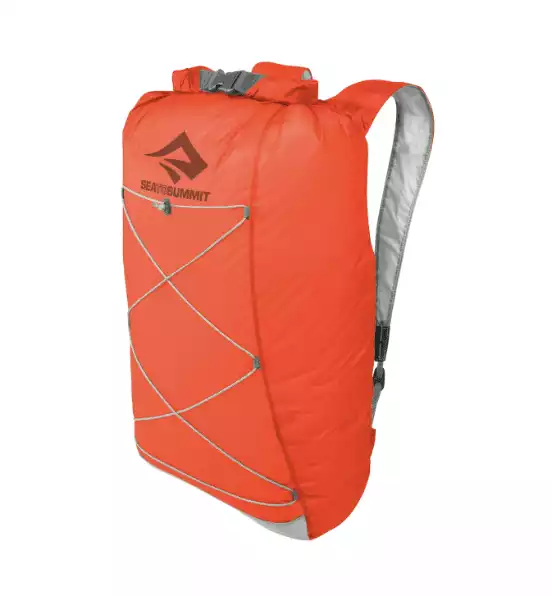 5. Waterproof Phone Case
I've never used a waterproof phone case before this trip, but having one was awesome! I was able to get so many pictures while snorkeling and riding the jet skis that I otherwise would not have been able to capture. 
Also, this phone case has a wristband you can attach to your arm or shorts just in case you're as paranoid as I am.
6. Cash
Tips are expected for water taxis and tiki bar drinks, and you can't pay in sand dollars. 
Make sure you bring plenty of cash to tip with! US dollars are fine, so there's no need to exchange.
Kara's Fave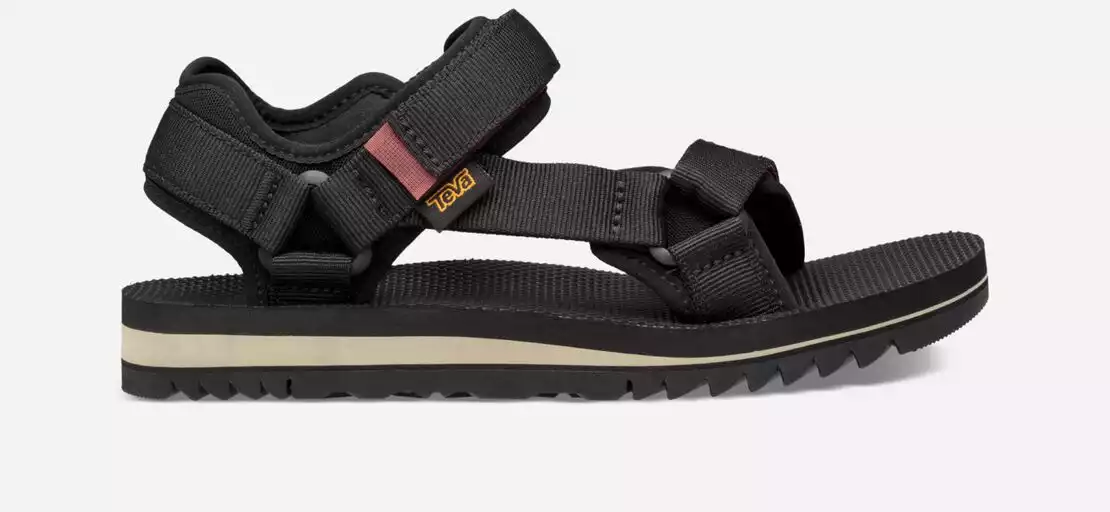 Teva Universal Trail Sandal
I adore my Teva Universal Trail sandals and wear them everywhere (from trails to cities to waterfalls since they're waterproof!) They're sturdy, comfy, non-slip and the perfect outdoor travel sandal on the market. Tip: size down when ordering.
Shop Now
My Review
7. Water Shoes
Many of the activities on this guide require a bit of tramping to ports through rocky waters. Water shoes are a great way to prevent cuts and scrapes along the way.
I'm a firm Teva loyalist, as they are non-slip but open toed so your feet won't get too sweaty. I rock a classic but slightly dorkier pair of Tevas that I'm obsessed with. My girlfriend wore this strappy style that she was able to wear to dinners out. 
Crocs are always an option too! They're just slightly less sturdy.
8. Snacks
We brought so many snacks with us and couldn't have been happier that we did! Because these islands are remote, access to granola bars, nuts, and chips is limited. When you do find them, they're off the charts expensive.
There was no issue with bringing food into the Bahamas.
We mainly brought nuts and granola bars to snack on during our hiking and kayaking adventures. We saved a bunch of money that we then put towards daiquiris and souvenirs. 
The Exuma Islands are a once in a lifetime adventure. We felt like we were in a pirate movie the entire time, and couldn't get over the sheer natural beauty of these cays. Charge your phone because you're going to want to take a lot of pictures.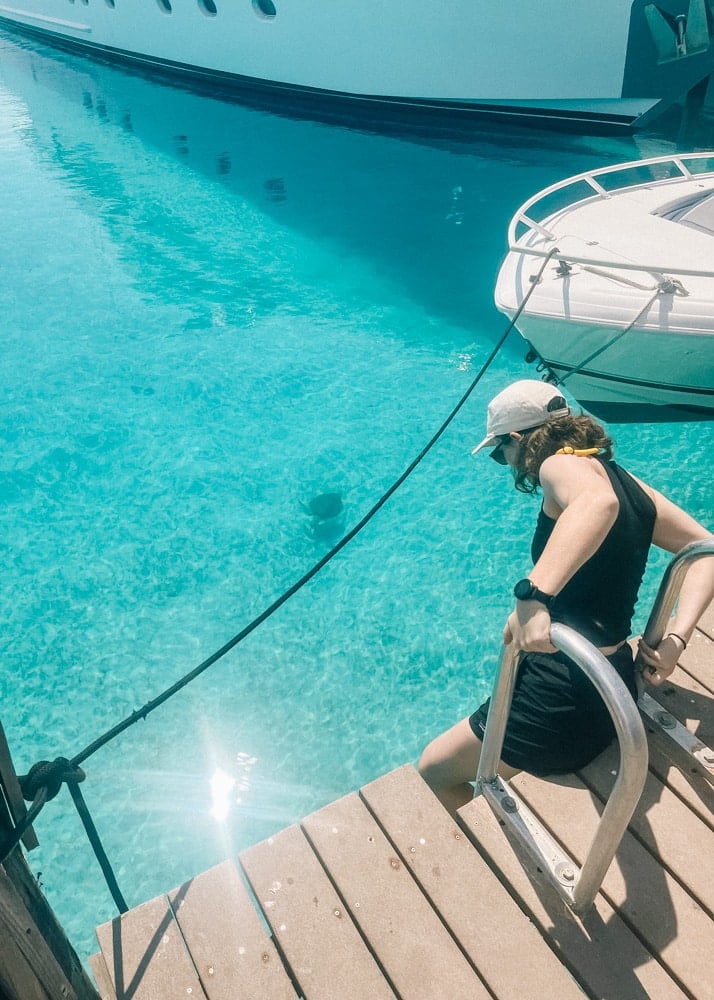 Whether you decide to stay in one location for the entire time or make use of the classic Exuma transport water taxis, you will have an unforgettable trip.
Don't forget your water shoes, and happy travels!