If you are looking for a travel destination with pleasant weather, the kindest people, and some of the most delicious food you'll ever have in your life, look no further than Oaxaca de Juarez, Mexico.
Located centrally in Oaxaca State, the city of Oaxaca (officially known as Oaxaca de Juarez, but colloquially known as just "Oaxaca") has been inhabited by indigenous people, including the Aztecs, Zapotecs, and Mixtecs for thousands of years before being colonized by the Spanish in the mid-1500s.
Flash forward about 500 years, and the city of Oaxaca is now a top Mexico travel destination for Americans, as it is just a short flight away from the United States.
Not to mention there's something particularly lovely about staying in North America but still getting to experience the beautiful culture and history of another country.
17 Bucket List Things To Do In Oaxaca Mexico
I literally cannot wait to go back to Oaxaca, and hopefully after reading this Oaxaca travel guide, you will be equally as excited to plan your Oaxaca vacation.
Keep reading and you'll find all of my recommendations for the top things to do in the Oaxaca region, what to see in Oaxaca, the best places to stay, and most importantly, everything you should eat.
1. Do A Mezcal Tasting
There is nothing more quintessentially Oaxacan than mezcal. While mezcal is produced throughout Mexico, over 40 different types of agave grow in the state of Oaxaca, making it a prime location for producing the smoky spirit.
It is something the people of Oaxaca take a lot of pride in, which is why it's important that you have at least one sip of Mezcal while visiting (I personally had about 85).
My friends and I did a day tour to Monte Alban (more on that later) which included a stop at a mezcal distillery called Mezcal Capotlan in Las Razas, which is right outside of the city of Oaxaca.
The amazing tour travel guides showed us the process of making mezcal from start to finish, and then let us taste several different mezcals.
Mezcal Capotlan was definitely a great stop, but if you're not going there on a pre-planned tour, I'd probably opt for something closer to Oaxaca's city center, like Cortijo La Mezcaleria, which is where we went later that evening to sip on some more mezcal.
I highly recommend doing a mezcal tasting while in Oaxaca, especially if you think that mezcal is just tequila's smokier cousin—You will be pleasantly surprised by the depth and flavors that mezcal has to offer.
2. Take A Day Tour Of Monte Alban
If you're staying in the city of Oaxaca, you must visit Monte Albán, which is an archaeological site that was inhabited for over 1,500 years.
It may not be as well known as other sites in Mexico, like Teotihuacan outside of Mexico City or Chichen Itza near Tulum, but it has a significant history, as it was the capital of the Zapotec civilization for hundreds of years.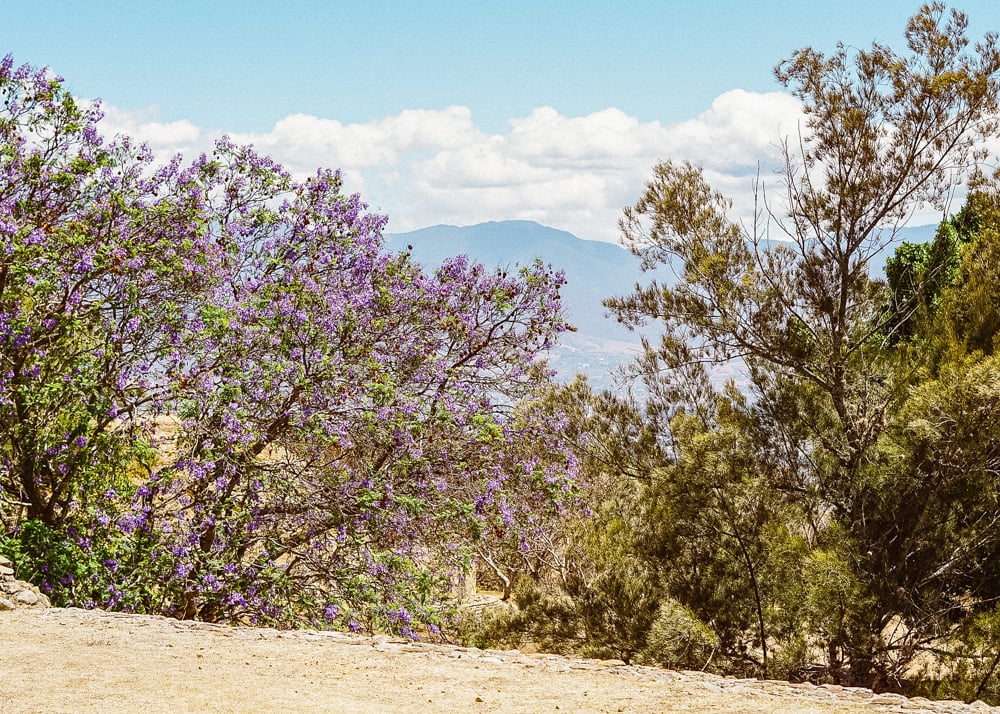 From the Oaxaca city center, it's only about a 25 minute drive up to Monte Alban, and once you get to the UNESCO World Heritage Site, you'll be in awe of the views of the valley and the impressive ancient structures, including pyramids, which you're allowed to climb up—talk about a great photo opp!
We booked a tour of Monte Albán through Airbnb Experiences, but still had to buy our own tickets, which were $90 MXN, which is roughly $5 USD.
If you intend on taking photos or videos, you are supposed to pay a $50 MXN fee (which I did, because I'm a rule follower), but it did not seem to be heavily enforced, as everyone else in my tour group was taking tons of photos but did not pay.
Most other places I visited in Mexico were strict about this though, so don't try to cheat the system if you can afford it.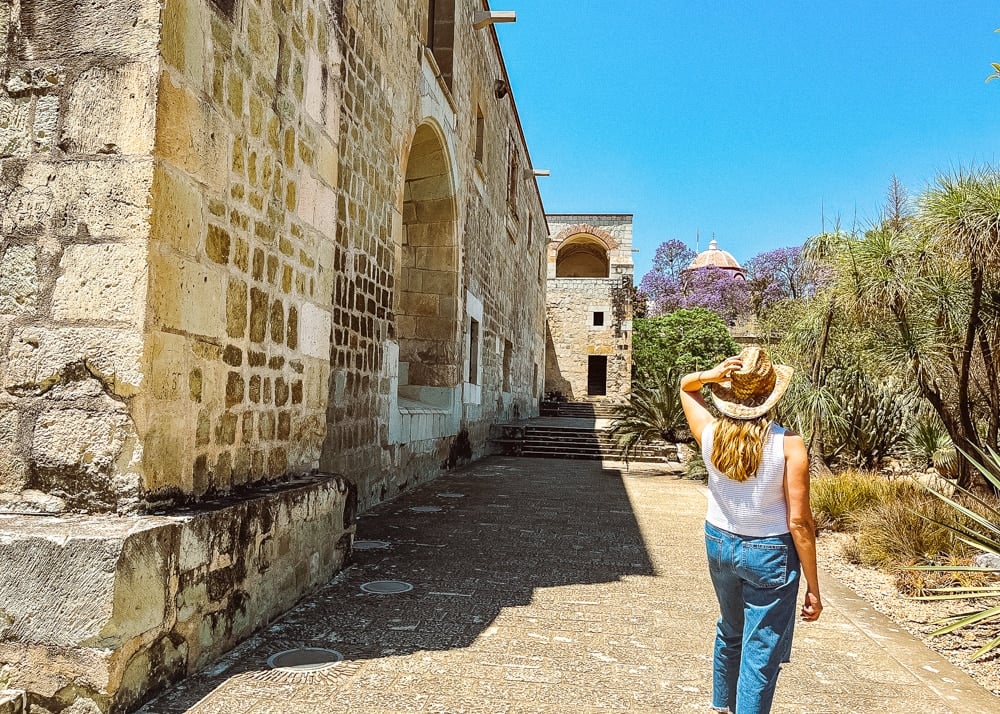 If you are a history buff or have the time to schedule some more day trips in the Oaxaca area, you could also check out Mitla.
Nestled in the Sierra Madre mountains, Mitla is the second most well known archaeological site in Oaxaca, as it was a religious site for both the ancient Zapotec and Miztec people.
3. Tour The Botanical Gardens
The state of Oaxaca has incredible biodiversity, and that is fully on display in the city's botanical gardens.
Located right next to the church of Santo Domingo, the botanical gardens are a nice way to see the plants native to Oaxaca without having to travel all around the state.
The catch with the botanical gardens is that you can only access the gardens if you book an official tour. We were ill prepared and missed the English tour, so we had to take a tour in Spanish (Luckily we had befriended a lovely Mexican couple earlier in our trip so they offered to translate for us).
They only offer one English tour per day at 11 a.m. and only allow a max of 30 people to attend, so you'll definitely want to get there a good 45 minutes early to secure a spot.
Also keep in mind that the English tour is two hours long and costs $100 MXN, which you'll pay in cash when you arrive.
I'd recommend bringing a hat and sunscreen on this tour, as it was quite hot when we were there. However, they do have straw hats and umbrellas that you can borrow to protect yourself from the sun if you need them.
4. Attend A Traditional Oaxacan Cooking Class
Oaxacan cuisine is known around the world for being some of the most delicious and the most unique, thanks to its combination of quality, local ingredients and pre-hispanic traditions.
In fact, some indigenous groups in Oaxaca never interacted with their Spanish colonizers, so their traditional cuisine remained free from European influences, which makes it extra special.
We took a half-day cooking class at the home of a lovely woman named Su, which we booked on Airbnb Experiences (PS: This is not sponsored by Airbnb in any way, I've just had great luck with Airbnb Experiences), and it was truly one of the most magical experiences on our trip.
Not only were Su and her team of sous chefs and translators incredibly knowledgeable, but they were also very kind (and accepting of our limited cooking abilities).
We started the day by making Tejate, which is an indigenous hot chocolate drink, and then we whipped up some fresh salsas and crafted our own tortillas out of masa.
We then used those tortillas to build our own empanadas and memelas, which I would describe as kind of like a tostada, but with a ridge to keep the pork fat and cheese from falling off.
The salsas, empanadas, and memelas were just lunch, so once we ate our first course, we got to making a mango custard for dessert, a mezcal cocktail, and a mole amarillo, which is a traditional sauce that we enjoyed over chicken, rice, and potatoes.
When it was time to finally eat the mole, I was very full, so pro tip: don't have a giant chocolate croissant before you go to a cooking class!
Overall, a cooking class is a must-do when visiting Oaxaca. Not only will you get to taste delicious pre-hispanic cuisine, but you'll also get to experience the indigenous culture and make new friends!
5. Go Shopping At The City's Many Markets
There's no better way to get a sense of a city than by checking out the various markets and scoping out the shops.
In Oaxaca, there are plenty of markets to choose from, and several of them are all in a row, making it really easy to knock out your souvenir shopping and try some street food.
If you head south from Zocalo, you'll find three different markets—Mercado Benito Juarez, Mercado 20 Noviembre, and Mercado Artesanias.
Mercado Benito Juarez is probably the most well known, and if you only have time to check out one, Mercado Benito Juarez has a nice combination of shops and food stalls, so you can see a little of everything.
To be honest though, most of the vendors seemed to be selling the same assortment of souvenirs, so I wasn't dying to spend my money there.
Just across the street from Mercado Benito Juarez is Mercado 20 Noviembre, which is where I would recommend going if you're a foodie.
Unfortunately I went right after our cooking class, so I was not able to indulge in the street food offered there, but if you plan ahead, you could definitely get a fantastic meal.
Mercado 20 Noviembre also has butcher stands and seafood stalls, so just keep that in mind if you are squeamish… or vegetarian.
And then if you're in search of more handmade, artisanal goods, walk one more block to Mercado Artesanias, which is another large indoor market with vendors selling clothing, jewelry, and other merchandise.
If you are looking for a slightly more upscale souvenir, you could find some nice things here!
6. Try The Tasting Menu at Criollo
If you haven't gathered this by now, I very much love to try new foods when traveling, so if you're like me, you'll definitely want to book a table at Criollo, which is an authentic, upscale Oaxacan restaurant by Chefs Enrique Olvera and Luis Arellano.
It has frequently been mentioned in food media for being one of the area's best restaurants.
They offer a six course tasting menu for $1400 MXN—ours consisted of a mini chorizo torta, shrimp toast, tamales, black bean soup, two different white fish dishes, and three different desserts (so if you do the math, it was really more like nine courses).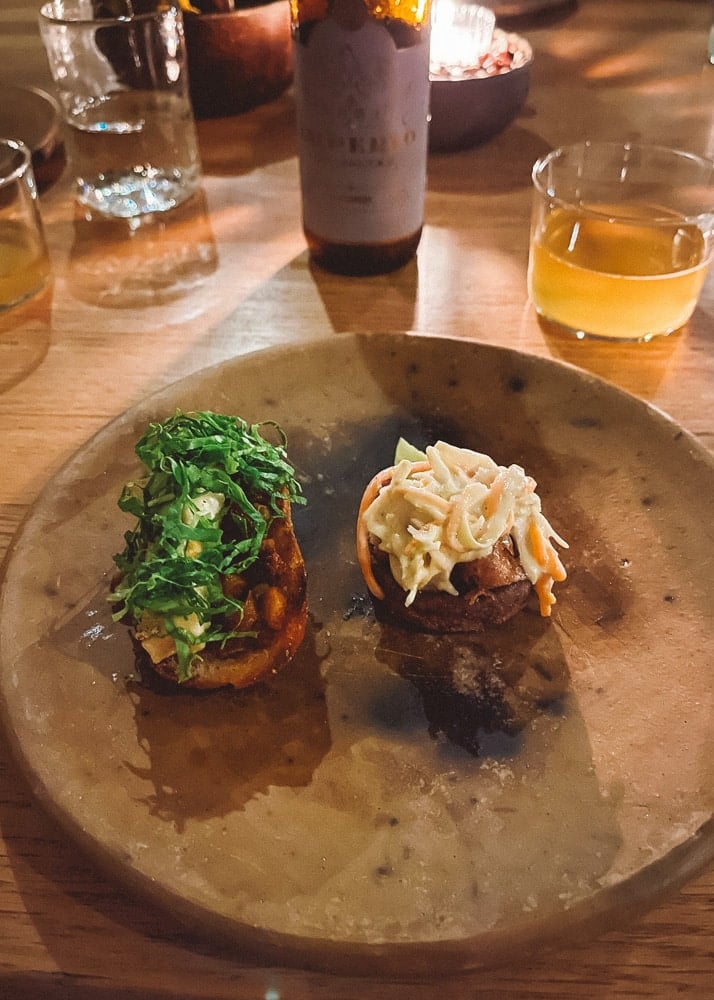 You can also add drink pairings for $500 MXN.
If you enjoy the occasional alcoholic beverage, I would highly recommend that you add on the drink pairings—We were able to try a local Mexican beer, two different Mexican wines, and three cocktails. It really added a nice touch to our meal.
I definitely recommend doing a tasting menu at Criollo, just maybe learn from my mistakes and don't do it the same day you take the cooking class…
7. Wander Around Oaxaca's City Center
If you're looking for free things to do in Oaxaca City, one of the best is simply walking around and admiring the beautiful architecture, impressive street art, and colorful flowers that decorate the city, especially in the historic city center.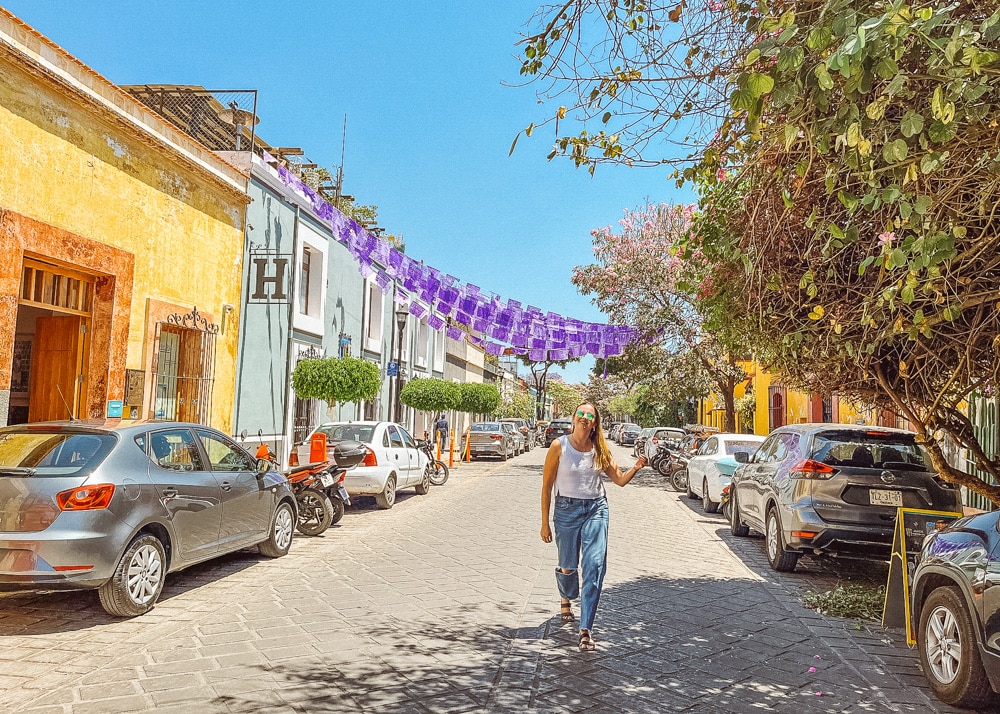 If you are less directionally-inclined or looking to learn more about the culture and history of Oaxaca de Juarez, I'd recommend taking a guided tour.
There are plenty to choose from if you just google "free Oaxaca walking tour" or something to that effect (although they will want you to tip, so plan accordingly).
Or if you are willing to spend a little money, there are plenty of themed tours available on sites like Airbnb Experiences, where you can explore Oaxaca through the lens of history, women-owned businesses, and more.
8. Taste Pulque at a Pulqueria
While mezcal is definitely the alcohol of choice in Oaxaca, I would be remiss if I didn't give you a heads up about Pulque.
Made from the same maguey (agave) plant as mezcal, Pulque is a traditional Mesoamerican drink that was often reserved for members of high society.
It has a milky consistency, and some people would describe it as slightly sour, thanks to its fermented state, but I didn't find it off-putting at all, probably because when we tried it, it was served blended with strawberries.
While I was only in Oaxaca for a few days, I didn't get the impression that Pulque is high on many tourists' "must-try" lists, as I have never heard of it before.
But since we made some local friends, they took us to a Pulqueria (specifically, La Pulquisima), insisting that we must at least taste it. I enjoyed it, so I'd definitely recommend trying it out if you are visiting!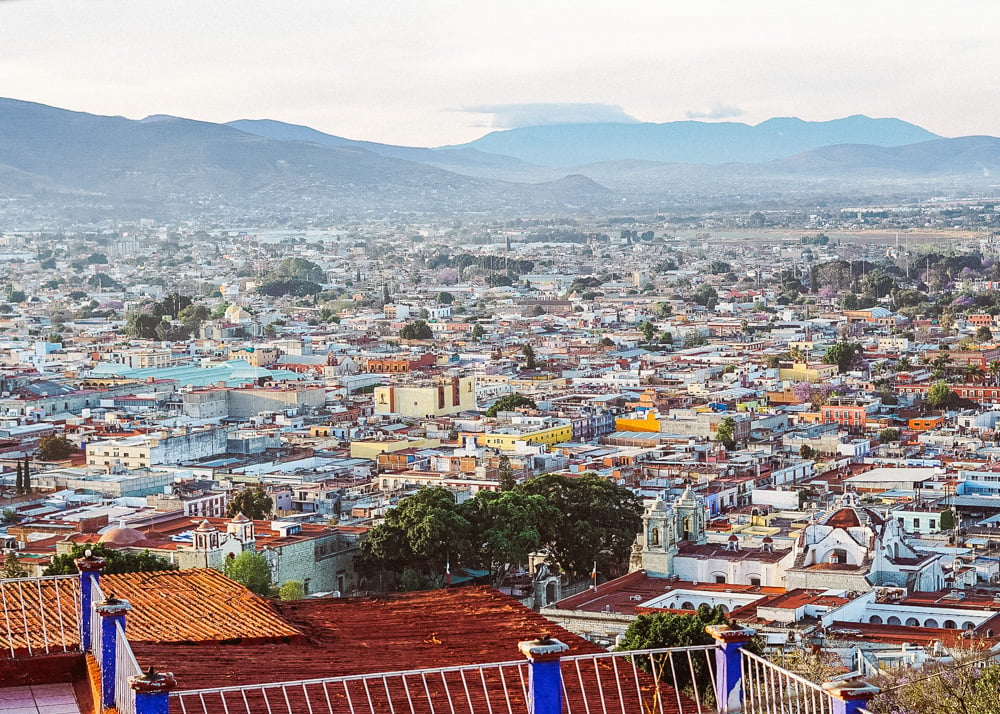 9. Plan A Day Trip To Hierve El Agua
There are plenty of cool day trips you can take when visiting the city of Oaxaca.
In addition to exploring the ruins of Monte Alban and Mitla, you should also consider checking out Hierve El Agua, which is about 65 kilometers south of Oaxaca de Juarez.
Hierve El Agua consists of natural mineral springs and rock formations that essentially look like frozen or petrified waterfalls. If you've rented a car, you can drive yourself to Hierve El Agua, but for most visitors, a full day tour is the best route.
Many of the day trips from Oaxaca have Hierve El Agua as one of the stops, often combined with a mezcal tasting or visiting local artisan shops, making it easy to knock out a few bucket list items in one day.
Everyone we met who visited Hierve El Agua RAVED about it, so if you are down for a little hiking followed by a soak in the hot springs, definitely make sure this is on your Oaxaca itinerary.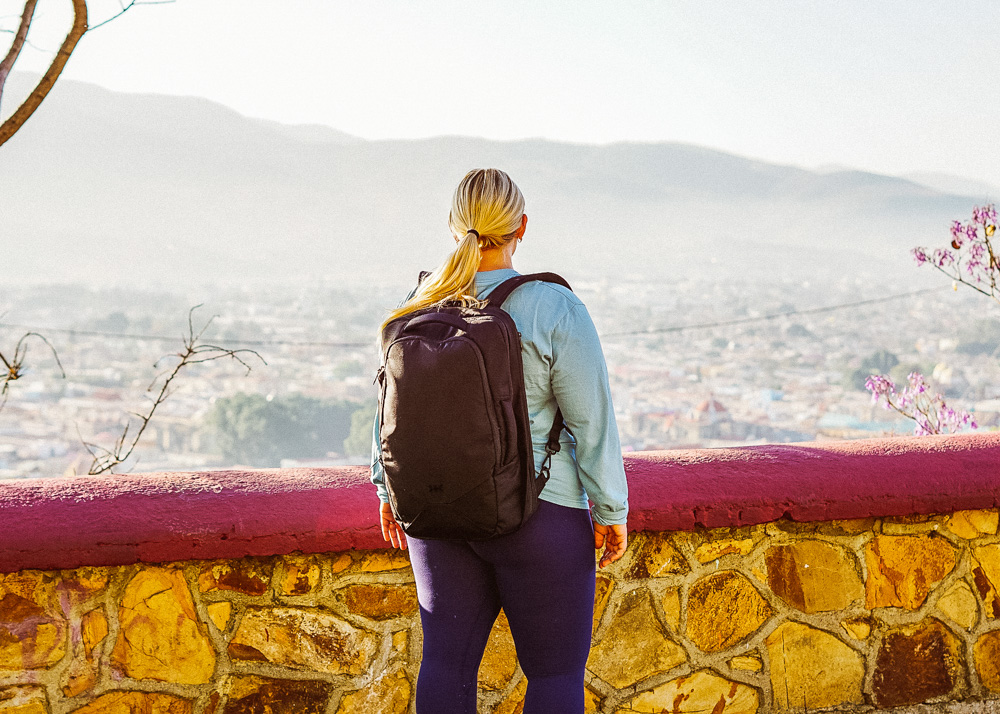 10. Take a Morning Stroll (Read: Hike) To The Benito Juarez Monument
Almost every morning my friend and I would get up around 7:30 a.m. and take a nice stroll around the city, culminating with a super long hike up roughly a gazillion stairs to get to the Benito Juarez monument near the Gimnasio Del Estacionamiento Del Auditorio Guelaguetza (which is a giant stadium in the hills above Oaxaca's historic city center).
For those of you unfamiliar with Benito Juarez, he was the first indigenous president of Mexico and a national hero—You'll see his name pretty much everywhere around the country.
Fun fact: Juarez was added to Oaxaca's city name to be Oaxaca de Juarez, because Benito Juarez was born in the city in 1806.
Anyway, if you are willing to brave the stairs up to get to the monument, you'll not only have a pleasant (albeit, exhausting) walk, but you will get to see some of the best views of the city and Oaxaca's surrounding hillside. Especially in the morning when the sun starts lighting up the hills… chefs kiss.
Pro tip: If you want to go on an actual hike, there are some fantastic hiking trails throughout the Sierra Norte mountains, which are about two hours from Oaxaca de Juarez. But for us city folks, the stair climb up to the Benito Juarez monument was more than enough.
11. Experience A Temazcal Ceremony
This is for all of my spiritual girlies. Common throughout Mexico and other parts of South America, a Temazcal ceremony is a traditional healing ritual that consists of taking an herbal steam bath in a sweat lodge, while a spiritual leader guides you through meditations and chants.
The ritual has been practiced in Mexico for over a thousand years, but when the Spanish came, they outlawed the practice and destroyed all of the Temazcal structures.
Luckily, some indigenous people were able to continue the practice in secret, so the traditions have been preserved.
There are many places around Oaxaca where you can participate in a Temazcal ceremony, such as Temazcal Mariana.
We really wanted to attend a Temazcal ceremony, but they were all booked up by the time we tried to do it, so be better than us and book in advance (you may be noticing a general theme here, in which we were frequently winging it).
I wouldn't say this is one of the most unusual things to do in Oaxaca, Mexico, but it is definitely something that fewer people get to experience!
12. Soak Up The Oaxacan Sun On A Rooftop
One of the best parts about going on vacation is getting to sit and do nothing… on a rooftop with a drink in your hand.
And Oaxaca has no shortage of glorious rooftops from which you can soak up the sun and enjoy never ending mezcal cocktails. This is also one of the best things to do in Oaxaca at night!
There are plenty of rooftops to choose from around Centro Historico, but we personally enjoyed Oaxaca Te Amo and Tierra Del Sol.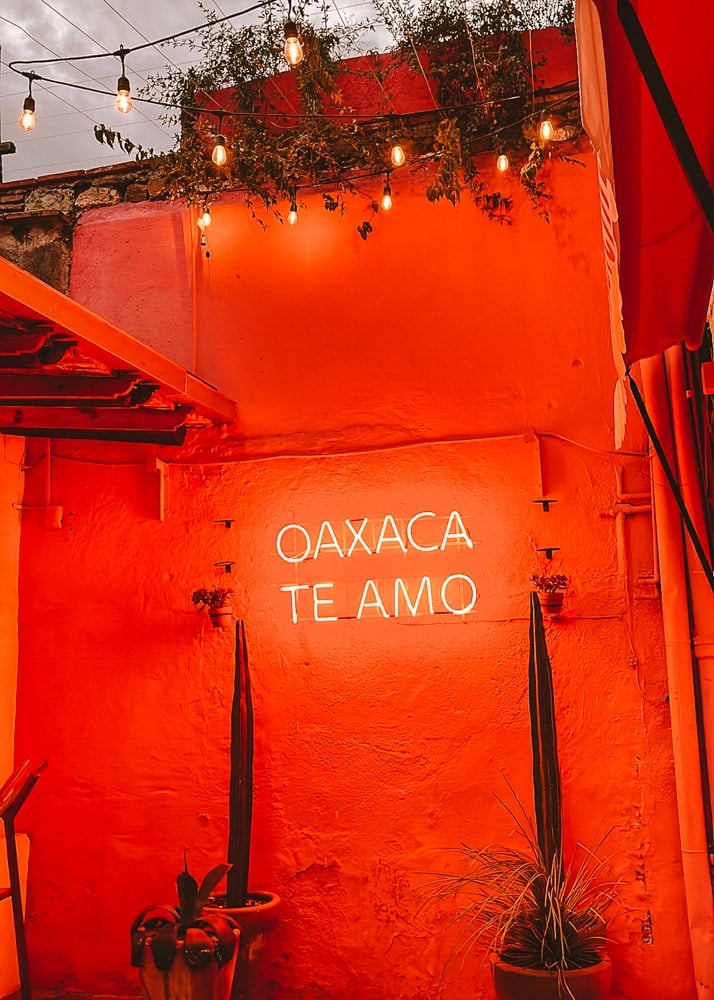 Oaxaca Te Amo is a popular one, as they have a bright pink wall with a neon sign that says "Oaxaca Te Amo," so as you can imagine, it is a very popular spot for anyone with an Instagram.
Full disclosure though: The food was mediocre, but the drinks were good, and let's face it, that's really why we're going there anyway.
Tierra Del Sol is another nice rooftop bar and restaurant directly across the street from the botanical gardens. It was very posh and the views were lovely. They serve traditional Mixtec cuisine and an array of cocktails.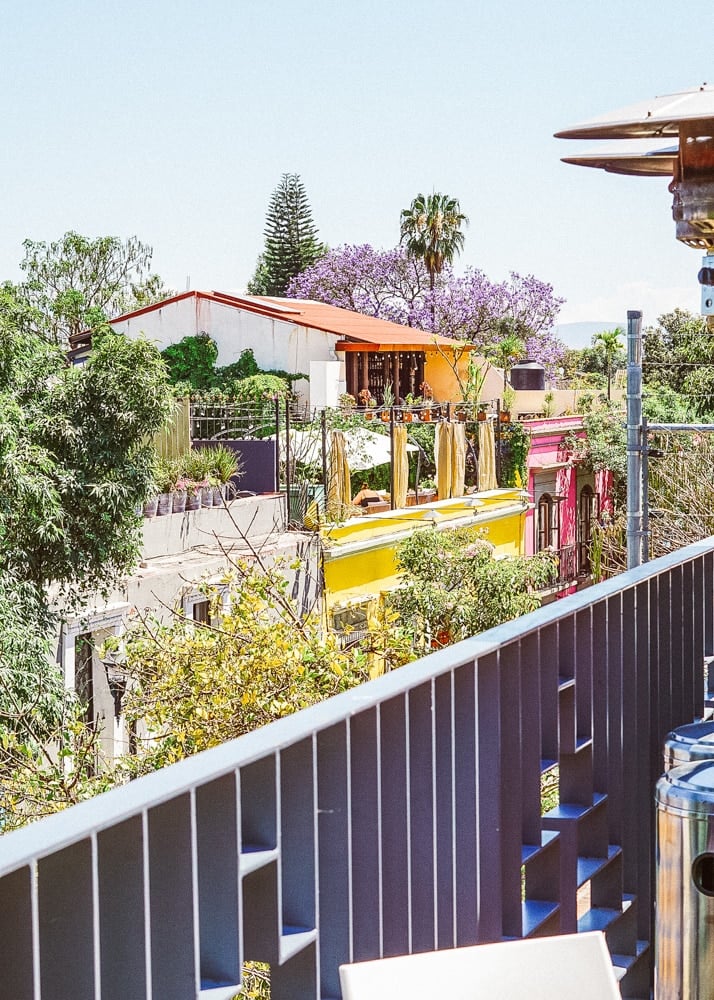 Some other rooftops you can check out are Gozobi and Azotea Restaurante Grill House, which has spectacular views of Santo Domingo.
13. Explore Nearby Towns
One of the great parts about visiting the Ciudad de Oaxaca is that there are plenty of small neighboring towns and rural areas that you can visit during your trip.
As part of our tour to Monte Alban, we made a stop in San Antonio Arrazola to visit an alebrijes workshop. For those of you who may not be familiar with alebrijes, they are the colorful, wooden sculptures of mythical creatures that are an important part of Oaxacan culture (you may recognize them from the movie Coco as well).
It was really quite lovely to see the artisans work on these wood sculptures—Their carving talent is absolutely unmatched.
Another nearby town that is worth checking out if you're interested in pottery in particular is San Bartolo Coyotepec, which is the home of Barro Negro.
Barro Negro is a type of black clay pottery that was made for centuries by the Zapotec and Mixtec people, before being popularized by Doña Rosa, who is credited with developing the modern technique for making the black pottery shiny.
If you're interested in checking out the unique pottery, Alfareria Doña Rosa in San Bartolo Coyotepec is the place to go!
14. Taste The Local Cuisine With A Street Food Tour
Since Oaxaca is known for its cuisine, it's in your best interest to try as many of the local dishes as possible. One of the best ways to do this (aside from a cooking class and tasting menus) is by going on a street food tour.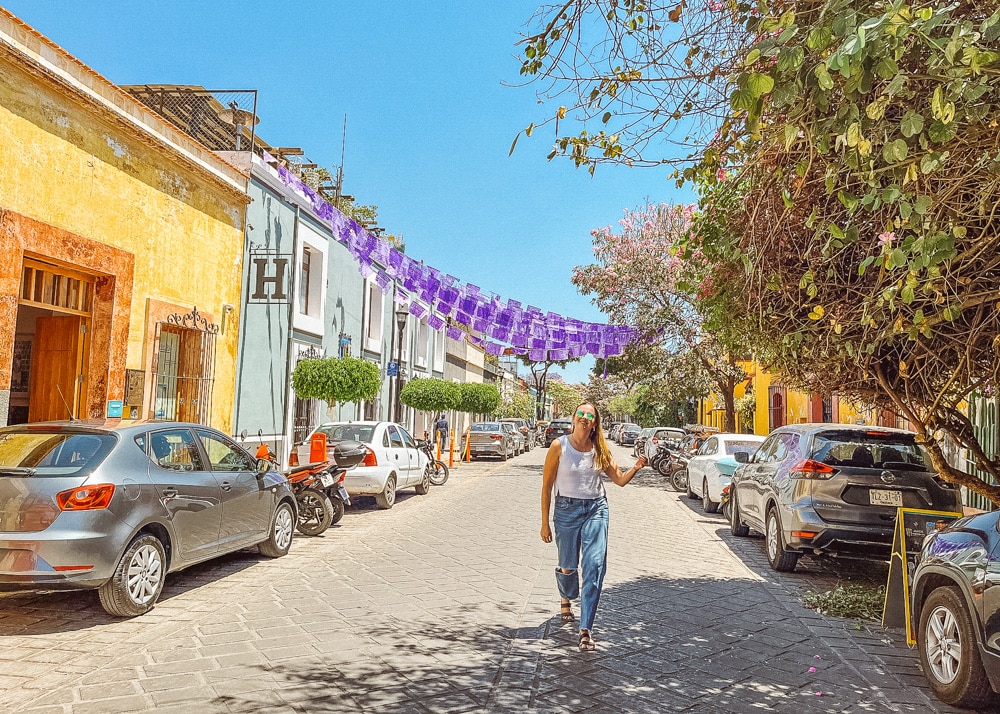 A street food tour is a great way to get a lay of the land while also discovering unique food stands, restaurants, and bars where the locals hang out
(Pro tip: Every local we met suggested going to Sabina Sabe, so do with that information what you will!). Plus, there are even food tours catered to vegetarian and vegan dishes, so that is a great way for plant-based eaters to find the best spots!
15. Visit Santo Domingo & The Museo De Las Culturas De Oaxaca
One of the most standout pieces of architecture in Oaxaca de Juarez is Santo Domingo, which is a beautiful church and monastery in the center of the city (it's also right next to the botanical gardens!).
If you do a tour in the city of Oaxaca, there's probably an 80% chance that they'll have Santo Domingo as your meeting spot.
Not only is Santo Domingo an iconic building filled with history, but it is also home to the Museo De Las Culturas De Oaxaca, or the Museum of Oaxacan Cultures.
The Museo De Las Culturas De Oaxaca shows a variety of objects, including art, jewelry, and even tombs, from the pre-hispanic period all the way to modern times.
It is said to be one of the most comprehensive museums in the area, so definitely worth checking out to get more background on the Zapotec, Mixtec, and other people who have lived in Oaxaca.
One thing to note though—Not everything is in English, so if you're not proficient in Spanish, you may have to make some educated guesses about what's on display.
16. Eat Oaxacan Chocolate
Chocolate is a big part of Oaxacan culture and cuisine. In fact, in many of the indigenous cultures, chocolate was so valuable and important that they used cacao beans as currency.
One of the most common forms of chocolate in Oaxaca is Tejate, which is similar to hot chocolate. This sweet beverage was used to welcome guests, especially in higher social circles.
Chances are if you find yourself at someone's house, like for the cooking class for example, you'll be welcomed with a handmade glass of Tejate.
But of course, there are many other ways to enjoy chocolate in the state! All throughout the historic city center you can find chocolate shops big and small.
Oaxacan chocolate is considered some of the best in the world, so if you're a chocolate lover, or even if you're not, you'll definitely want to give this local delicacy a taste.
17. Check Out Oaxaca's Art Scene
Beyond the beautiful architecture and colorful street art that makes Oaxaca so special, there is a thriving art scene, as the city boasts a plethora of museums covering everything from textiles to paintings to architecture.
Some museums worth checking out are Museo Rufino Tamayo, which features the collection of pre-hispanic art once owned by artist Rufino Tamayo (not to be confused with the Museo Tamayo in Mexico City).
Museo de Los Pintores Oaxaqueños, which focuses on paintings made by Oaxacan artists, and the Museo Textil de Oaxaca, which is a free museum that showcases historical and modern textiles of the region.
Everything To Know Before Booking A Trip To Oaxaca
Now that you are thoroughly stoked to explore the city of Oaxaca and nearby areas, I wanted to share some more practical travel information with you, and answer a few more common questions, so you can feel confident that you'll get the most out of your trip!
Is Oaxaca Safe?
Traveling to Mexico, especially as an American who is constantly bombarded by news stories about how "dangerous" it is (and texts from my mother about how "dangerous" it is) can be very intimidating.
But I can confidently say that me and my two friends did not feel unsafe or uneasy during our entire time in Oaxaca de Juarez.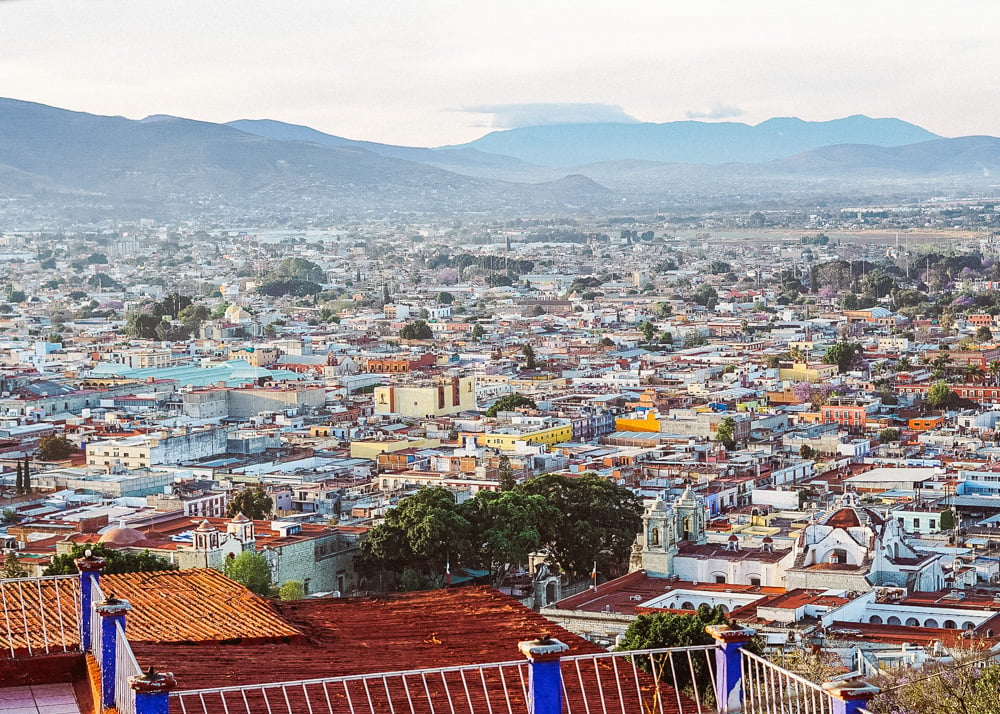 Of course, you'll want to be cautious like you would when you travel to any foreign place, but I did not feel unsafe at any time during our stay in Oaxaca, not even when we were walking home from the bars at night.
According to the state department's official travel advisory, at the time of my trip, Oaxaca was a level 2 country, which means "exercise increased caution."
The United Kingdom is also a level 2 country, so do with that information what you will.
How Many Days Should I Spend In Oaxaca?
As you plan your trip, you may find yourself googling "how many days in Oaxaca" only to find conflicting answers.
So I'm here to tell it to you straight—If you want to do any of the nearby day trips, like Monte Alban, Hierve El Agua, or even spend half a day in a cooking class (which ultimately turns into a full day activity by the time it's all said and done),
you should definitely consider staying in Oaxaca for a minimum of four days, but I think five days would be the perfect amount of time.
If you aren't interested in doing any day trips, three days in Oaxaca should be sufficient, but as someone who only spent three days in the city, I felt like I just barely scratched the surface.
My friends agreed with me—It would have been really nice to spend at least five days in Oaxaca before heading onward to Mexico City.
What Is The Best Time To Visit Oaxaca Mexico?
Oaxaca weather is quite pleasant year round, and while there is a rainy season, the state only gets about 30 inches of rain a year, so you don't have to worry about the weather too much when planning your trip to Oaxaca.
The summer and winter months are often the most crowded, so if you're looking for a combination of nice weather and fewer people, spring or fall is definitely the way to go.
We were in Oaxaca in late March and the weather was perfect, so I definitely think spring is a great time to go. Plus, that's when all the flowers are blooming!
How To Get To Oaxaca
While the Oaxaca airport is pretty small, there are a few direct flights from the US to Oaxaca through Los Angeles, Dallas, and Houston. Otherwise, you'll probably connect in Mexico City.
If you are already in Mexico and looking to travel to Oaxaca, there are plenty of bus routes that will get you from Mexico City, Puerto Escondido, Puebla, and more.
But beware, the region is quite mountainous, so if you get car sick on windy roads and elevation, you may want to opt for a regional flight.
Where To Stay In Oaxaca?
As a tourist, you'll definitely want to stay in the Centro Historico, which is where a majority of the main attractions are located, and everything will be easily walkable. I stayed in an Airbnb, but there are plenty of amazing Oaxaca hotels that I'd recommend.
If you're looking for a boutique experience, Escondido Oaxaca is a fantastic option. Not only is the building and decor super chic, but they have an amazing rooftop, complete with a pool.
If a bed and breakfast is more your style, you should definitely consider booking at Casa Frida, which is a quaint and colorful residence located in the center of town.
It's actually right on the walking route we would take every morning to get up to the Benito Juarez monument, and I would admire its bright orange facade daily.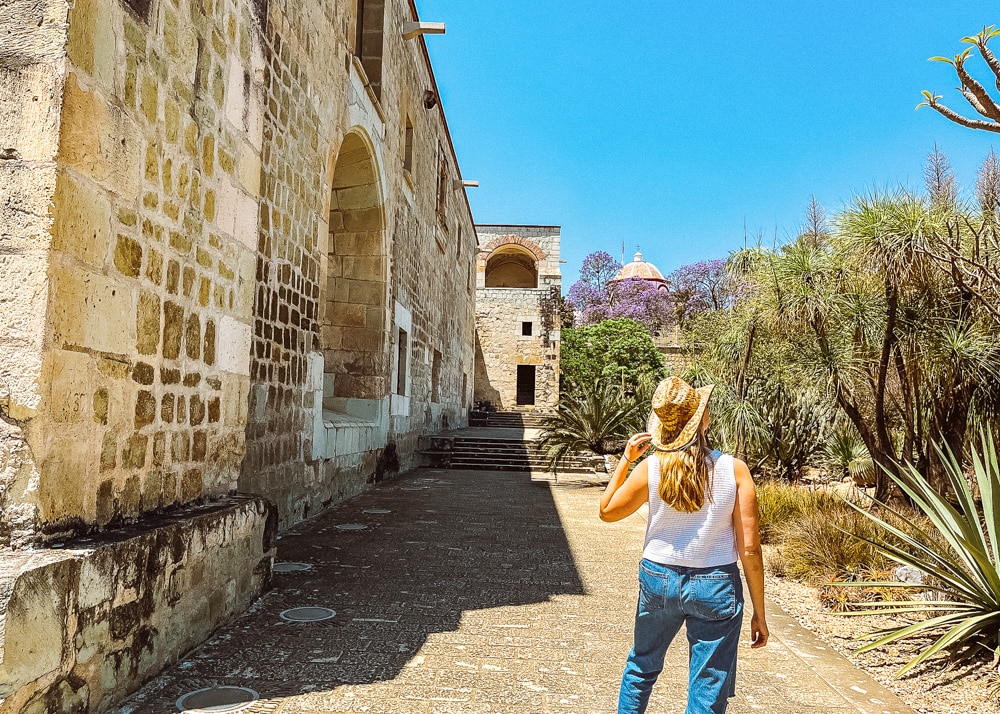 If a luxury hotel built in a 16th century convent is more your vibe, you'll want to check out Quinta Real Oaxaca. This gorgeous hotel is filled with history and has all of the amenities you might need, including a gym, laundry, dry cleaning, 24-hour room service, and of course, a pool.
A few other hotels that caught my eye while walking around the city were Casa Dos Lunas—Right in the center of town, the hot pink building will make for an excellent Instagram opportunity.
And then if you are looking for a cozy hotel that's more budget friendly, Hotel Azucenas (which was right around the corner of our Airbnb) is a great option. Rooms start at $850 MXN, or roughly $50 per night, which is a pretty good deal for a quality hotel room.
Getting From The Airport To Your Hotel
When you arrive at the airport in Oaxaca, the easiest way to get to your hotel or Airbnb is to go to the taxi stand in the airport concourse.
You'll buy a ticket at the counter and then head outside to the line of white vans who are ready to whisk you off into the city—I got a ticket for $115 Mexican pesos (about $5 USD) for a group taxi that ended up having a few other travelers in it.
You simply tell the driver your hotel name (or in my case, struggle to share the Airbnb address in broken Spanish) and he'll drop everyone off at their corresponding hotels. All in all, the journey took about 30 minutes.
If you don't speak Spanish, I'd make sure you have the address of your hotel or have the names of any notable landmarks near your accommodations written down.
I was dropped off a few blocks away from my Airbnb, but I'm blaming that more on my less than proficient Spanish skills than the driver.
Getting Around Ciudad de Oaxaca
For the most part, if you are staying in the historic city center, you'll be able to walk to pretty much all of the main sights, restaurants, and bars. Uber is not available in the city, but there are taxis.
We never tried hailing one though, so I would just say to exercise caution like you would getting into a stranger's car in any city.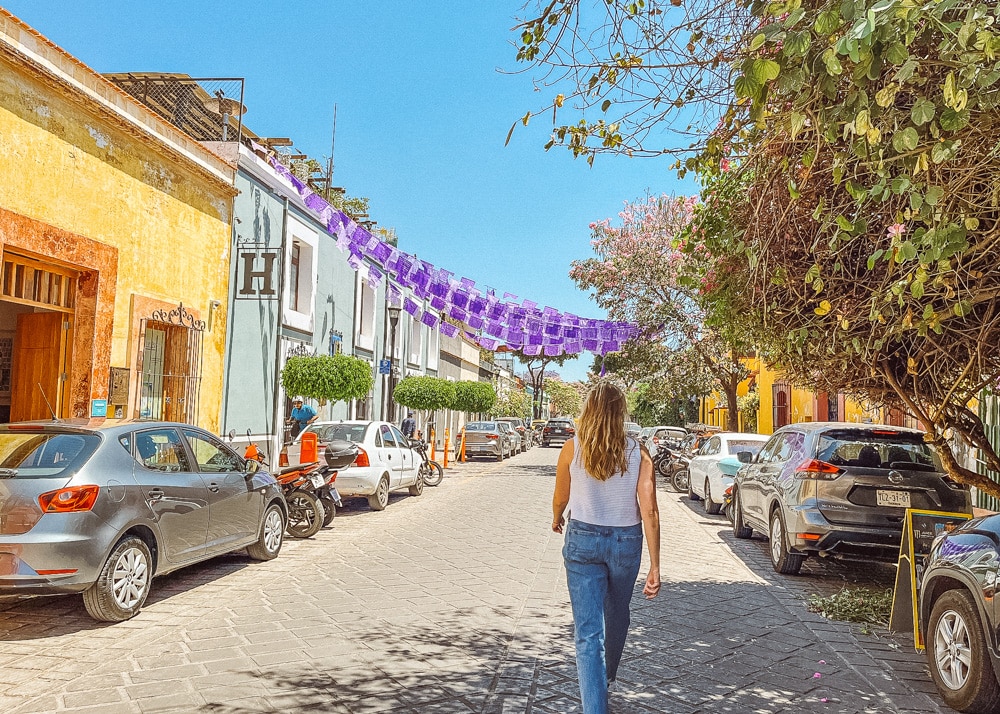 What To Pack For Oaxaca De Juarez
Oaxaca, Mexico weather is warm and sunny most of the time, with evenings getting slightly cooler, but still very comfortable to walk around with a light jacket.
You definitely don't need a full on jacket in Oaxaca, but I brought a light button down with me at night to use as a "jacket."
Because the sun can be really intense, I highly recommend having sunscreen handy at all times, and if you are a hat gal, please bring a hat.
I borrowed a straw hat during our tour of the botanical gardens and it made me hardcore regret not bringing a hat of my own.
Otherwise, you can pretty much wear anything you want in Oaxaca. Most places are pretty casual, although I would avoid walking into any of the churches in a crop top and short shorts, but I'm sure you would never do that anyway.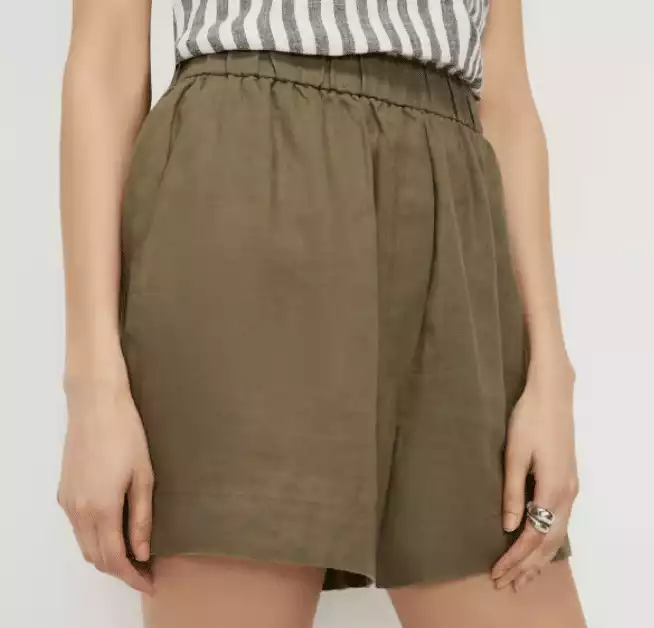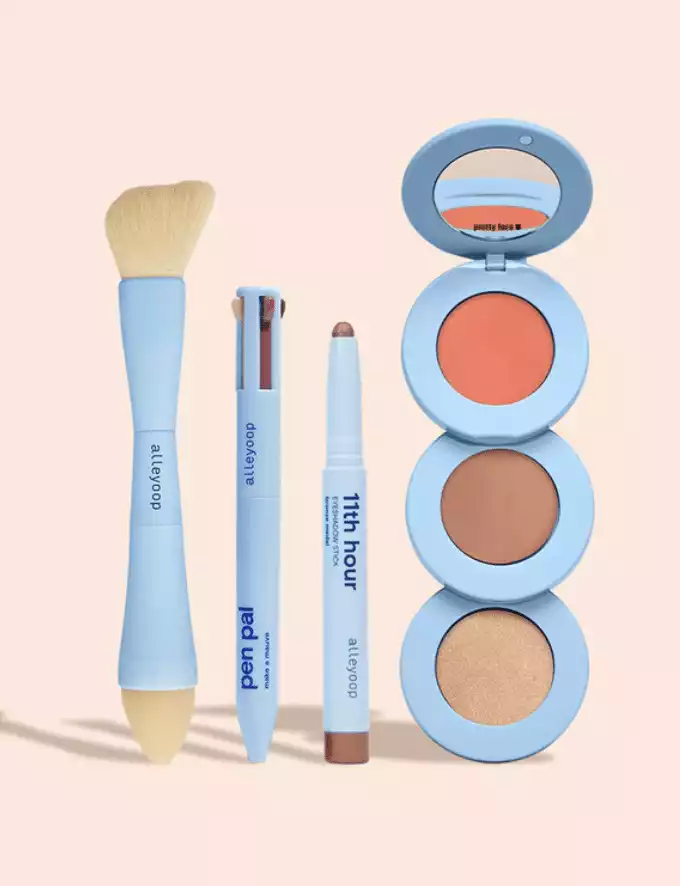 Beauty MVP Set
The Alleyoop Beauty MVP Set includes a clear cosmetic bag filled with its beauty bestsellers: 4-in-1 makeup brush, 4-in-1 touch up pen, eyeshadow & liner stick, blush, bronzer & highlighter trio.
Shop Now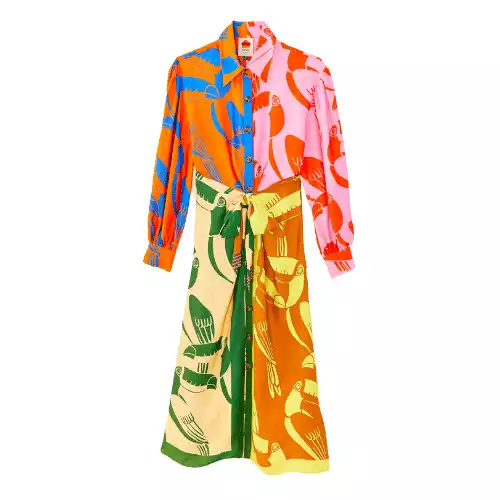 Mixed Rainbow Midi Dress
I'm a sucker for Farm Rio dresses - they're also so dang colorful and make a huge statement. If you're looking for a curvy midi dress with long sleeves, try this bold statement. And, it uses fibers that generate up to 50% lower emissions and water impact!
Buy Now
My Fave!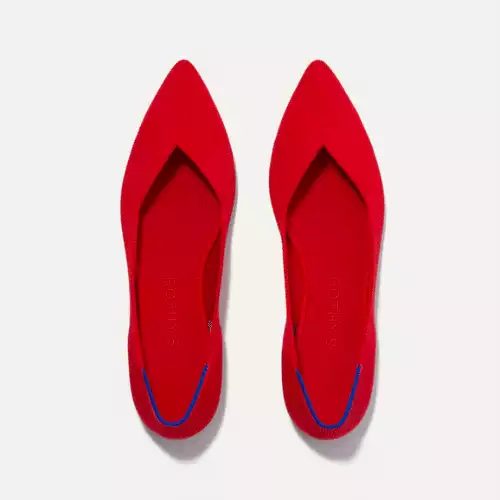 The Point Flat
I LOVE my Point Flats from Rothy's. I've worn them all over the world - from small islands to large cities and everything in between. They're packable, washable and so comfy.
Pros:
Many colors

sleek, timeless style

made with 11 plastic bottles

bendy & packable!
Cons:
lighter colors get dirty faster

not great for flat feat
Buy Now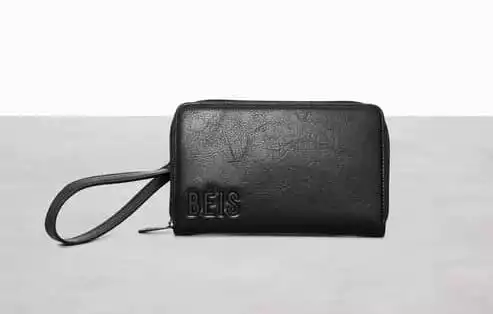 The Travel Wallet
The Travel Wallet from Béis is compact and has just enough space for the essentials with organizational pockets for money, coins, passport, credit cards and you can even squeeze your phone! Perfect for the airport or wandering around a new city!
Shop Now
Our Review
Can I Use A Credit Card In Oaxaca?
While you can use credit cards in some places around Oaxaca, I would recommend having some pesos on you at all times when in Oaxaca, because it can be hit or miss when people take cards (unlike in Mexico City where cards were the norm).
Plus if you find yourself on tours, you'll want to make sure you have money for tips!
Pro tip: When taking money out of an ATM in Mexico, always decline the ATM's conversion, which comes with a fee. You'll save some money this way, because your bank will do the conversion for you!
How Much Spanish Do I Need To Know In Oaxaca?
I speak very minimal Spanish, like truly just enough to get a taxi and order food, and I was able to get by in Oaxaca. But I would caveat that by saying that you should definitely brush up on some useful phrases before you go.
While plenty of people speak English, especially in popular areas and on tours, there will most likely be times where you run into someone who doesn't speak English and you'll need to communicate.
Also, for future reference, the Oaxaca Mexico pronunciation is like "wa-ha-ka" not "oh-ha-ka." I learned the hard way by saying "oh-ha-ka" on TikTok and everyone made fun of me, so please take this to heart.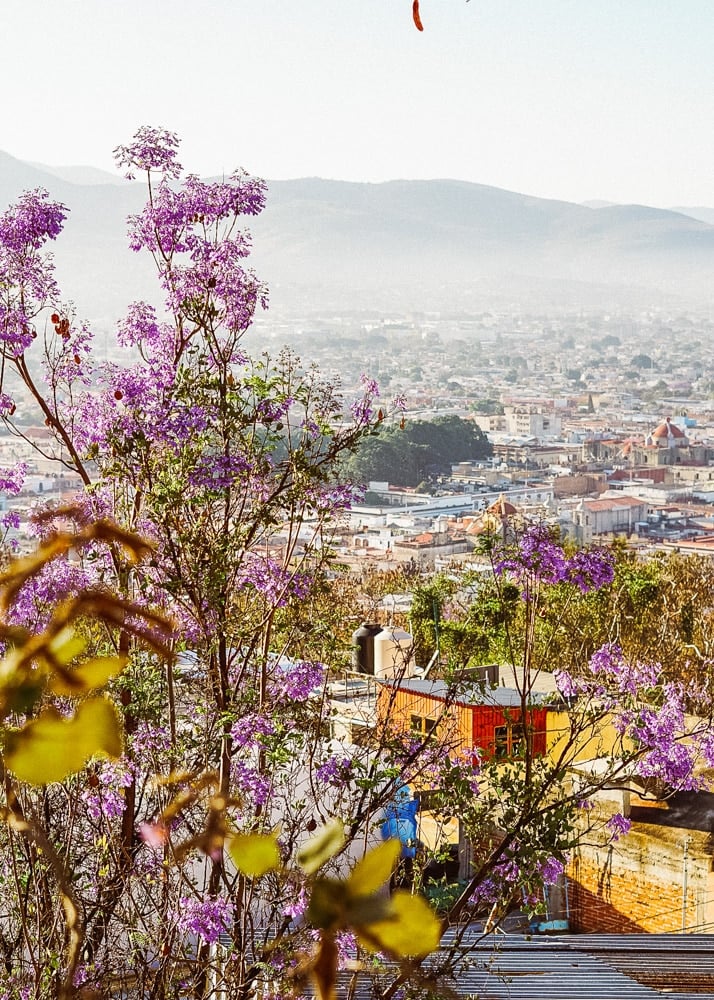 I hope this guide helps you as you plan your trip to Oaxaca! I truly had an amazing time exploring this beautiful Mexican city, and I can't wait to visit again (I'll be staying for at least a week next time).