As a body positive advocate, I sometimes get backlash for encouraging readers to work out. There are some people who think working out means trying to change your body and that goes against the idea of accepting and loving your body. Um – no! The whole point of body love is LOVING your body, and part of loving it is taking care of it (and telling it that flaws are ok, and putting SPF on it, and not drinking *too* much wine and getting enough sleep…)
As I posted on Instagram a few days ago, working out as an adult is hard for me. I feel like I'm constantly doing something that doesn't allow for a proper workout. Adulting is hard, ya'll! Everyone is always doing something and it's hard to find the way YOU like to move your body each day.

In high school, I played soccer, so had daily practices which helped keep me healthy. In college, I biked to class most days. My school also had an amazing gym, so I lifted weights there a few times a week on afternoons I didn't have class. Now, I like to walk. I'll either pop in a podcast and walk around the neighboorhood or in Golden Gate Park. Robin and I will take Twyla (our cat!) on walks a few times a week. When we can, we'll go on longer hikes. Working out doesn't have to mean going to Soul Cycle or Barry's Bootcamp or running 5 miles or doing daily yoga if that's not your jam.
12 Unique Workout Ideas
(for people who hate running and other traditional exercises!!) 
Podcast Walks: I love podcasts! My favorites are My Favorite Murder, Last Podcast on the Left, and Selfie. A few times a week when I need to move my body during the work day, I'll download an episode and try to walk through the whole thing! I wander my neighborhood or go into the park. If you work in an office, you can go walk around your office neighboord for 20 minutes between meetings!
Cleaning Your Apartment: Have you ever done a mass cleanout of your apartment? We do them twice a year and they are a LOT of work! There's a lot of moving involved – scrubbing on your knees, picking items up, leaning over, moving heavy things to vacuum, etc. A day cleaning your apartment totally counts as a workout (plus, you get a clean apartment after!)
Geocaching: I just started geocaching and totally am in love with this activity now! You have to walk a lot to find hidden caches. I love the hunt of finding something, which motivates me to want to walk more! Download the Geocaching app here!
Hiking With Your Cat: We LOVE taking our cat on hikes (and she loves it, too! So many smells!) We've leashed trained our kitten, Twyla. Hiking with her is always a workout because we have to pick trails that aren't used as much (to avoid dogs and lots of people) and these usually are a bit harder to hike. She also can't hike as far as dogs can, so we have to carry her sometimes and she's a big cat! You can learn more about her here or follow her on Instagram @tinytwyla. Kayaking
Vintage Bike Cruiser Rides: Not only are vintage bike cruisers hella Instagram-worthy, but they are fun AND are a workout all in one! Many of the hotels we have stayed at over the years offer free bikes to their guests. Most beach towns also have a few shops you can rent bikes from. Grab one and start biking along the boardwalk or around town! Get inspo here. 
Swimming In The Ocean: The last time I swam in the ocean I was reminded about how HARD it can be! The waves are constantly trying to knock you over, so you have to work hard to stay afloat. That translates to a workout! Merging beach days with a workout = my kind of self-care!
Shoveling Your Driveaway: I grew up in Wisconsin and shoveling ourselves out of our long driveway a REAL workout! It takes sometimes over an hour of bending and lifting. Your arms and legs get sore afterward and I always came inside dripping in sweat. Totally a workout!
Wine Walks: My friends and I love wine walks. Maybe it's just a California thing, but many towns will have wine walks a couple times a year. You get an official wine glass and stores will offer wine. You have to walk from store to store to get more wine and that distance really does add up!
Taking Out The Trash: We live in an apartment building and it's a hassle to take the trash out. We don't have a trash shoot so taking the trash involves a lot of walking up and down stairs, on top of carrying bags. We drink SO much La Croix, we're constantly taking bags of cans to the recycling bin downstairs! It's not as intense as running 5 miles, but it does get your heart rate up!
Riding The Bus: Or, any other public transportation! Taking the bus or train requires walking to the station and standing while waiting for it to arrive. Once you're on it, there's a good chance you have to stand and keep balance while in the moving vehicle, which takes some core strength. After, you have to walk to your destination. That's a workout, ladies!
Working While Standing: Standing desks are all the rage here in San Francisco and I can see why! I used to have a standing desk when I worked in an office and loved it. Standing desks don't burn that many more calories, but they help strengthen your muscles and reduce things like anxiety and stress. If you have a 9-5 desk job, see if you can swap your desk to a standing one, or one that moves up and down so can have the freedom to adjust throughout the day.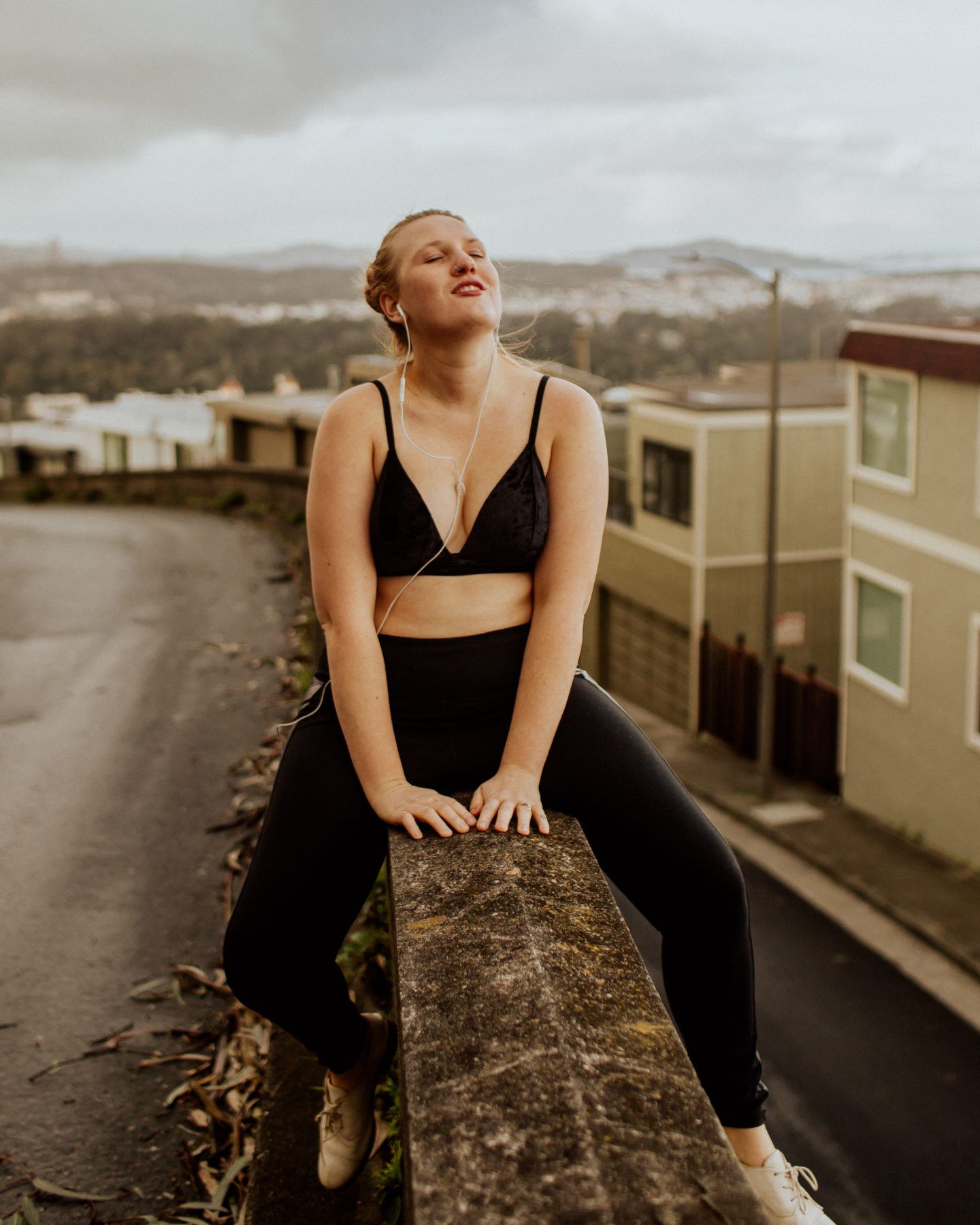 Just remember:
1. Working out IS body love and self-care.
2. Working out doesn't have to mean the gym or running. There are SO many different ways to move your body each day. Do what makes you feel great and what you enjoy!