The day we arrived to Sleeping Lady Mountain Resort, it was snowing. We barely checked into our room before I started dragging Robin all over the property to frolic in the snowfall.
In this post, I'm sharing tons of photos & my honest review of the hotel, along with some important tips you'll want to know before you book!
My Leavenworth Sleeping Lady Mountain Resort Review
>> Got a question about Leavenworth that you need answered quickly? DM me on Instagram @thewhimsysoul and I'll be happy to help!
Leavenworth Washington = Christmas Town!
Robin and I got wind of Leavenworth's annual Christmas celebration & quickly booked ourselves tickets up to visit. We love taking Christmas trips around the United States each year and WOW, let me tell you, Leavenworth is one of my favorites!
It's a Bavarian-style town so it looks like you are wandering a small village in Germany, not Washington State!
While it's fun year-round, I had a blast a Christmas. I also want to visit one year in September for this Oktoberfest (yes, just like the festival in Germany!) I hear the fall foliage is amazing that time of year, too.
On our Leavenworth trip we stayed at Sleeping Lady Mountain Resort and I'm convinced this is the best of the Leavenworth Resorts. I can't stress enough how dang beautiful this property is. It has mountain AND lake views, an organic garden to stroll during the summer, tons of towering trees, wildlife and an outdoor hot tub.
And during the winter when it's covered in snow. UG *chef kiss* It's the perfect location to make home base for your Christmas trip!
Rooms are broken out into sprawling cabin complexes so this isn't your traditional hotel. Our room had large ceilings and decorated like a rustic cabin. There was a small area with additional seating and a cozy windowsill to curl up on which I loved. Here's all the amenities for Sleepy Lady.
About Sleeping Lady Resort + Amenities
Aspen Leaf Spa
Free Wifi
Hand-hewn log beds and desks
Cozy down comforters and luxurious linens
Heated towel racks
Air conditioning
Windows opening to the dark starry night and morning sunshine
Coffee makers
Alarm clock radio with MP3 Port
Robes
Hairdryer
Beekman Shampoo, Conditioner and Shower Gel
Pool
Hot Tub
Game Room
Bar + restaurants on site
Free parking available
EV Charging Station
Shuttle
Self Guided Art Walk
Organic Garden
Meeting space
All nonsmoking rooms
Pet friendly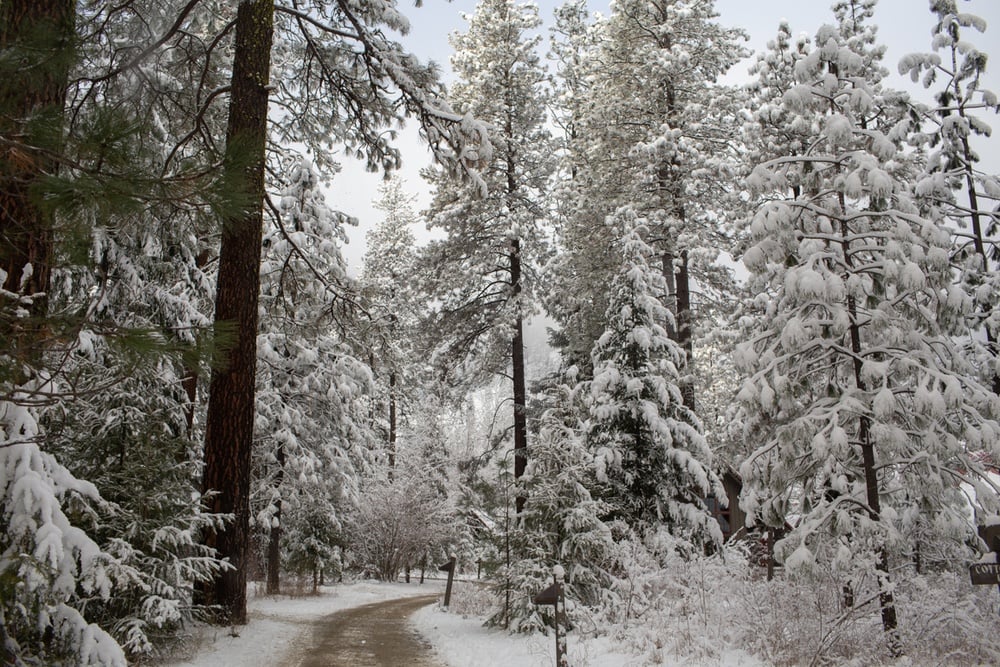 We found the staff to be super helpful in suggesting where to go in town and how to get around. I loved the food at O'Grady's for breakfast (your traditional American fare that tastes SO good after a day drinking local craft beer in town!) There's also the King Fisher Restaurant for meals and a bar called The Grotto for late-night drinks.
This hotel is great for adults and couples as it's really romantic. We did a spa treatment and part of it included soaking feet with a view of the mountains. Stunning!
But, because they have family rooms and game rooms, this makes a great place for kids as well. I think I would have loved running around here if I came here as a child.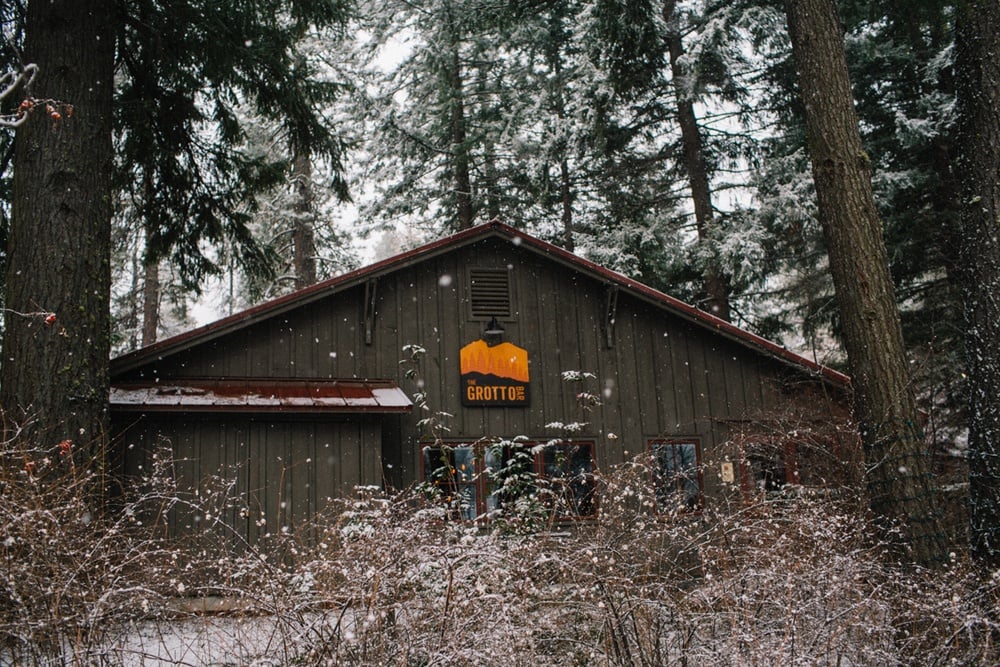 The only downside of this hotel is that it's about a 10-minute drive outside downtown Leavenworth. When we visited in 2018 ride shares weren't in the city so we had to figure out how to call for a taxi and there was like, one guy in the whole town making rides so it wasn't exactly fast.
But I remember being able to pay for the ride with a credit card. Just something to keep in mind when budgeting for time and expenses! We drove with our rental car to most places but did want to stay safe when drinking at night at the local breweries.
But honestly, getting to hang out in the middle of the woods is a great trade-off for not being in walking distance of Downtown Leavenworth. I would totally stay here again in a heartbeat, especially in the winter. But if it doesn't sound like your cup of tea, I have a post rounding up my 13 favorites Leavenworth Airbnbs and Cabins you should check out!
If you have any questions about Sleeping Lady Mountain Resort or want to leave your own reviews, drop a comment below! Or you can always DM me on Instagram @thewhimsysoul if you have questions.