You can't see it from the road above as you drive into Emerald Bay, but tucked on the shore & hidden among trees is the Vikingsholm Castle. This Scandinavia-style castle on Lake Tahoe is a fantastic morning hike for all ages – BUT there are some crucial tips you need to know before visiting so you have the best hike on Vikingsholm trail possible!
Keep reading for my must-know tips, photos and other fun history facts about this castle!
Vikingsholm Trail: Tips For Hiking To Lake Tahoe's Castle on Emerald Bay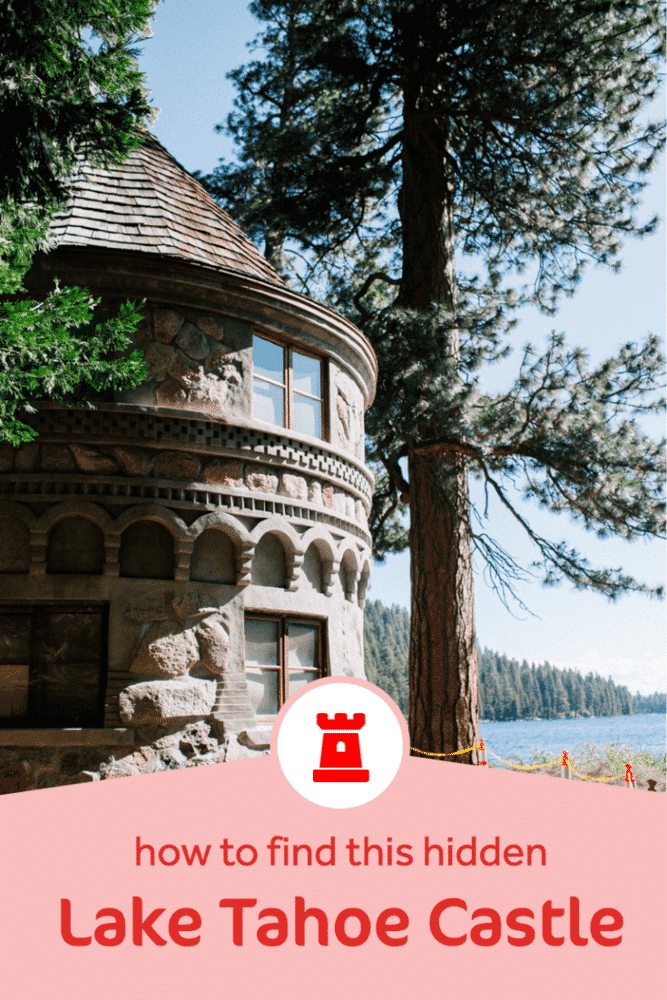 This is one of my favorite easy Lake Tahoe hikes! I'm so excited to share this with you!
Directions: How To Get To Vikingsholm Castle & Vikingsholms Trailhead
Address: Emerald Bay State Park Lot on Highway 89 (most Google Maps will recognize "Vikingsholm Parking lot" if you type it in as well!)
Fee: $10 per car for a day or $3 for 1 hour (credit cards accepted at the machine)
You have two options: drive and hike to the castle OR arrive to the castle via boat or kayak!
The later is obvious. Steer yourself towards Emerald Bay and behind Fannette Island. You'll find a beach and dock there to park your boat or kayak. I'm not sure if there are rules or permits required since I did not arrive this way, so check before you head out.
But, most people arrive via car (though a long paddle out to Vikingsholm Castle sounds like a LOT of fun!) Head to the parking lot which is across the road from the Eagle Falls Hiking Trail and campground lots. These hiking trails are SUPER popular and thus there's always cars parked on the side of the road and people dashing across. So, drive slow and watch for hikers.
You'll want to try to park in the Vikingsholm Parking lot if you can as it's right at the start of the Vikingsholm Trail (no running across a busy road required!) As with all state parks, this does have a parking fee which helps maintain the porta-potties located in the parking lot and of course, keeping the trail clean for visitors.
I recommend going for the $10/day ticket as the hike and castle tour will take you more than an hour. You can also keep your car in that lot if you want to hike the nearby Rubicon Trail or Eagle Falls Trail.
Best Time Of Day To Hike Vikingsholm Trail
Here's the thing: you're going to want to hike this lake trail RIGHT away in the morning. As in, you'll want your car in the lot no later than 8:30-9am. I can't stress enough how packed this parking lot and trail can get. (It is one of the few easy hikes in Lake Tahoe so I get it!)
For perspective, we foolishly tried to do the Vikingsholm trail hike around 4pm on a Sunday afternoon. The lot was SO packed, we spent 20 minutes circling around with no luck. All the spots on the side of the road were taken by earlier hikers so we gave up.
We tried again the next morning and when we arrived around 8:30am, the lot as already half full but we got a spot and it was a much more peaceful way to start a hike. The trail was pretty emtpy and there weren't many people around the castle. BUT when we finished our hike around 10am, the lot was just as packed as it was the day before.
It's like that with almost anywhere in Lake Tahoe in the summer. The early bird gets the parking spot, or the empty hiking trail, or the good spot on the beach!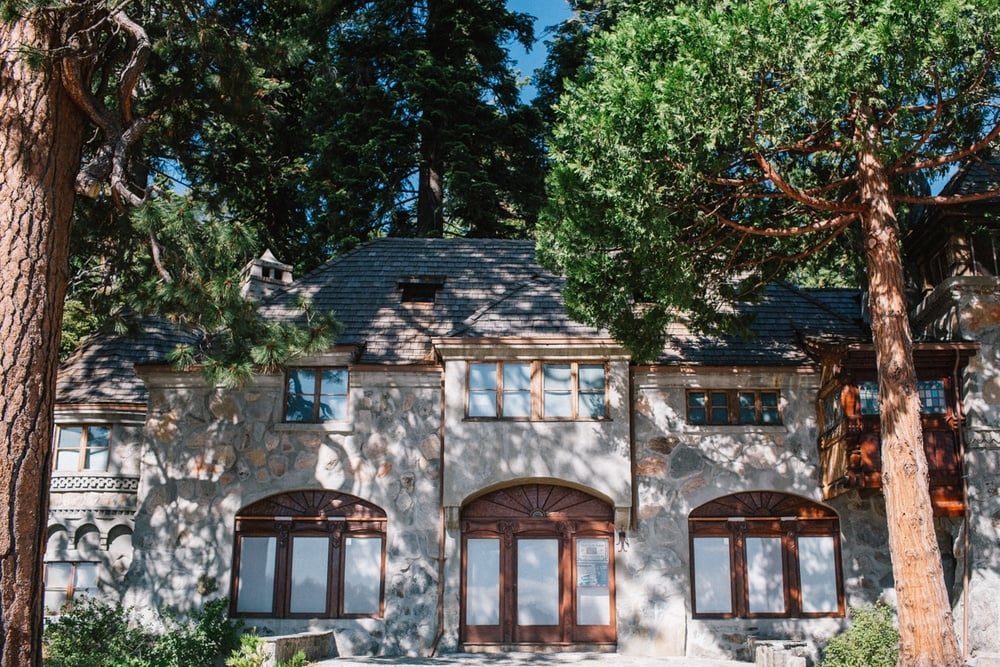 Vikingsholm Trail + How To Find The Castle
Trail Length: 1.7 miles round trip
Time to hike: About 20 minutes down, 30+ minutes up depending on your speed
At the parking lot, I recommend first you climb over the big boulders for a stunning view of Emerald Bay and Fannette Island. This lookout point sits on top of the mountain ridge a couple of hundred feet up and is always one of those views that make me feel so very alive to see in person.
This lookout spot faces east, which means you can catch a colorful sunrise here most mornings if you are up for an early wakeup call!
Once you're done soaking in all the views, time to hike the Vikingsholm trail to the castle! This is a very easy hike … well, the way down it is! The hike back up is a true workout only because you gain a lot of elevation in a short amount of time. My legs were VERY sore afterward, but I still think it's something most ages can do (we passed toddlers all the way up to grandparents with their families on this trail!)
It's wide and packed with tight gravel, with some parts paved, so you can totally take your stroller if needed. It's about a one-mile trail each way if you needed to carry your tot instead.
At the bottom, you'll find a split in the trail. Head RIGHT to see Vikingsholm Castle, visitor center and the little beach! That's right, in traditional Lake Tahoe fashion, there's a beach here! You can safely swim here if you want to bring swimsuits (there's a bathroom near the visitor center you can change in!)
Tucked near the beach is the Vikingsholm Castle – it's a bit hidden by trees but eventually, you'll spot the castle tower peaking out. You made it! There's also a dock that Robin and I had a little morning snack/picnic on. I kept starring right into the water below – I'm never going to get over how clear and how blue this lake it.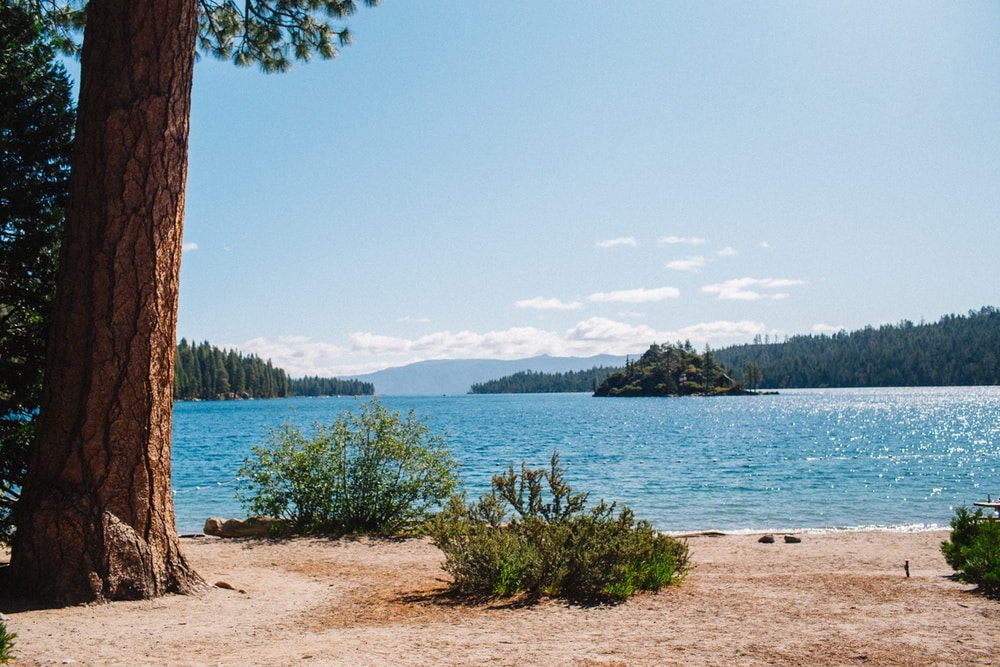 Things To Pack For A Vikingsholm Trail Hike
Since you'll probably be hiking in the summer (or late spring / early fall) keep in mind that it's will most likely be hot out. Here's what I suggest you pack:
1 water bottle per person (+ a backup in the car for after the hike!)
Sunscreen (make sure it's eco-friendly sunscreen if you plan on swimming in the lake!)
Credit card for parking lot fee
Swimsuits if you plan on swimming (I think Summersalt suits are the best!)
Towels & other beach gear if you plan on hanging at the beach
Hiking shoes or boots (I love these Kamik boots or these shoes!)
Backpack with a trash bag so you can pack out your trash (I love Calpaks for half-day hikes!)
Can You Go Inside The Vikingsholm Castle?
Yes! The castle is part of the Sierra State Parks Foundation and thus open for public tours for a small fee during the summer months. It's closed in the winter, which makes sense (who in their right mind is trying to go hiking or hanging out on a beach during a Lake Tahoe winter?!)
This is a great chance to see 11th-century style Scandinavian architecture up close without flying to Europe. It has a grass roof, stain-glass windows and even a little tower that really looks like a castle. It's nothing like I've seen in the USA before.
Sadly, we were not able to go inside this summer as it's closed for COVID. Next time we're back up at Lake Tahoe I'll be making sure we visit the castle again because I really want to see what it looks like on the inside. Sorry, I don't have any interior photos to show you!
PS: you can rent Vikingsholm Castle out for events and things like weddings!
If you came to the castle via boat or kayak, make sure to stop by Fannette Island on your way out to visit the famous Fannette Island Tea House! It's hard to spot from above, but the ruins of this little tea house are easier to see from the Vikingsholm beach. I'm told by followers on Instagram that you can paddle over and look around the island.
The History of Vikingsholm Castle on Lake Tahoe
This castle and area of the Tahoe basin have an interesting history. It starts with the Washoe people, Native Americans who once lived around Lake Tahoe dating back possibly to over 9000 years ago. The Washoe people usually spent summers on the lake and winters in the foothills or valleys of the Sierras.
Unlike some of their other California-tribe neighbors, the Washoe didn't come in contact with Westerners until 1848 during the California Gold Rush. Of course, their story is no different: sickness spread. White men fought the remaining living tribe members in a war over potatoes (I'm serious) and eventually, they were forced to work on area ranches, lumber mills and in other labor-based jobs to survive.
Fast forward to the turn of the century. Various Westerners owned the portion of land that the castle stands on now. It transferred a lot of hands, eventually being sold to Lora Josephine Knight in 1928. I'm not going to lie – this woman seems kinda awesome.
I can only picture her in a full-blown petticoat standing on the shores of South Lake Tahoe – which back then was very rustic compared to the way it is now – declaring that she wants a Scandinavia-style castle built here. People probably thought she was crazy. It only took a few years to construct this castle which she then used as a summer home for over 15 years.
In the 1950's after Lora Josephine Knight died, the castle was sold to Harvey West, which is a name you probably recognize if you've spent some time around Lake Tahoe. Thankfully this rich white man was a philanthropist and he donated his castle house and land to the state of California in 1953 and thus was born the Harvey West Unit of the Emerald Bay State Park. Open to the public to enjoy forever, as it should it be.
I hope this post inspires you to visit this majestic Emerald Bay castle! This hike is one of my favorite things to do in Lake Tahoe. This whole area is quickly becoming one of our favorite go-to vacation spots in the United States. It's fun year-round but summertime is especially stunning with all the open trails for hiking and beaches for swimming.
BUT, Lake Tahoe is also a fantastic place to hunt out fall foliage. It has some of the best fall colors in the Eastern Sierra Nevadas each October if you are up for a slightly chillier hike to Vikingsholm.
Remember, no matter when you go, to Keep Tahoe Blue! This means picking up your trash (don't leave your chips bag on the trail or in the lake waters for mother nature to deal with!) which isn't hard because many trailheads and beaches have trash cans for you. This also means staying on trail, not partaking in destructive water sports and respecting the land so Lake Tahoe is beautiful for everyone (including you) for future visits!
If you have any tips to add, leave a comment below for everyone to see. Got questions? Comment or DM me on Instagram @thewhimsysoul and I'll try to help!