When you visit Stockholm, one of the first things you'll notice are the subway stations. They aren't normal. One stop looks a rainbow, one looks like you're stepping into lava (or maybe Vecna's world?), another looks like a Scandi porcelain plate and so on and so on.
During our 3 days in Stockholm, we spent a good chunk of time taking the trains back and forth so we could visit all the best Stockholm metro stations and create a handy metro art guide for you. It's easy to get lost on the Stockholm Metro system, but I got you covered.
Why Are Stockholm Subway Stations Painted?
The first rendition of the metro line was finished in 1952, but all the stations were bare. Keep in mind they're all very far underground and most have cave-like ceilings which can be rather ominous without color. There were a few things happening at once here that led to the Stockholm subway system turning into basically the world's longest art gallery.
First, Siri Derkert, a famous Swedish artist and feminist, played a huge role in advocating for art to be more publically available. It was shortly after World War II ended, she felt the world needed more art and life. The city also wanted these metro stations to be popular with the citizens. And, a creepy, dark subway was not the most inviting.
VisitStockholm says "There were actual fears that people would associate these cave stations with the netherworld and other nasty places. So the bright blue and the rainbow [of Stadion Station] serves as a reminder that there is a sky not far above".
So, in 1956 they held a contest for artists. Per Olof Ultvedt was chosen to paint T- Centralen, the famous blue motifs that look like porcelain plate designs to me. Over time, more and more stations were painted, each with a different theme. Now, when a new station is built, art is in the initial stages of planning.
I wish more cities did subway art. I'm tired of looking at concrete walls and billboards when I could instead be looking at beautiful rainbows and forests. But, it is something that makes Stockholm truly unique.
14 Best Stockholm Metro Stations To View Insanely Cool Art
Ok, now where to find all the stations: It's best to use a 24, 48 or 72 hour metro pass so you can tap in and out as many times as you need, but I will guide you through the best itinerary to minimize transfers on your art tour.
How to take great photos: there will be people at the metros no matter the time of day. It's best to just wait between trains when there are breaks for people to snap photos, but keep in mind rush hour may be more difficult to pull off.
Stockholm
Blue Line

Metro Stations

There are three main lines you'll travel for your self-guided Stockholm metro art tour. Start with the Blue Line as this is where T-Centralen is, aka Stockholm Central and most likely the station you'll first encounter when arriving to Stockholm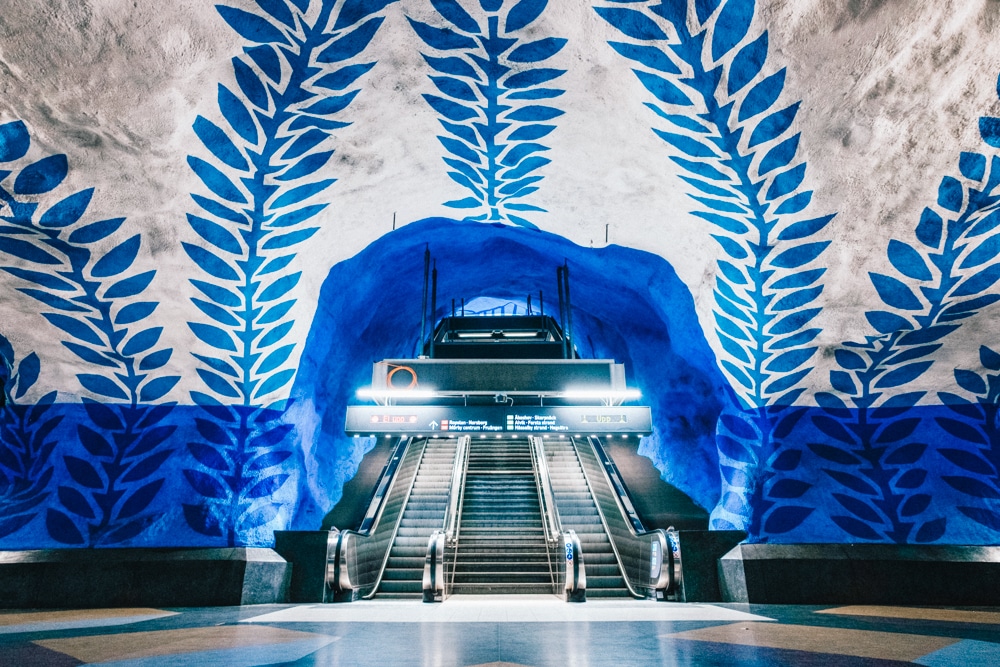 T-Centralen, Blue Ceiling
T-Centralen aka Central Station has a LOT of moving parts. To find the painted walls, head to the Blue Line escalators and take them down. You'll start to see the walls slowly turn blue. At the bottom is where the beautiful blue and white vines are painted! It's a very Scandi-feeling piece of art that I love.
Kungsträdgården Station, Fantasty World
Next, hop on a train towards Kungsträdgården. It's the last stop on the line going that way. This station is inspired by the Kings gardens above. Up top you'll find blooming pink cherry blossoms in the spring and tons of flowers, so naturally, down below there is a fountain, statues, checked patterns and bold green walls. It's like you feel down the rabbit hole into the (friendly) upside-down version of the garden above. Make sure to take time to explore the whole track of this one, there are a lot of little details not to miss!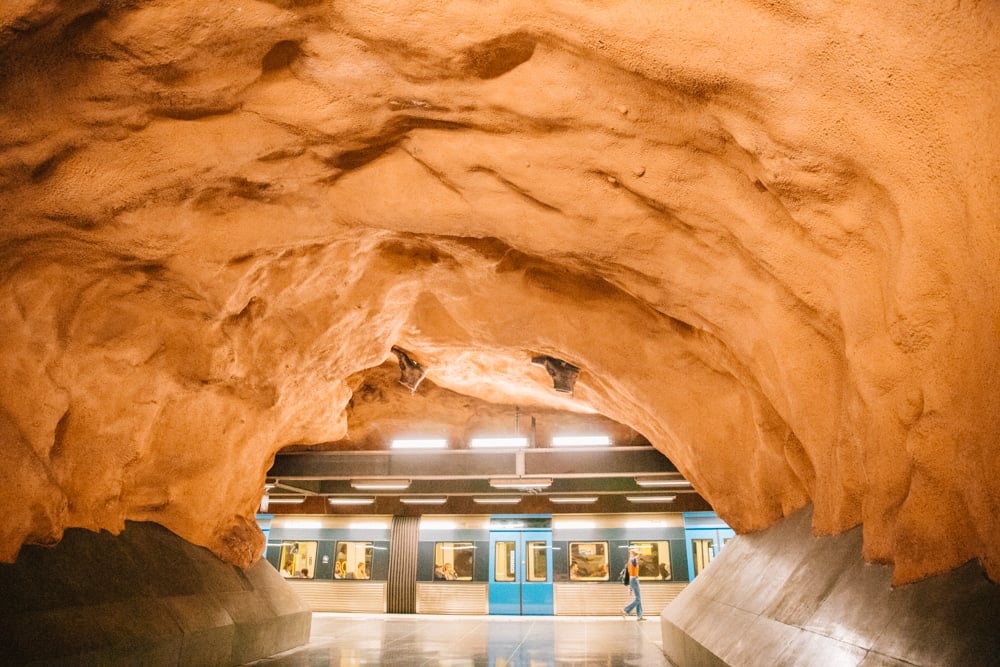 Rådhuset Station, Salmon Pink
Then, ride the train back towards T-Centralen and get off at Rådhuset Station. This station is often confused for Solna Centrum (aka the blood red ceiling aka Vecna's world). Rådhuset Station is painted a salmon pink color that is sort of close to the deep red of Solna, but not as vibrant. (My camera picked it up more yellow/orange than it shows in real life.)
I think this is worth stopping at first because it's almost like "Heaven" when Solna Centrum is like "Hell". They balance each other out nicely and it's fun to compare them.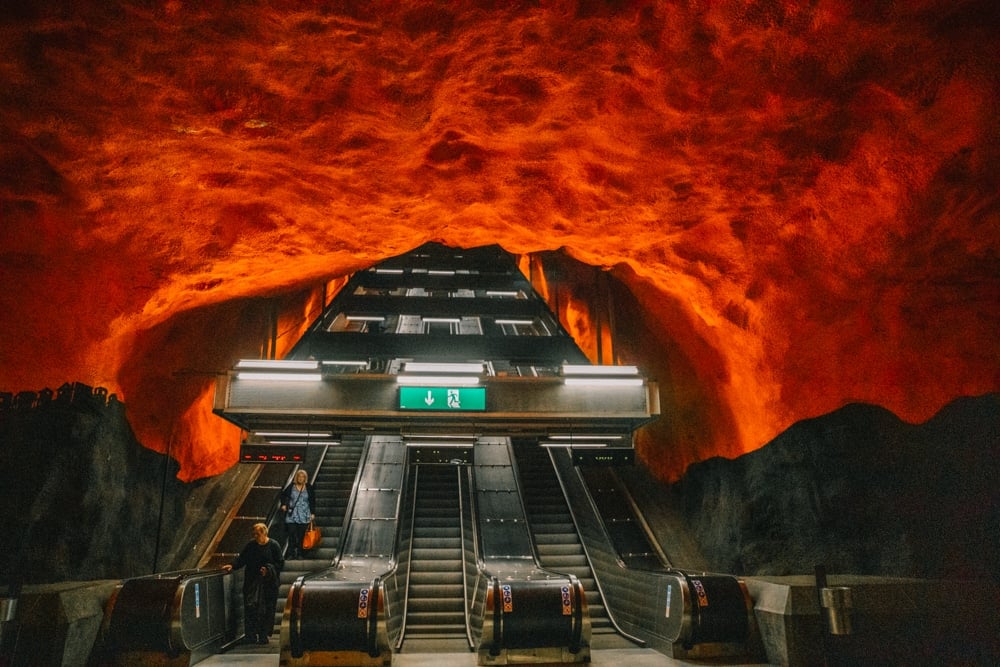 Solna Centrum, Deep Red / Lava
Get back on the Blue Line and take the 11 toward Akalla. Get off at Solna Centrum. I'm a sucker for rainbows, but Solna Centrum is probably my favorite metro in Stockholm. It looks intense in photos but feels even more powerful in real life. Like – is that red ceiling lava coming down, or are you entering the gates of hell? Is Vecna waiting for you at the top of the escalator?!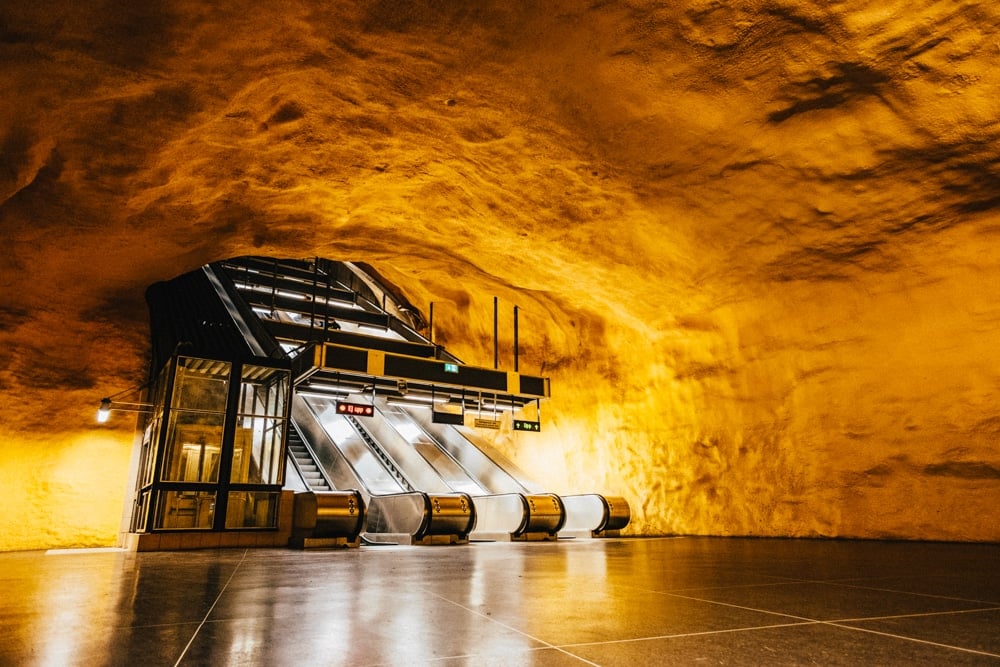 Akalla Station, Marigold Yellow
When you're down soaking up the creepy red vibes, get back on the train to Akalla, the marigold station! On top of this brilliant yellow ceiling, there's ceramic pictures illustrating the ideals, daily life, leisure and work of all people. Yellow is my favorite color and I imagine this is a very cherry stop in the middle of the dark Swedish winters.
Tensta Station, Birds
Next, head to Västra Skogen (take the 11 towards T-Centralen ). Here, transfer to the Blue Line 10 train towards Hjulsta and get off at Tensta Station. This station has a lot of cute paintings of birds and nature. Because a lot of the residents in the Tensta Station area are immigrants, the artist left a welcoming message on the wall. How cute!!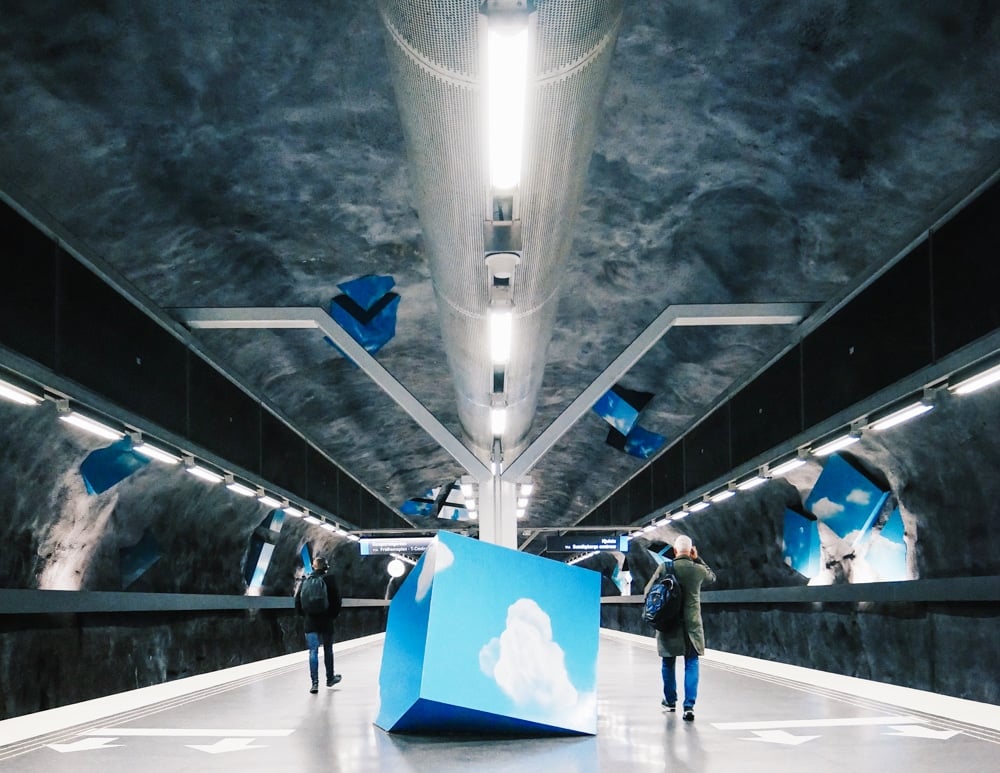 Solna Strand
Take the 10 back towards T-Centralen and get off at Solna Strand. While Tensta feels very human, like you're inside an artist's house, Solan Strand is the oppostie. It's very futuristic, with cloud-painted cubes sticking out at odd angles from grey concrete… like a cloudy day being disrupted by sunshine. It's by Japanese artist Takashi Naraha who wanted to create a "ying yang" theme.
After this, we are done with the Blue Line. Get back on the 10 heading to T-Centralen, but get off at Fridhemsplan Station and transfer to the Green Line!
Stockholm
Green Line

Metro Stations

Now, onto the stations along the Green line!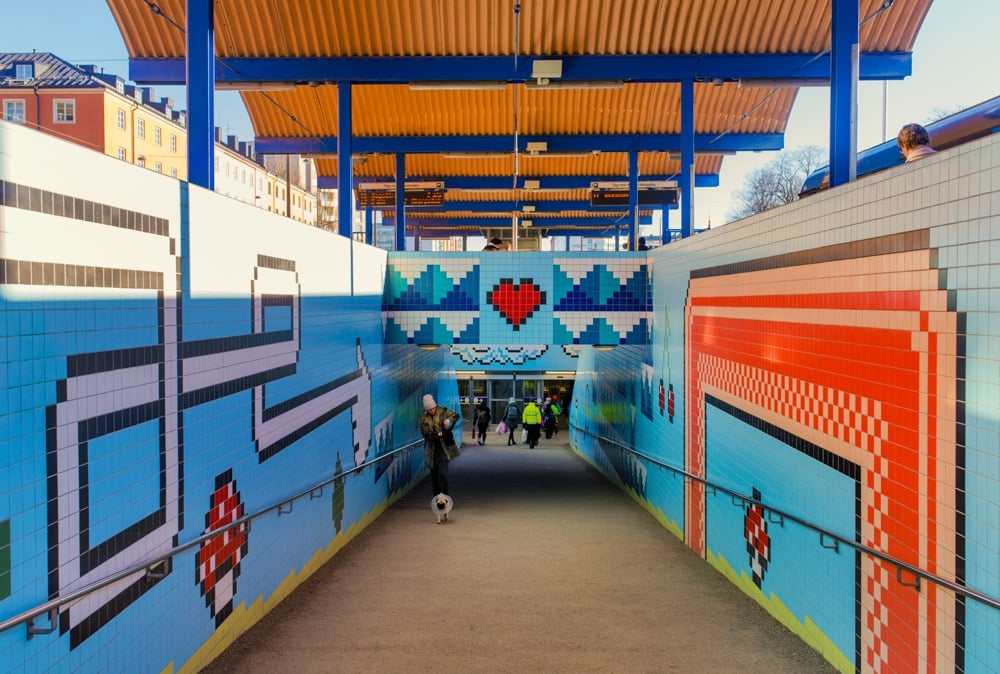 Thorildsplan Station
Let's go see some video game inspirations!! Take any of the trains 1 stop to Thorildsplan Station, the metro stop dedicated to 80's video games and the one that has the most easter eggs. It's best known for the giant Pacman murals and 8-bit aesthetics painted on the entrances and walls, but there's more.
When you're here, take a close look at the vents along the station. Most of them are just circles, but some of the vents have little Pacman shapes cut out in them instead to make it look like a video game. How cool!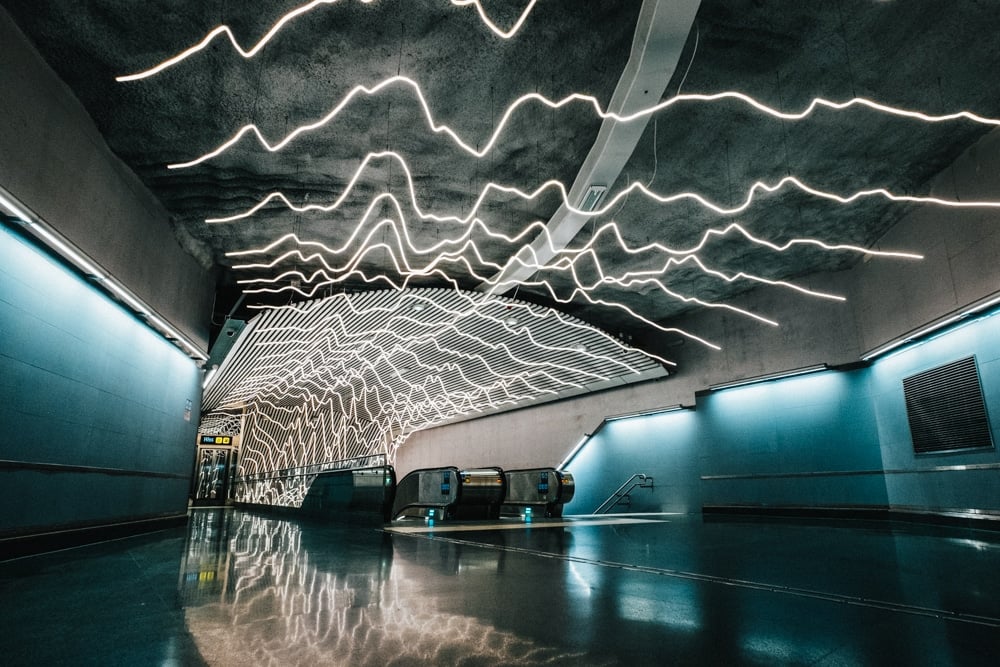 Odenplan Station, Life Line Lights
Now, take the Green Line back towards T-Centralen to Odenplan (any of the 3 trains will take you here!) Odenplan is the station that looks like it was struck by lightning, or perhaps is the inside of a machine. The fluorescent lights on the walls are actually modeled from the heartbeat of the artist's son which is really neat. To see the lifeline lights, you'll need to head up the escalators to the main platform.
Hötorget Station, 1950's
Next, take the Green Line two stops to Hötorget subway station. This station was one of the first stations to be built and it never got an artistic makeover. But it's worth a visit because it's quite literally preserved in time. All the tilework and art were built in the early 1950's and haven't been updated. It's like stepping back in time 70 years when you pass through this station.
Stockholm
Red Line

Metro Stations

Finally, the Red Line Stockholm train stations! From the Green Line, head to T-Centralen and transfer to the Red Line T14 heading to Mörby Centrum. Take it just one stop to Östermalmstorg.
Östermalmstorg Station
Östermalmstorg is special because it features the sketches of Siri Derkert, the main artist who advocated for Stockholm subway art. Find large black drawings of figures literally blasted into the white walls of the station. It's like walking in a sketchbook. Siri Derkert was very much a feminist and environmentalist, so many of the figures are women and you'll find the words "peace" written on the walls in three different languages. It's really neat.
Stadion Station
Next, take the T14 to Mörby Centrum again, but get off at Stadion Station (1 stop away). This is the famous rainbow ceiling!!! You can find the giant rainbow in the middle of the platform through one of the tunnels.
It stretches from one end to the other and just screams happiness. The area above the station is where Stockholm Pride takes place each year, so it makes sense to paint a beautiful Pride rainbow here! I was extra and wore my Shop Cider rainbow sweater to take photos in front of the rainbow mural. Can't you tell I love color?
Tekniska Högskolan
Next, get back on the train and continue your journey one stop to Tekniska Högskolan. This station serves the Royal Institute of Technology so when it was time for its makeover it got the merge of science and art. Most notable are the figures located on the platforms, each one representing one of Plato's five elements: fire, water, air, earth, and ether.
You'll also find representations of Copernican heliocentrism, Polhem's mechanical alphabet, Newton's three laws of motion, and da Vinci's attempts at creating a flying machine. Make sure you give yourself some time to find all these little corners to the station.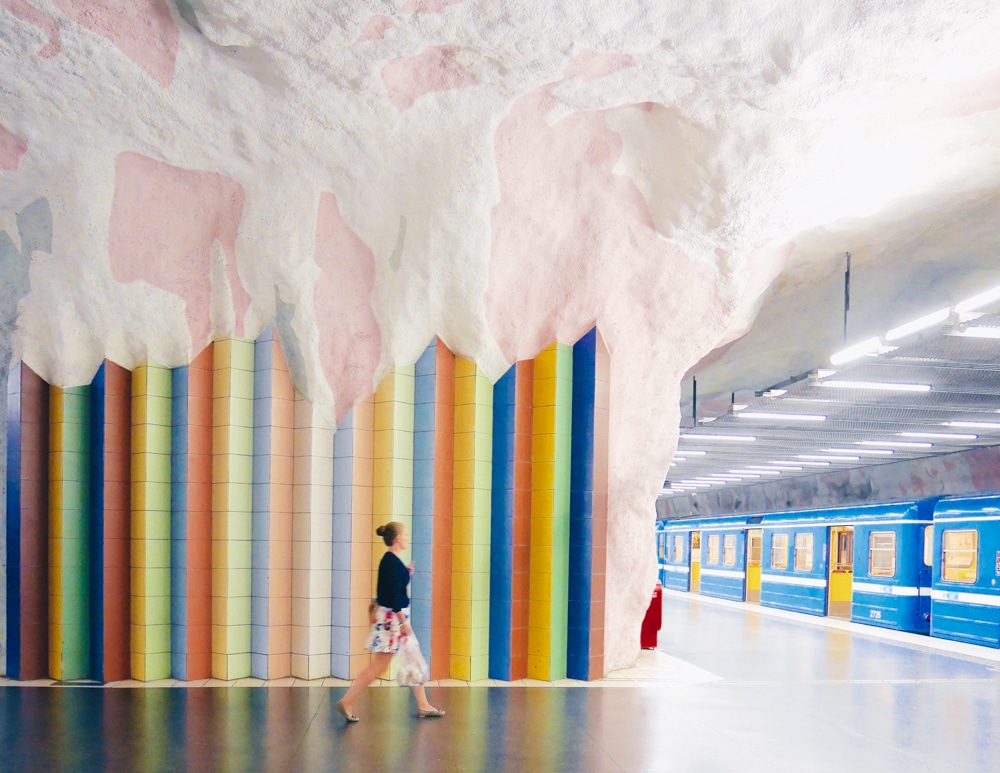 Mörby Centrum
Finally, take the Red Line all the way to Mörby Centrum, for another rainbow mural! This one is a bit different. It's smaller and looks like the rainbow road leading up to a cotton candy sky. My inner child loves this one so much.
And, with that, your metro tour is over! *sniff*
Writing this makes me want to fly back to Sweden right now, buy more Stockholm metro tickets and spend a whole day visiting all the stations I missed. It was so fun and I think in the winter, when it may be too chilly to be outside, this is such a cool thing to do indoors.
If I missed a pretty station, please do drop a comment with info so I can add it to my Stockholm Metro Stations Art Map!!