I went on my first solo trip at the age of 18, just 5 days after my high school graduation.
No, my parents were not too happy about we jaunting off to a foreign country alone, but I left for Ireland and came back two weeks later totally changed.
Traveling alone can be super transformative and I think everyone should take at least one solo trip in their lives. But it can also be a little daunting. So, I rounded up 52 inspiring solo travel quotes that'll make you want to pack your bags & travel right now. (They're so good, you'll may never come home!!)
PS these quotes make great Instagram captions, too!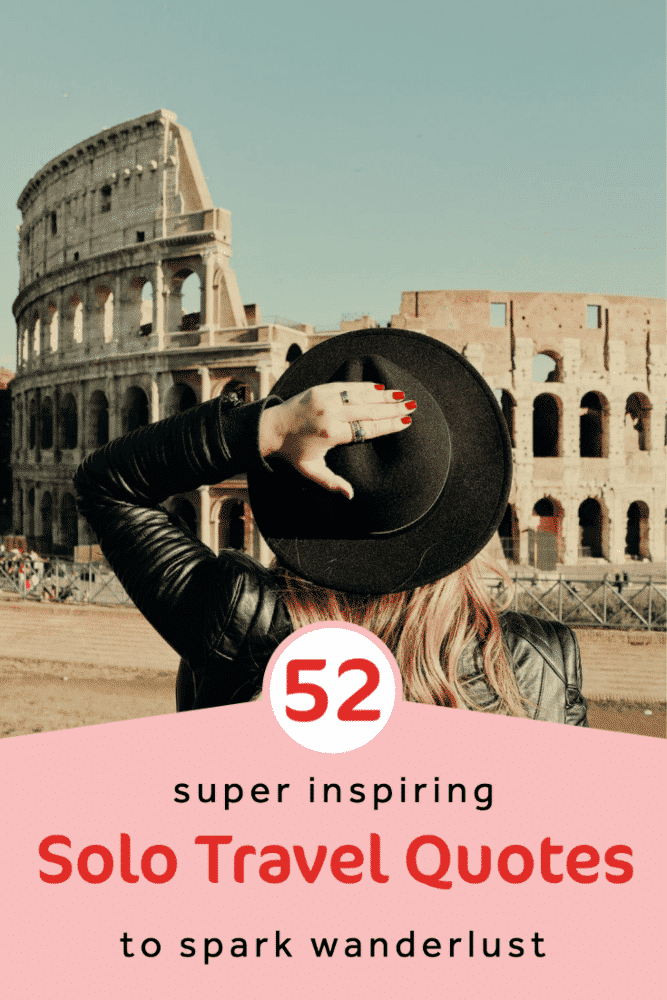 >> Got a question about solo travel that you need answered quickly? DM me on Instagram @thewhimsysoul and I'll be happy to help!
52 Travel Alone Quotes
That Ireland trip? Through that experience, I met so many wonderful people on my journey, some that I'm still Facebook friends with today! I also learned a lot of things about the world and myself that I couldn't have discovered my own in the middle of Wisconsin.
If you are going on your first solo trip, one of my biggest travel tips is to start in a country that speaks your native language. The hardest part will be the first few days as you are learning about yourself (more like, how to be alone with yourself!) and push your comfort zone.
But it's way easier when you can read signs and talk to locals!
Another tip? Stay in hostels! They are always the best place in any foreign city to meet fellow world travelers. IF you're anything like me, you'll spend a lot of time hanging out with your new hostel friends
Anyways, whether you are on your trip but feel lonely, or are scared to start your own solo adventure, keep reading for the best travel quotes about traveling alone that are perfect for sparking wanderlust.
Short Travel Quotes
Travel is an investment on yourself
Travel far enough to meet yourself
"Good girls go to heaven, bad girls go everywhere." – Mae West
Now or never.
"Boldness, be my friend!" -Shakespeare
If you never go, you will never know
"All good things are wild and free." ― Henry David Thoreau
Watching sunsets around the world is boring – said no one, ever.
Don't call it a dream…call it a plan.
Just go.
They call me the wanderer.
To Travel is to Live.
Let's get lost.
We travel not to escape life, but for life not to escape us.
Famous Female Travel Quotes
"You carry the passport to your own happiness." – Diane Von Furstenberg
"I haven't been everywhere, but it's on my list." – Susan Sontag
"Do you really want to look back on your life and see how wonderful it could have been had you not been afraid to live in?" – Caroline Myss
"The purpose of life is to live it, to taste experience to the utmost, to reach out eagerly and without fear for newer and richer experience." – Eleanor Roosevelt
"I wanna kiss you in Paris. I wanna hold your hand in Rome" — Madonna
"If you don't go after what you want, you'll never have it. If you don't ask, the answer is always no. If you don't step forward, you are always in the same place." – Nora Roberts
"I live for the nights that I can't remember with the people that I won't forget" — Drake
"Anybody can be an explorer if they want to be. You can be an astronaut if you want. Figure out what you want to do, and then go do it." – Helen Thayer
I may not know it. But these are the moments that I'm going to remember most" — Miley Cyrus
Beautiful Travel Quotes
"Life is either a daring adventure or nothing at all." -Helen Keller
"I always wonder why birds stay in the same place when they can fly anywhere on the earth. Then I ask myself the same question" – Harun Yahya
"Adventure should be part of everyone's life. It is the whole difference between being fully alive and just existing." – Holly Morris
"Twenty years from now you will be more disappointed by the things that you didn't do than by the ones you did do. So throw off the bowlines. Sail away from the safe harbor. Catch the trade winds in your sails. Explore. Dream. Discover."― Mark Twain
"I'm not afraid of storms, for I'm learning how to sail my ship." – Mary Louise Alcott
"A ship is safe in the harbor, but that's not what ships are built for." – Gael Attal
"The question is not what you look at, but what you see." ― Henry David Thoreau
"She was free in her wildness. She was a wanderess, a drop of free water. She belonged to no man and to no city" ― Roman Payne
You never really travel alone. The world is full of friends waiting to get to know you.
"The world is a book and those who do not travel only read a page" – Saint Augustine
Driving Alone Quotes
"Not I, nor anyone else, can travel that road for you. You must travel it for yourself." — Walt Whitman
Sometimes, the best therapy is an empty road and a good playlist.
In the end, we'll only regret the roads we didn't take.
Leave the road, take the trails.
"If you don't know where you are going, any road will get you there." – Lewis Carroll
Stop worrying about the potholes in the road and enjoy the journey.
"Two roads diverged in a wood, and I – I took the one less traveled by." – Robert Frost
"I climb behind the steering wheel… I drive off immediately without once looking back; it's a long journey but it leads to freedom." – Corinne Hofmann
It's not the destination, but the glory of the ride.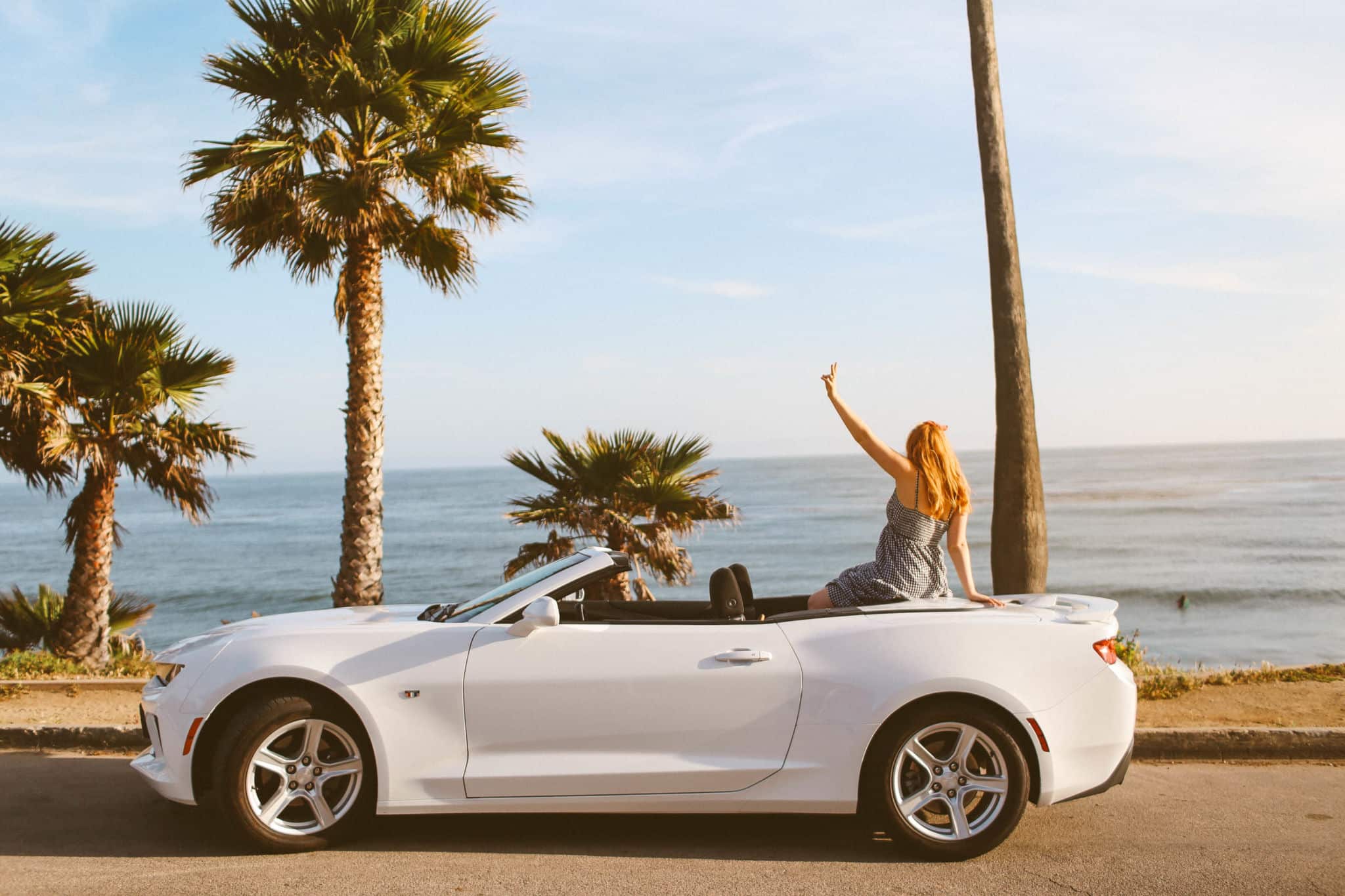 Quotes On Being Lost
Just because my path is different, doesn't mean I am lost!
Not all those who wander are lost.
I want to go for a long drive with no destination.
I love getting lost places that make you realize how tiny your problems are.
There is no time to be bored in a world as beautiful as this. So go get lost, already!
It feels good to be lost in the right direction
Quotes About Inspiring Yourself
"If you're twenty-two, physically fit, hungry to learn and be better, I urge you to travel – as far and as widely as possible. Sleep on floors if you have to. Find out how other people live and eat and cook. Learn from them – wherever you go." – Anthony Bourdain
If you are waiting for someone to travel with you, then you might wait a lifetime
"If you don't get out of the box you've been raised in, you won't understand how much bigger the world is." – Angelina Jolie
"Don't let anyone rob you of your imagination, your creativity, or your curiosity. It's your place in the world; it's your life. Go on and do all you can with it, and make it the life you want to live."- Mae Jemison
"You might be poor on money, but rich on life" – Kasper Raunholst
"In life, more than in anything else, it isn't easy to end up alive." ― Roman Payne
"We are always running for the thrill of it thrill of it." — Empire of The Sun
"Wanna feel the warm breeze. Sleep under a palm tree. Feel the rush of the ocean. Get on board a fast train. Travel on a jet plane, far away." — Kelly Clarkson
"The more I learn, the more I learn how little I know" – Socrates
"The woman who follows the crowd will usually go no further than the crowd. The woman who walks alone is likely to find herself in places no one has ever been before." – Albert Einstein
Is it better to travel alone or with someone? I hope these go solo quotes help inspire you to take a trip by yourself, even if it's just a weekend trip. It'll be a great chance to learn about yourself and will probably be something that turns into a very important moment in your life!
I love traveling, whether it's by myself, with my husband or with my friends. Here at Whimsy Soul (this lil ole blog) we have covered SO many fun places around the USA and the world. If you want to go on a trip but aren't sure where, check out my handy Plan A Trip page to discover somewhere super cool!
Also, if you have any questions at all about solo travel or travel in general (or if you just want to say hi) leave a comment below or DM me on Instagram @thewhimsysoul!
Other Posts You May Like:
My Secret Travel Tips For Saving a TON of Money On Trips!
4 Epic Days in London: Your Perfect Itinerary
What to wear in San Francisco at Each Season (a packing list!)
5 Under The Radar Foodie Cities To Eat Your Way Through
70 Inspirational Fall Instagram Captions To Use On Your Fall Adventures