We had a hard time going more than half a block without stumbling upon yet another stunning mural.
My husband and I booked a trip to Denver on a whim thanks to a Southwest flash sale, and while we hoped to see some fall foliage and drink a lot of craft beer, we came into this trip blind and were totally shocked to find out that Denver has some of the best street art in the entire country.
The Mile High City has a very cool art scene and I went wild photographing as many Denver murals as I could drag my real-life Instagram husband along to – ha! These are all my favorite murals with addresses and photos, along with some helpful hint you MUST know before you go.
12 Denver Murals That Scream "PUT ME ON INSTAGRAM" (+ Addresses)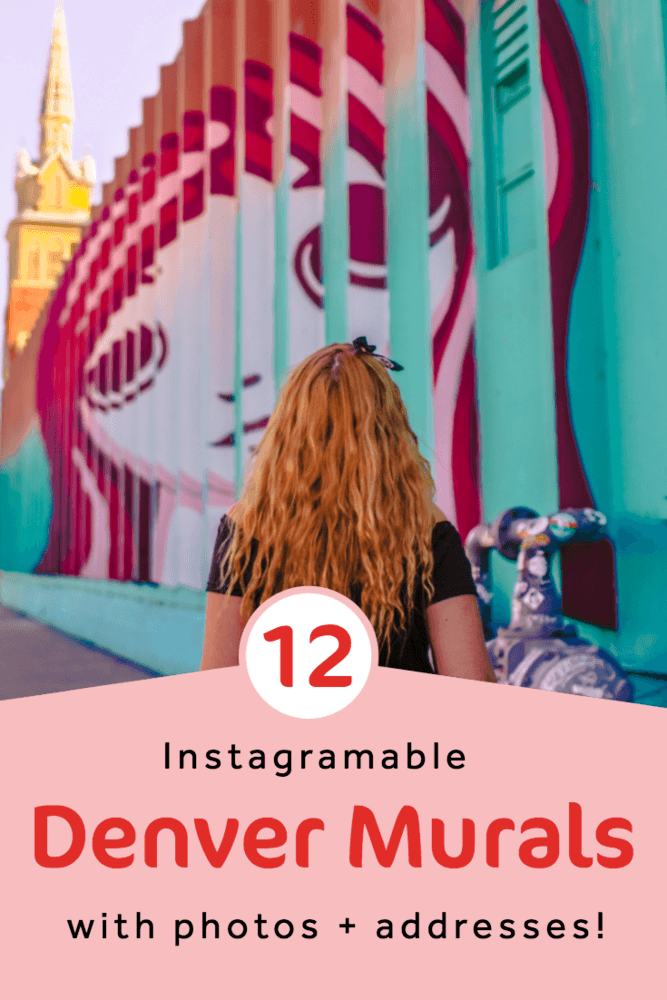 >> Got a question about Denver murals that you need answered quickly? DM me on Instagram @thewhimsysoul and I'll be happy to help!
Annual Crush Walls in Denver
Ok, before we started, we learned about something that you absolutely need to know if you are going mural hunting in Denver! It's called "Crush Walls" and around Labor Day each year, most of the Denver street art is painted over and new murals are made. Aka "crushed".
It's heartbreaking and awesome at the same time. Sad, because I've tons of beautiful murals on Instagram that I wanted to visit in person only to learn they were crushed about a month before we visited. (For instance, I tried to find the Larimer Boy and Girl mural and a few others but no luck.)
But it's awesome because it gives a chance for a new Denver mural artist to make their stamp on the city, and it keeps the colorful streets always exciting. And totally fleeting. If I lived in Denver I think my entire Instagram feed would probably just be me standing in front of ever-changing colorful walls!
My Favorite Denver Murals 2019
While there are colorful walls all over the city, the RiNo Denver murals are my favorite, and that's also where you'll find the bulk of them. RiNo stands for River North Art District (pronounced like Rhino, the animal, not Reno, the city in Nevada, by the way!) There's also Colfax Avenue which has a lot of street art (and of course, in random spots all around the city!)
When in doubt, head over to RiNo and stop by a craft brewery or two while you're at it!
PS I don't know the official name for all of these murals, so some of them are described by their contents (like eyeballs) which also makes it handy to locate on the go.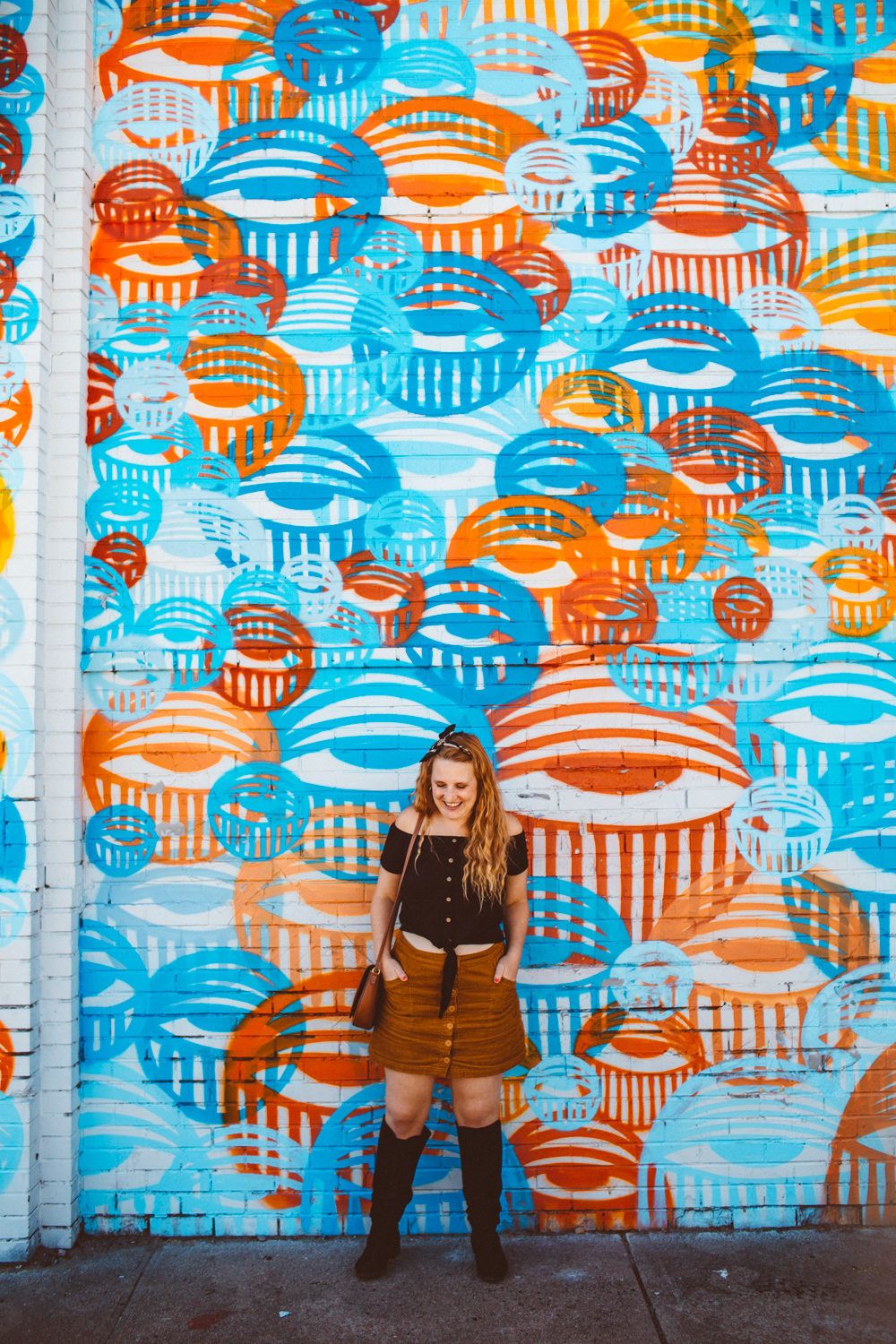 Eyeballs Mural
Larimer Street & 26th Street
I think this is one of my favorite murals in the city. It covers the whole building, which is a unique shape in itself, and the pattern is just too cute!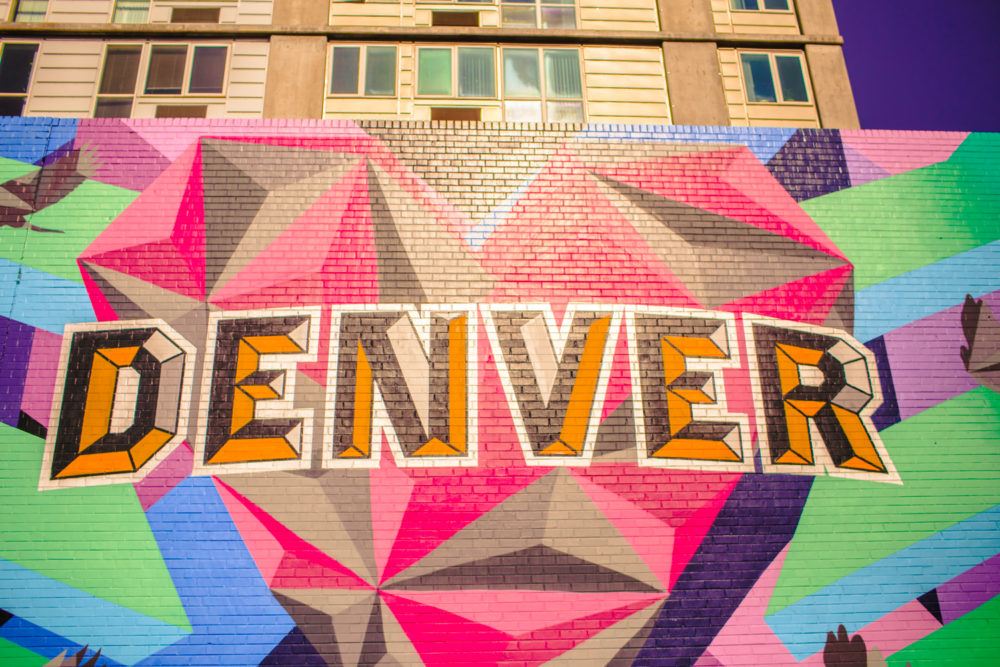 Love This City Mural Denver
2314 N Broadway in a parking lot
This one can be tricky to photograph as it's in a parking lot that is busy and hence cars frequently block it. Bt, you may luck out with an opening! I never saw a "welcome to Denver" or "Greetings from Denver mural" so I either missed it or it got crushed. This one says DENVER real big and does the trick, though!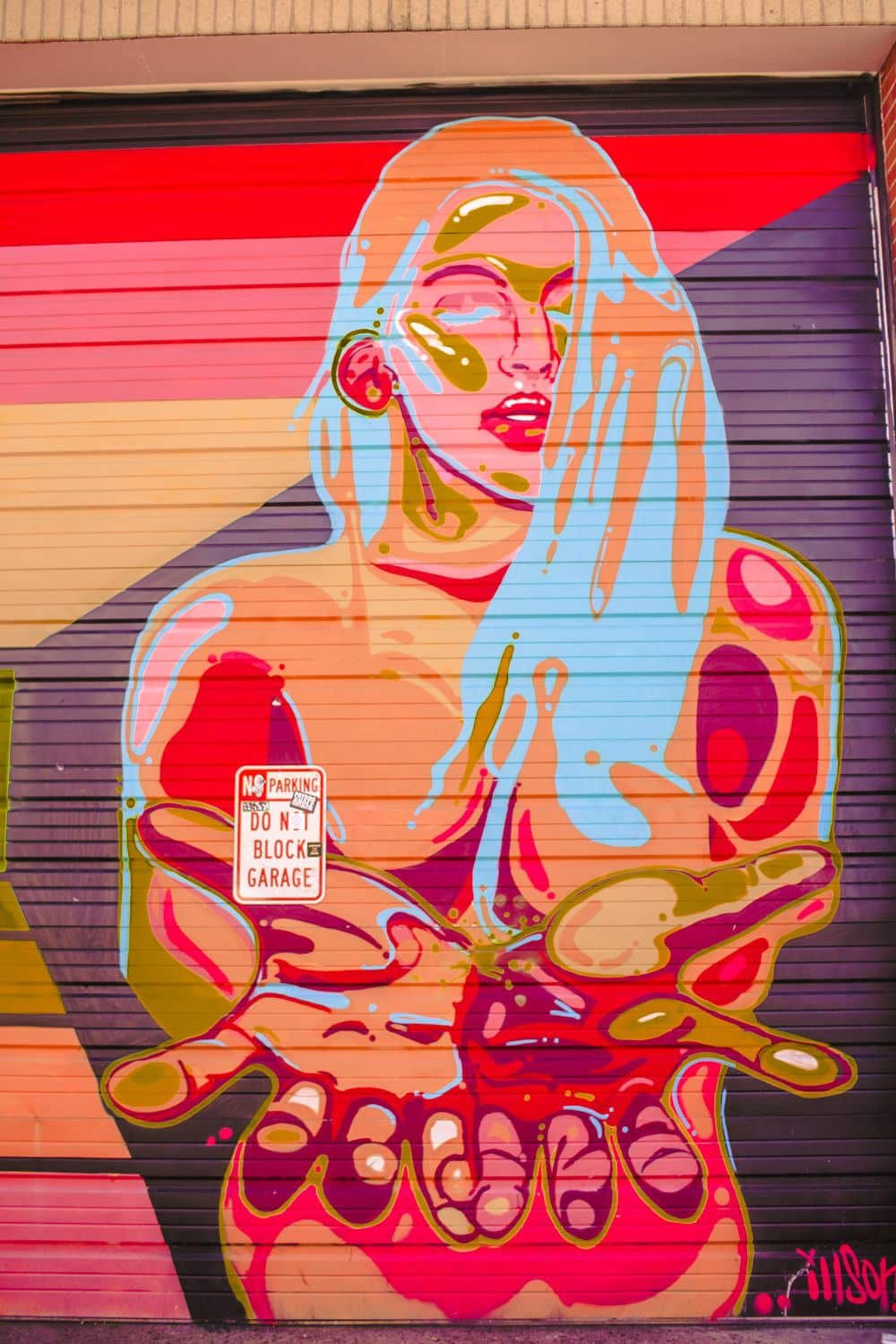 Colorful Woman Mural
Larimer Street & 26th Street
Painted on a garage door, this mural really stood out to me. There's also a similar one about half a block down on the same building that I think is from the same artist as well.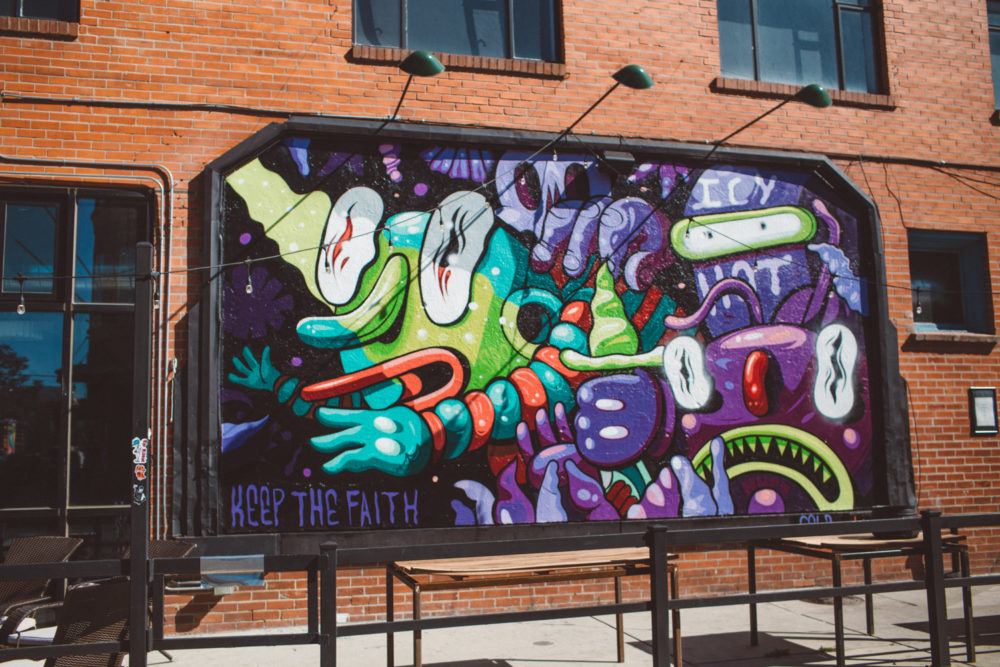 Keep The Faith Mural
Larimer Street & 27th Street
Isn't mural kinda funky and fun?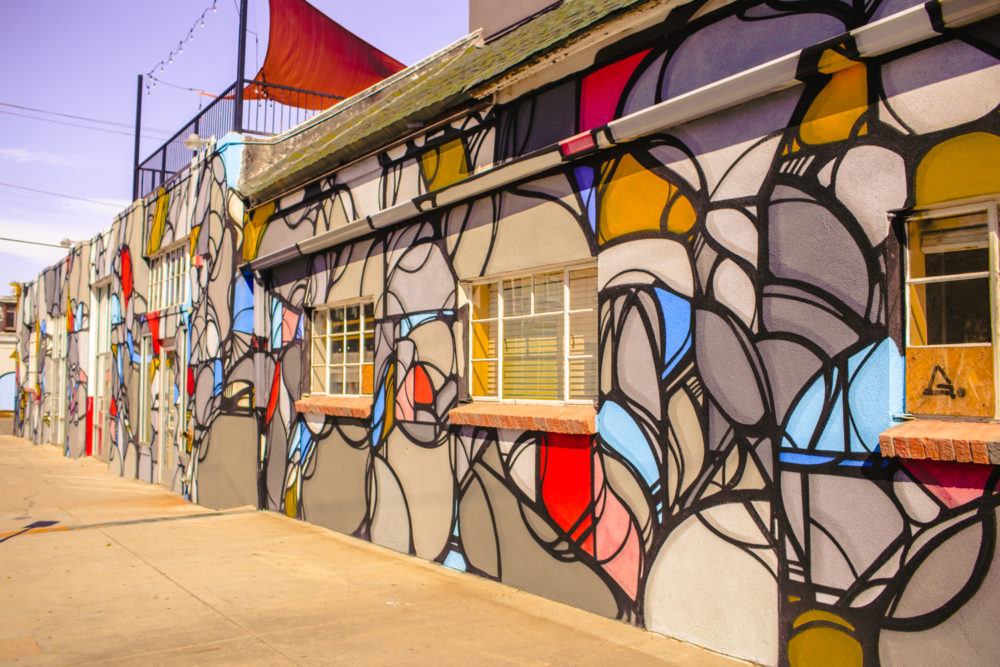 Mosaic Building
Lawerence & 27th Street
I low key wish my apartment building was painted like this. It's so beautiful and such a fun way to add color to a building!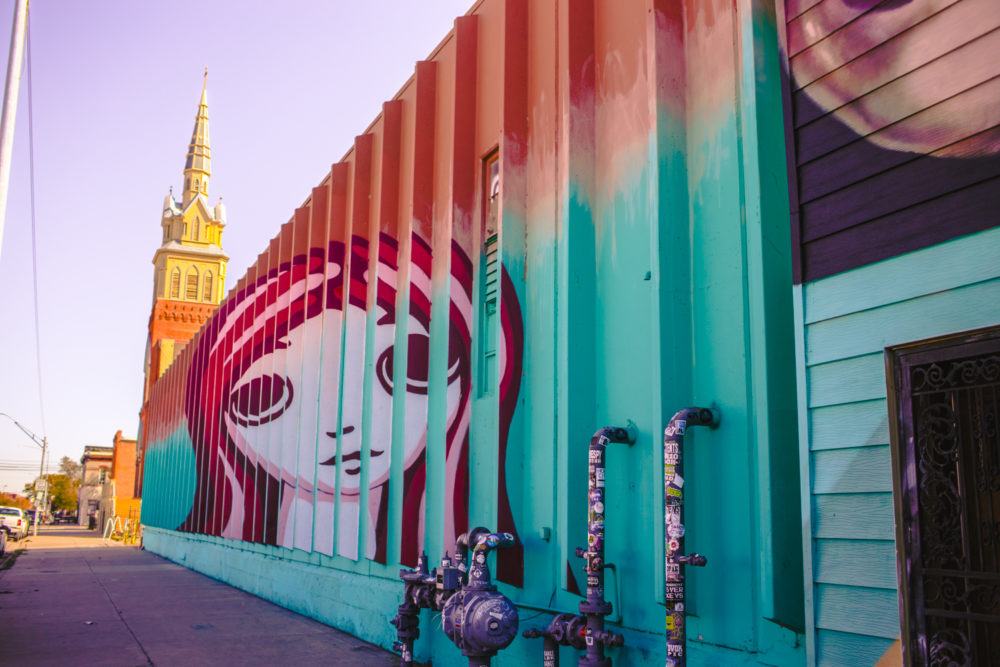 Trippy Face Mural
Larimer Street & 27th Street
Dubbed the Trippy Face mural because it moves when you move. You'll see what I mean when you stop by.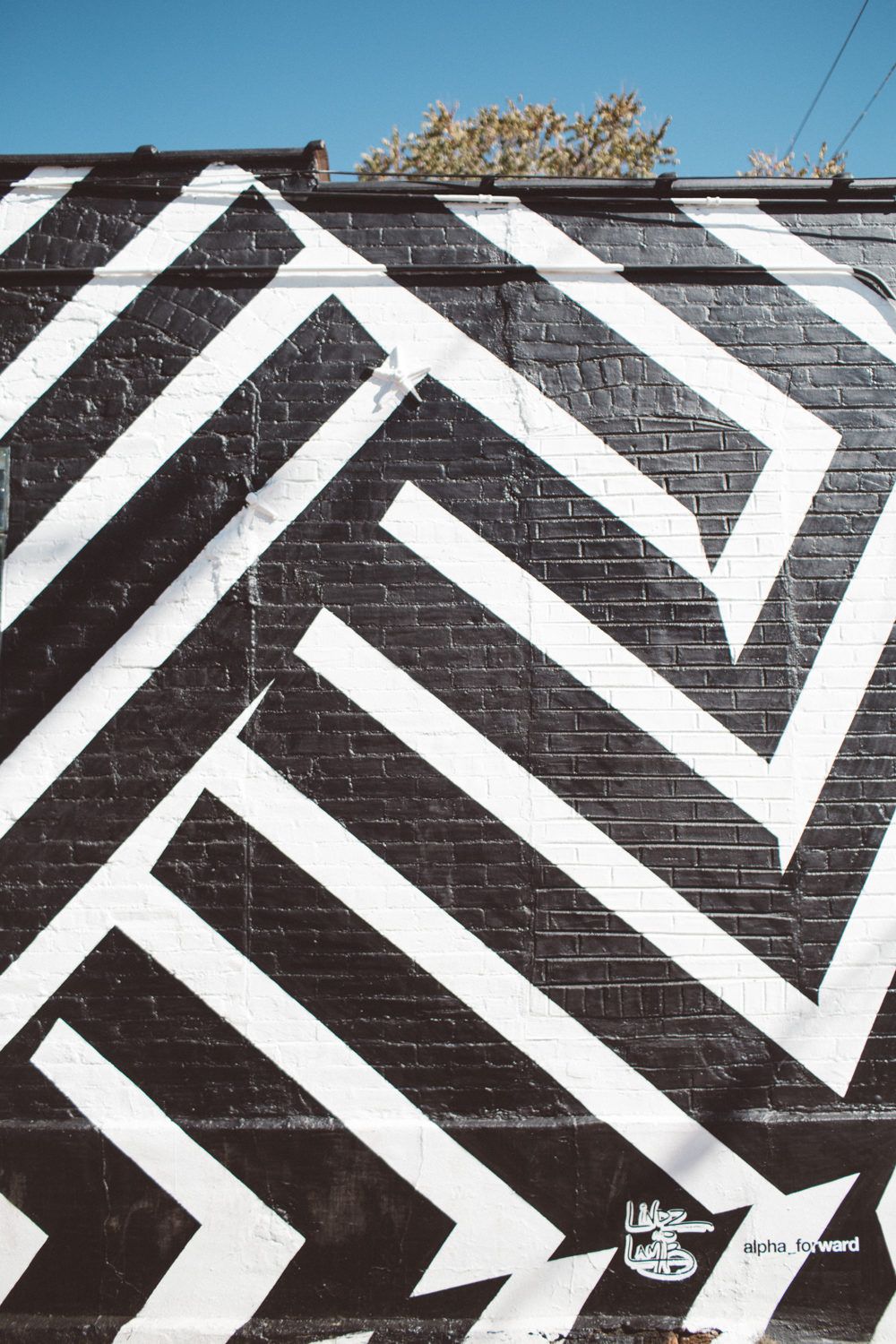 Black & White Mural
Walnut & 27th Street
Simple, but just calling for a bright red or yellow dress in front of this baby.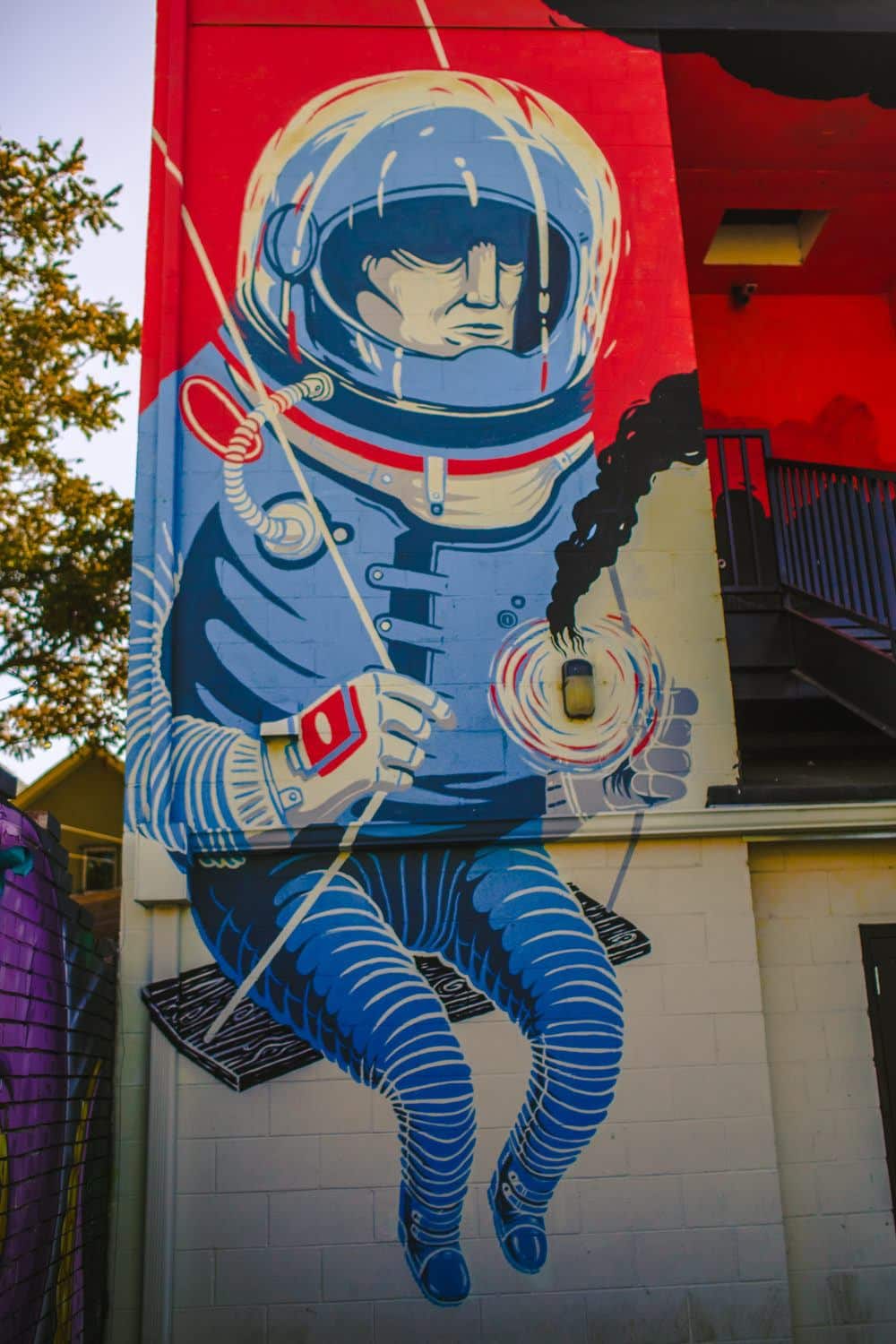 Astronaut Mural
The ally near Walnut & 27th
This one is tucked on the back of a building in the Art Ally (aka Walnut Street Ally) and it's sorta hidden by a staircase, so you have to walk right up to it to see it!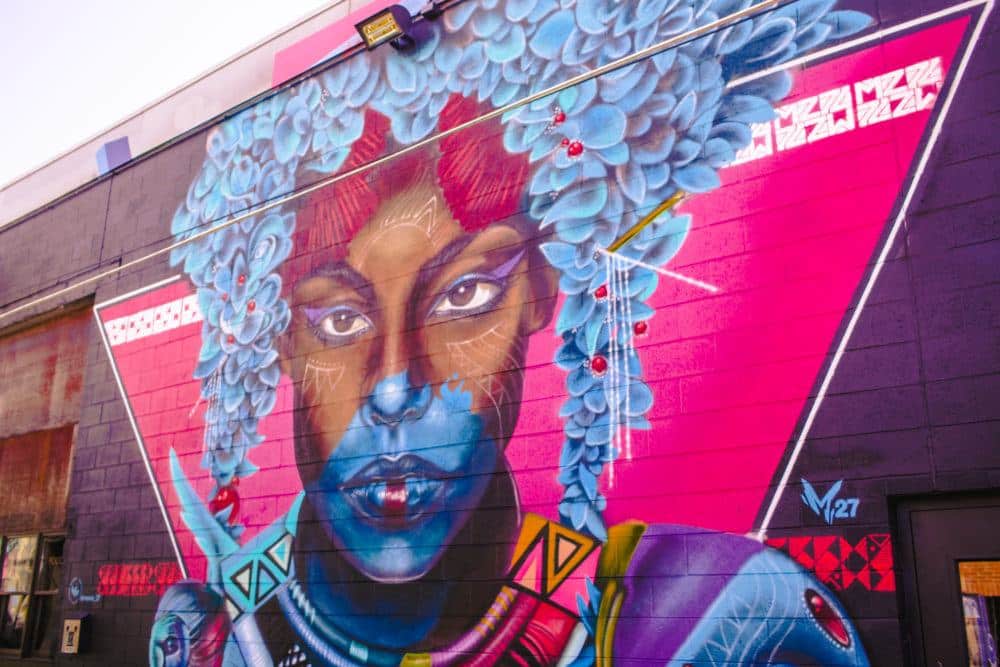 Alley of Murals
Walnut & 27th (behind Denver Market)
Ok, so there's probably an official name for this ally but I just call it the Alley of Murals or the Art Ally. It's on Walnut and behind a bunch of shops. It's a lot like Claridon Alley here in San Francisco – just tons of street art covering each corner!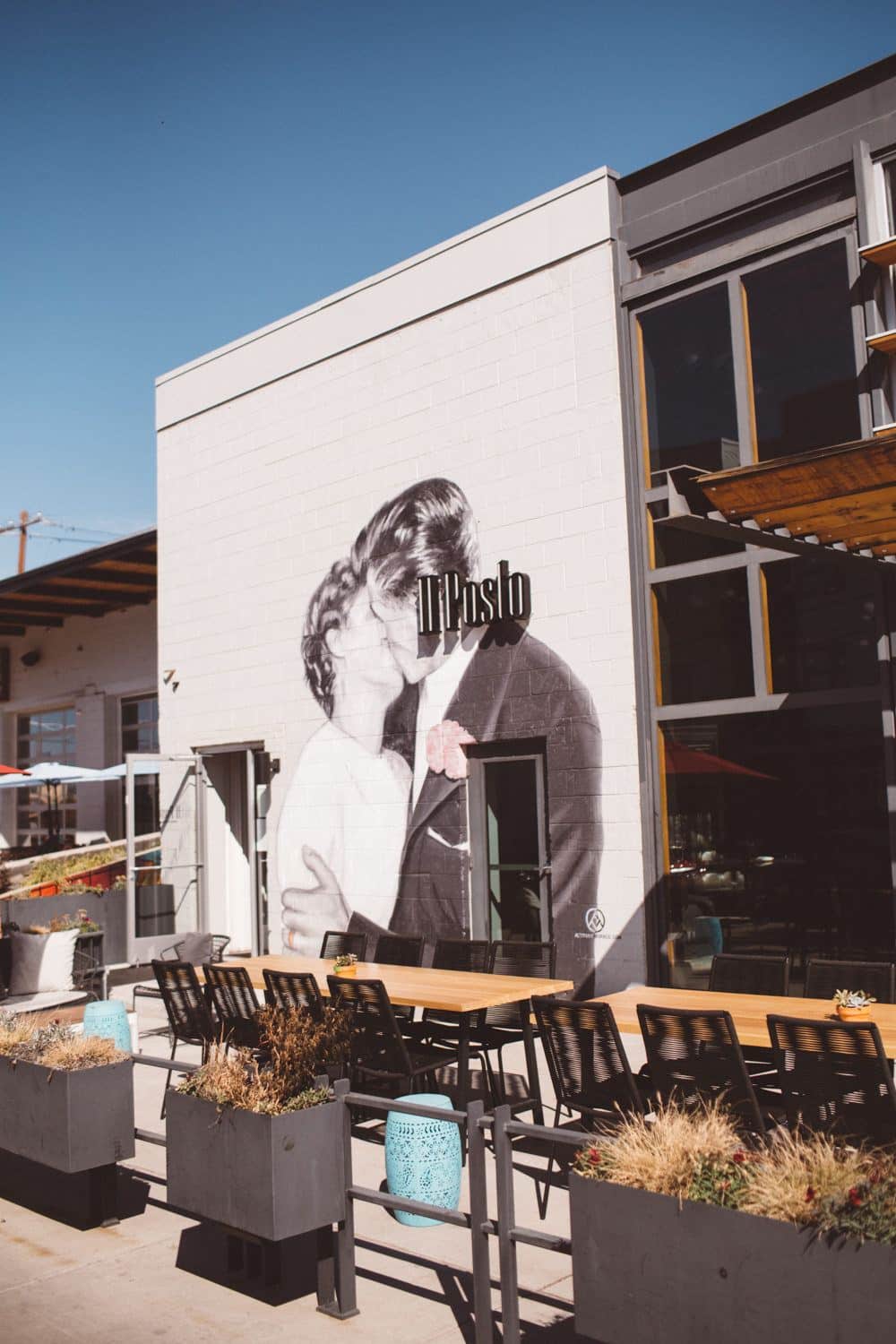 Kissing Couple Mural
Larimer Street & 26th Street
Ohhh, aren't they so fancy? I imagine this being a 1950's couple in love.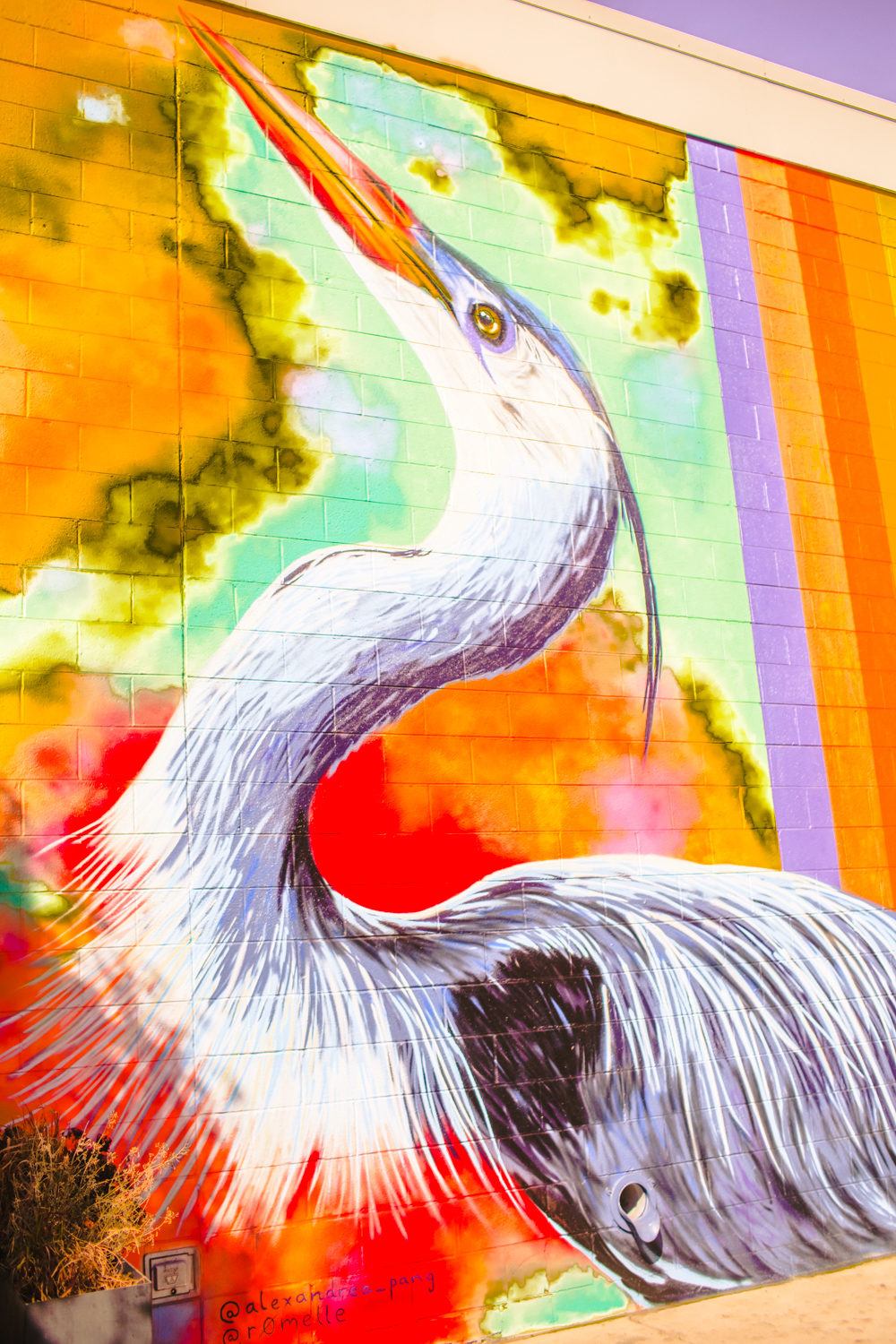 Crane Mural
Larimer Street & 26th Street
I think the crane looks so dang pretty in this piece!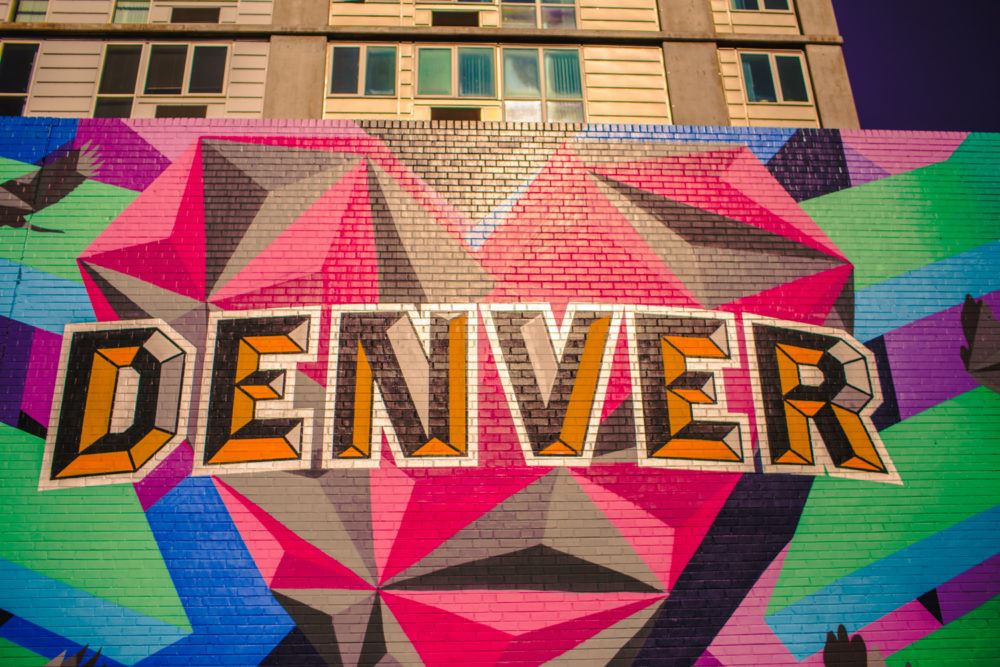 Rainbow Triangles
Larimer Street & Parking Lot
You can't miss this one. It takes up the entire wall of a large parking lot and is just so colorful AF!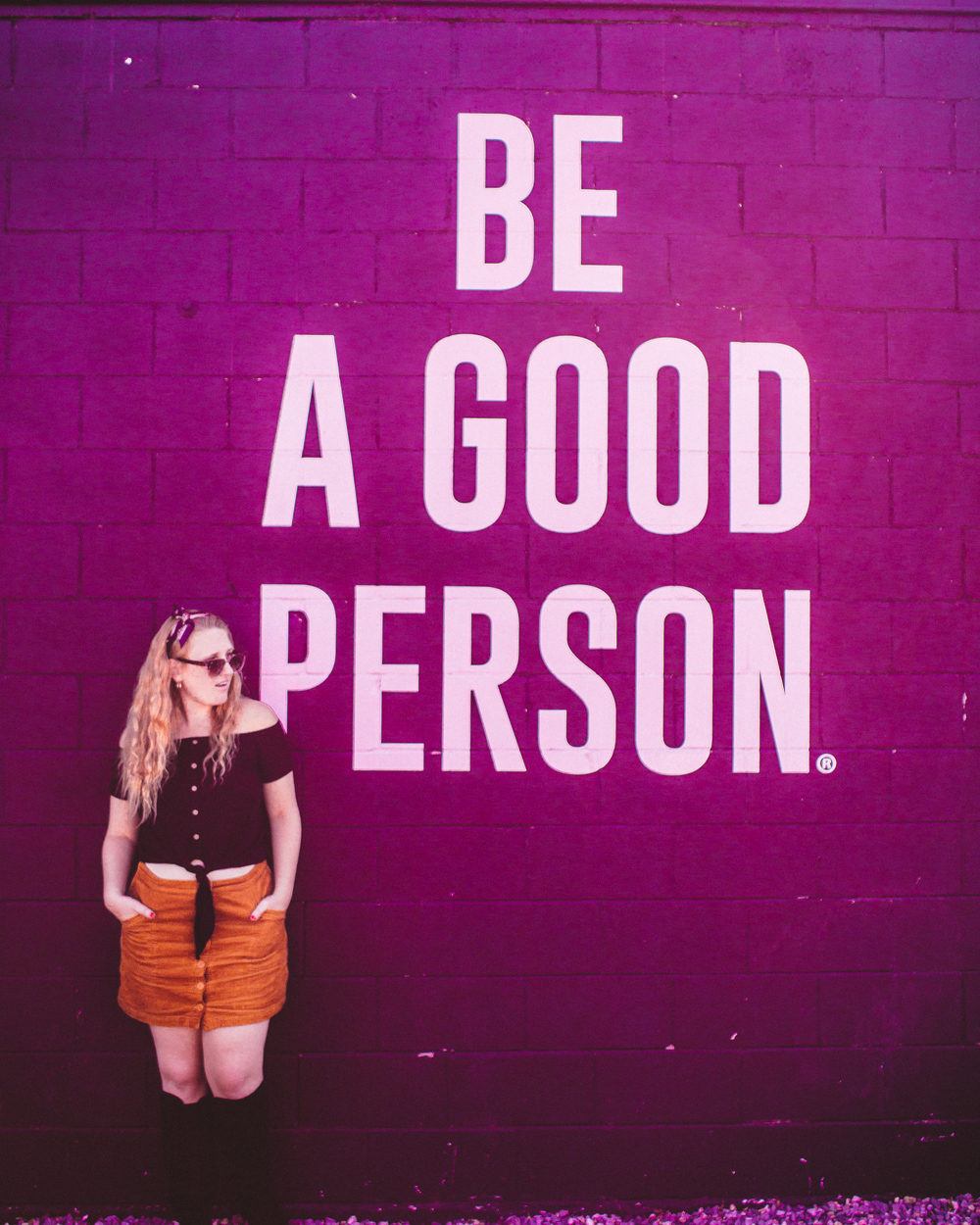 Be A Good Person Mural
Larimer & Parking Lot Near Our Mutual Friends Brewery
Another one of my favorite murals we found. So simple but so powerful, a great reminder to just BE A GOOD PERSON and that's enough. You don't have to be everything, just good. NOTE this mural is actually black, not purple, but my standard filter turned it purple and I liked it, so I left it that way.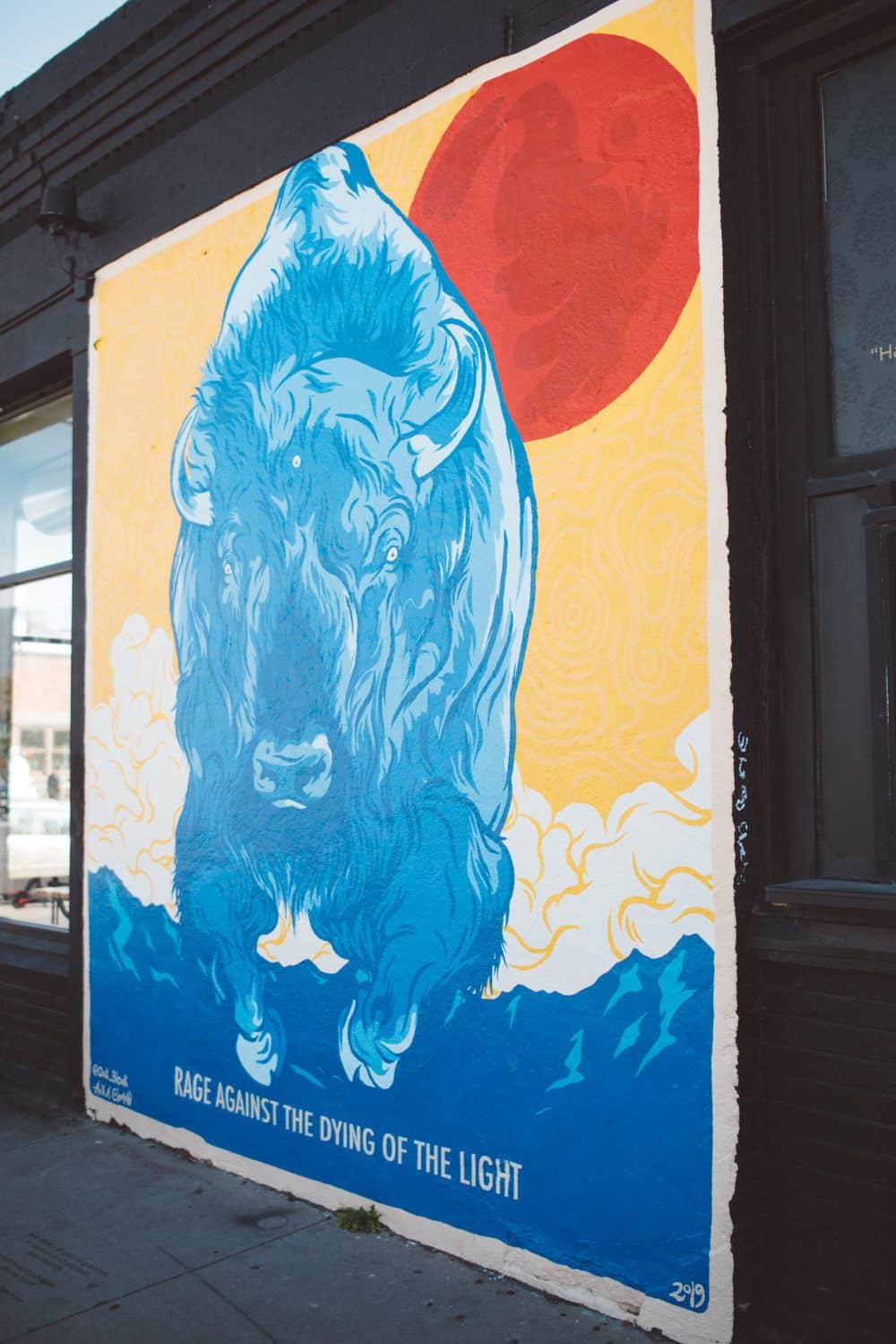 The Bull
Larimer & 29th Street
Just a cool vintage-poster style mural of a bull!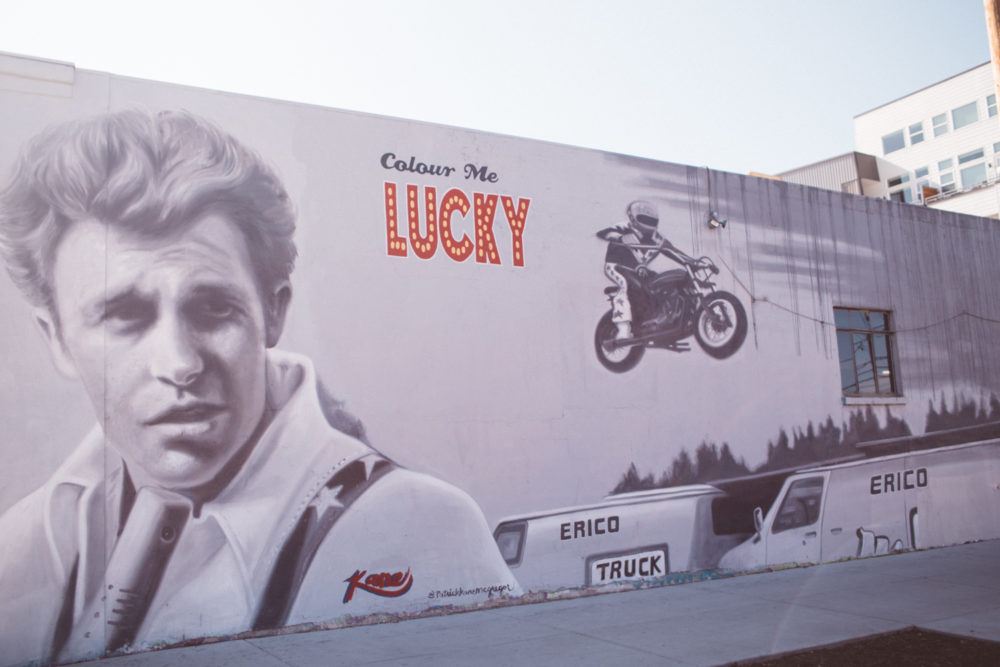 Color Me Lucky Mural
Walnut Street & 29th Street
Throwing it back to the old school days with this one.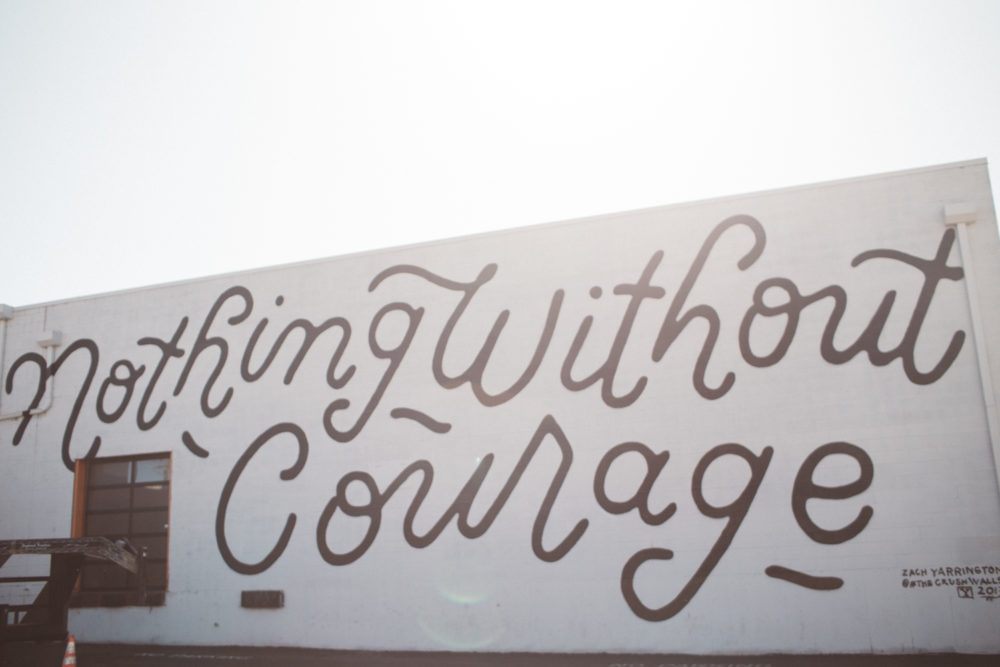 Courage Wall
Walnut & 29th Street
I took a billion photos in front of this one. Pro tip – if you have a wide-angle lens, bring it for this wall! It's hard to capture it all with a narrower lens (I use a 35mm)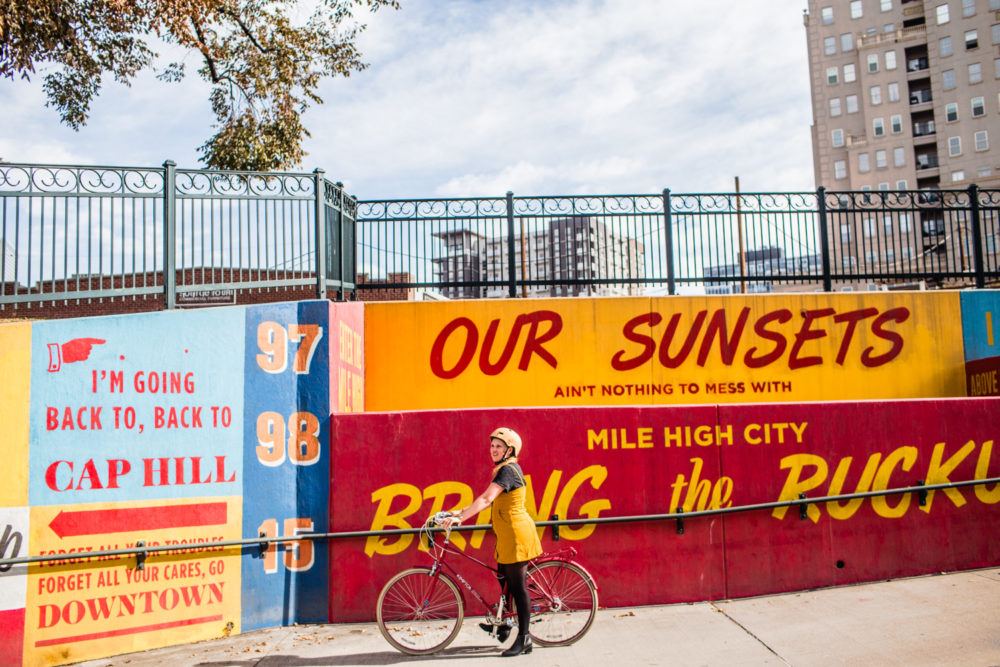 Rap Lyrics Mural
Cherry Creek Trail near 13th Street Entrance
This was my husband's favorite mural! Apparently it's a bunch of rap lyrics from some of these favorite artists, like Wu Tang Clan. It's on the Cherry Creek Trail, which is a beautiful bike trail that runs through the city. Just watch out for speeding bikes!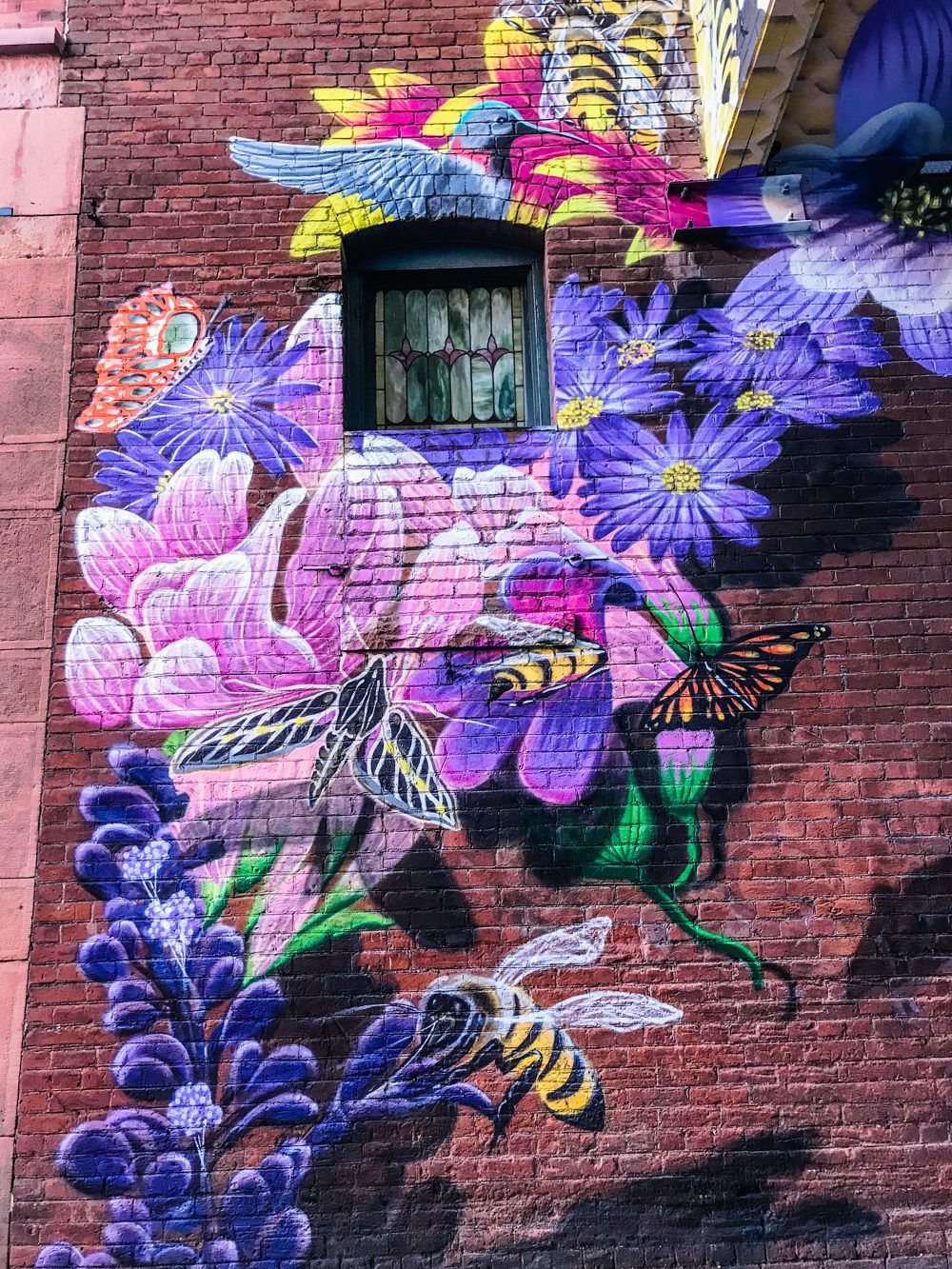 Butterly Mural
17th and Wazee Ally
Just a few blocks off of Union Station is this pretty butterfly mural in an alley!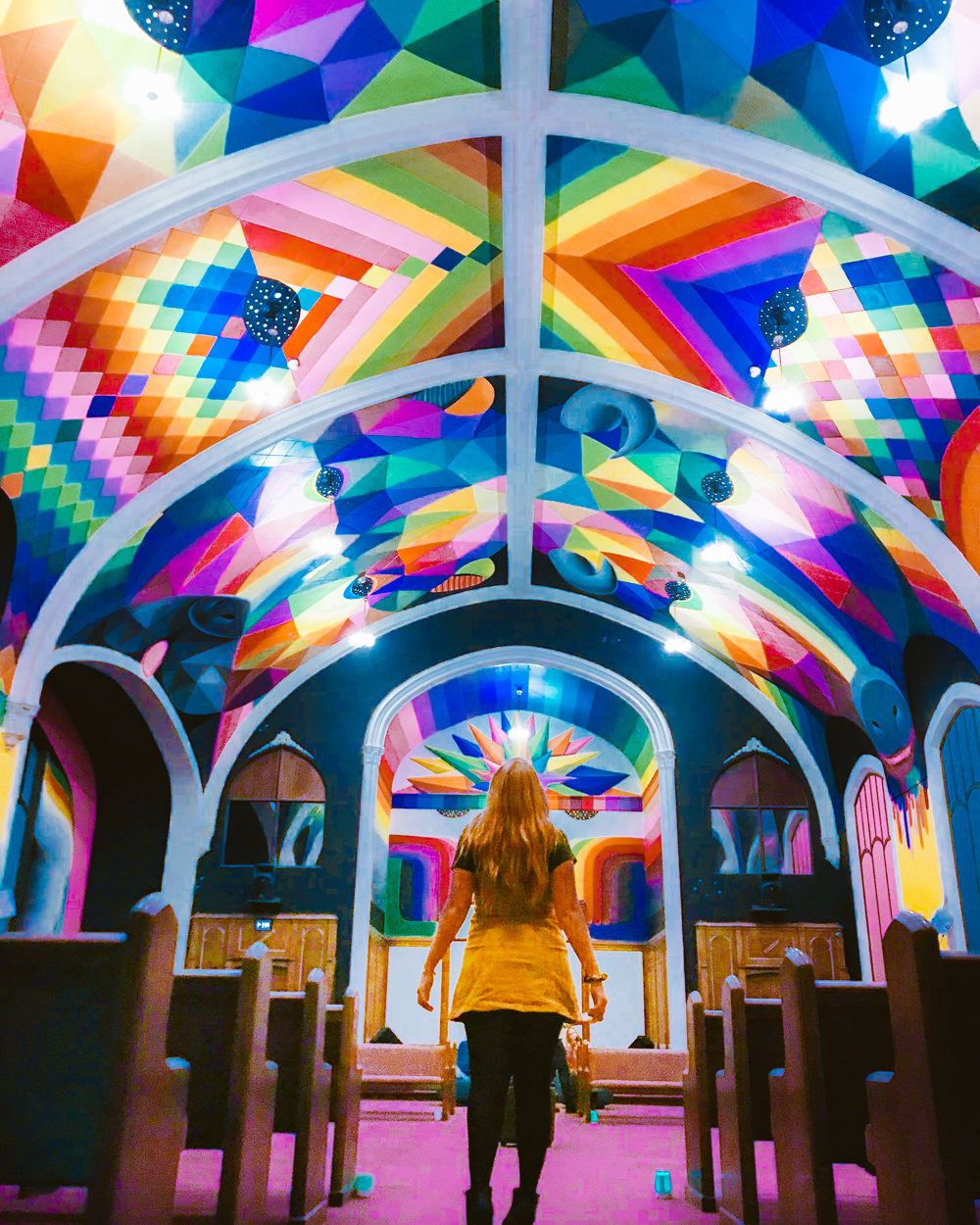 International Church of Cannabis
400 S Logan St
I LOVED visiting the International Church of Cannabis and highly recommend it to every Denver visitor. Don't' worry – you aren't forced to get high to visit. The church is open to the public at 1pm sharp every day (more shows on weekends) and they host lazer music light show under their colorful mural ceiling. You read that right – a lazer music light show! It's so much fun and the inside of this church is stunning!! Note: it's $15 per person to enter.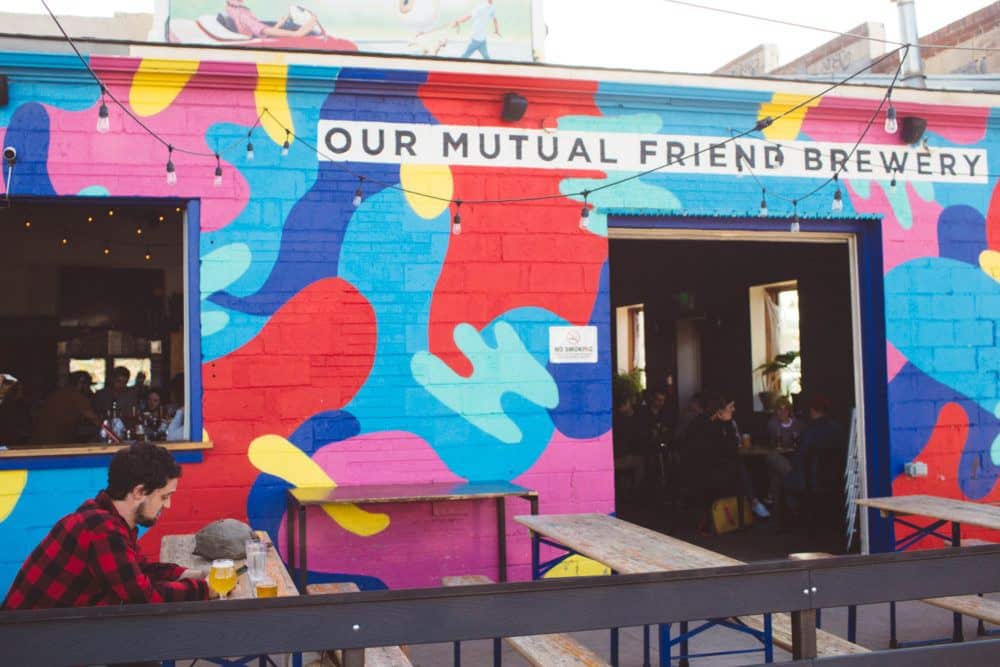 As you can tell, there's like five RiNo murals all on the same corner, so you can hit them all easily between craft beer drinking. There's also a lot of murals in Denver airport as well so you can keep your hunt going while flying back home.
I hope my Denver colorado murals guide help you find some awesome street art. Don't forget that murals in Denver may not last forever – many of them are "crushed" around Labor Day each year, so if you live a mural, visit is before next labor day!
Got a favorite piece of Denver wall art not listed? Tell me it below in a comment so everyone can see and go visit your favorite public art, too! Got questions? Leave a comment or DM me on Instagram @thewhimsyoul and I'll be happy to help!
Other posts you may like
All the best breweries in RiNo ranked from best to worst
48 Hours in Boulder Travel Guide
Hotel review: Kimpton Monaco Denver
Heading to Austin, Texas? Use this epic city guide!