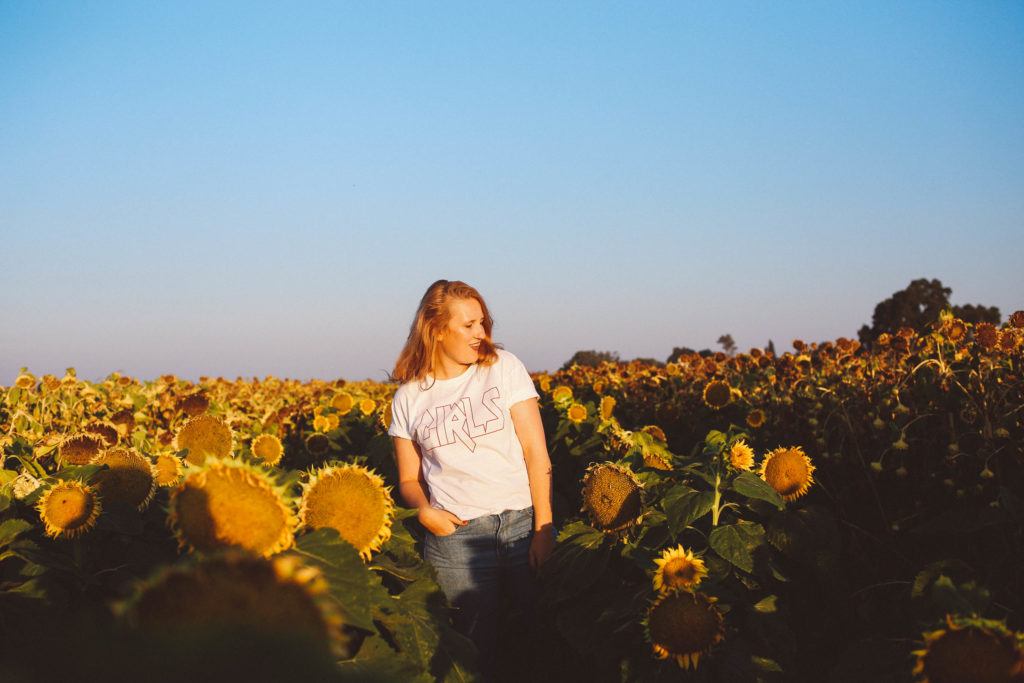 You've seen them on Instagram. The endless rows of golden sunflowers that seem to stretch for days.
My friend Justina and I saw these sunflower fields all over our feeds and had to check it out before they all wilted by mid-August. We decided to visit on August 10th, which was already almost too late. As you'll see in the photos, we did find a little patch of flowers that weren't in too bad of shape, but we drove by miles and miles of totally dead flowers on the way here. That being said, I picked up some tricks and tips that I wanted to share with you now, so we all can be prepared next summer for sunflower season!
First, who am I and why should you take travel advice from me? My name is Kara, I'm the gal behind Whimsy Soul (follow me on Instagram @thewhimsysoul HERE.) I grew up in the Midwest and ran away to San Francisco because winters suck (seriously.)  My big passion in life is helping other women feel confident in themselves and confident to explore the world around them. When it comes to travel, I understand that you don't want your days off from work to go to waste. You also aren't looking to blow your entire paycheck on one vacation. So I dig deep for you. I find the prettiest hotels, the best eats, the coolest things to see in a destination and round up all that advice with other helpful tips like how to navigate local transportation into one huge travel guide. I try most things out myself to see if it really lives up to the hype, so you can go explore without any FOMO. Read on to find my sunflower fields in California guide! If you have any questions, pop them in the comments below or DM me on Instagram.
---
Visit a field in July to make sure you catch the fields at the height of their awesomeness. As mentioned, August 10th was already too late and we had to hunt for a patch that was still half alive.
Woodland, Winters, and the Dixon are in the Yolo County, California area have the best Northern Californian sunflower patches. Sadly, I don't know of any close to the Bay Area, but it's worth the drive up here for the literally endless miles of flowers. Try heading to the famous Field of Sunflowers at 8747 Currey Rd, Dixon first.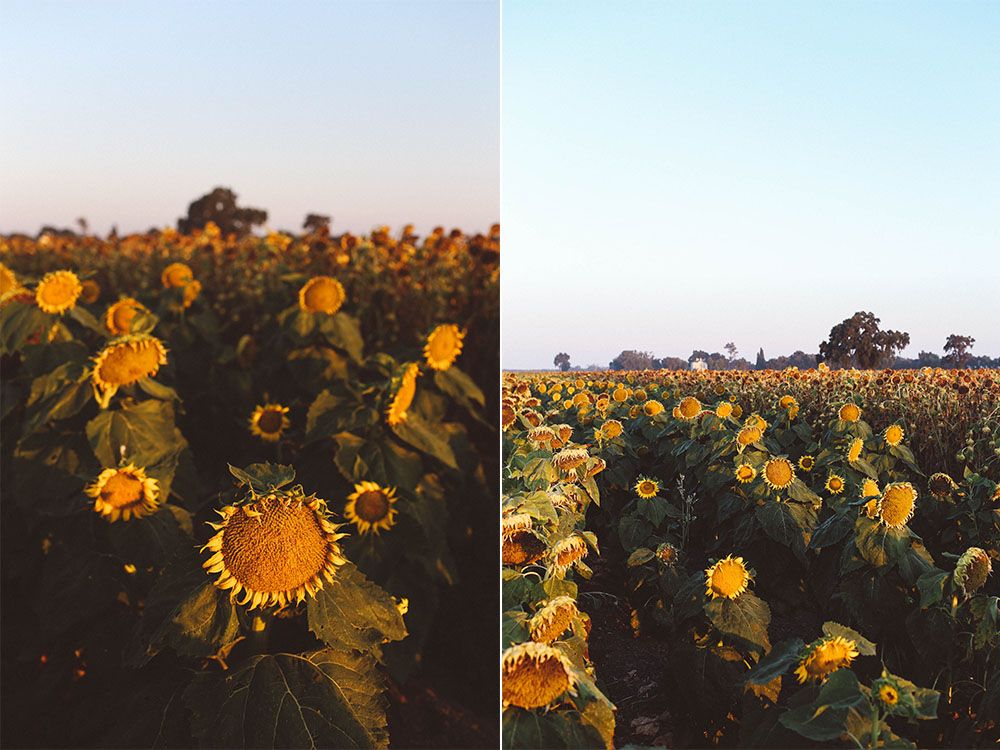 Plan to arrive at sunrise to avoid the rush of people and witness the flowers at their most beautiful moments. There is something magical about the sunflowers all facing East and meeting the sun breaking the horizon. We left San Francisco at 4:15am and made it to the fields at 5:30am for sunrise.
If you aren't up for a long morning drive, stay overnight at Park Winters, a delightfully beautiful hotel nearby.
Ask permission from the farmers to avoid any problems. Most farmers are fine with you stopping by the end of the field for a quick photo or two, but if you are planning on going deeper into fields or doing a big shoot (like an engagement or longer portrait session or flying a drone), figure out who owns the land and give them a call. I haven't heard of anyone saying no, they just like the heads up. On that note, be respectable and don't wander too deep into fields or drive all over. The sunflower files are private land after all!
Don't drone… for real. Droning is illegal on private land that isn't yours. Farmers WILL call the cops on you.
Dress the part and plan to wear summer dresses, straw hat or Americana-vibing outfits. The 'gram will be a fan! 🙂
Travel the world FOR FREE!
I'm sharing all the tricks I use to travel for FREE! Subscribe to get in on the secrets other travel bloggers don't like sharing.
I hope this helps you plan your trip to see the sunflower fields! Use #whimsysoul on your photo if you post to Instagram so I can see it!