(Updated April 2021) You've seen them on Instagram. The stunning endless rows of golden sunflowers that seem to stretch for days.
I visit the sunflower fields in California each summer and have narrowed down my favorite fields and tons of tips and tricks for visiting. Keep reading my post to find exact locations of sunflower fields in California along with important tips for getting the best photos possible!!
The Best Field Of Sunflowers In California: Locations & Photo Tips!
Watch a TikTok video of the sunflower fields from this summer
HERE.
My friends and I saw these sunflower fields all over our feeds back in 2017 and had to check it out before they all wilted by mid-August. We decided to visit on August 10th, which was already almost too late.
We did find a little patch of flowers that weren't in too bad of shape, but we drove by miles and miles of totally dead flowers on the way there. The next summer I was a little too early, visiting at the start of June when the flowers were still a little small.
Finally now, in 2020, I have this on lockdown and sharing all my tips for you!!
When Is The Best Time To Visit Sunflower Fields?
Visit a field in early July to make sure you catch the fields at the height of their awesomeness. As mentioned, August 10th 2017 was already too late and we had to hunt for a patch that was still half alive. The next year (2018), I visited in early June and some of the flowers were still a bit small, but at least they were alive and thriving!
This past summer (2020) I visited the last weekend in June and it was PERFECT. The sunflowers were large and healthy-looking, but not too tall yet. That's why end of June / early July is the best time to visit for the best flowers.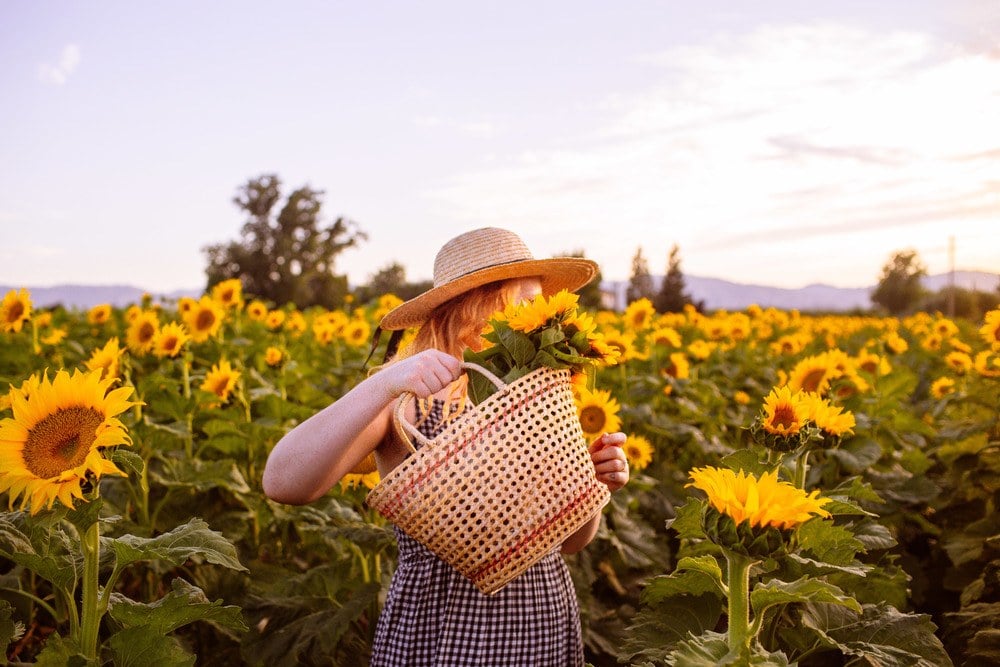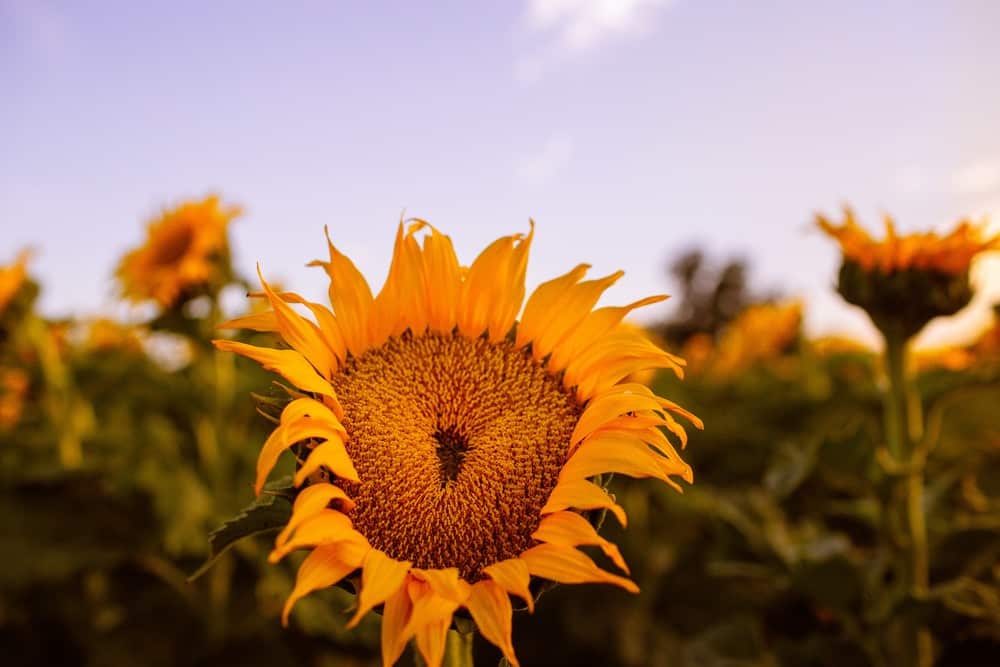 Where to Find The Best Sunflowers in California + Tips For Visiting
Woodland, Winters, Dixon are in the Yolo County, California area have the best Northern Californian sunflower patches. Half Moon Bay has a sunflower farm that blooms in September, which is close to the Bay Area, but these grow about 9 feet tall and don't make for that typical sunflower field photograph but are perfect if you missed the summer season. So, it's worth the drive up to Dixon for the literally endless miles of flowers.
Here's my favorite places to find sunflowers in California:
Try heading to the famous Field of Sunflowers at 8747 Currey Rd, Dixon first. They are a great starting point!
Kidwell Exit on Hwy 80 nearby has a large field but usually super crowded as EVERYONE stops here.
The intersection of Road 26 and Road 89 in Yolo County has a patch with a small area to pull off. This was more remote and stunning at sunset!
Anywhere around Winters, California – you'll pass by tons of fields here. Find one you like and pull over!
U-Pick 7+foot tall sunflowers at Andreotti Family Farms in Half Moon Bay
Hana Field by Tanaka Farms in Costa Mesa runs until August!
Murray Family Farms in Bakersfield (runs later too!)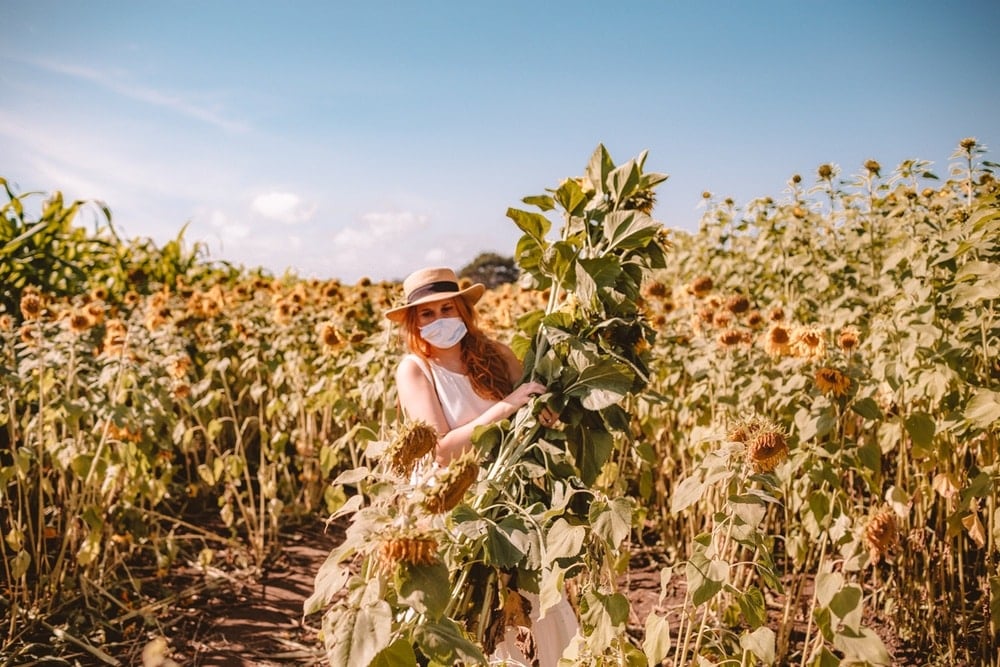 Photograph At Sunrise or Sunset (Aka Golden Hour!)
Plan to arrive at sunrise to avoid the rush of people and witness the flowers at their most beautiful moments. There is something magical about the sunflowers all facing East and meeting the sun breaking the horizon. We left San Francisco at 4:15am and made it to the fields at 5:30am for sunrise. Plus, the morning light is the best time to shoot!
If you aren't up for a long morning drive, you can visit at sunset in the evening, usually around 8pm-9pm during the summer. Whatever you do, I highly recommend you DON'T photography during mid-day. This area is always so sunny and HOT HOT HOT (easily up to 90-100 degrees in the summertime) and you'll be out in the middle of a field, remember? You'll be sweating and your photos will have harsh light.
Be Respectful While Visiting The Sunflowers
Most farmers are fine with you stopping by the end of the field for a quick photo shoot, but if you are planning on going deeper into fields or doing a big shoot (like an engagement or longer portrait session or flying a drone), figure out who owns the land and give them a call.
I haven't heard of anyone saying no, they just like the heads up for any professional photoshoot or droning. On that note, be respectable and don't wander too deep into fields or drive all over the farm. The sunflower files are private land after all!
Remember- these fields are not public land. Respect the fields & don't damage the flowers.
Don't drone… for real. Droning is illegal on private land that isn't yours. Farmers WILL call the cops on you. (Unless you have permission!)
Dress the part and plan to wear summer dresses, straw hat or Americana-vibing outfits. The 'gram will be a fan! 🙂 Try one of these pieces!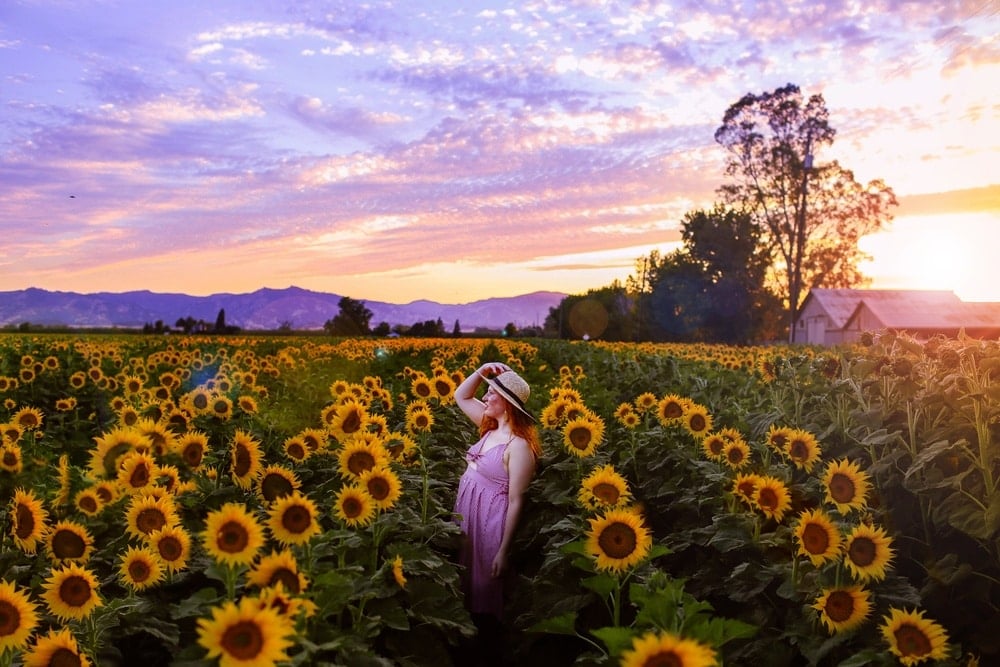 Make A Weekend Trip Out Of It!
No matter what flower field in California you're visiting, light to photograph is best at sunrise and sunset, it may be easier to spend the night in a hotel somewhere. Make a weekend trip out of it!
I recommend you stay overnight in Sacramento, a city that's slowly growing on me with fun breweries, cute cafes and colorful murals. Kimpton Sawyer Hotel in Sacramento is the best hotel. We love Kimpton hotels – they are always so unique & well crafted. This one even has a pool (perfect for hot summer days after visiting the sunflowers!) Or, if you want something a little more unique, try the Delta King Hotel which is a hotel on a riverboat!
Before or after your shoot at the sunflowers, swing on by to Araceli Farms, a stunning lavender field that's open between May and early July each year. My friends and I visited this summer and fell in love with this place. You can take tons of photos here, too!
If you are in the area in February, check out the Almond Blossoms. Or, if it's August, head to the nearby Mezger Family Zinnia Patch!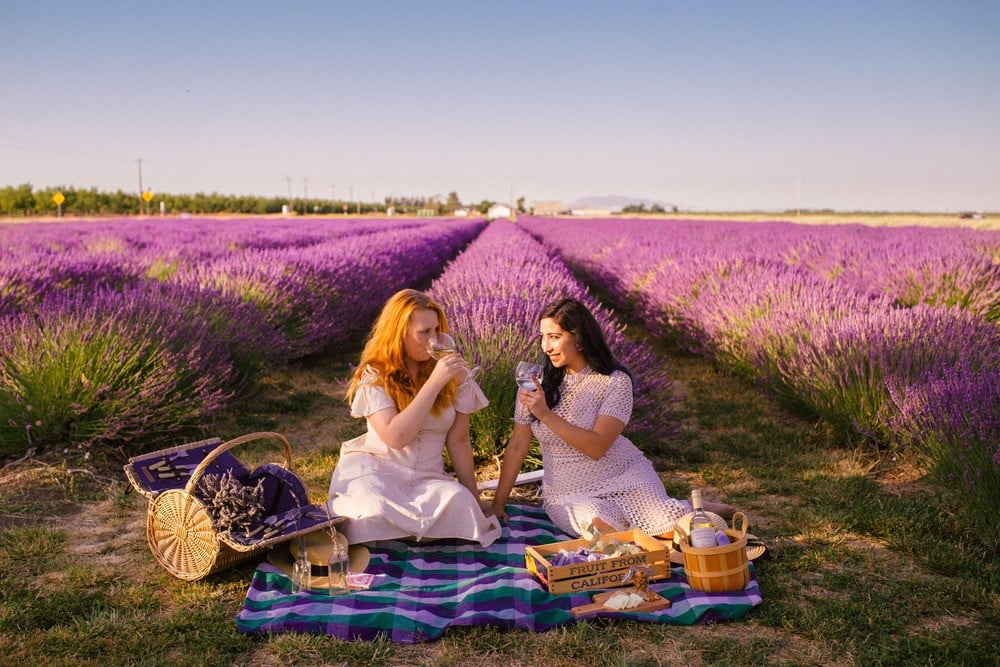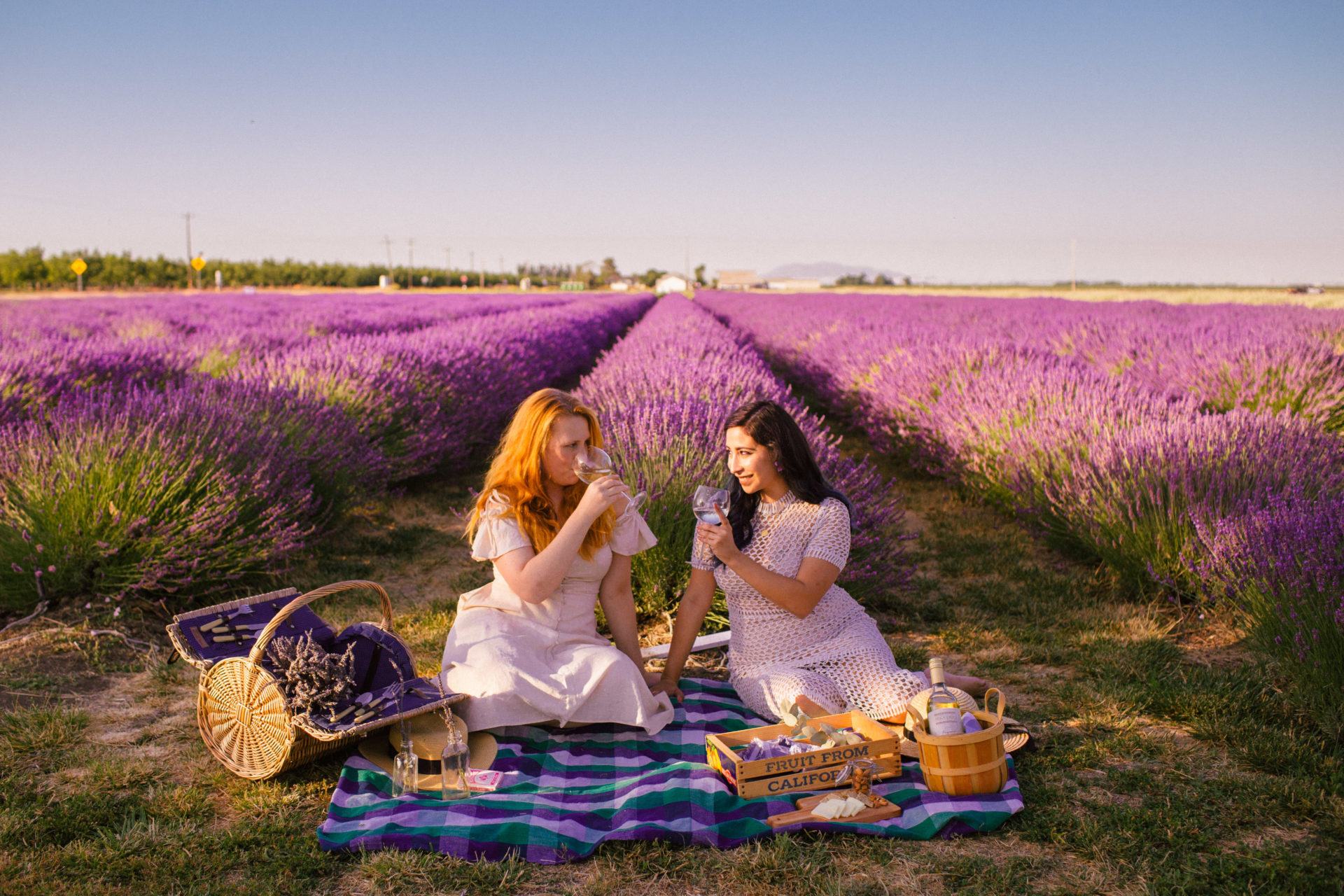 I hope this helps you plan your trip to see the sunflower fields! Remember, be respectful to the flowers. If you have any questions, please comment below or DM me on Instagram @thewhimsysoul and I'll try to help! If you have any tips to add or comments, drop a note below so everyone can see.
PS – Use #whimsysoul on your photo if you post to Instagram so I can see it!
Other posts you may like:
I have SO many sunflower photos from over the years! Here's some past photos that are too fun not to share!