Apple picking season is right around the corner!! As a basic fall betch who loves all things scented candles, fresh-baked bikes and Pumpkin Spiced Lattes, I always go apple picking every September.
When it comes to fashion and apple orchards, I'm your gal. In this post I've gathered up all the best styles you can shop online right now to wear apple picking, plus photos for inspiration.
I always travel up to the Sierra Foothills to go apple picking in Apple Hill, the best orchards in California. Our apple season is September, but yours may run a bit earlier or later depending on where you live.
What To Wear Apple Picking: 12 Top Apple Picking Outfit Ideas
I think the cutest outfits for apple picking are the ones that really go hard on fall vibes. I'm talking cozy sweaters with denim jeans. Gingham dresses with a straw picnic basket. All that basic fall stuff I know you love.
When styling apple orchard outfits, remember that the orchards will be mostly green with little pops of red. So, whites, light tans, red and orange colors look really nice.
These are my favorite outfit combos and pieces I look for when styling an apple picking outfit:
A pair of tall brown boots (this my favorite boots available this season!)
Hunter Boots (especially handy on rainy fall days at the orchard)
Thrifted straw basket or picnic basket
Blanket scarf (that's also cozy for winter outfits)
White overalls (this pair comes in so many sizes!)
Shop Apple Picking Outfits Available Online Right Now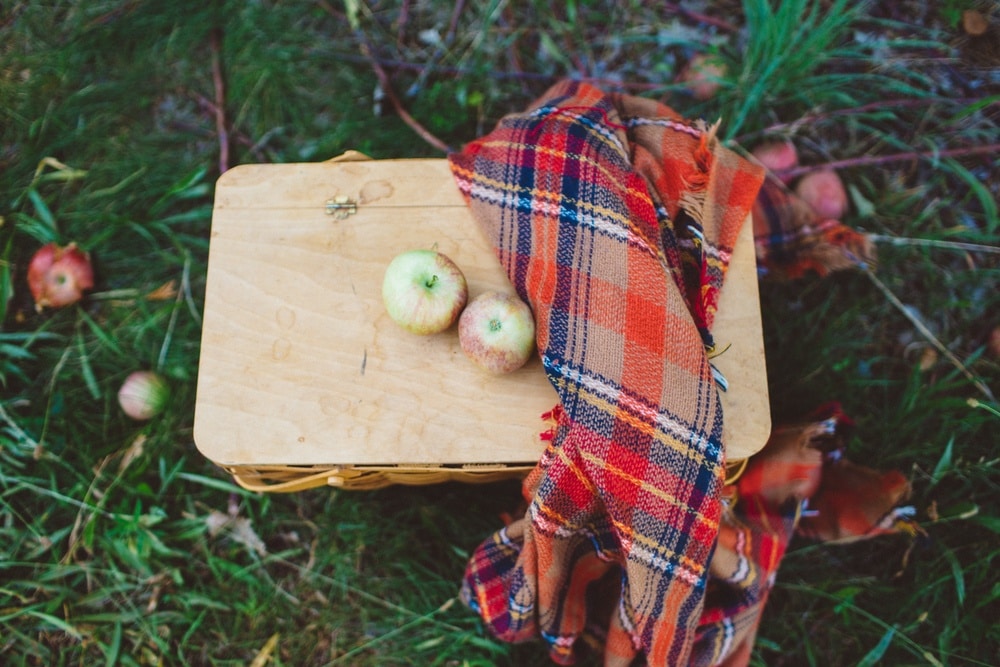 How to Take Amazing Apple Orchard Photos
After you nailed down outfits to wear apple picking, you still need a bit of planning to ensure you get the best photos at the orchard as possible. Since I got every fall and always take a ton of photos, I have a lot of tips and tricks up my sleeve. Here are my 3 top tips for having the best photoshoot at an apple orchard!
Go In The Evening
Have you ever tried taking photos under trees at Noon? You've probably noticed harsh shadows and bright light blowing out the background. Not ideal for photos. Plus, in many places, early September is still pretty warm. I can attest from personal experience that apple picking at Noon when it's 90 degrees out is not ideal.
Instead, head to the orchard in the late afternoon or early evening. If you can get there within an hour from sunset, that would result in amazing photos without harsh light! It'll be cooler, too.
Bring Accessories
This is KEY for good photos! Bring a straw bag or a straw picnic basket to style with the apples. You can fill it up with apples and carrying it around to look like a legit cottagecore babe. Bring a plaid blanket, too! You can sit on this or wrap it around your shoulders to really style out the photoshoot.
Get Playful
Take a bite out of an apple. Toss them around a bit, get some movement in there with your photos. Don't just stand in the middle of the row smiling. You dressed all cute in a fall outfit so really sell the mood! When in doubt, start picking the apples from the tree to take candid photos. They'll turn out great!
I hope this helped you plan what to wear apple picking this fall! When in doubt I love to look at Pinterest outfits so if you found this helpful, I would love if you pinned this post to Pinterest so other people can find it!
Here's to fall and leaning into our basic fall betch. And making a LOT of apple pies. Soon enough I'll be writing up holiday gift guides (time flies!)