Did you know Apple Hill has a thriving wine region? After you're done apple picking at your favorite farm, you don't have to let the fun stop. Head to one of the many wine tasting rooms!
While up in Apple Hill with my friend, we quickly ran out of things to do after a picked about 6 pounds of apples. Then we discovered all the beer and wines available in the region! We spent the afternoon winery hoping and asking locals for the inside scope on all the best places to drink in the area.
Keep reading for the top 5 Apple hill wineries to visit (the ones with the best wines, views and experience!)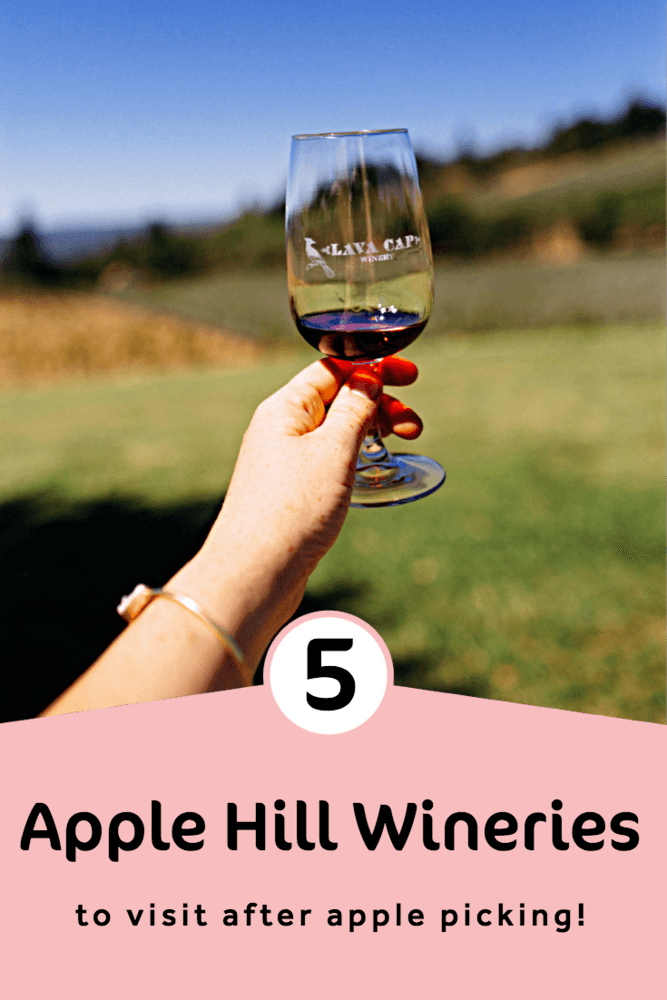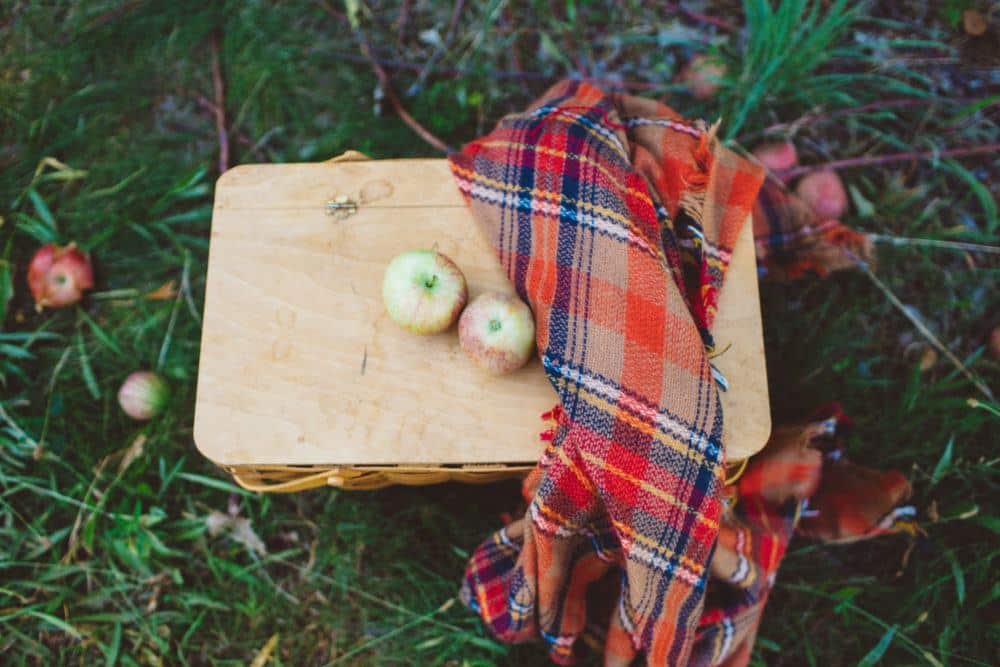 >> Got a question about Apple Hill wineries that you need answered quickly? DM me on Instagram @thewhimsysoul and I'll be happy to help!
Apple Hill is in El Dorado County and mostly in the community of Camino, though some of the farms and wineries are outside of Placerville. I had NO IDEA there were Placerville wineries and Camino wineries. I thought there was just apple picking farms up there! They're open year round but are extra fun to visit after apple picking events.
Turns out, there are over 14 different places to go wine tasting in the region (I can't find a formal number because they aren't all listed on the official apple hill map online.) My friend and I felt like queens wine tasting in Apple Hill as the prices were so affordable.
Most of the tastings are $5 for 5 or 6 wines!
Wine tasting after apple picking is now my favorite fall activity but they are open in the summer, too! If you're in South Lake Tahoe during the warm months, the El Dorado wine region is only about an hour away so if you're craving a break from the lake, consider driving down! You can also book a wine tasting tour from South Lake Tahoe (picnic lunch included!)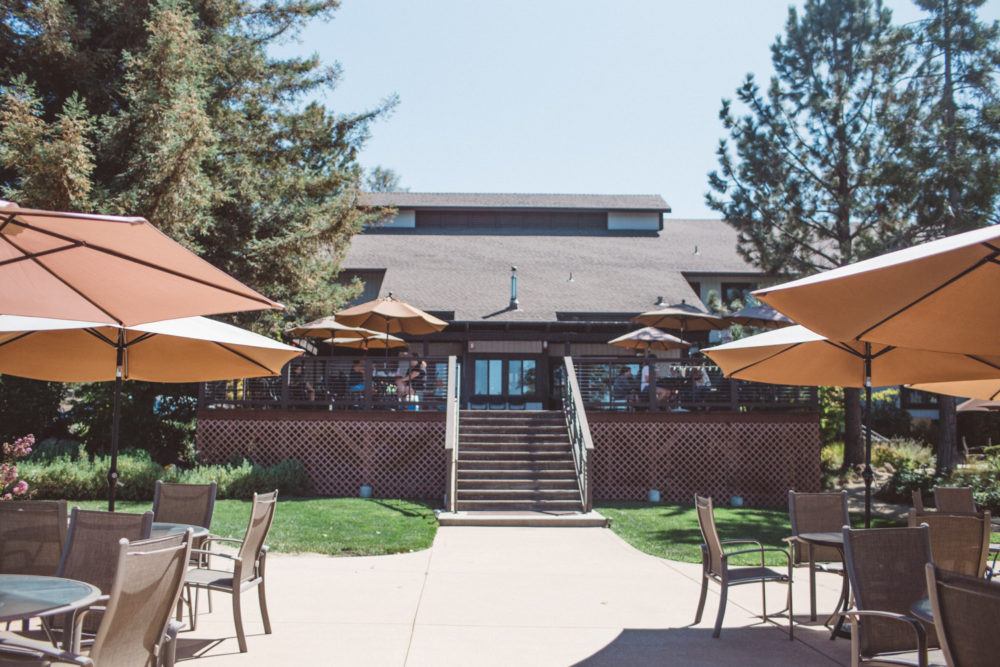 5 Apple Hill Wineries You Can't Miss 2021
You can grab an apple hill wineries map from any of the tasting rooms but these are the top 5 that I recommend you visit!
1. Jack Russell Brewery & Winery
This is going to be my go-to stop for any future Apple Hill trips. Jack Russell is up the road from Larsens in the heart of the region. This place is a brewery AND a winery AND a cider house AND a meadery! basically the universal crowd pleasure because they make everything but cocktails here.
I loved all the outdoor seating, there are easily 50 tables in the area, all with umbrellas for hot days. They don't sell food but you can bring food in from other places. We opted to grab sandwiches from Larsens and eat lunch with a cold beer and a sample of mead the bartender was kind enough to share. (The winery, cider house and meadery are only open on the weekends but the brewery is always open!)
2. Boa Vista Orchards Tasting Room
While you're picking up some apple cider and pies, you can also go wine tasting at Boa Vista! We didn't personally stop here but were told it's a great place to sneak in wine tasting stops when you are traveling with people who don't want to hang out at a winery all afternoon.
Boa Vista specialized in apple wines! You can also try red wines and red dessert wines here along with hard cider tastings!
3. Boeger Winery
Boeger is the second place we went wine tasting! It's a little further out but worth the drive because this property is STUNNING! It's mostly shaded under grand old trees that have some whimsical decor like chandeliers hanging in the trees. There's a little pond and a historic house on the property. You can get a tour of the vineyard, too, if you want!
Tastings are $5 for 6 here and Boeger grows over 30+ varietals so there's sure to be a wine that everyone in your group likes. I especially liked the reds here but my friend really enjoyed the dessert wines.
4. Wofford Acres Vineyards
We didn't stop at Wofford but our sommelier at LAva Cap said great things about it! She told us the views were stunning because the winery overlooks the American River Gorge (and I want to visit to see the view in person next trip!)
Flights are $10 and most people seem to adore their red blends. Past guests also rave about the customer service here and say the owners are some of the nicest around.
5. Lava Cap Winery
A staple in apple hill wine tasting! Lava Cap is $5 for 5 tastings and while the pours of varieties are a bit small, you can't beat that value! You can stand at the tasting bar, but I recommend you go outside on the patio. There's TONS of outdoor seating here with string lights, umbrellas and good views of the vineyards.
Plus, they have a wine cat named Mr. Kitty here!
Lava Cap is known for their Barbera blend which is most people's favorite. I actually really loved their Syrah which had notes of violet and prosciutto – and odd combo in theory but BOY did it taste good! They are also family friendly.
It's on my bucket list to do an Apple Hill Christmas one year, which I think will result in a better red wine tasting experience. This visit was really HOT (mid 90's) so I mostly stuck to whites while tasting, but reds are my favorites.
I hope this helps you find a great El Dorado county wineries during your Apple Hill trip! Who knew gold rush country made wine?! Want to also go apple picking? Check out my full Apple Hill travel guide for tips on all the best places to pick apples, find deserts and other fun things to do.
If you have any other tips to add, leave a comment below so everyone can see! Got questions? Leave a comment or DM me on Instagram @thewhimsysoul and I'll be happy to help!
Other Posts You May Like