This is probably the most difficult thing I've written so far for Whimsy Soul. Swimsuits are always a fairly sensitive topic because I struggle (like many) with body image. I've made a lot of progress, and I have Kara/Whimsy Soul to thank for a lot of it!
I shared this swimsuit photo for the first time after publishing my Texas swimming holes article! Not to mention, getting in front of the camera for articles reviewing everything from coffee to luggage.
All that to say, even finding a swimsuit that fits well is a challenge. If you've read my articles before, you'll know I value comfort over everything!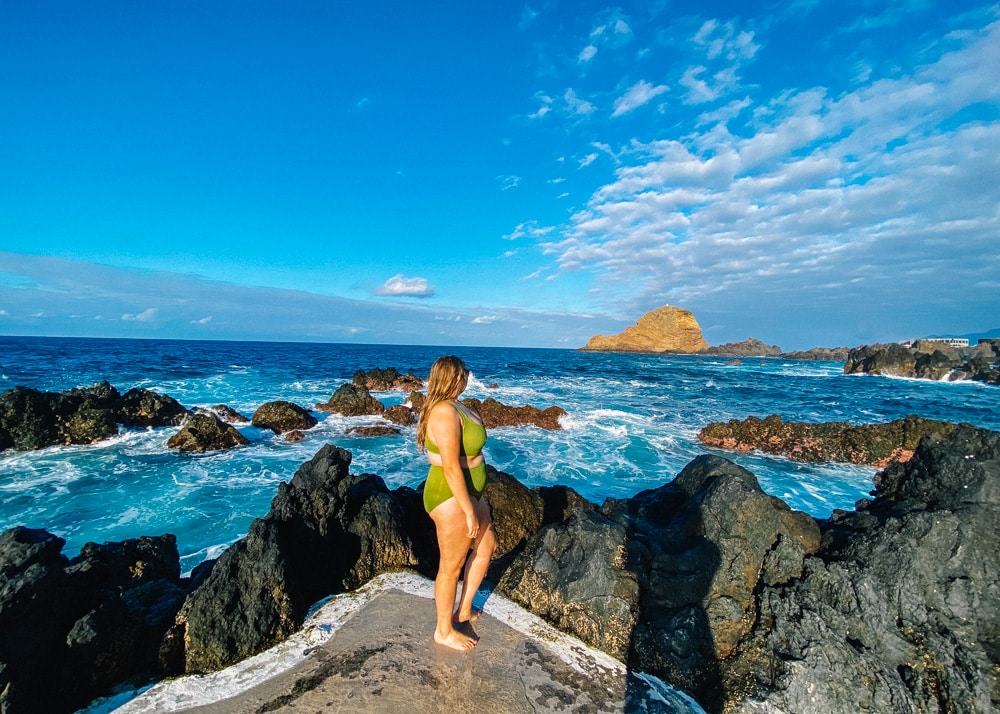 When I first came across YouSwim, I thought a one size fits all would never work for me even though I saw many of my fave creators wearing them. That's until I saw @lalalatianna wearing one and I took the plunge.
I try to be as sustainable as possible with my clothing purchase, and choose companies who hold similar values when I can.
What I like about YouSwim is it's made to be long lasting, growing with you and avoiding landfills in the process. I wore it a tonnnn in Madeira (you can view more from trip here), and paired it with simple white button down.
All that to say, I've been wearing my YouSwim swimsuit for over a year now, and I definitely have thoughts about it. So here it is, my YouSwim review as a midsize gal!
Note:
I know there's a lot of talk around the term, "midsize," and it can
be a bit problematic
. But it resonates with me and fits where I'm at in my own "confidence journey" so I'm rolling with it!
What Is YouSwim?
YouSwim is a London based studio that creates "swimsuits for life." The magical fabric used to make their swimsuits ebb and flow with "your body's natural state of flux," is made with nylon yarn.
The swimsuit styles offered are super simple, but cute and functional. Nothing is worse than feeling like you're about to fall out of your bathing suit. They offer only two sizes that each cover a range of about seven sizes:
Stretch I: US sizes 2-12

Standard waist and fits bust sizes up to cup size G for all styles except Poise which fits up to a D

Stretch II. US sizes 14-24

Standard waist and fits bust sizes up to cup size J in Aplomb and Eva styles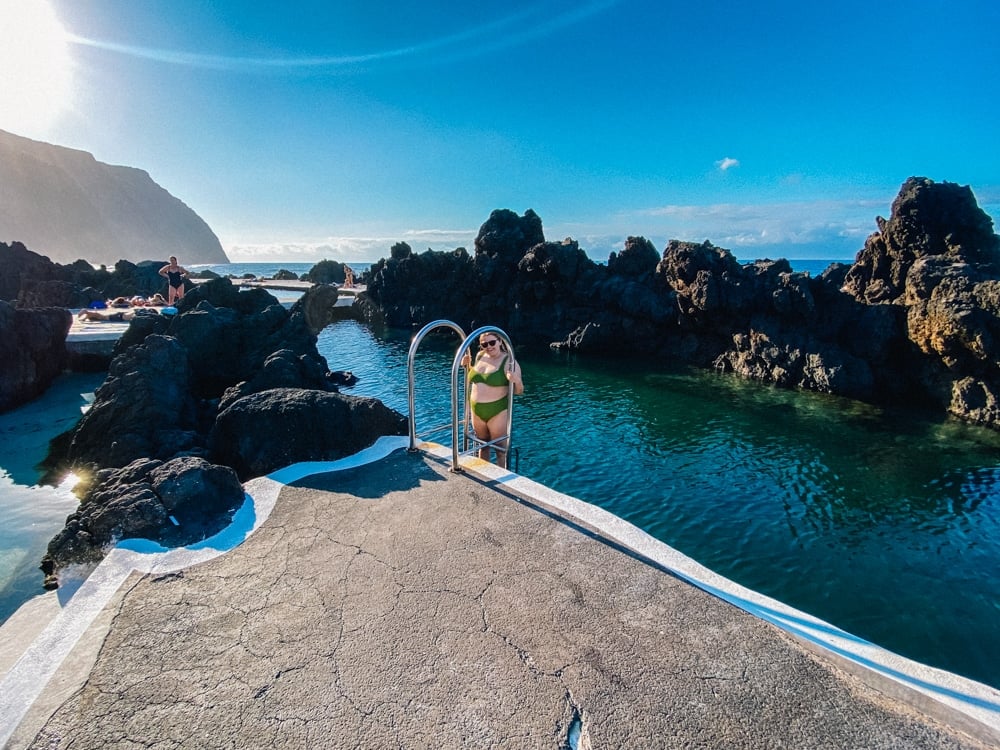 Note: Stretch II is fairly new, and I was actually able to try one this summer since I fall somewhere in the middle of both.
What I Got From YouSwim
Before I jump into things, here's a quick overview of what I actually own from YouSwim:
Aplomb High Waist Two-Piece in the color Fern in Stretch I (I bought this one for my trip to Portugal in September 2022 before the Stretch II size was launched!)
Eva One-Piece in the color Black in Stretch II (tried and tested all of summer 2023!)
Now, let's get into it!
What I Love About YouSwim
Let's start with the positives, because spoiler alert… I think they easily outweigh the negatives. The first thing I'll call out is: comfort (which you've probably found by now is of the utmost importance to me):
Comfort
I have only ever felt this comfortable in a swimsuit once before. It was a swimsuit from Aerie that I absolutely loved, but eventually the straps began to loosen. Falling down my shoulders constantly, and the item just became ill-fitting. That's actually around the time I decided to invest in YouSwim.
I figured the magical material that stretches and shrinks to adapt with your body wouldn't have the same effect. So far, so good!
Fit
This is what I was most surprised by, the fit is actually really good. I feel secure, but there's a comfortable stretch. In my Aplomb High Waist two piece (Stretch I), I feel like it's a pretty perfect fit, but the Eva one piece (Stretch II) hangs off my butt a bit. Honestly, if I were to do it all over again, I would buy two pieces in Stretch II and one piece in Stretch I to get that perfect fit.
I'm just nearly hanging out of the top in the two piece too. I ~think~ I'm a DD, but haven't been sized in quite a long time so take that with a grain of salt.
Style
I love simplistic style so I pretty much love all of the different swimsuit styles that YouSwim offers. I value function over style when it comes to swimsuits, but YouSwim is a win win. The ribbed fabric adds a super cute texture, and there are SO MANY COLORS to choose from.
Durability
This suit stands the test of time. I've worn my Aplomb two piece exclusively for over a year now, and it's still great. It could probably be better if I took better care (more on that later), but no complaints. The only reason I don't wear it is when I'm wearing my other YouSwim suit. My other swimsuits are basically obsolete at this point.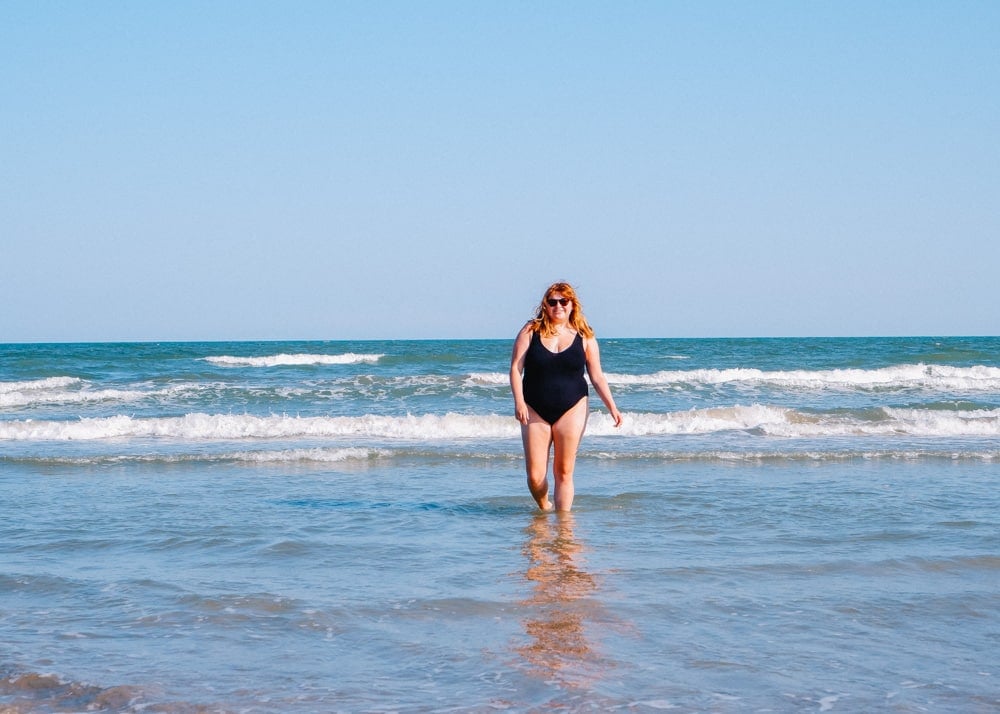 The fabric has held up really well, and the color hasn't faded whatsoever, even after several swims in the Texas sun with LOTS of sunscreen. It also feels durable. I don't fear it snagging on anything (it'll just stretch!), or even tearing.
Diversity
Like our friends at the Girlfriend Collective, YouSwim does a really good job in showing their products on people of all different sizes, body types, ethnicities, ages, abilities and more.
It makes sense since their thing is for their suits to grow with you, but still much appreciated. It usually isn't easy to picture what something will look like on me, and I can't imagine I'm alone in that, especially with swimsuits. So huge kudos to YouSwim.
The addition of the Stretch II size also says a lot. The original one size fits all was excluding a group of people, so they changed. Added an additional size to fit a wider range of sizes. It's that simple!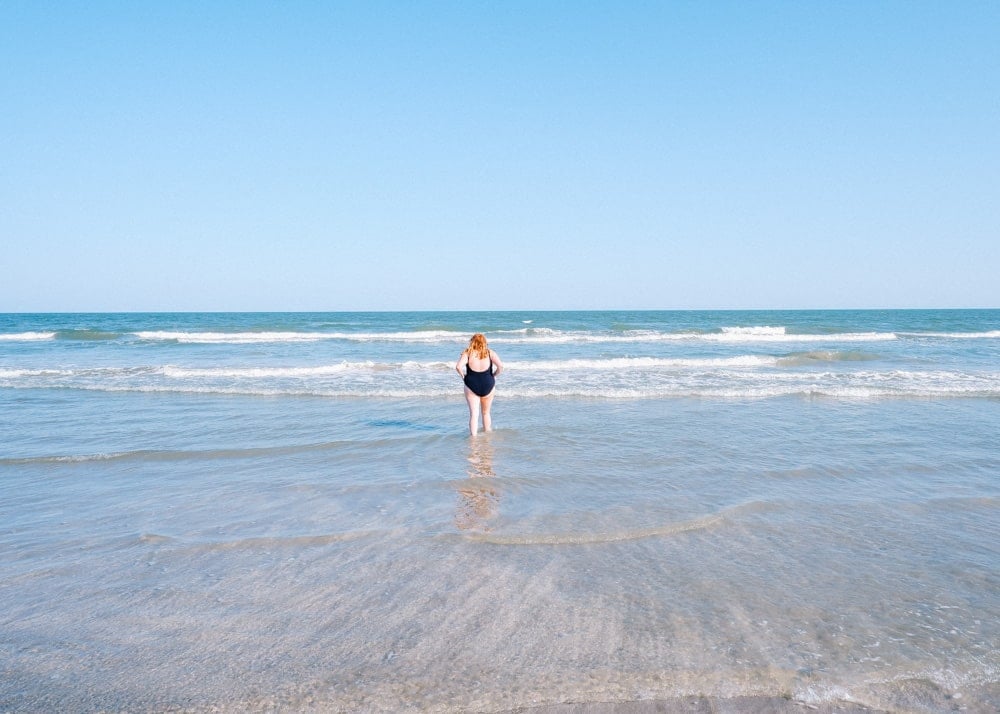 Sustainability
I touched on this earlier, but the overall mission of YouSwim ties back to sustainability. A swimsuit that fits as your body changes which theoretically means less purchasing of swimsuits, and therefore less swimsuits in landfills. That alone I appreciate, but there's more!
The brand is super purposeful when it comes to production as well. You'll notice their suits are often out of stock because they don't produce at unsustainable levels. This also is so their employees are able to maintain their own well-being.
They're also open about their "magic" fabric isn't the most sustainable, but are working on ways to make it better. That's all you can ask for, right?
YouSwim packaging is super simple, and cute, BUT it's also 100% plastic free, entirely biodegradable and home-compostable.
They refer to it as "earth friendly packaging" and you can read more about it here. I wish more companies would partake in this… the worst is whenever you get a giant box with one tiny thing inside of it.
Lastly, YouSwim is "Plastic Negative." You're probably thinking, how is a swimsuit made with nylon yarn, plastic free? It's not, but the brand is certified plastic negative by offsetting their plastic use.
Here it is explained straight from the source: "For every ounce of plastic used in our swimsuits, we collect twice as much in the form of nature-bound plastic waste.
The way they do this is actually pretty cool. YouSwim partners with rePurpose Global in which they support Project Anat Pranay, "a women-owned nonprofit focused on removing plastic waste that would have ended up in nature."
All-in-all, it makes me feel good about my purchase which leads me to my next and final point.
Kindness
There's just something about this brand that gives kind vibes. On top of the diversity and sustainability, the brand voice and what not is just kind. Even the person I reached out to at YouSwim about this article was incredibly kind.
Probably a good time for the disclaimer that I was gifted a swimsuit, but I purchased my first a year ago before my trip to Portugal. I really just wanted to test out the one piece suit, and the new Stretch II size.
Kindness really goes a long way, and that alone makes me hope the swimwear brand is around for a long time.
What I Don't Love About YouSwim
While it may sound like an infomercial at this point about how great YouSwim is, I do have some qualms. Not enough to say it's not worth it, but things you should be aware of before you purchase.
Extra Care
In order for the swimsuits to be long lasting, you have to take care of them. I like the way YouSwim puts it, "Being able to adapt to your changing body means it has a better chance than most — but you have a role to play, too."
They recommend gently hand washing in cold water immediately after each use, which if you're like me… is asking a lot after a long day in the sun or after getting back to your hotel before getting ready for your next adventure.
You also can NOT under any circumstances wring out your swimsuit. You must bunch into a ball to squeeze out excess water, and I'll be honest.
I didn't read that fine print. I most definitely wrung it out at some point, which brings me to my next point.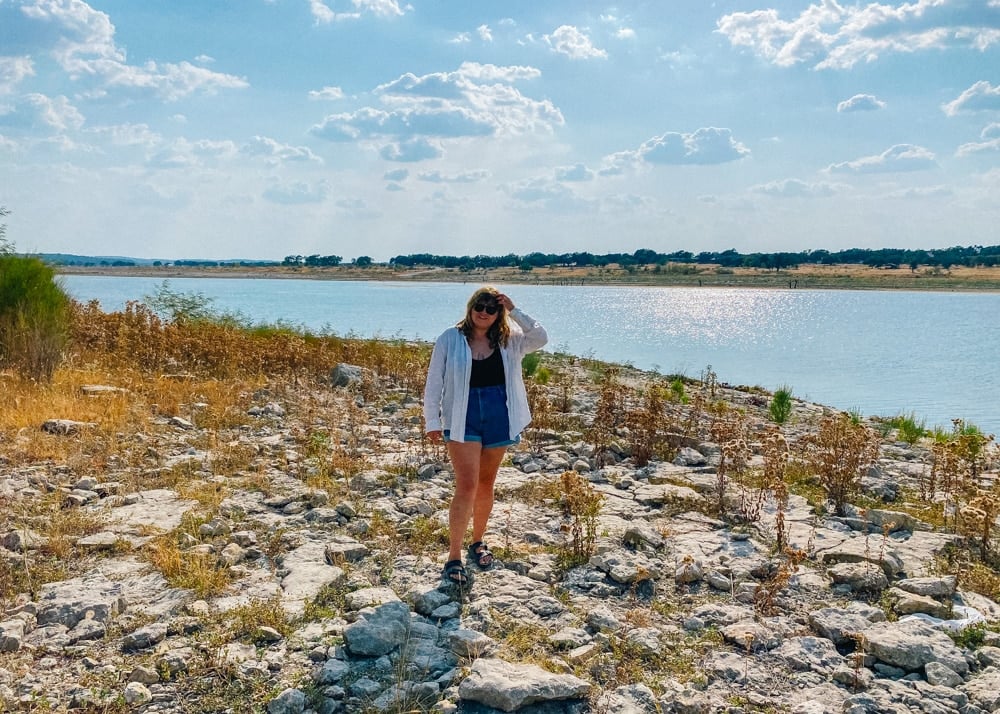 Drying Time Is Long
This was my only complaint when I first got my suit. It took FOREVER to dry. I was in Portugal, going swimming almost every day, and my favorite swimsuit wouldn't dry. Not even overnight!
Luckily, I brought another (the Aerie suit I mentioned above), but I was so sad to put it on. It just wasn't the same.
It was honestly still a little damp after drying overnight and a whole day. You also can't place it in direct sunlight to dry, according to the care requirements. So just keep that in mind, and maybe grab another suit or two.
Not All Styles Are Equal
This is me nitpicking at this point, but it has to be said. I REALLY love the Poise High Waist Two Piece, but it only fits up to a D cup. I completely understand why, but it still makes me sad. So be wary of the sizing. I'm going to copy it again here for reference!
Stretch I: US sizes 2-12

Fits bust sizes up to cup size G for all styles except Poise which fits up to a D

Stretch II. US sizes 14-24

Fits bust sizes up to cup size J in Aplomb and Eva styles
Is YouSwim Worth It? My Final Thoughts
If it isn't obvious already, yes it absolutely is. I don't know if I'll ever buy another swimsuit brand. I probably will, but not anytime soon.
I really love my YouSwim suits, and honestly can't wait to get my next. Let me know in the comments which one you think I should get!
I drank the Kool-Aid for YouSwim, and truly believe that they're swimsuits for life. So consider my search for the perfect swimsuit complete, and void anything I said before about ever finding it. I can't wait to grow old and still rock a two piece from YouSwim.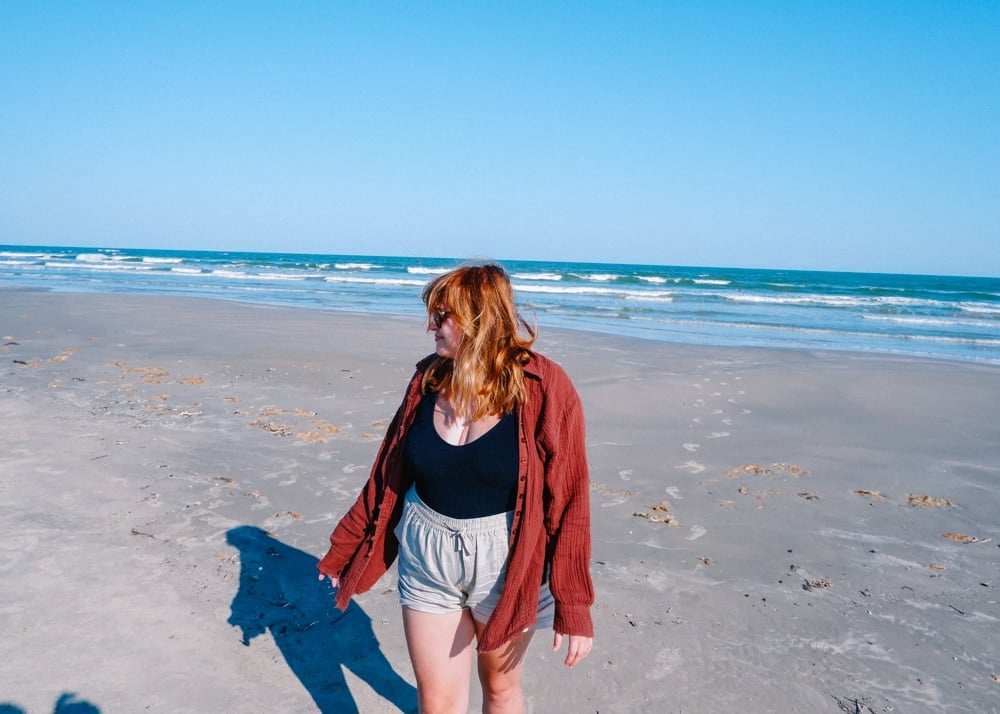 Should I Buy A One-Piece Or A Two-Piece?
This is a personal choice. I personally love a two piece so I don't have to get naked in public bathroom stalls. I tried and tested a YouSwim two piece and one piece, both are well worth it.
Buy what your comfortable with, and you'll look great no matter what!
How Much Does YouSwim Cost?
At time of publishing, all YouSwim suits (two-piece and one-piece) cost $139, which can be pretty steep for someone on a budget. The way I look at it is.. if you only buy one, instead of a new one every year, you're saving money in the long run.
The quality, durability and adaptability of the suits make it well worth it for me. I have a few other swimsuit options, but I only find myself reaching for my YouSwim swimsuits these days.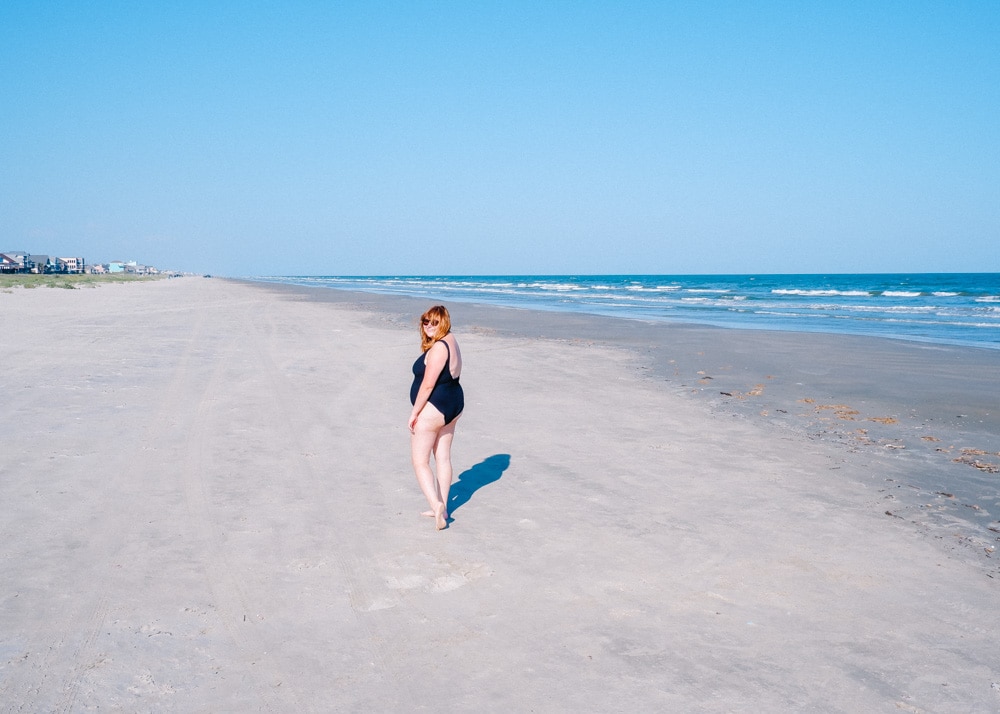 Why Do YouSwim Suits Cost So Much?
Honestly, compared to other swimsuit brands, I don't think it's such a horrible price tag. That said, I know everyone has different budgets, and $139 for a swimsuit can be a lot! There's not an exact answer to this question on their website, but from what I've read.. I've narrowed it down to a few things:
YouSwim pays its employees fairly (which we love), and this makes an impact on costs. No sweatshops!!
It's made with EU-sourced premium quality nylon yarn. Quality always has a price tag.
Taking a direct quote from their site for my last point. "Our magical suits are produced at a cost many times that of a typical swimsuit, and knitting, cutting, dying, sewing and packaging them takes time and care."
What If YouSwim Doesn't Fit? Can You Return A YouSwim Suit?
Short answer, yes. But there is a 21 day window after receiving your swimsuit, and you have to return in the same condition as it was when sent (and personal quality checks). Lastly, you have to pay for return shipping. Not my favorite thing, but they do offer free international shipping to start and they're based in England. If you're purchasing from the US, it kind of makes sense that this is the case.
Once you make the return request, YouSwim's Returns Portal offers discounted express tracked shipping rates.
Where Can You Buy Youswim One Size All Swimsuits?
YouSwim has a direct to consumer model, and you can only purchase YouSwim swimsuits on their online store. Each swimsuit is packaged by their fairly paid employees, no sweatshops from start to finish.
If you have any questions about YouSwim, let me know in the comments or DM me on Instagram (@taylormgrantham) and I'll do my best to answer!
Or if you have any recommendations for brands, clothes, shoes or styles I should invest in for my nearly thirty style goals, please, please, please reach out!