Do you believe in aliens?
Tucked in the middle of the desert near Landers, California is Giant Rock. Thought to be the largest freestanding boulder in the world at seven stories tall, this Giant Rock has a strange history full of supernatural powers, UFO sightings, conspiracies, a massive explosion and generally weird shit.
And it's awesome. On your next Joshua Tree National Park trip, you must drive out to Landers to see this massive boulder.
The Weird History Of Giant Rock
I don't think I've ever encountered a rock that has such a vivid, crazy back story as Giant Rock. It's wild.
Giant Rock Was A Native Sacred Site
The story of Giant Rock starts thousand of years ago with the local Native tribes of the Mojave desert. According to the Land acknowledgment map, it was probably the Serrano tribe that lived around the rock. Similar to how the vortexes of Sedona have electromagnetic forces, spiritual leaders of the Native tribes felt Giant Rock held a power they could draw energy from. They believed the rock represented the heart of mother earth herself.
I touched the rock and I can attest, it has some powerful energy happening. A good energy, calming and strong. So, if there is a representation of Earth's heart on land, I can totally believe this is it.
Frank Critzer Era (Dug Under the Giant Boulder, Blew It Up)
Fast forward to the 1930's, a white man named Frank Critzer claimed the rock for himself as he wanted to build a radio antenna and thought the tall boulder would be the perfect spot to do so. Instead of living nearby in a house like a normal person, he dug a hole under it to essential make a giant rock house.
Reportedly, it never got hotter than 80 degrees or cooler than 55 degrees in his "house'. According to some stories, Frank Critzer decked his home out with a piano and rainwater collection systems, making it a pretty dang cozy place to live. You know, considering he lived under a rock.
During this time, Frank Critzer also built a working airstrip, and the Giant Rock airport is still used today. I saw a few planes land there during my visit!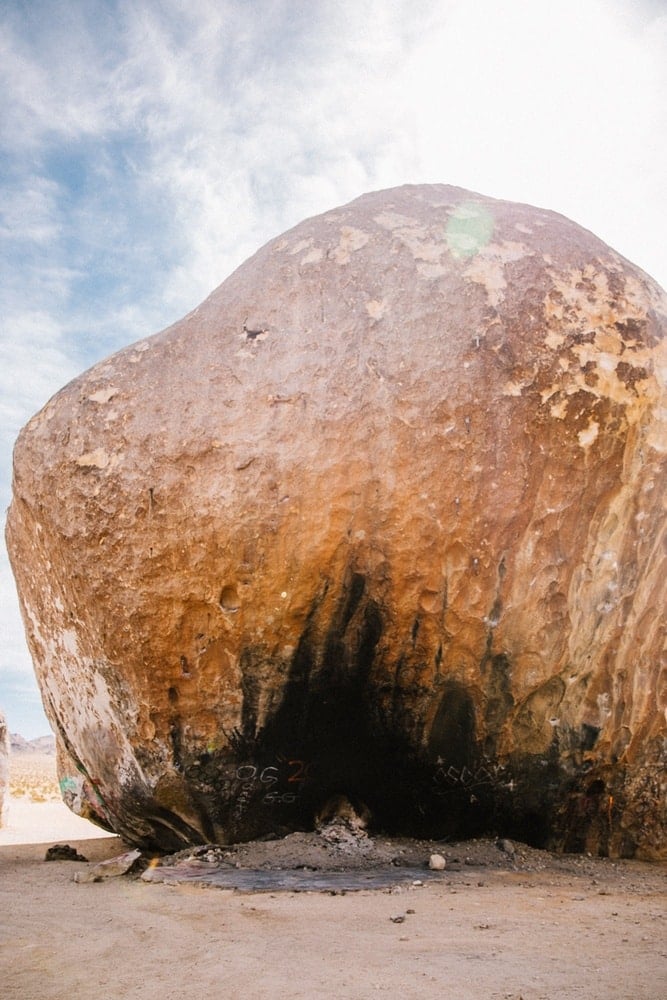 Most people thought Frank Critzer was crazy (can you blame them?) and since he was born in Germany, built a private airport, and was super interested in radios right in the height World War II, local police thought he was a spy.
So the police raided his Giant Rock home one day and one of the officers accidentally set off an explosion, killing Frank Critzer (who wasn't a spy, just an odd dude.) You can see see the burn marks and rubble from this raid at Giant Rock today.
George Van Tassel Era (UFO City)
While Frank Critzer didn't have many friends, George Van Tassel was one of them. After Frank's death, George Van Tassel claimed the rock for himself and with the help of his friend Howard Hughes, he reopened the airport.
He also was a HUGE alien believer and quickly started holding meditation sessions at the rock. He was convinced he was getting top-secret messages from outer space through the rock. Aliens called the Council of Seven Lights abducted him one night in their flying saucer. The Aliens wanted him to build a "fantastic machine" which lead him to the construction of the Integratron Center.
Integratron Center is a white building a few miles away from Giant Rock. These days, they hold public sound baths and mediation sessions but back in the day it was all about aliens, baby. George Van Tassel spent 34 years building this building, the slow timeline due to lack of funds.
He started the Giant Rock Spacecraft Conventions to help raise money. These Interplanetary Spacecraft Conventions would draw hundreds of people to Giant Rock in hopes of making some sort of spiritual or alien encounter. it's kinda odd seeing these photos of a bunch of white people in the 60's hanging out around the huge rock waiting for aliens but at the same time, I would have loved to be there for one o these events!
Over the years, locals have reported strange sightings out there in the desert and Giant Rock never lost its reputation for being a place to spot UFOs.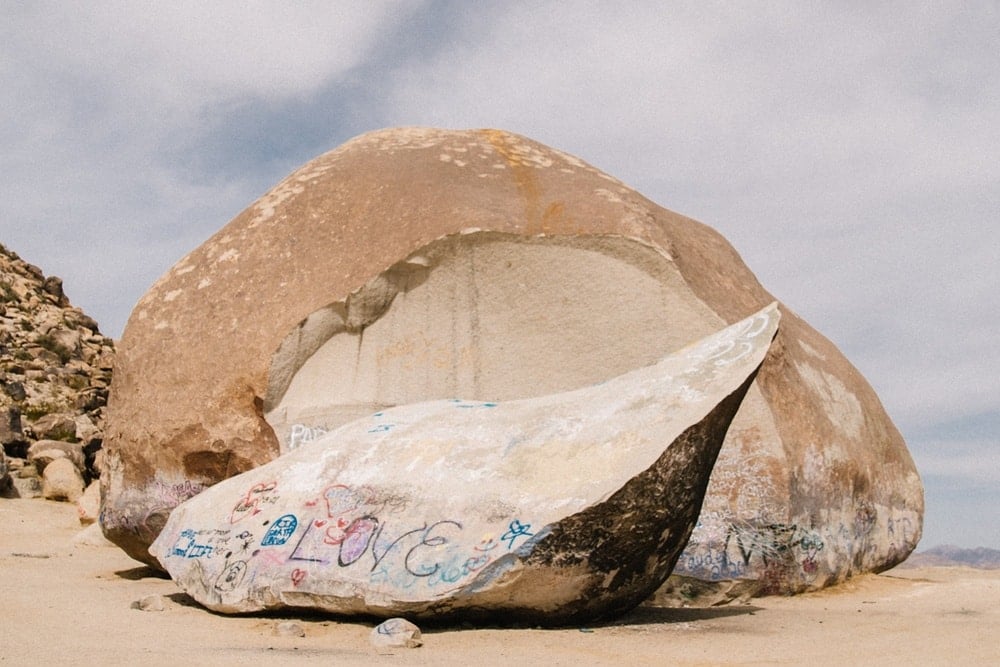 The Great Split in 2000
Giant Rock used to be whole, but now there's a split in it. On a random day in February 2000, the rock split, leaving that pointed piece you can see in photos. Nobody knows exactly why, but some think it has to do with a bonfire that was lit the night before and the heat of it made the rock split in the cold winter desert air. But since the rock survived a literal explosion, I'm not sure that checks out. Let's blame it on aliens.
That being said, local spiritual leader Shri Naath Devi interpreted the rock's split as a good omen, saying, "the Mother had opened her arms to us, cracking open her heart for the whole world to see."
Current Day At Giant Rock
These days, Giant Rock is still seen as a spiritual place by some, but has generally fallen into despair. People have spray-painted the rock (like, why?) so it's almost covered in paint. It's on BLM land and a popular spot to go van camping but it also attracts a lot of locals who like to get drunk, start bonfires by the rock and leave beer bottles everywhere.
When you go, please be careful where you step as there is glass everywhere!
How To Get To Giant Rock Landers CA
Giant Rock is located way out in the Mojave Desert outside Lucerne Valley, technically part of the town Landers. Landers is North of Joshua Tree and Twentynine Palms and is pretty sparse – just a few restaurants and homes with tons of acres between them. I stayed at a cool Airbnb nearby, if you're looking for hotel.
It's a bit hard to find as there's no official map. Pop "Giant Rock" into your Google Maps & make sure you have maps downloaded offline as there is no service out there. It's located on a dirt road off of Belfield Blvd.
Giant Rock on Bureau of Land Management land, meaning it's public and free to enter any time. Like most BLM areas, the roads out there are not maintained well or paved, so you'll need a 4WD to successfully make it down the bumpy dirt road to Giant Rock.
Watch for broken glass and snakes out there. Also, bring all the water you need and have a full tank of gas as there aren't any gas stations nearby.

Frequently Asked Questions ABout Giant Rock California
How Tall Is Giant Rock? It's about 7 stories tall and covers almost 6,000 square feet, making it one of the largest free standing rocks in the world.
Can you visit Giant Rock? Yes, it's on BLM in San Bernardino County and free to visit any time. There are no gates or park hours.
How Did Giant Rock Split: Randomly one day in 2000. The explosion decades earlier was not the cause of the break.
Can you camp at Giant Rock: Yes. It's on BLM land, which means you can camp or park overnight here if you want.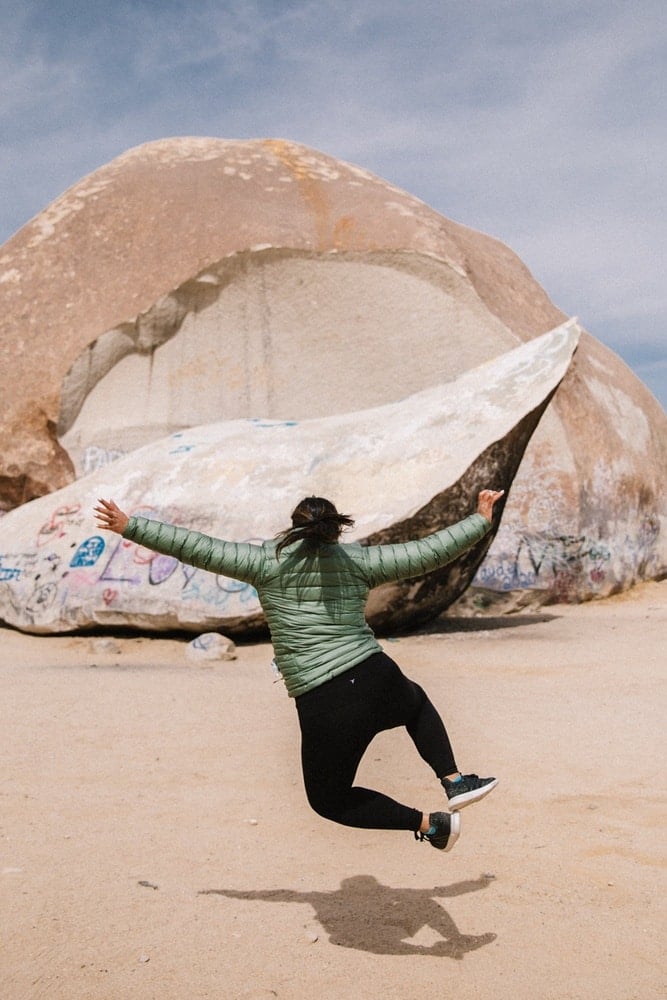 I loved seeing Giant Rock. It makes you feel so small and has a really cool energy when you touch it. You simply must go visit next time you're in Joshua Tree!
More Southern California Travel Things You'll Love