WHERE MY CANDLE BETCHES AT?!
You know who you are. I'm low-key obsessed with scented candles. I burn one almost every day while working but when September rolls around – watch out! I go a little crazy with fall and Christmas candles. Since 2020 is a fire dumpster of a year, I've personally been leaning into the small things that bring me joy and candles are totally one of those things.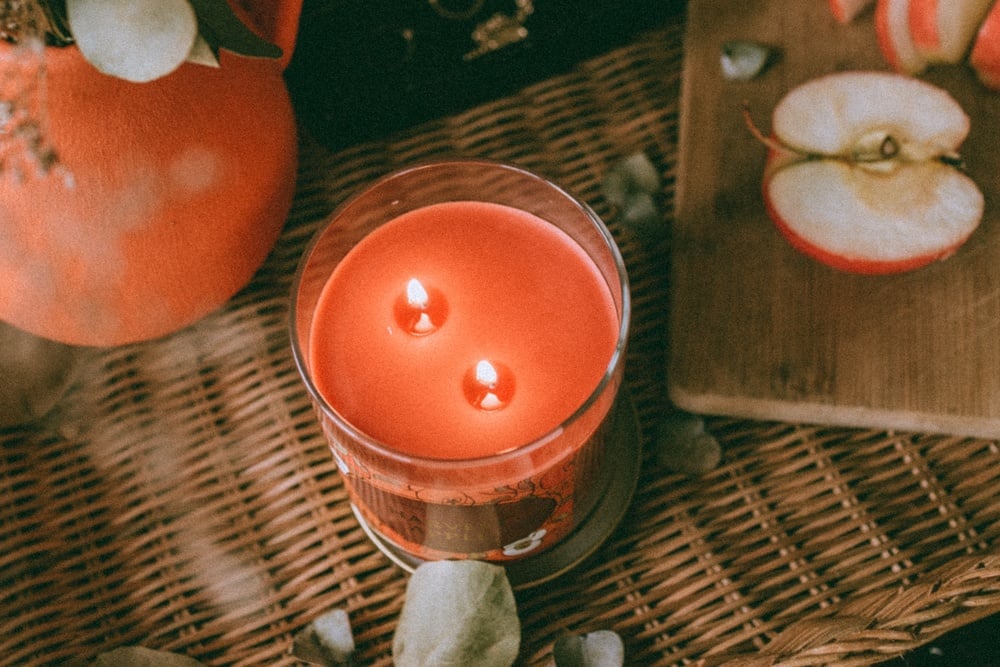 SO – I decided I wanted to start a Candle of the Month club for a bit, where at the start of each month I'll be sharing a candle that I think totally embodies the scent of that season. A sensory cue to help spark joy, memories, relaxation and light.
I'll be sharing candles from mainstream stores and also from local + small shops so no matter your home decor budget or shopping preference, you can find the perfect candle for you within this series.
Candle of The Month: September 2020 Harvest Apple Candle
I had Robin raid the Target candle aisle for me a few days ago (homeboy brought back a LOT of great ones!) but my favorite for September is Harvest Apple by Opalhouse.
This candle smells like you're strolling through an apple orchard on a crisp September morning that you know will turn warmer by the afternoon. That's what I love about September – it's a tease for fall. And this apple scent is a perfect tease and just pure apple without any fall pie scents mixed in.
Robin and I got married in September back in 2017. We had our wedding in Wisconsin on the property of my childhood home. I was sweating balls during the day while we set everything up and while the nights were still warm enough to sit outside by the fire, I remember mornings hinting at fall. They were cool and dewy, with a hint of the smell of fall leaves…
This Harvest Apple candle is just $10 from Target and you can shop it in-store or online.
I hope this helps to bring the feeling of September into your home this month!! Stay tuned for October (it's a good one!) I'll be announcing it on Instagram, TikTok, my newsletter and of course, here on the blog. If you don't want to miss the next candle, sign up for my monthly candle newsletter so you know when I reveal October's scent!
Oh, and if you have a favorite candle or candle company, please please shout them out in the comments below or DM me on Instagram with their info since I want to make sure to support as many small shops as I can in this series!