Only got one day to explore Mount Rainier National Park? Hey, that was me last month when I went to Rainier with my husband! We only had one day in Mount Rainier but I left feeling like I did it justice for the short time we had.
If you are also short on time, or maybe or planning a day trip from Seattle, this travel guide is for you. I'm sharing all the top hiking trails, waterfalls, photo spots and other things to do in Mount Rainier in one day, along with other handy tips (like where to eat and what to bring with you.) Let's go!
Can You Really See Mount Rainier In A Day?
YES! You can see tons of highlights in one day. Granted, there are countless stunning trails that alone take a day or more to hike, so if you want to tackle one of those trails, you'll need a 2 day Mount Rainier itinerary instead. But you'll be able to squeeze in tons of amazing sights in the park in just one day. I know because I did it in one day!
See, my husband, Robin, and I have been itching to do a road trip around the Olympic Penisula for years. After two derailed years in a row (first a wildfire and then, well, 2020 happened), we finally got to explore the Olympic National Park. And because we love road trips, we decided to tack on a quick visit to Mount Rainier, too. They're only 4 hours away from each other.
We booked a last-minute cabin outside the park – literally, right outside, our cabin was about 10 feet from the entrance – and arrived from Forks in the late afternoon. The next morning we got up early to spend the whole day in the park.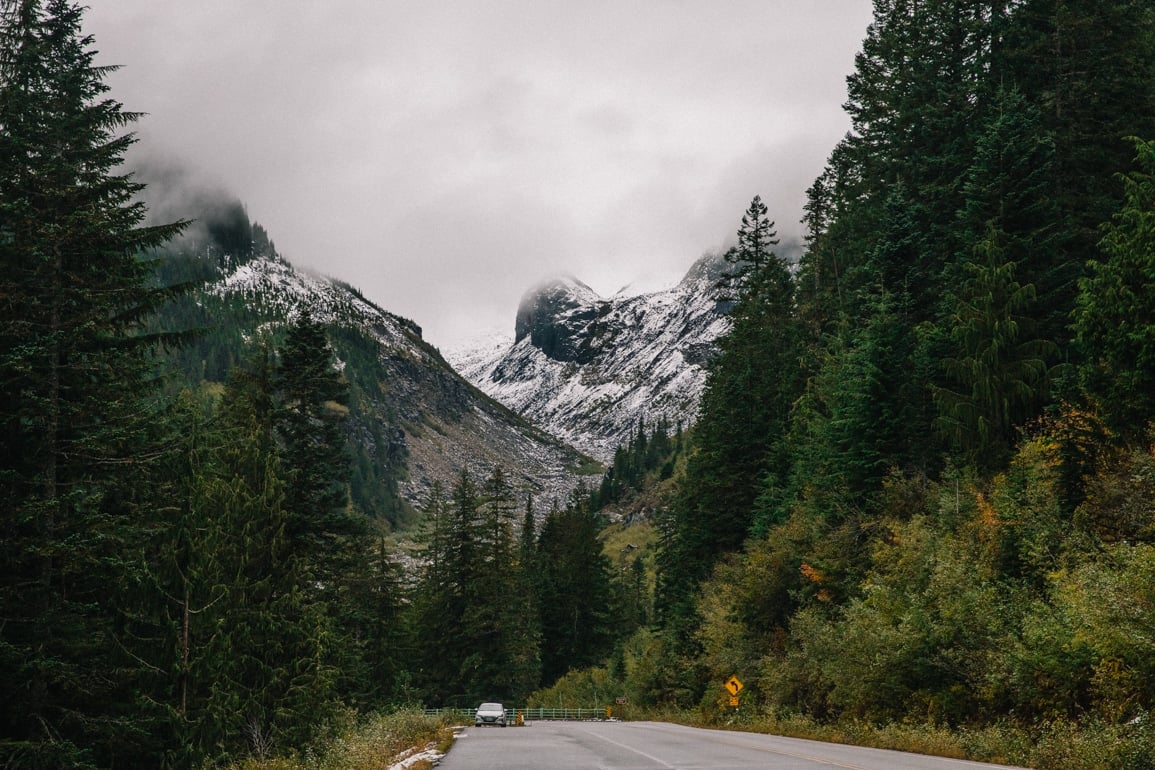 Alternatively, you may choose to skip the hotel and do a day trip to Mount Rainier from Seattle, or somewhere else nearby. The drive will take you about 2 hours from Seattle without crazy traffic, and I recommend you leave your house by 6am to stay on track. No matter if you are staying in a cabin nearby or day tripping in, the key is to start your Mount Rainier One Day Itinerary early to avoid the crowds.
Mount Rainier Quirks To Know
I've been to national parks all over the United States and like every park, each spot presents its own unique set of challenges to work around. Here's what you need to know about Mt. Rainier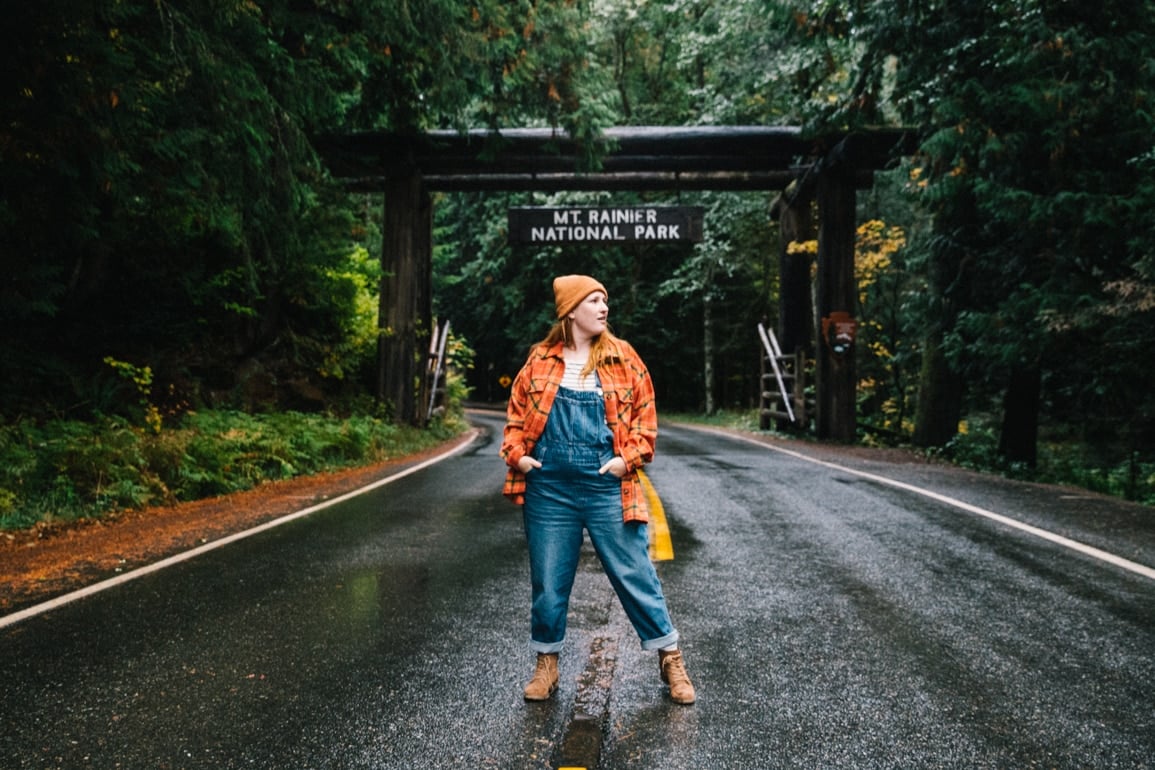 There Are 4 Park Entrances – I Recommend The Ashford / Nisqually Entrance
Since Mount Rainier is a mountain, and the park is around the mountain, there are a few different park entrances. I recommend you take the Ashford entrance aka the Nisqually entrance, as this one is the nearest to most of the spots you'll visit in a day trip and thus the best entrance to Mt Rainier from Seattle.
It's also the one that's open year-round. The Stevens Canyon entrance and White River are seasonal in the summer, and the Carbon River entrance is currently closed indefinitely due to flooding in the whole Carbon river area. Ashford also has tons of cute cabins and hotels (my favorites are listed below if you want recommendations!)
What To Do In Mt. Rainier In One Day: My Favorite Hikes, Waterfalls & Photo Spots
The National Park Service fee is $35 per car, which can be bought at the gate with a card. I recommend you buy the annual pass for $80, it literally pays for itself if you visit 3 national parks in a year.
Ok, now only exactly what to do and in this exact order for the best day trip to Mount Rainier National Park!!
1. 8am Breakfast at Copper Creek Inn + Lunch To Go
A few miles outside the park entrance in Ashford is Copper Creek Inn & Restuarant. They open at 8am and are THE place to fill up on a huge breakfast before hitting the park. It's a classic breakfast food menu with large portions. I adored my salmon omelet and my husband scarfed down his pancakes were which as big as his head.
Pro tip: order sandwiches and ask them to package them up for you so you can have a picnic lunch inside Mt. Rainier!
Myrtle Falls is a large, beautiful waterfall that is framed with Mount Rainier behind it just perfectly. Well, on a clear day that is (you can see photos above, the morning was so foggy we couldn't see more than 20 feet ahead. By afternoon it was clear!)
Most people think the best way to See Mt. Rainier is to start from bottom to top in order, so to avoid the traffic and crowds, I recommend you do top to bottom. And, Myrtle Falls Viewpoint via Skyline Trail is at the top! Drive right up to the Henry M. Jackson Visitor Center located at Paradise Inn, there's a large parking lot here.
Then, find the Skyline Trail trailhead behind the buildings and hike the .8 route to the falls. In the spring and summer, this trail usually is lined with wildflowers and green grass. We went in late October and it was covered in snow, so it's smart to bring hiking poles and shoe spikes just in case you also encounter snow.
This is an EPIC Mount Rainier photo spot if the mountain is out. That's why it's best to go first thing in the morning (or even for sunrise if you are a real go-getter!) because you can enjoy the waterfall and mountain in peace without crowds.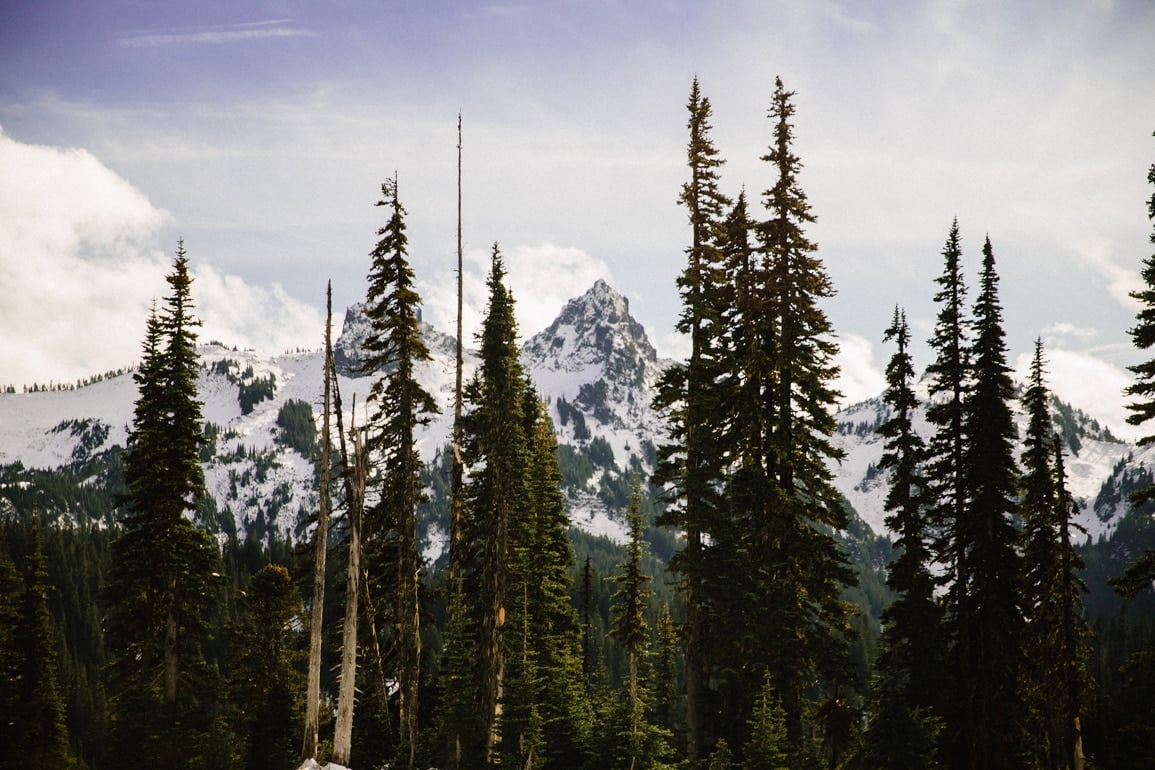 If you are up for it, and don't mind skipping other parts of the itinerary, you can continue hiking along the Skyline Trail Mt Rainier to Panorama Point. It's 6.2 miles in total and starts easy but gets hard at the end. Most people stop at Myrtle Falls and tackle other shorter and easier trails (that's what we did).
But it's called Skyline Trail view a reason – you'll be treated to stunning views of the mountains and Panorama Point is especially epic. BUT you still get those epic views from the trailhead and hike up to Mrytle Falls, so for the purpose of this one day in Mount Rainier, it's ok to let this long hike slide in exchange for other spots.
4. Nisqually Vista Trail
Distance: 1.1 miles
Trail: Nisqually Vista Trail (trailhead at Paradise Inn near Alta Vista Trail)
This short loop is right next to the Mrytle Falls / Skyline Trailhead so head here after viewing the waterfall! No need to move the car. This trail is paved and pretty easy, and extra beautiful in the springtime when all the wildflowers come out in bloom. In the late fall and winter you'll need shoe spikes as a part of the trail is a bit steep and you'll probably slide around.
After you finish your second hike, take some time in the parking lot area to snap photos of the views. I mean hey – what to do at Mt Rainier?! Look at mountains! And the peaks are breathtaking from up here on the Skyline Loop Trail.
After your hike and photos, hop back into your car and head down the mountain, turning left onto Stevens Canyons Road. This is closed in the winter, by the way, and the next few stops on the itinerary are on this road, so if you are visiting in the winter skip to Narada Falls.
Assuming the road is open, you'll quickly come upon Inspiration Point. This is a small parking lot and viewpoint with epic views that make for great photos. We pulled over on a foggy morning and I felt like Edward Cullen was going to jump out from a tree (so moody and perfect PNW vibes!)
After you snap photos at Inspiration Point, keep driving about 15 minutes and you'll hit Reflection Lake!! On a clear day, you can get a stunning reflection of Mount Rainier in the water here which makes for beautiful photos.
It was snowing during the hour we pulled up, so alas, no reflection. But is was still a great spot to pull out our packed lunch from the restaurants and have a bite with a view, even if it's a foggy one.
After lunch, keep driving down the road towards the Bench Lake Trailhead, there's a small lot to park in. This hike isn't far, but does have some elevation to climb. But it's totally worth it since this like takes you along not one, but two lakes! First to Bench Lake, then to Snow Lake. It's kind of a local secret, as it doesn't attract as many visitors as other parts of the park.
You can totally choose to hike just to Bench Lake if you are running behind schedule, that's the fun part about this hike. But Snow Lake is a stunning color that is gorgeous to see in person. It should take under 2 hours if you visit both lakes.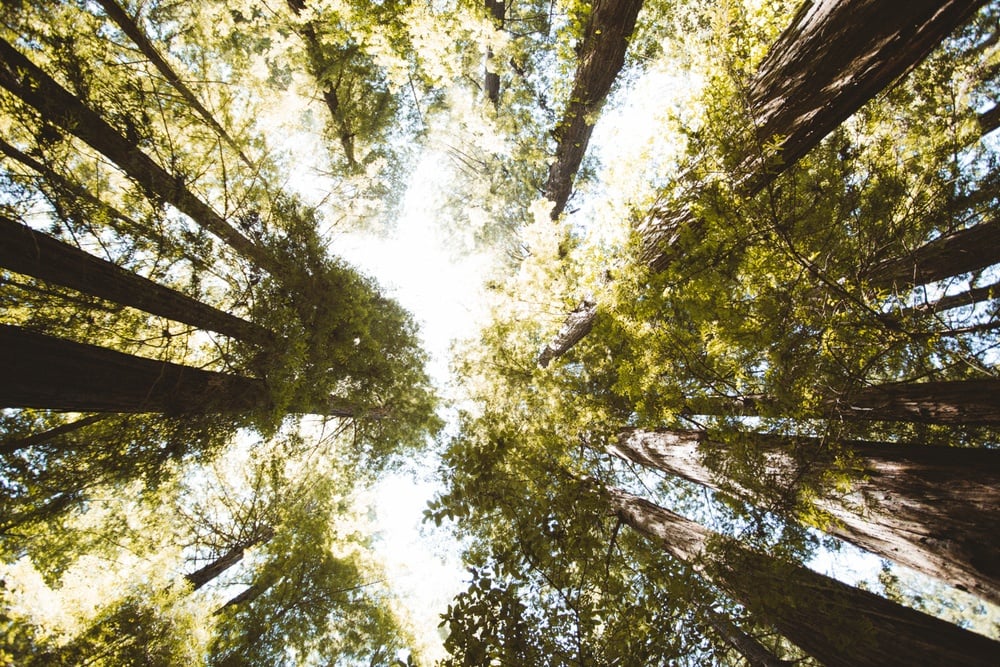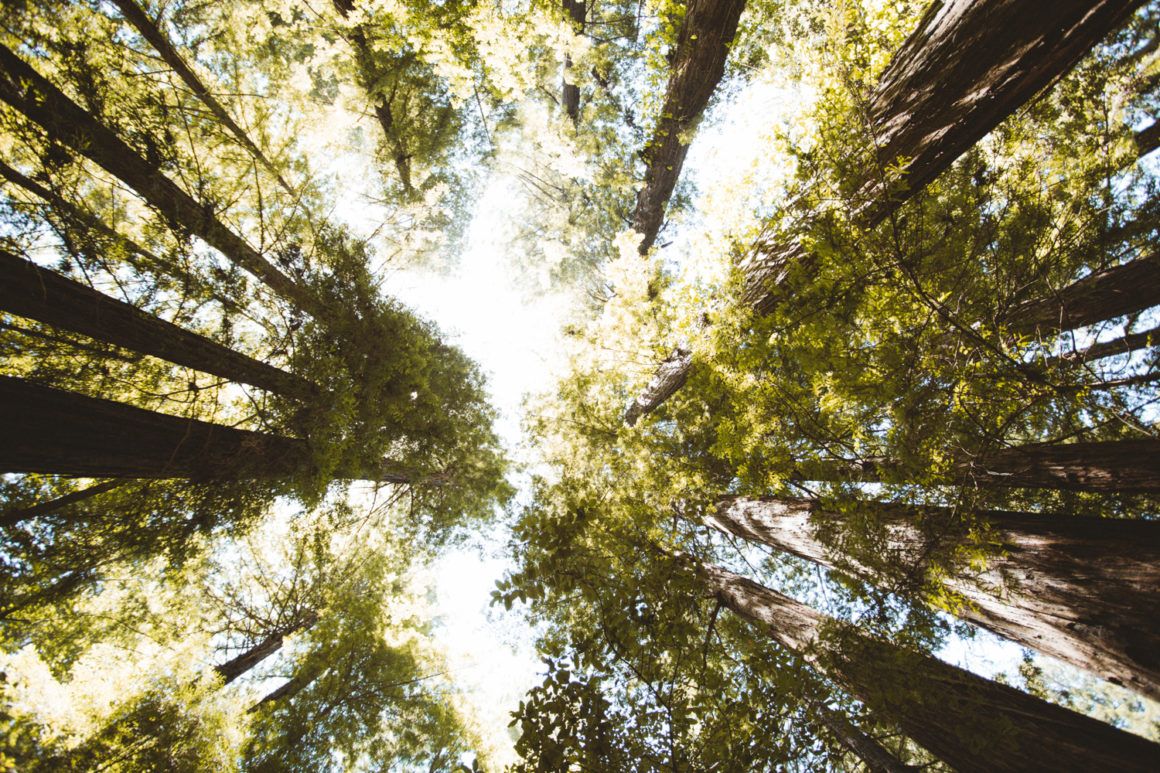 Ready to witness 1000-year-old trees? Grove of Patriarchs is a mix of ancient Douglas firs, western hemlocks, and western red cedars. The grove is on the East side of the mountain and about 30 minutes from Bench Lake without traffic, so it's an optional stop. Only head here if you are running ahead of schedule.
But if you make it, get ready for some serious tree magic, and a fun suspension bridge for photos! Patriarchs Trail is paved as a boardwalk so be careful if it's wet. This grove is also close to Silver Falls if you wanted to squeeze in another waterfall, but there are a few left to see on your way back down the mountain so it's not your only chance!
November 2021 Update: The suspension bridge over the Ohanapecosh River which connects visitors to the grove was washed out in a flood. The grove is currently closed up expected to reopen in 2022, but check the park website first.
9. Narada Falls
Distance: .2 miles to falls viewpoint
One of my favorite things to do at Mt Rainier National Park is Narada Falls on a clear afternoon day since you'll probably get bits of rainbow action in the waterfall!! Alltrails labels this as a 2.2 mile hike, but the walk down to the waterfall viewpoint can't be longer than .2 miles (I'm not exactly sure, but around there somewhere.)
As noted before, visitors tend to visit this in the morning on their way up the mountain so the goal is hitting it when it's less busy in the afternoon / early evening on your way down. Heads up, it can get a tad muddy since the water is so strong so wear boots you can get wet!
Robin and I randomly pulled over there since I saw a car and loved this little hidden gem of a spot. Carter Falls is a small waterfall that's super hidden and guaranteed you'll have all to yourself. It's also a little hard to find – currently the trail marked with stones. We didn't have Alltrails downloaded back then so we turned around halfway but if you want to hike this, just download the maps and you'll be able to find it.
BUT even if you don't want to hike to the fall, I urge you to stop here and walk to the log bridge in the riverbed (a 10 minute walk). This is a super cool and unique view of Mount Rainier and the landscape and makes for fun photos, or just a private spot to have an afternoon snack.
11. Christine Falls
Distance: Right by parking lot
Last stop of the day inside the park is an easy one at Christine Falls, where the view point is just a few steps down from the parking area. Christine Falls are 69 feet tall and the pools below are an extra sort of beautiful. They are framed by Christine Falls Bridge and look extra stunning. in the warm glow of evening light.
We had the whole area to ourselves since we visited around 5pm. Earlier that day is was swarming with people on the bridge. You can find the trailhead to Comet Falls just past the bridge. This trail takes you behind Christine Falls and up 3.3 miles to Comet Falls, another waterfall.
From here, the drive out of the park is a fast one (under 20 minutes) but your adventure doesn't stop there!!
12. Cannibal Hot Tub
Location: Paradise Village Hotel in Ashford
Price: $100 per hour (private!)
How cool is this woodfire soaking tub?! Yes, it really is called the Cannibal Hot Tub, but no creep vibes here. After a day hiking around Mount Rainier, I loved coming here to soak my sore muscles. This tub isn't exactly a hot spring, but has all the vibes of a natural hot spring and is totally private since you reserve a time slot to visit.
You need to book online in advance, though I called day-of and got a booking. This is especially a fun thing to do in Mount Rainier in the winter when the ground would be covered in snow but the water is hot. It's truly one of the most unique things to do near Mt Rainier National Park.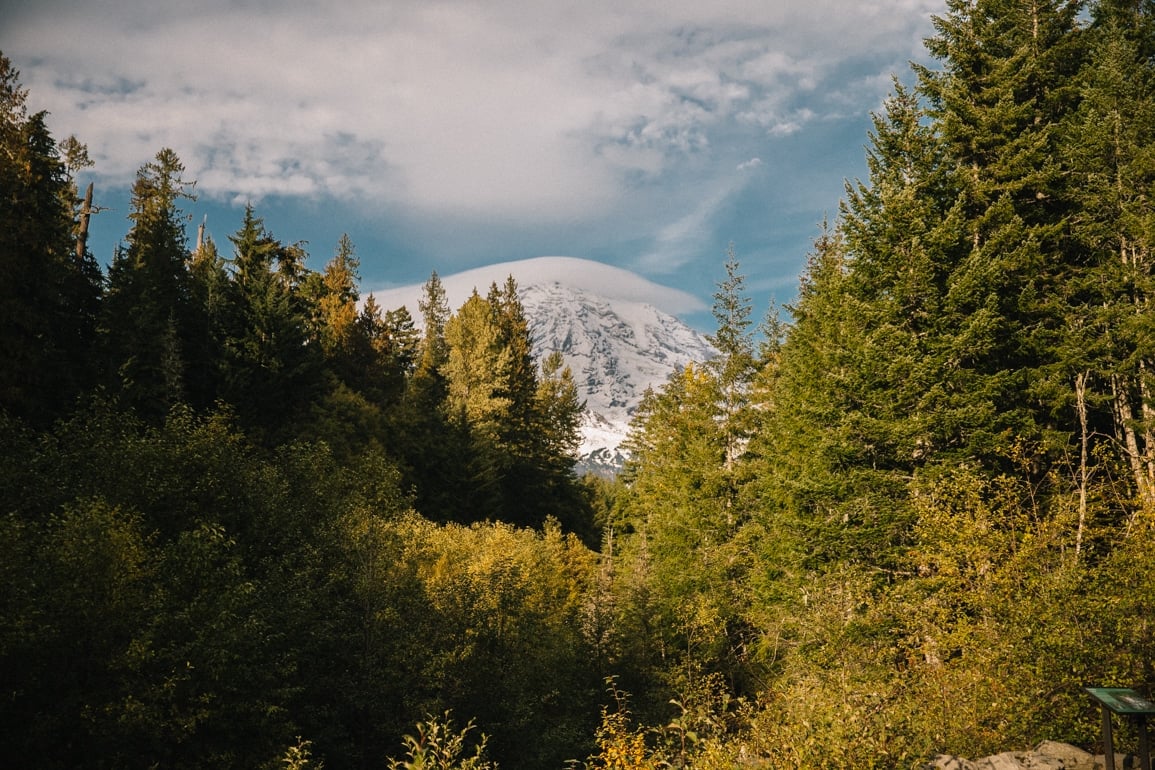 Where To Eat In / Around Mount Rainier
You'll need snacks and a packed lunch for one day in Mount Rainier national park so you don't leave the park during the day and drive back in, wasting time.
For dinner, you have a few options. If you are driving right back to Portland, Seattle or your home, then do that. Otherwise, I recommend you cook in your cabin rental or head into Ashford to a restaurant. There is limited dining there, to begin with, and those options are narrowed down even more in the fall-spring during the offseason.
The best places to eat in Ashford are:
Mt Rainier National Park Map
Use my Mount Rainier Map to help navigate and plan your trip! Download this offline to use inside the park.
*Map
Altnerative Mt Rainier One Day Trip
Alternative to going in and out the same entrance, you could instead drive around the mountain through the park, starting on the west and popping out on the east. You can only do this in the summertime when all roads are open.
How long does it take to drive through Mt Rainier National Park? Well that depends on the weather traffic and how many stops you make, but you can get it done in a day if you start early. For fun, I looked up the Wonderland Trail, which is a hiking trail that wraps around the entire mountain. That takes 10-14 days to hike. Not sure I'll ever be in shape enough for that, so driving is for me right now.
If you choose to start the at West/Nisqually Entrance and end at the East Entrance, you have the ability to modify the above itinerary to include some of these additional waterfalls, trails, and other things to do at Mount Rainier.
The 3 Best Mount Rainier Hotels
As you can imagine, there are countless cabins and hotels around Mount Rainier. If you are choosing to spend the night in the areas we did (vs driving from your home), these are the spots I recommend you book.
Mount Rainier National Park One Day Itinerary To Screenshot
Screenshot my Mt. Rainier 1 day itinerary to have on the go!
Breakfast at Copper Restuarant outside the park (or breakfast at home)
Park at Skyline Trail parking lot and hike to Myrtle Falls
Nisqually Trail loop

Inspiration Point for photos

Reflection Lake + Lunch

Bench Lake Hike
Grove of Patriarchs (optional)
Narada Falls
Carter Falls stroll
Christine Falls
Cannibal Hot Tub soak
Dinner in Ashford or at home.
Frequently Asked Questions About Mount Rainier Travel
How Many Days For Mt Rainier Should I Plan For?
Yes, you totally can see the highlights of Mount Rainier in one day if you carefully budget your time. If you have more time in your travel schedule, 2-3 days would allow for you to take things a little slower and hike more trails.
What Is The Best Time To Visit Mt Rainier?
Spring-Fall is arguably the best time to visit the park. Winter is beautiful but many roads shut down for the reason so access to the park is limited. You also may encounter snow that disables you from hiking trails.
We did Mount Rainier in October and some of the trails at high elevation were already snowed in. I think if I had to do this again, I would pick late spring when all the flowers are blooming and the snow has melted. But this part is super beautiful no matter the time of year, honestly.
Seattle To Mt Rainier Drive Time
As long as you leave early enough to avoid traffic, it should take you about 2 hours to drive from Seattle to Mount Rainier, making it a feasible day trip for anyone willing to hustle and get up early. My Mount Rainier 1 day itinerary was designed to help folks from Seattle plan an epic day trip, along with anyone else with limited time to visit the park.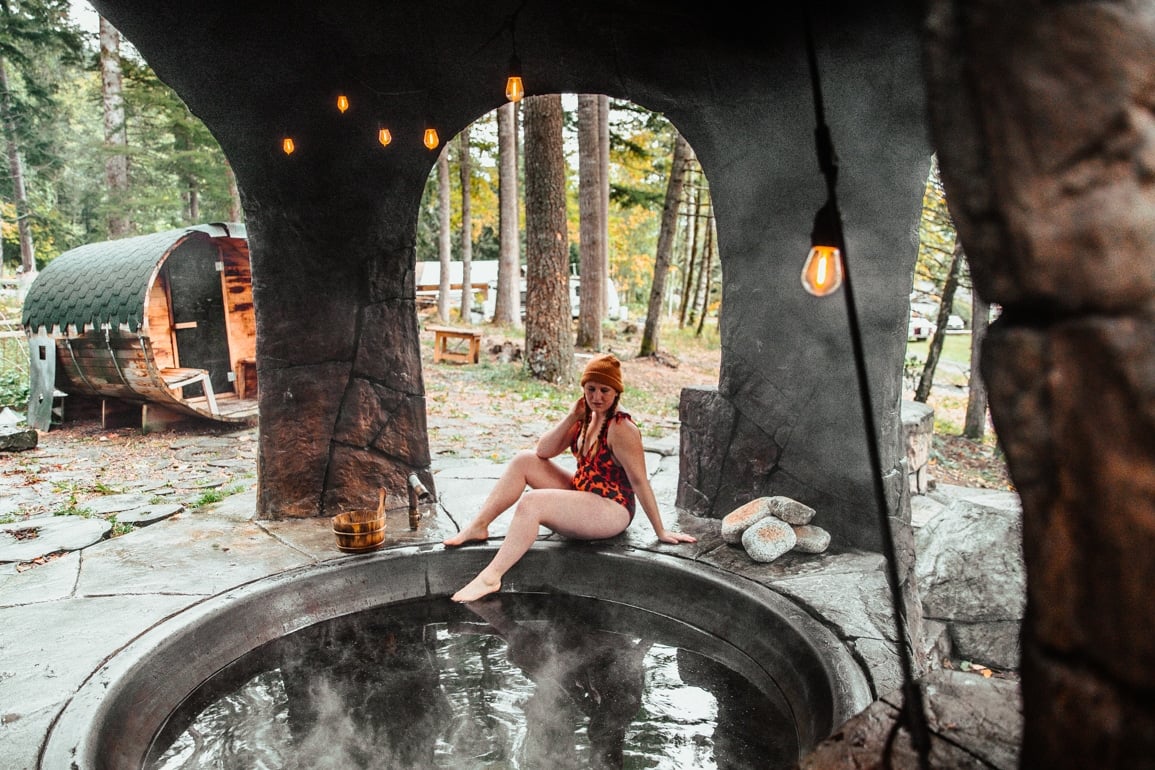 This is my perfect Mount Rainier day! I hope this helps you visit Mount Rainier and soak up all the mountain goodness, even if you don't have a full weekend. You'll love it!
If you have anything to add to my Mt. Rainier national park itinerary or more mt rainier tips to share, drop a comment below so everyone can see! If you have questions, comment or DM me on Instagram @thewhimsysoul and I'll try to help out.
Next time I visit, I want to set aside a whole day to hike the Fremont Lookout Trail to Sourdough Ridge Trail. This ends at a fire lookout tower with sweeping views so it's epic at sunset. As you can imagine, it has high elevation gains and is only open in the summer months. Worth it for the wildflower meadows and views but it will absolutely take all day for me.
We were just in Seattle and on our way flying we got a super clear view of the mountain. I love how on clear days you can see Mount Rainier in Seattle. It really makes the best outdoorsy day trip!
Until next time… stay adventurous friends!