When you need some time in the mountains, Big Bear Lake California is the perfect getaway. While you could stay in a hotel, I think renting a cute and cozy cabin with outdoor space or perhaps a fireplace is the way to go. That's what my husband and I did last week (hot tub, fireplace and tons of romantic cozy vibes!)
There are a LOT of Big Bear Lake cabins and vacation rentals and not all of them are great. Don't worry – I did all the hard work for you! Keep reading for the best of the best Big Bear Airbnbs for your trip!
10 Cozy Cute Big Bear Airbnbs & Cabins For Your Mountain Getaway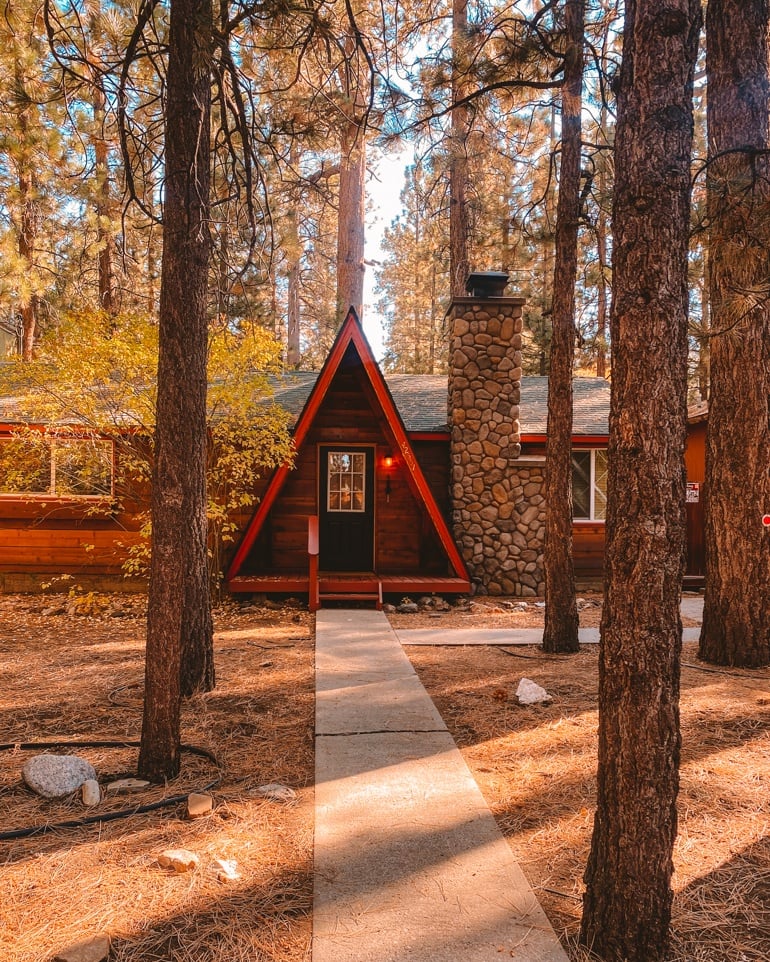 I judge cool Airbnb rentals based on style/decor, location, amenities and past guest reviews. Basically, if the Airbnb could be a destination in itself, I want to stay there. (Otherwise, I usually opt for hotels.)
All the Big Bear Airbnbs on this list are either ones I've stayed at personally, have had friends stay or are saved on my bucket list for future trips. I spent HOURS searching through all the listings to find you the best cabins! Alright, let's go.
10 Cozy Cute Big Bear Airbnbs & Cabins To Rent
Big Bear Lake cabins are the way to go when visiting! These are the cutest cozy Big Bear Airbnbs you can rent. Sit outside under the stars while soaking in hot tubs or on the patio. Play games next to a fire after a long day on the slopes. Get cozy in a heated bed after hiking the trails all day! I love Big Bear cabins.
Where To Stay In Big Bear Lake
While Big Bear Lake is small, all the fun things to do and hiking trails are spread out. Most likely you'll be driving everywhere you go, so it doesn't matter as much where your Airbnb cabin is located. Neighborhoods are usually pretty quiet and Airbnbs are mixed in with residential homes.
That being said, if you are planning on hitting the slopes at Big Bear Mountain / Snow Summit, you may want to book an Airbnb close to the resort just to cut down on any morning rush traffic.
Note: there aren't many Airbnb Big Bear lakefront cabins out there, so I want to crush your hopes before you get them up too high. That being said, there are so many Big Bear cabin rentals tucked in the trees and packed with charm that it makes up for no direct lake access.
I hope this helps you find the perfect Big Bear Airbnb for you and your crew! I guess the hardest part now is you got to compare them all and pick your favorite. 🙂 If your favorite Airbnb didn't make the list, drop a comment below so everyone can see. Got questions about things to do in Big Bear Lake? Comment or DM me on Instagram @thewhimsysoul and I'll help ya out!
Check Out More Travel Guides & Cool California Airbnbs: