I've always loved Joshua Tree. There's something about this small desert town and adjacent National Park that is just magical.
Does that sound a bit hippy-dippy cheesy? You bet, but I totally understand why Joshua Tree has become a mecca for environmentalists, artists, and spiritualists (and girls from Los Angeles looking to get in touch with nature – ha!)
There's a lot of quirky sites and activities in the desert. These are my 14 favorite things to do in Joshua Tree (and don't worry, most of them are NOT hiking!) Or "looking at the Joshua Trees" which is legit something I've seen on a few "to do" lists.
Keep on reading for fun things to do in Joshua Tree, where to eat in Joshua Tree, hotel recommendations and more!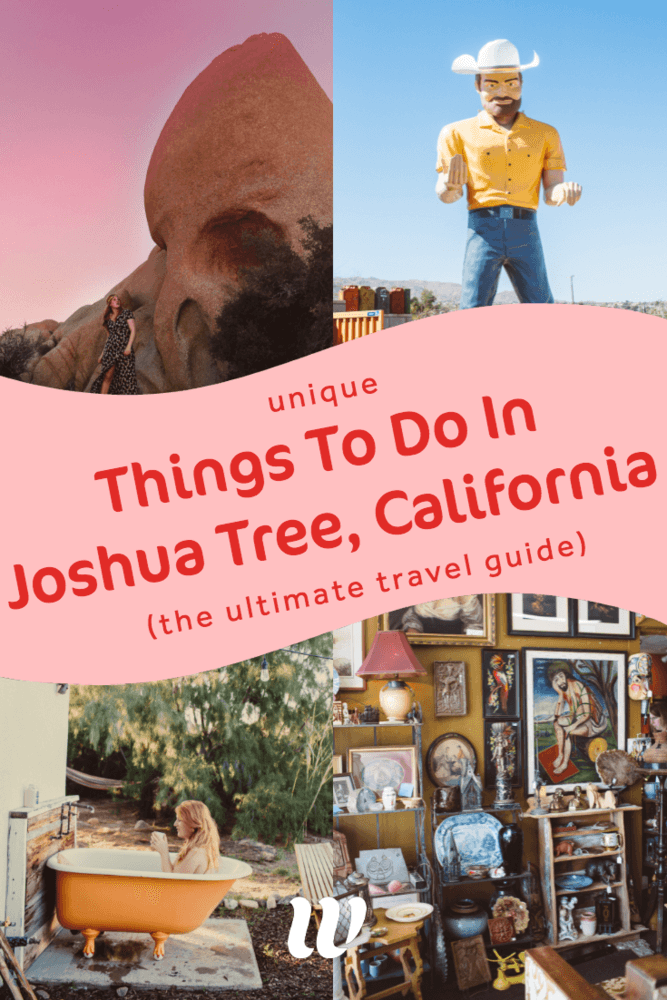 The town of Joshua Tree is quirky & colorful. It's a fun weekend trip to take in California!
Quick disclaimer/slight rant: I love hiking but there are more things to do in Joshua tree beside hike! So many other travel listicles ONLY feature trails and spots inside the park, which is a bummer because this area has a lot of fun hidden gems that aren't inside the park.
Also, can't a girl take a vacation without working up a sweat?! I just want to vintage shop, dig a cactus, eat vegan food and drink beer in the sunshine okkkk. I will be recommending my favorite Joshua Tree National Park stops in this post because the park is so fun to explore, but don't worry, it's not all about this park in this post.
I've done a few trips to Joshua Tree and I've just clicked with it there. So much so that I was checking home prices on Zillow a few times a day (but resolved there's no way I'd be able to survive the 100+ summer temperatures.)
Why do I love this area so much? It's hard to explain. My soul just feels at peace among thousands of towering Joshua Trees and with seeing millions of stars in a pitch-black sky at night. I love the unique locally-owned restaurants and focus on farm to table foods. The park itself is really different than the other national parks I've visited, which makes it special.
The locals in Joshua Tree march to their own drum. It's utterly unique here.
Really, it's just a very unique area of the United States that I haven't encountered before. It's hard to believe that the upscale luxury city of Palm Springs is just over the mountains. The locals here march to their own drum and have created a haven for anyone who just needs a break from the world.
Sounds like what you need? Close down your Gmail and head to the desert for a weekend getaway you won't soon forget!
14 Unique Things To Do in Joshua Tree, California
If you have questions, leave a comment below or shoot me a DM on Instagram
@thewhimsysoul
and I'll be happy to help!
Dig Your Own Cactus
Have you heard of the Morten Botanical Garden in Palm Springs? It's become famous for cactus shopping (and also taking photos next to all the plants because #instagram.) The Cactus Mart is Joshua's Tree under the radar greenhouse that you can easily spend a couple of hours getting lost in.
Start by digging your own cactus for 59 cents (that's right, just 59 cents!) I took home about 5 of those cute little guys who are currently sitting on a windowsill and I'm telling them nice things every day so they don't die. The staff here is really friendly and will happily assist you with anything you want, even if you are just looking around!
But, my favorite thing about the Cactus Mart? THEY HAVE CATS HERE! That's right, two chubby kitties that slink around all day and will let you pet them if you can catch them.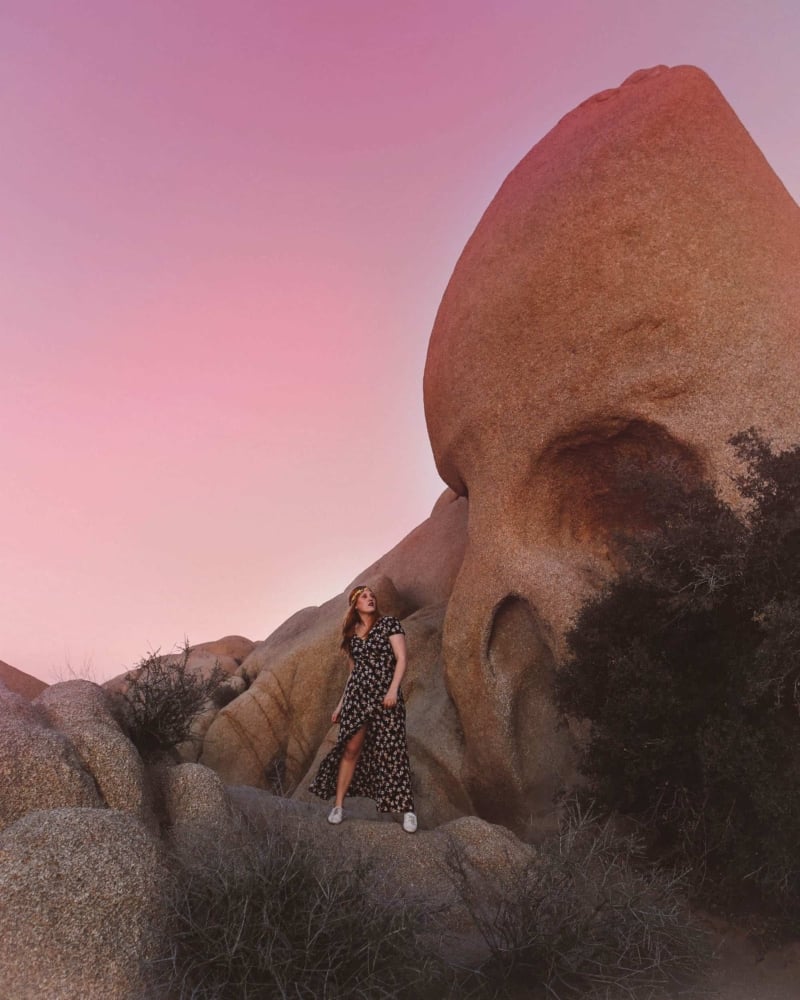 Ok, I hit you off with a non-park recommendation, but now I want to take you to a Joshua Tree National park site, mostly because it's like really really cool. Inside the park is a rock shaped like a skull!! I'm serious! All natural and just a tad creepy, this rock formation is my favorite thing to see inside the park. It's located on the main east-west park road and you'll see it when you drive by, don't worry.
If you are just coming to see the skull, I recommend timing it for golden hour and sunset. Each time I've been here, the sky lights up in a lavender color at dusk that so dang stunning, and it's extra cool to watch set next to a giant rock staring at you.
The last time I was here, I stepped on a cholla cactus and we got derailed from our itinerary of taking a light walk around the trail there, but I did make us drive past it so my husband could see the face shape. A must stop!
Looking for more hikes in the area? I hear the Barker dam Joshua Tree National Park trail is a fun one (haven't been yet myself.)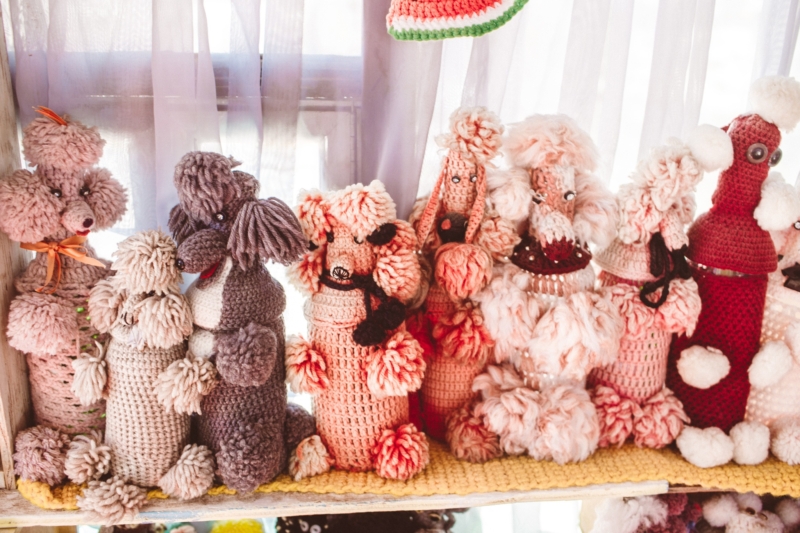 I never would have guessed there was a crochet museum, but considering I grew up in a town that was home to the only mustard museum, I probably should have seen this one coming.
Anyways, the crochet museum is a unique, one of a kind place that's totally free to visit. (I mean, it's the size of a small room so I can't imagine it would go well if they charge a hefty admission.)
Inside the museum are tons of crochet figures. You can't touch them but it's so fun to step inside and be immersed in this quirky world! Also, it made me want to finally learn how to crochet, I bought needles and everything a few months ago! Find it at 61855 Highway 62 (follow the signs for Art Queen!)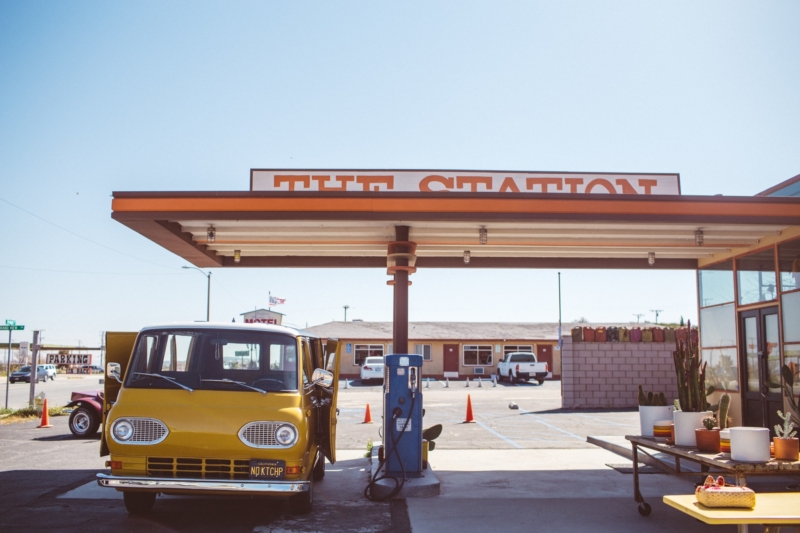 Antique + Vintage Shopping
Joshua Tree is home to tons of really cool vintage and antique shops. If you're looking for spiritual crystals from the 70's, retro clothing or old western memorabilia, one of the many shops in town or Yucca Valley + Twentynine Palms next door will have it!
We stopped by a few shops and I was pulled into the array of items. These aren't your average thrift shop, folks.
My favorite Joshua Tree vintage and antique stores are:
Pioneer Crossing Station: This is my favorite antique store in town! Full of fun old things and some are priced well, too.
The Station: You can't miss this one as it has a big ranger outside and a vintage hippie car. The items inside are new, but it makes you feel like you time hoped into the 70's. It's a must-stop!
Ricochet Vintage Wears: A vintage shop with clothes, jewelry, artwork and tons of random old home decor things in the backyard.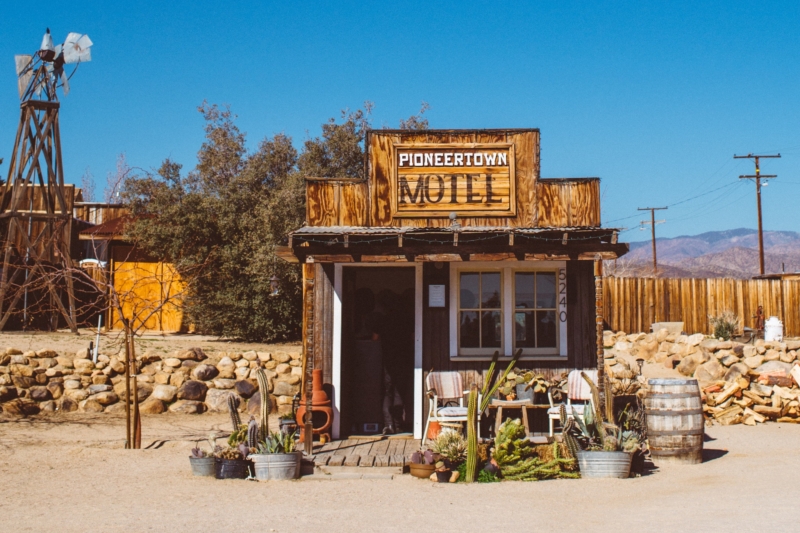 Day trip to Pioneer Town
Anyone else a fan of Westworld? Pioneer Town isn't the set for that show, but it was a popular movie set town for old westerns. It was built as a set, but it's also a town that some people live in today, and it makes for a really fun morning or afternoon trip from Joshua Tree.
You'll probably lose signal as you drive into the desert and between the rock piles leading up to Pioneer Town, but it's hard to get lost. You'll see the town spring up from the dust and with a huge parking lot, it'll be easy to start exploring.
This is one of the few places I recommend actually visiting during the peak visitor days. We drove in on a random Monday and it was completely empty minus a couple of other tourists. None of the shops were open, it was literally a ghost town.
But, on weekends, the main street is full of artisan shops and restaurants. There are even live gun shows on weekends and other fun Old Western things to do. It's worth a visit on a weekend!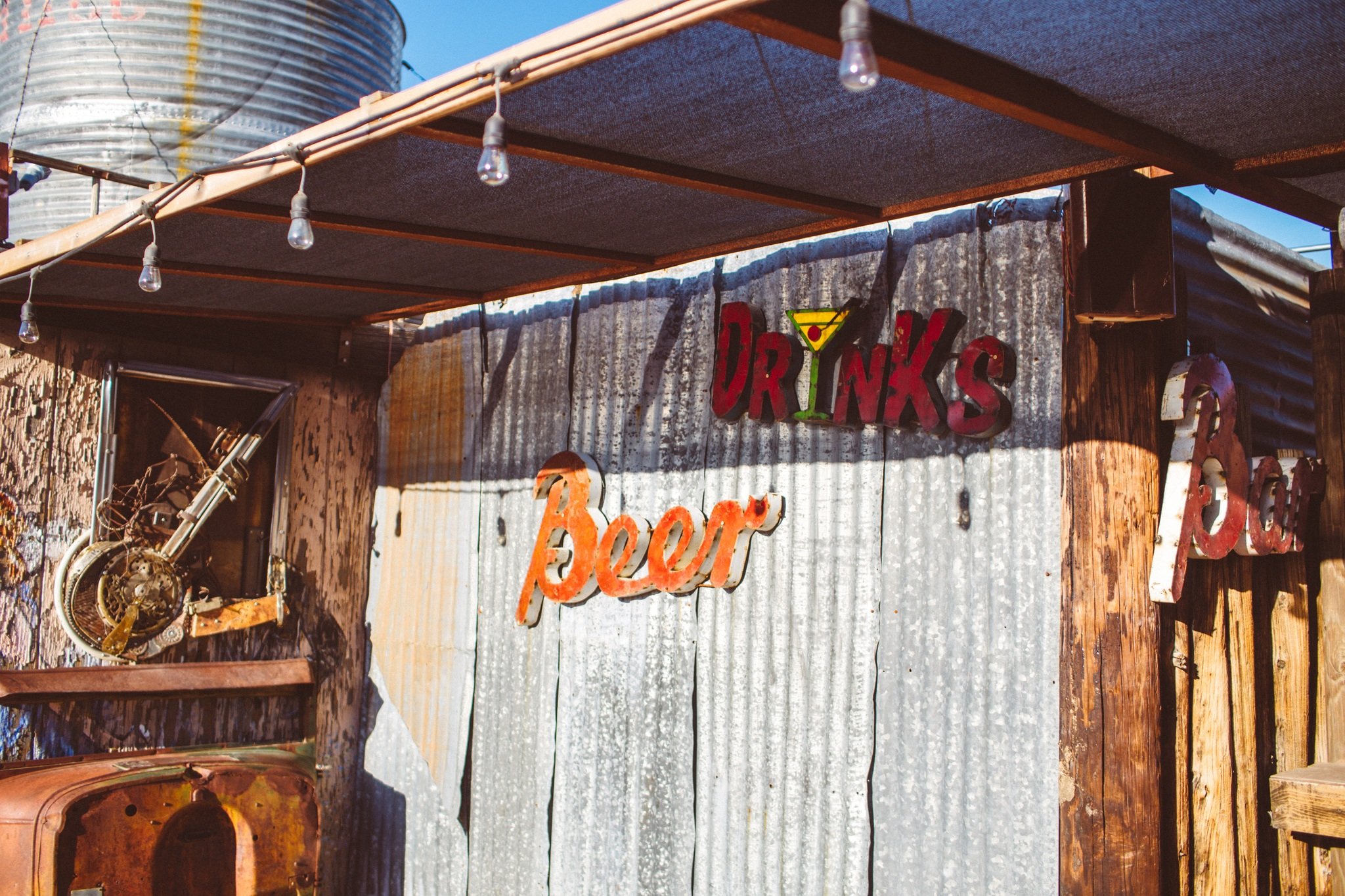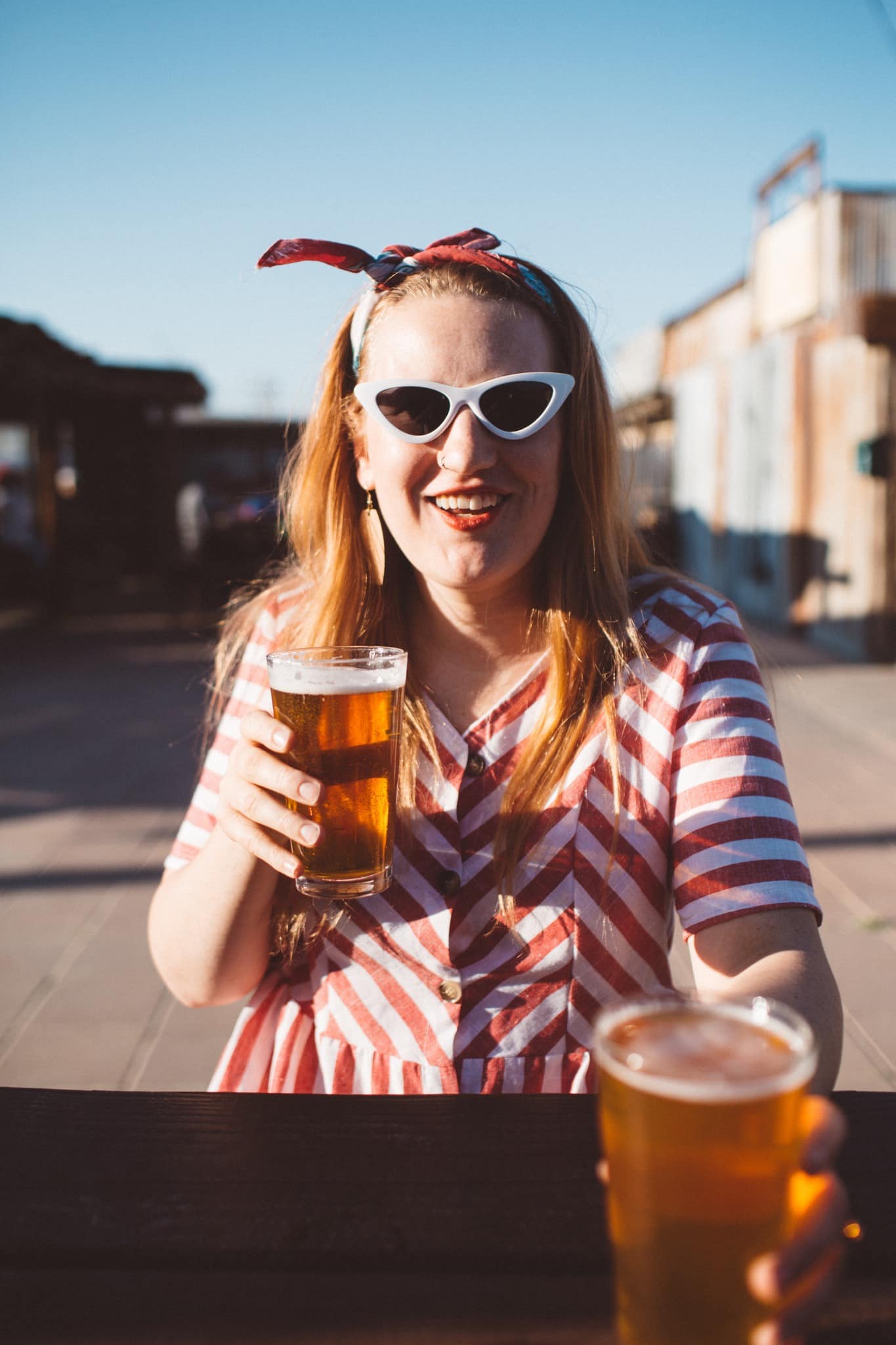 You'll spot this bar as you drive down the main street in Joshua Tree as it's hard to miss with the quirky decor on the outside. This bar is a popular one and if the weather outside isn't boiling, I recommend trying to grab a table on the outdoor patio. (The inside is dark and noisy.)
We found it a great way to unwind with a cold beer after a day of exploring. I believe in the summer, there is live music outside in the evenings and serve beer outside here, too!!
OMG, I had a vegan flatbread here that pretty much changed my life! If you're looking for where to eat in Joshua Tree that's vegan and actually good, this place is it!
Technically in Yucca Valley, this little cafe stole my heart and I was surprised to learn after a few quick google searches, that it's not on more people's JT "to-do" list. (I don't think they have a website?)
I think it's been flying under the radar, but I'm here to tell you that they make AMAZING food. I don't eat a vegan diet normally but I always jump at a chance to eat vegan when I know other people can cook it well. These guys cook it well.
A popular place in Joshua Tree National Park (my last park recommendation!) is the Cholla Garden. It's a small grove of Cholla Trees, which are mini cacti that are about 5-6 feet tall. This garden is easy to walk through, no hiking is required. It's extremely beautiful at sunset and golden hour when the light filters through the trees.
That being said, Chollas are straight up DANGEROUS. Their needles are unique and are designed to get embedded into skin and are incredibly hard and painful to get out. The worst part is all you have to do to get these stuck in you is to lightly brush up against them.
This is a place you NEED to wear close-toed shoes on, the heftier the better. Earlier this year, I was in Arizona hiking and wearing leather boots. I kicked a Cholla cactus ball not knowing and the needled pierced the leather! They strong.
Watch out for the small cactus balls on the ground. DO NOT GO NEAR THESE OR KICK THEM.
And, I accidentally brushed up against a small round cholla cactus here and got needles stuck in my foot. You think I would have learned my lesson from Arizona, but no. Watch the vlog below to see these nasties.
I thankfully remained calm and was able to remove a fair amount of them with the tool kit the rangers left at the garden. Later at our Airbnb I soaked my foot and was able to remove a few more needles, but my foot hurt for DAYS. And, as I'm writing this post over a month after our visit to Joshua Tree, I still have the ends of the needles in my foot. I can feel them.
Anyways, despite my mega warning and stupidity with the cholla, I do think it's a really beautiful spot to visit and snap some photos. Just don't touch them ok?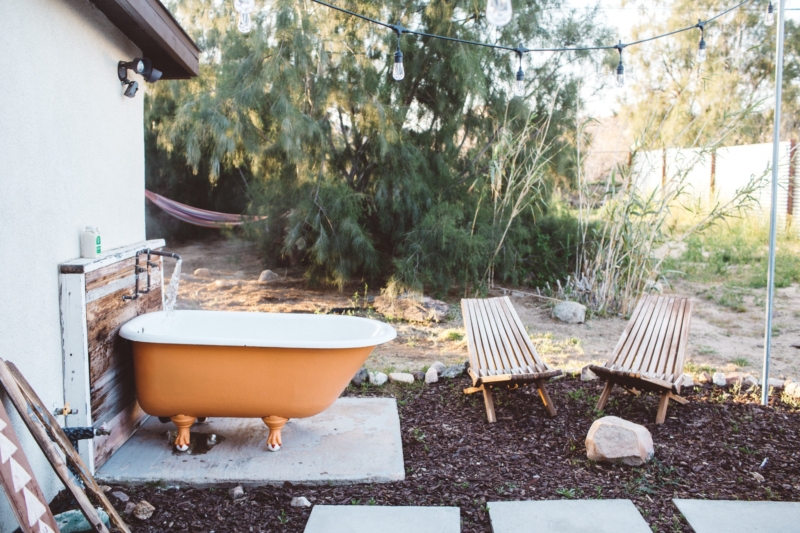 Take a dip in your outdoor hot tub
Many of the Airbnbs in Joshua Tree come with outdoor pools or tubs. (Ours had this cute orange tub that was so nice to soak in each morning!) I even did a stargazing soak with wine one night. Joshua Tree is very spiritual and this is a town to get connected with Mother Nature. A long soak outside is the perfect way to do that! Bonus points of beer and a good book.
My husband and I discovered Geocaching while on that trip to Arizona I mentioned and fell in love. We now try to do a bit of Geocaching whenever we travel. You probably have heard the term in the early 2000s but back then people had to use real GPS things and print out directions on paper. These days, it's all done through an app!
There are literally thousands of these things hidden all over the world basically in plain sight, just a layer under. They're in tree stumps, on the back of signs, under benches, in mailboxes, you name it. It's like a real-world scavenger hunt. I've found some hidden caches that have been there for over 10 years. If you're bored, try this activity out, it's free!
If you're visiting between February – April, I highly recommend doing a day trip to check out some of the Desert X sights in the Palm Desert. Desert X is a semi-annual art movement where artists built these beautiful pieces all around the desert for you to find. Come April, they're taken down and new ones will be built the next year. Read my post about the Desert X 2019 installations.
Hunting these down was probably one of my highlights of our trip to Joshua Tree. From a giant rainbow in Cathedral City to a Ghost Palm in Desert Springs, these were so whimsical and fun to experience.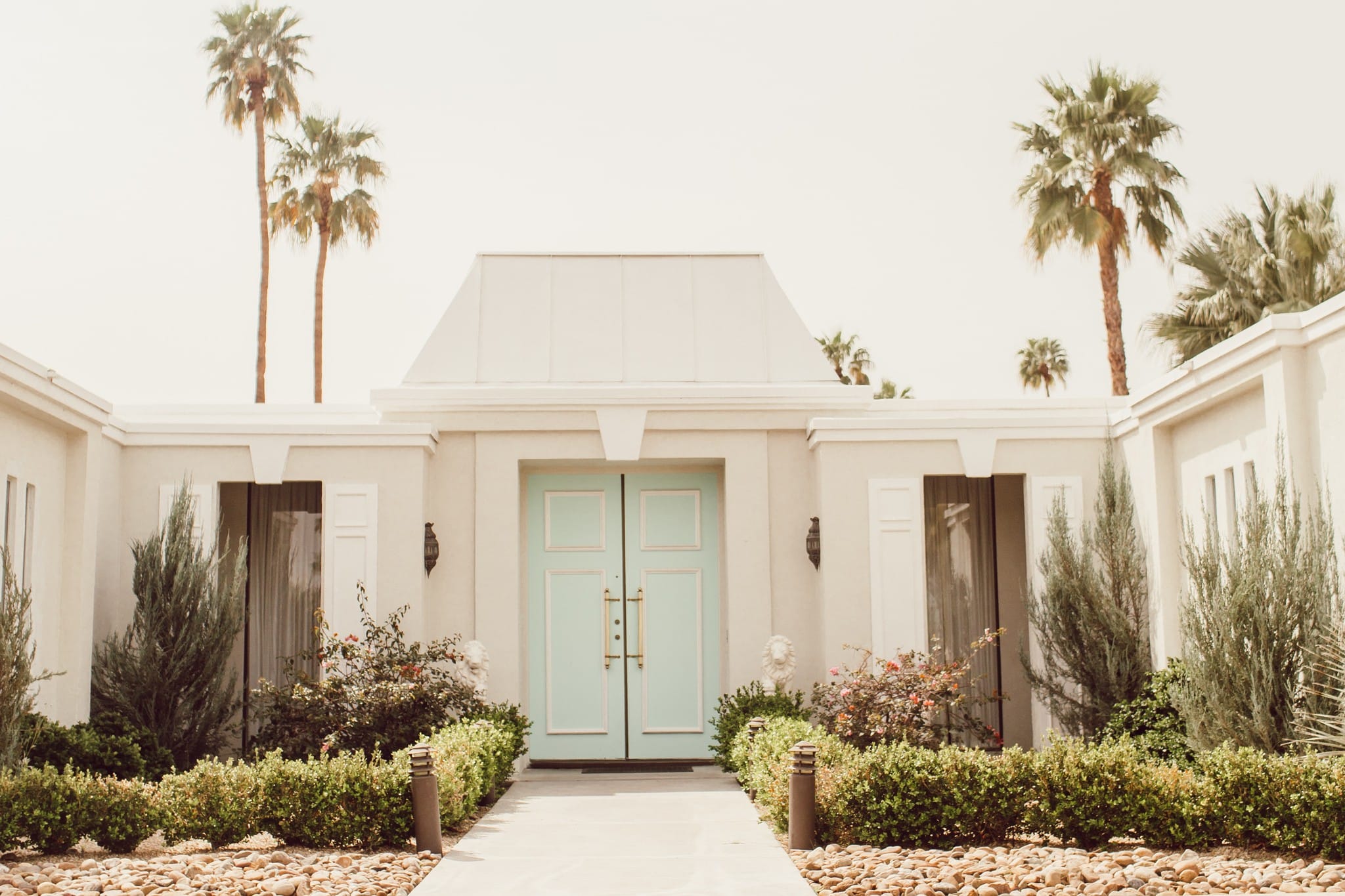 Day Trip to Palm Springs
If Desert X isn't happening, or you haven't been to Palm Springs yet, it's worth it to do a day trip to this colorful city. This city is bumping with art, posh cafes, modernism architecture, luxury hotels and color. Like, so much color.
You can stop by the famous Parker Hotel for drinks, or rent a vintage bike and go Palm Springs door hunting (there are doors for every color of the rainbow here!) Read my full Palm Springs travel guide for more ideas of fun things to do!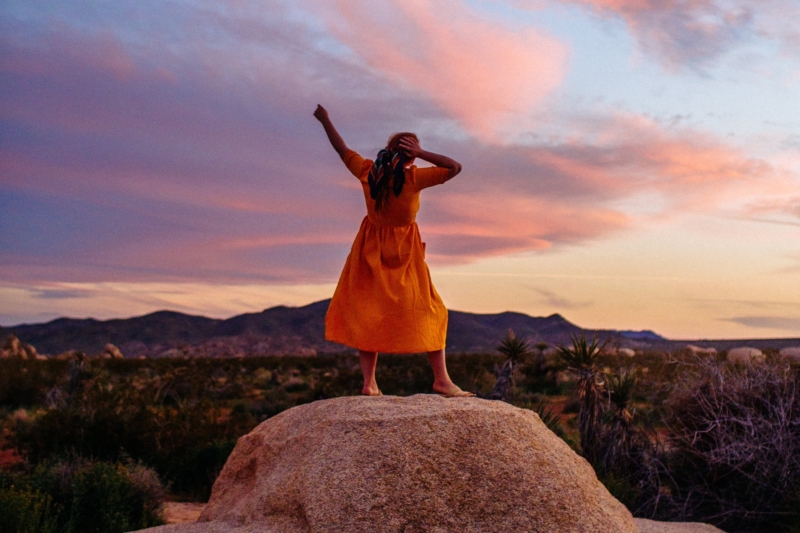 Stargazing
Joshua Tree is in the middle of the desert and has very little light pollution. This means it's a great spot to stargaze from! If your Joshua Tree Airbnb has a patio, you can probably easily turn off your lights and see vibrant stars from the comfort of your rental.
I grew up in the country where I was used to seeing stars each night and now I live in San Francisco. There is so much light pollution here that even on fogless evenings, I still can't see many stars here. Stargazing after a day exploring Joshua Tree (perhaps in your hot tub outside?) is as good as it gets!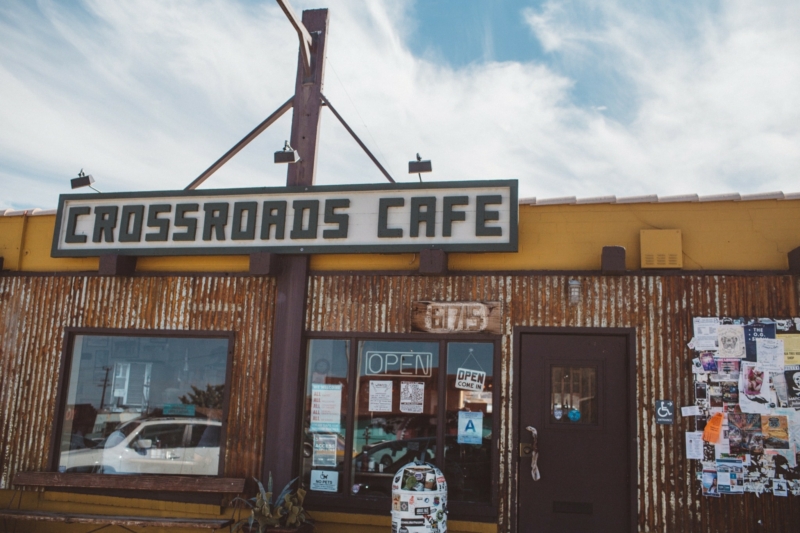 Right when we pulled into Joshua Tree after our 9+ hour drive from San Francisco, we made a beeline to the Crossroads Cafe. It's one of the popular cafes to eat at in Joshua Tree and I was nervous it wouldn't live up to the hype, but I was surprised by both the food and the restaurant!
The inside is full of wood planks and industrial decor. But the food is what makes this place really shine. It's a popular brunch spot, so the weekends may be really busy (keep this in mind!) but it's worth the wait. I recommend one of the sandwiches, which were very big and was just the thing we needed after a long drive.
Where To Stay In Joshua Tree
Joshua Tree and Yucca Valley don't really have that many hotel options. I think the locals prefer it that way. Plus, there are some stunning Airbnbs here – I'm talking beautifully decorated interiors, unique exteriors. Because of that, I recommend booking an Airbnb as we did! Use THIS link to get $40 off your stay!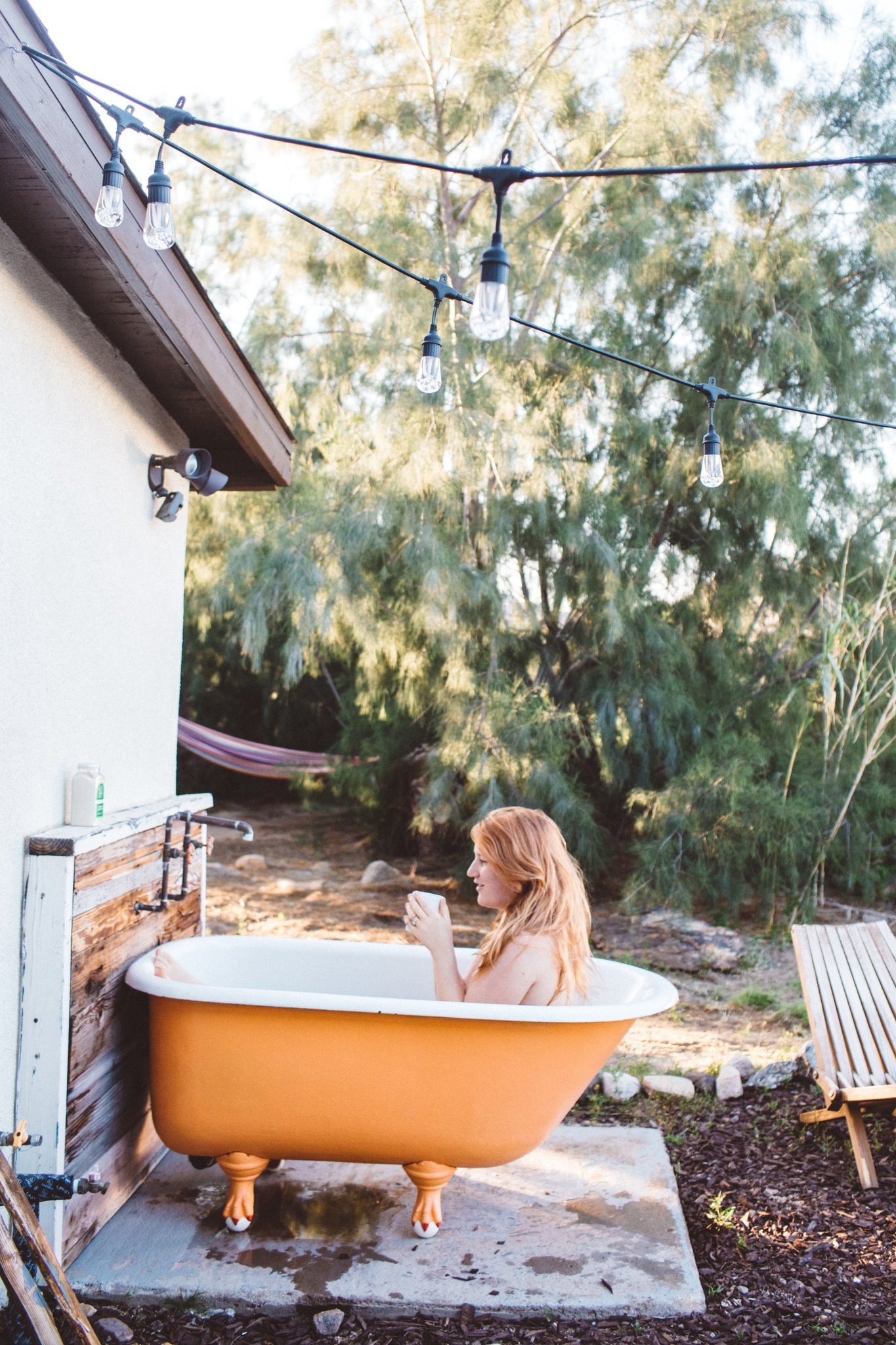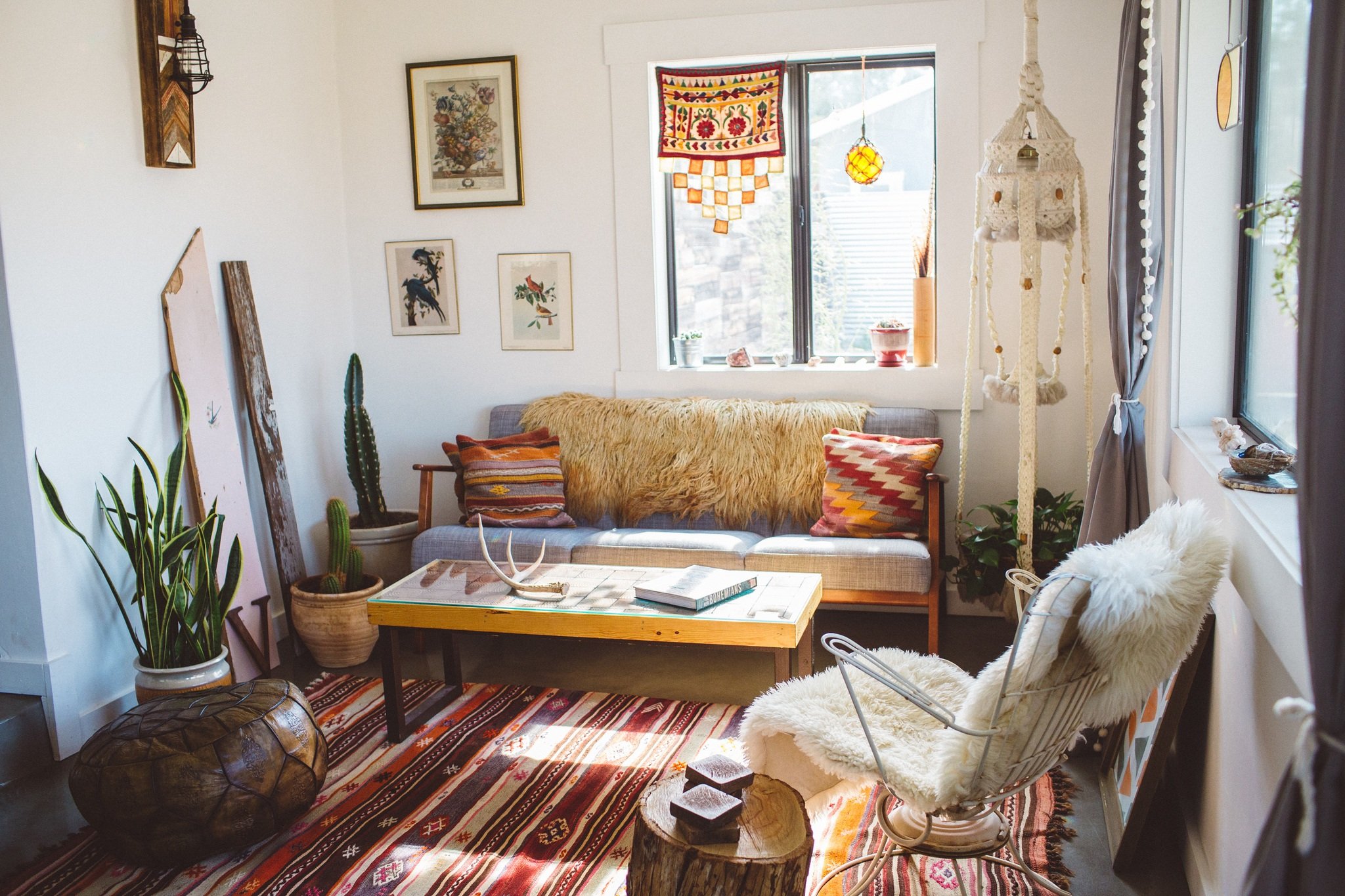 As you can read in our full feature review, is the Airbnb we stayed in and I loved this house! It's small and doesn't have a view of the desert, BUT has plenty of space for a couple and could easily fit 4 people without bumping shoulders. The decor is boho chic, I told Robin I wanted to decorate our future house like that Airbnb.
What makes this place stand out, though, is their fun orange outdoor tub on the back patio. In the morning I found myself pouring a hot bath and enjoying a cup of coffee. In the evenings, a soak under the stars with wine. It's also just a few blocks off the Twenty Nine Palms Hwy and in walking distance to the main Joshua Tree attractions in town.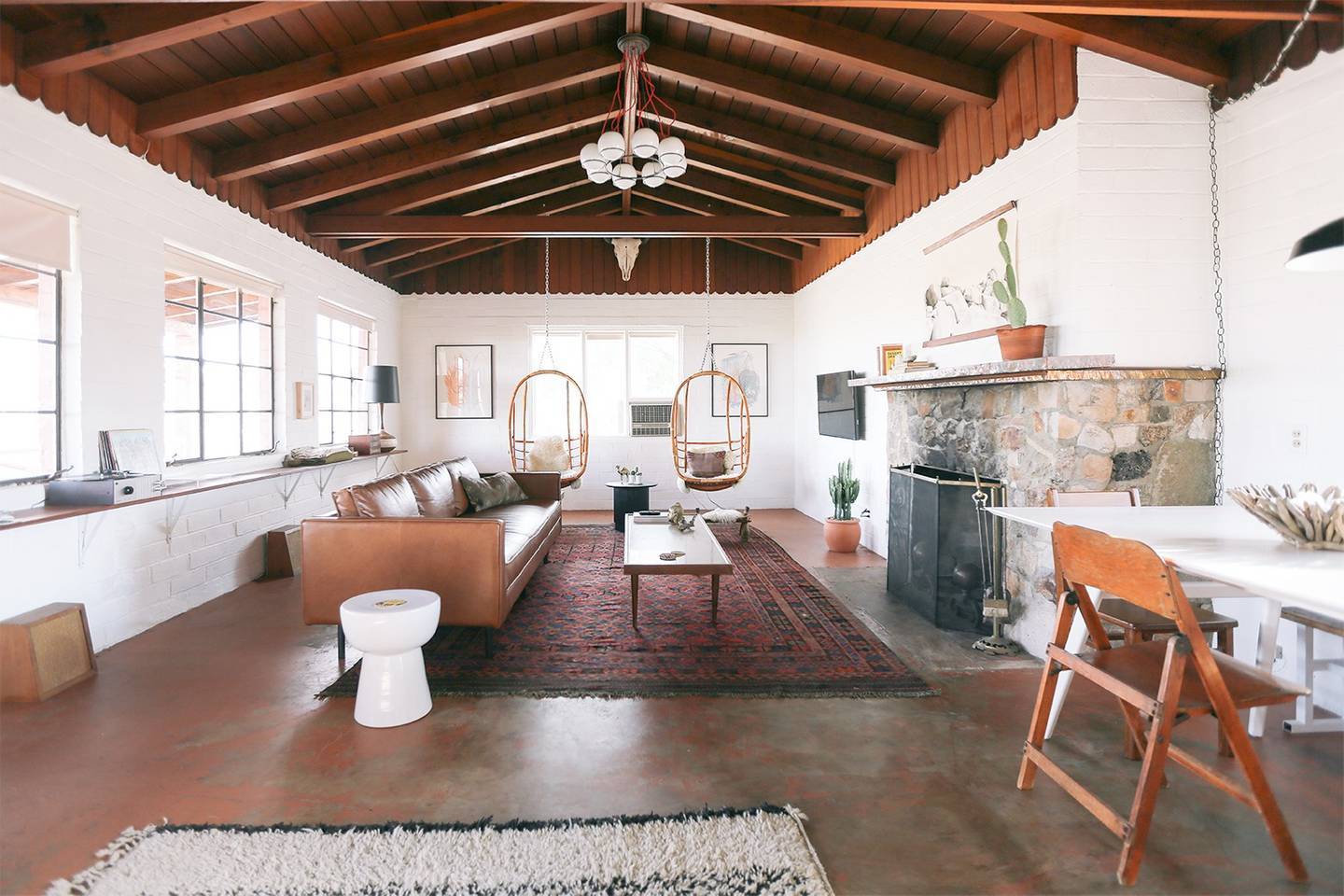 Named accordingly, this stunning house is incredibly curated and nestled on a property with hundreds of Joshua Trees. It can fit up to 6 guests and thus makes for a great house with a group. Relax on a hanging chair inside, or soak outside in their pool or hot tub.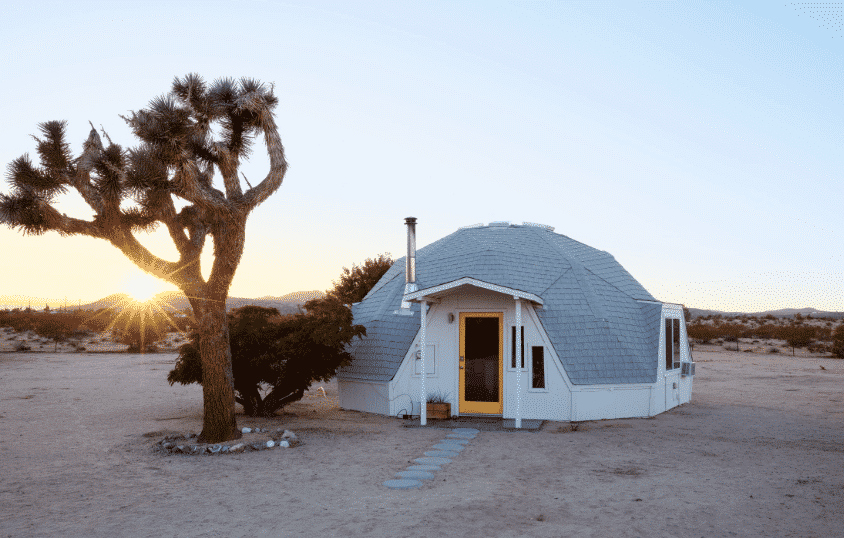 Owned by the same couple who made Cabin Cabin Cabin, this house is shaped like a dome! Hello pretty Instagram photos! This is an Airbnb Plus house, so you know it's held to high standards and your stay will be more than comfortable. I personally love all the pops of yellow in this house. It is lacking an outdoor pool or tub of some kind, but the unique whimsical shape of this house sort of makes up for it!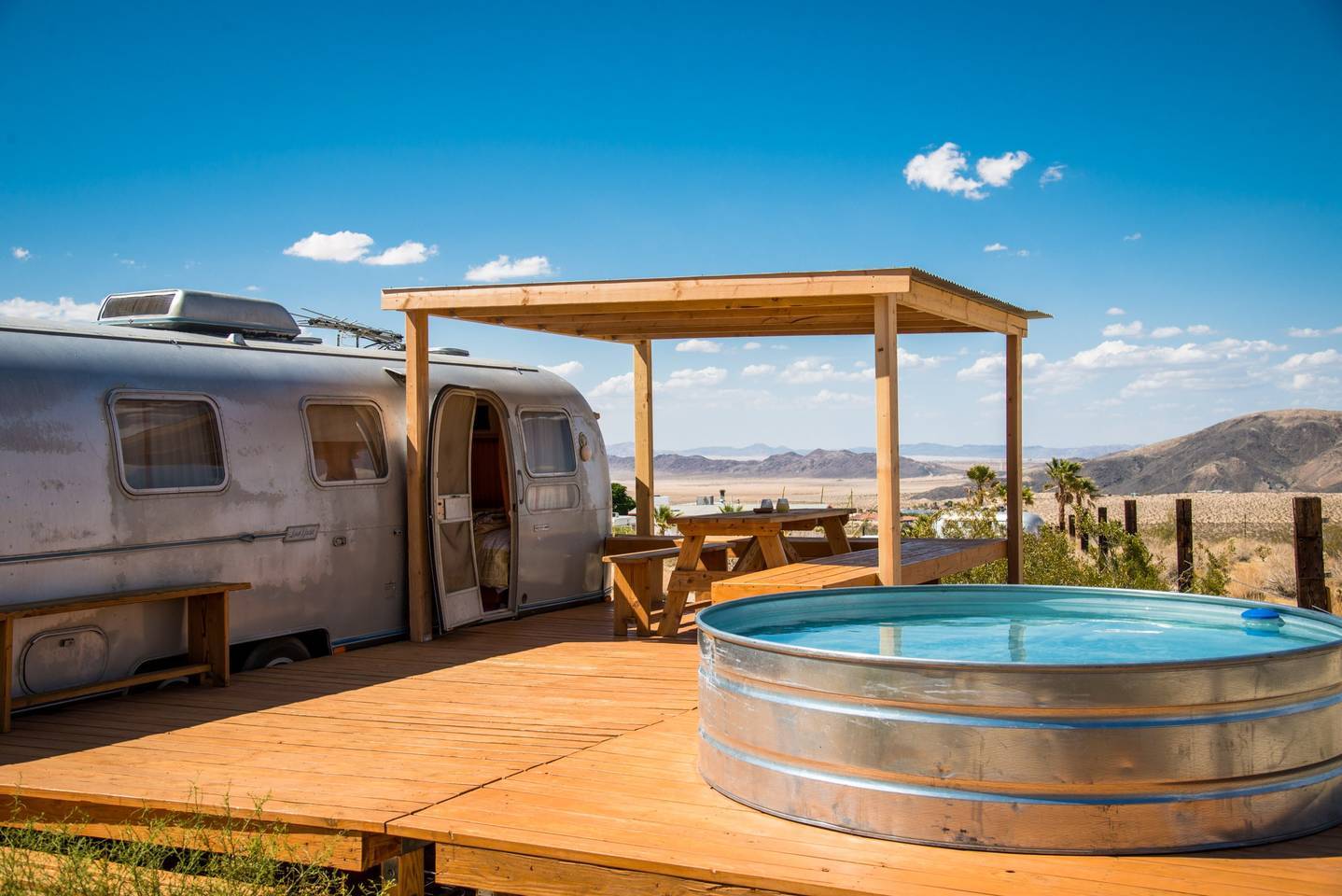 Or, say screw it to a traditional house, stay in an Airstream! Who else low key wants to buy one of these things and road trip the United States? This Airstream is a bit basic on the inside but totally makes up for it with that fun hot tub. I can easily see myself coming back to this after a day exploring, popping open a bottle of Sav Blanc and soaking in the thing!
What To Pack for Joshua Tree
Joshua Tree is in the desert and it's a few thousand feet up in elevation. This means the winters are chilly and the summers can get up to 120 degrees. Year-round, though, the days are much warmer than the evenings. Basically, it's smart to bring layers no matter what time of year you are visiting.
That being said, in the winter you'll want sweaters and maybe even coats (I saw on Instagram that it snowed in the park this winter!) In the summer, thin clothing to keep you cool. If you plan on hiking in the park, sturdy boots to protect your feet and proper hiking gear to deal with the desert trails is needed.
Any Season Packing List


Winter Packing List



Summer Packing List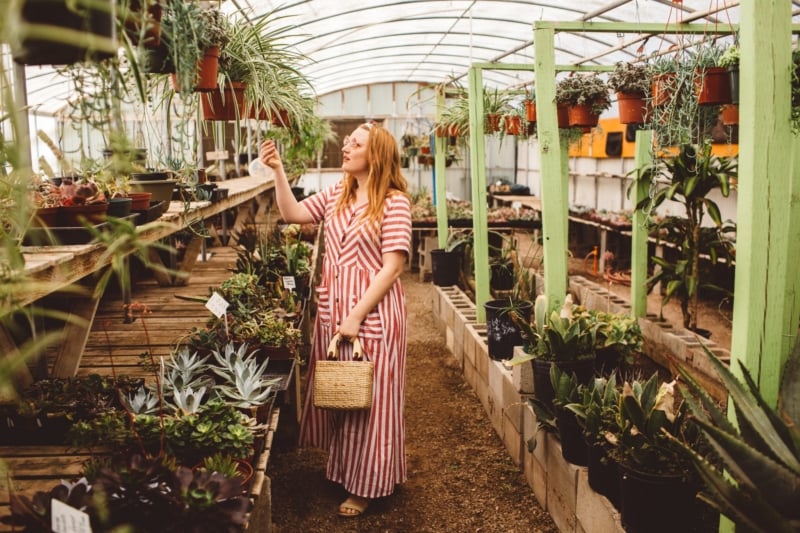 I hope this helps you plan a fun trip to Joshua Tree! I love this city and National Park and hope to be back soon myself. If you have any fun things to add to this list, leave a comment below. If you have questions, leave a comment below or shoot me a DM on Instagram @thewhimsysoul and I'll be happy to help!