If a rainbow could be a city, it would be Palm Springs. This place is not just a pop of color – it's an explosion of color. With so many beautiful murals, buildings and modernism, it's hard to know where to start to find the best door in Palm Springs for photos. After visiting the desert town twice, and hunting for doors three times, I discovered all the best Palm Springs Doors for you to visit, including their addresses!
Read on for my Palm Springs self guided door tour, complete with a list and photos of the doors to help you have the best door tour of Palm Springs. Grab your camera, you'll have so much fun!
That Pink Door in Palm Springs isn't the only #IGworthy door in town – there are doors of each color in the rainbow! Hunting for doors is one of my favorite things to do in this city. There's always new colorful doors popping up to visit. It's a great activity to do via bike as so many Palm Springs resorts offer free bikes to guests (like at the Parker Palm Springs!)
In fact, these mid century modern homes so are dang popular there's a whole Modernism Week each year dedicated to architecture. This event usually takes place in February if you wanted to join in, but I prefer doing self guided tours at my own pace. It's fun to grab the girls, a cute outfit and bike around one evening together.
If you're doing the door tour to snap photos, the best time to visit is about 2 hours before sunset.
I live in San Francisco but find myself down in Palm Springs at least once a year, whether it's for a conference, Desert X or just a girls trips. We always, ALWAYS, hunt down colorful doors of Palm Springs to take photos with, and I keep this guide updated after each visit for you.
The Best Doors In Palm Springs 2021
The best way to explore is via bike or by car. Most of the good doors are in the Indian Canyons neighborhood near the Saguaro Palm Springs Hotel and around Villa Sierra Way. I've listed my favorite doors that I have discovered for a few self guided Palm Spring door tours, but I'm sure there are hidden gems along the way to discover yourself!! That's half the fun – getting lost and finding cool things.
Remember, these doors are NOT your property. Be respectful of other people's houses and try to refrain from touching their door, standing on their lawn, etc as these are private property. Stick to the sidewalks.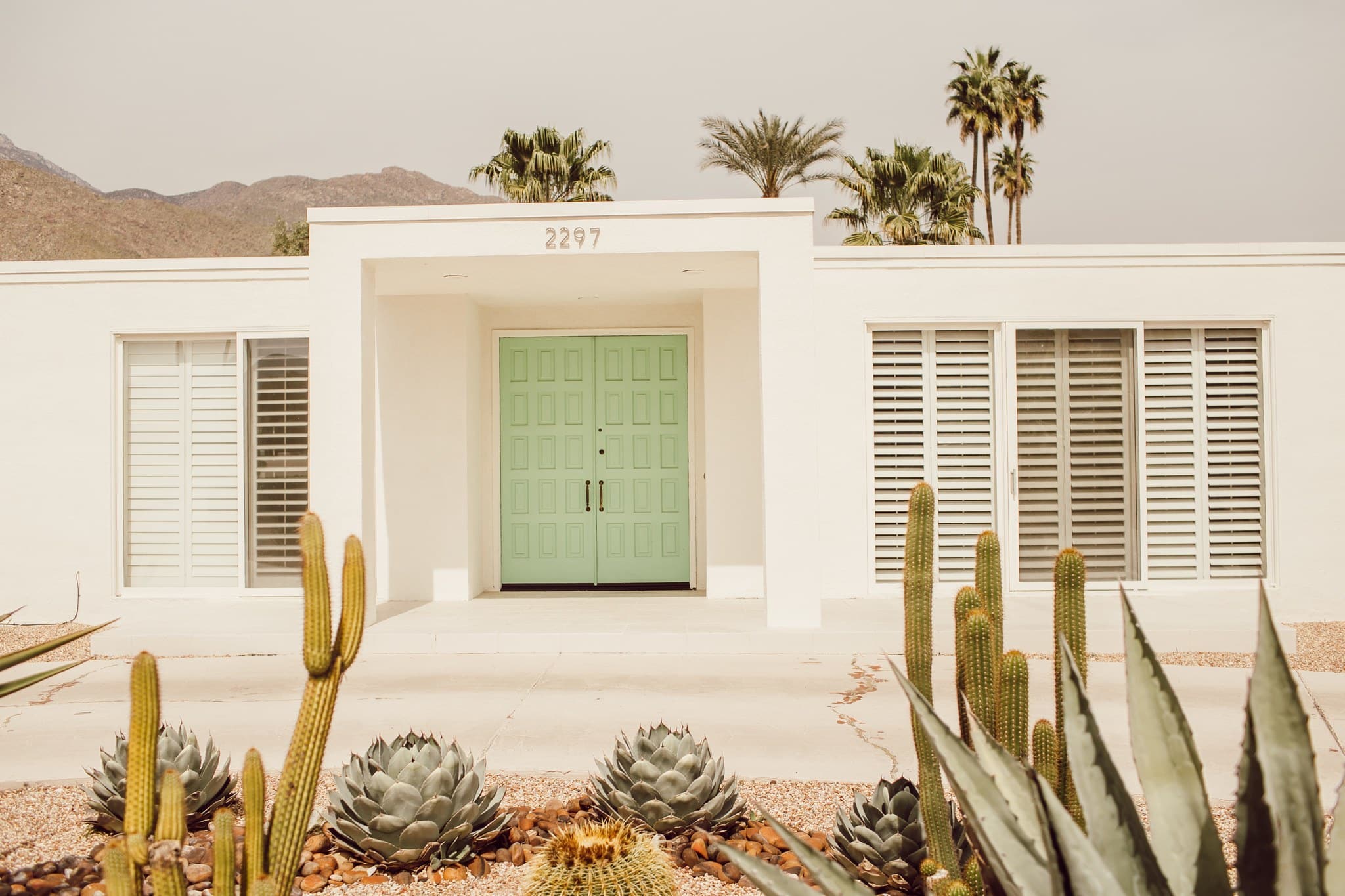 Everyone knows about the Palm Springs Pink Door, but there are so many more! It's makes a great door to start with, but plan on visiting more. Here are my favorite colorful doors for your self guided Palm Springs Door Tour 2021!
Palm Springs Door Tour Addresses
1. That Pink Door
Location: 1099 East Sierra Way (sometimes Google think it's 1100 East Sierra Way)
Probably the most famous door in Palm Springs is "That Pink Door", aka the one you see on Instagram everywhere. Fun fact – it's owned by a fabulous gay couple and the whole house used to be this pink, but once they bought it, they just left the pink on the door!
Note: at some point in 2018, they put up a "no photography" sign in front of the door. I know people still take photos there, though, and it is legal to photograph things from the sidewalk. You can book it on Airbnb now if you're eager to see the inside!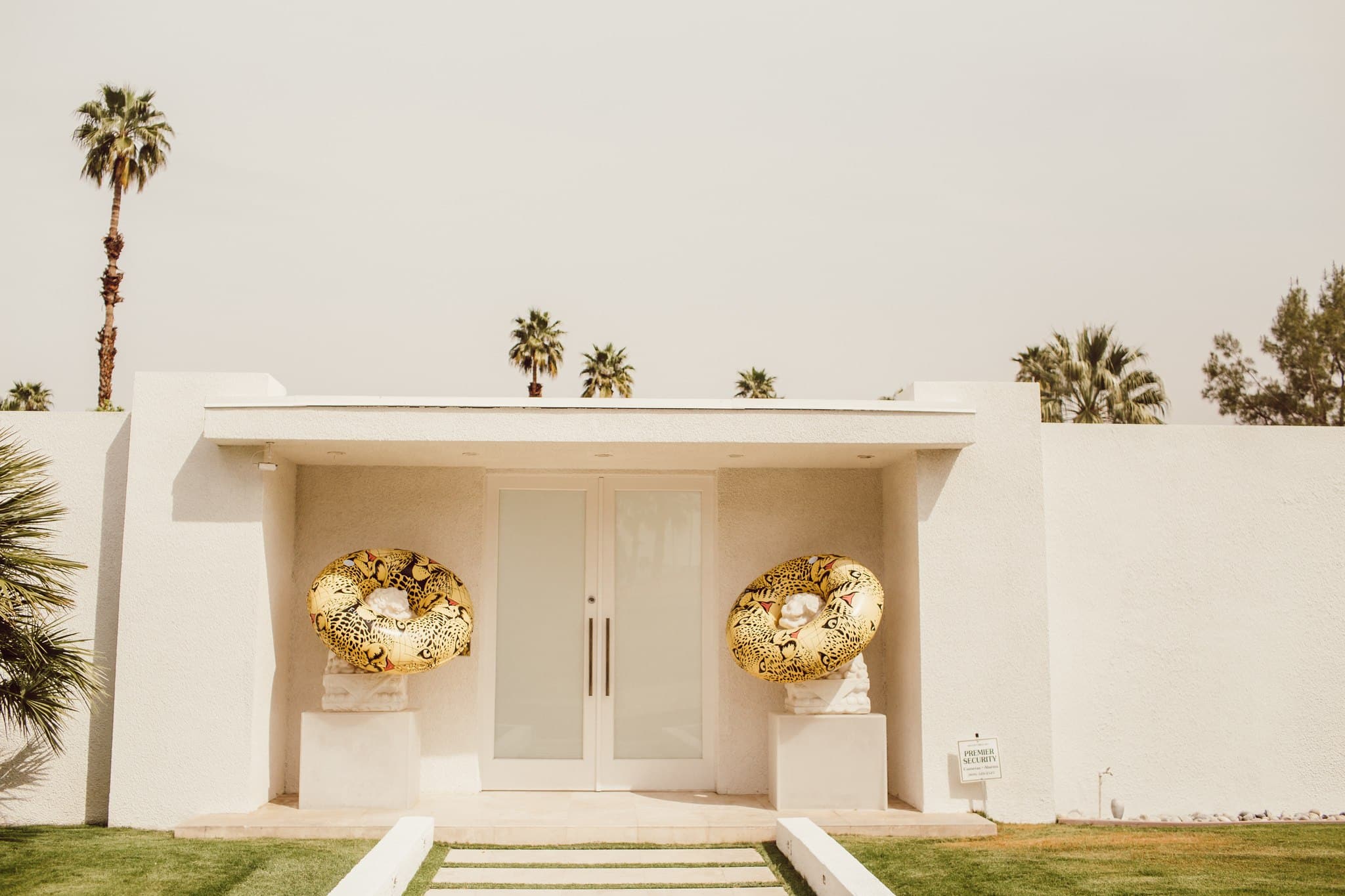 2. The Party Lions
Location: 11087 East Sierra Way
A few houses down from the Pink Door Palm Springs is the Lion House! On either side of the door are two big white Chinese lions, which the owners frequently dress up or decorate. When I was there, pool floaties were tossed over them. The second time I went, different floaties were around their necks. It's always fun to see what they have up!
Sometimes they have party balloons so they're called the Party Lions. Usually, during major weeks with festivals or holidays, the owners will have special decorations up on the lions. So if you are visiting at Christmas lets say, you'll probably find something hinting at the North Pole.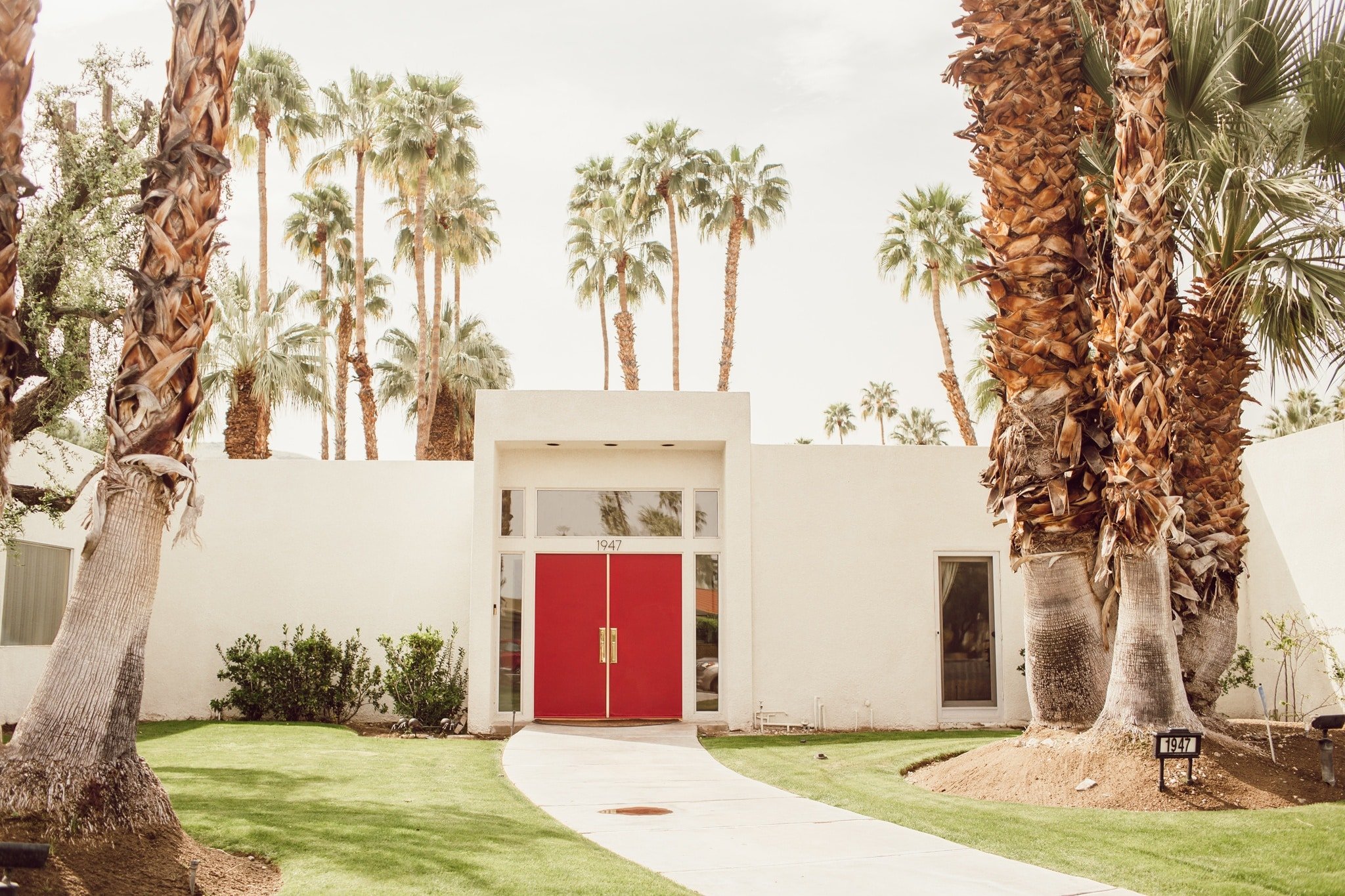 3. The Red Door
Location: 1947 Cadiz Circle
Yellow is my favorite color, so this is probably my favorite door second to the famous That Pink Door. I love how this shade just POPS against the blue sky and white house. It's really easy to get a great photo standing in front of this door!
4. Baby Blue Door
Location: 1598 Circo Circle
A pretty white house with a large baby blue door. It's a bit harder to get a straight-on shot, but it's the only baby blue door in the neighborhood!
5. Magenta Door
Location: 1500 Lobo Way
A stunning magenta door frame between to towering palm trees. One of my favorites for the unique color!
6. That Yellow Door Palm Springs
Location: 2344 S Yosemite Drive
Yellow is my favorite color, so this is probably my favorite door second to the famous That Pink Door. I love how this shade just POPS against the blue sky and white house. It's really easy to get a great photo standing in front of this door!
7. Teal Door #1 + #2
Location #1: 2297 Camino Real
Location #2: 2325 Via Lazo
There are two teal doors just down the block from each other. Each one is unique in its own way and I loved them both!
8. The Flowers
Location: 2063 South Madrona Drive
This house doesn't have a colorful door, but it does have TONS of pretty pink flowers on the front. It looks like a wild flower jungle.
9. The Turquoise Door
Location: 1221 East Sierra Way
Just down the street from the Pink Door house in the other direction is a beautiful turquoise door. It's behind a gate, so you don't get the full door WOW shot, but it's a good stop to add to the tour!
10. Teal / Pink Twins
Location: 2396 Sierra Madre
Right next door to each other are these teal and pink doors! This is basically the Other That Pink Door! They are a little more set back from the road, so bring a zoom lens.
11. Lime Green Door
Location: 2455 East Via Lazo
The only bright lime green door I could find!
12. Desert Flower Door
Location: 2439 East Via Lazo
It's tucked back really far but I LOVED the pink flowers frame the gate outside!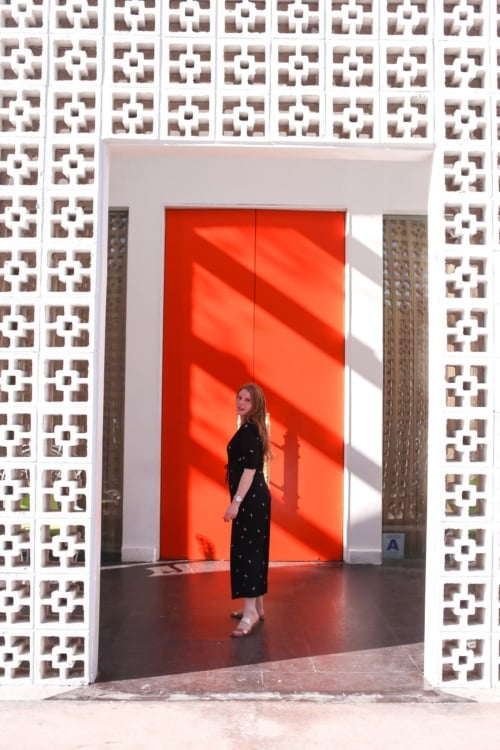 13. Parker Palm Springs Door
Location: Parker Palm Springs Hotel
This hotel is one of my favorite hotels in the entire United States (not just palm springs!) You can't see inside since it's surrounded by tall hedges and a massive orange front door to conceal the hotel, which spoiler alert is like a funky Alice in Wonderland vibe. But the door itself is iconic and totally open for you to take photos in front of!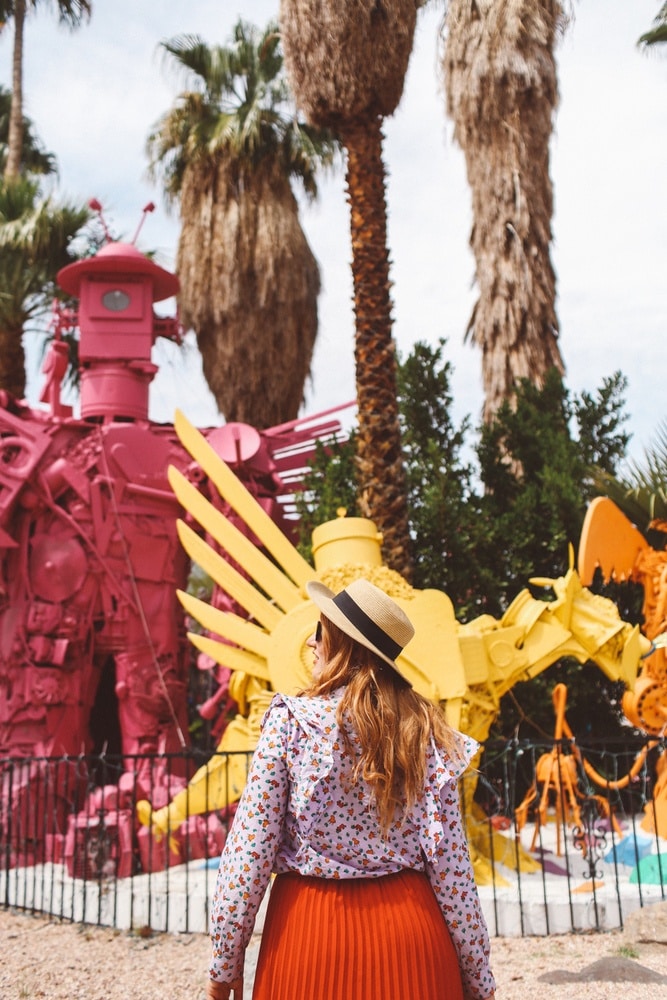 14. Robolights House
Address: 1077 E Granvia Valmonte
There are TONS of famous houses in Palm Springs. Everything from famous doors to famous people. My favorite non-door house to visit is the Robolights house over in The Movie Colony. The owners have collected hundreds of quirky sculptures and animatronics in their backyard that you can view from the street.
At night they all light up and rumor has it they go all out for the holidays. There are other famous Palm Springs houses in The Movie Colony district, mostly owned by the mega rich or celebrities. It's a beautiful area to walk around, but most houses are hidden behind high hedges so don't plan your whole Palm Springs self guided walking tour of retro front doors here.

When To Photograph
If you're doing the door tour to snap photos, the best time to visit is about 2 hours before sunset. Because of the mountain next to Palm Springs, the city falls into an early shadow, usually about 2 hours before sunset. This creates a beautiful hazy light on the Indian Canyon neighborhood that's perfect for photographing doors! In this light, nothing is too harsh and you'll be able to capture all the details of each house.
Quick Hits
Favorite Doors
That Pink Door (the famous hot pink door!)
That Yellow Door of Palm Springs
The Red Door
Teal Door
Read my full Palm Springs Travel Guide here!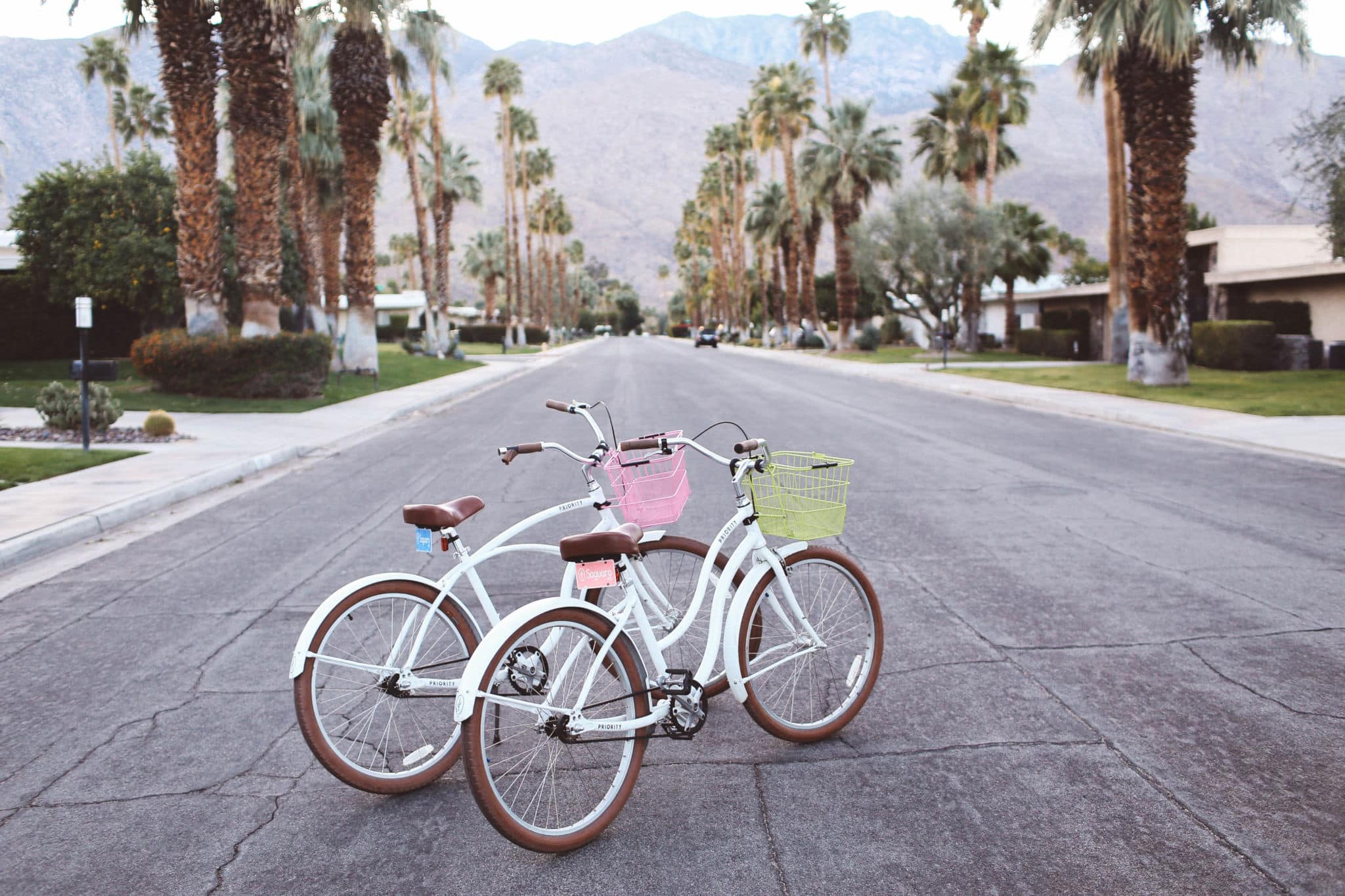 How To Get Around
I think the best way to get around Palm Springs for your door tour is by bike! There is nothing more SoCal than exploring a city by a vintage cruiser. Palm Springs is full of mostly two kinds of people: retired ones or tourists, so it's generally pretty sleepy and very safe/easy to bike Palm Springs.
I recommend first checking to see if your hotel offers free bikes for use. Mine did, so we didn't have to go out of our way to rent a bike. If your hotel doesn't offer bikes, I recommend Bike Palm Springs, as they have fun, colorful bikes to choose from (perfect for photo ops!)
Check out my
Desert X guide
for even more Instagramable spots in Palm Springs!
Note: If you are visiting in the hot summer months of June, July or August, you may want to consider doing this by car instead. Palm Springs house tours in 115-degree heat by bike doesn't sound fun. You need A/C! I usually go in February or March for Desert X, sometimes April but I like to avoid the heat.
What To Wear
Palm Springs style is about color! Skip the white and black and instead reach for your most colorful statement piece to wear in front of the colored doors! Don't forget your work fun accessories like straw hats or bright bags to get that #IHaveThisThingWithDoors photo!
I have a whole guide of Palm Springs outfits if you need more inspiration on what to wear in Palm Springs. But, when in doubt, channel deserty colorful vibes with a hint of retro.

If doing a self-guided Palm Springs door tour sounds hard, you can book something with The Modern Tours Palm Springs, a luxury tour company that will cart you around to the doors. But they're all close by each other and in my opinion
Palm Springs modern home tours are best done on your own.
I hope this helps you have an awesome Palm Springs door tour of your own! As you can see, there is so much more than just That Pink Door Palm Springs address to hit up.
Got more amazing Palm Springs front doors to add? There are so many amazing houses to see in Palm Springs and new ones are constantly popping up. Drop their details below in the comments so everyone can see! Leave a comment below if you have any questions or dm me on Instagram @thewhimsysoul and I'll be happy to help! Don't forget to tag your Palm Springs Door Tour photos with #whimsysoul so I can see your photo.