What happens when a couple of Wisconsinites visits Denver? We size up their craft beer, of course!
Well, we live in San Francisco now but my husband and my love for beer stem deep into our DNA (I swear you really do grow up on cheese and beer in Wisconsin.) We came to Denver on whim after finding an incredible flight deal from Southwest. As I was researching things to do, I realized that Denver is a craft beer haven.
So, I immediately made ourselves our own Denver brewery crawl itinerary around RiNo (and a couple of other neighborhoods) to bring you the definitive guide on where to drink craft beer in RiNo Denver. Keep on reading for our favorites along with photos and beer recommendations!
RANKED: Our Favorite RiNo Breweries in Denver (From Best To Worst)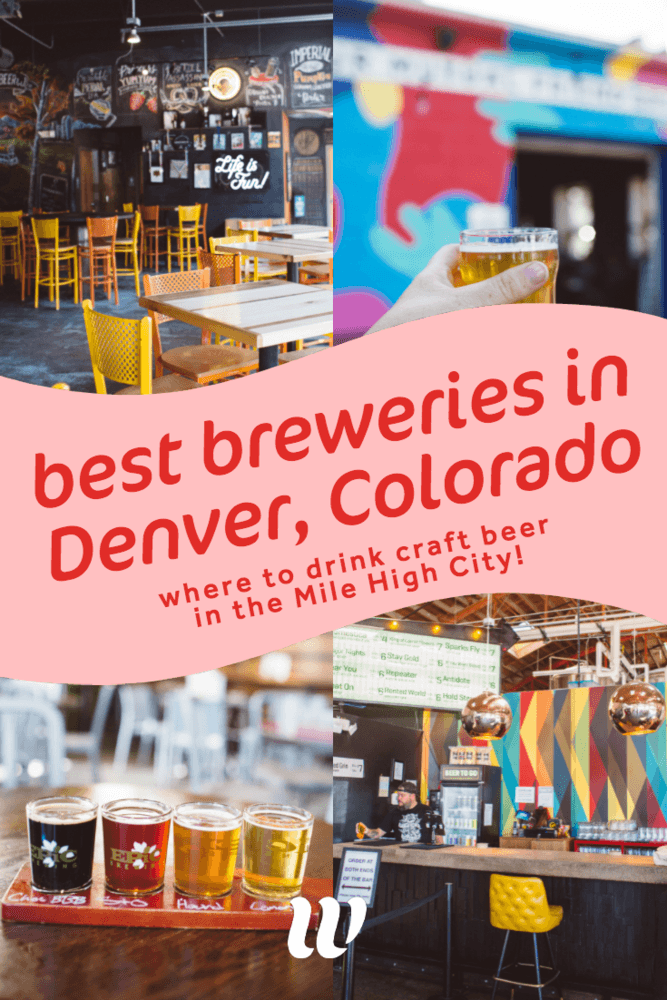 >> Got a question about RiNo beer or Denver that you need answered quickly? DM me on Instagram @thewhimsysoul and I'll be happy to help!
RiNo district – aka River North aka the RiNo Art District– is close to downtown Denver and home to 13 breweries (in 2019 when I'm writing this.) It's also known for TONS of colorful murals, trendy restaurants like a pizza joint out of an old shipping container and quirky shops.
There are breweries all over Denver, but after learning that RiNo is a short walk from the Kimpton Monaco, the hotel we stayed at, and the fact there are over 13 breweries, we chose to visit as many as humanly possible in 3 days and rank them all from best to worst to make a handy guide for you.
Side note: I think I can only pull off a drinking trip like this for a few more years. I have a feeling once I turn 30 my body will be like HELL NO even to the thought of trying to visit 13 breweries in 3 days. But until then… YOLO
How We Ranked The Craft Breweries In RiNo
Breweries are being ranked out of 25 points. There are 5 categories each with 5 points that can be awarded. They are:
Unique design & decor of the taproom
Risk-taking in brews (the crazier the more fun!)
Price point & value
Taste of beers!
Staff & service
Ok, let's get started!
Location:3001 Walnut St
Hours: Noon-10pm (closing time varies)
Favorite Beer: Brainless Hound
Overall Score: 22.5
Design: 3.5
Risk-taking: 5
Price point: 4 (ranging from $5-9 with $2 small pours available)
Taste: 5
Service: 5
This was our favorite brewery in RiNo for the vibe and beer. What makes Epic stand out is the risk-taking they do with beers. Many of the beers were barreled aged or made with made fruit like lemon, raspberries or pumpkin. You can find some great classics here, too, but come for wacky brews you probably haven't tasted before.
The taproom is open with some patio space and tons of lime green accents. It's not the most design-focused brewery out there, but it has some cool touches like being able to peep into the barrel area and a fireplace for winter drinking.
Location:2810 Larimer St
Hours: 4pm-10pm
Favorite Beer: Shrug & Destroy
Overall Score: 22
Design: 5
Risk-taking: 4
Price point: 5 (averaging $5-6, with $2 small pours available)
Taste: 5
Service: 3
You'll see this brewery stick out from afar as it's covered in a bright, colorful mural that just sparks so much joy. The taproom is small but has tons of outdoor patio seating in a garage door format. It was a fun place to hang out and have a pint or two! The only major downside of OMF is that they don't open until 4pm. We kept wanting to visit earlier!
Location: 2945 Larimer St
Hours: Noon-10pm
Favorite Beer: Mountain Standard
Overall Score: 19.5
Design: 4
Risk-taking: 2
Price point: 3.5 (averaging $7-9, with $3 small pours available)
Taste: 5
Service: 5
We accidentally left without checking out Odell's rooftop bar (and instead saw in from the street below as we walked to our next stop.) The lower bar is full of natural wood and has that industrial chic brewery vibe happening. I imagine the rooftop is just as nice!
What made Odell stand out to us is their service. The bartender was by far the friendliest and chattiest one of all the breweries we stopped at. Odell also has a cool tipping policy – they only take cash tips and EVERYTHING is donated to a charity of the month.
Location: 2920 Larimer St
Hours: Noon-11pm
Favorite Beer: Carrot Elderflower IPA
Overall Score: 18
Design: 5
Risk-taking: 3
Price point: 4 (averaging $5-6)
Taste: 4
Service: 2
Ratio is clearly where the party is at. At Noon, that's where the crowd was hanging out and it's easy to see why! The taproom is large and very open with an inviting garage door and patio. The inside is decorated in an eclectic way, with murals and tons of color pops. While your sipping brews, listen to 90's punk rock.
Location: 2201 Arapahoe St
Hours: Noon-10pm
Favorite Beer: Hopnaut
Overall Score: 17
Design: 3
Risk-taking: 2.5
Price point: 3.5 (averaging $5-7)
Taste: 4
Service: 4
There are two locations. One on the edge of 5 points and RiNo, which is their brewery & taproom. There's also another location on 35th that is their packing hall and taproom. We visited the classic brewery location on Arapahoe, which has an approachable and airy dive bar feeling to it.
Great Divide is known for making solid classics in my opinion. There's a few "risky" beers but come here for a fantastic pint of your favorite IPA or Ale.
Location: 1309 26TH STREET
Hours: 11am-10pm
Favorite Beer: Cheatcode by Cerebral Brewing
Overall Score: 23
Design: 4
Risk-taking: 5
Price point: 5 (pour as you go)
Taste: 5
Service: 4
First Draft isn't technically a brewery, but instead a "Pour Your Own" tap list joint. We love places like these because we can try a LOT of different beers without breaking the bank (or getting completly wasted.) These systems work with a card or a bracelet that you scan every time you pour yourself a beer. You get charged per oz. We tried about 7 beers here and ended up paying $10 in total. A steal!
Because they hand-select the best beers from other breweries, you know the beer will be amazing here. They also have wine, kombucha and a cocktail on tap. But, that means they are the highest rated stop because they curate the best & make it easy to spend very little.
All The RiNo Breweries
So, those are all the RiNo breweries we got to visit in person! Here's a list of ALL the breweries in RiNo:
10 Barrel Brewing
14er Brewing Company
Bierstadt Lagerhaus
Black Shirt Brewing Co
Blue Moon Brewing Company
Denver Microbrew Tour
Our Mutual Friend Brewing (MOB)
Epic Brewing Company
Mockery Brewing
The Rackhouse
Odell Brewing
Ratio Beerworks
Great Divide Brewery
I suggest starting at Epic and working your way back towards Our Mutal Friend (that opens later, at 4pm.) For dinner, head to Cart Driver for amazing pizza served inside a shipping container!
Other Awesome Denver Breweries
Ok, so we went beer tasting at a couple of other breweries that weren't in RiNo but I wanted to highlight them here in case you are considering stopping by one! The whole city is just covered in craft beer, it felt like you could sneeze and land in a new brewery.
Location: 1695 Platte Street
Hours: 11am-11pm
Favorite Beer: Princess Yum Yum
Overall Score: 22.5
Design: 5
Risk-taking: 4
Price point: 3.5 ($6-7)
Taste: 5
Service: 5
Denver Beer Co is a beer garden! Located in the Lower Highland neighborhood, we loved sitting on their patio soaking up the sunshine while sipping on tasty pints. They have some interesting brews here, especially their Princess Yum Yum which is a bit pink and supports breast cancer research! There's a food truck that is sometimes parked next door and they're dog-friendly. Make sure to stop by for a pint when you're checking out the Highland area!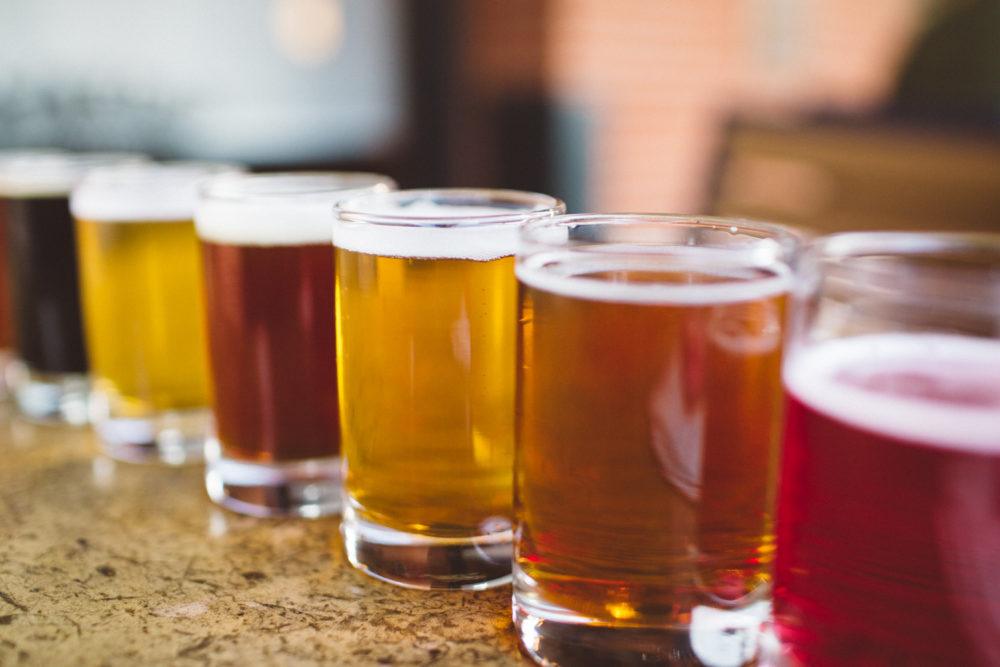 Location: 1634 18th St
Hours: 11am-2am
Favorite Beer: Rocky Mountain Oyster
Overall Score: 18.5
Design: 2
Risk-taking: 5
Price point: 3.5 ($6-7)
Taste: 5
Service: 3
Wynkoop is a brewpub & restaurant located right across the street from Union Station. I liked their patio but they have more of a restaurant feel than a brewery vibe. We stopped by for happy hour one evening as we were exploring and the place the packed with office workers grabbing dinner and drinks.
This wasn't my favorite place, it just felt too crowded and loud. But we loved doing a flight here and trying a bunch of beers like their Chili Beer and one made with rock climbing chalk!!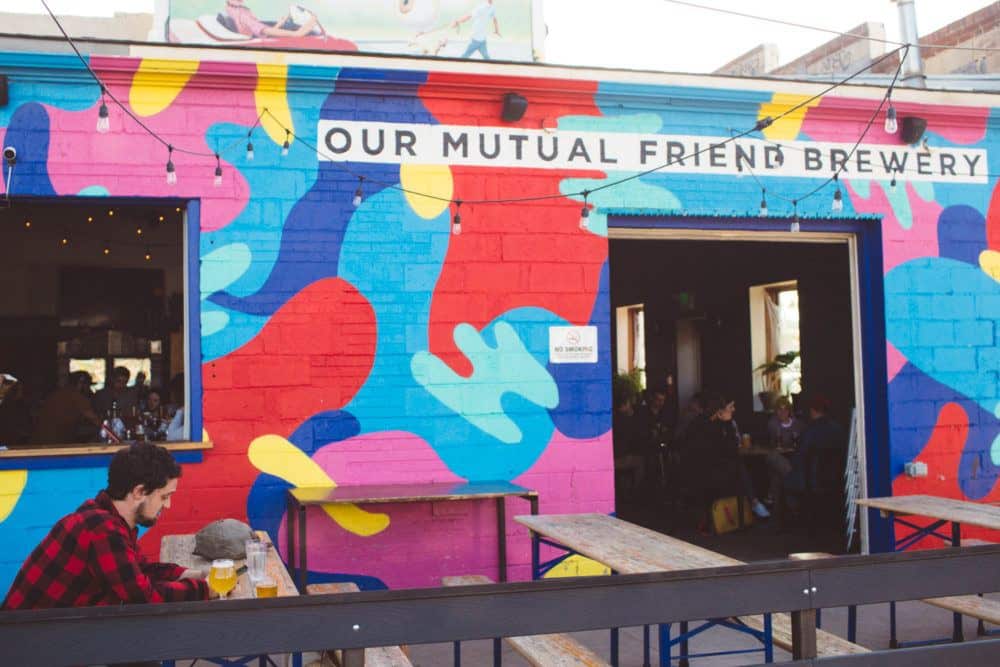 Have you done any Denver brewery tours or maybe live in Denver and want to weight in on this list? I'd love to hear your thoughts on what you think are the best breweries in Denver Colorado! Leave a comment below. Also if you have any questions, drop a comment or DM me on Instagram @thewhimsysoul and I'll be happy to help.
Other posts you may like
3 Days in Denver: Where to stay, eat & play!
12 Denver Murals That Scream "PUT ME ON INSTAGRAM" (+ Addresses)