Who else has been dreaming of a visit to Mono Lake to see the fantastical tufas up close and personal?
While up catching fall foliage in June Lake and the Eastern Sierras a few weeks ago with my bestie Justine, we wanted to do a sunrise photoshoot at Mono Lake Tufa State Natural Reserve.
We walked away with amazing photos, beautiful memories and tons of tips to share for you!
Oh, and if you're like me you are probably thinking "I know tufas are pretty but like… what are they exactly?"
Tufas are rock towers made when underground sources of calcium-dense water percolate up through mineral springs and volcanic vents to mix with the carbonate-rich lake water of Mono Lake.
And no, before you get ahead of yourself: there's no big mineral hot springs pools to soak in on the shores of Mono Lake (that I know of anyways) but head to nearby Bridgeport for a few great ones if that's your thing.
Important: Do NOT Step Or Sit On The Mono Lake Tufa Towers!
Despite many signs around the park, I saw at least 2 nature photographers step on and walk over parts of the tufas and one even climbed up onto a tufa cluster.
Be VERY mindful of where you step. There are clear sandy footpaths you should try and stick to. Walk around a Tufa Tower to get to the other side instead of climbing over the rocky base and always step on those footpaths (they're easy to see and for the most part, can take you anywhere you need to go to get a great photo).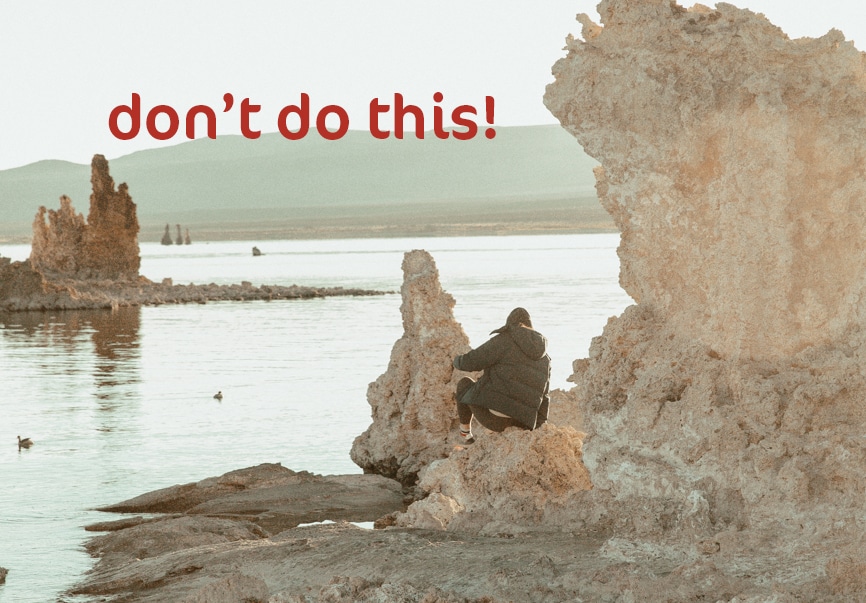 It is your job as a visitor to make sure the Mono Lake tufa formations stay healthy for generations to come. I know a lot of people like to hate on "influencers" who go into the wild, but the worst offenders I saw were nature photographers with their tripods who didn't care if they were harming the nature they were trying to capture.
Remember – this lake is over 1 million years old and your photo is not anywhere close to being more important than this ancient formation.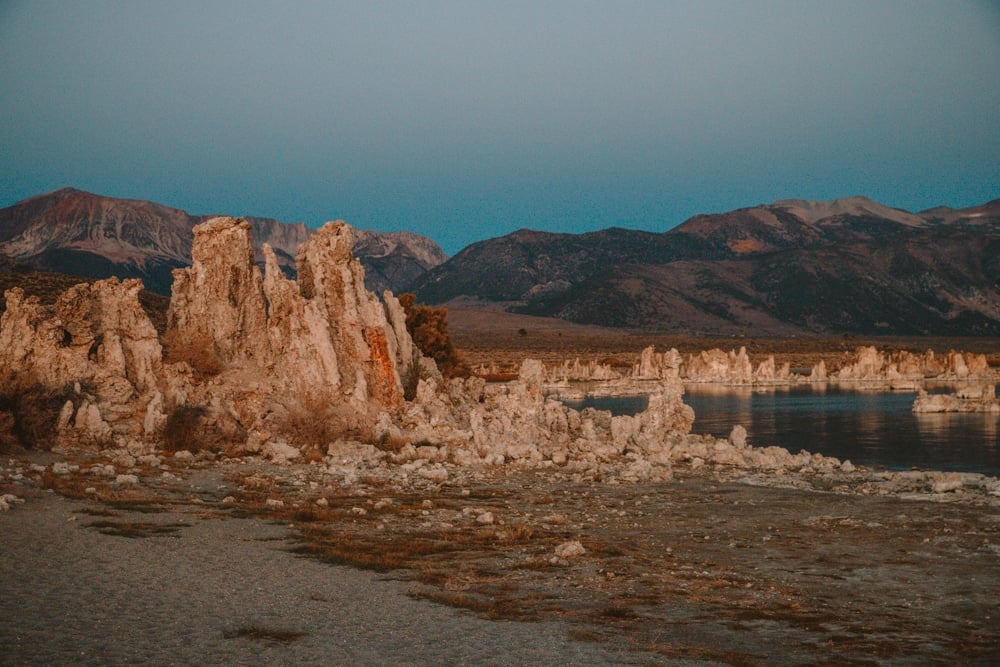 Ok, rant over!!
Exactly How To Find Mono Lake Tufas (& Get Beautiful Photos!)
Now, let's chat where to see these bad boys.
Head To Mono Lake South Tufa Area
Arguably the best area is to see huge clusters of tufas that look like they're out of an alien planet or something is the South Tufa Area.
This section has a lot of tufa clusters and a killer view of the mountains that is illuminated during sunrise. During our visit we saw the whole valley, water and sky turn pink for a few minutes, too, it was beautiful.
Park in the lot and make sure you already have a California State Parks pass ready for your dash, as there isn't a ticketed gate.
Look for the Mono Lake Boardwalk to get access to the waterfront.
From here, hang a right and head into the towers that look like that one scene from Neverending Story. I think this is the best trail for photos as it has the most diverse and robust tufa towers.
It's not an uphill walk, but it will take about 15-20 minutes to walk from the parking lot to your final point so keep that in mind if you are coming for sunrise photos.
Pro-tip: watch for wildlife when driving to the park! On our road trip, we sadly hit a bunny as we drove to the lake (it did that thing where it jumped out in front of our car suddenly and we couldn't break in time) Learn from our lesson and drive extra extra slow if you are visiting for sunrise.
We came for sunrise on a weekend and had at least 30 other photographers to work around. Some where really nice and shared spaces, some were rude and would walk right into other people's shot.
So, if you're coming for sunrise, be nice to other people. If you're just coming as a visitor, you don't have to come for sunrise (though I think it's insanely beautiful watching this landscape transform!)
Mono Lake County Park
Another area to see tufas is the Mono Lake County Park, which is more on the North side of the lake. There's not as many here as the South, but most photographers head to the South area so you may have this more to yourself in the mornings.
This area of the lake has more trees and a green park feel vs South Lake which is all rocks and brush.
Old Marina
Lastly, there's the Old Marina area which I have net yet been to, but has a few tufa areas to see!
Pro-tip: There's the Mono Basin National Forest Scenic Area Visitor Center in Lee Vining if you need to chat with a local on anything specific. We didn't go to the Mono Lake Visitor Center on this visit, but I love leaning on the visitor centers in parks to help me safely navigate.
Can You Swim In Mono Lake?
We visited in October so the chilly weather meant Mono Lake swimming wasn't something I wanted to do (I mean, I love alpine lake swims but I had fall leaves to go hunt down!)
According to online forums, you can swim in select areas along the lake. I just went to Utah and visited the Great Salt Lake. Didn't swim in that either, but Mono Lake is also really salty which means you'll be really buoyant if you go swimming!
But you might not want to. It's a salty lake and can attract brine shrimp and hairy alkali flies on the shores. They don't bite but they're like, not cute to be around. For more info, the Mono Lake Committee has a great webpage with resources.
If you are keen to get out on the water, try kayaking Mono Lake instead!! There's a local company that specials in tours and self-guided paddles in the Lee Vining area.
We just stuck with the sunrise prancing about the tufas. As always, we worked up a huge appetite and headed to Latte Da Cafe in Lee Vining for breakfast.
This place is adorable you guys! They have a cute back yard area and makes some of the best breakfast sandwiches I've had in year. I grabbed one with sundried tomatoes and happily sat in these red chairs to soak up the morning sun.
If you have extra time, you should swing by the famous Upside-Down House (above) that's literally an upside-down house. It's so random and fun. It's just on the edge of town.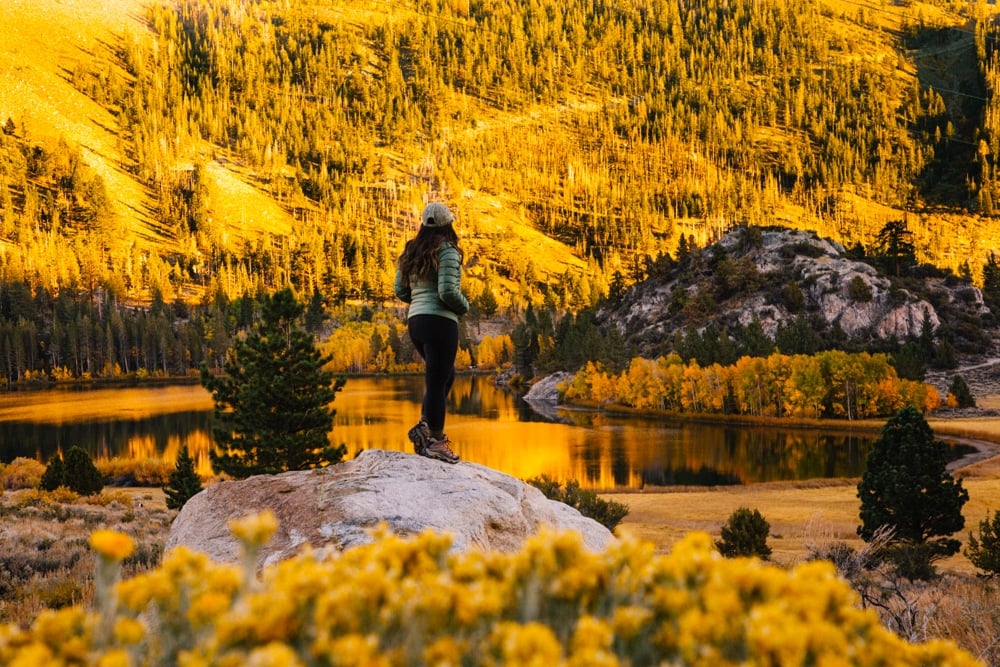 I love Mono County, especially in the fall and winter. Depending on traffic, we like to swing back through Yosemite National Park on the way home to San Francisco.
Or, if you like hot springs, check out nearby Travertine Hot Springs and Buckeye Hot Springs for a little post-sunrise soak! The latter is right by a little creek for cold plunging and it's amazing.
I hope you have a fantastic trip to Mono Lake like we did!! I find myself up in Mono County every 1-2 years and I can't wait to stop by again to see these beautiful tufas.