Last fall, I grabbed the girls and we headed into the mountains for a trip to Mono County to catch fall foliage. On our drive back to San Francisco, we decided to stop by the Travertine Hot Springs. We visited the Wild Willy's hot spring in Mammoth Lakes earlier that year and fell in love with soaking under the open sky.
These Bridgeport hot springs are easier to find but still come with nuances that are important to know and could impact your visit. This is my guide to the Travertine Hot Springs (Everything You Need To Know Before You Go!)

Hot springs in California – and particularly Sierra hot springs – just have this extra magical feeling to them. The locals seem to treasure them and use the hot springs as a favorite hangout after a day of work or a lazy Sunday. They'll bring canned beer and hang out with friends.
They're also extremely relaxing and fun to visit for even a quick dip. As I mentioned above, we made a whole trip into the mountains just to soak in the mammoth lakes hot springs and we made a quick 1.5-hour pit stop at the Travertine Hot Springs to break up a long drive.
Before we start with all the things you need to know about these Bridgeport CA hot springs (like location, what to bring, what NOT to bring, etc) let's go over something real quick. DO NOT TRASH THE HOT SPRINGS. Ya'll, there was so much trash in the woods near the hot springs. Be kind to mother nature. Pack out all your waste. Don't bring glass into the hot springs. Basically, don't be a dick, ok? Let's keep the hot springs clean and safe to visit for years to come!
Psttt: have any questions? DM me on Instagram @thewhimsysoul and I'll be happy to help!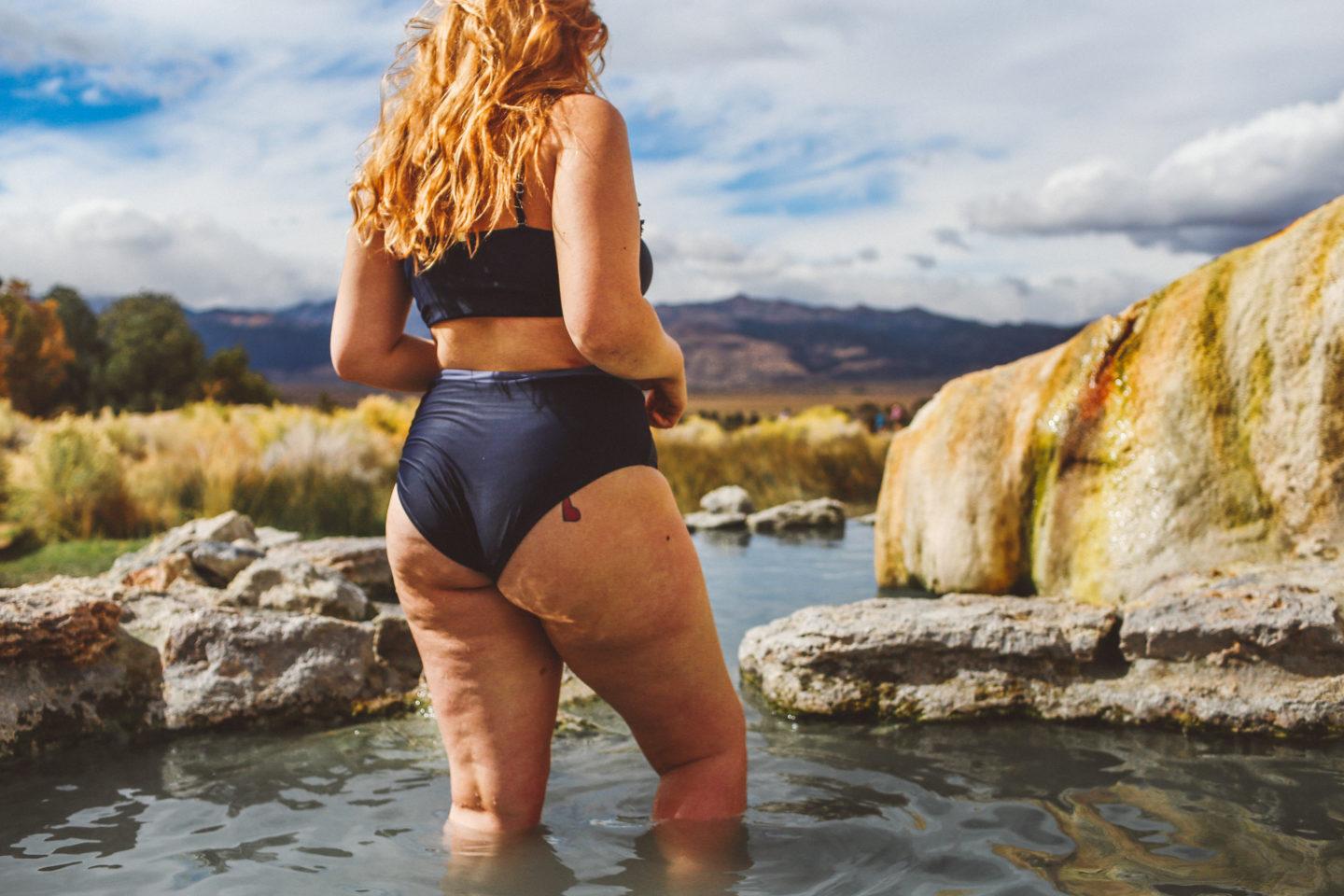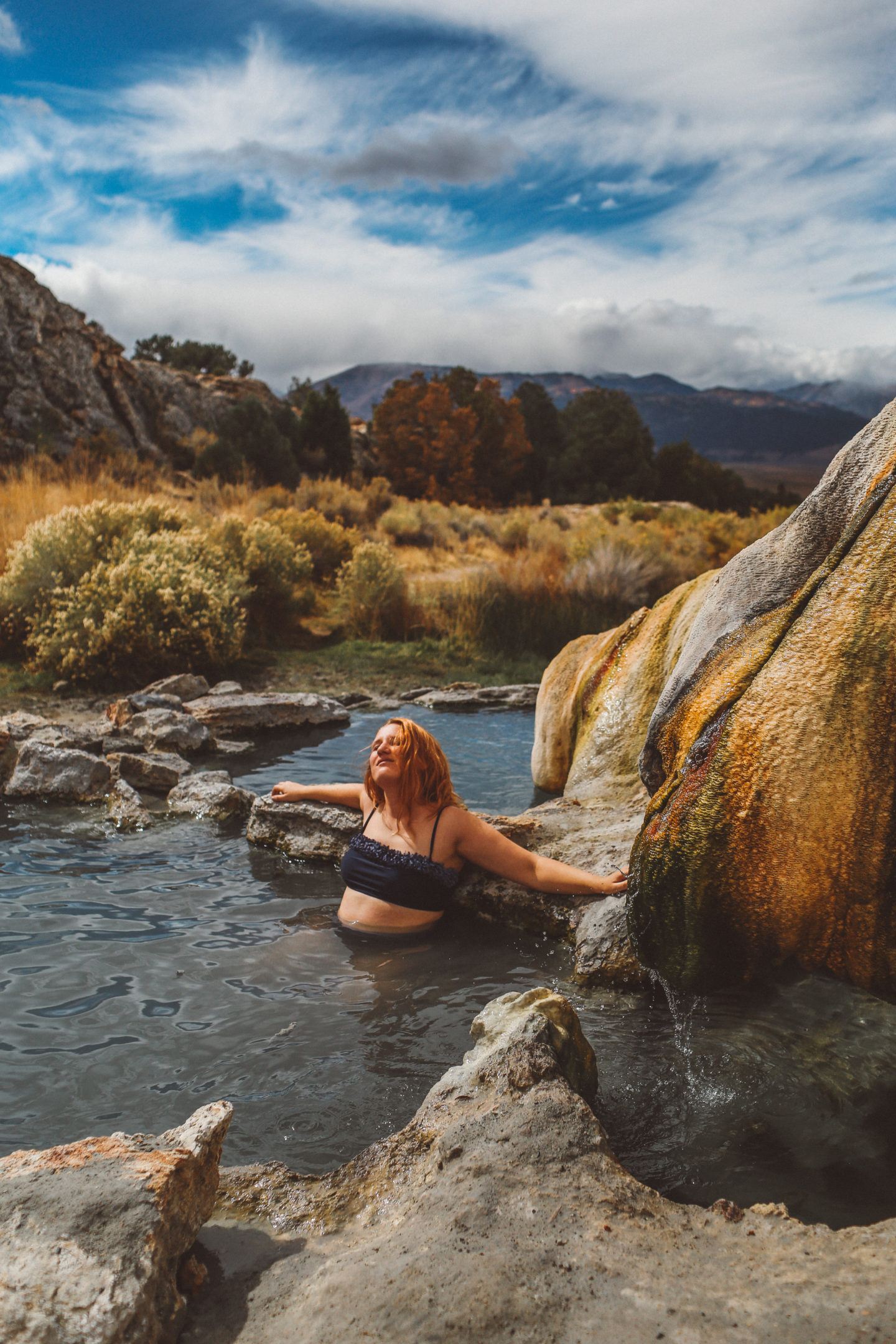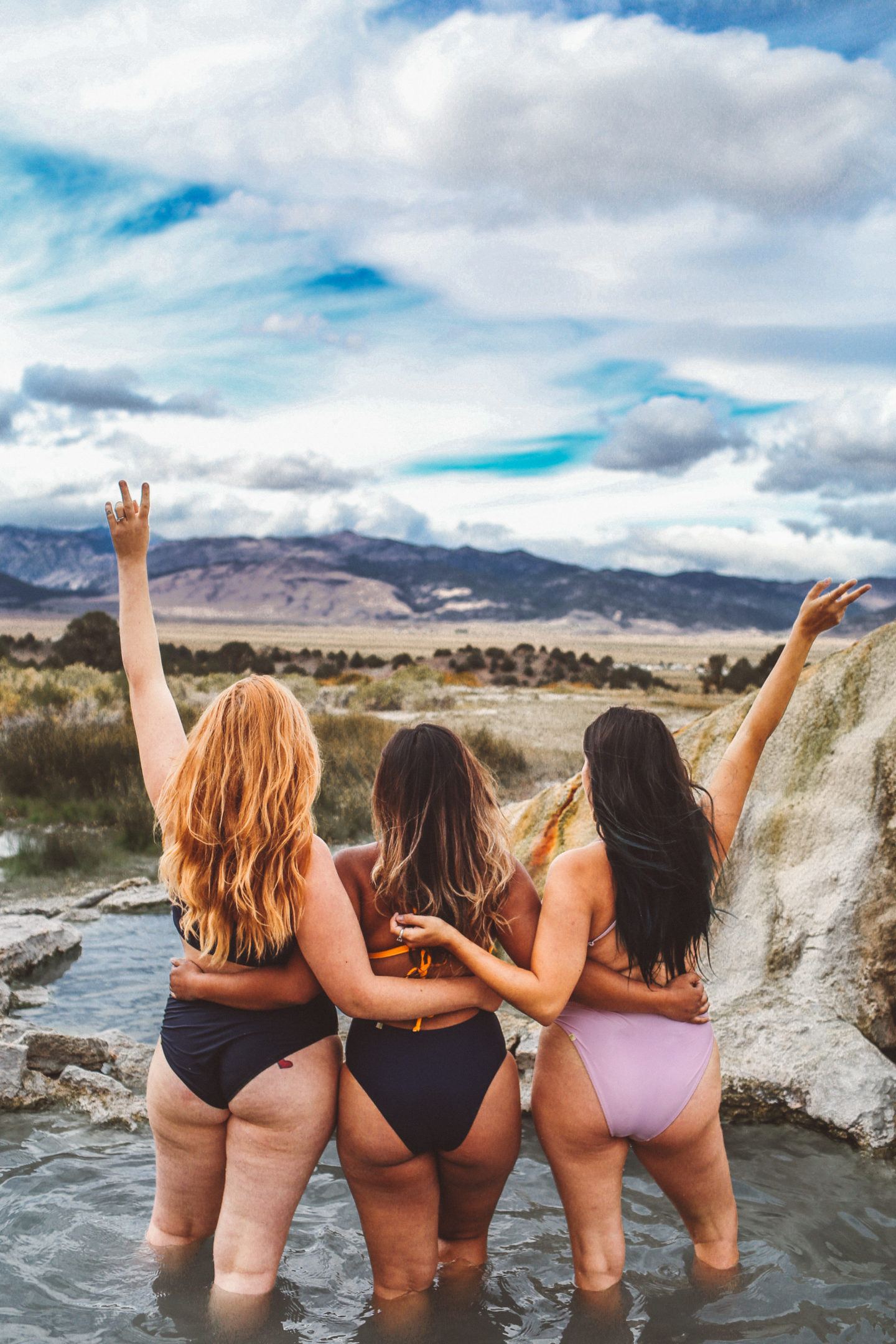 LOCATION OF THE TRAVERTINE HOT SPRINGS
Travertine Hot Springs are located South of Bridgeport off of Route 395 on Jack Sawyer Road.
1. This road doesn't cross the highway, so turn onto Jack Sawyer Road.
2. Take the second left that is at the fork of the road.
3. At some point, this road will turn into a dirt road. Our small car made it, but you'll have to drive slow if you don't have 4WD
4. Keep going until the road ends. You'll see a litte bathroom to indicate you made it! There is no formal parking area. Just park to the side of the road.
6. There is a small man-made pool near the parking area if you want to dip in that, but the natural hot springs are further up, so search for them!
7. They are easy to find – head to the right/behind the bathroom building and keep walking along the ridge. In about 200 feet, you'll find the hot springs next to the rock formations!
There is no travertine hot springs entrance fee. This is on state park land but from what I know, there is no ranger station near here. But let's review real quick: just because people aren't patrolling this area much, it doesn't give you a free pass to be a dick.
These Sierra hot springs have about 5 hot spring pools in total. One near the lot that is man-made, the large pool where most of our photos are taken in this post, two around the corner and two down the hill a bit. The last one is chillier and muddier than the ones closer to the rock formations. The Travertine Hot Springs geology is interesting!
Bridgeport is between Yosemite National Park and Mono Lake/Mammoth Lakes. It's also near Bodie State Park (an old ghost town.) One of these places will probably be your end destination. Good thing the Travertine Hot Springs are easy to make into a quick visit while on a road trip due to their proximity to Route 395.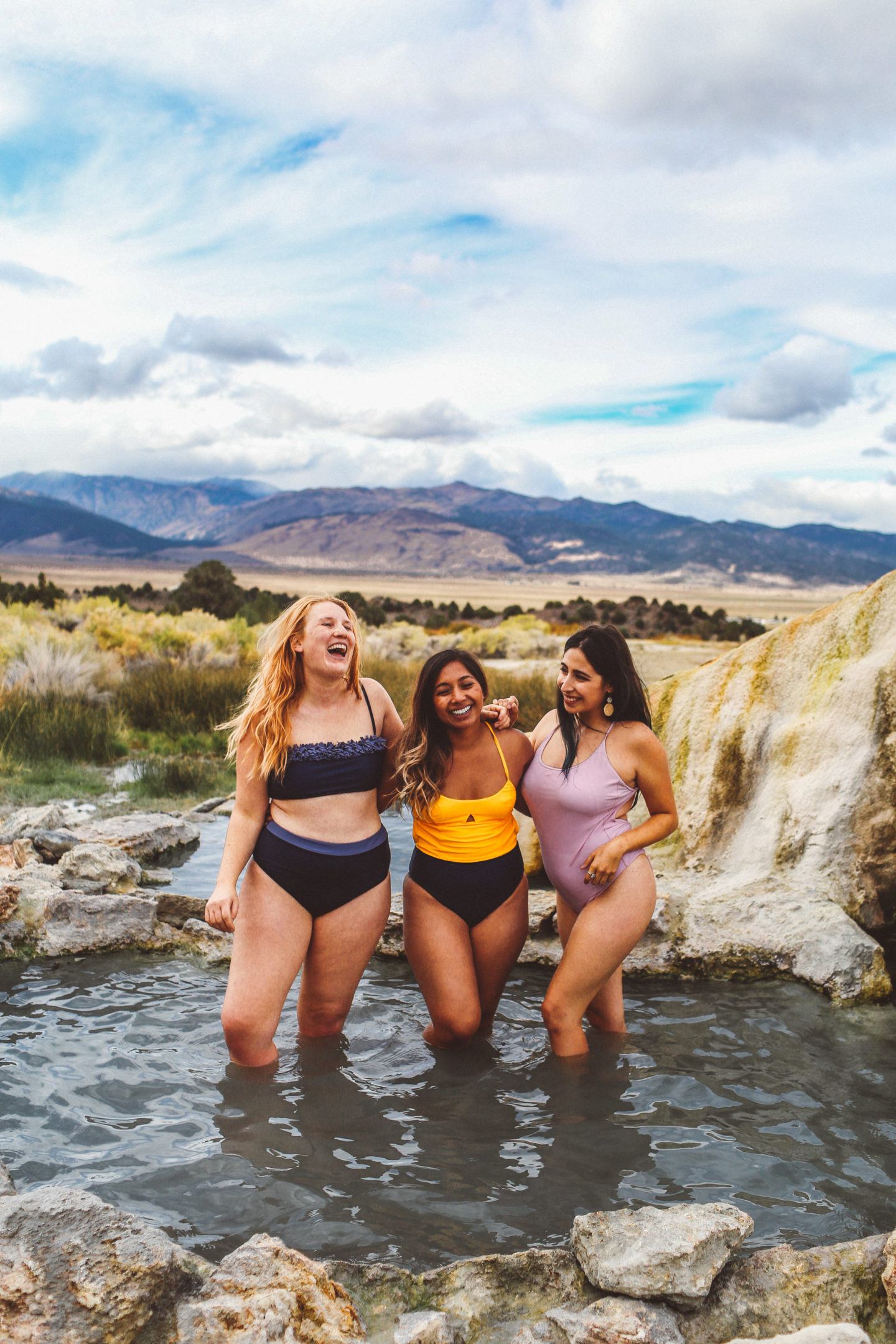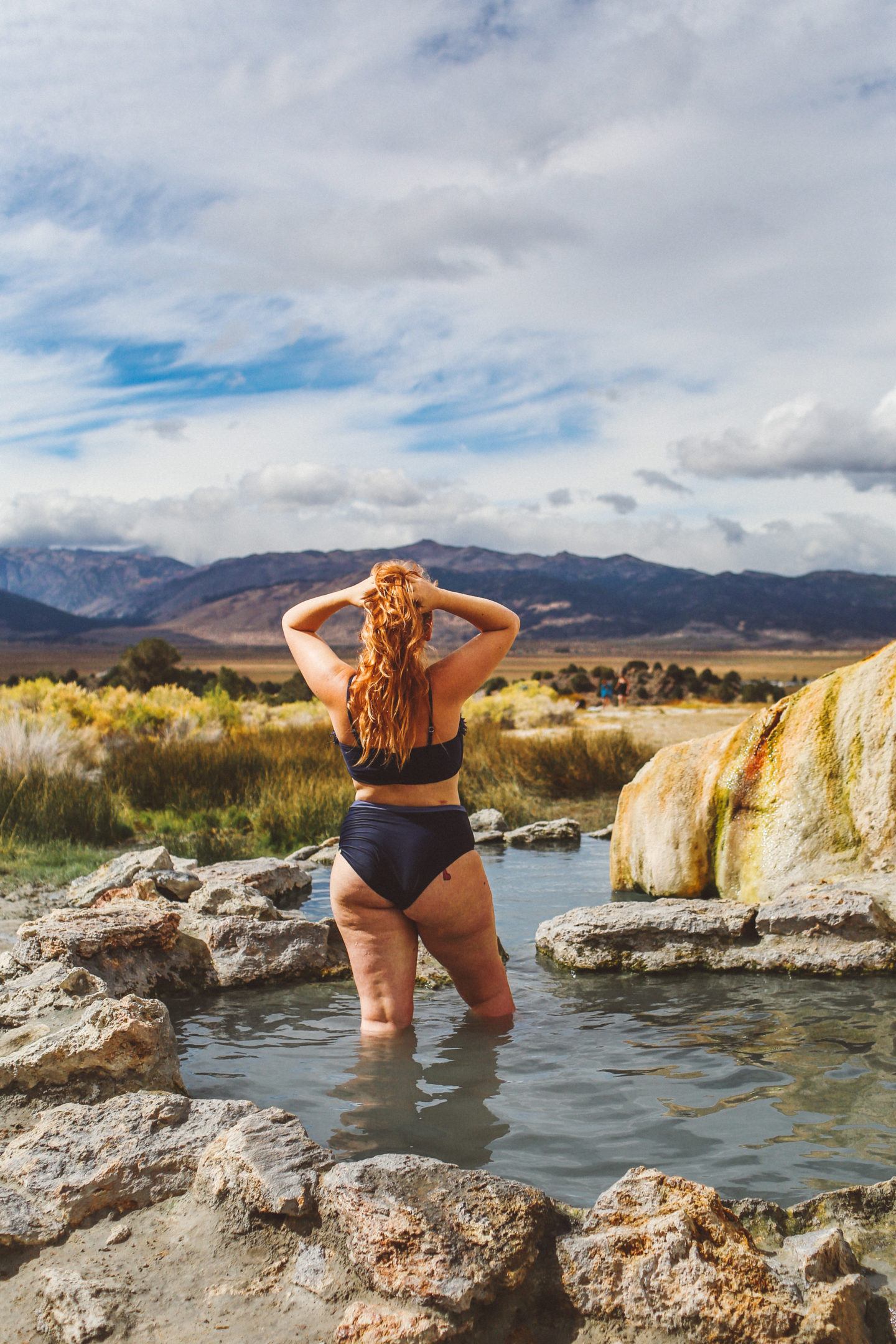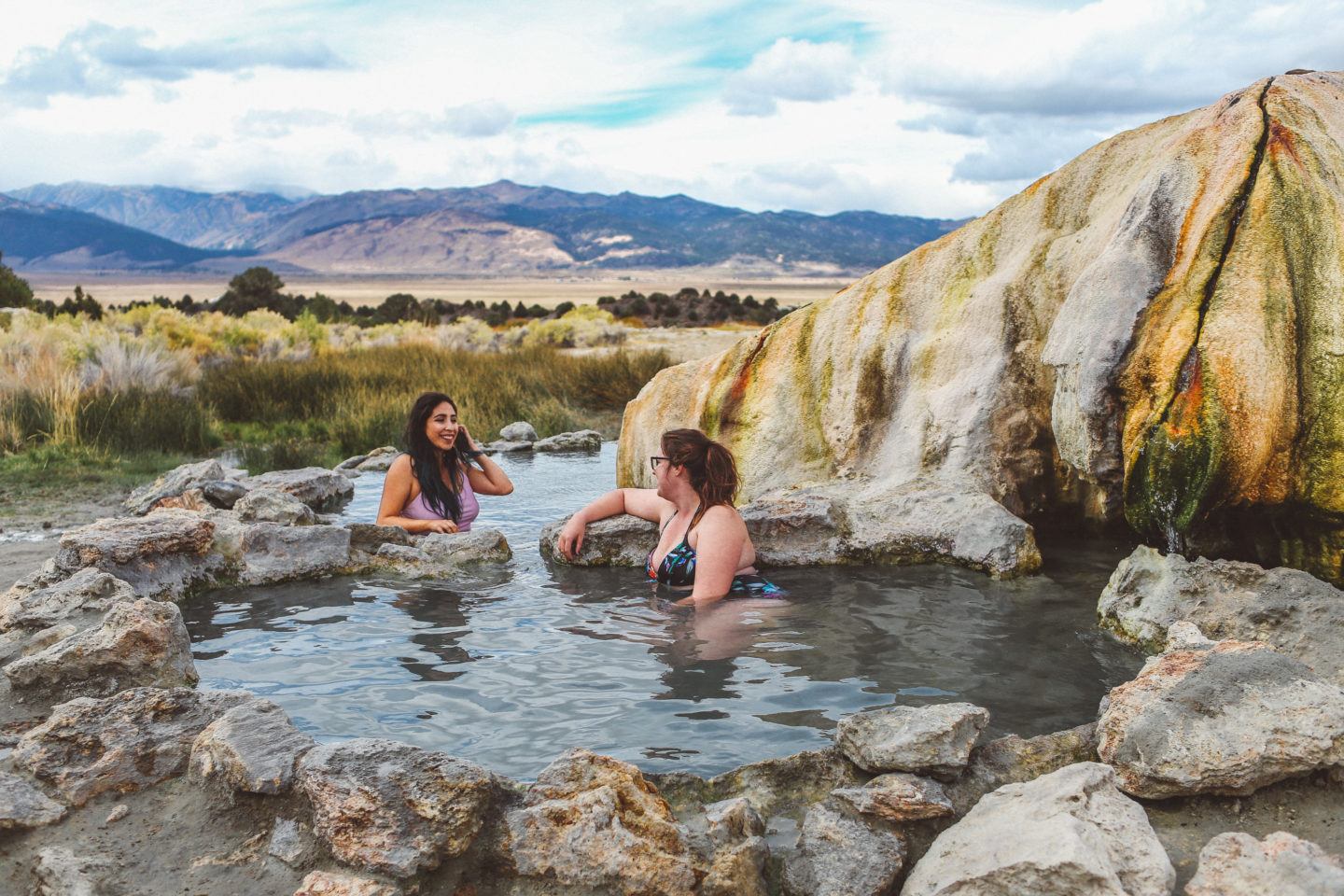 WHAT TO BRING TO THE TRAVERTINE HOT SPRINGS
While there is a small outhouse style bathroom, I can confirm that it's not cleaned very often. (I personally relived myself behind a tree because I didn't want to go inside.) Other than that, there is no other facilities at the hot springs. So, that means you'll have to pack in (and pack out!) everything you'll need!
Sunscreen: You're up in the mountains at a higher elevation! While you're soaking in those great views at these hilltop hot springs, apply some sunscreen!
Swimsuit: The hot springs are clothing optional and others may be indulging in a nude soak. (Warning!) I'm into swimsuits. The sulfur water doesn't affect swimsuits, so don't be afraid to wear on you love a lot! I only recommend not wearing white or light color as the mud *may* stain, though I haven't tested it out yet.
Water: The pools are hot! And will dehydrate you. Bring in water!
Canned beer: The hot springs easily turn into a great chill party spot. Bring canned beer (no glass!) for a fun visit.
Towels: You'll want to dry off with something!
Sandals that can get dirty: The area around the hot springs is really muddy, so your shoes will be covered in sulfur mud.
Trash bags: to pack out your trash!

That's about it! You can change in your car or duck behind a tree to get changed.
*Note: we visited in the middle of October and found the weather to be fairly nice. If you are visiting in the winter or springtime, you may need to bring coats or boots depending on the weather! These are the Sierra Nevada Mountains after all!
WHAT NOT TO BRING
Pretty much just don't bring glass that can break in the hot springs and hurt someone else. Also, don't bring anything that can't get muddy.
TRAVERTINE HOT SPRINGS WEATHER
Ok, let's chat weather around these Eastern Sierra Hot Springs. Basically, mountains are really unpredictable. You have to be prepared for sunny skies and then a thunderstorm rolling in within minutes. When we visited the Mammoth Lake hot springs at the end of May (read that guide here!) we got allll sorts of weather. That first day was warm, I remember taking my jacket off. Then, as we were pitching our tent, a thunderstorm rolled in and soaked EVERYTHING. And about 30 minutes later, the skies were clear again. That evening after the sunset, the temps dropped down to about 20 degrees and you best believe we FROZE in that little tent (great memory, but I would never go camping in the Sierras in Springtime ever again!)
Travertine Hot Springs weather will be no different. Make sure to check the weather before you go! The good news is, it's easy to drive into and walk to from the parking area. And, the pools are all different temperatures. So, if it's cold out, you can warm up. If it's hot out, you can find one that isn't boiling.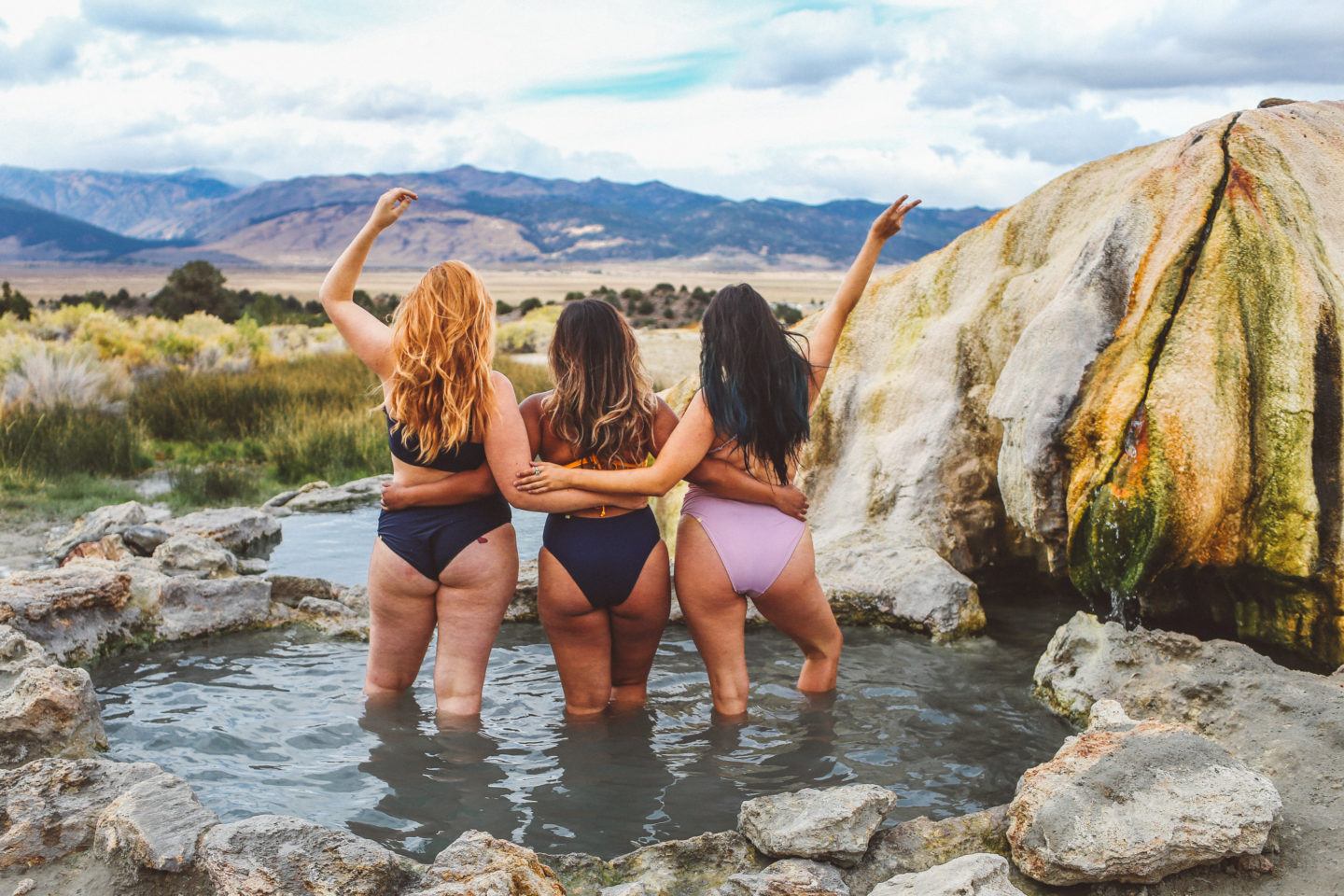 TRAVERTINE HOT SPRINGS HOTEL OR CAMPING?
Thinking of spending more time around Travertine Hot Springs? Sounds like fun! You have two options: a hotel or camping. If you travel to the area, weather may play a part in your decision on whether or not to camp or get a hotel.
Travertine Hot Springs Camping: There is limited camping space is available on the short dirt road leading to the hot springs, but is not allowed in the immediate area of the pools. This area of land is BML land, meaning you can camp for free! You'll have to pack everything in and out, (aka "no trace" camping) as there will be no facilities like at a normal paid campground.
Silver Maple Inn: The reviews on TripAdvisor are pretty good for this family-owned inn. It's dog-friendly, clean and right in downtown Bridgeport. If you are looking for a Travertine Hot Springs hotel, I'd pick this one!
Remember, we drove on through so I didn't actually camp here to spend the night so I can't attest personally to which option is better.
OTHER EASTERN SIERRA HOT SPRINGS
There are SO many hot springs in California (and the United States as a whole!) I keep thinking I've heard of all of them, but then I learn of new ones. So, this probably isn't the full list, but these are the ones I know of and hope to visit all of one day!
Wild Willy Hot Springs: This the hot springs in Mammoth CA I keep talking about! Also known as Crowley Hot Springs or something the " green church hot springs ". I visited in person and this is where I fell in love with hot springs. Read my full guide here for all the info you need.
PS: There are actually a few hot springs near Wild Willy's. Read THIS post for a full guide on all the Mammoth Lakes area hot springs!
Buckeye Hot Springs: This is the other Bridgeport hot springs! The trail in is steep and there are 3 pools. It's near the Buckeye Creek if the hot springs warm you up too much. Camping is nearby.
Benton Hot Springs: These hot springs are on the Benton Hot Springs Campground! There are PRIVATE hot spring pools at each campsite (man-made with piped-in water.)
Fales hot springs: Mono Lake hot springs! Well, near them at least. Sadly, the hot springs are on personal property and currently aren't open to the public.
Kern River Hot Springs: Located in Southern California and along a river.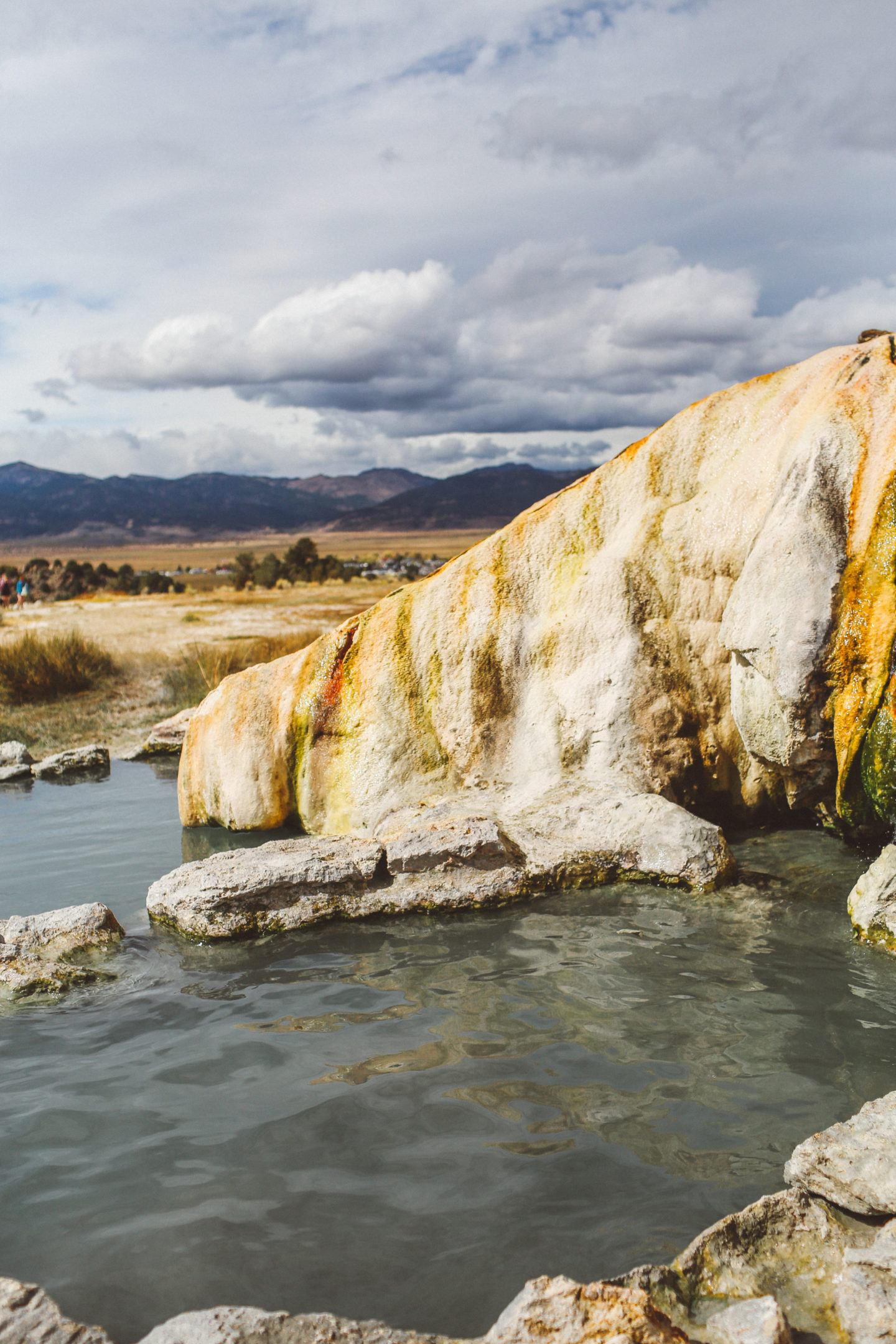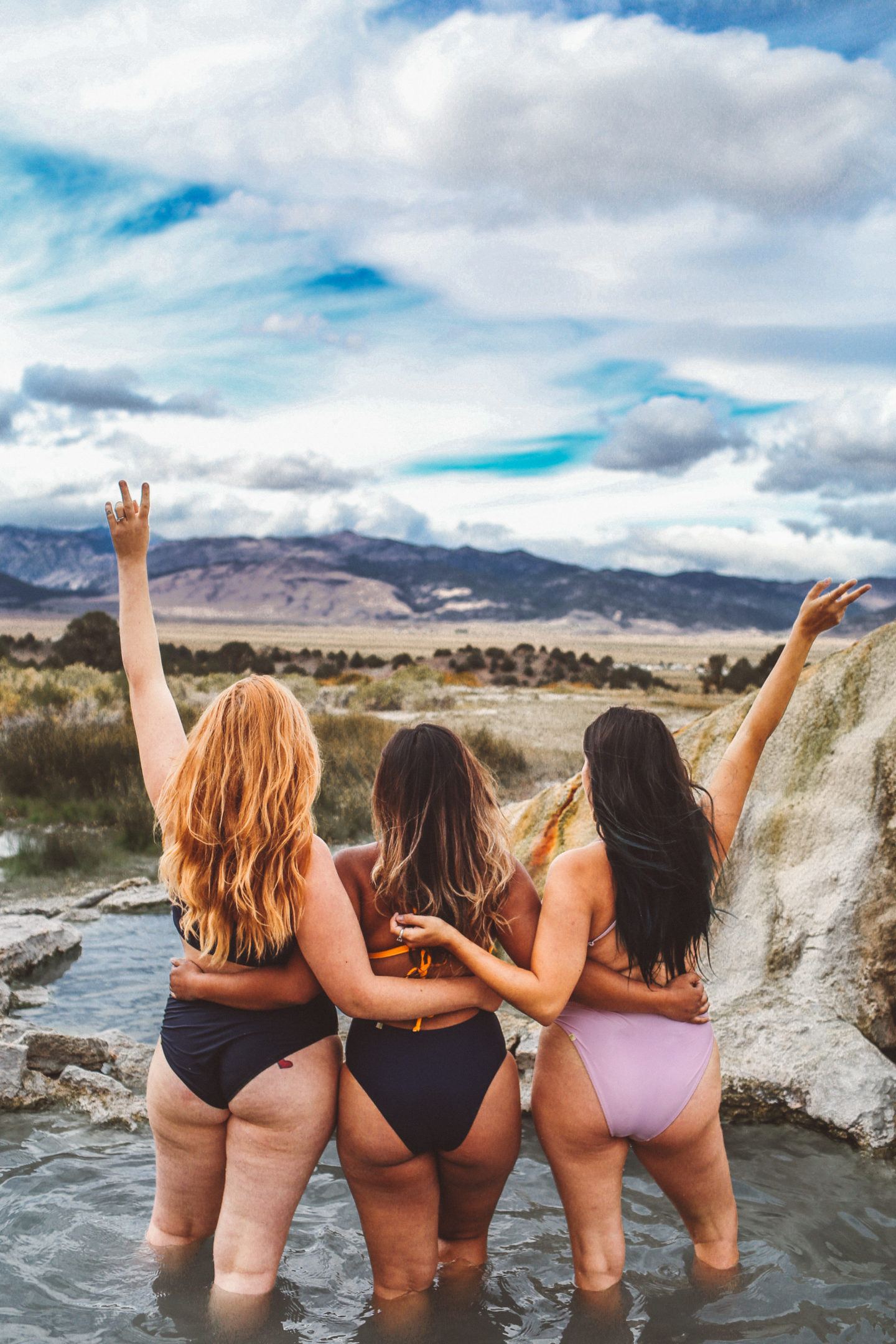 I hope this helps you plan your visit to Travertine Hot Springs! Leave a comment below if you have anything to add that is helpful. If you have questions, leave a comment below or DM me on Instagram @thewhimsysoul and I'll be happy to help!
PIN THIS FOR LATER!