June Lake Loop has been on my radar for the past year after seeing photos online of bright yellow trees dotting a towering mountain with a clear blue lake below.
Throw in charming cottages, history, plenty of bearded men in plaid and promises of craft beer, I got ~all the feels~ and I knew this fall, I'd have to make the trek up to the Sierra Nevadas and discover the best things to do in June Lake Loop for ya'll.
I grabbed some girlfriends & drove into the mountains for a weekend exploring one of the most under the radar lakes in California.
11 Fun things to do in June Lake Loop PLUS Where to Stay, Where To Eat, What To Do & More!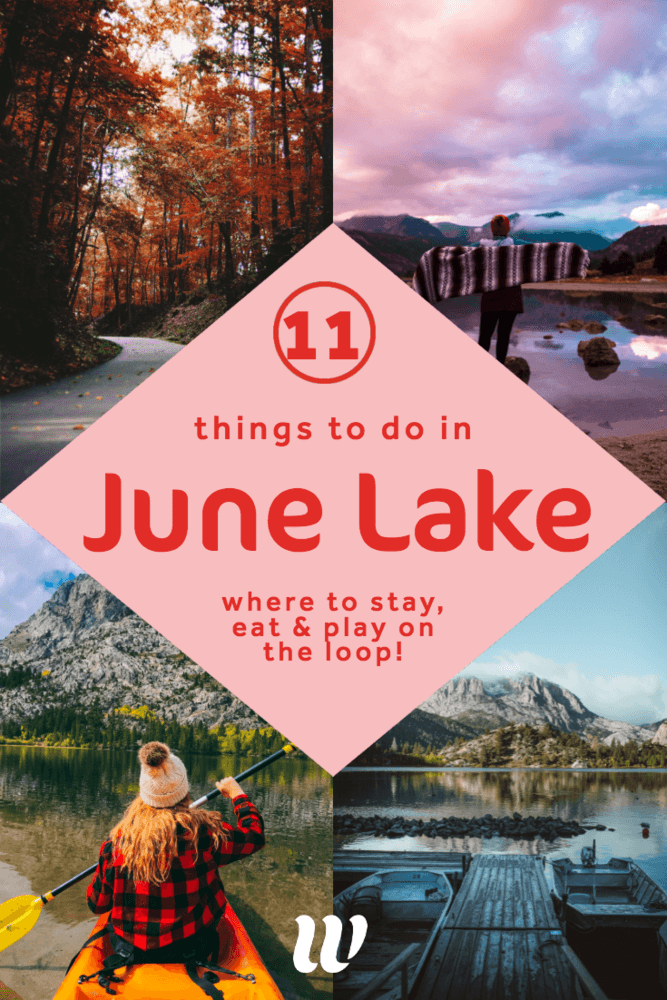 Fall foliage in California is a THING, but you'll probably have to drive into Yosemite National Park or the Sierra Nevada Mountains to find the good stuff (you won't find much by the coast or here in San Francisco.)
Each fall season, for a short window of time, the Eastern Sierra mountains light up in what I call "fire" – aka – orange, yellow and red leaves. But, not everywhere. You have to know where to find it.
And boy, we found stunning fall foliage along June Lake in California this October.
There was one day when we were paddling on Silver Lake, one of the lakes on the June Lake chain, and I remember looking up into the mountain towering above us as seeing patches of yellow trees dotting the peak. So. Dang. Beautiful.
Another morning, we drove past a field full of orange, just like so much orange everywhere we looked. We pulled over the car and stopped to take photos because it's this type of fall colors that I miss from my youth growing up in Wisconsin!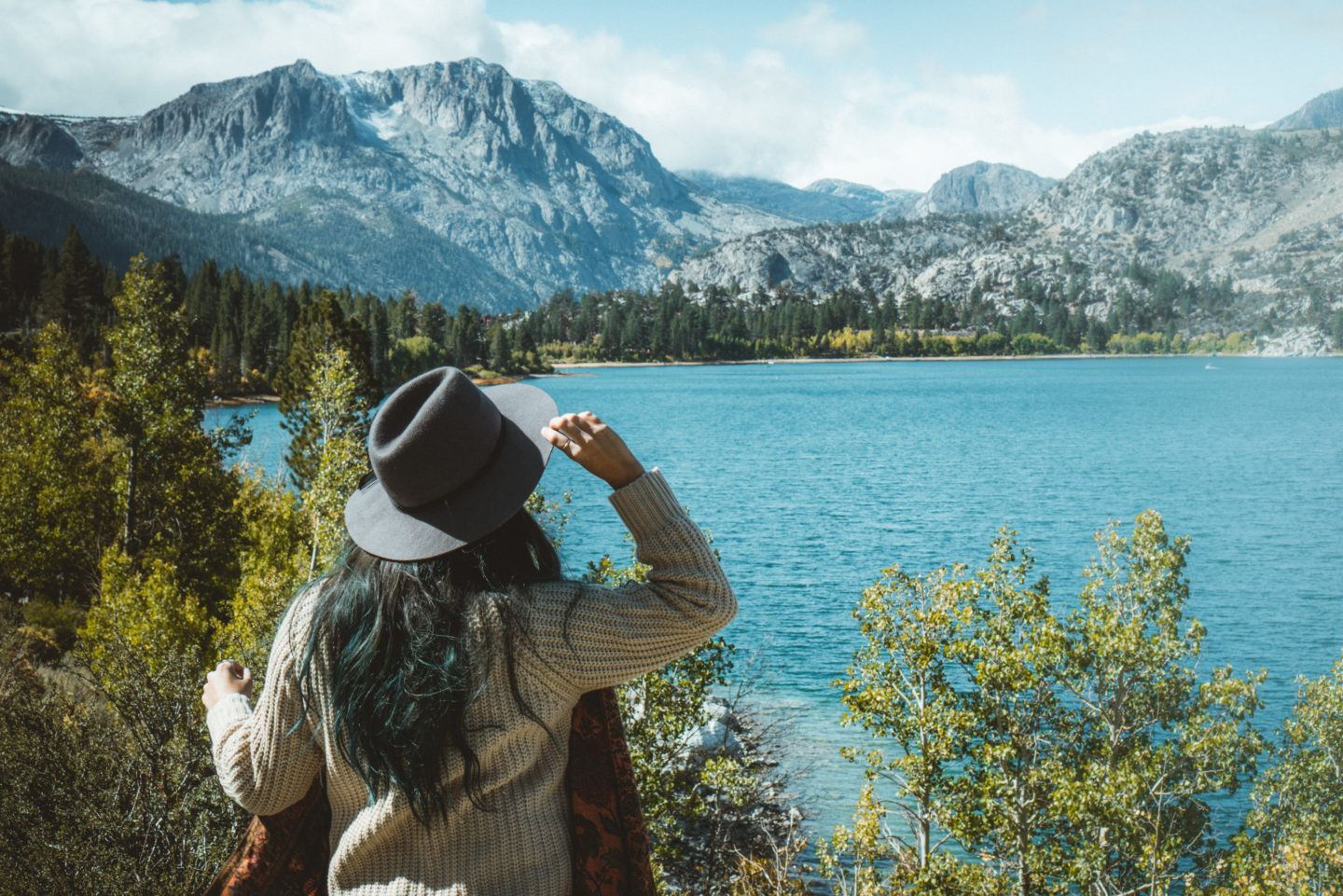 Why Should You Visit June Lake Loop?
First, why should you visit June Lake? It's near Mammoth Lakes and Lee Vining, and a lot of people overlook it which I get – Mammoth Lakes is a lot of fun and pretty darn stunning as well. But, it's bigger, attracts more people (ew, people!) and at the end of the day, isn't June Lake and shouldn't be clumped together with the little mountain town.
So, why should you visit June Lake? Above all, it's beautiful. It's sometimes referred to the "Switzerland of California" and I can see why. June Lake is a small village nestled within the mountains so no matter where you look, you'll see the majestic Carson's Peak towering above you. Some of the cabins in town are designed to look a big like Swiz Chalets and I imagine during a wet June Lake winter when the whole town is covered under feet of snow, it looks even more like Europe.
As you can imagine, the hiking trails here are some of the best hiking trails in the Sierra Nevada Mountains. From easy ones that take twenty minutes and offer a view (Yost Trail!) to steep 3-mile hikes for you pros (Fern Lake!), there's nothing short of amazing ways to walk among nature around June Lake California.
The town is small, but has hidden gems. From a fantastic brewery, a Hawaiian food truck, a modern cafe, a historic camp… there are so many corners that will delight you in June Lake. It's a small town but it's not without charm! Plus, the locals are really nice.
Come for summer fun, cozy winters or – like what we choose – fantastic fall foliage (like my alliteration there?) There are plenty of aspens and other trees that pop bright colors during the fall season here, making June Lake Loop one of the best places to find fall foliage in California.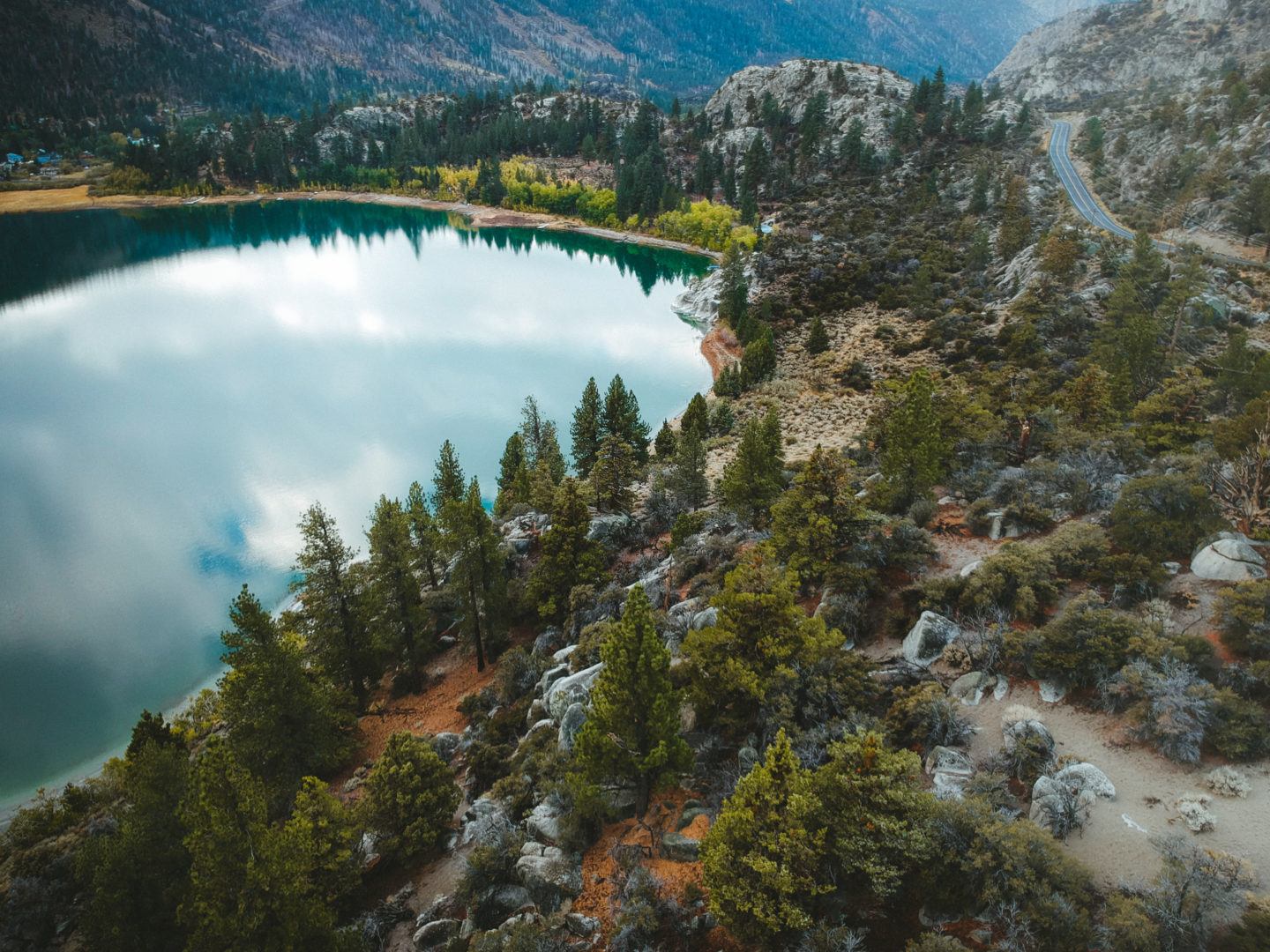 There are lakes, of course. It's is call June Lake for a reason! There are actually four lakes in the area – June Lake, Gull Lake, Grant Lake and Silver Lake, each very different from the next.
Because there are four lakes, June Lake fishing is a BIG thing, but you don't have to fish to enjoy the water! I mean, I personally love grabbing a cup of hot coffee in the mornings and just looking at nature… and taking photos for Instagram.
Silver Lake: This lake is pretty historic, as Carson's Camp was created on the banks of Silver Lake. If you grab breakfast at the Silver Lake Resort, you'll find tons of old photos from the original camp. This lake is great for kayaking.
Gull Lake: Gull Lake is between Silver Lake and June Lake. It looks to be the smallest lake, but the prettiest, in my opinion, because Carson's Peak is RIGHT THERE! It's popular among fishers and boaters, but we enjoyed it from the docks with morning coffee.
Grant Lake: This is the biggest lake and also the most desolate. It's not the prettiest lake – at least compared to the others. It's big, wide and great for water skiing.
June Lake: The lake the town is named after! It's bigger than Silver Lake and Gull Lake and has the town nestled to one side of it. There's also plenty of hiking trails and campgrounds dotting the shores. The proper June Lake Loop distance/drive is just under 16 miles. It's not a state park so it's free to drive!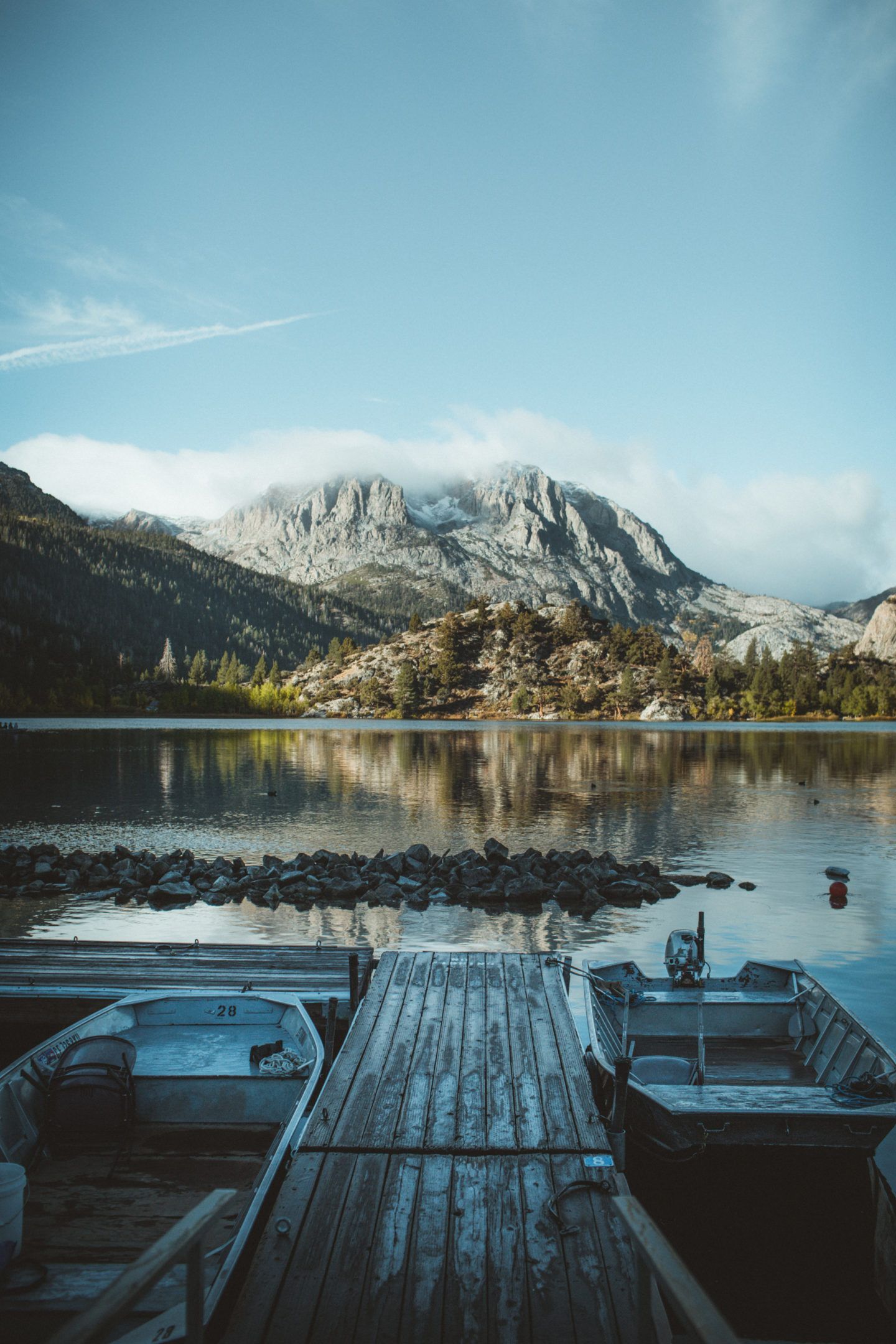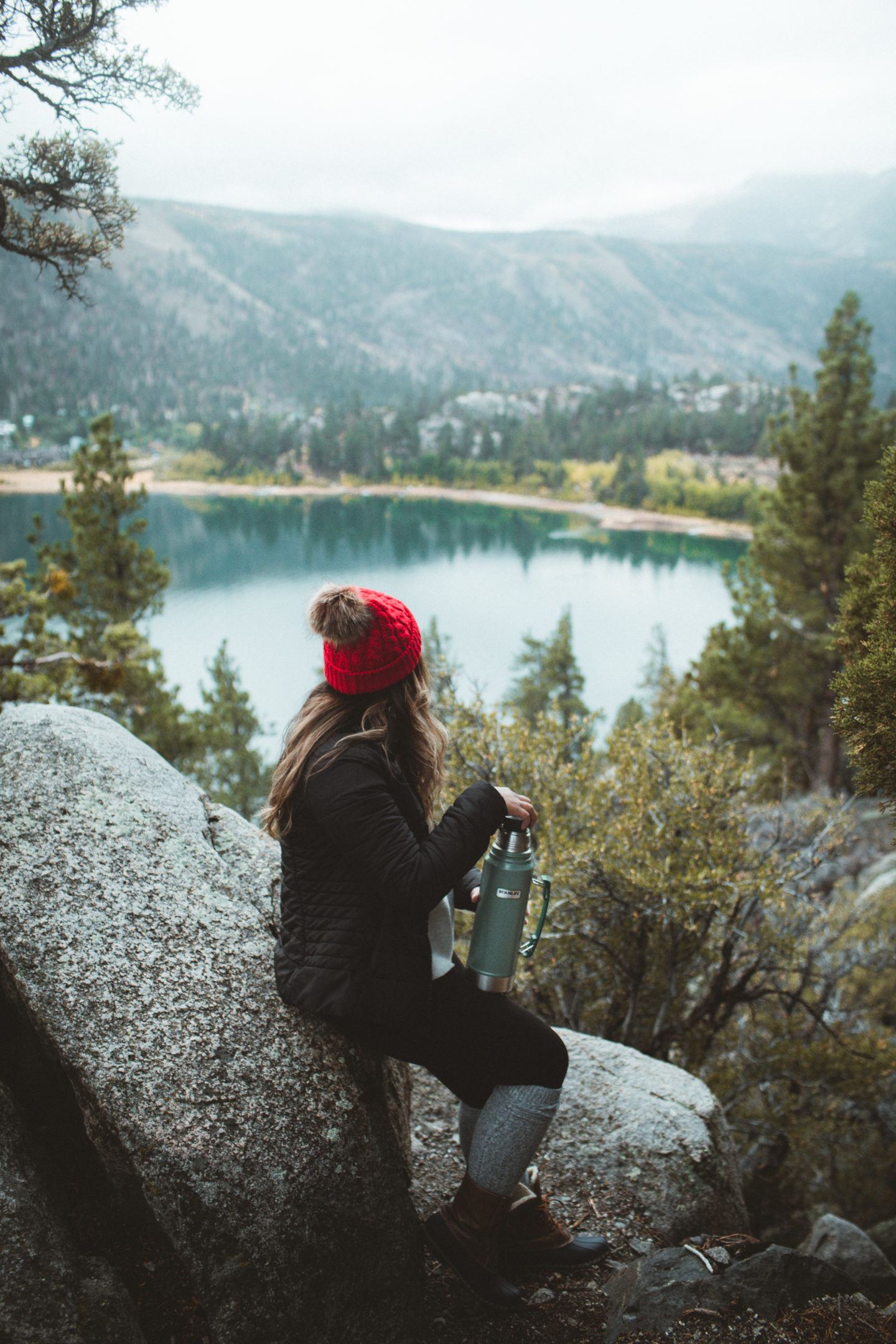 There are so many wonderful things to do on June Lake Loop and around the town of June Lake in general. You won't be bored, even if you don't like to be outdoorsy!
Keep in mind that some of the roads are closed during the winter and you can't access all trails. June Lake is open during the winter, though – people live there! Just keep in mind that if you choose to visit during the cold months, you'll have to plan ahead around weather and road closures.
*A star means we went here, eat here, stayed here, did that thing… basically, we have first-hand experience of the location! Usually, this means we put our personal stamp of approval on the place (and if we don't, we'll tell you why.) Okie, let's get started!
11 BEST THINGS TO DO IN JUNE LAKE LOOP
*Drive June Lake Loop
Obviously, driving June Lake Loop is on the top of the list of things to do in June Lake! It's a quick drive if you don't stop, as it's only about 16 miles. Even though you can drive it quickly, doesn't mean you should. The entire loop is full of hidden corners, trailheads and amazing views of the mountains, lakes, trees and cottages. Carve out half a day to lazily explore.
*Watch a Sunrise Over A Lake
Wake up before dawn, bring coffee and settled in along one of the 4 lakes to watch a beautiful sunrise over Carson's Peak. Any lake will be great, but I specifically recommend Gull Lake on the docks or June Lake at the campground, the later is what we choose.
*Kayak on Silver Lake
You can rent a kayak at the Silver Lake Resort (here) and quickly launch and be out on the water. Kayaking on Silver Lake was one of my favorite parts of our trip to June Lake Loop. The views are stunning, especially during fall when the leaves change color. You can paddle back into the river and wind deep into the mountains. It's a lake paddle, so easy for beginners!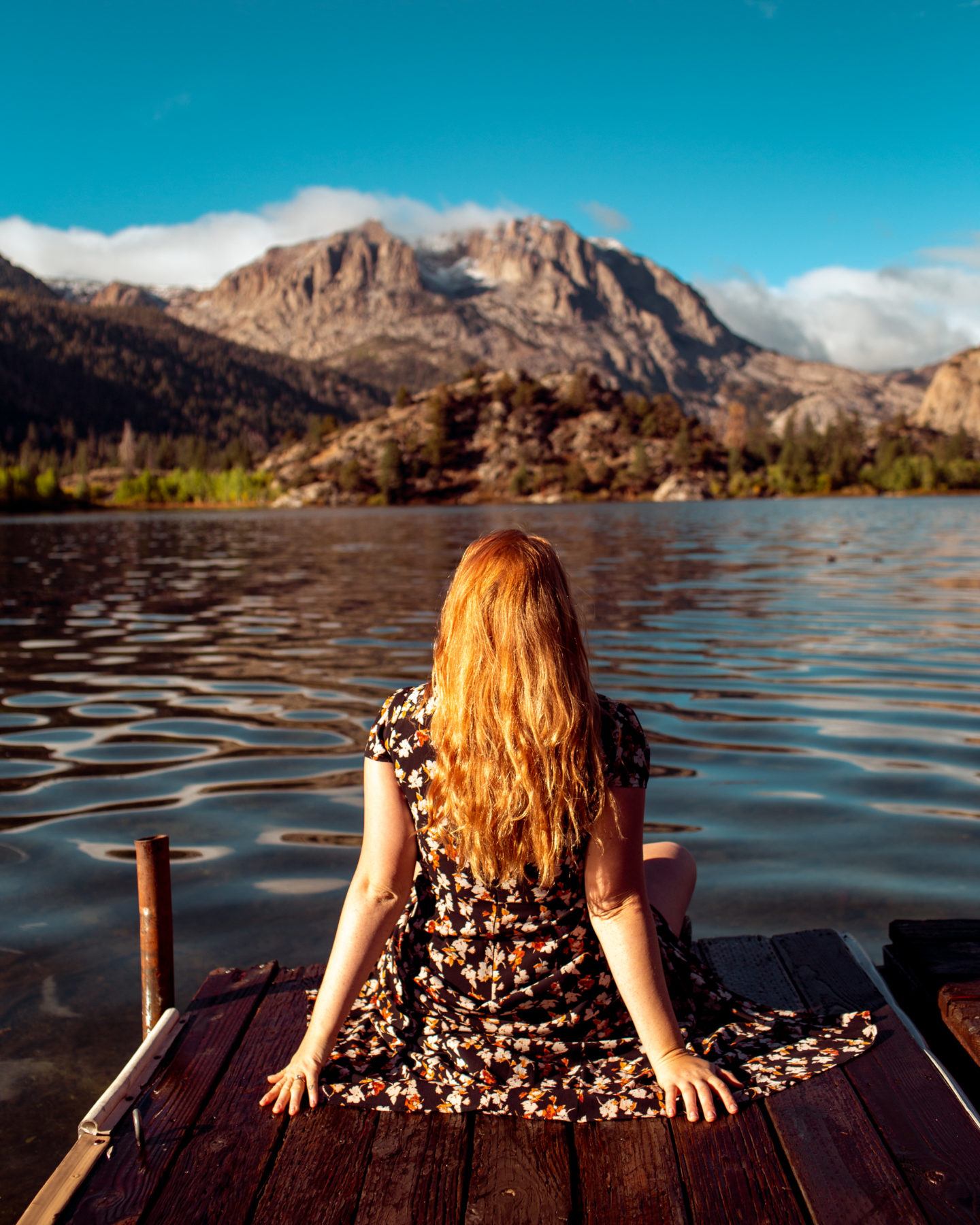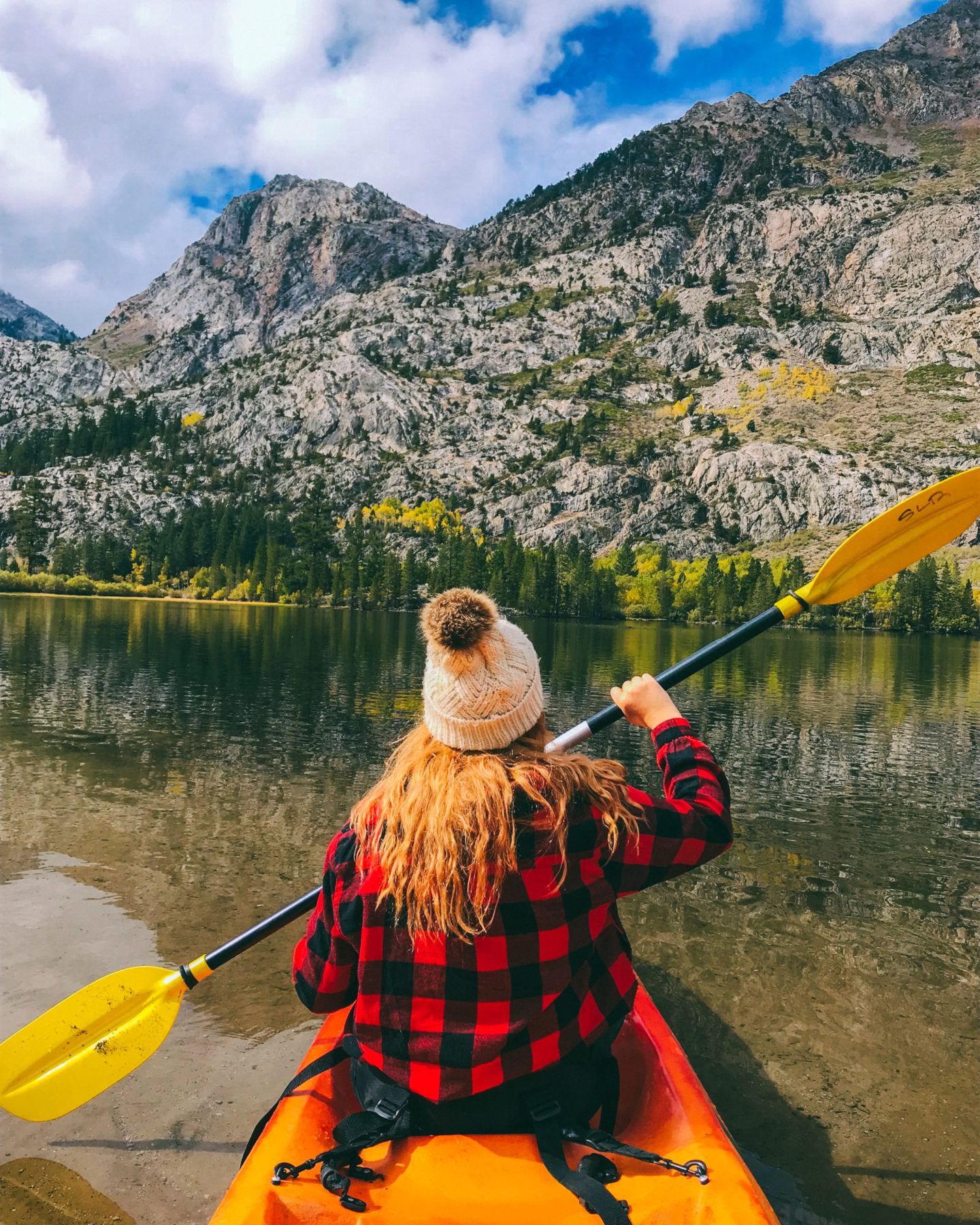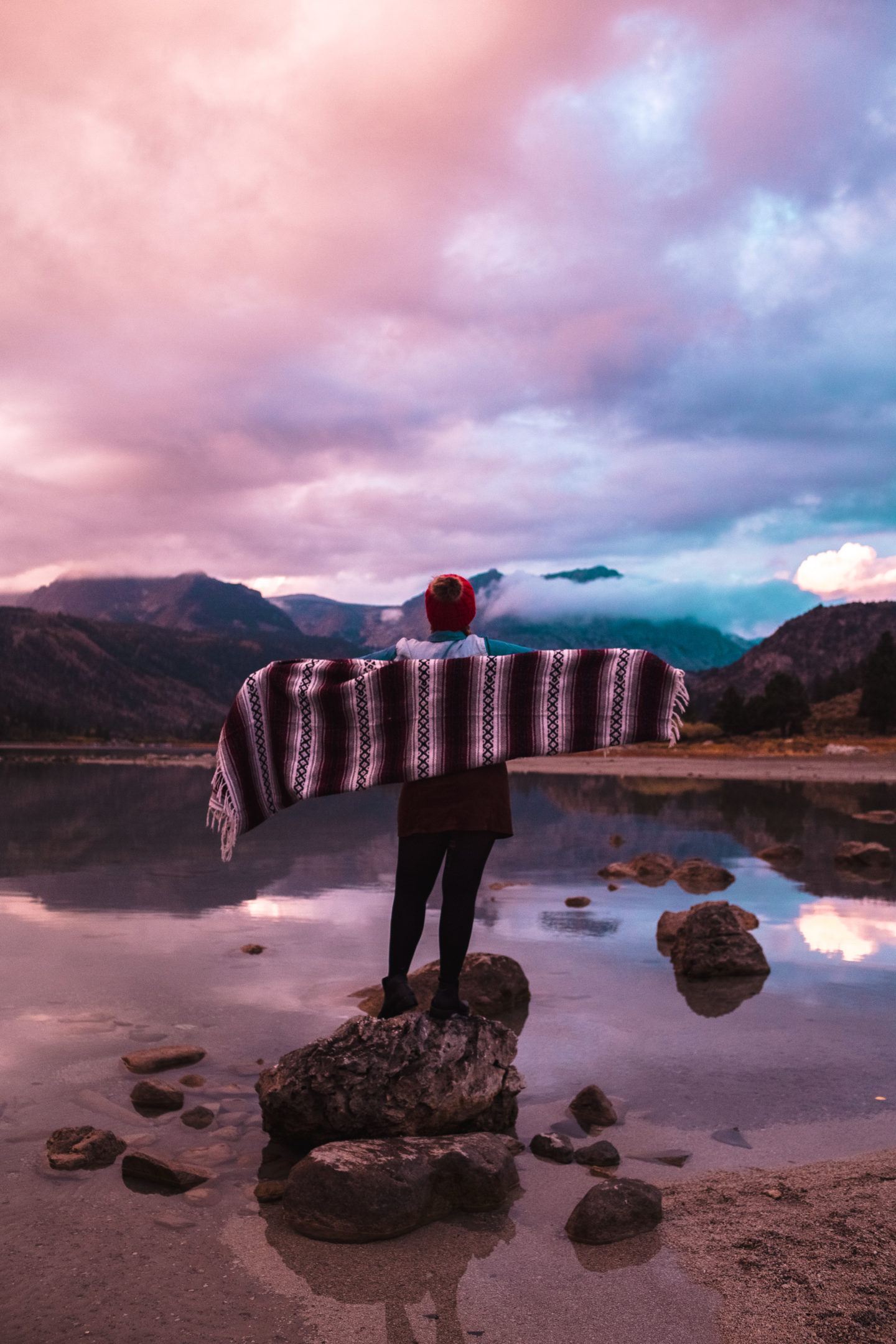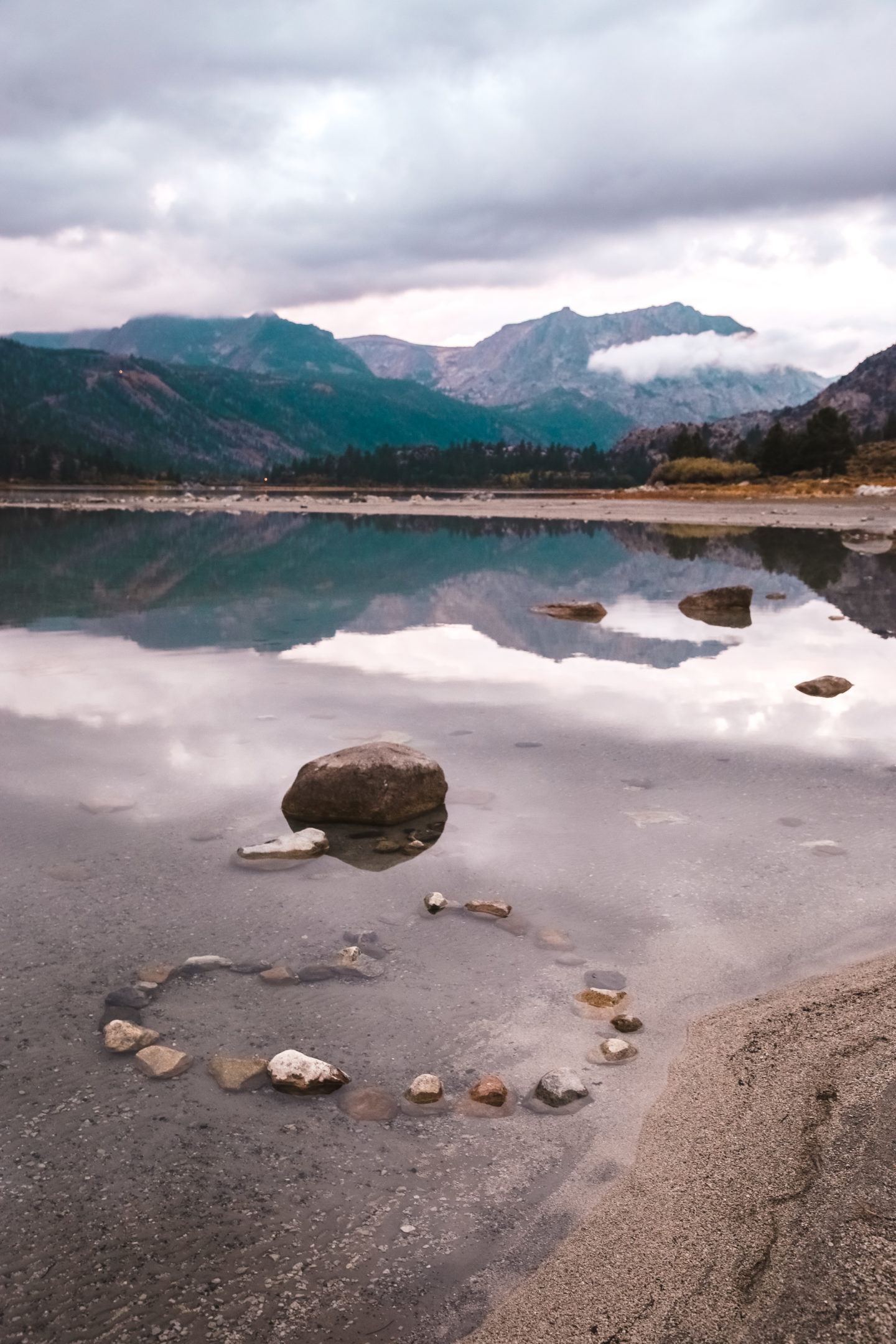 *Eat a Historic Breakfast
The cafe at the Silver Lake Resort is historic and has FANTASTIC food, let me tell you. The cafe is cozy (read: small) but has that perfect mountain cabin cozy vibe thing going on. The food is classic mountain diner food – pancakes, biscuits with gravy, bacon and strong coffee. Silver Lake was originally called Carson's Camp, built in 1916. The cafe closes at 2pm each day.
*Leaf Peeping
Aka, fall foliage hunting! I love looking at all the trees change color. If you like to do that do, come to June Lake Loop for leaf peeing season each October!
See a view on Yost Trail
This trail only takes about 20 minutes to hike up and you'll be rewarded with a view of the town, June Lake and Gull Lake, all in one go. Best at sunrise or sunset for photos.
I'm from Wisconsin – I LOVE craft beer! June Lake Brewing was founded by a couple from San Diego who ran away to the mountains and started brewing fantastic beers. The tasting room is small but has plenty of outdoor seating. A Hawaiian food truck parks outside from 11am-4pm so you can grab lunch and a pint at the same time. My favorite beer is the Lil Walker, but it's worth trying a flight first.
Note: if you choose to take home beer, the growlers are $9 each on top of the price of beer, which isn't noted on the signs.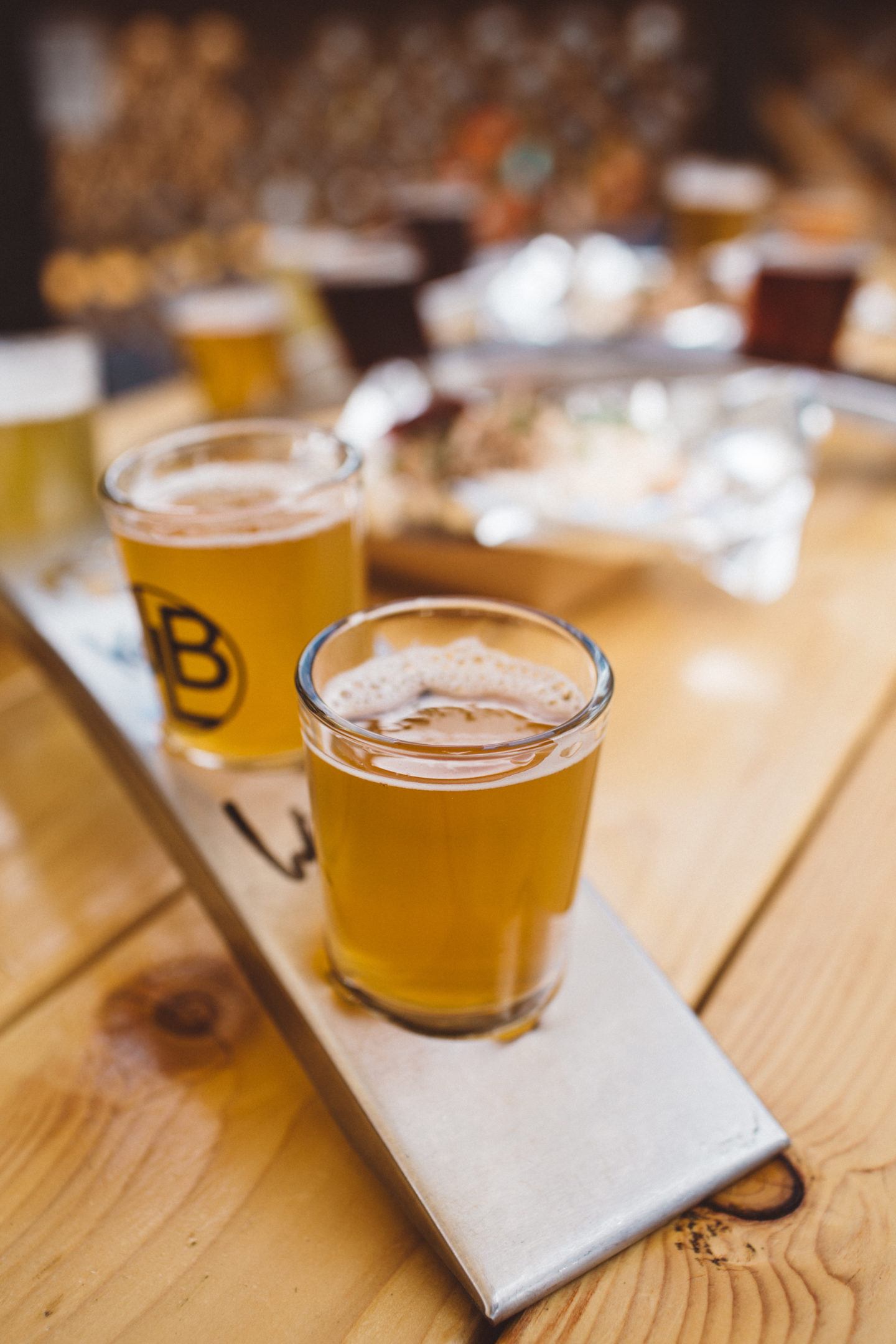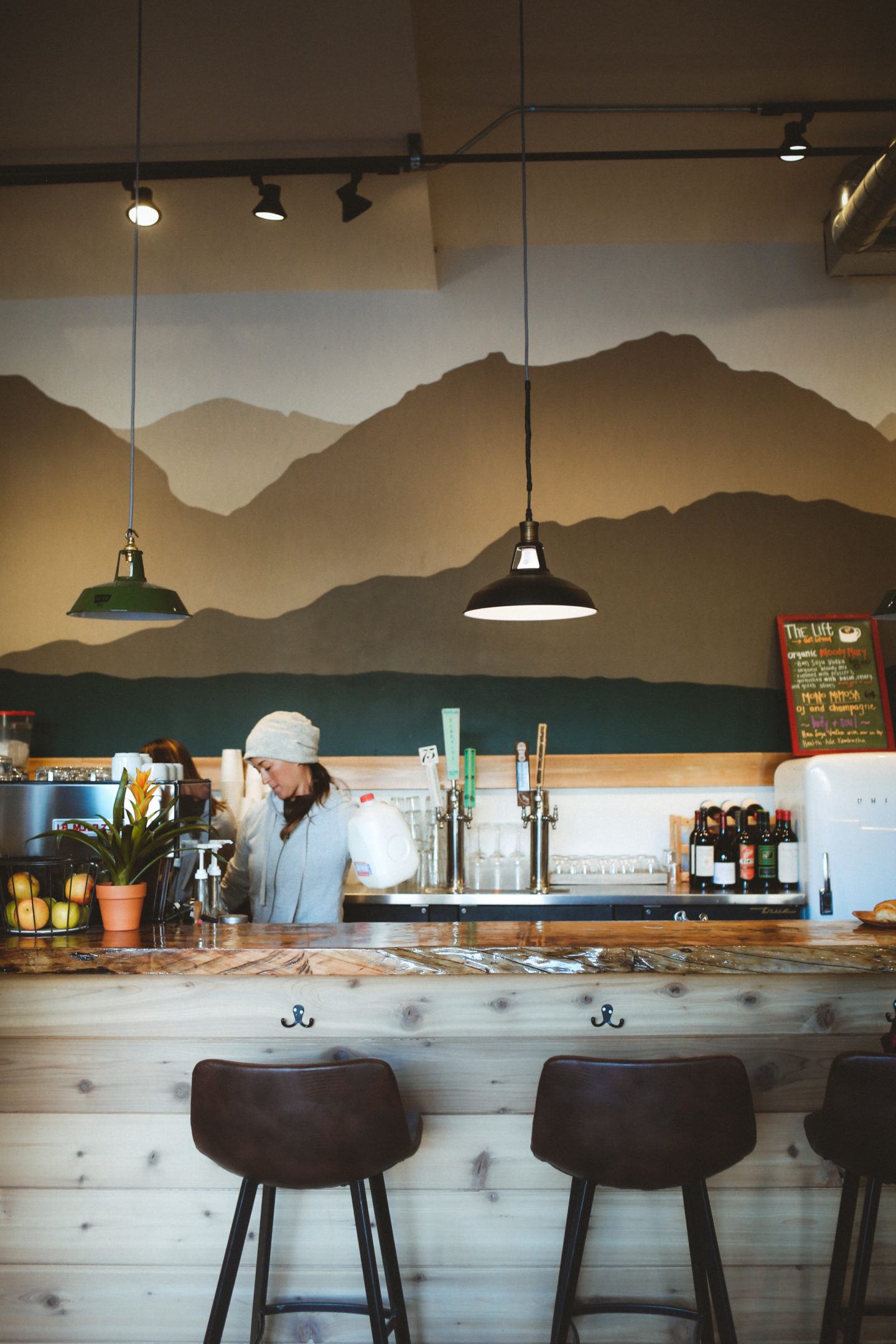 Walk Around Gull Lake
If you're looking for a hike that's not really a hike (aka for lazy people like me) the trail loop around Gull Lake is for you! It quick, taking about 30-60 minutes. You can grab a map from the community center or just use your phone to track the trail. I recommend going in the morning when Carson's Peak looks STUNNING!
Parker Lake Trail
Steep at first but levels out to an easy to moderate hike. It goes around Parker Lake, which is a bit hidden off the main footpath, so you're guaranteed little to no people.
*Eat At The Lift
This cafe is new and is open for breakfast and then dinner (closed in the middle of the day.) It's a women-owned business (girl power!) and offers a modern option in this old mountain town. If you're going for an early morning hike or fishing, grab one of their burritos to go (I had this – yum!) or come back starting at 4pm for a glass of wine and pizza.
Ok, Mono Lake isn't in the June Lake area, but it's within Mono County and you'll probably drive right by it on your way home. This lake is HUGE and is home to interestingly shaped limestone rocks (aka Tufas) in the water. It's $3 per adult, cash only.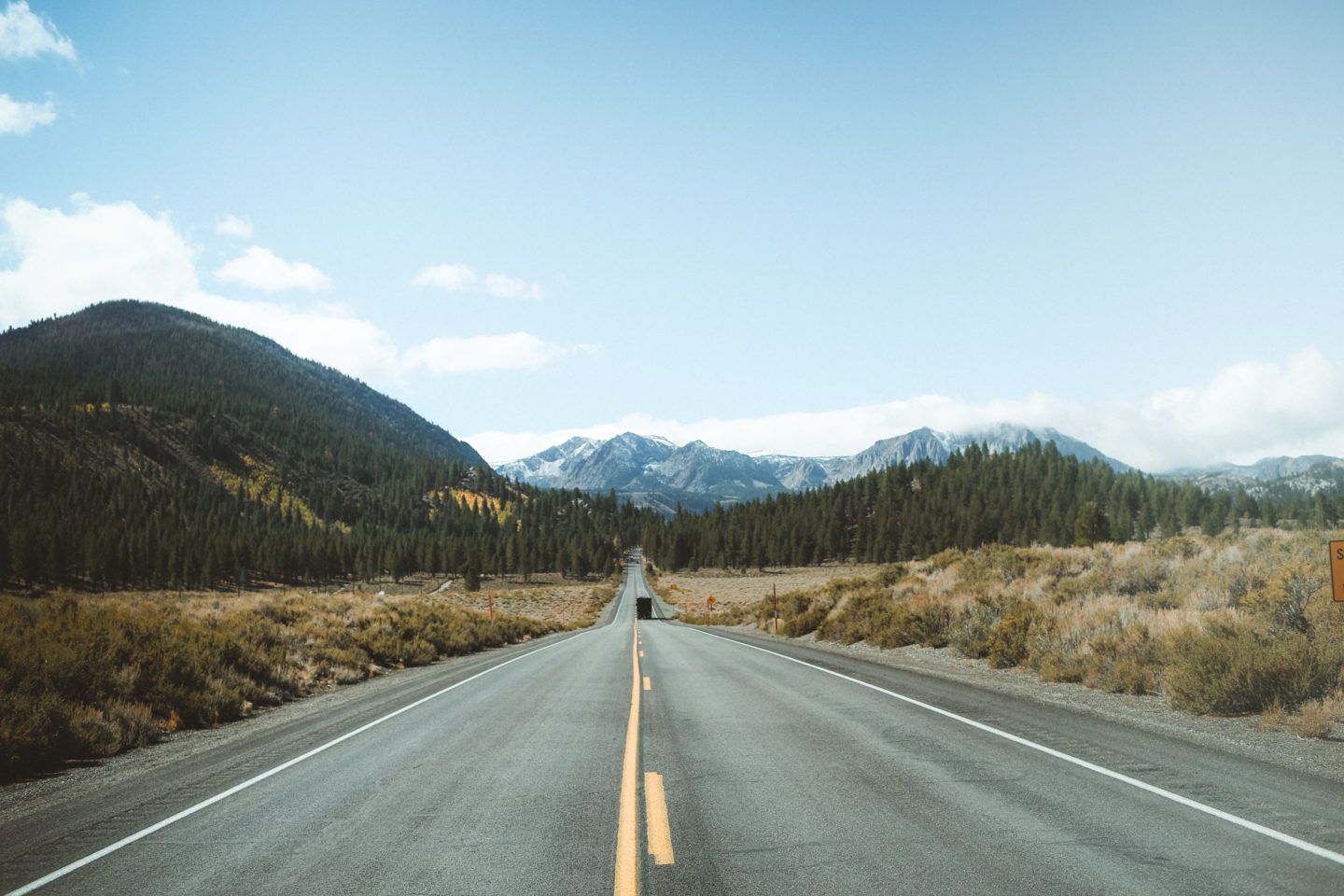 TOP FALL FOLIAGE SPOTS ON JUNE LAKE LOOP
The entire area is popping with color and at the end of the day, it's worth just driving around and seeing what's turning color on that day. As you probably know, not all the leaves turn color at once. As it gets colder, more and more leaves turn. That being said, below are our top areas to head to see some fall foliage in June Lake!
*Hwy 158: On your way into town, you'll take Hwy 158. Right before you turn the corner and start descending into June Lake, you'll be surrounded by tons of yellow aspen trees. At some points, you'll be rewarded with views of Carson's Peak, the lake AND yellow trees, all in one go. On the other end of Hwy 158 between Silver Lake and Grant Lake, you'll find some more stunning trees lining the roads.
*Iowa Street: There's this spot that's near Iowa Street and June Lake Loop road that had a little field and mountain views sandwiching a line of fall foliage. (These are the photos of me frolicking through a field of orange with a red beanie!)
Note: I'm not 100% sure on this exact spot, but I scoured Google Maps and am pretty sure it's around Iowa Street. Use the photo below to guide you!
*Silver Lake: We went kayaking on Silver Lake and loved the yellow trees dotting the shores of the lake. From the water, we looked up in the mountains and saw the most beautiful orange, red and yellow trees cascading the mountain range. There's a little creek that winds through the marsh that makes it a fun paddle, too.
Fern Lake Trail: This is that 3-mile hike I mentioned at the beginning of the post. We didn't hike it because I'm wildly out of shape and it's supposed to be steep, but the locals raved about this trail. It's supposed to have fantastic fall foliage!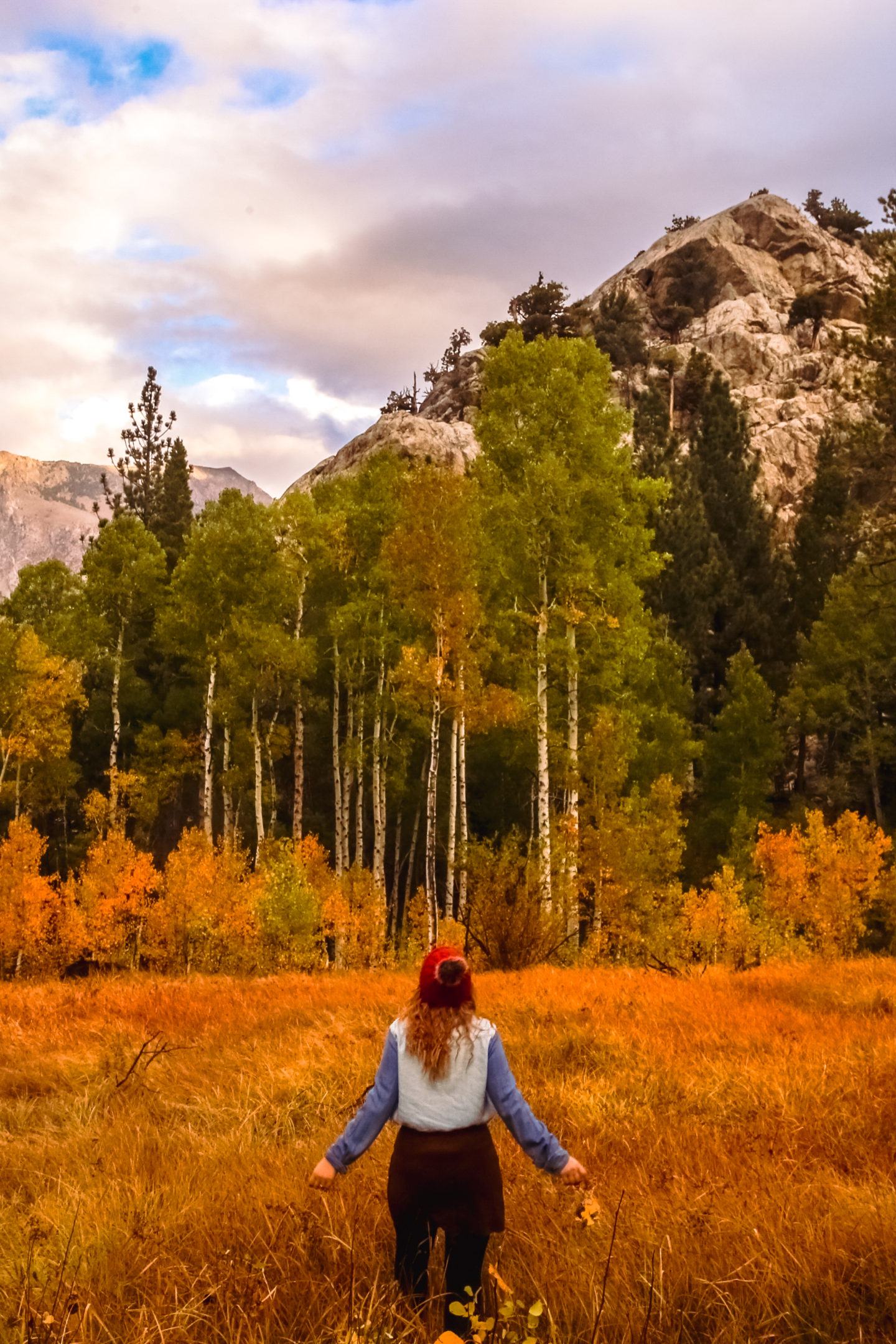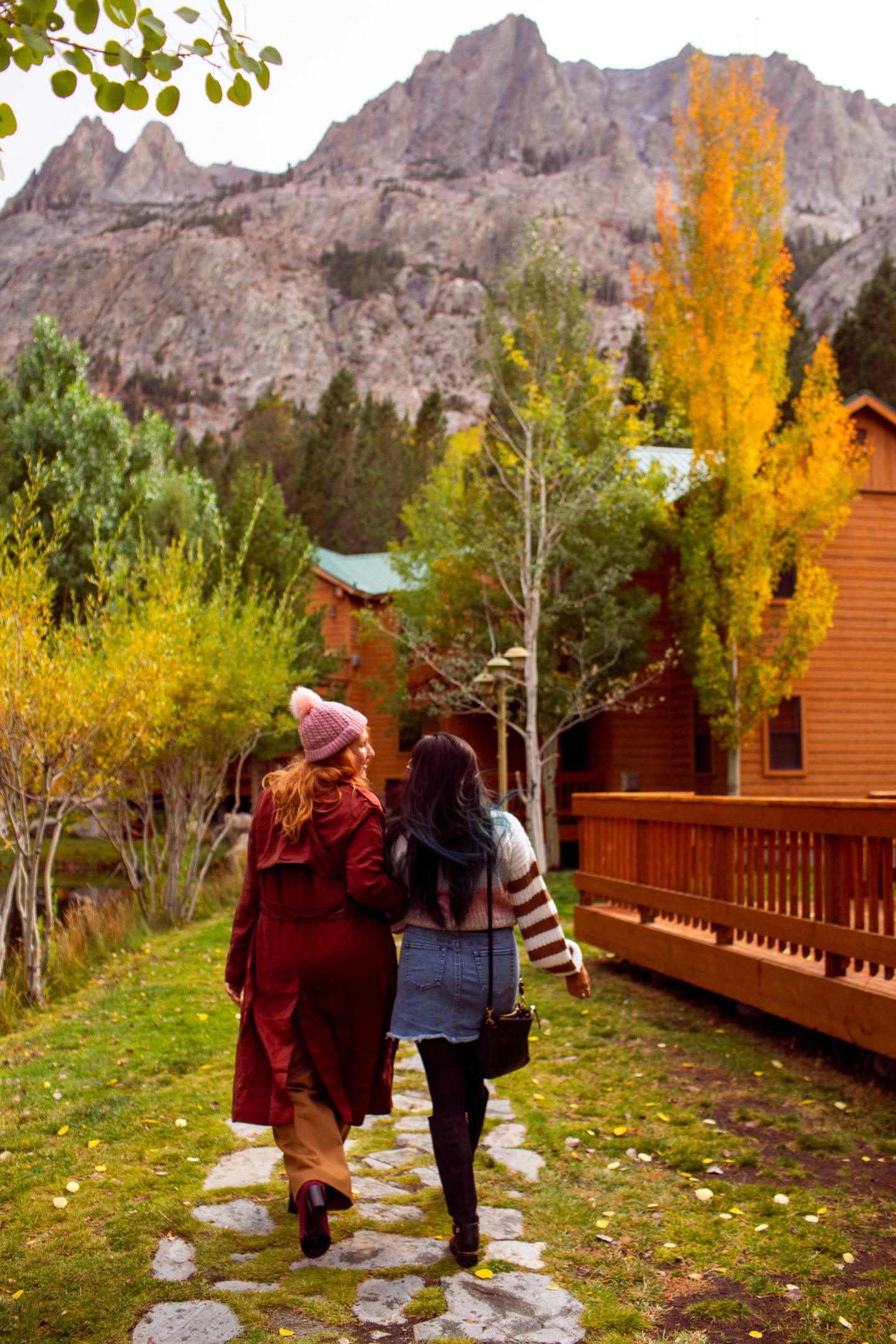 BEST LODGING IN JUNE LAKE LOOP
June Lake is a small town full of cozy vacation rentals, cabins to rent and family-owned hotels, along with plenty of camping sites and RV parks. Some spots are incredibly historic and have been operating for almost 100 years.
My general take away is that there's a lodging place for every type of person around June Lake. Below are some June Lake hotels and June Lake cabins to note.
As mentioned above, Silver Lake Resort is pretty dang historic, dating back to 1916 when Carson's Camp was founded. We had breakfast and kayaked here. We didn't see the inside of the cabins or spend a night here, so I can't tell you how nice they are, but I really liked how it's literally right on the water.
If you plan on doing a lot of boating, fishing or kayaking, this may be a good place for you. Looking for June Lake Loop camping? They have campground here as well!
Price: $215 for a cabin
This is the hotel we stayed at during our time exploring June Lake Loop. To be upfront, I have pro's and cons to this place. I loved our cabin – it was large (perfect for a group of 4!) had a fireplace and was stocked with pretty much everything we needed in terms of tools.
It even had coffee in the fridge so we could brew some in the morning. The property is stunning, it's probably the prettiest hotel in June Lake. They have a big pool and hot tub that's part of their spa, but available to use for guests. Guests can also attend fitness classes for free.
But, the spa staff were pretty rude to us when we visited the spa, which put a damper on our evening at the hot tub. I was also put off by how we had to wait close to two hours to get a restock on firewood after calling the front desk multiple times and how you will be charged $50 if you don't wash your dishes. This is considered the luxury June Lake lodging option (not a random vacation rental) so you would think that would include full cleaning service at the end of your stay.
At the end of the day, if you're coming with a big group, the cabins will serve you well. If you want to use of a nice deck and good spa or fitness classes, this is also the place for you.
Price: Starting at $250 for a cabin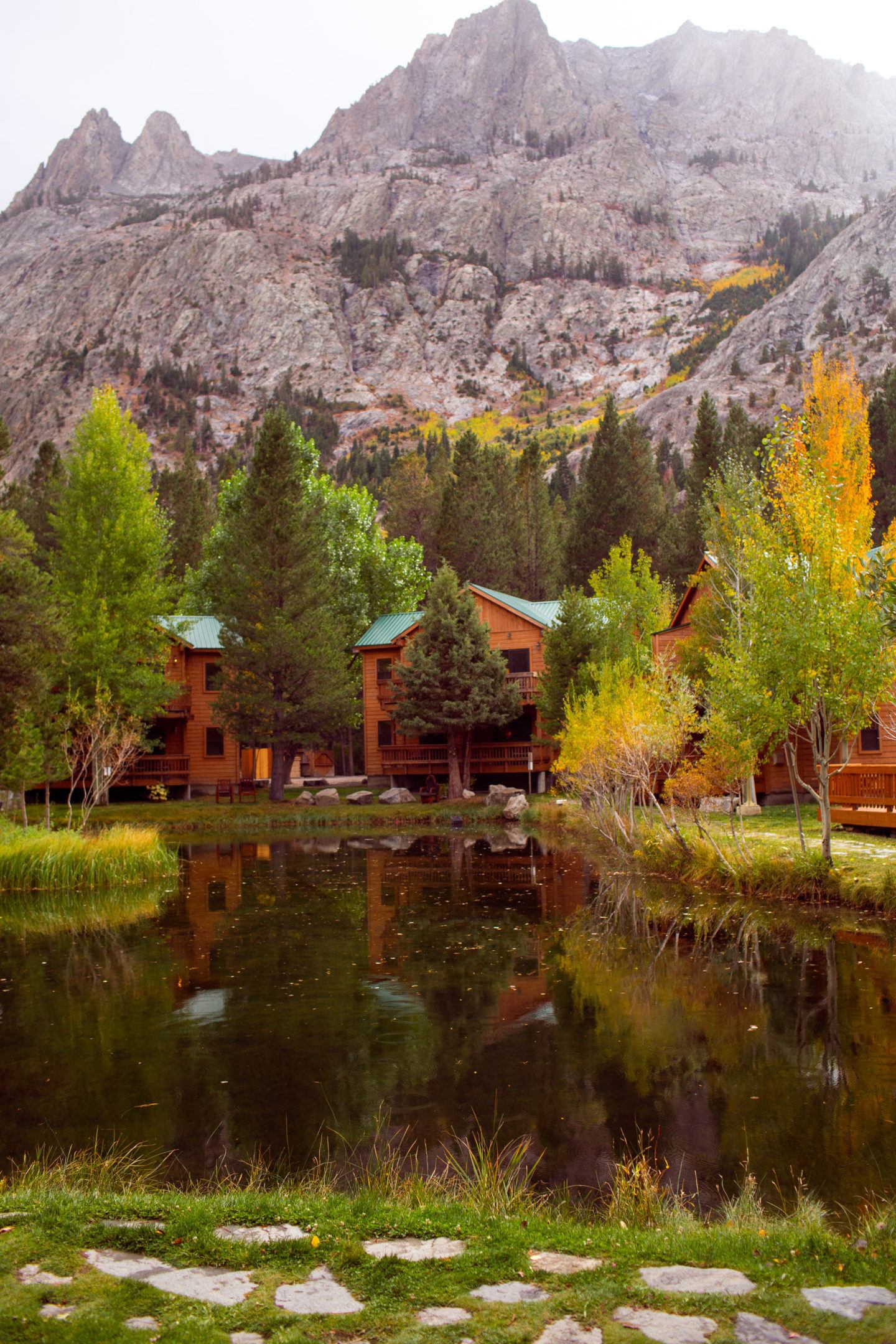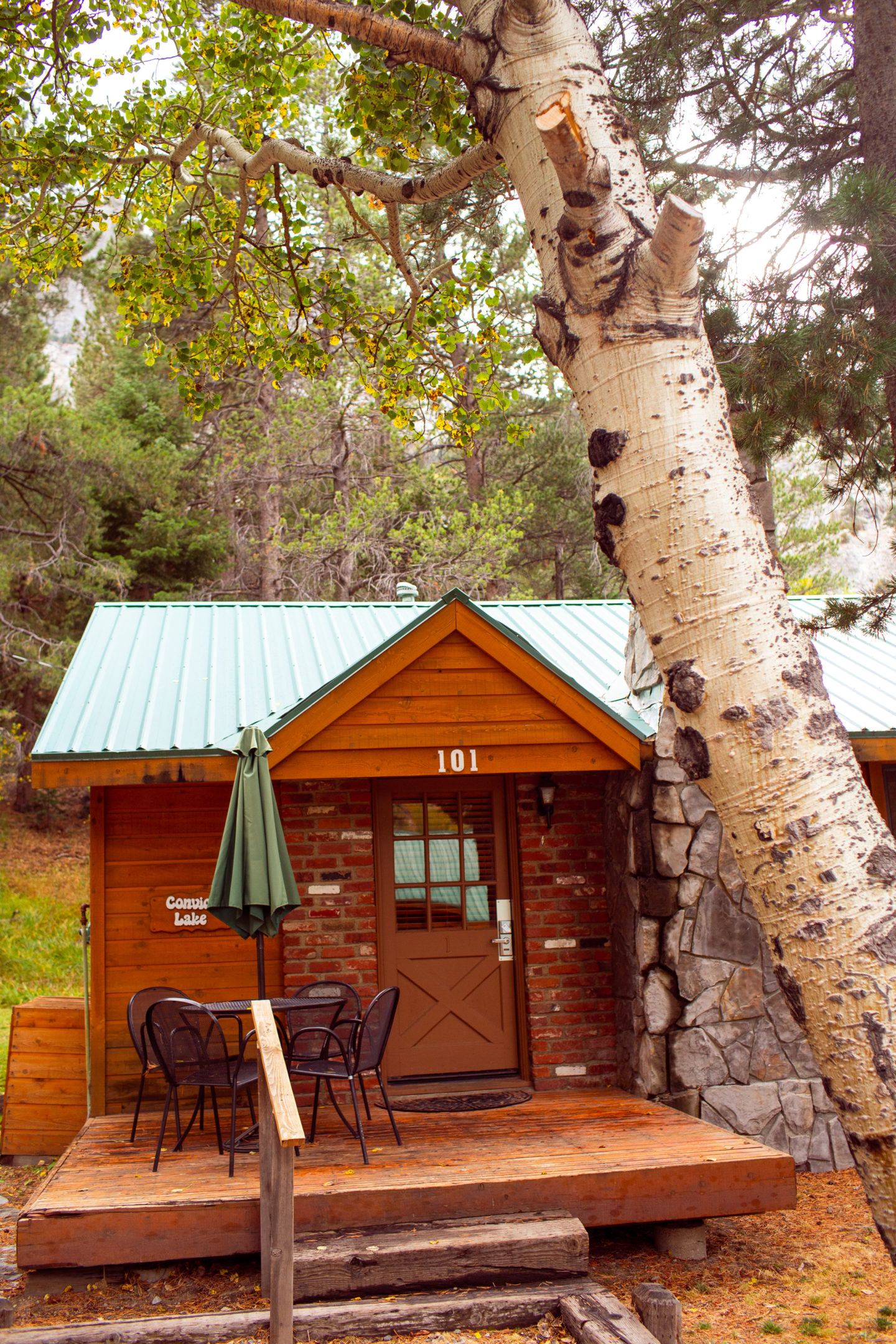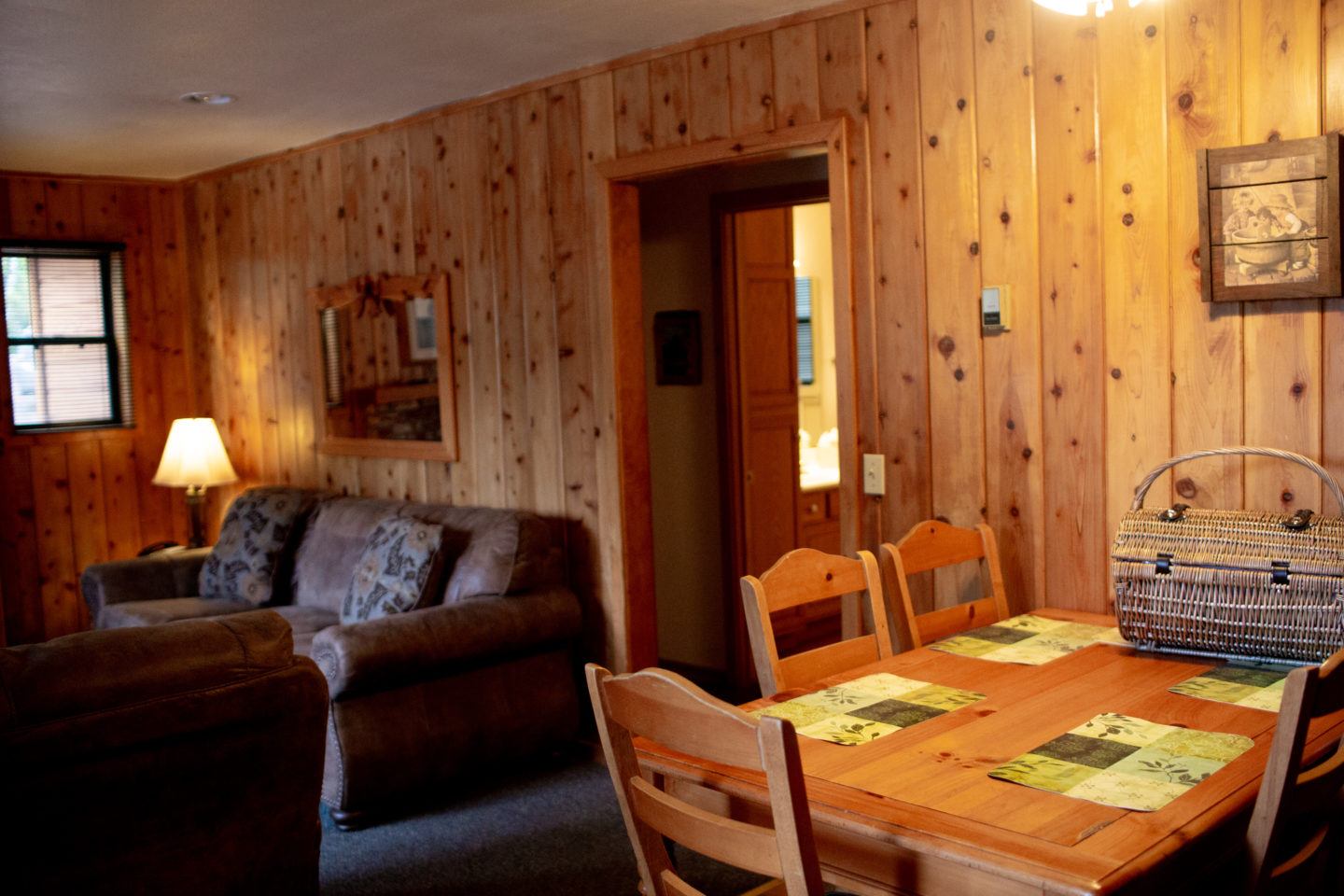 We didn't go into this hotel, but I noticed it each time we picked up food at the general store in town as it's right across the street. It looked cute from the outside and has decent reviews on TripAdvisor. It's also apparently one of the first lodges built in the town. If you want to stay in town directly, this will probably serve you well!
Price: $180-195 a night
You know we love staying at Airbnb's when traveling! They are each so unique and special. From condos to cabins, there are a lot of June Lake rentals in the area. Use THIS link for $40 off your Airbnb stay!
Price: Various
Not to be confused with The Four Seasons hotel chain, this Four Seasons is a group of adorable A-frame cabins! They looked very charming from the outside and capture that picture-perfect June Mountain lodging vibe. They were a bit close together, but if you are looking for a different sort of cabin experience, check them out. They can be booked on Airbnb here.
Price: Starting at $212
June Lake camping
Camping is also popular in the summer! I don't feel like I can talk on the campsites since we didn't visit any but I know there are a lot of great campgrounds. I would recommend camping in late summer and early fall for the best weather! (Check out the June Lake beach campground to start your campsite research! Also use the app iOverlander to find great sites!)
Trying to camp for free? I have a whole guide walking you through how to find amazing free camping sites anywhere in the country!
WHERE YOU SHOULD EAT IN JUNE LAKE
June Lake is small, so there aren't a crazy amount of dining options. I've already touched on most of my favorite places to eat along June Lake Loop, but the list is below again!
*Silver Lake Resort Cafe: Best mountain breakfast!
*The Lift: Grab a Mexican mocha and burrito for breakfast, or wine and pizza at night.
Cathy's Candy: A charming little candy store downtown!
*Ohana's 395 Food Truck: This is the Hawaiian food truck that's parked outside June Lake Brewery from 11am-4pm daily! It was a fantastic lunch, I highly recommend it.
Tiger Bar: This is clearly a local's bar but it also houses a cafe that serves all 3 meals.
Where not to eat: We went to Gordo's Mexican and I felt like it was average Mexican food (the meat was very dry and the toppings – tomatoes, lettuce, sauce – were clearly from a supplier like Sysco instead of freshly chopped. ) A few locals also told us that the food at the Eagle's Landing is a big hit or miss and it's better to only grab cocktails/drinks there to be safe.
WHAT TO PACK FOR JUNE LAKE LOOP
What you pack depends on the season you visit! It's a mountain town, so if you choose to visit in the winter, you'll need lots of warm clothes and proper winter gear. The summer is warmer, but not really ever hot like you find in other parts of California, so make sure you still bring at least a light jacket for the evenings.

Hiking Boots: June Lake Loop is a hiking paradise! Even if you don't plan on doing any intense hikes, you'll probably end up wearing your hiking boots all week long.
Sunscreen: June Lake is at very high elevation, I want to say around 7,000 feet. Take it from the pale redhead – wear sunscreen! I like this one.
Jacket: A good outdoor jacket with pockets will be very handy in June Lake. Even in the summer, you'll want a layer in the mornings and evenings. Look for one that can double as a rain jacket, as the weather changes very quickly in the mountains!
Bug Spray! The bugs can swarm you in the summer, make sure to bring the good stuff with the deet! Some people have trouble using 100% deet but, after growing up in the Wisconsin woods, I can tell you that more deets = less bugs bothering you.
A good book to read by on your cabin deck.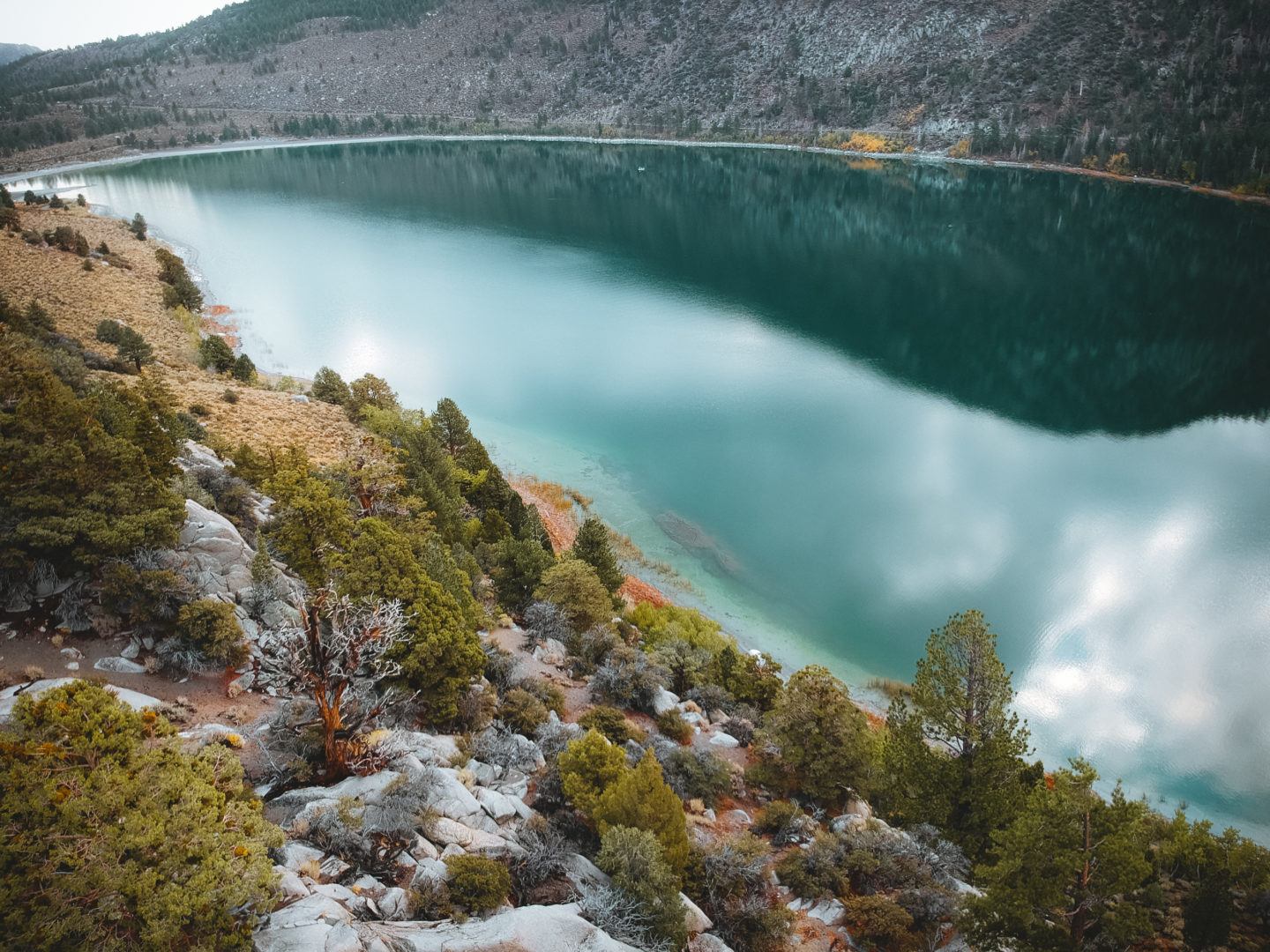 On our way back to San Francisco, we stopped by the Travertine Hot Springs in Bridgeport! There are a lot of hot springs in this region (check out Wild Will'ys in Mammoth Lake while you're visiting June Lake!) I have a low-key obsession with finding all the best hot springs on the West Coast.
If you want to also visit hot springs, consider adding on a couple of days to your trip. You can go camping near Wild Willy's in Mammoth, or spend a night or two in Bridgeport to be close to Travertine!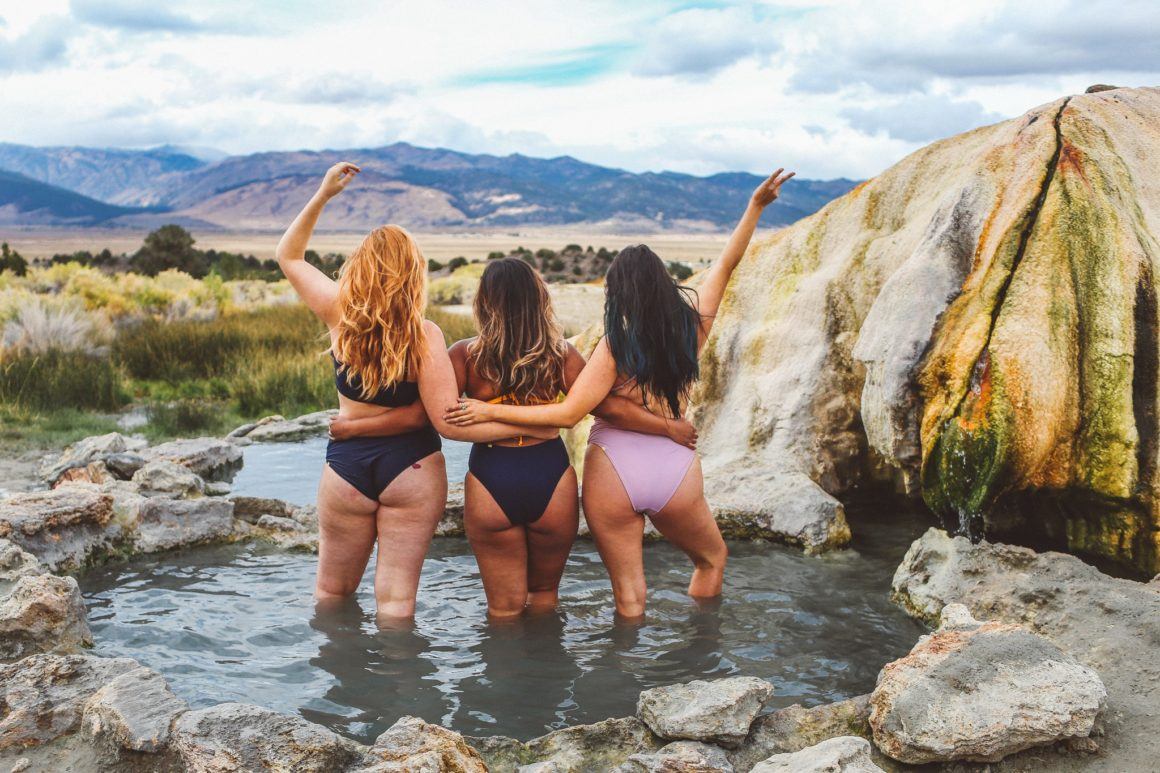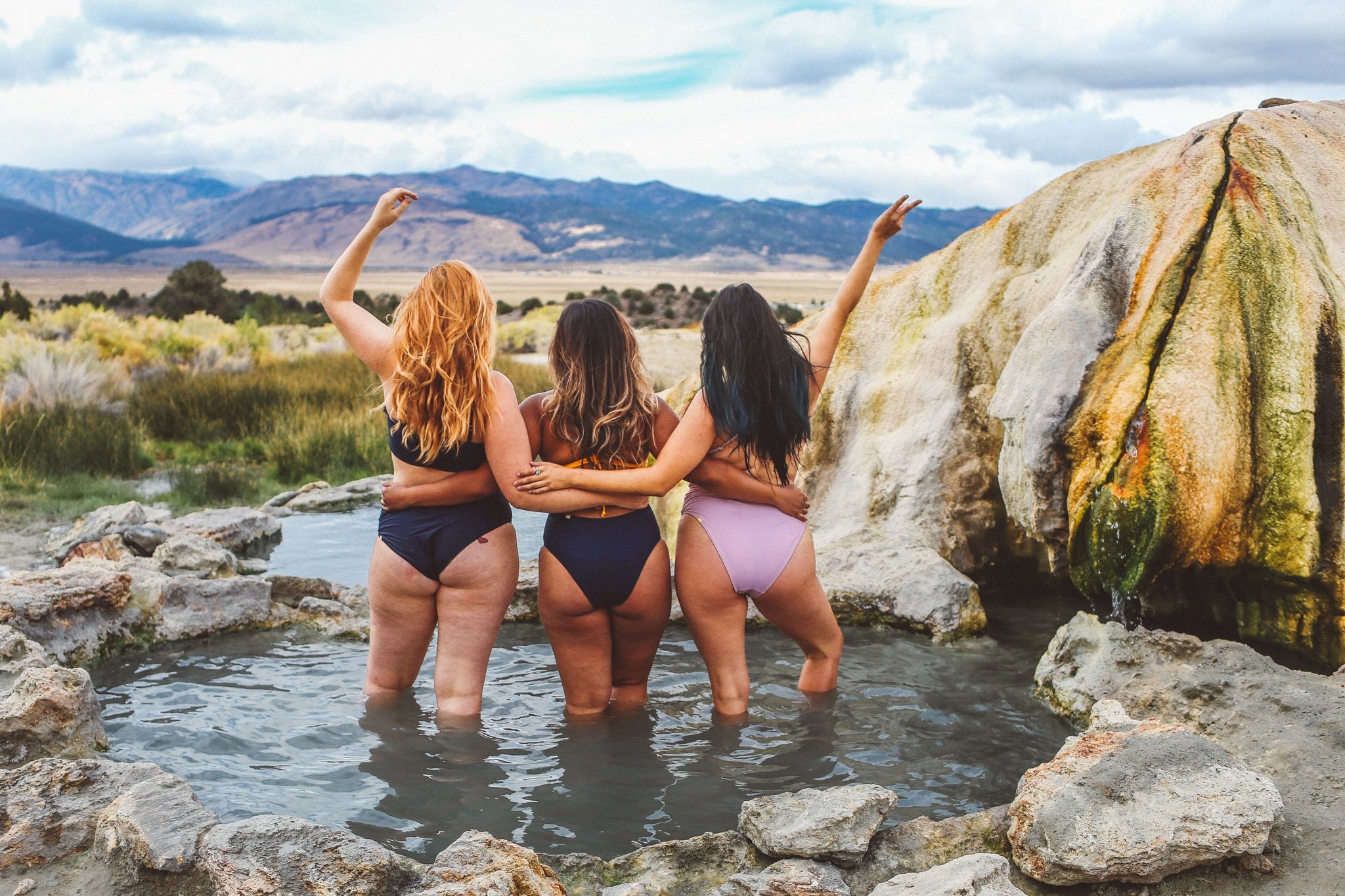 I hope this helps you plan your trip to June Lake Loop! It has some of the best fall foliage in the United States. Do keep in mind that the roads into June Lake may close during the winter, so if you are planning a winter trip, check first if you'll be able to get into town. It has some of the best fall foliage in the United States.
If you have any questions at all, leave a comment below or DM me on Instagram @thewhimsysoul and I'll be happy to help!
Other Posts You May Like
Pin this for later!