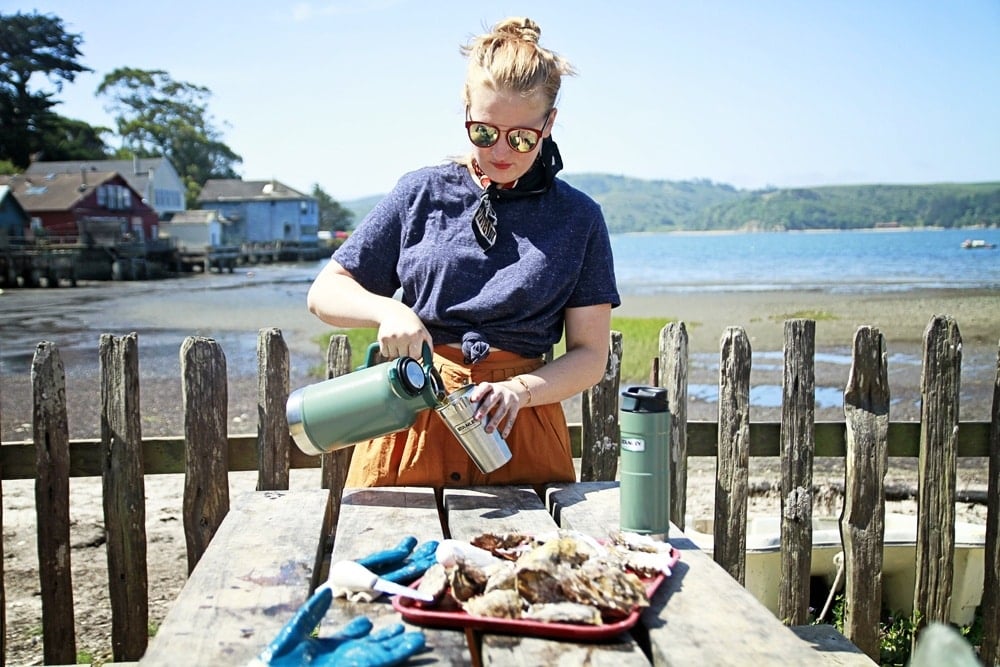 For Memorial Day this year, Robin and I snagged a table at the Hog Island Oyster Farm in Marshall up North along Tamales Bay. These tables are really tricky to get — people book them up the second they go live and the only reason we got a table was because I added myself to a waitlist. Back in January. We found out we got a table very last minute, but I was thrilled to be going on Memorial Day. It was the perfect chance to eat good food, get some sunshine and test out our new Stanley PMI gear!
We headed out of a foggy San Francisco early and started our day with a hike up Mount Tamalpais. By the time our reservations at Hog Island rolled around, we were hungry!! But before the eating could begin, we had to learn how to shuck oysters AND how to light the grill next to our table. Campfires I'm a champ at building, but my Dad was always the one to light the grill growing up. No service up there, so we had to figure it out ourselves instead of calling for help. After a few trials and errors, we had our charcoal heating up. I poured us some ice cold beer from our Stanley vacuum growler and we sipped and chatted as we shucked our two dozen oysters.
---
"SHUCK TO LIVE"
---
After a long hike, a cold beer hit the spot perfectly. The Stanley PMI growler boasts that it can keep liquids cold for up to 24 hours and I'll be honest – I wasn't sure if that was possible. We left our house at 6am, drove north an hour, left our growler in our hot car for 2 hours and then drove another hour to Hog Island. Where we kept the growler out on the table in the hot sunshine, for the entire lunch. So, when our beer was poured cold like it was just taken out of the fridge, I was happy. Other people had brought elaborate buckets with ice or huge coolers to keep their drinks cold and we had our simple, but effective growler instead. The Stanley vacuum pint glass helped keep the beer cool, too. We may have forgot plates and forks, but we had cold beer alongside our freshly barbecued oysters, and that was heaven for us.
This place is tucked in the bay away from loud beaches or boats. You feel very remote. The only people buzzing about are the fisherman for Hog Island who spent the day hauling in fresh oysters and processing them for people like us to eat! We each got sunburnt and left with full bellies. Hog Island Oyster Farm is such a peaceful place and we both are hoping to snag a table again later this summer.
As I mentioned above, we got the table last minute and forgot to bring so many things like plates, forks, knives, a cutting board, lemons, bread, cheese and other picnic foods. The family next to us were whipping up some fancy sauces for their oysters like chili lemon. Ideas for next time! We just brought some veggies and beer. Our table looked really bare, but we had such a fun time learning new skills our Dads would be proud of, sipping on a good brew and eating freshly caught oysters. If you're in the Northern California area, go check out Hog Island Oyster (just book really early) And bring along some Stanley PMI gear for all your drinks. Psst they make great gifts for the explorer in your life, especially gifts for Dad!
---