Tucked away along the shores of Tomales Bay in the little town of Marshall is the Hog Island Oyster Company. You lose cell service a few miles away, which adds to the magic of this famous oyster farm in California. The attention is on you, the bay, the sunshine, the grill and eating as many oysters as humanly possible. I've had the pleasure of spending an afternoon grilling out at this gem twice now, so I thought it was time to pile all my tips into a helpful visitors guide for you! This is your ultimate visitors guide to Hog Island Oyster Farm – everything you need to know from reservations to the best kind of oysters to order.
Location: 20215 Shoreline Highway Marshall, California
Price: Tables start at $10 per person. Oysters start at $12 per dozen.
Time: People take 1-3 hours depending on if they grill or not.
Before we dive in, let's chat table reservations. The magic of the Hog Island Oyster Farm has reached the years of every millennial in the Bay Area and thus snagging a table reservation can be highly competitive. There are only 6 grilling picnic tables available at a time. (There are a few more tables without grills that are available on a walk-in basis only but believe me – you NEED to grill, it's so much fun!) You have to reserve a table online, sometimes months in advance.
Book your picnic table at the Marshall Hog Island Oyster Company HERE. If you are eyeing a specific day and no tables are free, you may be able to get on a waiting list.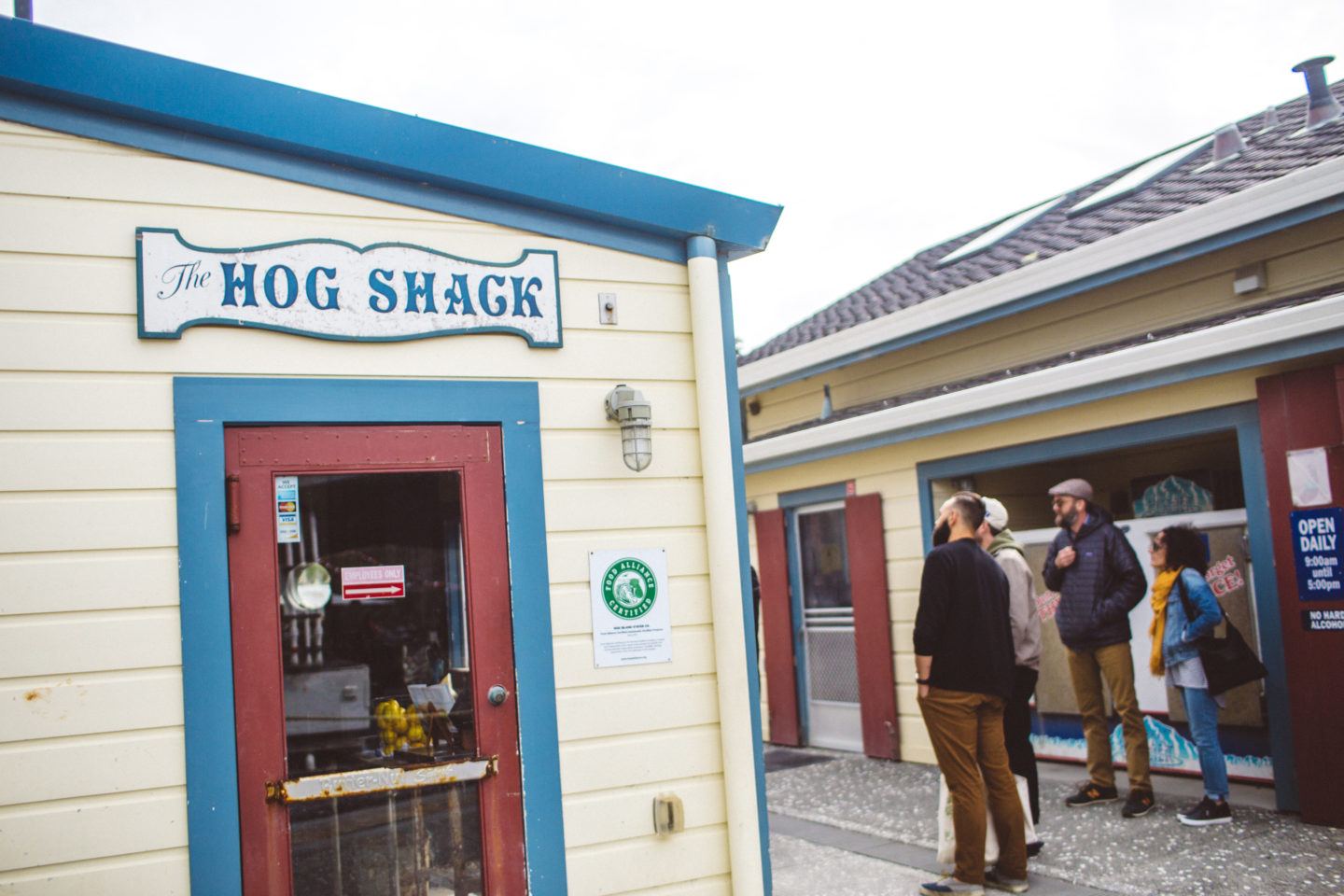 That's how Robin and I got our picnic table that first time we went back in 2016. I joined the waiting list for Memorial Day and got an email the day before that a table was open. I think we had about 25 minutes to claim it online before it went to the next person in line. I was serious about how competitive it is! Hog Island Oysters in Tomales Bay makes you work for their seafood!
WHAT TO BRING TO HOG ISLAND OYSTER FARM
Here's a little fun story for you: the first time Robin and I visited the Hog Island Oyster Farm was back in 2016. We got our table last minute and didn't think much about what to pack or oysters shucking recipes. We threw a lighter, beer and a couple of red peppers into a bag and called it a day. When we arrived, everyone else had brought elaborate picnics. I'm taking everything from plates and silverware, table clothes, bread, cheeses, sauces for oysters, grilled cheese sandwiches, an array of veggies to grill, napkins. Everything. And us – we had beer, a couple of peppers and an empty table. We still had a blast, but learned our lessons: things like plates are necessary and things like veggies and homemade sauces for your grilled oysters are even better.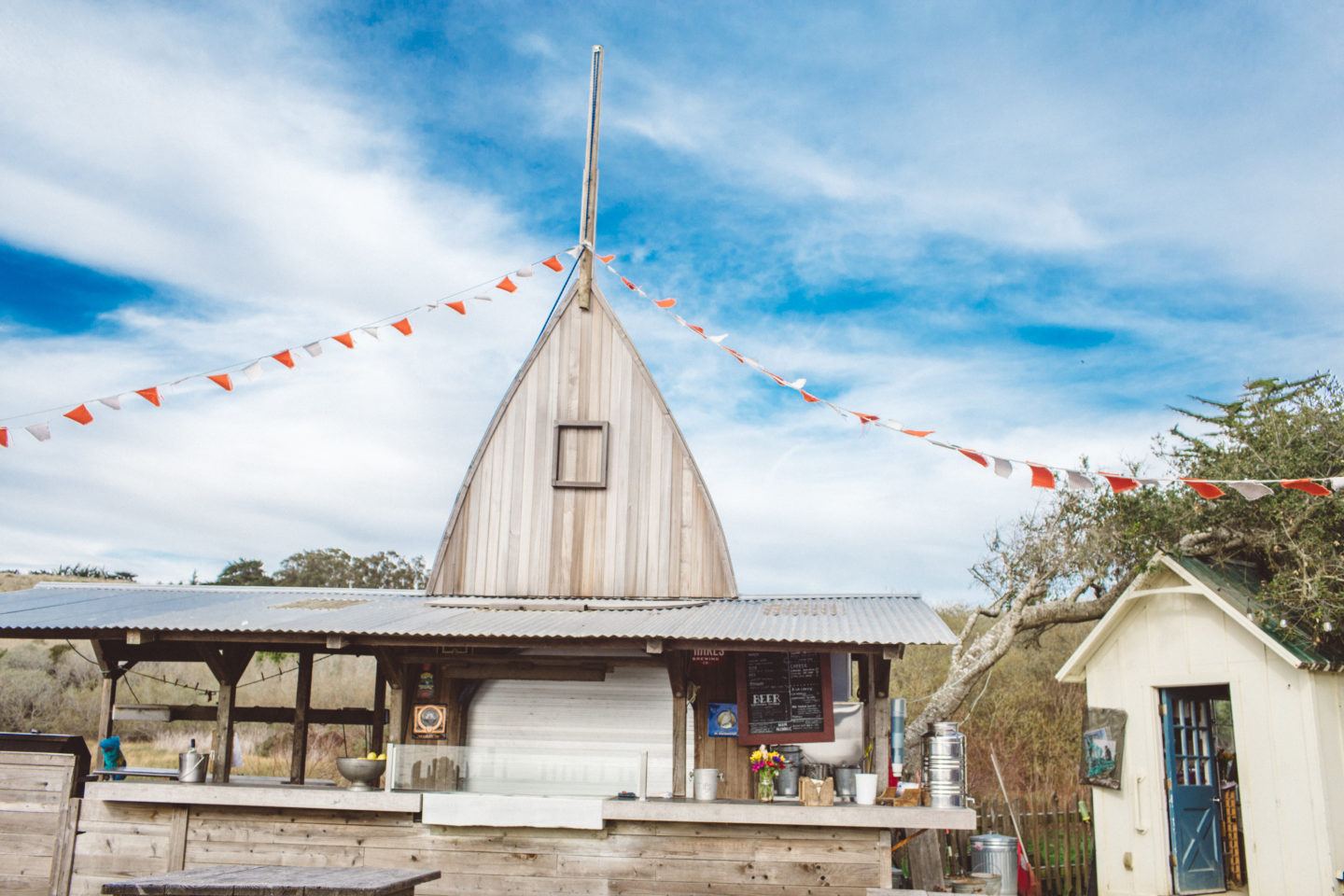 Hog Island Oyster Company Packing List
Picnic Basket
Lighter for the grill
Coal (you can buy at the farm if needed)
Napkins
Water
Beer
Wine
Plates
Table cloth (for decor!)
Veggies to grill (peppers, onions, etc)
Sauces for the oysters
Butter
Bread
Cheese
Sunscreen
A jacket (the bay can get chilly some days!)
Anything else you love to have on a picnic!
They provide oyster shucking tools and a lesson if needed. They also provide lemons and hot sauces for your raw oysters.

If you go on a weekday, it gets incredibly packed. As I mentioned above, there are about 6 grilling picnic tables and maybe about 6-8 non-grilling tables at the Hog Island oyster bar are on a first come, first serve basis. On our first visit, I watched a lot of people get turned away because there wasn't any room to sit them! The line to purchase oysters gets really long – I'm taking 40 minutes to buy oysters. Because of that, I recommend trying to go on a weekday for a calmer visit! The Hog Island Oyster Parking can get little nuts too. Their site says they now offer valet, but we didn't see that when we recently visited.
If you are camping nearby or staying at an Airbnb with a kitchen, etc, and can't get a table, consider picking up a few dozen oysters and bringing them back to your kitchen! Make a rustic seafood stew, grill some oysters on your own, do whatever (without the crowds!)

If you can't visit the Hogs Island Oyster Farm in Marshall, you can stop by the location at the San Francisco Ferry Building! These seafood farmers offer my favorite oysters in the state. An afternoon grilling oysters on Hog Island is one of my favorite things to do on a sunny afternoon and I hope you get to visit here one day!
Got questions? Leave a comment below or DM me on Instagram @thewhimsysoul and I'm happy to help!
Planning a day trip to Point Reyes National Seashore? Here's some other posts you may like!
Day Trip to Point Reyes Guide + Itinerary
11 Things To Do In Point Reyes
Ultimate San Francisco City Guide