Halfway through our sunset horseback ride in the desert, our guide's horse suddenly refused to keep walking without a lot of coaxing. "He's new and gets spooked easily", our guide explained. Then, a couple of minutes up the trail we saw what the horse did: wild javelinas!
I already was thrilled by meandering under towering Saguaro cacti and through the Salt River but spotting wild javelinas safely from the top of Dinero, my trusty horse, was the icing on the cake. If you're looking for the best horseback riding in Arizona, let me show you why you need to book a guided trail ride at the Saguaro Lake Guest Ranch.
Horseback Riding in Arizona: Our Stunning Desert Sunset Trail Ride Near Mesa
Robin and I were in Arizona with Visit Mesa and when they told us they wanted to send us on a proper Arizona horseback ride through the Sonoran Desert, I think I squealed out loud (bucket list: check!)
The drive out was beautiful as it's tucked in the Tonto National Forest (think: an endless sea of cacti and desert plants inbetween stunning red rocks). We pulled up at the ranch about a half-hour before our tour so we could check-in in the small stable building under the Bulldog Cliffs. The light was still bright out at 4pm, but I could tell that this little corner of the desert was going to be brilliant come sunset.
We already let them know ahead of time our weight and height so they had horses all ready for us. Mine was named Dinero and he was a snacky guy who tried very hard to be sneaky and nibble plants on the trail (but I always caught him!)
Our small group loaded up, got settled in our saddles, and we set out on a sunset ride to the top of a hill overlooking Saguaro Lake.
Photo Notice: As you can probably tell from the photos, we brought our DSLR on our ride. Normally they do no permit large cameras with straps for safety reason. This involved pre-planning with the ranch and the and extra waivers signed since we were there as media. Please do not bring your large camera, your phone will work just fine!
Sunset Is A Magical Time For A Desert Horseback Ride
The ranch offers sunrise and sunset trailrides only. It's Arizona after all! Come summer it's simply not safe (or frankly, enjoyable) to be out in the sun at high noon that long. Of course the morning rides are just as fun, but as a sunset lover, I adored watching the light slowly get more and more golden during our ride. Finally, at the end, the sky exploded in color and the Bulldog Rocks turned bright red with the sun.
As we drove back to our glamping trailers outside Mesa, we caught the very end of the sunset where the sky was deep purple and pink behind the silhouettes of cacti. STUNNING.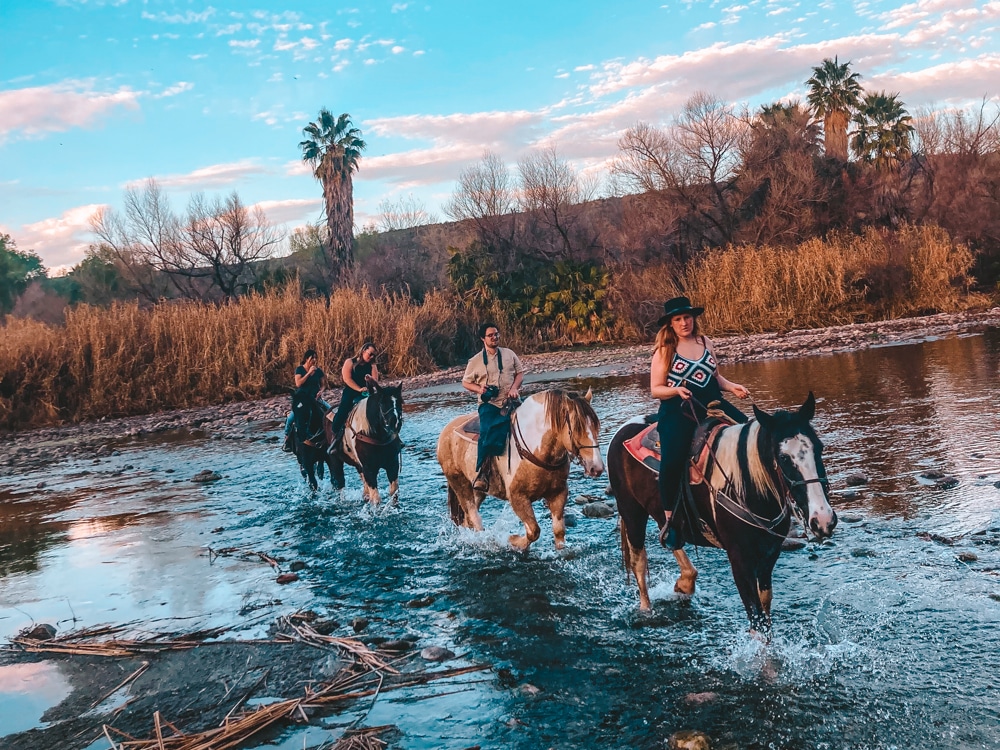 You Get To Cross A River!
On top of watching the sunset behind the Bulldog Cliffs, something super unique to this Arizona horseback riding ranch is you get to cross the Salt River on top of your horse! I can't explain how much like a cowboy I felt crossing that river on top of Dinero.
Or maybe a little bit like Oregon Trail except I didn't have to worry about my cattle being whisked away by the water and losing the game. Either way, this made our ride extra special. (Note: believe the river water levels are too low at the end of summer but we had a full river in March!)
And You May Spot Wild Horses
For real!! It's not uncommon for riders to spot wild Arizona horses here! We didn't see anything, but we did see that pack of wild javelinas which was equally cool. Especially because I would NOT have wanted to run into them by foot if I was hiking, so that was a unique viewing experience you can only have from atop a horse.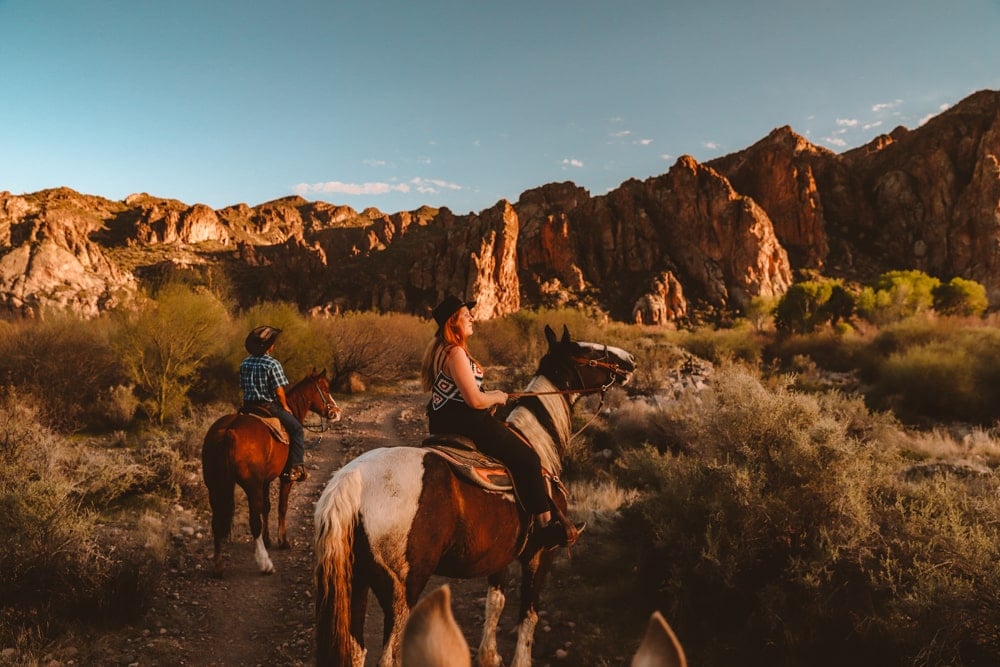 Frequently Asked Questions About AZ Horseback Riding
Where Is The Ranch Located?
How Long Are The Guided Horseback Rides?
Riders can book an hour ride or 1.5 hour ride.
How Much Are Trail Rides?
An hour is $65 per person and the 1.5 ride is just $95!
When Are The Trail Rides Offered?
They offer morning ride at 8:30am and evening rides for sunset around 4:30pm.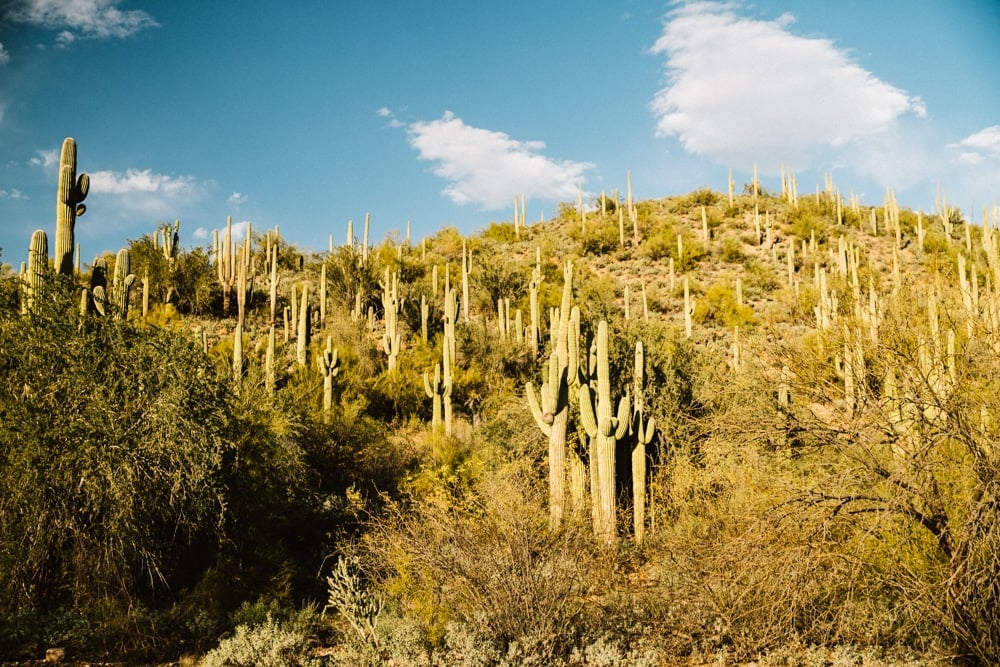 Do They Offer Private Rides?
While not listed on the site, I confirmed with our guide that if wanted to book out a private ride they can make that happen! Reach out to them to see what's available.
Is This Good For A Surprise Birthday Or Special Events?
OMG yes, what a fun experience to surprise someone with! In fact, one of the gals in our group was there celebrating her birthday so I attest it makes for a fun gift or birthday activity. Or, if you are in the area celebrating a bachelorette party, I think booking the group on a trail ride would be so unique!
What Are Other Nearby Stables?
If Saguaro Lake Guest Ranch are all booked up on your dates, I do know there are two other Phoenix Area horseback riding stables called Cave Creek Trail Rides and Spur Cross, though we have not visited personally.
What To Wear Horseback Riding In Arizona
From a practical standpoint, you'll want boot or closed-toe shoes to protect your feet. Plan on your pants to get pretty dusty so don't wear anything that can't be easily washed out.
From a fun standpoint, as you can see from the photos I leaned into the Old West vibe. The only thing I was missing was a proper cowboy hat but I kid you not, the next day we drove past a boot barn and I stopped the car to buy myself an authentic cowboy hat. And then proceeded to wear it all day (they're just so fun!)
Shop My Outfit

If you are looking for the best Mesa, Scottsdale and Phoenix horseback riding stables, you'll love Saguaro Lake Guest Ranch as it's a quick drive from the metro area.
And, if you're ever in California, check out Greenhorn Ranch, a working dude ranch/resort where you can go on multiple horseback rides a day!