The girls and I were setting up dinner of local takeout and wine on the table behind our Sonora Airbnb. It's next door to the family's garden, which glows from string lights each evening. In the distance, we heard birds singing goodnight songs to each other and out of the garden one of the family cats sprints out to watch us dig into our food.
I love finding truly unique Airbnb vacation rentals to share with you guys and this modern farmhouse in Sonora is absolutely a special gem. Let me show you around!!
The Barn Loft at The Homegrown Apple Homestead is that type of Airbnb that I feel like the founders of Airbnb envisioned as the gold standard. The barn is located next to the residential home of the hosts, and on 6 acres of land, including a little garden, chicken coup and goat pen.
The family is usually around the farm somewhere, but always stay out of the way of guests unless you need them, or you booked a farm tour of the animals (which is only $10, hosted by the kids and they may even let you hold a chicken! Worth it!)
The Barn Loft is what it sounds like – a loft on the entire top of the family's barn. It's large, open and airy, with decor that merges farmhouse with modern amenities and vibes perfectly. Coming from a tiny apartment in San Francisco, this loft felt more like an entire house and was totally enough space for the 3 of us.
We used the kitchen for breakfast each day, but the loft is just a few minutes drive from Downtown Sonora, so we headed there for other meals. On our last night, we picked up thai food in town and wine from a market, and brought it back to the Barn Loft to picnic outside in the fresh air. Dreamy really doesn't even begin to describe it.
During our visit to Sonora, we packed a LOT of area activities in. We visited two swimming holes. Natural Bridges, which is through a cave, and Rainbow Pools, which is outside Yosemite National Park. It's about an hour from the park if you still need to check Yosemite off your bucket list!
Just a month before I headed here with my friend, I was up at Pinecrest Lake camping with my husband, and that's just a short drive from the Airbnb as well if you're coming in the summer. This lake has a great beach and hiking trails!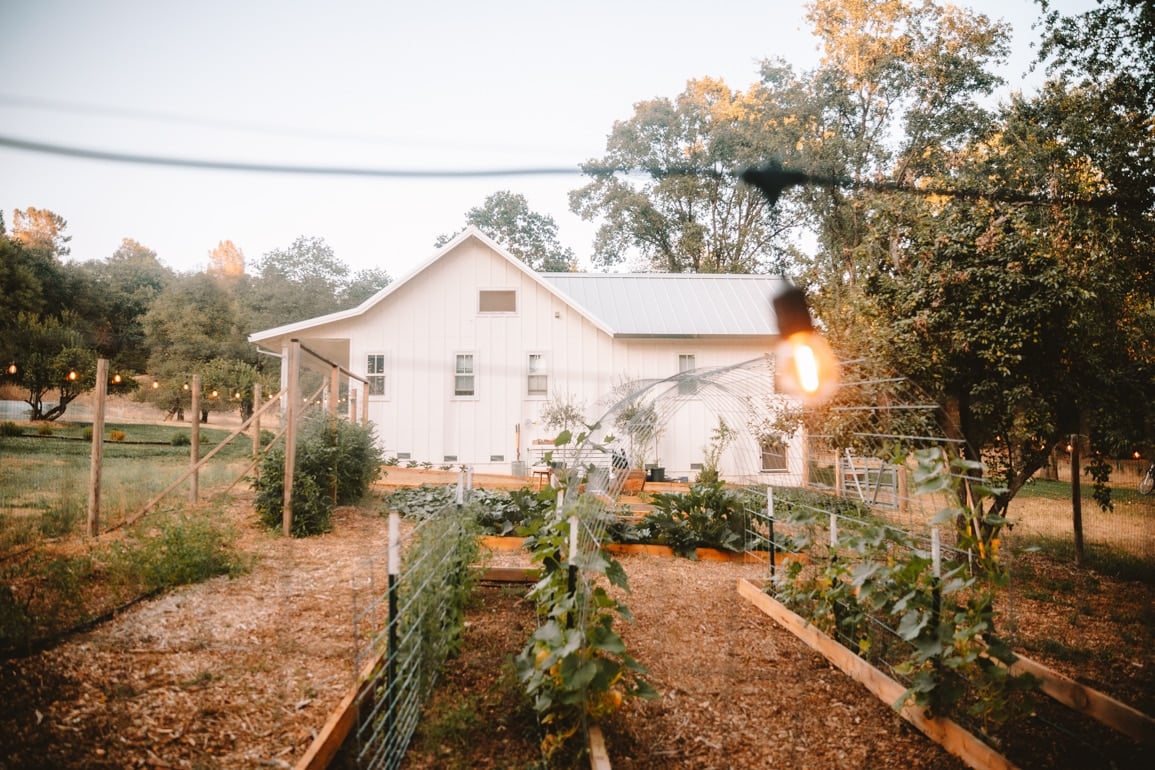 After exploring swimming holes, we wandered around downtown Sonora. One of my friends found an antique desk at a shop and we all loved popping into all the local stores. There's so many fun things to do in Sonora! Make sure to set aside time to explore this tiny city when you aren't hanging out at the Airbnb (though it is hard to leave this location!)
The Barn Loft Airbnb Amenities
Entire private loft that's detached
Full kitchen with stove, fridge, plates, etc
A/C and heat
TV with streaming services
Wifi
Books
Keypad for the door
Tesla charging station
Full bathroom with shower
View of the farmhouse garden
Farm tours available by request
Family onsite for emergencies
This place has a two-night minimum and the price is usually about $200 a night, so come for a romantic getaway or bring your friends like I did!
There are a few Sonora hotels and a lot of other Sonora cabins, but I just don't think anything is better than The Barn Loft. I would love to come back again with friends or my husband in the future. I can see this being really charming in the fall when leaves turn colors for California autumn!
You'll love your stay here.
More United States Hotels & Vacation Rentals You'll Love