As professional travel bloggers, a lost ID while traveling was bound to happen to one of us eventually. Honestly, we both were a little surprised it took almost 8 years for this moment to happen, but it finally did. Halfway through our trip to Mesa, Arizona, I pulled out my wallet and realized my ID was gone.
We ransacked our hotel room and suitcase but it was nowhere to be found. We live in San Francisco and flew to Arizona so we began the frantic google searching and calling TSA to ask how the heck one can make a flight without a photo identification.
The good news? I was able to make it on our flight home, but there are some caveats I wanted to share with my fellow travelers so you know what to do if you also lose your ID before a flight, or simply how to avoid an issue in the first place.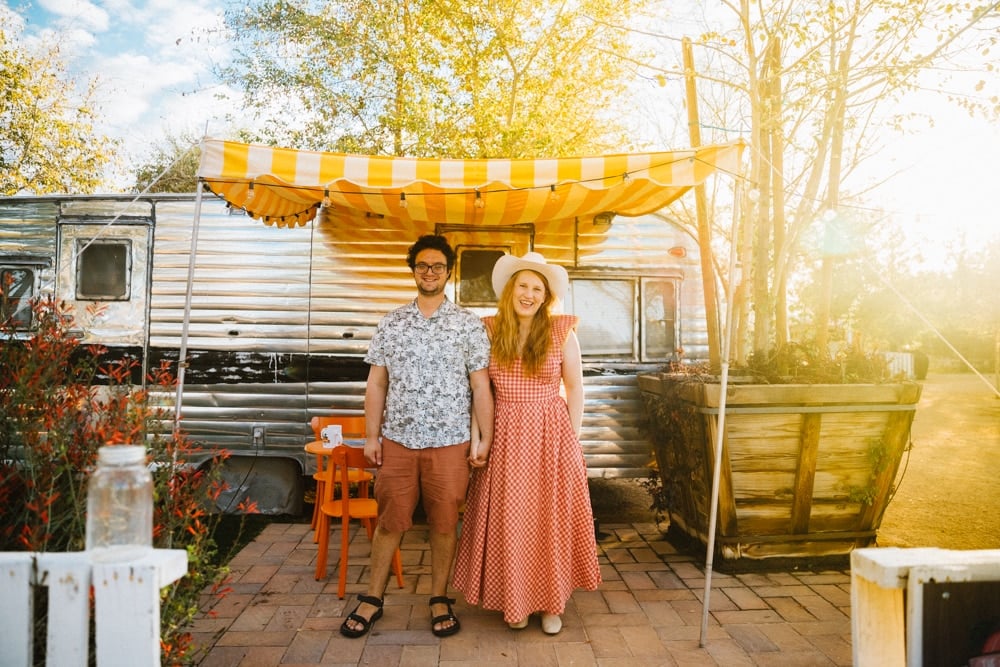 One of the first questions we got from folks after we shared on Instagram about my lost driver's license was "well, can you use your passport?"
Yes, totally could but I don't travel within the United States with my passport. (Does anyone?) This ordeal taught me I may want to travel with a passport card as backup, but my driver's license is my main form of id so i was stuck without any acceptable forms of identification for flying.
And, I couldn't order drinks while dining out which was a bummer since Mesa has some fantastic breweries and bars.
The first thing we did after mildly panicking was to check the TSA ID requirements and FAQ online. On their website they have this note:
"In the event you arrive at the airport without valid identification, because it is lost or at home, you may still be allowed to fly. The TSA officer may ask you to complete an identity verification process which includes collecting information such as your name, current address, and other personal information to confirm your identity. If your identity is confirmed, you will be allowed to enter the screening checkpoint. You will be subject to additional screening, to include a patdown and screening of carry-on property.
You will not be allowed to enter the security checkpoint if your identity cannot be confirmed, you choose to not provide proper identification or you decline to cooperate with the identity verification process.
TSA recommends that you arrive at least two hours in advance of your flight time."
I Lost My ID And I Have A Flight: Here's How I Still Made It Home & What You Need To Know To Get Past TSA
While TSA basically confirmed I could get home, I was a little put off by the use of "may" here. It sounded too up in the air to me. What does the process actually look like? How often do they deny people?
This is what I experienced getting through TSA without an ID. It's important to note that I am a US citizen, I have no criminal history and I'm a white man. I would hope that the process is the exact same for BIPOC folk, but I have no personal way of confirming that (would love to hear from you in the comments if you can share!)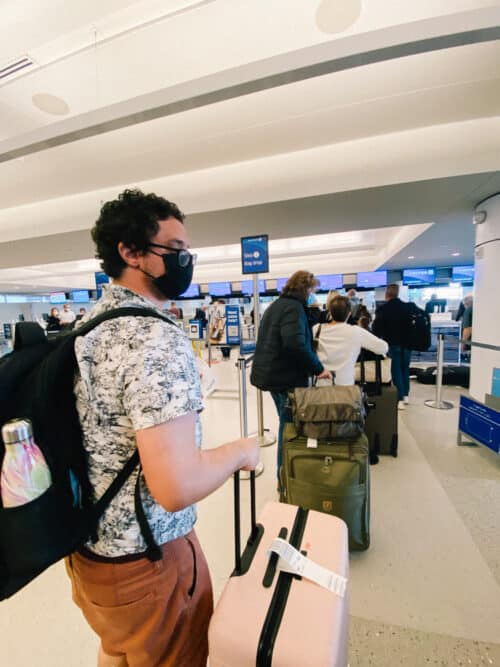 First, Get To Your Flight Early
TSA says at least 2 hours before your domestic flight, but if you are flying on high traffic days (holidays, weekends, etc) I would get there 3-4 hours early. It's better to spend an extra hour at the gate than not make your flight.
Don't forget to account for car rental time and checking luggage time! We arrived at the airport around 11am for our 2:45pm flight because the Phoenix car rental lot requires a shuttle and it's not the quickest shuttle ride in the world. We also checked luggage and sometimes that counter line can be really long.
Then, Check-In To Your Flight As Normal
The extra screening happens at TSA, so you'll need your boarding pass. Check-in your luggage, get your pass, and head to the TSA area. I have TSA pre-check but since I lost my ID, I had to go in the normal line. (Kara calls this the peasant line). This is a big reason why you need to arrive early, even if you have TSA pre-check.
I was traveling with Kara (my wife) so she just checked our suitcase under her name, but if you are traveling along just let the airline know that you lost your ID and they should be able to still check your luggage.
You'll Need Physical Proofs Of Indenefitication
Thankfully my wallet wasn't stolen I just lost my ID, so I had a wallet with my credit card, debit card, insurance card, business card and other things with my name on it to prove I'm the person on the boarding pass. You WILL need to have a couple of forms of physical proof of your identity. Anything with your name on it. This could be things like:
vaccine card
insurance cards
credit or debit cards
an expired driver's license (if you carry that for some reason)
passport card
business card
medication bottles with your name on them
old boarding pass (I sometimes shove those in my backpack)
Rewards card
And so on.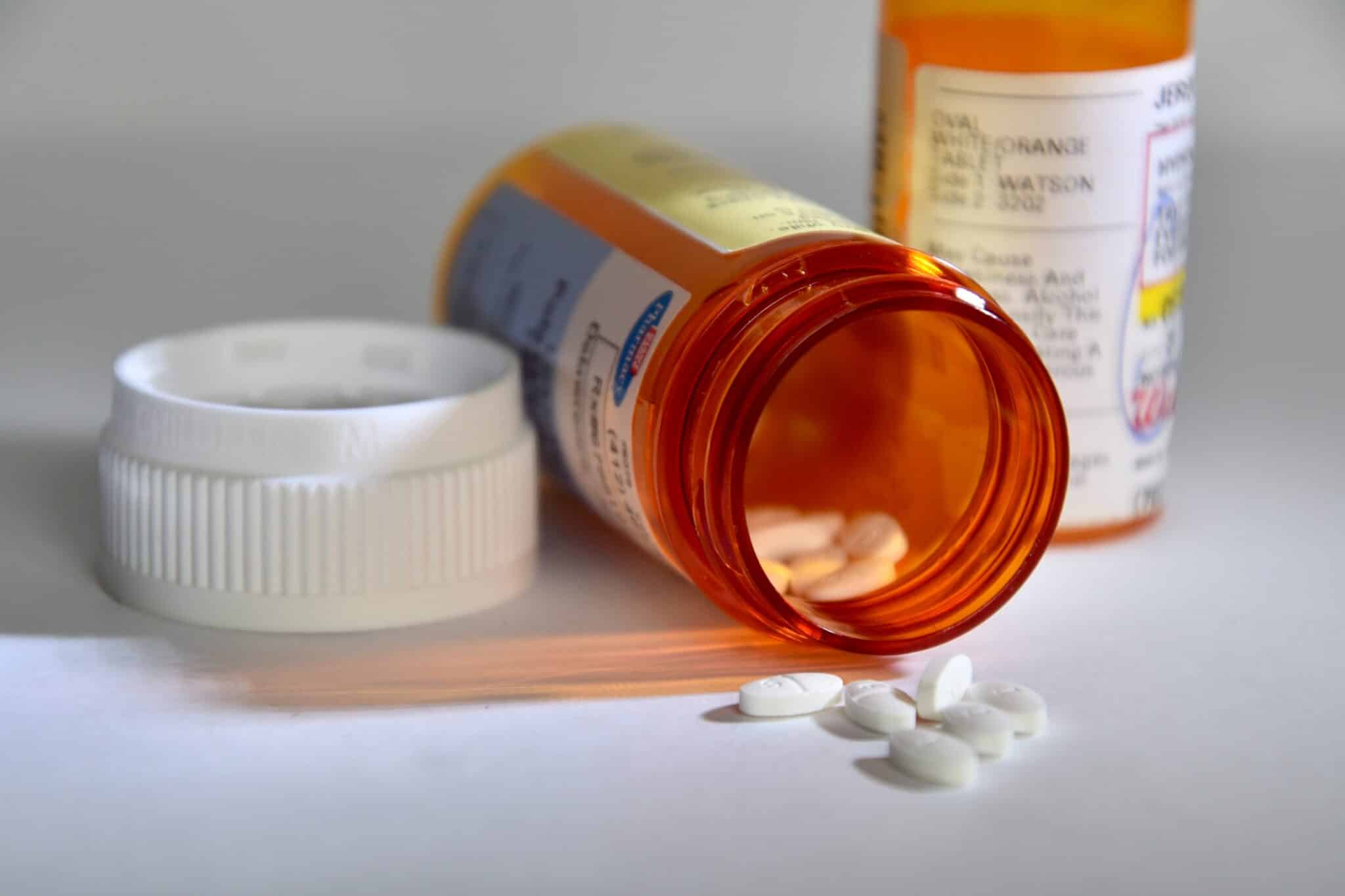 No, Digital Copies Do Not Count
Kara has copies of both of our passports and California real ID's scanned and in our emails for emergencies. But, those aren't helpful when trying to get past TSA. They need physical documents, not digital ones.
Lesson: always travel with additional forms of ID even if they aren't state issued or have your photo. Tuck at least one in your suitcase and another in your wallet so you have multiple forms of ID so you can still get home.
What Happens If Your Wallet Was Stolen And You Have Nothing?
There were two men next to me during my additional security screening that also lost their ID. (So yes, this apparently happens all the time!) One man, unfortunately, had his wallet stolen so he had to other government-issued photo id or backup cards like I had.
He also made the mistake of arriving to the airport 20 minute before his flight so TSA literally told him "you don't have enough time to get approved" and sent him away. I'm not sure what did he, but my guess is he had to call a family member to get his social security card or birth certificate faxed to TSA, or perhaps go through a fingerprint screening or something extra. Again, this is why you should arrive early.
After Proving My Identity, I was Subjected To An Additional Screening
Have you ever been randomly flagged through TSA to do additional patdowns and bag searches? That's literally all that there is in this additional screening. I was patted down and my carryon backpack was thoroughly searched. And then I was free to go to my gate.
You should always be mindful of what you pack on your carryon when you fly, but flying without an id guarantees your stuff will be searched, double-check. Once, Kara left a wrench in her camera case (long story) and forgot to take it out before boarding a flight. The TSA agent was like "what the F is this?" and took it. I can imagine flying without IDs and accidentally bringing non-approved items through security may end up with you getting denied, even if it was by mistake.
My Photo Wasn't Taken – But It May Be Taken
I wanted to follow this up with the note that beyond showing some cards in my wallet and doing an extra patdown, this process wasn't much different than a normal TSA screening. But, the 3rd man in my area that forget this ID was Hispanic and TSA took his photo before allowing him to proceed.
This could have been for many valid reasons but the color of our skin could have been at play here.
Lastly – Set Your DMV Appointment ASAP
On a parting note, as soon as you realize you lost your driver's license before a flight, do yourself a favor and set a DMV appointment to renew it asap. Depending on how old your ID is, you may be able to renew it online for around $30 and hopefully have it mailed to you pretty soon after you arrive home from your trip.
I had to get a Real ID so I wasn't able to renew it online, so I had to go in. Here in San Francisco, DMV appointments book up crazy fast and it can take ages for them to mail you cards. Plan ahead!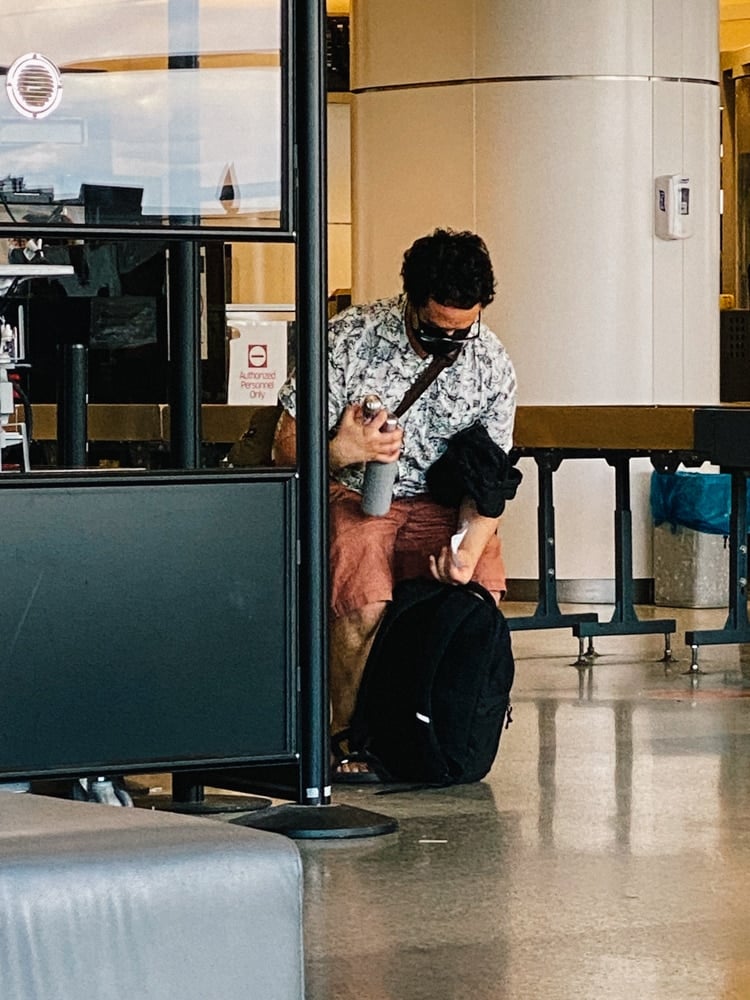 Frequently Asked Questions About Flying Without ID In The United States
Can You Fly Without An ID?
Yes you can still a domestic United States flight if you are a citizen and you lost your ID. You will need to go through the steps I listed above, though.
Can I Fly Internationally Without An ID?
Nope! If you are abroad and lost your passport, or are trying to board an international flight without a passport, you will not be able to board even if backup forms of ID. If that happens, you need to go to the embassy and get a new passport.
Can You Fly With A Temporary Paper License?
According to the TSA website, the temporary paper licenses you get while the DMV is creating your driver's license will not be sufficient to fly with alone. I do think this would be a totally valid form of backup physical proof of idnetiy, though.
The day this post is going live, I am flying to Oregon. I'm bringing my passport along with my paper ID, since my replacement driver's license hasn't been mailed to me yet. I do plan on asking them about the paper, just to confirm. I can buy beer with it so I feel like TSA should accept it, too, but perhaps not.
Can I Fly With A Picture Of My ID On My Phone?
No. Digital copies of your driver's license, passport, permanent resident card, etc WILL NOT WORK. You need physical forms of backup identity as listed out above.
I Forgot My ID At Home – Should I Go Back?
Probably. I would. Granted, kara and I live 20 minutes away from SFO and are the type of people who always gets to the airport early so if one of us forgets our ID, I think we would just rush back home so we don't have to go through the extra screening process twice.
Also, traveling without your ID is a major pain. You can't drive or rent a car, or easily check-in to a hotel, or order beer, etc. I think it would be better to miss your flight than try to last a whole trip without a photo id. But that's just me.
I Lost My Wallet Before My Flight – What Should I Do?
First, call it in so you have a police report as this will come in handy if TSA can't prove your identity in other ways. At least you have a record of your wallet being stolen! Then, get to the airport at least 4 hours before your flight. Be polite and be prepared to have your photo taken, prints taken and other screening measures.
It doesn't hurt to call your family ahead of time and ask someone (probably a parent) to be ready to fax TSA documents if needed.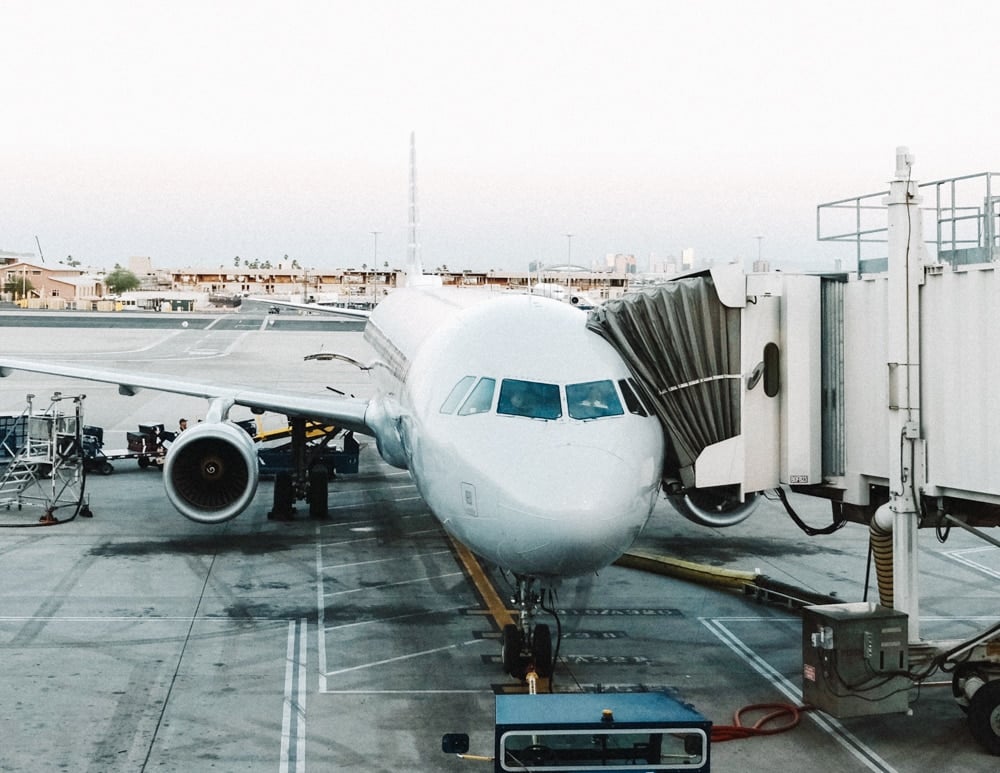 So, that's it! I hope you find this useful if you ever are in the same situation. I was super stressed out and worried we would have to rent a car and drive 15+ hours home, but it all worked out in the end.
If you have stories to share or a different experience, please leave a comment below so everyone can see!!