While licking a prickly pear ice cream cone dipped in prickly pear icing because I'm that extra, we decided our unofficial mission during our time in Mesa was to hunt down all the best prickly pear foods. (And yes, I do share the winners in this post.)
While Mesa Arizona area is part of the Greate Phoenix Area, it has a very different vibe than Phoenix or Scottdale. There's a focus on agrotourism here, it's super easy to slip into parks for nature time, and the food is oh-so-good. And if you are a baseball fan, you'll love all the spring training things (my husband sure geeked out a bunch).
We spent a long weekend running around this desert city hunting down all the best Mesa activities for you along with best places to eat, cool hotels you'll love and hidden gems you need to check out on your visit. Let's go!
Mesa At A Glance
Mesa is the third-largest city of the Greater Phoenix Metropolitan Area boarded by the Sonoran Desert and Tonto National Forest. For the purpose of this guide, we're including the smaller towns of Gilbert and Queens Creek as both offer some super cool hidden gems not to miss.
What Is Mesa AZ Known For?
It's definitely famous for hosting Spring Training every spring, but there's so much more to this area than baseball. Unlike Scottsdale, we found Mesa to be more chill (in all the best ways).
While it has a thriving nightlife, it's less of a pub crawl party scene and more trendy wine bars, hidden speakeasies, airy cider houses and folks chowing on tacos. It makes a great couples getaway, especially for folks who love to be outside in nature. I mean, where else can you sleep in a vintage trailer on a 300-acre oasis right in the middle of the desert?
When Is The Best Time To Visit Mesa Arizona?
There are so many fun Mesa AZ things to do year-round but as someone who will absolutely melt in the desert heat, I prefer to visit in the fall-spring for more mild weather. Personally, my favorite months to visit are October, November, April and late March after Spring Training.
Winter can get pretty chilly and, sometimes, you will encounter snow on the Superstition Mountains. If the heat doesn't bother you, coming in the summer means you can probably find good hotel deals and less tourists. (Score!)
Really the only major special events of the year you have to be mindful of is the National Baseball League's Spring Training. The Chicago Cubs and Oakland A's train in Mesa and people all over the country flock to the city then. Reservations at hotels and restaurants can be more difficult (and expensive) to obtain, so it's best to travel around that.
Now, onto all my favorite things to do near Mesa AZ! This is exactly what Robin and I did on our visit so you can copy our trip. At the bottom, I share my recommended hotels and places to eat.
1. Horseback Riding At Saguaro Lake Guest Ranch
Top of the list is horseback riding at the Saguaro Lake Guest Ranch. I will never forget meandering under rows of giant Saguaro cacti at sunset while the sky turn pink, or crossing the Salt River and really feeling like a real Old West cowboy.
The ranch offer sunrise and sunset trailrides in the Tonto National Forest, most of which feature sweeping views of Saguaro Lake. Robin and I attended a sunset trail ride and we saw wild javelinas! (We were perfectly safe on top of a horse and I was happy we did not encounter those on foot as hikers!)
If you are lucky, you may also see some wild horses. I truly think this ranch is one of your hidden gems in Mesa that totally make your visit extra special. Read more about our horseback riding in Arizona here.
2. Queens Creek Olive Oil Tour
As major foodies, Robin and I love visiting food right at the source, either through farm visits, wineries, distilleries, etc. The Queens Creek Olive Mill is a foodie haven you can't miss. And I know, you're probably like "Kara, there's olive trees growing in Arizona? How is that possible?"
Turns out, the Mesa Arizona desert is the perfect place to grow olives. It has a similar climate to the Mediterranean, but way dryer and hotter summers which means the pests and diseases that normally plague olive trees can't thrive there. So, trees are easy to grow.
The Queens Creek Olive Mill has been producing award-winning olive oil since the 90's and offer tours on top of a huge store and cafe. On the 45 minute tour you'll get to sample olive oil and learn more about the process of olive making. I recommend signing up for a morning tour around 10am, and then rolling right into lunch. Save some suitcase room to bring back goodies from their store, too!
3. Hike Wind Cave Trail At Usery Mountain Regional Park
About 20 minutes outside Mesa is Usery Mountain Regional Park, a huge and beautiful desert park that has over 29 hiking trails and wind caves. The best trail there for a morning hike is the Wind Cave Trail. It's about 3 miles round trip. You'll start on flatter paths but at the end start to wind your way up. (So, bring good hiking boots!)
You'll end at the Wind Cave which offers sweeping vistas and views of the desert below (plus cool photo ops!) As you can probably imagine, this can be a hot hot hot hike during the warm months, so it's best to tackle in the morning or early evening when temperatures are cooler. Make sure to bring a LOT of water, too!
Note: The park fee is $7, unless you have the local annual pass.
We had planned on hiking this trail before our flight home, but Robin lost his ID so we wanted to get to the airport extra early so we had to skip it. I was super bummed because everyone tells me this trial is AMAZING. I'll be hiking it next time I'm in the area!
4. Explore Downtown Mesa's Murals
Before you head to happy hour one night, come a bit early to explore Main Street. There's some fun things to do in Downtown Mesa AZ, like museums and stores to browse, but as an art lover, I adored hunting all down the murals.
So many talented street artists contributed murals all over downtown on the main street. They make for a fun photo moment, too! This is a map of all the spots. My favorite murals are:
Visit Mesa wall at 47 W Main Street
Tardis mural at 46 W Main Street (we're huge Doctor Who fans!)
The desert landscapes at 101 W Main Street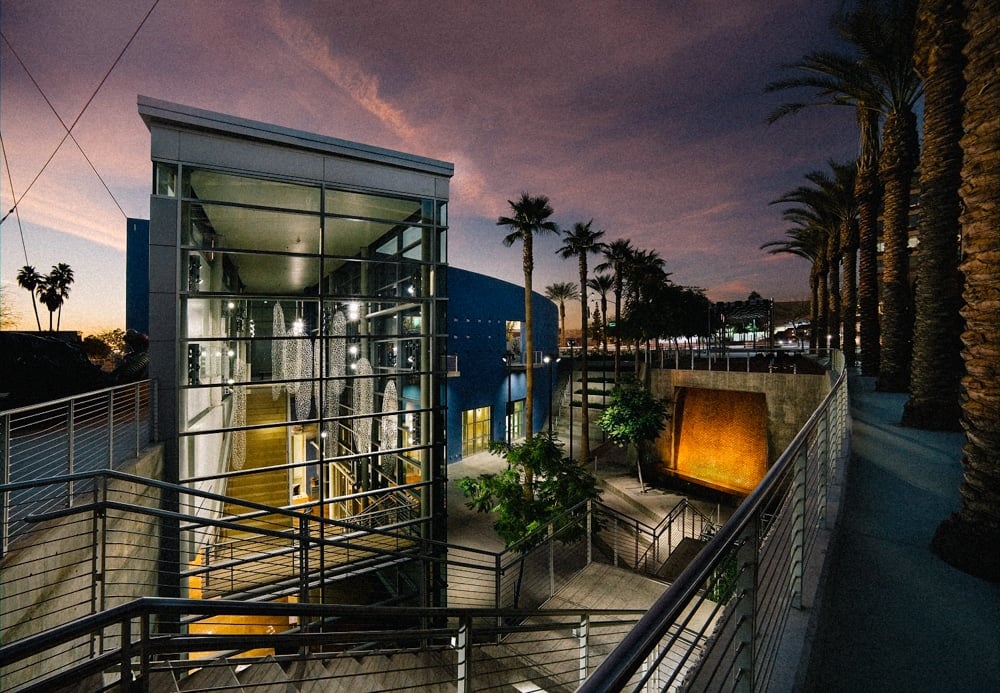 5. Mesa Arts Center
Looking for more free things to do in Mesa? After you look for murals, head to the Mesa Contemporary Arts Museum! The Mesa Arts Center is home to festivals, events, theater shows and galleries. They're constantly ushering in new exhibits from local and national artists, so there's always something new to see.
If you are REALLY into museums (or maybe just trying to find some indoor places with AC) there's also the Arizona Commemorative Air Force Museum and the Mesa AZ museum of natural history. The latter is a great place to take kids.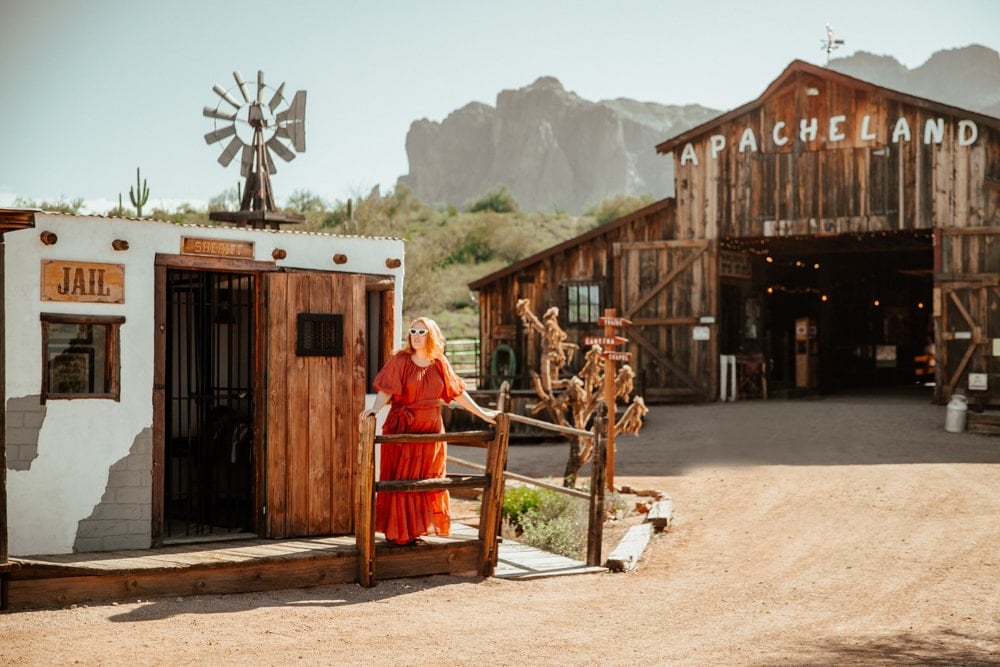 6. Drive The Apache Trail (Aka Arizona Route 88)
The Apache Trail is an old stagecoach trail that runs from just outside Mesa to Roosevelt Lake. Before settlers came, this trail was used by the Apache people to travel through the Superstition Mountains.
Today, it's a road that makes for an excellent day trip from Mesa. You'll pass by a museum, ghost town, state parks and Canyon Lake for water activities. You'll end up at Tortilla Flat, a historical stagecoach stop and the entire drive is just so dang beautiful. At every turn, my jaw dropped even further and further.
The next few Mesa attraction on my list are on the Apache Trail drive!
7. Tour The Superstition Mountain Museum
You'll kick of your Apache Trail drive at the Superstition Mountain Museum and the first thing you'll see is a small white church. Inside that white church is a large cardboard cutout of Elvis Presley surrounded by photos of western movie productions. It's kitschy and cool at the same time.
Oh, and you can also get married in the Elvis Chapel and I absolutely had a moment when I turned to Robin and said "dang, I kinda wish we weren't already married so we could elope here." That would be quite a story to tell.
This Mesa Historical Museum also houses the Apacheland Movie Ranch, a miniature town, tons of historical old west artifacts, wagons, an old jail and learn more about the lore around the Superstition Mountains.
What is the story behind the Superstition Mountains you ask? It's rumored that in 1870s a German miner named Jacob Waltz found gold in the mountain. He dug a bunch up and hid it somewhere on the 160,000+ acres of the Superstition Mountains terrain. It's thought to be over $200 million worth of loot hidden, just waiting to be discovered. His clue reads:
No miner will find my mine. To find my mine you must pass a cow barn. From my mine you can see the military trail, but from the military trail you can not see my mine. The rays of the setting sun shine into the entrance of my mine. There is a trick in the trail to my mine. My mine is located in a north-trending canyon. There is a rock face on the trail to my mine.
8. Goldfield Ghost Town
Next up on the Apache Trail is the Goldfield Ghost Town. It's not actually a ghost town, but rather an old mining town that lost its a post office (and thus cityhood) and eventually was restored & transformed into a museum/theme park. Visitors can shop old-timey clothes, artisan goods, get photos taken with a cowboy, go to a shooting range, sip margaritas at the Saloon or go on a mine tour.
Overall it's a bit touristy but good to swing by for an hour or so. We loved the mine tour. It's about 25 minutes long and you'll be guided underground to a portion of the old mine, complete with a tour guide dressed up in old Western gear. It's a fun crash course to the local mining history and what a day in the life of a miner would be (spoiler alert: it wasn't fun work.) Plus, on a hot day, it's so refreshing to be down there in the cool air.
After your one tour, swing by the Saloon to grab a prickly pear margarita and sit on their patio which overlooks the Superstition Mountains. While we visited in the morning on our way to Tortilla Flat, I could see this being a fun stop to save for the end of your Apache Trail drive so you can catch a sunset happy hour right here.
Looking for things to do in Mesa Arizona for families? Goldfield is family and kid-friendly!

9. Hike Lost Dutchman's State Park
Ready to hike and explore the Superstition Mountains by foot? Or, maybe hunt for that lost gold treasure? Lost Dutchman's State Park is a 320-acre park at the base of the Superstition Mountains and is one of the most scenic places in Mesa. There's easy trails that can be hiked in under an hour all the way up to advance trails that take you on the mountain rocks.
Probably good to note that hese mountains are sometimes thought to be cursed, driving men mad. In reality, they are part of the desert and far too often hikers (and treasure hunters) underestimate mother nature. Every once in a while a hiker slips and falls to their death. So when visiting take extra caution and bring more water than you think you need, even in the winter.
10. Swim in Canyon Lake
Robin and I thought it was too hot to go hiking on our Apache Scenic Byway drive, so we skipped the Lost Dutchman's Park and made a beeline to Canyon Lake. It's a good sized lake surrounded by rocks and cacti, I've never seen a post like this before.
I had my swimsuit in the trunk so I pulled it out and went for a very cold (yet totally refreshing) dip in the lake. I highly recommend you set aside 30 mins to do this! I found my hair dried really fast in the hot Arizona sun.
If swimming really isn't your thing, you can also rent kayaks, water skis and other equipment from the Canyon Lake Marina. If you follow me on Instagram, you know that I go kayaking in Sausalito a couple times a week. You don't need any experience, it's actually hard to fall in the water and you go paddle for just 30 minutes if you are on a tight time crunch. Whether it's swimming or boating, just get out on that lake!
11. Tortilla Flat Stagcoach
Tortilla Flat feels a bit like you walked back in time. It's a small strip of Old West style buildings tucked on the side of the Apache Scenic Byway. Here you will find a western saloon covered in $100k worth dollar bills and featuring saddle bar stools, a cute general store, a gift shop, and a tiny historical Arizona museum. It's technically a town – THE smallest town in Arizona with just 6 people living there.
But most days it's a haven for road trippers looking to top off their desert drive with BBQ and some prickly pear gelato. Robin stocked up on spices and prickly pear candy at the general store, and we stayed for lunch. I recommend sticking to the Barbecue options and ordering the Prickly Pear beer (it really hits the spot on a hot day!)
Pro tip: Weekends can get a bit crazy, so I recommend you stop by after 1pm for a late lunch, or drive up on a weekday. There is parking alongside the road but also a large lot at the end of town.
12. Dollysteam Boat or Desert Belle Lake Cruise
On your way back down, you can book a nature cruise on the Dollysteam Boat if you didn't get out on the water earlier. We didn't ride this but we did watch one of the boat cruises around while we were swimming. This 1.5 hour cruise will take you all over the lake and on top of learning all about the natural history of the area, you'll probably see wildlife like Big Horn Sheep.
Altneratabiy, you can do a sightseeing cruise on the Desert Belle on Saguaro Lake! I
13. Salt River Tubing
Maybe it's because I grew up in Wisconsin, but I truly think there is no better way to spend a lazy hot summer afternoon than floating down a river. If you're visiting Mesa in the late spring-summer, book yourself a Salt River tubing float.
They'll provide your group with tubs so you can float a mile down the river under the Bulldog Cliffs. and then shuttle you back to your car. This wasn't yet in season during our visit but I so want to do this next time I'm in Mesa!
14. Kayak Saguaro Lake
If you didn't go kayaking in Canyon Lake, Saguaro Lake is much closer to Mesa and also offers kayaking!! The lake is a reservoir inside the Tonto National Forest and also is flanked by desert, cliffs, cacti and wildlife.
15. Goat Yoga
Holy moly, this is hands down one of my favorite things to do around Mesa AZ. This goat yoga class really isn't yoga – more like an animal pet therapy session with light stretching but that's why it's so fun. Robin and I arrived a little early so we could help put costumes on the goats and get maximum animal joy.
Then, when the class started, everyone gathered in a circle with the goats, alpacas and calf (yes, hey had a baby cow!) in the middle. By the end of the class, the goats were running around in between folks and sometimes on top of them just having a good time.
Robin had lost this ID the day before and was still super stressed out about it (we flew there after all) so de-stressing for a couple of hours with goats was exactly what we needed. I don't think we laughed that hard in ages! When you do come, make sure to bring a towel or yoga mat to sit on, as it takes place in a field and a change of clothes.
16. Mesa Rose Garden At The Mesa Community College
Visiting Mesa in the springtime? Head to the Mesa Community College to see over 9000 rose flowers in bloom! This rose garden is free to stop by, and probably the most enjoyable in the morning or late afternoon when the sun isn't so high/hot.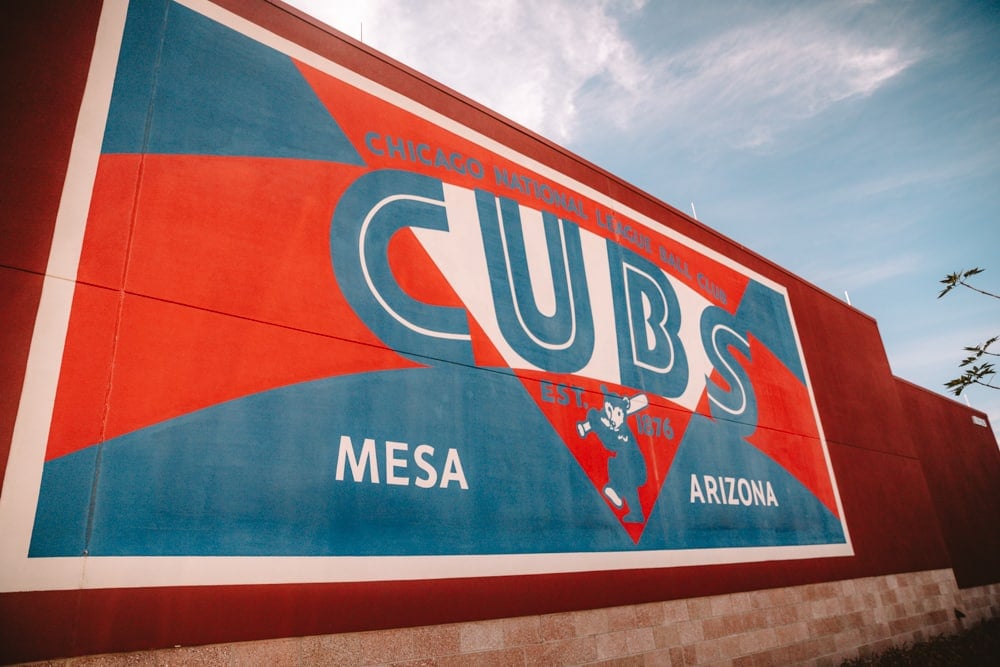 17. Spring Training
Last but not least, Spring Training. Yes, I did tell you at the beginning of this guide to avoid Spring Training, but I am also married to a die-hard sports nerd so I know attending a Spring Training is a bucket list time for some folks.
The Cubs training center is over by Riverview Park at Wrigleyville. We actually spent the first night at the Sheraton Hotel which is next door to the stadium, so Robin got to stand outside the fence and peer in (and probably sobbing internally because the lockout negations delaying the season.)
There's also the Oakland A's who play at Hohokam Stadium in Mesa. If you do plan on attending any of the training games, plan ahead as hotels and tickets book up fast!
Where To Eat In Mesa Arizona Area (12 Best Restaurants, Bars, Breweries & Cafes!)
Woohoo, now onto all the best places to eat and drink in the Mesa Area!!
1. Joyride Taco House
When we landed in Arizona, Robin and I immediately beelined to Joyride Taco House in Gilbert to kick off our Mesa trip properly. This is a hip open-air restaurant with all the varieties of tacos you could possibly want along with plates, burritos, salad and elote.
If you like spice, you need to try the Watermelon and Pepino appetizer, which has house chamoy. We've never seen anything like it on a menu before.
2. Garage East
Garage East is the coolest wine tasting we've had in ages (and that says a lot as we're always zipping up to Napa Valley!) It's located in Agritopia, which is an urban farm full of local food and artisan spaces. Garage East has a great collection of local Arizona Wine (some are in-house labels, some are from other wineries) so you can get a crash course on desert wine.
And guys – they give you flights in beakers! Instead of coming around to fill your glass for each tasting, they'll give you a flight of test tub beakers filled with wine so you can pour them into your glass yourself at your own pace. When you visit I highly recommend you do the cheese board pairing to elevate the wine (food and wine always go together!!)
Our favorite varietals that we tried were the Breakfast Wine (which is basically a mimosa), the Green Wine which is styled after a Vinho Verde, their Mourvédre and Tempranillo.
3. Fire & Brimstone
Also inside Agritopia is Fire & Brimstone, a wood fired pizza joint that makes pies featuring toppings like prosciutto, fig, smoked Italian sausage, house-made merguez sausage and so much more. After you go wine tasting next-door at Garage East, swing by here for a little pizza snack!
Pro-tip:
a good alternative pizza spot is
Myke's Pizza
inside Cider Corps!
4. Cider Corps
I'll be the first to admit that cider tasting is usually not my favorite (anyone else feels that so many cider houses just make like, 10 different apple ciders and they all taste the same??) Cider Corps is not like that, in fact they are the only cider house I've ever seen that plays around with fruits in such a unique way.
You'll find a tap list featuring ingredients like Prickly Pear, Passionfruit, Lime, Juniper, Rose Hip or Guava. We did a flight to sample all their ciders and we loved them all, but the standout for us is their Sangin Sangria cider which was like an explosion of fruit on your tastebuds. We fought over the flight pour so much we each had to get our own pint.
Cider Corps is all about supporting & honoring veterans, so t's decked in military decor (like grenade-shaped tap handles). It's one of the top cool places to hang out in Mesa on any given evening.
5. Taco Chiwas
I got this taqueria recommended a few times on TikTok from Mesa locals! They love how tasty affordable it is (tacos start at $2.50!) Taco Chiwas is a family-owned business with 3 locations in the Phoenix Area. The Mesa one is right on Main Street downtown and when we walked b every single seat on the patio was taken it's that popular.
6. Espiritu
We walked by Espiritu and I had to pull Robin back to check it out. I was drawn in by their almost dark academia decor, moody lights and sounds of people clinking glasses. Espiritu is a tiny sexy craft cocktail and seafood spot that stays open until Midnight for a late night drink that won't disappoint.
7. 12 West Brewing
Robin and I are big beer lovers, so we love visiting local breweries while traveling. 12 West is downtown Mesa and is a large multi-level brewpub. Their food is heavy in that classic brewery style (mac and cheese, burgers, etc) and it's all delicious.
But it's their beer that's outstanding. Our favorite was When Beer Goes Pop, a hazy IPA that hits the spot on a hot Arizona day. When visiting 12 West, ask to beat seated on the upper patio for good views and people watching!
8. Queens Town Olive Mill Lunch
Remember me chatting about the olive mill tour? When you go to Queens Town Olive Mill, set aside time to grab lunch! On our visit, we had to sit inside since it was insanely windy, but they have a large picnic area out under olive trees which you should grab a table on.
I recommend you order everyone prickly pear lemonade (the best one we tasted all week!) and warm olives for the table to start with. Order a few different bruschettas (ask for the seasonal rotating one!) and a kalamata olive sandwich for the perfect olive-themed lunch.
9. Schnepf Farm Bakery
Ready for the best cinnamon rolls of your life?! We stayed a couple of nights at the Schnepf Farm Cozy Peach glamping trailers and each morning biked across the farm to their bakery to grab cinnamon rolls fresh from the oven. Ooey gooey and the best way to start the day.
10. Postino East Wine Cafe
In Gilbert AZ at night? This place will be buzzing so make a reservation if you can. Postino East is a cool wine bar/restaurant with tons of outdoor seating and a huge fireplace on the patio. They carry local and international wines, so defiantly order a glass or two.
Seriously, everything on this menu is tasty but we especially loved their bruschetta board where you get to mix and match 4 different bruschettas. My personal favorite was the Prosciutto Di Parma, Fig & Mascarpone. YUM!
Pro tip: Postino has a "Board & Bottle" special for a $25 bottle of wine AND bruschetta board every Monday & Tuesday after 8PM.
11. White Rabbit
We love a hidden speakeasy! White Rabbit is located at the edge of downtown Gilbert hidden at the bottom of a staircase. You'll need a password to get in (don't worry, you can find it on their website). Inside you'll find a cozy speakeasy with leather chairs and walls covered in photos.
The bar is inspired by Dr O'Hare, who was a practicing doctor in the Gilbert area in the 1920's prohibition era. Apparently, Dr O'Hare saw a business opportunity to prescribe patients "alcoholic concoctions" and thus opened a pharmacy that really was a speakeasy. Pretty cool, huh?
12. Topo
Ready for the best prickly pear ice cream in the city? Come to Topo! This small building is hard to miss with the giant gopher on the rooftop. Order at the little window and pick a shaded table to enjoy your ice cream cone!
The Best Prickly Pear Foods In The Mesa Area (Ranked!)
As promised, here's our list of prickly pear foods ranked from our favorite to least favorite. Keep in mind that all prickly pear things are drool-worthy but if you don't have to consume 11 flavored things in one weekend, use our list instead to pick the best items.
Prickly Pear Lemonade at Queens Creek Olive Mill (10/10)
Prickly Pear Ice Cream at Topo (10/10)
Sagin Sangria Cider Featuring Prickly Pear at Cider Corps (10/10)
Prickly Pear hard candy at the Tortilla Flat general store (9/10)
Prickly Pear Margarita at the Goldfield Saloon (8/10)
Prickly Pear Gelato at Tortilla Flat (7/10)
Prickly Pear Lemonade at Tortilla Flat (7/10)
Grand Canyon Prickly Pear Beer in stores or Tortilla Flat (6/10)
Prickly Pear Lemonade at Goldfield Cantina (2/10)
Where To Stay In Mesa, Arizona (Best Hotels)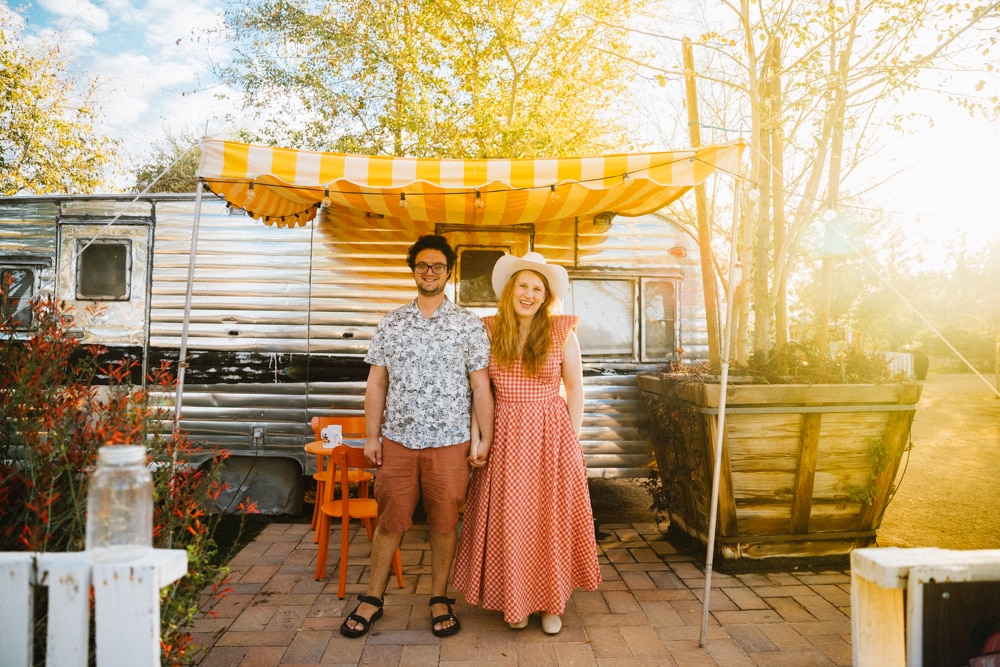 Cozy Peach Glamping Trailers
This is where Robin and I stayed for part of our trip and we LOVED this experience at Cozy Peach. It's about a 20-minute drive from most of the restaurants and activities, but so worth it to fall asleep in vintage trailers under the stars. The trailers are packed with all the needed amenities (wifi, coffee maker, bathroom, AC and heat, etc). Guests have access to bikes to explore the 300 acres farm and there's a bakery on-site for breakfast!
Delta Hotels by Marriott Phoenix Mesa
Delta Hotel trendy hotel is a few blocks off Main Street in Downtown Mesa so it's super easy to walk to all the best restaurants, bars and museums. It has a large pool to lounge by on warm days and spacious rooms with a fridge. Book it now.
What To Pack For A Trip To Mesa AZ
As you can imagine, in the summertime the goal is to wear as little clothing as possible, but the winters can be chilly especially at night (I've worn heavy sweaters and hats on winter trips to Arizona before!) What I'm saying is: don't assume Arizona is warm 365 days of the year.
Shop the outfits I packed!

Some handy items you'll probably want year-round:
Sweater for the night
Sunglasses
Chaffing bands (if you wear skirts or dresses)
Hiking boots
Sandals for walking
Straw hat for sunny days
1-2 swimsuits
Hand lotion & chapstick (the air is very dry here!)
Frequently Asked Questions About Planning A Trip To Mesa Arizona
How do I get to Mesa AZ?
Is you are coming from out of state, the easiest way to get into town is flying in through Phoenix International Airport. Mesa is about 30 minutes away from the Airport. If you are driving, here's the distances to expect:
Sedona to Mesa: 130 miles / 2 hours and 15 minutes
Grand Canyon to Mesa: 250 miles / 4 hours
Albuquerque to Mesa: 406 miles / 6 hours and 15 minutes
San Diego to Mesa: 360 miles / 5 hours and 30 minutes
Do I need a car?
Yes, you'll want to rent a car so you can easily pop out of the city to the Tonto National Forest and other parks to go hiking, horseback riding, etc. Mesa and the surrounding towns (Gilbert, Chandler, etc) are sprawling and having a car makes it easier. There's easy, free parking pretty much everywhere.
Does Mesa have Lyft or Uber?
It does! We took it one night when we didn't want to drink and drive. Expect ride shares to be super slow and take a while, but they are affordable.
How many days should I spend in Mesa?
We spent a long weekend of 4 days and 3 nights and thought that was a great amount of time! This left us room to properly explore the Apache Trail, spots in the Tonto National Forest and parks, and eat all the good food.
Are there fun festivals or events in Mesa AZ I can attend?
There's always something fun happening in Mesa. From plays at the Mesa art Center to local comedy shows, concerts, art festivals and more. You can find a full list of upcoming events here. There's also the Mesa market place swap meet that's open every Friday-Sunday and features over 1500 local vendors.
Sample Weekend Mesa AZ Itinerary
Who else loves a good itinerary?
Day 1 In Mesa
Mid-Day / Early Afternoon: Land at Phoenix in the middle of the day so you can optimize your time in Mesa!
1:30pm: Late lunch at Joyride Tacos
2:30pm: Prickly Pear Ice Cream across the street at Topo + then explore downtown Gilbert
3:30pm: Check-in to your hotel & freshen up.
4:30pm: Head to downtown Mesa to hunt for murals, stroll Main Street shops and/or visit the Mesa Art Center!
5:30pm: Happy hour at Cider Corps.
6:30pm: Dinner time! Choose from:
Mykes Pizza inside Cider Corps
12 West Brewing
Taco Chiwas
8pm: Night Cap (optional) at 12 West Brewing or Espiritu.
Day 2 In Mesa
Today is all about exploring the Apache Trail! Make sure to pack your swimsuit for this one.
7:30am: Breakfast at your hotel
9am: Hit the road!
9:30am: Explore Superstition Mountain Museum
10am: Arrive at Goldfield Ghost Town. It opens at 10am so this is the best time o explore without crowds!
10:30am: Attend the first Goldfield Mine Tour of the day!
11am: Pricky Pear Margarita at the Goldfield Ghost Town Saloon.
11:30am: Back into the car to take a scenic drive to Canyon Lake. Optional day hike in Lost Dutchman's Park right now.
Noon: Take a refreshing zip into Canyon Lake. Optional: rent a kayak instead to do a nice quick paddle.
1pm-3pm: Lunch at Tortilla Flat + shopping the general store. It can be a long wait sometimes, so put your name in for a table right after arriving.
4:30pm: Arrive at Saguaro Lake Guest Ranch to check-in for your sunset horseback ride!
6pm: Head back into the city for Dinner. You have some options here:
Dine-in at Fire & Brimstone
Dine-in at Old Ellsworth Brewing
Call ahead to Crave Pizza and pick up a pizza to go. Bring it back to your glamping trailer to enjoy by your fire!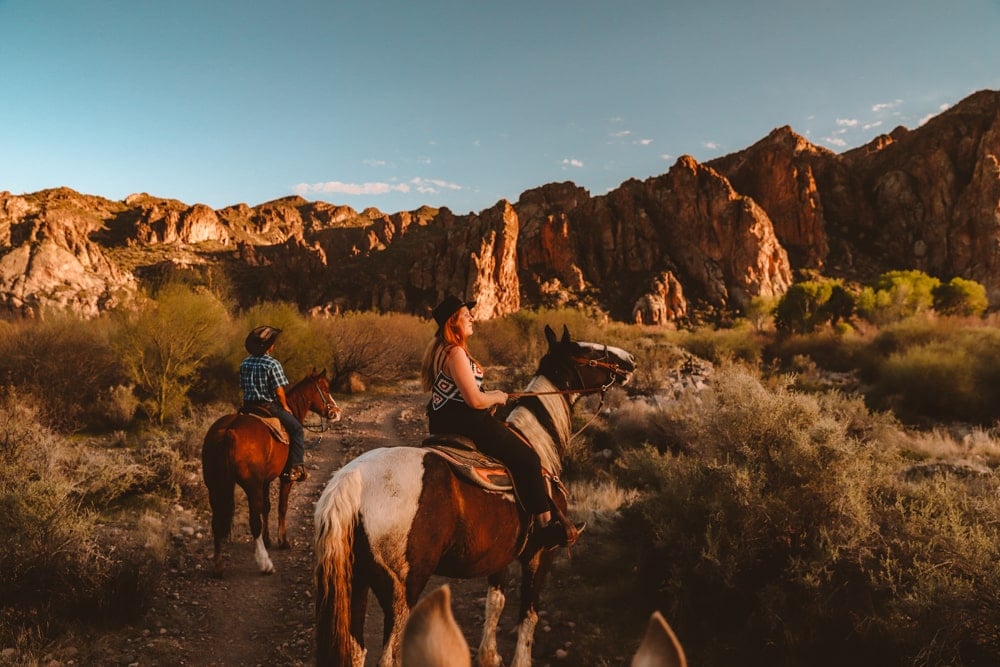 Day 3 In Mesa
8am: Breakfast at your hotel (if at Cozy Peach ask for breakfast to be delivered to your trailer or bike to their bakery for cinnamon rolls.)
9am: If at Cozy Peach, borrow the bikes and explore the farm!
10am: Queens Creek Olive Mill Tour (about 45 minutes)
11am: Pick up any goodies from the Olive Mill you want to take home and stay for lunch.
12:30: Wine tasting at Garage East at Agriptopia (don't forget to order a cheeseboard!)
1:30pm: Explore other shops at Agriptopia. If you haven't yet stopped at 12 West Brewing, they have a taproom inside!
2:30pm: Head back to hotel to rest or squeeze in other activities you missed earlier.
4pm: Leave for goat yoga!! It's best to arrive early so you can help put sweaters on the goats.
5pm-6pm: Goat yoga (don't forget to bring a change of clothes!)
7pm: Dinner at Postino East in Gilbert. Make sure to set reservations prior.
8:30pm: Night cap at White Rabbit speakeasy
Day 4 In Mesa
7am: Wake up early to pack & grab breakfast at or near your hotel.
8:30am: Arrive at Usery Mountain Regional Park trailhead for a morning hike on Wind Cave Trail
10:30am/11am: Plan on being back at your car by 11am. Change & freshen up.
11am: Head back to Phoenix Airport to fly home. If you have a later flight, use this time to grab lunch somewhere and explore more of Mesa you didn't get to see yet!
There are so many fun things to do in Mesa AZ! If your favorite activity didn't make the list, please drop a comment below so everyone can see. Got a question about Arizona travel or visiting certain Mesa attractions? Comment or DM me on Instagram @thewhimsysoul and I'll try and help out.