This is a VERY honest Cupshe review haul. I've spent $500+ on Cupshe swimsuits so I could try tons of their styles, test the quality and customer service. Is Cupshe legit and the best new place to buy swimsuits for the summer? Or is this company a hard PASS and possibly a scam? Read to find out!!
(I have a spoiler: I had major issues with shipping and not all the swimsuits look the same IRL. Time to spill some tea!)
PS: Watch my YouTube video review below to see all the swimsuits in my try-on haul!

A Curvy Girl's Cupshe Review: Essential Things To Know Before You Buy (2023)
As a body-positive blogger, I'm always keeping my eyes open for companies offering cute products that fit my fellow curvy babes in trendy styles, but also have affordable prices and a mission to empower women everywhere.
Cupshe isn't branded as a plus size swimwear company, but Cupshe bathing suits go up to size 4x which thrilled me. Accompanied by prices averaging around $25 and TONS of unique styles, I thought "this could be the JACKPOT of swimwear for summertime!" Size inclusive style is hard to find!
Popular!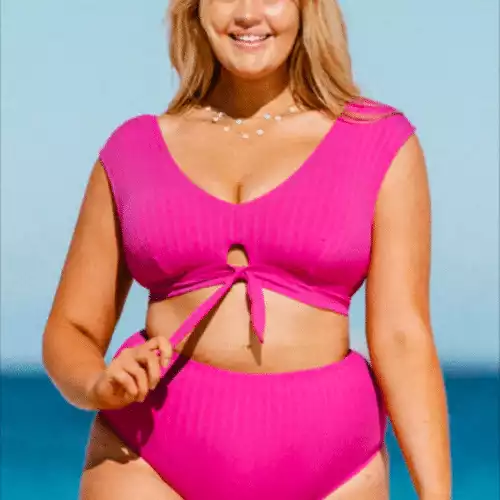 Breezy Rib Bikini Set
This bathing suit for pear shaped folks is perfect since the top has thicker shoulder straps, thus evening out the shape of your body visually. Look for necks like this. It's high waisted and has a tie-front top so you can make sure it fits snug no matter your bra size. Plus, the color just screams Legally Blonde and I love that.
Pros:
rib material so it's very stretchy

high waist

tie-front top to fit your bust

wide shoulders to even out shape
Shop Now
Our Fave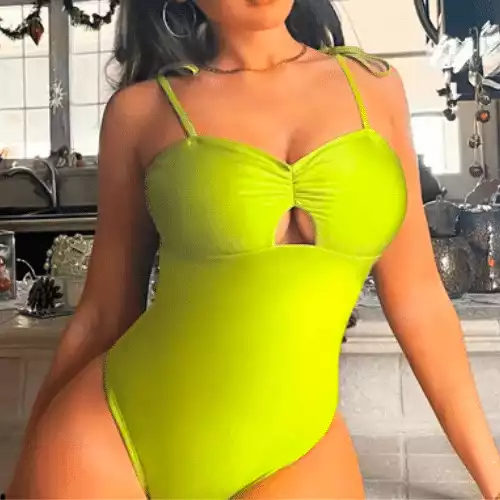 Ruched Tie Strap One Piece
This is hands down the best bathing suit for pear shaped people of all skin tones. This unique lime green color looks great on everyone, I swear (even me, a pale girl!) The sweetheart neckline draws the eyes upwards and away from pear shape's larger lower half and is just super comfortable to wear.
Pros:
Adjustable tie straps

Unique color

Low sweetheart neckline
Shop Now
I'm low-key obsessed with swimsuits. After not feeling comfortable in them for most of my youth, I've almost sort of overcorrected and now have shopped a lot of swimsuits from a lot of different companies.
After learning about Cupshe swimsuits, I did some research on the quality, but couldn't find a great third party review, so I decided I was the perfect blogger to take up the challenge of the ultimate honest Cupshe review!
So, keep reading to learn about Cupshe bathing suits, a totally unsponsored/honest reviews and other must-know helpful tips for sizing & style choices if you choose to order! Let's go.
CUPSHE REVIEWS 2023
These are the swimsuits I got in my orders! My first order was to write this review and then over the years have ordered again and again. will say off the bat, I love all the different styles of Cupshe and how they look great on different body types.
They have one pieces, bikinis and covers ups along with activewear and loungewear. They are trendy and unique, which is what I look for when shopping for swimsuits.





I'm going to be talking about each of these styles (pros and cons!) further down below, especially since I took some of them on a few trips to test out in real life. But first…
Cupshe Discount Code: use code WHIMSY15 for 15 off $70+ or WHIMSY20 for 20% off $109+ until June 2022!!
You'll also get free shipping.
Shipping Highs & Woes
Before I dive into my sizing and quality thoughts, I have to start off with sharing my struggle with even getting the swimsuits I ordered. Buckle in for a storytime.
I ordered about $150 worth of swimsuits the first week of February. When doing reviews like this, I always order a few different styles and fabric types so I can really test things out across the board for you.
One swimsuit arrived on time, but the rest of my order never came… I thought I had been scammed out of $130.
Upon ordering, I was notified at checkout that my order would have a 5-8 business days delay, so I chopped the initial delay up to that timeframe. But I was never given a tracking code to track the rest of the order so I was in limbo on the pieces I was looking forward to.
When My Order REALLY Never Came…
But after that window came and went and I still didn't get the ~$130 of the bikinis and one piece swimsuits I ordered, I reached out to customer service. And thus began what felt like the never-ending back and forth emails between me and the store. I can't stress how many times I had to follow up with this company you guys.
It felt like a fight just to get a new tracking code for the second half of my order. And once I did get that code, it was clear that my order was stuck in limbo somewhere (as in, the post office did have an update for almost a week on where it was.)
Finally, after a couple of weeks of checking in and being proactive about my order, I got in touch with an agent who actually helped.
The new agent offered me a choice: I could get 50% of my order refunded (but not a full refund) or I could use a code to place a new order totally for free and if the other swimsuits came, I could keep them.
At this point, it felt all like a major scam. I was frustrated that I couldn't get refunded in full for the swimsuits that weren't there. But at the same time, I really wanted some of the swimsuits, I really wanted to do this review for you guys and I was also really aware of some possible reasons for a delay.
I do think my delays were a combination of three things:
Lunar New Year / Chinese New Year (I ordered my swimsuits right at the beginning and it's common for Chinese companies to take the whole week off, sometimes two weeks in celebration.)
The coronavirus (ie: possible delays at their factory in China due to lack of workers, etc.)
They're made in China so it just takes a while to ship regardless.
So, I took the promo code and ordered a new order. This one came much faster, in about 12 days. And, literally just a couple of days ago, my initial order finally arrived. So, I ended up with $300+ worth of swimsuits for just $150. I'm frustrated over the whole experience, but I do appreciate the solution and getting a second order comped. It made me want to shop there again.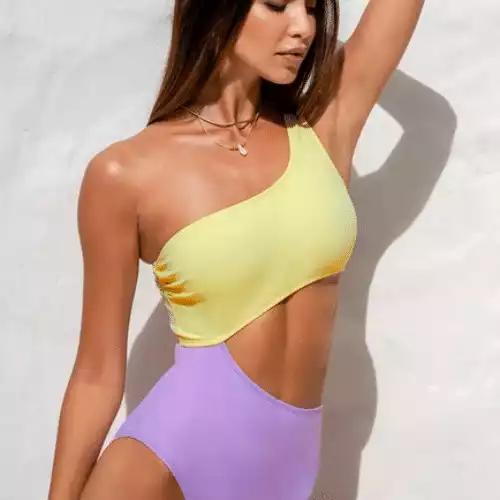 Color-Changing Swimsuit
This is a color changing swimsuit!!!! OMG, how fun is that?! Pour some water on this and it'll change purple to pink. Beyond the fun wow factor, the side cut out is perfect for pear shapes since our waist is smaller. The cut out draws the eye up and almost looks like it's "wrapping" our body. Plus, it's really fun.
Pros:
Color changing fabric!!!

Side cut out to draw eye up

Butt coverage
Buy Now
My Pick!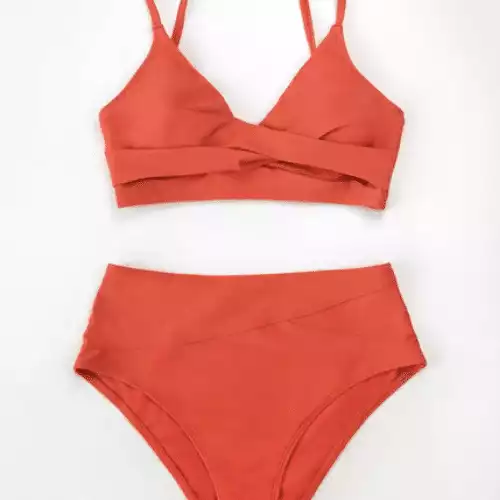 Twist High Waisted Bikini
My favorite pear shaped swimsuit is this bikini that I've owned for years. I also have a few friends who own this bikini and it looks amazing on all of them so it's a true winner. TRUST ME, buy this!
Pros:
Best seller

adjustable straps

I own it in 3 colors

tons of bottom coverage
Buy Now
UPDATE: I have since re-ordered from Cupshe in 2022 many times, and while my swimsuits totally took a while to arrive, I didn't have this weird mixed order situation.
A few of the ones I got were total misses and I also got the option to get credit instead of a refund, which I took. This was fast and done over a chat message so they have made improvements!
Now, let's chat about each of the styles!
Cupshe Styles (Hits And Misses)
I took a few swimsuits on a couple of trips here in California to test out IRL, and of course tried them all on at home, too.
Green Black and White One Piece Swimsuit: This is my favorite swimsuit of the bunch. The fabric is heavier and feels more luxe and the whole design just screams fancy AF. The V neck plunge fits just right and I love the bow tie in front for an added element of fun.
Rainbow Swimsuit: I really liked the color of this one and it fits well on the bottom, but the top is a little too loose. Since you can't adjust the strapes on this one, my b00bs did slip out at the beach (opps!) This one is better for gals with larger chests than I do.
Gingham Swimsuit: This is my other favorite. It's perfect for summer and makes me feel like a cottagecore babe!
Red Ruffle High Waisted Bikini This is a major FAIL for me. I was expecting a skimpy bikini but this swimsuit is a lot smaller in real life than it looks like on the model. The cups are so small I feel like I would pop right out if I moved to quickly!
Orange Gingham and Solid Bikini This is a win! It fits like a dream and I love the bright orange color. The bottoms are more high-waisted so I feel totally comfortable and confident in these.
Rainbow Striped High-Waisted Bikini This is a toss-up. I ADORE the rainbow pattern (I'm such a sucker for color!) But the high waisted bottoms weren't all that high waisted. It doesn't fully cover my belly button, which is what I expect from a high waist.
Lost In The Dream High-waisted Bikini Set This is a win, though I do have to say the colors look a bit different in real life. But it fits well, the high waist is high and it has a nice sporty look that I could see myself snorkeling in while in Maui or something.
Scalloped Deep V-neck One-Piece Swimsuit This is the WORST of all the swimsuits. There's so many things wrong with it. For starters, this is the swimsuit that color ran from the fabric after soaking in a hot tub. I had laid it out over the shower and it was sitting next to a towel and the towel got a huge red stain. BOO. The cups also sit way too high (for my breasts at least) and the bottoms are too tight.
Colorblocked V-Neck One Piece Swimsuit This one is another miss. I loved the retro color blocking pattern but the top isn't cut correctly. The side under the armpit area is way too loose and doesn't fit a body correctly.
Floral Appliques One-Piece Swimsuit This one is another toss-up. It was the same issues as the colorblocked suit above (the top doesn't fit exactly right) but the cutting is a lot better. And I love the pattern and a size Large fits well.
Floral Lace Up Back One-Piece Swimsuit This is a miss. The flowers are super pretty and whimsical, but they look tapped on. It's not a good look in real life. I think if I took this into the water it would fall apart. That being said, I may try to fit this up a bit and wear it as a bodysuit under jeans.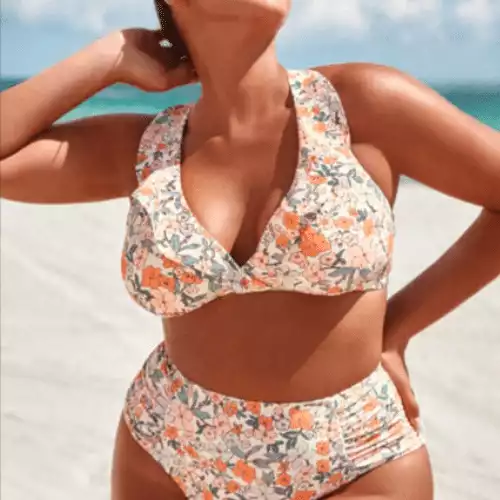 Floral Ruffle Bikini Set
This darling plus size bikini for pear body shapes is so dang cute. It has tons of tummy control and is stretchy to go over the butt. The ruffle top adds dimension to the top to draw the eye upward. Plus, I just love the floral pattern. Retro yet timeless at the same time.
Pros:
Super high waisted

Ruffle on top to even out shape

Stretchy

Low cut
Buy Now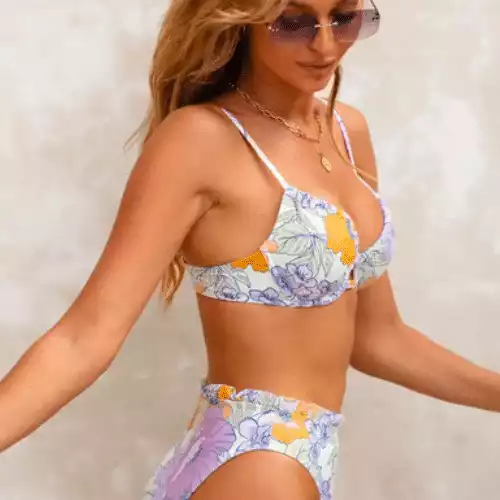 High Waist Cheeky Bikini Set
I own this high waisted bikini set and love it. It's cheeky but sits over my belly button which is what you look for when shopping for bikinis for pear shaped bodies since it has good tummy control.
Pros:
Underwire in bra

Bottoms cover belly button

Smaller coverage (limited tan lines!)
Shop Now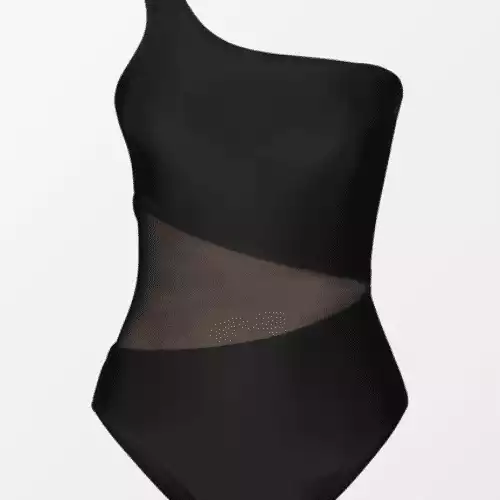 Black One Shoulder Swimsuit
I usually love colorful one pieces but this black one piece is dang good. It makes me feel like Meredith Blake. The mesh cut out hits at your waist, which is what pear shape swimwear should do, and the one shoulder draws the eye upwards instead of downwards. Looks really good with a straw hat, too.
Pros:
Super snug on curves

Mesh cut out hits at waist

One shoulder top

Classy & timeless style
Shop Now
Green and White High-Waisted Bandeau Bikini This is a win! It's another sporty-feeling bikini that holds all my curves in perfectly while making me feel confident. Can't wait to wear this one at the pool this summer!
Orange and White Bikini: I like this one for summer but the orange looks more yellow/light orange in real life than it does online. I still plan on wearing it since it's cute and comfy, but it doesn't exactly match up.
Dusty Red Bikini: This was a surprise hit for me. The color is a dusty red that I love and I actually think it looks really cute worn under overalls, too!
Emerald Green Bikini: I love the color on this! It fits a little sporty but has a flirty side tie.
Retro Colorblock Swimsuit: Dear lord, I love this swimsuit so much. It's colorful, totally my style and stays in place. I wear this the most when I'm snorkeling, swimming in waterfalls, etc.
Red One Piece Swimsuit: Another hit! This one piece swimsuit hugs my curves in all the best ways and makes me feel really hot. I wore it on our Valentine's Day trip up to Calistoga. I've been having such a hard time finding a red swimming that fits like this one.
Green One Piece Swimsuit: I swear this color looks good on every body and every skin tone. I get compliments every time I wear this out and it looks extra good with a white cover up and head scarf!
Cupshe Dress Reviews & Cover Ups
Did you know Cupshe offers loungewear and clothes, too?! This is new in 2021. I own a few of their dresses and loungewear sets. After writing my initial Cupshe swimwear reviews back in circa 2019, they've really expanded their line.
Now, you can find tons of beach coverups and dresses at Cupshe, along with accessories like sandals, towels, sunglasses, activewear and loungewear.
Curvy Girl Cupshe Dresses Review
As a curvy size 14 gal, I was surprised to find the Cupshe Larges and XL dresses fit me perfectly (sometimes these sort of clothing lines run small). I find the dresses to be perfect for the beach or hot days exploring a town- they're usually thin, flowy and colorful.
I'm obsessed with this floral midi dress that fits perfectly and is so fun for spring and summer. It instantly made my list of favorite Cupshe clothing pieces that I wear over and over again.
The fabric is thin but it's cut really well for my curvy body. And, I think it looks dang cute with a cowboy hat (yes, I took this to wear in Austin!)
I also wore this yellow dress from them to my trip to Porto, Portugal this summer! It was the perfect vacation dress for all the beautiful blue walls around the city, my photos turned out so fun, and the weight of the dress was ideal for all the heavy heat.
It's pretty thin so I wouldn't wear it on a normal day-to-day basis, but on a sticky August day in Porto? Heck yeah.
But my favorite is this glitter loungewear set. I can't decide if I'm going to a party or being extra on the couch when I wear it, but I love it that way.
The set is the perfect weight (not too heavy, not too thin) and so fun to wear in the wintertime when I want to spruce up my everyday looks. I also packed this set as one of my winter cabin outfits on a recent trip and loved how fancy it made me feel.
And recently, I wore a beautiful silk Cupshe dress pictured above during a dinner date up in Calistoga, California. This is the dress that has been the highest quality of feel in my opinion. As I keep mentioning, the fabric of Cupshe is thin.
I hate saying thin fabric = cheap fabric, but I do think these dresses are really more of a 1-3 season outfit, versus an investment peice you wear for a decade.
But, this silk dress feels really nice on my skin. It's well made and hugged my curves in all the right places. I love it, I love wearing it out and then slipping it off later at night and putting on a swimsuit to go soak in the hotel's hot tub.
Cupshe Loungewear & Accessories Review
I also wanted to update this post with comments on the loungewear and accessories from Cupshe fashion. I know most of you are probably here to read about their swimsuits, but you can also find some great non-swimwear gems here!
I would equate the accessories to stuff on par with Target. The sunglasses, towels and shoes are all solid quality and at affordable prices. I got a beach towel from them, that is now our go-to beach towel since it has this nice protective coating on it that makes sand not stick as well.
I also love their sandals and slippers in the winter. I have size 9 feet and struggle a lot with buying shoes online. I got this pair of sandals for the beach and they fit like a dream and are perfect for slipping on and off in between swimming.
Sadly, my fun glitter loungewear set is sold out but keep an eye this holiday season, I have a feeling they'll bring it back (or something similar).
They launched activewear and loungewear last year and while I usually prefer Girlfriend Collective for legging sets, Cupshe does have some really fun outfits.
They seem to launch more interesting loungewear pieces around the holidays for gifting and getting cozy on winter vacations. Summer is all about new swimwear designs every week!

Cupshe Sizing Reviews
Ok, so now you know I had some sizing issues with the swimsuits. I saw some YouTube videos of other women trying on swimsuits but they were all for sure a size small, so I wanted to share my thoughts on Cupshe size comparison for my curvy ladies.
I wear a size 12 or Large. (Update: now I wear a size 14 or XL) I thought some of the swimsuits in a large fit perfectly while some were too big and some were a bit too tight.
You can find a size chart or size guide on each individual product page to double-check sizing first.
Overall, I felt that the one-pieces had the most sizing and fitting issues. Many had issues in the top portion because they weren't cut correctly to actually fit a body well. A couple also had issues on the bottom half and were too tight around my tighs.
I had better luck on the bikinis, which were mostly all true to size. That being said, I have been able to find some great one piece Cupshe swimwear pieces that I wear again and again, they just are a bit more risky.
Cupshe Return Policy
Let's chat return process! Here's the official Cupshe Returns Policy:
All return requests must be initiated within 30 days your package has been delivered.
All items must be returned in their original condition, with all tags and hygiene seals attached. Bikini sets must be returned with both top and bottom.

my personal note: the hygiene seals are VERY loosely attached and will certainly come off if you try a suit on, so take care to ensure it doesn't unstick when you are trying on your order.

Accessories and beach towels cannot be returned or exchanged unless there is a quality issue.
I checked Cupshe BBB ratings and while they aren't United States accredited, they do have a B- rating which isn't terrible. Most of the complaints filed against them are for not honoring returns. Many people claim Cupshe just stopped emailing them back after they tried to get a return label o start the return process.
I had to email them almost every day and FINALLY got a solution to my order after about 6-7 emails asking for updates.
So I'm guessing that these customers had issues and weren't following up enough (which is something they fairly shouldn't have to do, but I did want to point it out in case you order and have an issue. Follow up until it gets solved!)
Update: I ordered myself more in Spring 2021, I wanted to return a few swimsuits. Customer Support reached back right away this time. I also took the option to keep the swimsuits free of charge and get additional credit to buy more swimsuits. It was a win-win.
Are Cupshe Swimsuits Good Quality or Cheaply Made?
It's a toss-up. Some of the swimsuits in my order were on pare to the quality and fabrics as swimsuits I've gotten from places like Target. Others were cheaply made, didn't actually fit correctly and on one, the color in the fabric even ran. Overall, I think the bikinis are amazing and the one-pieces are a little iffy.
Guys, this is a swimsuit, the color shouldn't be running when it's wet!
Where Is Cupshe Located?
Where is Cupshe manufactured you ask? The website branding makes you think they are a Southern California company but I'm pretty sure their swimsuits are made in China, and I think that's where the actual HQ Cupshe location is as well.
And from my experience ordering fast fashion from overseas companies is that it's always a hit or miss.
Some of the clothing will be made perfectly fine, some won't. It's always a bit of a risk ordering, especially when you can't touch the product in person in store first.
Is Cupshe Like Shein?
No! They are totally different companies. And unlike Shein, which has a RICO charge and is known for using child labor, Cupshe doesn't do any of that.
Is Cupshe Legit or A Scam?
Well, as you can see I did get my swimsuits…. eventually. So, it's not a scam in the sense that you'll buy a product and never get it. But I had to FIGHT to get my order and while I do like some of my Cupshe swimwear pieces but there some that just don't fit well at all and are a waste of money.
But, they also offered a great discount deal and since that kink back in 2019 when first writing this post, they've really ironed out their process. Now everything always ships fast and I never have shipping issues.
I think Cupshe is best for when you want a swimsuit for vacation for this season- like, you're heading to Maui and you want new bikini. These are not on the level of companies like Summersalt, which makes swimsuits to last YEARS. Cupshe is better for the short-haul and overall has good customer reviews.
Overall, I would buy here again and have bought here again for "short term" purposes when I want to try a new swimsuit trend. But I'd be super selectively and probably only a buy couple instead of like, 10. This is not the type of store you can buy a lot of pieces from, try on at home, and easily return the ones you didn't love unless you bought them from Amazon.
If You Do Order, Here's What You NEED To Do
So, to recap, if you choose to order from Cupshe, here's the essential things to keep in mind:
Check to see what past customers have said about the swimsuit on the Cupshe website reviews. I feel like all their reviews should be taken with a grain of salt since I looked at a bunch and couldn't find any truly negative ones, so I'm not 100% sure what's going on there (are they deleting reviews or forging them?)But in general, you can get a vague sense about what the swimsuit will fit like.
And, I'll always tell you my honest Cupshe swimsuit reviews on particular pieces, so if you see me wearing something on Instagram, hit me up.
If you are ordering during the Chinese New Year, expect very long shipping delays since I'm *pretty* sure the entire company takes off during that time frame. I personally would love to see them note this delay with transparency since it's frustrating to not know why your order is late, but a holiday break is perfectly fine.
View this post on Instagram

If you are torn between styles, opt for a Cupshe bikini. Out of all the swimsuits I ordered, it was the one-pieces I had the most issues with. In general, most of the bikinis were amazing and hugged my curves perfectly.
Check out with PayPal. At the end of the day, this is an international company and you can never know how good their security is. Pay for your through PayPal to make sure your information is secure (plus, if you have any order issues they should be able to support you!)
I hope this helps you decide if Cupshe is for you or not! If you have ordered from here, I would LOVE to hear your experience (good or bad!) so please leave a comment below with your Cupshe swimsuits review so everyone can read it.
If you have any questions, feel free to DM me on Instagram @thewhimsysoul and I'lll be happy to help!
Stay fabulous!