As you're driving around Central Oregon and gazing out at the high desert landscape, just know that there are thousands of lava tube caves out there under the shrubs and juniper trees.
And, you can explore many of them. Spelunking has been on my bucket list for ages, but like the fun kind of spelunking where I can easily stand up, not be trapped in small spaces and have a guide who knows how to safely get us back out.
So, when the opportunity to do a cave tour outside Bend Oregon came up, I jumped at the chance to check spelunking off my bucket list. In this post I'm sharing more about my tour, how lava caves were formed in Central Oregon, the best caves to check out and tons of important tips to know before you go!
After sharing about our cave tour on Instagram, I got a LOT of dms back saying things like "I love adventure but there's no way my claustrophobia could let me do this!" I get it. I've listed to many podcast episodes about people or children getting anciently trapped in caves, sometimes fatally.
These caves aren't like that. Well, at least not the one we explored. Other than one area that required crawling through a hole as wide as a car windshield, there was tons of space to stand up and move about, on top of a nice stream of cool air so it was never stuffy.
If you're curious about seeing the inside of lava tubes but are worried about claustrophobia, don't be. Plus, you should book a tour with Wanderlust Tours and you'll get a cherry guide who will make you feel safe and confident the entire spelunk.
What To Expect On A Tour With Wanderlust Tours
While working with Visit Bend, they sent us on Wanderlust Tours Prohibition Cave Tour, which started off with exploring Boyd Cave off of China Hat Road, and ended with a distillery tour and tasting at Oregon Distillers.
You may not do Boyd Cave. The guide will you to one of the bend caves depending on time of year and permitting, as some of the caves are closed during the winter for bat hibernation.
At the cave entrance, you'll get equipped with a helmet in case you bump your head, which you probably will more than once, along with a headlamp. Most folks who visit the caves don't bring a helmet or headlamp and choose to use their phones for light, which means they end up not being able to explore too much of the cave.
With Wanderlust, we were equipped with the right safety gear and a guide who knew all the corners of the cave, including the spots that are especially hard to navigate and the best spots to take breaks. Our guide also pointed out bats and moths when we came across them, things I totally would have missed on my own!
Lava Caves Formed After A Volcanic Explosion
You're probably wondering: how are lava caves different from other caves? Here's the stitch: just south of Bend is the Newberry Volcano (located at the Newberry National Volcanic Monument). It's an active volcano about the size of Rhode Island and erupts roughly every 800-3000 years, the last eruption being 1300 years ago.
This eruption has been dubbed The Big Obsidian Flow and had a drastic impact on the landscape of this part of the United States. Lava rivers were formed underground and their path carved out tons of tubes or caves. The entrances to them are accessed from the top of the ground by dropping into them, though the popular caves have stairs installed.
There's over 1100 documented lava tube caves in the area, but new ones are being found all the time. The inside of the caves tends to be wide and tall with some areas being flat and easy to walk, while others are covered in sharp lava rocks.
pro tip: If you want to learn more about the cave's formation or have questions, head ot the Lava Lands Visitor Center!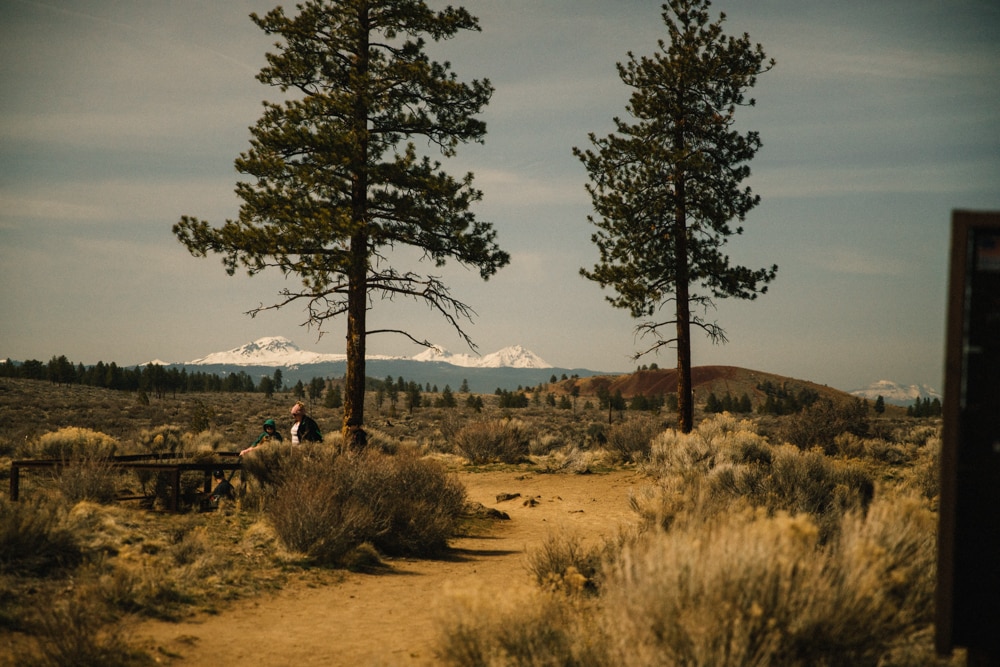 Frequently Asked Questions About Bend Lava Caves
Do I Have To Worry About White Nose Syndrome With Cave Bats?
White Nose Syndrome is a fungal disease occurring in hibernating bats. It makes their noses & skin really itchy and causes them to keep waking up from their hibernation to scratch, which drains their energy and can cause them to die.
Don't worry – humans can't contract it and I don't belive there have been any recent reported cases of White Nose Syndrome in Oregon. BUT, keep tabs on updated reports if you go. And as always, you can prevent spreading this fungus by washing your clothes and shoes after caving.
This applies between caves! You don't want to cross-contaminate. Wanderlust Tours even sprayed the bottoms of our boots with a vinegar mixture to help hill bacteria before entering the cave.
What Should I Wear Inside The Cave?
These are lava caves, which means the rocks can be super sharp. Don't wear puffer jackets or anything that you would be super bummed out if it got ripped. Expect to be hunching over, crawling and crouching a lot as you navigate the cave so wear something that offers flexibility, along with sturdy closed toed boots.
Robin and I both came back with cuts and bruises on our knees, and I think that's pretty standard. If I did this again, I would totally wear knee pads or shin guards like the ones you wear playing soccer.
It's about 45 degrees inside Boyd Cave, which may sound cold but once you get moving you heat up. I was ok with a thin sweater and button up shirt. A light fleece over your t-shirt is perfect.
I also recommend you wear something with pockets to keep your phone. Your guide probably will carry water bottles for you so you can be hands-free and agile. I initially came into the cave with my camera backpack but quickly realized I didn't want to be crawling around on the rocks with a backpack as some of the areas aren't very tall. I put it back in the car and just brought my phone.
What Are The Best Caves To Explore?
There are lava tube caves all over the Deschutes National Forest and I only got to explore one, but now I'm kinda hooked and want to explore more next time I'm up there. Here's a short last of caves on my radar:
Boyd Cave: This is the cave we visited! Had a nice amount of open flat areas with rock piles to scramble over. It's about 1800 feet in length.
Lava River Cave: This is one of the longest lava tubes in the United States! People travel from all over to visit this cave. It's 5,211 in length, which is so long compared to Boyd which is 1800 feet deep. It's only open May September so please check the opening dates before you.
Arnold Ice Cave: This is a large cave system that is dubbed the ice cave since it can feature ice in the front during winter!
Skelton Cave: Very close to Boyd Cave. You have to have a permit to enter, and Wanderlust Tours is permitted so you can see this cave with them!
Are Caves Free To Visit?
Yes. The public caves on National Forest Service land are free to visit though some lots required a $5 parking fee. Some are caves are also closed during certain times of the year so please check opening times as access to caves is not permitted during closed seasons.
What's The Difference Between Spelunking And Caving?
They're basically the same. I was also curious and did a quick google search. Spelunking is exploring a cave for fun, as we did in the bend lava tubes with Wanderlust Tours. Caving is the term used for exploring a cave for research or educational purposes. I personally use them interchangeably but I guess there is a difference.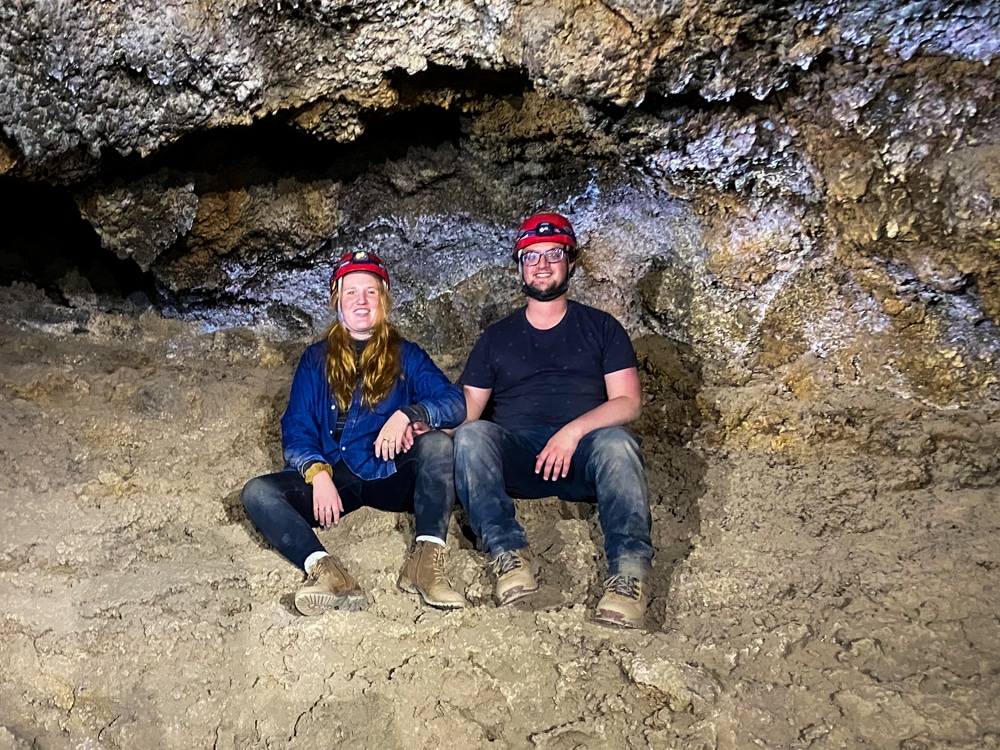 I hope this helps inspire you to go explore some of the Bend Oregon Lava Caves! If you have any tips to add, drop a comment so everyone can see.
Got questions? Leave a comment below or DM me on Instagram @thewhimysoul and I'll try and help out. Happy exploring!