Bagels were a staple in my husband's house growing up.
Most of the time his family got their bagels from the local grocery store, and while good, store-bought never stands up to the amazingly soft and chewy fresh out of the oven bagels you can find at a bakery.
When he started getting into cooking, my husband Robin tried making homemade bagels and they're SO GOOD, we haven't bought bagels in over a year. With his permission, in this post I'm sharing is secret & perfected homemade everything bagels recipe so you can also bring that taste golden brown bagelness into your home.
My Husband's Secret Homemade Everything Bagels Recipe: A Step By Step Guide On How To Make Homemade Bagels

Confession: I didn't used to love bagels. The little exposure I had to them growing up was cold, plain, store-bought bagels and I thought they tasted gross. Then I married Robin who introduced me to a proper bakery bagel and the rest was history.
I'm THRILLED that he learned how to make a homemade everything bagels. It's always so fun to have a big batch of fresh, soft bagels ready to eat in the morning. It makes me feel fancy!
Bagels are time-consuming, Robin says, but they only need a few basic ingredients to get started. His all-time favorite bagels are Everything Bagels, so while you can add your favorite spice/topping with this homemade traditional bagel recipe, he recommends you go with the everything seasoning.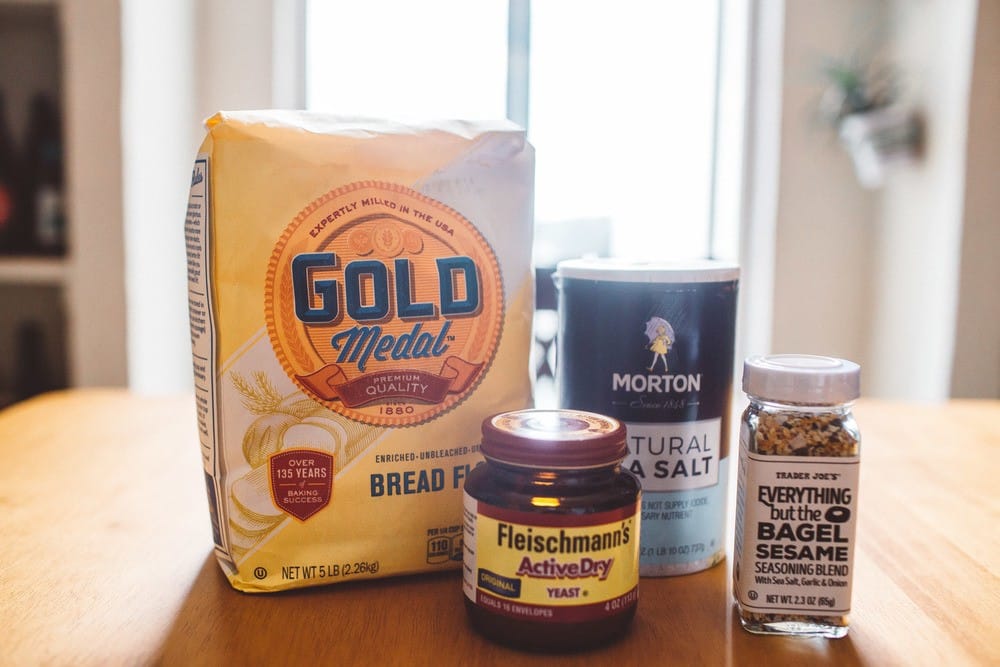 You could make your own Everything Seasoning (it uses poppy seeds, sesame seeds, dried minced onion, dried garlic flakes and coarse salt) but Trader Joes has a tasty Everything Seasoning blend ready to go and it's just a few bucks.
Ready to dive in? This is how to make everything bagels, aka the best homemade everything bagel recipe that will spoil you SO much you'll never want to buy them again.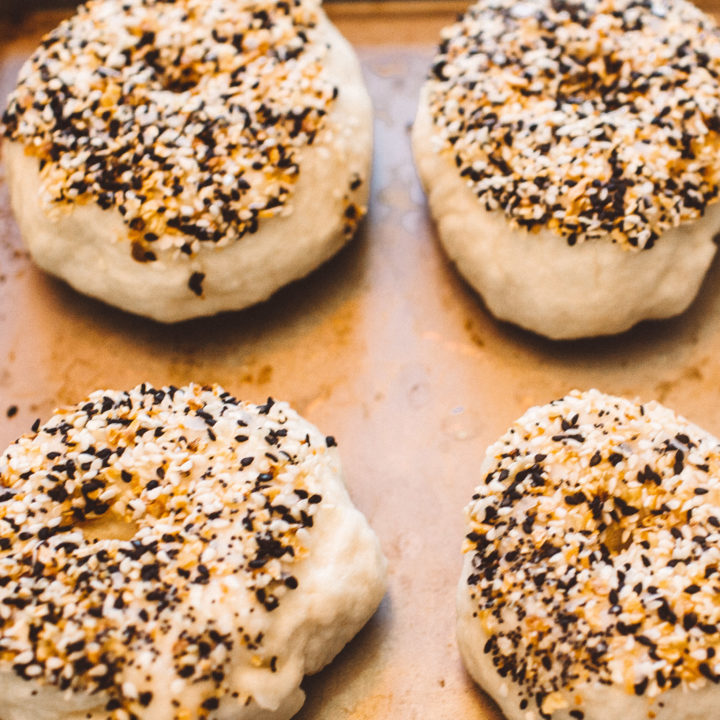 My Husband's Secret Homemade Everything Bagels Recipe
Total Time:
2 hours
10 minutes
A tasty yet easy homemade everything bagels recipe (they're soft and make the best breakfast!)
Ingredients
3 ½ Cups Bread Flour (Any high protein flour will do as well)
1 ½ tsp salt
1 package of yeast (2 ¼ tsp)
1 Tbsp sugar
1 1/3 Cups warm water
Egg wash- 1 egg
1 Tbsp water mixed together
Trader Joe's Everything But The Bagel Sesame Seasoning- I top them very heavily, but you can use as much or as little as you like.
Instructions
Making The Bagel Dough

Preheat oven to 475 degrees.
Pour sugar and yeast into 1 1/3 Cups of warm water and let sit at room temperature for about 10 minutes,
While you're waiting for the yeast to bloom mix flour and salt together in a large mixing bowl.
Mix sugar and yeast together until combined.
Make a well in the flour mixture and add the water-yeast mixture and start mixing. I like to start mixing it in the bowl to keep it from being too messy when I turn on to a lightly floured surface.
Turn Mixture onto lightly floured surfaced and combine and knead until the dough becomes smooth and has some elasticity.
Let sit covered in a warm area until the dough has doubled in size, about an hour.
When the dough is ready, you will make it into 8-12 balls depending on how big you make them. The smaller you make the balls, the more bagels you'll have.
After rolling, take your finger and press down into the centers of each ball to make the hole in the center.
Let them sit covered for another 10 minutes to let them finish proofing.
Baking The Bagels
As you let the bagels sit, start boiling water in a large pot.
Put the Everything Seasoning on a large plate
Mix the egg and water together to make your egg wash.
Now we boil the bagels! 4 or 5 bagels is what most large pots can fit at a time. Boil each side for 2 minutes. then remove. The bagels will be very hot coming out of the water, but cool to the touch in 10-20 seconds.
Take each bagel and first dip the side you are topping in the egg wash, then into the seasoning.We want to get the topping on quickly before the bagel cools so it will adhere better.
Repeat for all bagels.
Bake in the oven for 25 minutes until golden brown.
Serve!
Notes
After they are done baking, make sure to smother them in cream cheese upon serving. They're the best while still warm out of the oven!
Nutrition Information:
Yield:

12
Serving Size:

1
Amount Per Serving:
Calories:

184
Total Fat:

2g
Saturated Fat:

0g
Trans Fat:

0g
Unsaturated Fat:

1g
Cholesterol:

31mg
Sodium:

373mg
Carbohydrates:

35g
Fiber:

1g
Sugar:

2g
Protein:

7g