I'm low-addicted to the Pineapple bubly sparkling water flavor. It tastes like Maui in a can, which is especially wonderful to drink right now since we're all stuck at home and I really wish I were in Maui right now!)
Since we're bored at home, I took up the challenge of making craft sparkling water cocktails with the favorites we have in stock all the time. This Pineapple Bubly Cucumber Spritzer recipe is easy to make with ingredients you don't have to do specialty shopping for, it tastes so refreshing and, surprisingly, a bit like melon!
Keep reading for the recipe!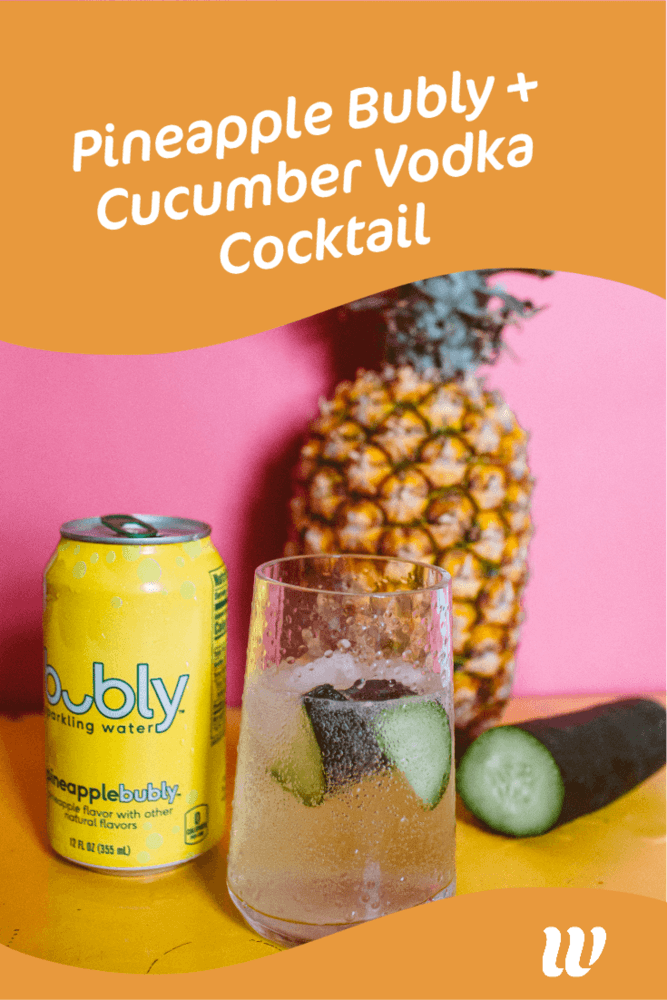 >> Got a question about this recipe that you need answered quickly? DM me on Instagram @thewhimsysoul and I'll be happy to help!
If you follow me on Instagram you know that I LOVE La Croix, specifically the Pamplemousse flavor (aka grapefruit) so that will always take the number one place in my heart. But the Pineapple Bubly totally takes second place.
There are a lot Bubly flavors ( lemon, lime, cherry, etc) that can all be used at the perfect mixer for tequila and vodka-based cocktails. But this one uses the Pineapple Bubly and vodka with fresh cucumber to make a fruity yet not too sugary spritzer that's perfect for spring and summer days.
And you probably already have all the ingredients. That was super important to me when making this recipe: since we all should be limiting our time outside I didn't want to encourage ya'll to go shopping for a niche ingredient.
Like cucumber vodka. You can buy cucumber vodka but there's no need – it's SO easy to make your own cucumber-infused vodka! Here's how:
Cut 3-4 slices of cucumber and place in your cocktail shaker. At 1 shot of vodka per serving and SHAKE it for at least 30 seconds. This infuses all the cucumber juices into the vodka!
The solution will be a light green color after and your vodka will have a cucumber scent and smell. Success!
Next, just add the ice and simple syrup and give it a few more shakes. Pour the mixture out in your serving glass with ice. Now it's time to add the Pineapple Bubly – use about 1/3 of the can to top the glass off. Add in a fresh cucumber slice for garnish and BOOM.
You made a Pineapple bubly Cucumber Vodka Spritzer (that I like to think counts as my serving of vegetables for the day!)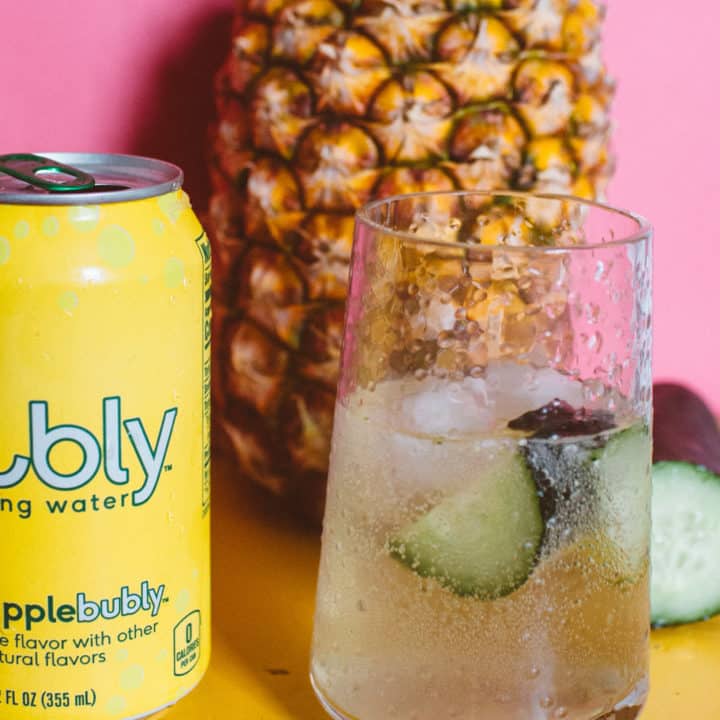 Pineapple Bubly With Cucumber Vodka Spritzer (Refreshing + Simple!)
Addicted to Pineapple Bubly too? In this simple Pineapple Bubly cocktail recipe, It's easy to turn your afternoon sparkling water into happy hour with homemade cucumber vodka.
Ingredients
1 can Pineapple bubly sparkling water
1 fresh cucumber
2 oz simple syrup
7 ice cubes
2 oz Vodka
Instructions
Simple Syrup Recipe
We make our own homemade simple syrup in a big batch that lasts a couple of weeks. Here's how:
Mix equal parts water and sugar in a pot.
Boil together until sugar dissolves.
Let cool. That's it!
Pineapple Bubly + Cucumber Vodka Cocktail
Slice 4-6 cucumber slices and place in your cocktail shaker.
Add 2 oz of vodka and shake for at least 30 seconds to infuse the cucumber juices into the vodka.
Add 3 ice cubes and simple syrup. Shake again.
Place remaining ice cubes into your serving glasses and pour the cocktail mixture equally into each glass.
Use about 1/3 can of Pineapple Bubly to top off each glass.
Garnish with another slice of fresh cucumber.

Drink up!
Recommended Products
As an Amazon Associate and member of other affiliate programs, I earn from qualifying purchases.
Oh, and I know I'll get som questions so, THIS is the patchwork dress that I'm wearing in these photos!
Looking for more food ideas and recipes? Check out these posts!