At 7:30pm the air was still warm but the sun was low in the sky, hazy and golden over the vineyards. By now the pool at Monverde Hotel in Portugal had cleared out, so we had it all to ourselves and for a few moments, it was easy to believe I lived there.
All that was missing was a glass of wine….
I just got back from a week-long trip wine tasting around Portugal's Vinho Verde region and totally fell in love with the property at Monverde. Let me tell you all about my magical stay at what could be one of the best hotels in Portugal…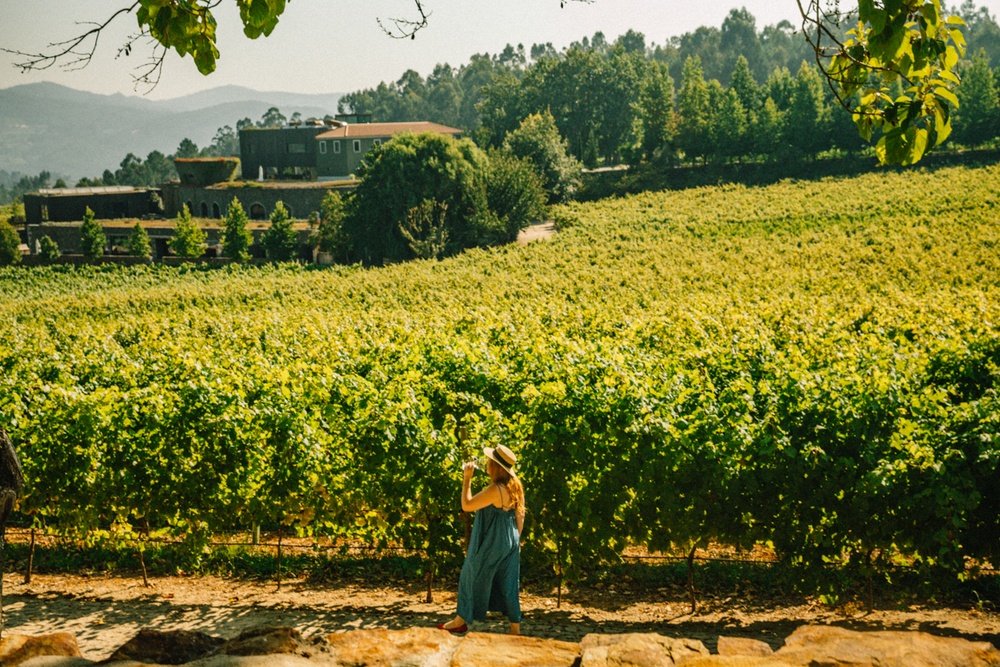 My Magical Stay At Monverde Hotel, A Unique Luxury Hotel In Portugal's Wine Country
Location:
Amarante, Portugal
Type:
luxury resort
Good for:
couples, family, friends
Rates:
Starting at $180/per night.
Book best rate here.
The Monverde Wine Experience Hotel is a truly unique hotel. It makes an excellent home base for exploring the Vinho Verde wine country but if you didn't want to leave, you'll still be surrounded by vineyards. I cherished sunset walks back to my room after a large dinner, and foggy morning walks through the vines on the way to breakfast.
Each morning I also took long walks around the property and found space in the vineyards to do mediation. It's very private and relaxing.
You Can Make Your Own Wine
This Amarante hotel is extra special for a few more reasons. For starters, you can blend your own wind at the hotel! (Hence the "wine experience" part of the name.) I've never seen or done anything like this before.
That's because Quinta da Lixa is the hotel's winery! All the vines you see while walking to your rooms, well they're made into wine that you can order at dinner to pair with food in the Monverde restaurant or glass to enjoy on your private patio at sunset.
It's so fun to do, you must book this experience when visiting. A guide walks you through all the varietals (Alvarinho, Arinto, Avesso, Loureiro, and Trajadura) so you can taste them all separately. Then you get to make your own blend that's bottled and corked! All yours to take home. I made myself a Whimsy Soul blend that I'm very excited to share with my husband back home in San Francisco in the United States.
The Pool At Monverde Is Stunning
Making wine was truly special, but my favorite part was the pool. I mean, LOOK at this stunning pool!!! It's next to the vineyards and in the evenings has the most amazing hazy light. I spent a relaxing late afternoon here one day, just soaking up all the light and good vibes. I kept having to pinch myself it was so good.
The facilities are robust, with an indoor and outdoor, plus tons of chairs and tables. They also have a spa here which I didn't get to go to (this time!) but will be heading to next time.
Monverde Hotel Ammenities
24 Hour Front Desk
Free wifi
Free toiletries
Robes + Slippers
Fridge in room
Soaking tubs
Coffee maker in room
TV
Wine at check-in
Sofa bed in some rooms
Free private parking
Private bathrooms
Airport shuttle
Golf carts for room transportation if needed
Spa
Pool
Kid Friendly
Restaurant with breakfast options
Room service
What Is The Best Room In Hotel Monverde?
Monverde is unique because it's not a classic hotel design where all the rooms are in one building. Instead, rooms are in three buildings throughout the property, all of which require a stroll through vineyard vines to each. How romantic!
The kings, Classic double room and prestige double rooms are in two buildings. I stayed in a King room with a courtyard view and to be honest, it was a bit of a disappointment. My friend down the hall with the same room type was facing a view of private vineyards it was totally stunning. Instead, I had to keep my blinds closed most of the time since the courtyard wasn't private and other guests would sometimes stroll in there.
So, if you are booking make sure to really indicate you do not want a courtyard-facing room.
If you can splurge a bit (it's only about $330 a night, hotels are affordable in Portugal!) you need to book the rooms with a private pool. The room facilities are insane, we saw them from afar. They're in the 3rd bulding and each room has a private pool that overlooks vineyards which huge outdoor spaces and large rooms. I could easily spend days just relaxing in those room and totally will be booking them when I come back.
Despite my room view being less cool, I still adored my stay at Monverde and know you will too. It's the best of the wine hotels in Portugal and needs to be on your bucket list. It was so hard to checkout and head back to Porto after my stay here.
If you're thinking of coming here and have questions, drop a comment below and I'll be happy to help out! Or, DM me on Instagram @thewhimsysoul.