It took me approximately 5 minutes to fall in love with Porto Portugal. We had landed after an 18 hour travel time and while at the airport, were very much convinced we wouldn't be able to rally for an evening out.
But then we walked across the top of Ponte Luis at golden hour. And my jaw dropped.
Porto is magic. It's everything you want in an old European coastal city. I spent the next few days running around to find all the best things to do in Porto, Portugal and make the best dang itinerary so you can plan a magic trip for yourself.
Confession: I had never heard of Porto until a couple of months before I went. Lisbon? Totally. Porto? About 2 hours North of Lisbon?
Nope, somehow not on my radar. After manifesting all 2020 and the better half of 2021, I was finally invited on a dream press trip to the Vinho Verde wine region by Vinho Verde themselves.
Porto was our kick-off city before heading into wine country, so my friend Elise and I decided to fly out a few days earlier to explore and adjust to jet lag.
Now I wish I had flown out a week earlier – not because you can't do Porto justice in a weekend, but because it's simply so dang beautiful I wanted long to soak it all up (after the chaos of 2020, I was also really really excited to not be in California for the first time in a long time.)
Plus, I do wish I had a few days to spend in Lisbon. If you're reading this list, you're probably flying into Lisbon but you can fly into Porto, too (which is what we did).
Porto At A Glance
I have my major travel guide below with tons of details, but here's the city at a glance!
Top Touristy Things That Are Actually Cool
6 Bridges River Cruise: Usually I avoid major touristy tours but holy cow this was stunning and only about $20 per person. It was one of my favorite memories from my trip.
Livraria Lello Bookstore: The Harry Potter bookstore! I have a secret hack for visiting this one down below.
Port Tasting: You can't come to Oporto without trying Port wine! It's like, the thing to do here!
Touristy Things To Skip
Teleferico de Gaia Cable Car: The Gaia Cable car takes you from the top of the hill down to the river. You can save the money and skip this as you'll get amazing views everywhere.
Passes To Save Money
Porto City Pass: This pass gives you free transportation around the city, free entry to 6 museums and discounts on tons of other stuff. It's only $12 and saves you tons of money!
Bundled Tickets: At many of the major tourist sites you can buy bundled tickets. Like, you can get a bundle ticket to enter Serravles and the clocktower. Just ask them!
Student ID: If you got one, bring it! My friend is like, 33 and flashed her college ID everywhere and nobody questioned her on it, so she was able to save money on tickets. I wish I did that. When I get home I'll be hunting down my old college ID to hold onto lol!
15 Perfect Things To Do In Porto Portugal + Itinerary
Now onto all the fun things!!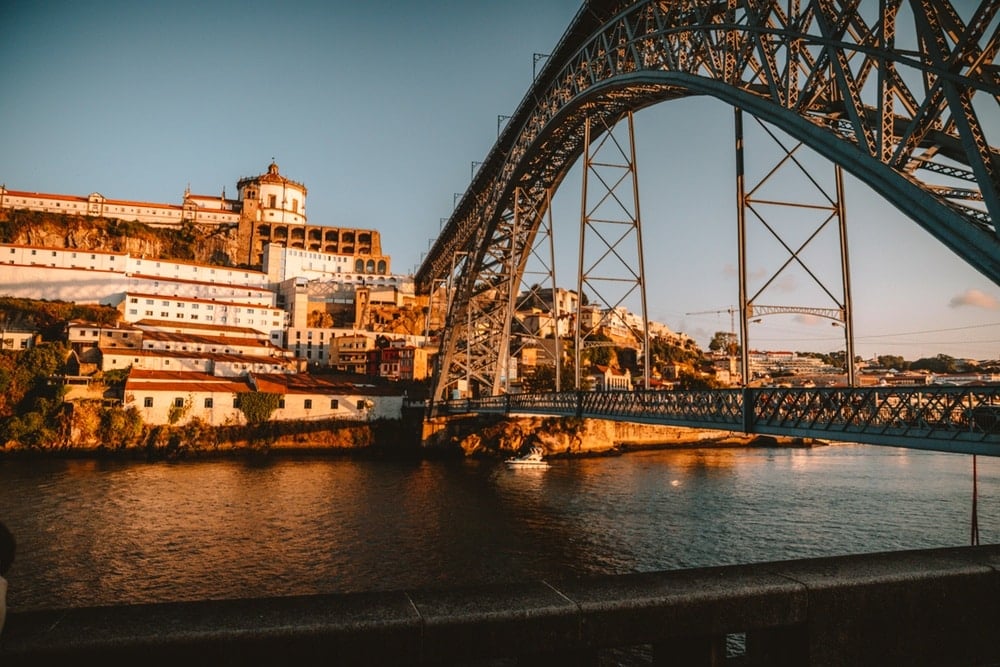 1. Walk Across Ponte Dom Luís I Bridge At Golden Hour
The views are immaculate from the top of this thing. You can see all down the river with Port on one side and the town of Gaia on the other. It's for pedestrians and train only, so no cars.
Of course, it's stunning all times of day but I really loved this at golden hour as an introduction to the city. Breathtaking! It's one of my favorite things to see in Porto Portugal at sunset.
We kicked off our trip to Porto here. We pretty much checked into our hotel and immediately changed and headed outside to see this bridge at golden hour.
After being so jet lagged it really felt magical to walk over the bridge and soak up all those wonderful views of the city we were about to explore. It's one of the best Porto Instagram spots in the city.
2. Sé do Porto Cathedral
Sitting high on a hill overlooking the city is the Sé do Porto Cathedral. It's a Roman Catholic church completed in 1737 and has super cool Gothic vibes.
It opens 9am daily but I suggest coming a bit earlier to soak up views of the city up here as there's so many great Miradouros on the plaza.
Mass is celebrated at 11am on Sundays so perhaps visit on another day of the week instead to avoid crowds.
Personally, I woke up early one weekday and went over around 8am and I had the whole plaza to myself. It was brilliant and I loved being able to see this in peace without hoards of people around me. I woke up early, visited the church and then had a full day left to see the rest of the city.
3. Miradouro da Rua das Aldas
Right below the Cathedral is Miradouro da Rua das Aldas. Miradouro just means lookout point and there are a lot here in Porto but I really loved this one.
After, walk down the steps to the neighborhood below which is where you'll find those quintessential tiny streets with colorful houses that you can really only find in Europe. Get lost here. Seriously, just walk up and down and get lost.
4. Museu de Serralves
Serralves is a really cool and large contemporary museum/garden with some truly fun exhibits. The highlights are the Art Deco House, which is pink and beautiful and also a World Heritage Site! So fun to take photos in front of!
When I visited, they had a Louise Bourgeois Spider on display in front of it. She's famous and has been making these spiders all over the world for over 25 years.
There's also the Treetop Walk, which sort of reminded me of the Capilano Suspension Bridge Park in Vancouver. There's large "onion" balls hanging in between trees. If you are coming to take photos of this, get there later in the afternoon when the light is softer.
We also got to see an Ai Wei Wei exhibit which was very special.
He's a Chinese artist that has been once held captive by the Cheese government due to this artwork. Seeing his work first hand and learning more about his story was one of the highlights during this visit.
Pro tip: buy tickets online and arrive in the afternoon so you can avoid the morning rush!
5. Take A 6 Bridges River Cruise At Golden Hour
As I mentioned above, this was one of those touristy things that is so dang cool and worth it when visiting Porto. Porto has 6 bridges on the Douro River connecting it to Gaia.
There's a few different companies that offer river companies that offer sails under the bridge. It really doesn't matter which one you choose, they're all basically the same and last an hour.
We ended up booking this cruise for about $18 per person. You should book online in advance during the high travel season, but you can also usually buy them at the stands with a credit card if you decide to do one last minute.
(You can also book a Douro Valley cruise that's a day trip and takes you up to the vineyards for a wine tour!)
Regardless, I suggest trying to be the first on the boat so you can snag a seat at the very front on one of the side benches.
This way, you have the best view without anyone sitting in front of you! And of course, going at golden hour or sunset for hazy, warm light flooding the whole city. From the water you can see all of Ribeira district, Gaia and more neighborhoods that all look best from the water.
6. Find This Secret Lookout Point At Sunset
Ready for a secret spot to view the sunset? There's this little concert slap overlooking all of Porto and the river that you can climb up onto for an unobstructed view without anyone in front of you.
It's next to the Terrace Bar but before you reach the bridge. Hop onto that concrete area and camp out for views over the river! It's one of the best Instagram posts in Porto for sure.
We found this spot by having drinks at the bar next door and watching a woman scramble up on it. Elise and I both looked at each other and were like "we have to go to there". And we did! And we ended up chatting with the woman and even exchanged Instagram handles.
It was a truly fun moment and reminded me of all the reasons I love to travel.
7. Dinner in Ribeira
On your first night, after you have happy hour on the cable car terrace and watch a sunset at that secret spot, stroll back across the Dom Luís Bridge to the Ribeira district.
The view of the river and bridge from here is enchanting at night. Walk down and pick whatever restaurant catches your eye (ideally in an outdoor seat.)
We ended up at Terra Nova which is super cute. You can even bounce around on a little tapas food tour of your own!
Pro Tip: Have 2.50 Euro per person in cash on hand so you can take the tram from the river back up to the top of the hill (it's hundreds of steps that hurt to walk up, trust me!)
8. Tour The Monastery
Mosteiro da Serra do Pilar is no longer in use, but is a UNESCO World Heritage Site. It was built starting in 1538 (!!!)and the cloisters are a unique sight to see.
It's only €2 per adult to enter for a self-guided tour. This is also another fantastic spot to see the sunset and then stay for twilight so you can watch the city light up and twinkle. A Porto must see!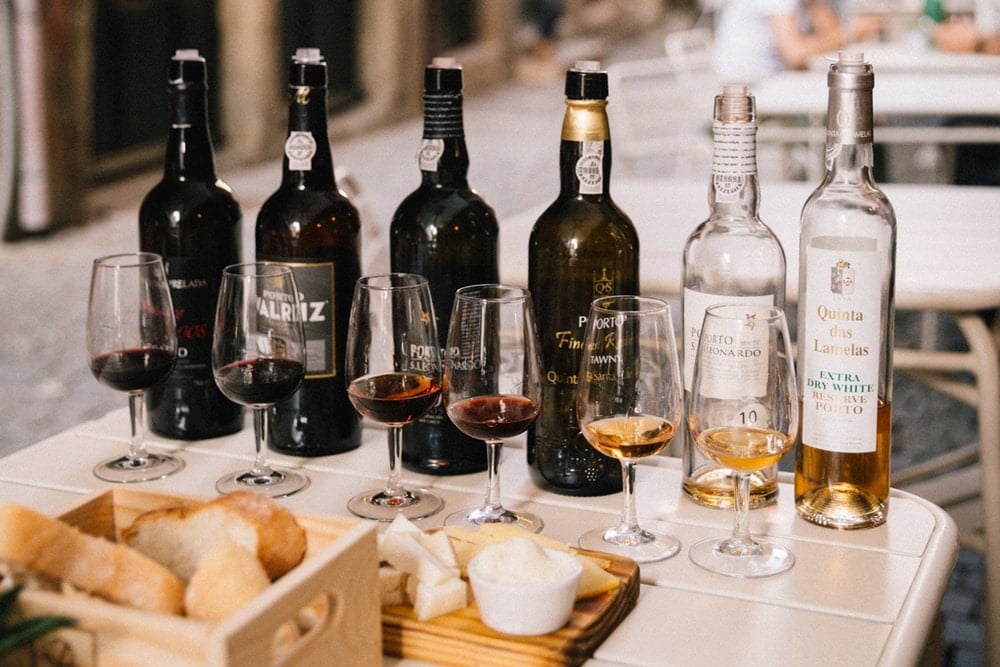 9. Port Tasting
This is a MUST thing to do in Porto city as Port wine is made just a bit outside the city. Port is thicker and sweet, it's defiantly a dessert wine but what I didn't know was there are different kinds: Ruby, Tawny and White. Port can also be aged to over 150 year olds (wahhhh??) so that's why you need to do a tasting so you can figure out which of the three you like best.
We went to a tasting bar a friend recommended. It's oddly hard to find online bit it's located at R. da Fonte Taurina 87 and I have more info about this spot below in my restaurant section.
But really – just head to the Ribiera neighborhood and pick any wine bar for a flight. You'll have fun.
You can also do a Port Wine Tour at Taylors over in Vila Nova de Gaia They take you into their port wine cellar and do a tasting. If you can't go on wine tasting tours in Vinho Verde, this is a great alternative option for foodies.
10. Livraria Lello Bookstore
Livraria Lello was honestly, probably the highlight of my trip because I'm a HUGE Harry Potter nerd. Last Christmas I made a ton of original Harry Potter cocktail recipes and even did a Forbidden Forest shoot.
Anyways, I was thrilled to learn about Livraria Lello, which is a bookstore rumored to have inspired JK Rowling when she wrote the books. I guess she lived in Porto for a few years when she was younger!
And you can totally see it on the inside. The arches in the bookshelves look like how I've always imagined the Great Hall.
There's whimsical orange wood details and a bright red winding staircase in the center. Flourish and Blotts could look like this. There's even cart tracks no the floors that reminded me of Gringotts Bank.
Because it's one of the famous Harry Potter related destinations, there's always a long line to get in and it's one of the top Porto attractions. It can get up to 3 hours long! BUT don't worry, I have a secret hack for you!
HACK: Do NOT buy the normal €5 ticket. Instead, but the €15 "Book Ticket". This granted you priority entry so you can literally skip the 3 hour line and go right in. You also get to take home a book (not Harry Potter, a classic novel instead. I choose the Great Gatbsy) You must buy these online, I believe they used to sell at the door but not now during covid.
Bring a wide-angle lens to really capture the store. But honestly, we found the iPhone wide angl and low light mode took even better photos than our DSLR. Wear a white dress to really pop out in the dark store and don't forget your wand!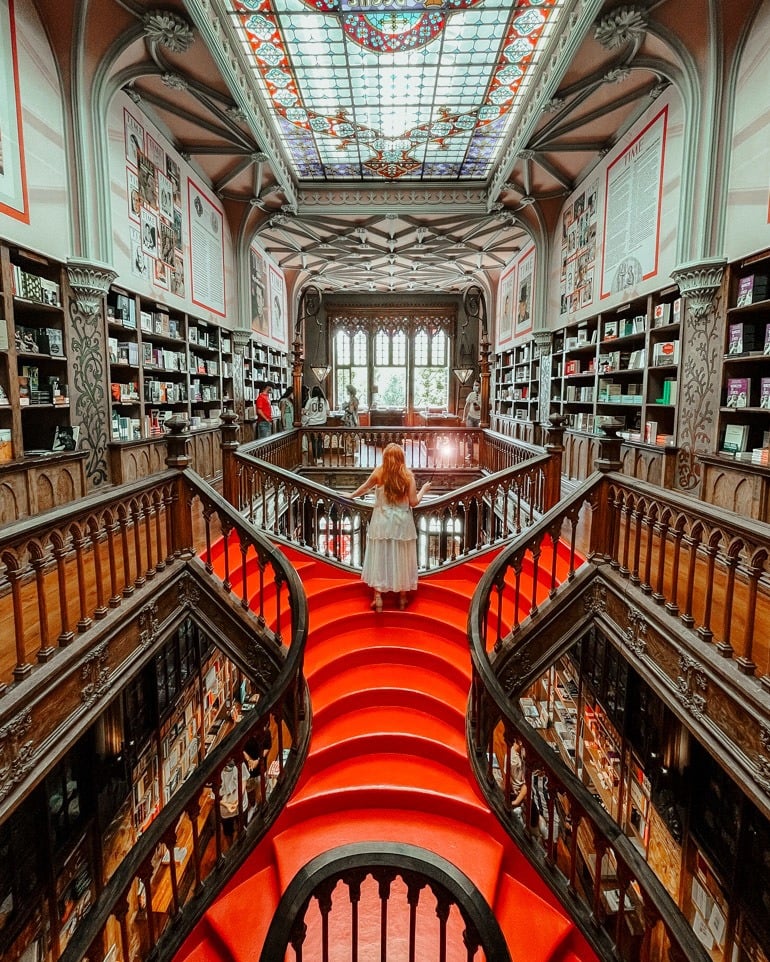 11. Beach Day + Farolim de Felgueiras Lighthouse
If you're staying for 4-5 days, plan an afternoon to go to the beach. We didn't have time, but I hear it's really nice on warm summer days.
There's Farolim de Felgueiras, a big lighthouse on a pier that's fun for photos, too! If you go to Praia do Molhe you can check out the iconic Pérgola da Foz walkway which is this super romantic, roman-feeling walkway.
12. Church of São Francisco & Stock Exchange Palace
Another stunning Gothic church!! In 1245 construction began and it was a small church until 1825 when a fire destroyed it.
The main chapel was kept but the Stock Exchange was built in place of the other areas. Inside the church you can find gilt woodwork and a very ornate main chapel. It's considered one of the most important churches in the city.
Afterward, head to see the Palácio da Bolsa / Stock Exchange building. It basically looks like a palace on the inside.
13. Torre dos Clérigos Tour
Torre dos Clerigos is a church and clock tower at the end of one of the major streets and they open it up to the public to climb!
You get to tour the church first and then wind up to the tower which has cool views. Tickets are about €7 and you can just buy them at the church unless you have that pass I mentioned earlier.
Be prepared for a lot of steps so wear flat, sturdy shoes. There are two levels to get sweeping views of the city. I'm a little scared of heights and kicked in at the top but was so worth it.
Note: the steps and hall at the very top are super narrow so if you are plus size, this sadly may be difficult to accomplish but I would still give it a try!
14. Hunt For Blue Tiles Aka Azulejos
Blue tiles (aka azulejos) are a classic visual in Portugal. You can find churches and walls all over the country covered in the tile, but there are a few major noteworthy walls to prioritize when doing Porto sightseeing.
The São Bento train station is probably the most famous spot you've seend all over your Instagram but there's more hidden gems to find blue tiles!
São Bento Railway Station: In the city center so it's had to miss. If you arrived to Porto by Tain you'll see it. The main entrance is just covered in these beautiful blue murals. In the afternoon it's flooded with hazy stream of light, it's utterly breathtaking. The Sao Bento train station is always busy here but if you are patient you can take nice photos in between the people.
Chapel of the Souls: Aka Capela das Almas, this church is located on Rua Santa Catarina in the Bolhao area. It's known for being covered almost entirely in blue tiles. This street is the major shopping street so it's busy AF during the day. If you want to take photos, I recommend coming early in the morning before the shops open.
Igreja do Carmo: Near the clocktower, this church is actively in use and you can pop in to view it. Of course, the blue wall on the outside is photograph-perfect and worth the stop, but the inside is simply amazing. So much gold on the alters!
Church of Saint Ildefonso: This is one of the famous churches that has blue tile on the front. It's best to stop by in the later afternoon when it's open so you can take photos in the front and then pop in to view it.
15. Jardins do Palácio de Cristal
This was such a fun and totally free garden! One of the best free things to do in Porto. There's a big dome area in the center that looks a lot like the rooftop of the Cal Science Museum in San Francisco to me, but that's not why you would visit.
There are two gardens overlooking the river and bridges here that are especially beautiful in the summer. You can also find peacocks and a rooster running around if you're lucky.
The major highlight is the Torre (tower) which looks just like a mini castle! It sits on the edge of the park overlooking the River Douro and Gaia. So. dang. Cool!
We put on pretty dresses and took princess-vibe photos on top. It's one of the most unique things to do in Porto that I've never seen anywhere else.
Pro-tip: The Jardins are really close to the Dos Reis National Museum is you wanted to pop over to that next!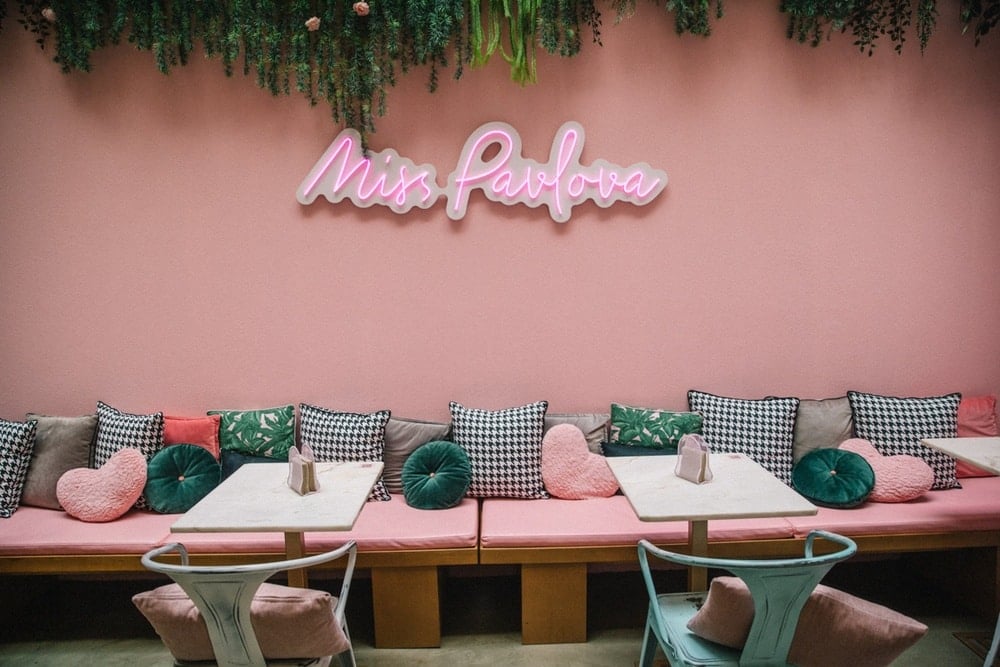 Best Porto Restaurants: Where To Eat & Dishes To Look For
I don't know about you, but it's so important for me to find great amazing meals while traveling so I can really experience the local culture. Here's a quick run-down on Portuguese food and local restaurants
Cod: Expect a LOT of cod in Porto (it is a seaside town after all!) Many of the dishes we had were meat based with a small side of veggies or rice.
Port & Vinho Verde Wine: For drinks, plan on drinking Port and Vinho Verde wines (whites and roses) which will cost you a grand total of about €3-€5 a glass (I know, I felt like I was at happy hour every day!) Many restaurants also have cocktails and beer, but Porto is a near wine country and the locals love their Portugal wine here. It's the thing to drink.
Espresso: Like in most European coteries, they are BIG on espresso here. It'll e about €1-€2 a cup, Just walk into any cafe and ask for one, stand at the bar and shoot it back.
Pasteis de Nata: OMG omg omg, I wish I could have stuffed a hundred of these into my suitcase to bring home. These are traidtoanl Portugest custard tarts. They're small, only a few Euros each and freaking amazing. Look for them in bakeries and cafes.
Note: Truthfully, we didn't love all the meals we had. It's not that the ingredients weren't fresh or anything, it was more that many dishes we had complete lacked flavor/ were bland. Like, they needed salt and other spices added to bring them alive.I did ask a friend who lives in Portugal if that's normal and she said restaurants in the country are "hits or misses". We asked other trusted sources and did a bunch of taste testing to bring you spots you should enjoy below. If your favorite restaurant isn't the list, comment below with the name so everyone can see!
Do Norte Cafe
Head to Do Norte Cafe for brunch or lunch! The interior is really cool — think modern Sacndiavan cabin vibes with wood everywhere. They have the most amazing toasts here, I ordered the spicy toast and I'm still drooling over all the flavors packed in that dish. You can also get at traditional brunch or savory waffles plus ton of other breakfast foods. The wifi is strong here, too!
Miss Pavlova
This little bakery is so dang cute (the back patio is all pink with a cool neon sign, perfect for Instagram photos!) While here, order espresso and a traditional cake called Pavlova Natas do Céu. it's soft and sweet and oh-so-good. It's next door to Do Norte, make this your dessert after brunch!
Esplanada do Teleférico
You simply must come here for a sunset happy hour. Just across Ponte Dom Luis Bridge and next door to the Monastery is Esplanada which overlooks the entire city and has plenty of outdoor seating! We ordered some Ports to try, but they also have amazing cocktails here. I also saw a woman with a budger that looked so mouthwatering.
Cantina 32
Two words – banana butter. Yes, that sounds weird but it's so interesting and like nothing I've ever had. Make sure to order the bread so you can try it. I adored our ribs and parmesan fries here, too. Cantina 32 restaurant opens for lunch at 12:30 so beeline here to grab a table.
Subenshi
Subenshi is a cool sushi Japanese restaurant where you order courses one at a time and when you want more, you push a little button. The interior is airy and modern with tons of blue pops of color. Make reservations for this one as it's popular!
Lagado Port Tasting Bar
As I mentioned above, this little port wine tastings bar is hard to find online to link to you. It's located at R. da Fonte Taurina 87 behind Wine Quay Bar. The staff are so nice and do a great tasting. It's perfect to do right before your sunset river cruise as a little happy hour. Ask to sit outside and order the cheese plate, it pairs really well with the Port.
Castro Bakery
Castro sells the best Pasteis de Nata in the entire city. Come ready to eat! It's one of the best things to do in Porto for foodies.
Wine Taste At The Vinho Verde House
I would argue this is one of the most important cultural things to do in Porto. The people do love their wine here! And it's the whole reason I went to Porto in the first place: to do wine tasting with Vinho Verde! They have a stunning historical house that overlooks the Douro River.
Every Wednesday they allow the public to come for a 5 Euro tasting in the garden. They sometimes even have movie nights! It's really cool and one of my favorite unique places to visit in Porto.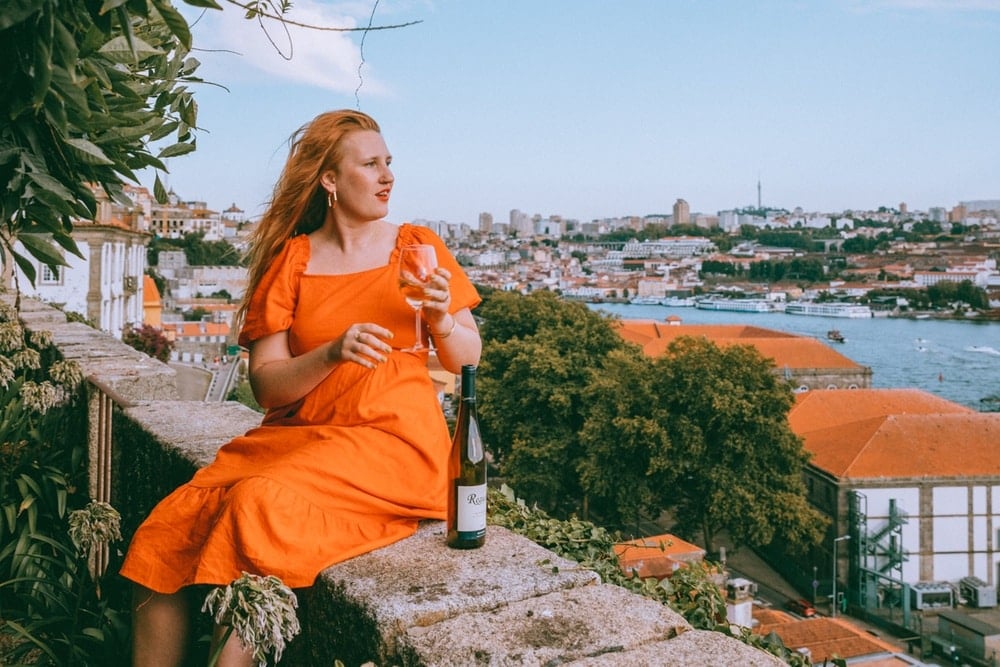 Elemento
Elemento is an upscale restaurant that doesn't use any electricity to cook but instead cooks everything over a fire! They have a big stack of wood in the kitchen and as you can imagine, the whole place smells amazing. Ask to sit at the bar so you can watch them work, it's really neat.
For food, make sure to try their oxtail ravioli, it comes in this savory broth that really hits the spot after a long day. We ordered the duck, which was good but could use a bit more crisp on the skin so I would suggest something else for your main.
Note: make reservations online ahead of time for this one. And they are VERY anal about tables here. We had a table for 8pm and at 7:50pm we got a call asking where we were (only to show up 5 minutes later to see half the restaurant empty). That experience almost put me off the entire place but the cooking method is really neat and the food is good, so I wanted to include it for you.
Sao Bento Train Station Cafes
Elaborate breakfast isn't really a thing here. Plan on running out of your hotel each morning to a cafe nearby for espresso and a pastry or breakfast sandwich. I found the spots with the best breakfast sandwiches were all right across the street from Sao Bento station, so head there!
Boa-Bao
Dear lord, this place is cool. Boa-Bao an open-air restaurant with Asian dishes like dumplings, Pad Thai, curries and spring rolls. But the highlight is their Gua Bao sandwiches which pack so many layers of flavor. You must try the seabass and the pork belly one. Trust me.
Rua Tapas & Music Bar
A more casual spot that's still cute AF. They have live music and it's not uncommon for everyone dining to join in on some verses (so it's a fun hang!!) Great food and cocktails, too.
Restaurante Flor dos Congregados
We had dinner at Restaurante Flor dos Congregados one night and I fell in love with the atmosphere. It almost feels like you are eating in cozy cave. But, this is one of those spots with bland main dishes. Instead, I suggest coming here for a happy hour glass of wine with a cheeseboard so you can get all the cool vibes and then head to a better dinner.
Nicolau Porto
A delicious brunch spot with just what you'd expect: eggs, pancakes, juices, acai and more! Nicolau Porto is super cute inside decorated with organic greens and browns, but be sure to either make a reservation or prepare to wait in line for a table!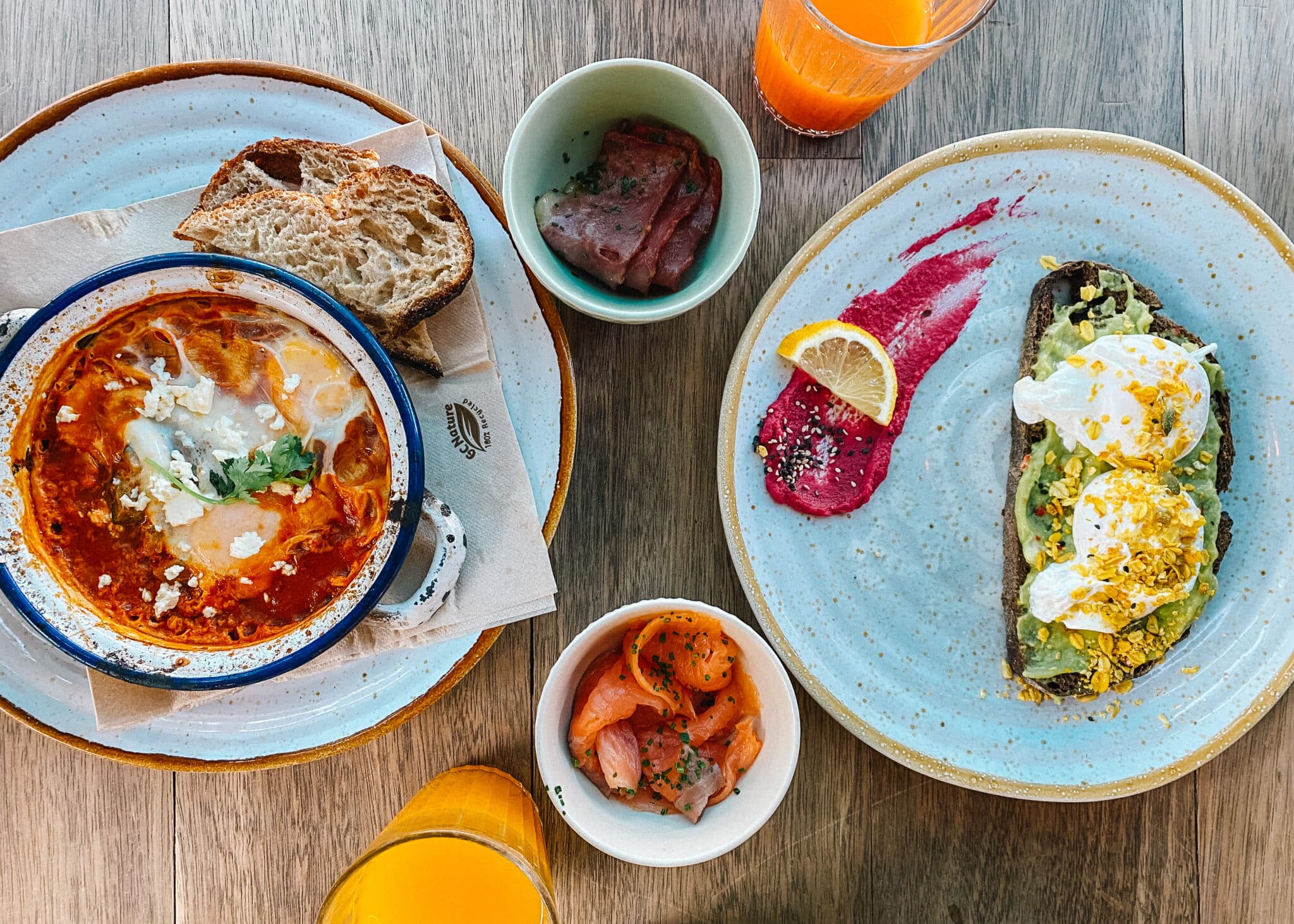 SO Coffee Roasters
If you're missing your latte or pour over, SO Coffee Roasters is where you need to be. Not only is the coffee delicious, its roasted in-house sustainably and fairly.
Gelataria Sincelo
For your late night sweet craving, stop by Gelataria Sincelo! They're open until 12 a.m. on weekends and the gelato is to die for! The shop itself is adorably decorated with bright pinks and neon signs.
Almeja Porto
Alemeja is slightly more upscale, but casual. The menu uses primarily Portuguese products with a focus on sustainability so the it changes with the season.
Everything we had tasted fresh and delicious. Pricing was a bit more than other places we went to, but expected with "casual fine dining."
What To Pack For Porto
As with any destination, always check the weather before you go. That being said, we found August in Porto to be really nice. It's cooler here, with wether similar to San Francisco Bay Area (sometimes foggy and has a marine layer to keep it colder.) But it can get stupid hot during heat waves. Winter should be chilly weather.
The streets are winding and cobblestone, so bring comfy shoes (no heels!) I pretty much lived in my Tevas and Rothys, both which are my favorite travel shoes. I can wear them all day and we did – we walked over 15 miles in 2 day exploring and they were perfect.
I also carried this backpack that can fit a water bottle (stay hydrated!), a camera, and all the things ones wants while out (wallet, hand sanitize, etc.) I felt very safe in Porto and soon wasn't worried about pickpockets, so you are fine with a backpack.
Lastly, don't forget to pack a couple of yellow outfits for photos in front of the blue walls, a swimsuit if you book a hotel with a rooftop pool, pretty dresses for dinner and sunscreen!
Shop My Porto Outfit Style

How To Get To Porto, Portugal
I flew from San Francisco to Porto, with a connecting flight in Lisbon. The airport is about 20 minutes outside the city and very easy to grab an Uber to.
You can also take a train into Porto from Lisbon and end up at Sao Bento Railway Station. Lastly, you can drive.
There are just so many cool things to do in Portugal, I know we'll come back.
Next time, my husband and I plan on renting a car and driving all over to explore Alargve, the Pene Palace and other small towns. Then we want to hop over to Spain and even own to Morocco since they're all so close!
But that's another trip and another travel guide for another day…
3 Days In Porto Itinerary
This is how I recommend you structure your time if you're in Porto for 3 days! If you are doing 2 days in Porto, modify as you see fit.
Day 1 In Porto
Check-into hotel and freshen up
Tour the Cathedral and soak up all the views of the city
Walk across the Point Dom Luis Bridge and take photos of the views over Porto
Visit the Monastery and take a quick tour if it's still open when you arrive
Happy hour at the Esplanada bar
Watch the sunset from the secret spot
Walk down to the Ribeira District in Porto for dinner and wine. Pick anything that looks good to you! One of my favorite things to do in Porto at night is spend the hour sipping wine here.
Take the Tram back up the hill to your hotel
Day 2 In Porto
Grab espresso and breakfast at a cafe near your hotel or at one near Sao Bento
Tour Igreja do Carmo & see their blue wall
Climb the Clocktower
Brunch/Lunch at Do Norte Cafe
Dessert at Miss Pavlova
Tour Livraria Lello Bookstore
Rest & freshmen up at hotel
Port tasting near the river
6 Bridges River Cruise at golden hour/sunset
Dinner at Boa Bao
Head back to your hotel, or stay out at a bar
Day 3 in Porto
Wander the Miragaia neighborhood around 8am to see the city totally empty
Grab espresso and breakfast at a cafe near your hotel or at one near Sao Bento
Tour the Palácio da Bolsa
Explore Jardins do Palácio de Cristal and the Torre
Spend the afternoon at Serralves
Wine tasting at Vinho Verde house
Visit the blue tile murals listed above if you haven't seen them already
Dinner at the restaurant of choice
Day Trips From Porto
Portugal is full of amazing gems that I could spend a lifetime exploring. That being said, there are a few spots that are easy to visit on a day trip:
Peneda-Gerês National Park, about 66 miles from Porto near the Spanish border. It has tons of wildlife. It's the only national park in Portgual and while it's great all year round, I recommend spring or summer for lush fields and tons of wildflowers.
Douro Valley Wine Cruise: Douro Valley makes some of the best wine in Portugal and it's along a river. You can book this cruise that leaves from Porto and spend the whole lay cruising up the valley sipping wine with your group and be dropped back off in the city.
Monverde Hotel: This is hands down one of my favorite luxury hotels in the world. It's on a vineyard in the heart of Portugal's wine country. They have villas, a tasty restaurant, a pool, a spa and even a wine making class. Treat yourself to a night there!
Best Hotels in Porto, Portugal
First, where to stay in Porto?
Budget – Hotel Jardim
Hotel Jardim is the hotel Elise and stayed at! It ranges from $90-$130 per night depending on the season, and the best lower-priced hotel in the city. It's in a great location that's walkable to São Bento train station and they have a rooftop pool that's absently stunning. I loved the Nespresso in the rooms and the showers are hot.
Note: we did have some issues around Covid pool procedures here. The pool was only open to 4 people at one time, only for an hour at a time and each room could only reserve the pool once during their stay.
We ended up only getting a slot at 9am on a Monday morning. So make sure to pick your pool time and reserve right away when you check in!
Mid-Budget Hotel – Gran Cruz House
Want to wake up to your own private balcony overlooking the Douro River? Gran Cruz House is for you! The inside is super cool and trendy (think blue tiles in the bathroom, moody chic lobby, perfect pops of color.)
Ranging from $145-$211, this hotel is super central to Porto and makes a great mid-budget stay.
Luxury Hotel – The Yeatman Hotel
The Yeatman a stunning luxury hotel with sweeping views of the city. It's over in Gaia right across the river and had this beautiful pool with insane views.
There's a Michelin star restaurant on site and everything is so dreamy. I want to splurge for this one next time. The only downside is it's a bit far of a walk compared to other hotels but the views are worth it!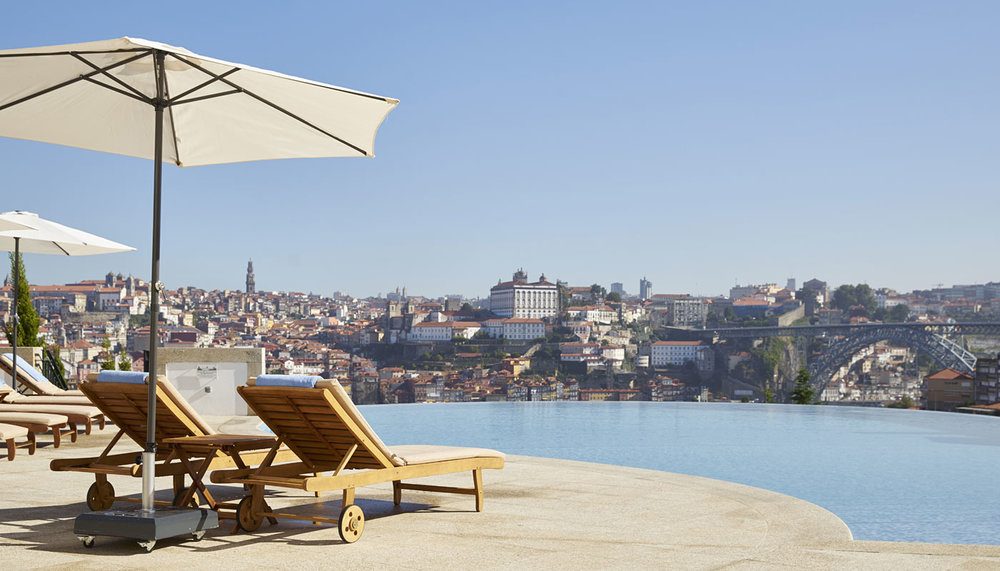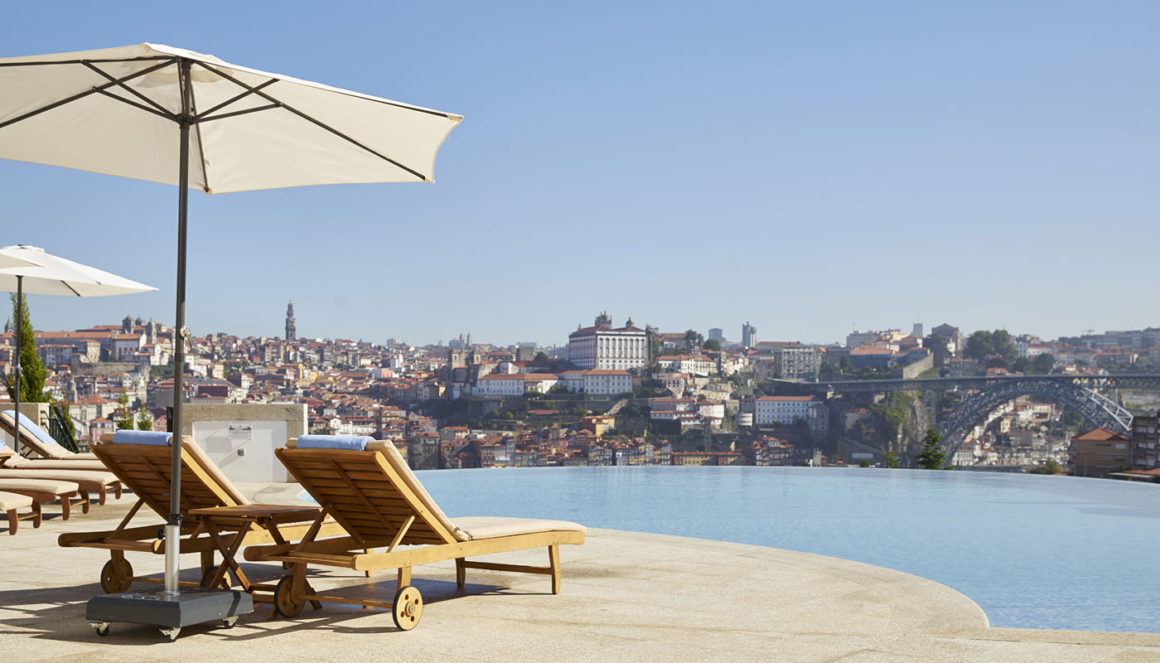 Basics To Set Up or Expect Before Arriving To Porto
Most places accept credit cards or debit cards so bring both!
Bring Euros in cash (about €50 euros in small bills for a 3 day weekend) Many small cafes that serve breakfast and coffee won't take cards. You'll also need Euros for the tram and other random small things here and there.
Get an International cell plan so you can use it for Google Maps, Uber and last-minute tickets. Most restaurants and hotels do also have wifi for you but it's not always strong.
Porto is extremely walkable so you can get almost everywhere by walking. Otherwise, you can easily take Uber, which will run about 5-10 Euros per ride.
Make sure you are vaccinated and have a screenshot of your records on your phone to show hotels nd restaurants to gain entry. They may also ask you for a negative covid test within the last 72 hours. If you don't have one, they will sell you a 2 Euro rapid testing kit you can do in the lobby or bathroom.
Most locals speak English but try to learn the basics in Portuguese. Hello = Ola. Thank You is "Obrigada" or "Rigada". Good morning is "Bom Dia"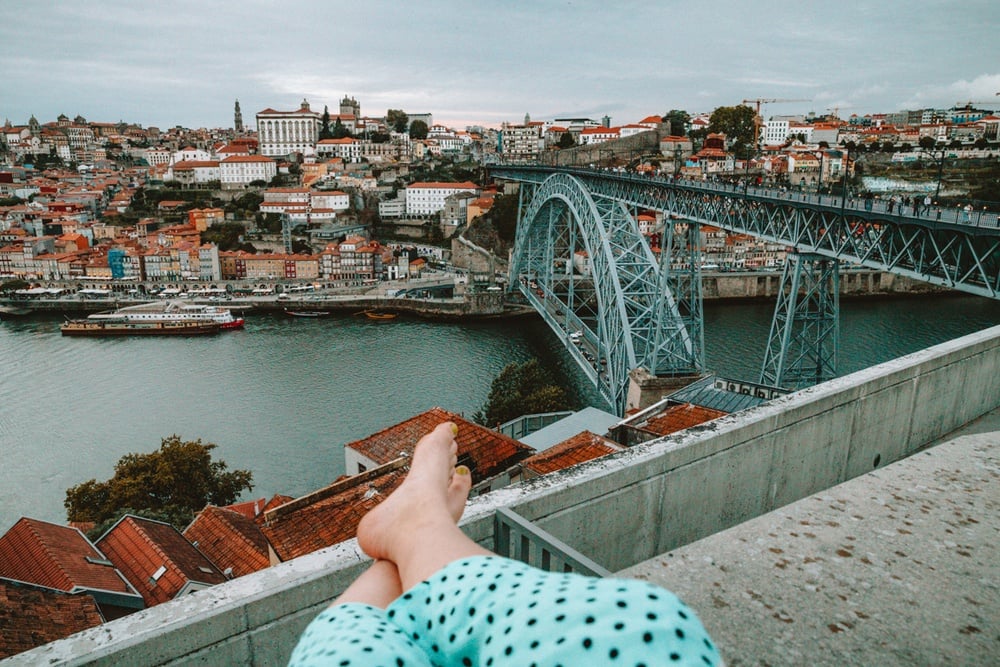 Travel Essentials We Love
Beyond what I recommend packing in the above section, these are our favorite travel essentials that our team takes everywhere around the world!
How Long Should I Spend In Porto?
A long weekend / 3 days in Porto is great. It leaves you time to see the highlights and get properly lost once or twice (the best part of this city – so many winding streets to get lost on!)
If you have 4-5 days, that does give you room to take it a bit slower. Up to you!
What Are Portugees People Like?
OMG so friendly! I got a lot of questions on Instagram from followers asking how I felt as an American in Portugal (were they nice? Rude? Mad at me and our government?)
In my experience, they are so dang friendly. They also have a very funny, unique sense of humor that you may pick up on. You'll love the locals.
Fun fact: Oporto is the local name for the city (thus the airport code is OPO) But you can call it Porto, that is just fine.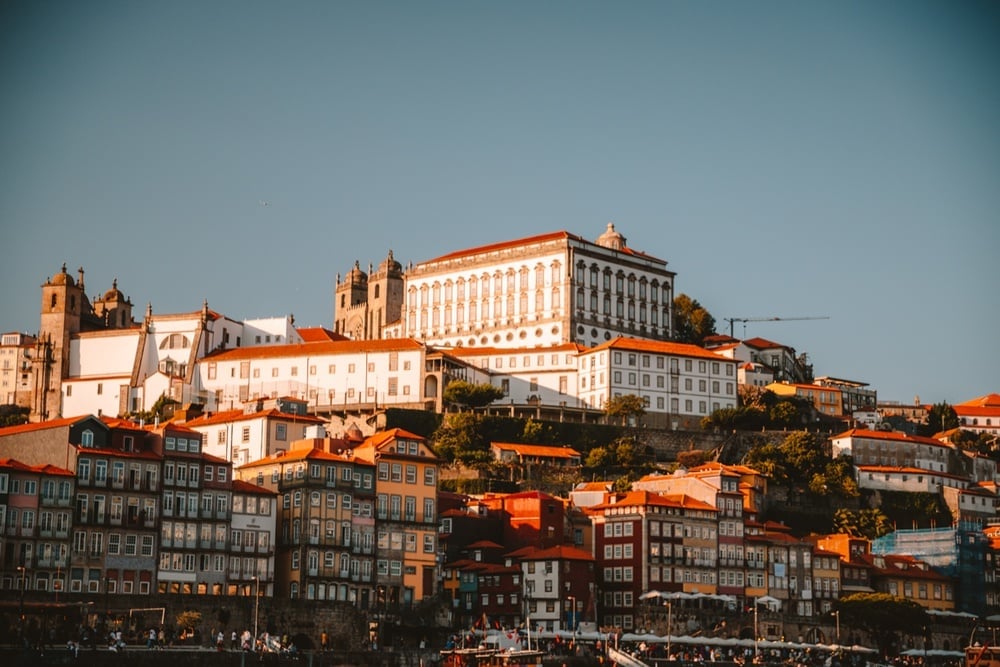 So, that's my Porto travel guide!! I hope this helps you learn more about Porto and plan a fantastic trip to this charming little seaside town. I already want to go back for another happy hour port wine with views and a good cod dinner…
Most likely you'll be hitting up Lisbon. There's so many fun things to do in Lisbon so make sure to check out our full guide with all the travel tips you need. You can also use our guide for visiting Pena Palace and Sintra!
If you have tips to add, leave a comment below so everyone can see. Questions? Comment or DM me on Instagram @thewhimysoul and I'll be happy to help. Note that I only can receive DMs from followers, so hit that follower button first.