I wish I could eat 10 meals a day while in New Orleans. Everyone always says the food is good in New Orleans, but dang… I was not prepared for just how good the food is. The grits, the gumbo, the fresh oysters, the fried food that's perfectly fried so it's not too greasy. We spent much of our time in New Orleans hunting down the best eats so we could share them with you! You can find my full New Orleans travel guide here, but keep on scrolling to find my recommendations on food!
First, who am I and why should you take travel advice from me? My name is Kara, I'm the gal behind Whimsy Soul (follow me on Instagram @thewhimsysoul HERE.) I grew up in the Midwest and ran away to San Francisco because winters suck (seriously.)  My big passion in life is helping other women feel confident in themselves and confident to explore the world around them. When it comes to travel, I understand that you don't want your days off from work to go to waste. You also aren't looking to blow your entire paycheck on one vacation. So I dig deep for you. I find the prettiest hotels, the best eats, the coolest things to see in a destination and round up all that advice with other helpful tips like how to navigate local transportation into one huge travel guide. I try most things out myself to see if it really lives up to the hype, so you can go explore without any FOMO. Read on to find my New Orleans Food guide! If you have any questions, pop them in the comments below or DM me on Instagram.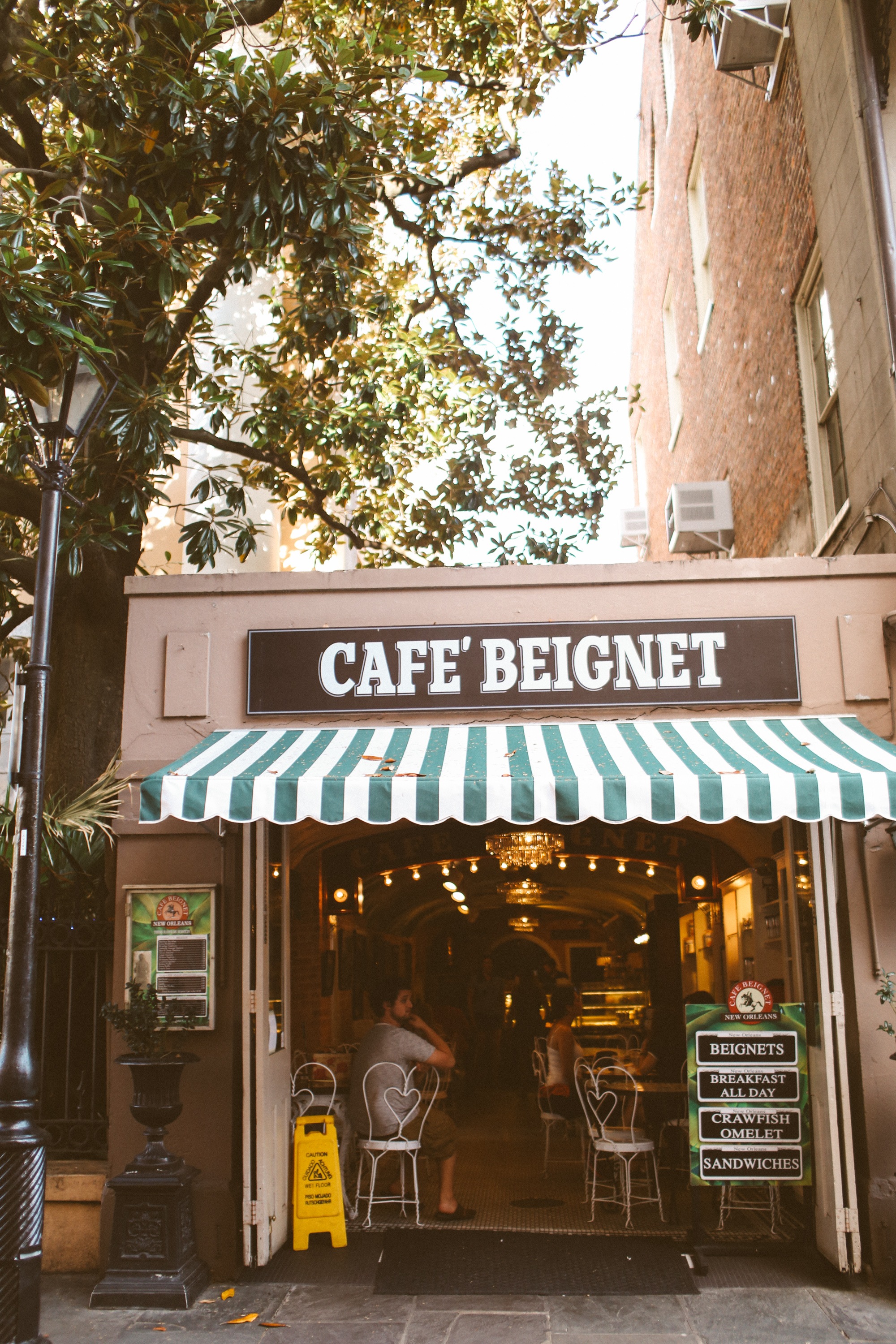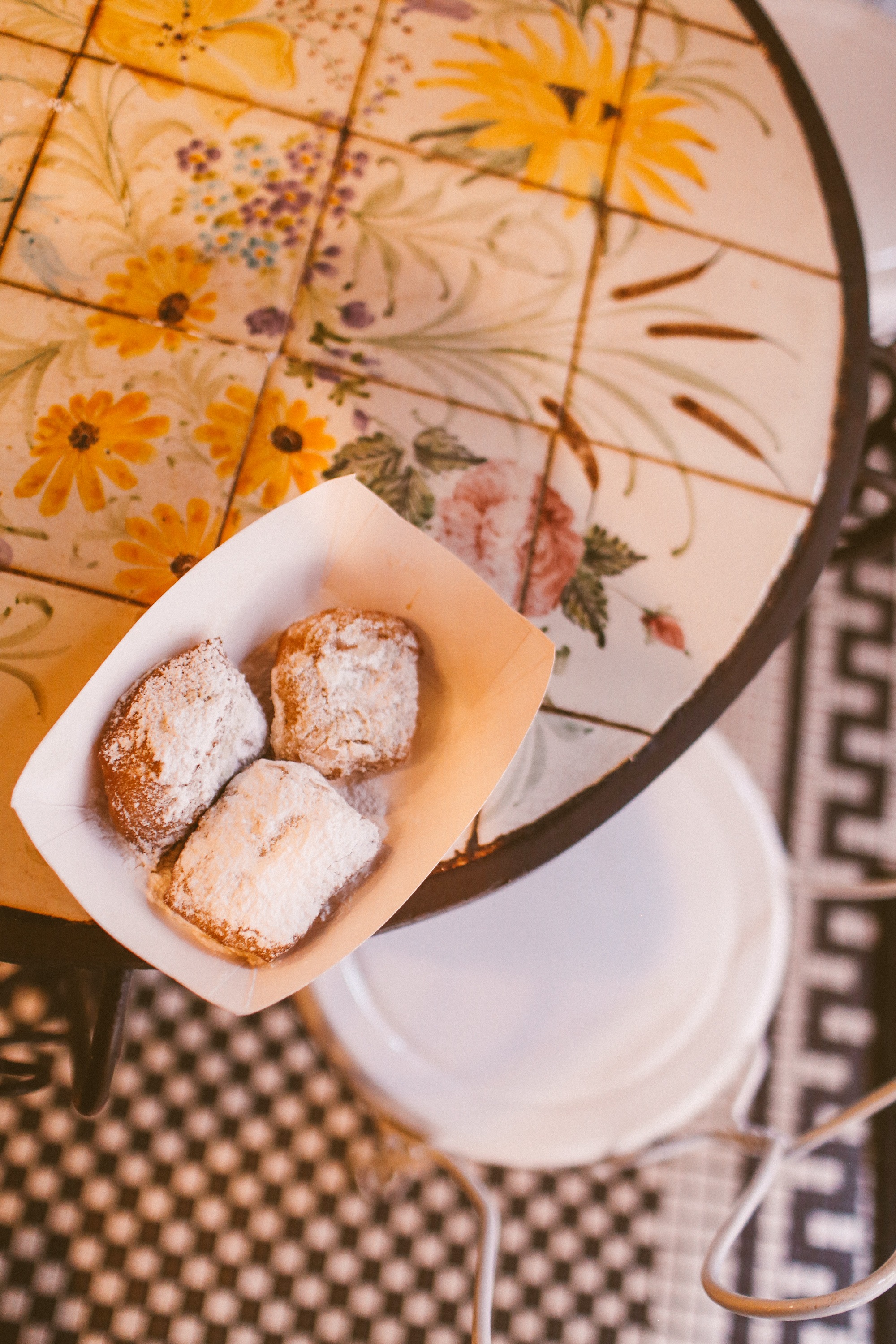 Alrighty, I may get some backlash for this, but I enjoyed Cafe Beignet SO much more than Cafe Du Monde, which is considered the beignet place in New Orleans. Cafe Beignet was far less crowded, had way better decor and the beignets were all evenly shaped and equally tasty. There are a few Cafe Beignet locations, I recommend the one on Royal Street. It's very empty in the evening!
Price: $
Cafe Du Monde was extremely crowded, we were ignored by servers for over 20 minutes (even asking one if he could take our order) and I wasn't a fan of how the beignets weren't consistently shaped. We tried to sit down but ended up being forced to order the beignets to go and we took them to the park across the seat to eat on a bench. That was a nice experience, but the rest of it… not so much. Everyone in New Orleans comes here and they just aren't equipped to handle that much foot traffic.
Price: $
This spot is one of the most famous classic brunch restaurants in New Orleans. It's upscale and I even believe they have a dress code. It's in the heart of the Garden District in a beautiful blue building. Come for their 3-course Jazz Brunch to get music and fine dining all in one go.
Price: $$$
We stumbled upon this place while on the hunt for outdoor porch seating. They have a beautiful second-level wrap around porch that offers fantastic French Quarter people watching. Plus, they're oysters are fresh and I LOVED their cheesy shrimp n grits!
Price: $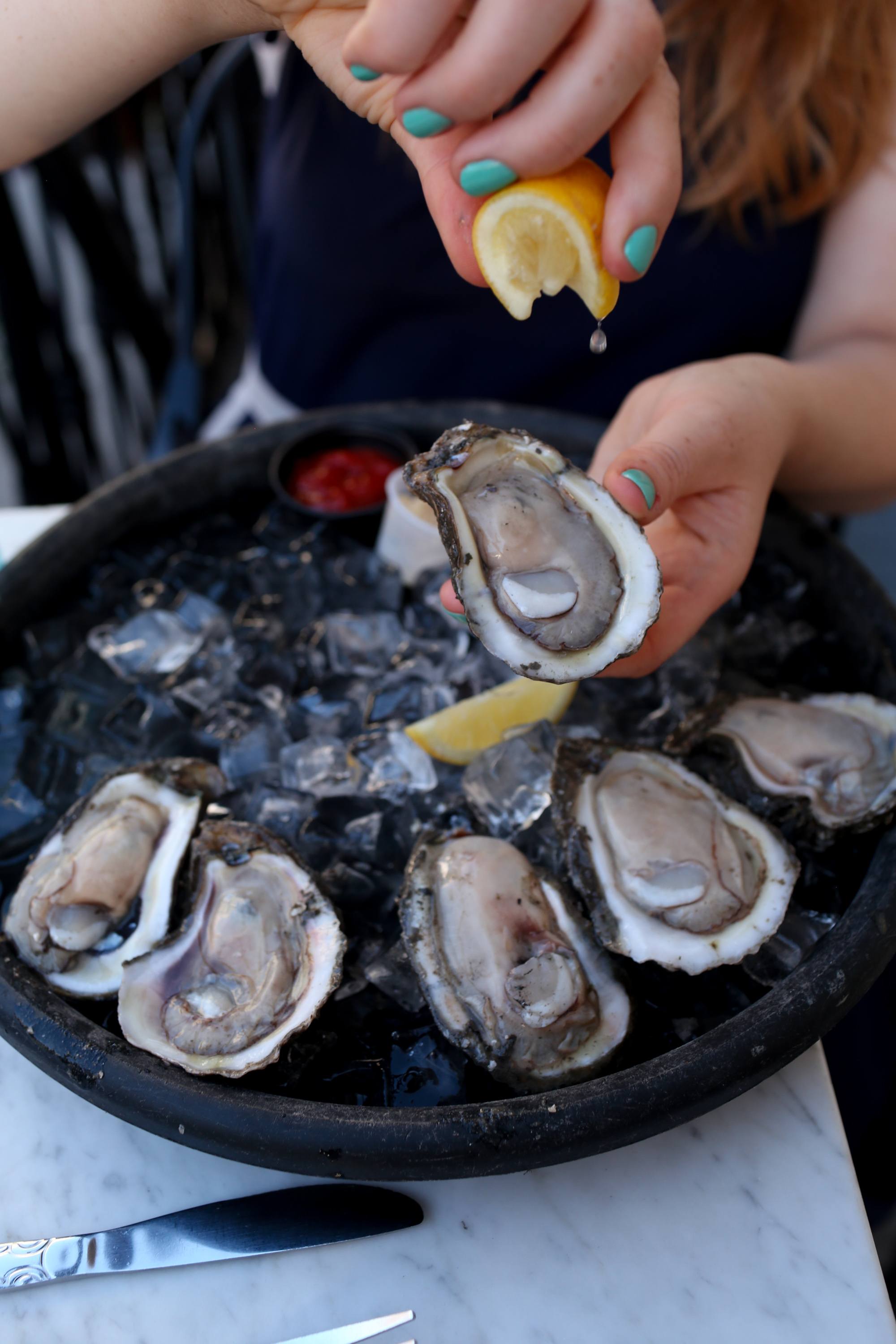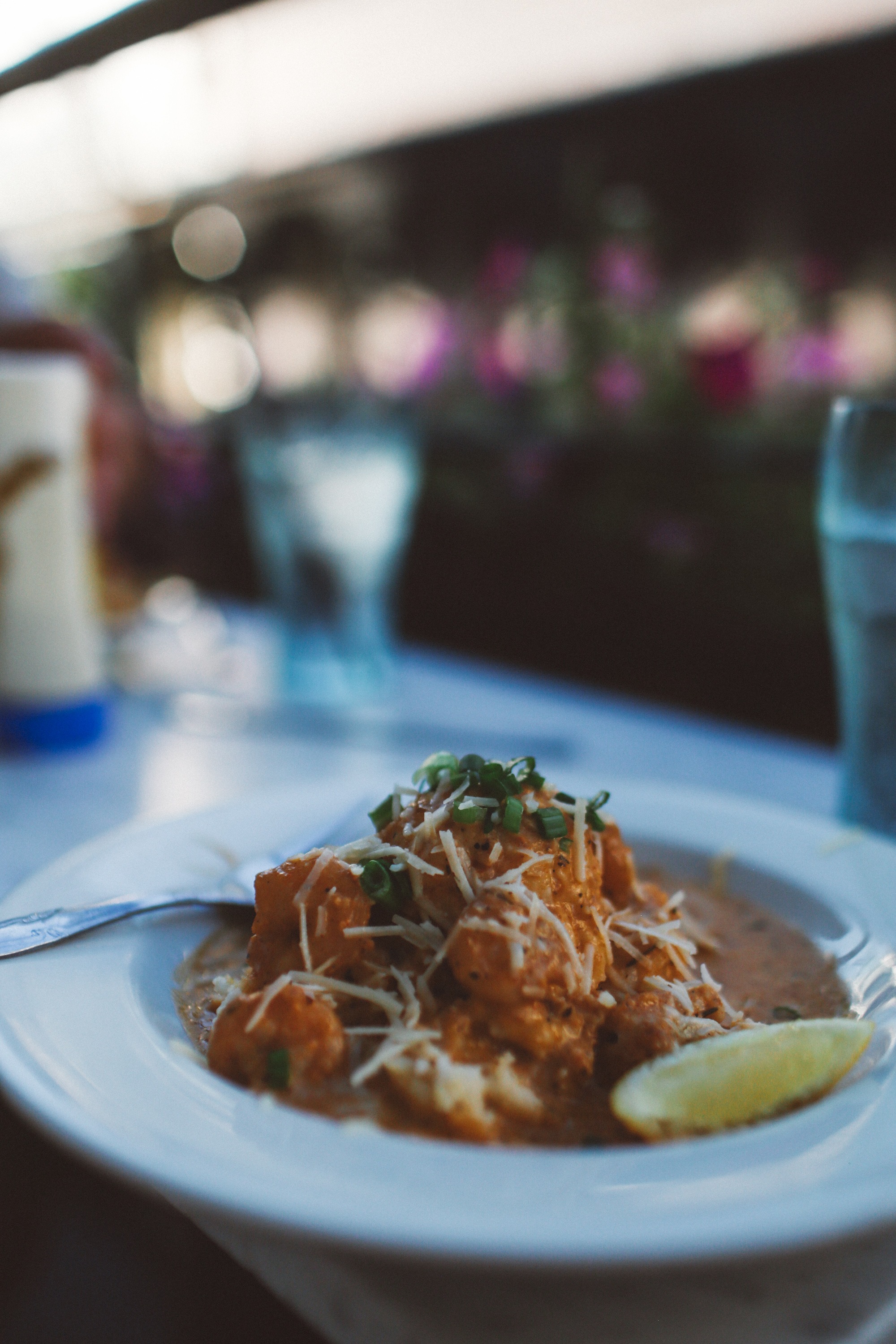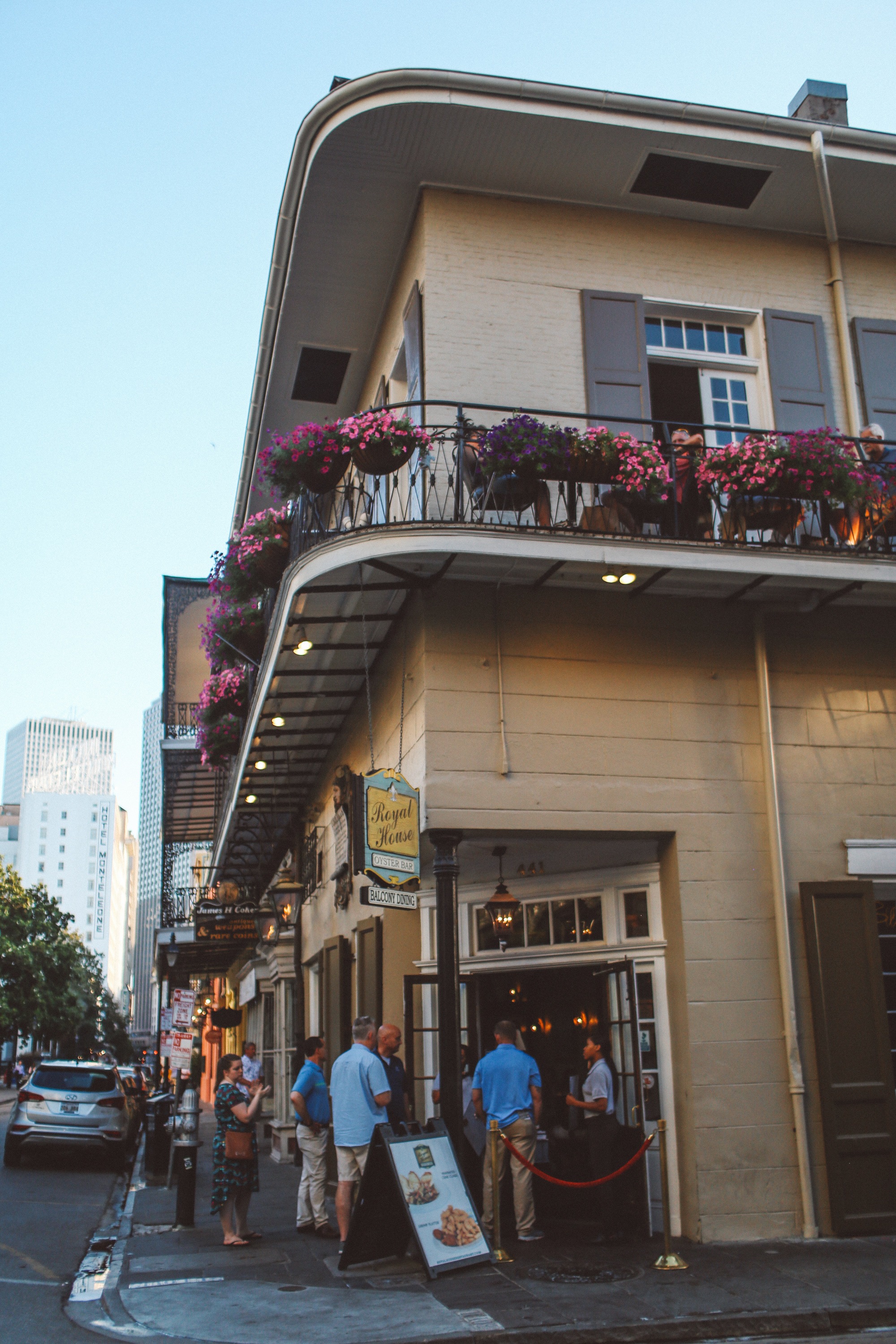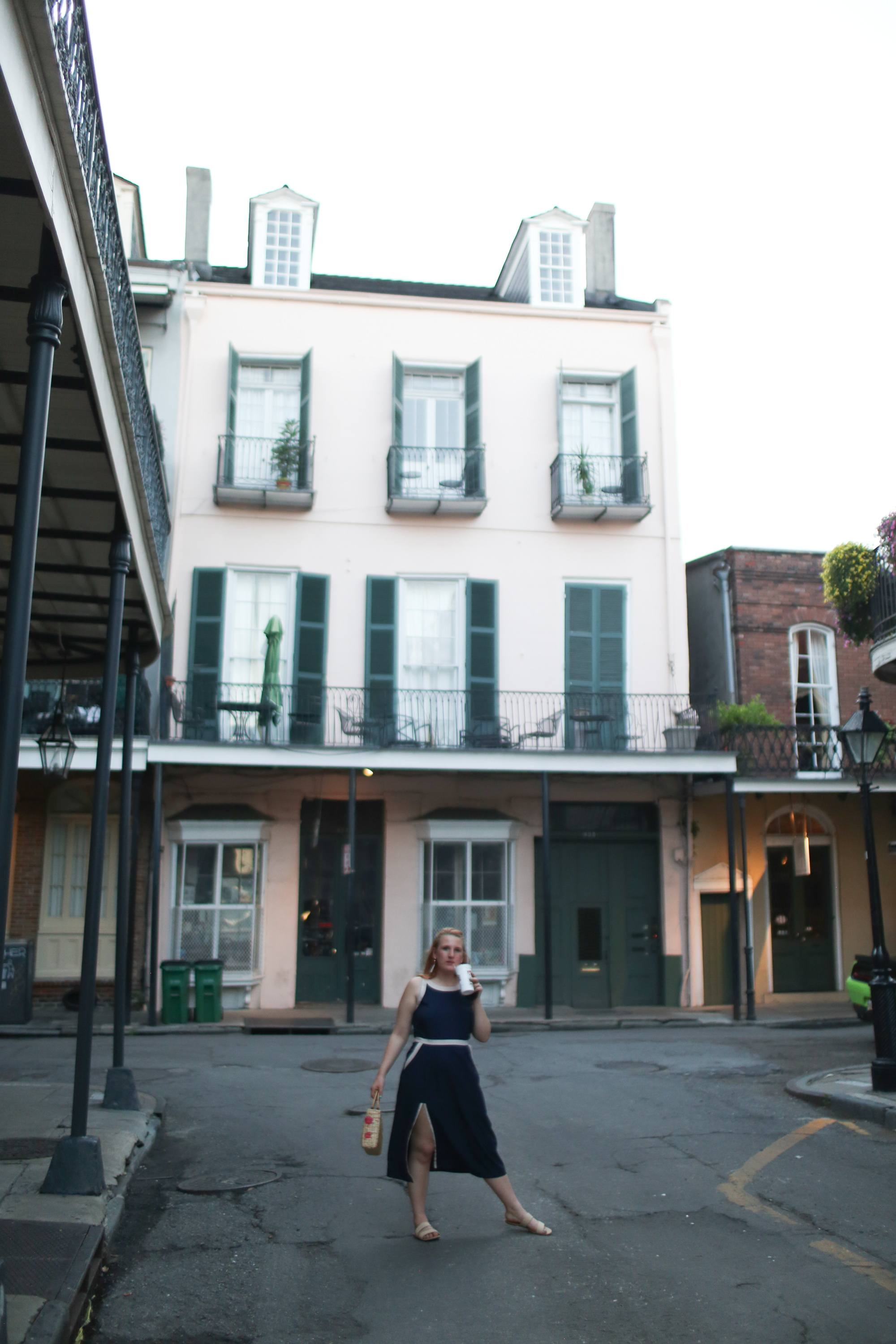 You may accidentally walk right by this restaurant, but you'd be missing out on all the wonderful history inside and probably the best dang lunch you'll find in the French Quarter. Naploean House earned it's namesake because it was rumored that the original owner was building out the extensive upstairs living quarters to house Naploean himself.. and then Naploean died, so that never happened. But the restaurant downstairs is still thriving and has all the original flair you may have found in an 1800's restaurant, including the original bar! Order the muffaletta (OMG SO GOOD!) and a Pimm's Cup for a refreshing and refreshingly affordable lunch. Pro tip – they offer seasonal Pimm's Cup flavors, so try an original and seasonal one!
Price: $
A cute little coffee shop in the heart of the French Quarter. I have this place 2 $ because you'll be paying Bay Area prices for a latte, but DANG, their $6 Las Tres Flores latte is probably one of the best latte's I've ever had. Seriously.
Price: $$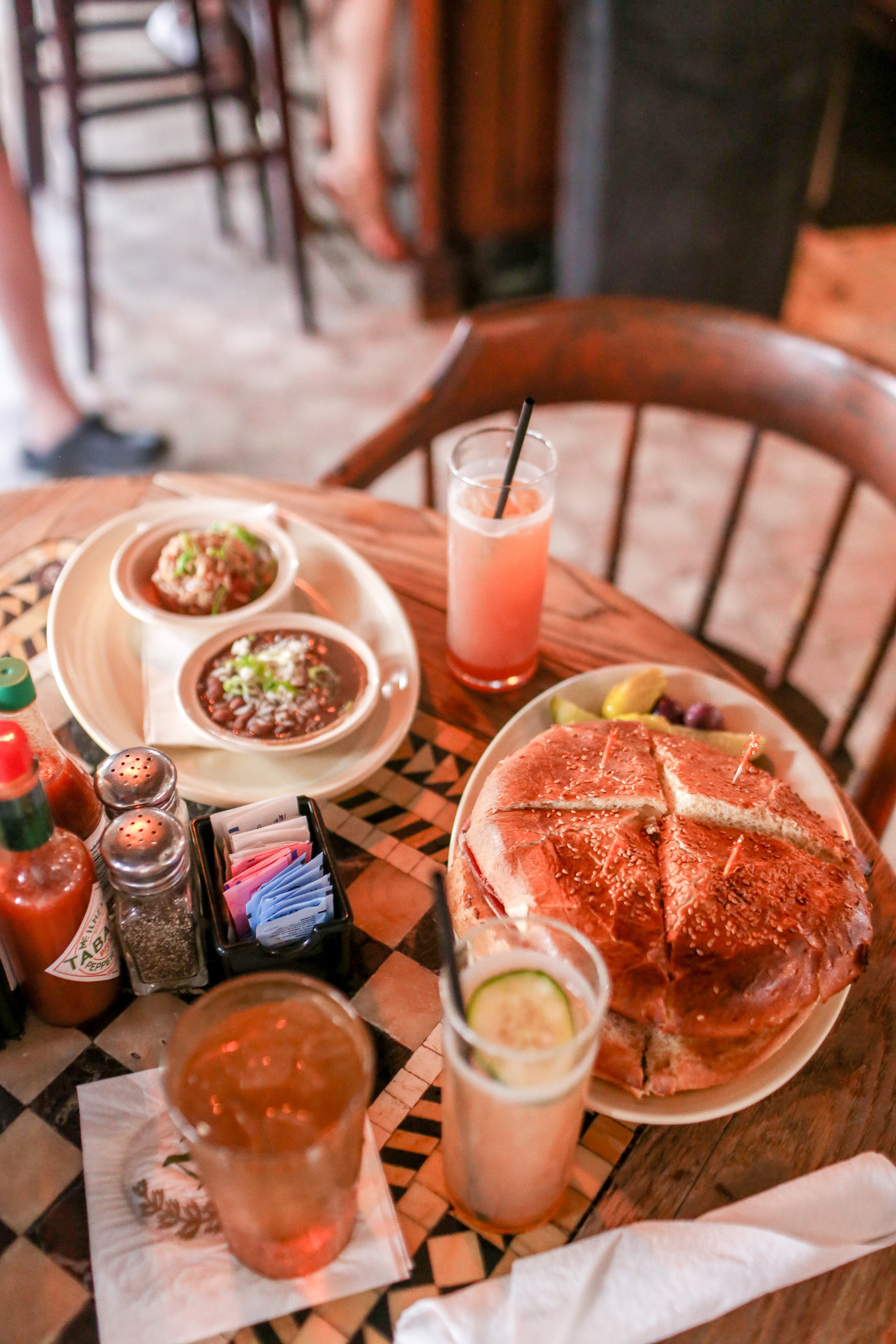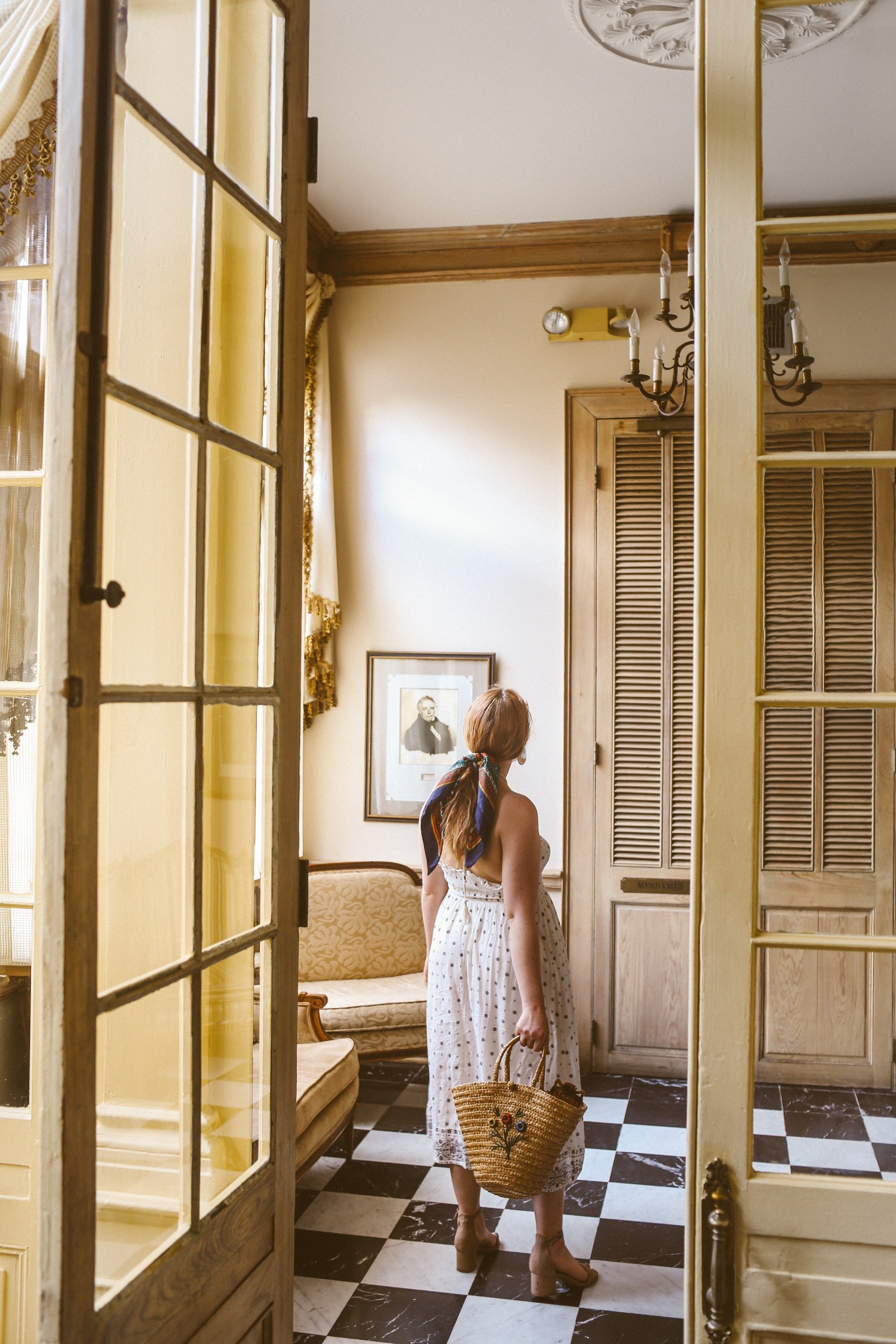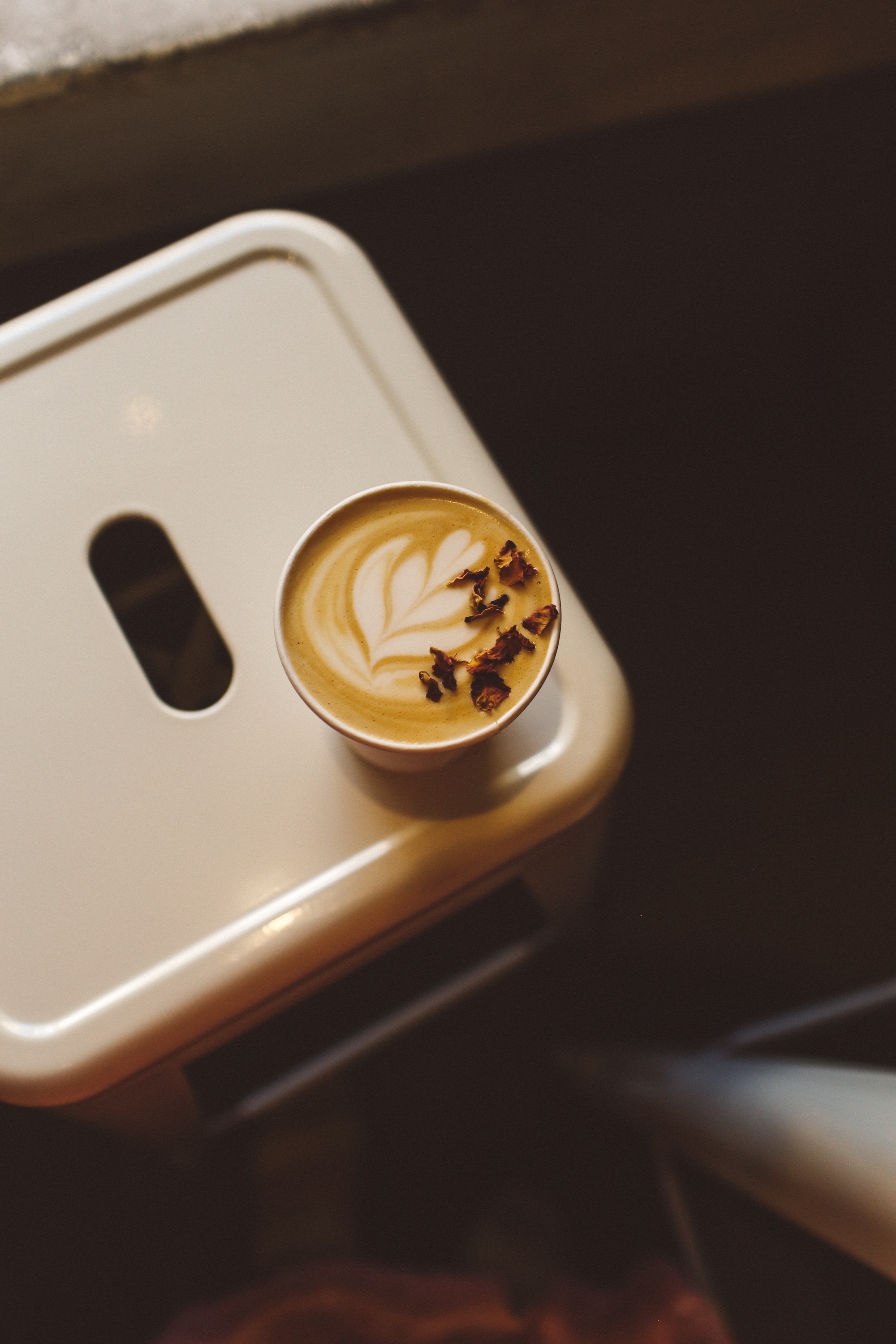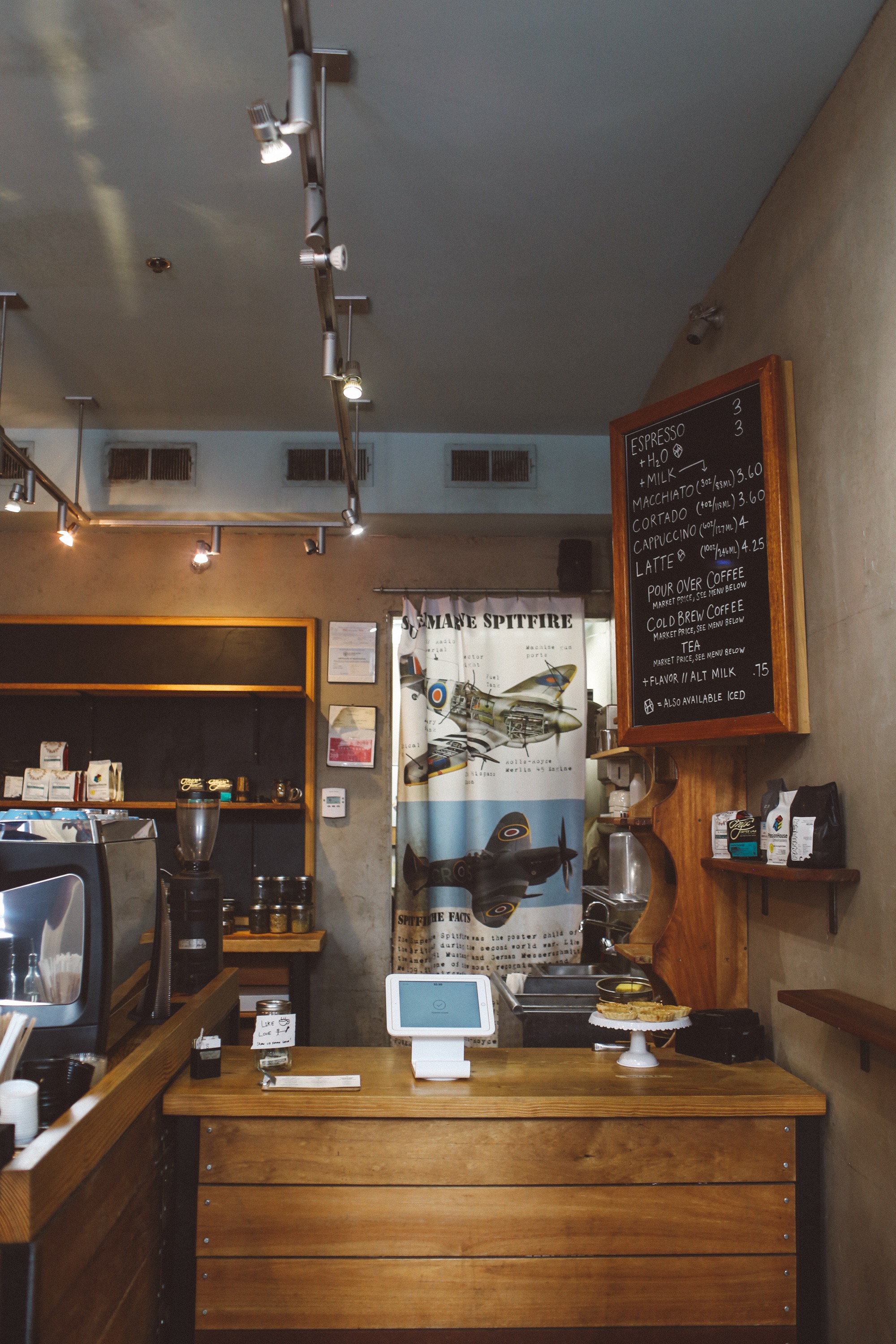 Tucked in the 9th Ward is The Country Club. It's front porch and yellow paint is charming, sure, but what you could never guess is tucked behind it is a beautiful restaurant and – wait for it – a pool! We grabbed lunch there one day and then took a dip in the pool afterward. Pool passes are $15 for the day. Head here on a hot day for a different take on New Orleans where you'll mingle with locals. I insist that you order the Crab Beignets – it was one of my favorite dishes of everything we ate in New Orleans!
Price: $$
Brennan's is a New Orleans classic. Located in a pink building on Royal Street, the place was constantly hopping. I recommend reservations, as tables fill quickly. We didn't get a chance to eat there, but it came highly recommended by many people!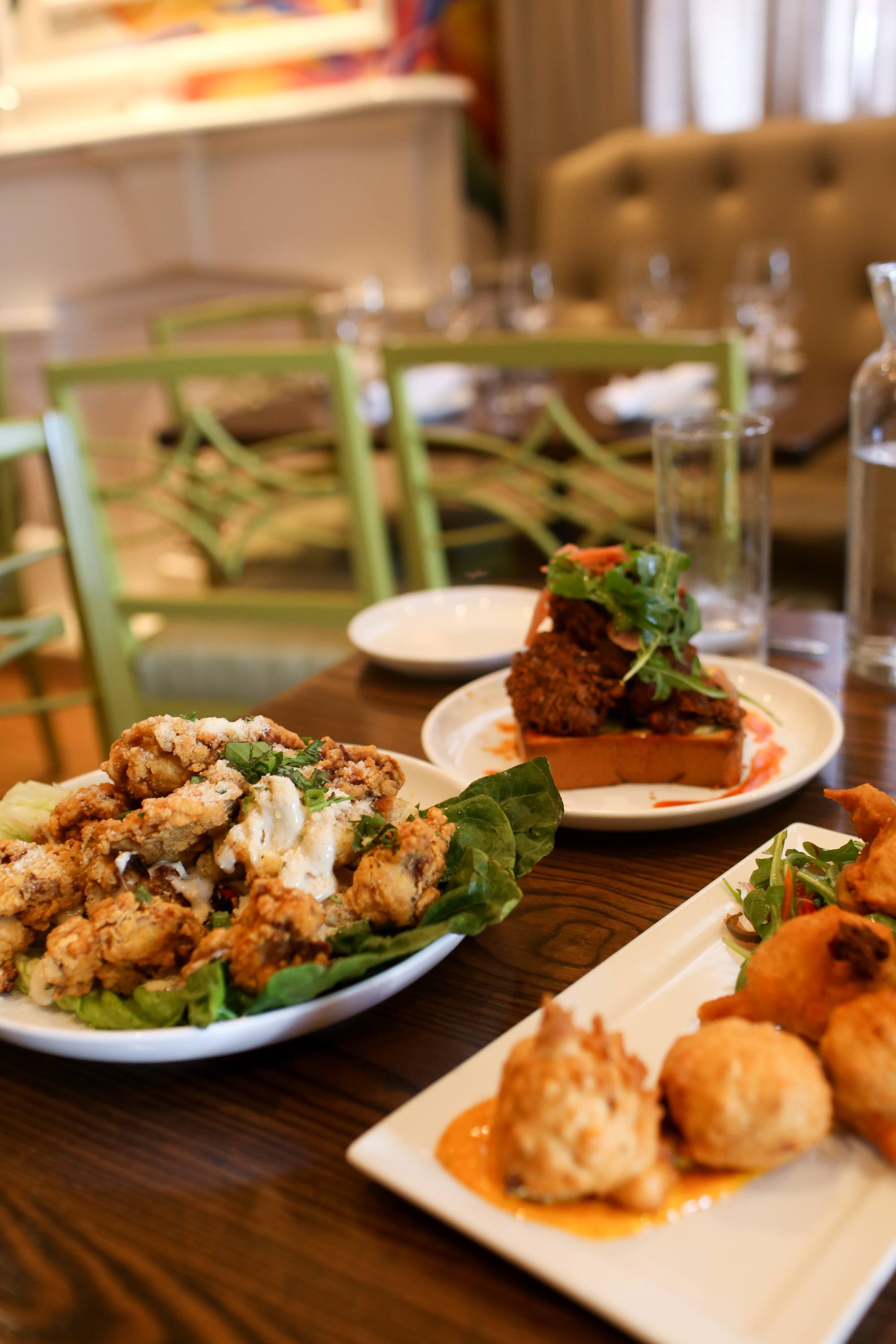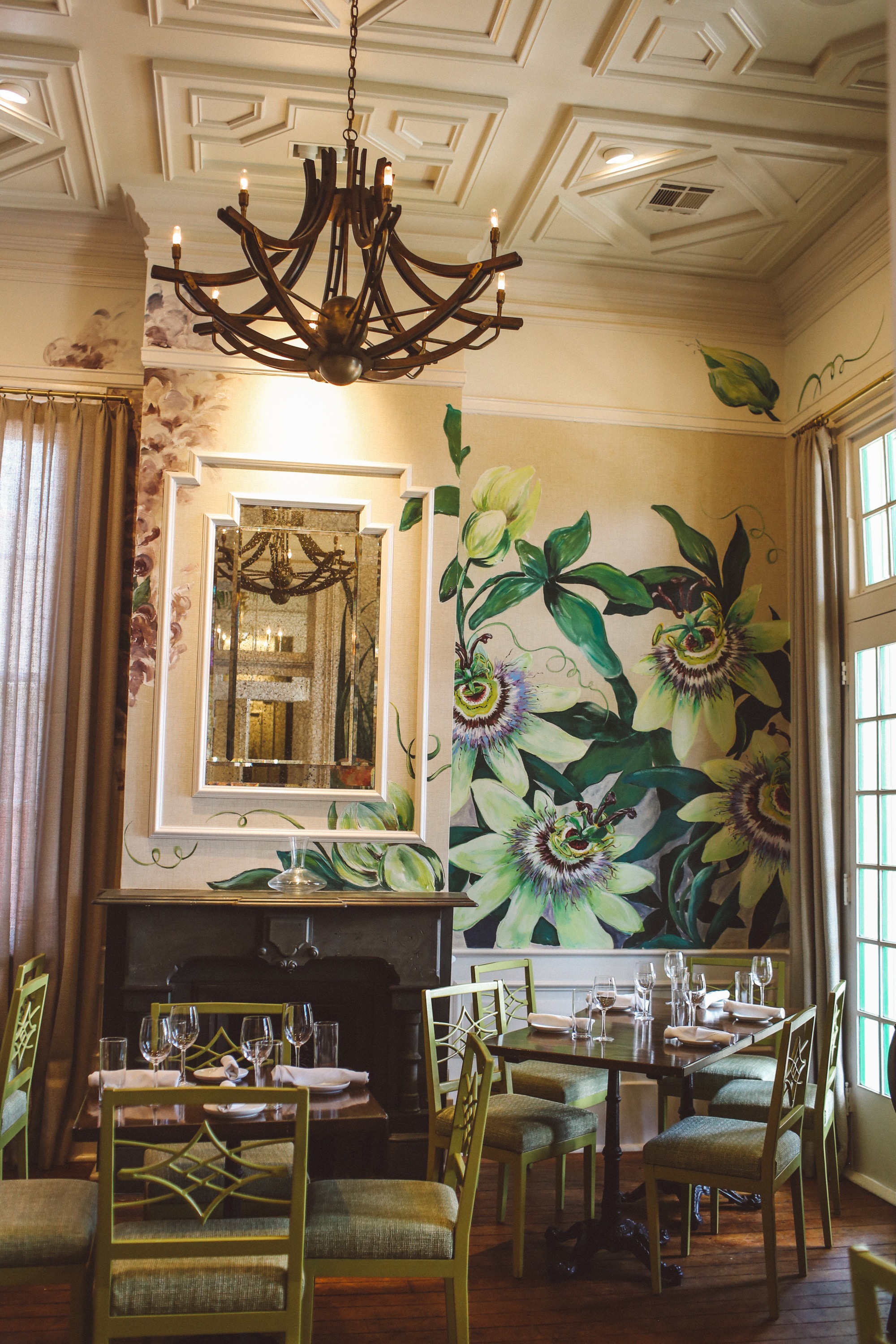 Price: $$ $
A contemporary restaurant that has slight New Orlean's flair. We took a peek inside and the decor is trendy and chic. I'm told the charcuterie board is great, along with the fish tacos. Happy hour is daily from 2pm-7pm.
Price: $$
A traditional bar in front with a great back patio space. Their happy hour is a good one for drinks, you can snap up a beer for just a few bucks. We tried frogs legs here. I didn't like them, but Robin loved them. I also grabbed the crawfish grits which has appeared on the Food Network once. I thought the prices were a little high for the food, but the location is great.
Price: $$
Gourmet sausages in a colorful restaurant that overlooks Frenchmen Street = our kind of place. We arrived around 7pm, right as the Big Jazz Band on the corner below the restaurants was starting. We lucked out and were able to grab killer seats on the balcony overlooking the jazz band! I tried the alligator dog, which was perfect. We originally planned to stay for just dinner and go fine jazz in a club, but we ended up staying all night!! It was the highlight of my trip.
Price: $$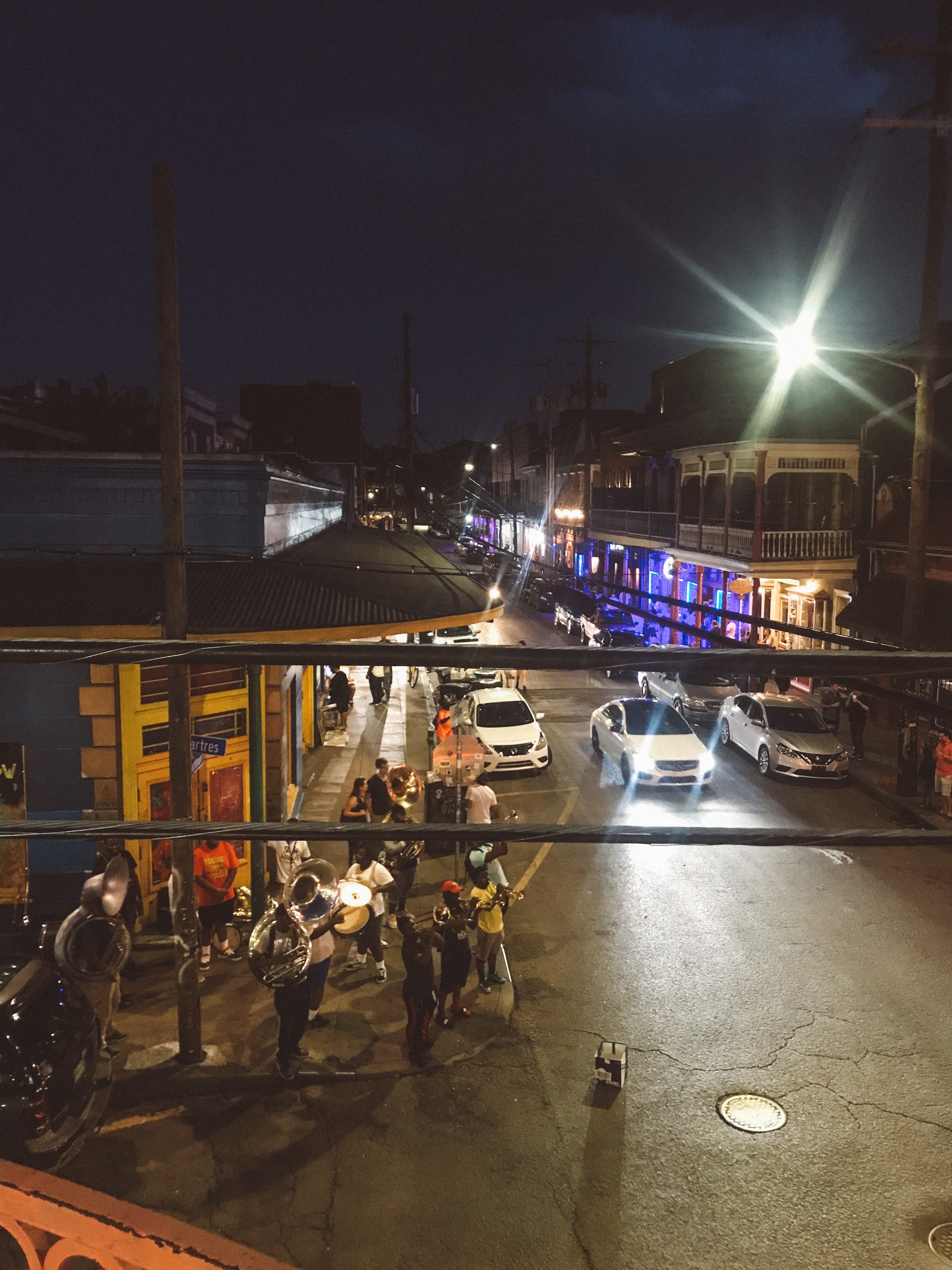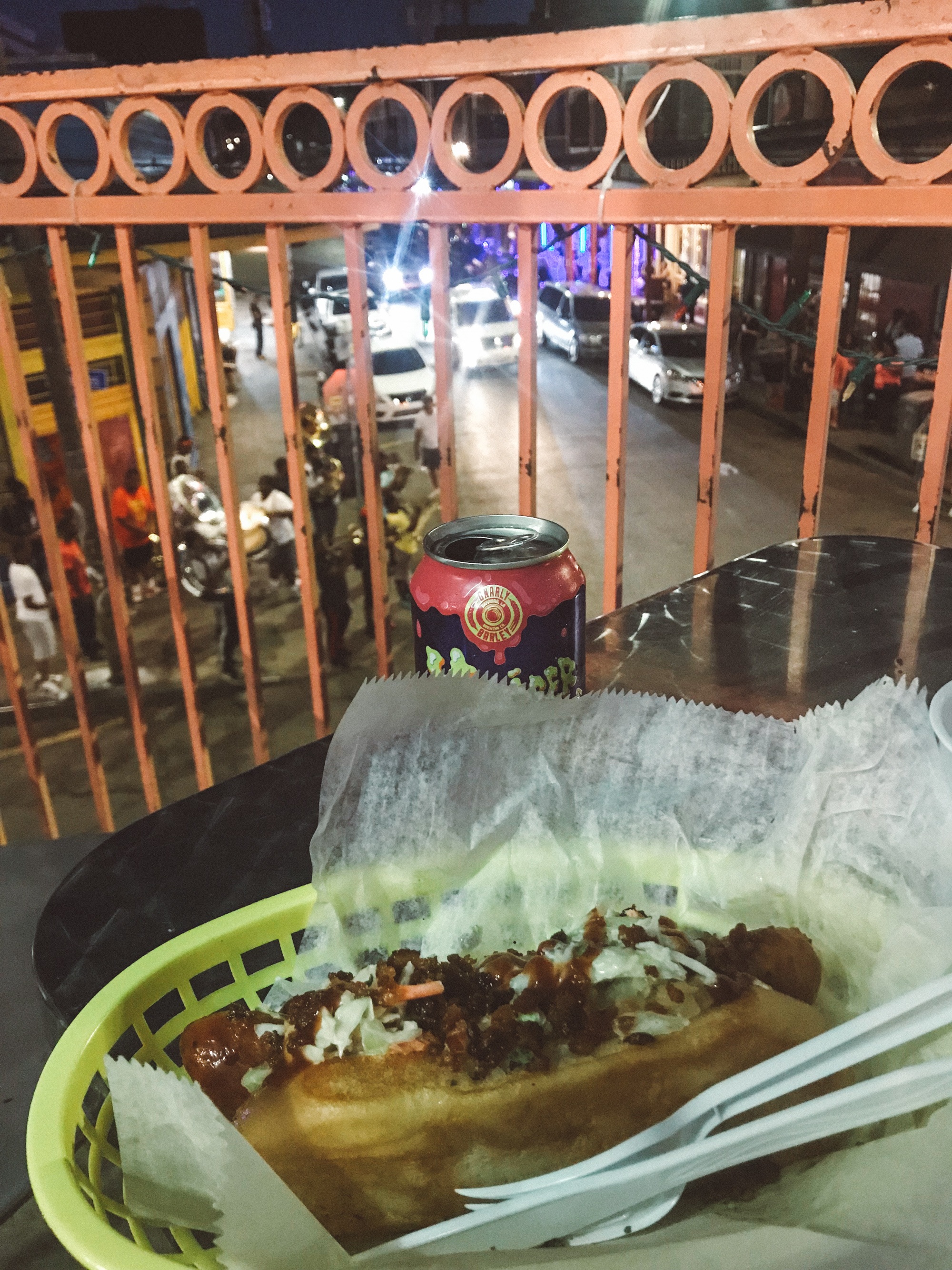 Want to find the best rose in New Orleans? Head here! They have a fantastic happy hour menu where most items are 50% off. We loved this place so much we went twice – the brunch menu is equally as delicious! Plus, the decor in here is hipster-chic.
We walked by this spot a few times and I loved how romantic it looked. The restaurant is in a 150 year+ courtyard filled with flowers an string lights. They serve traditional Lousiana fare and would make a great date night spot!
Price: $$
A funky outdoor garden patio that serves up seafood in the Garden District. It looked like a lot of fun when we drove by!
Price: $$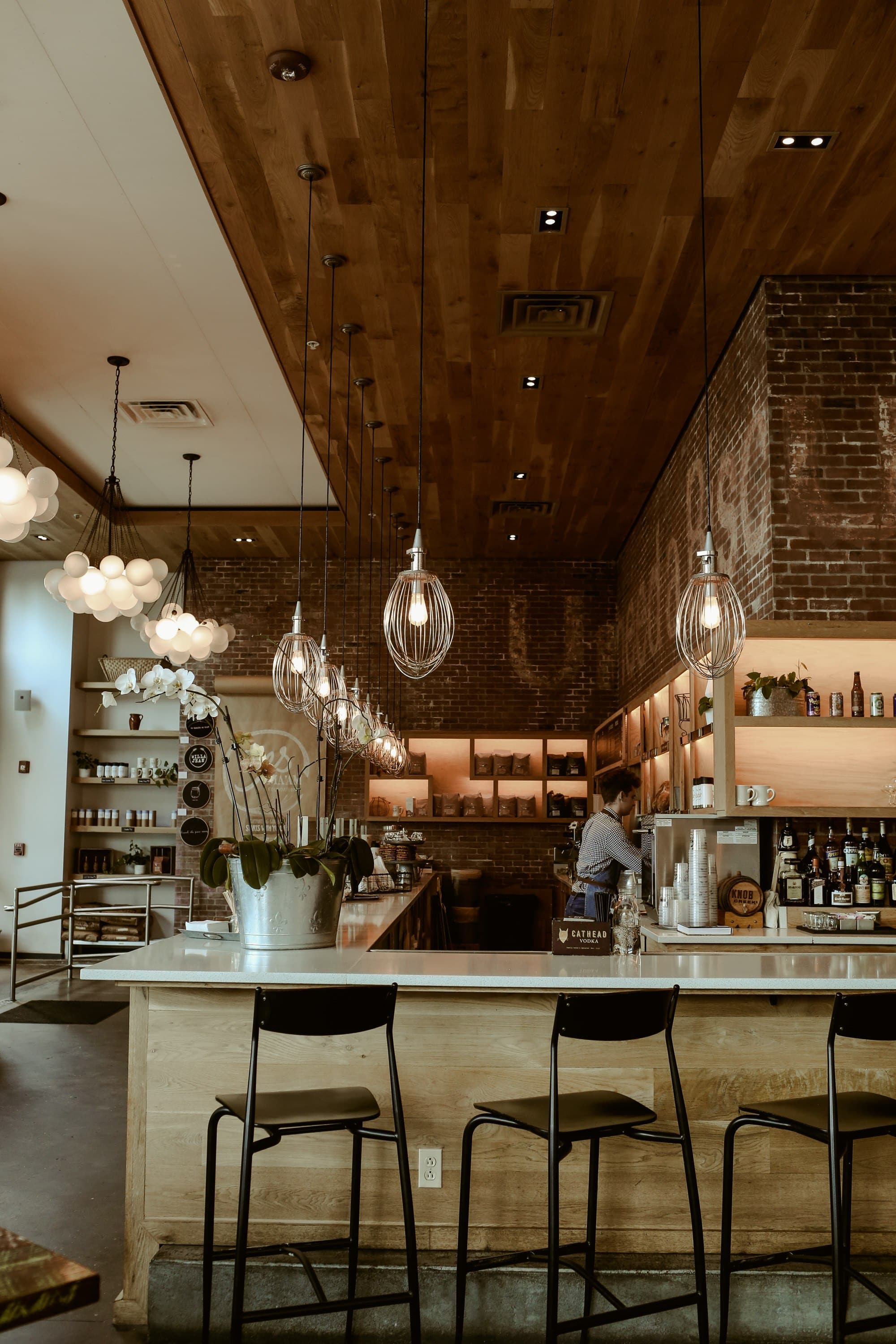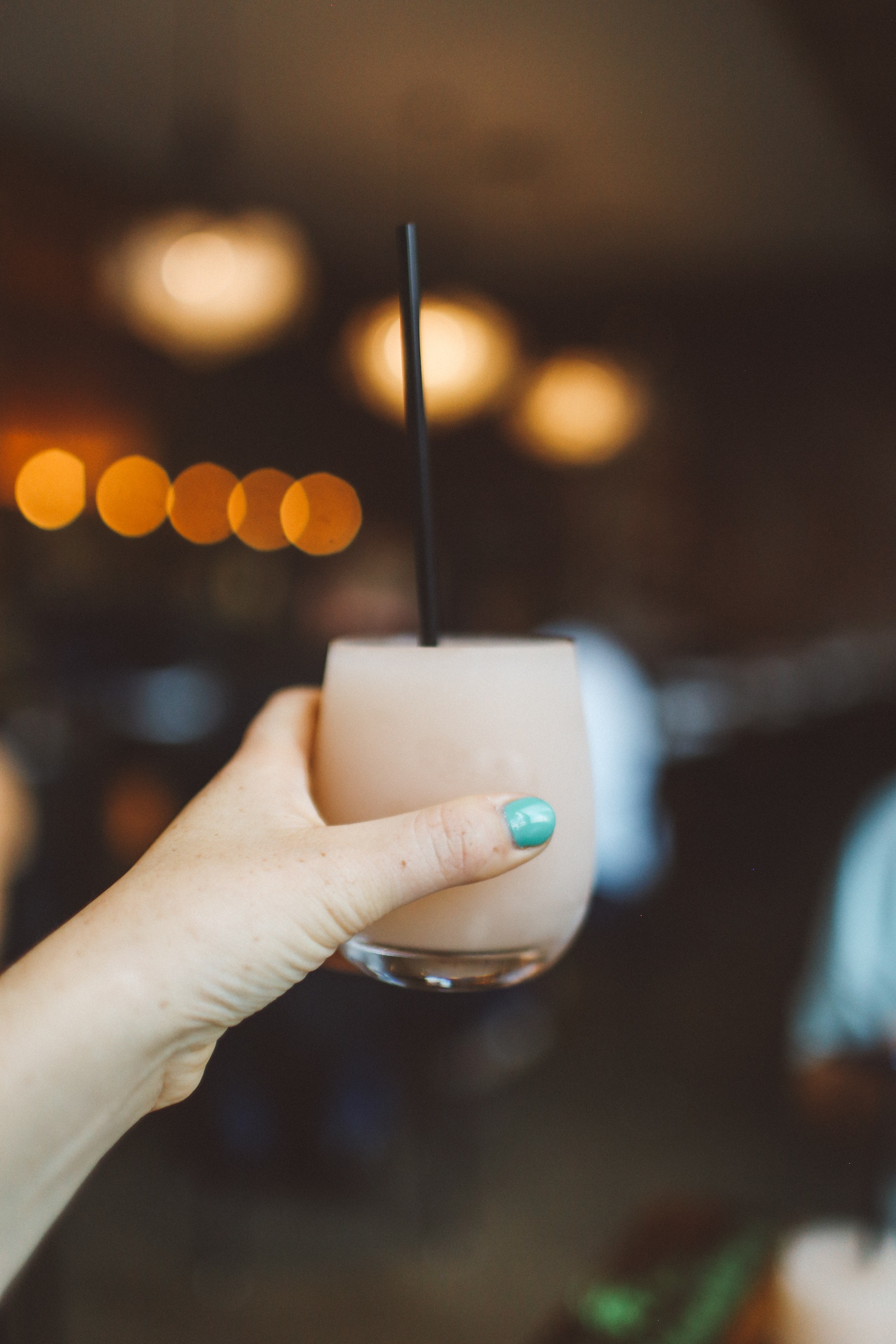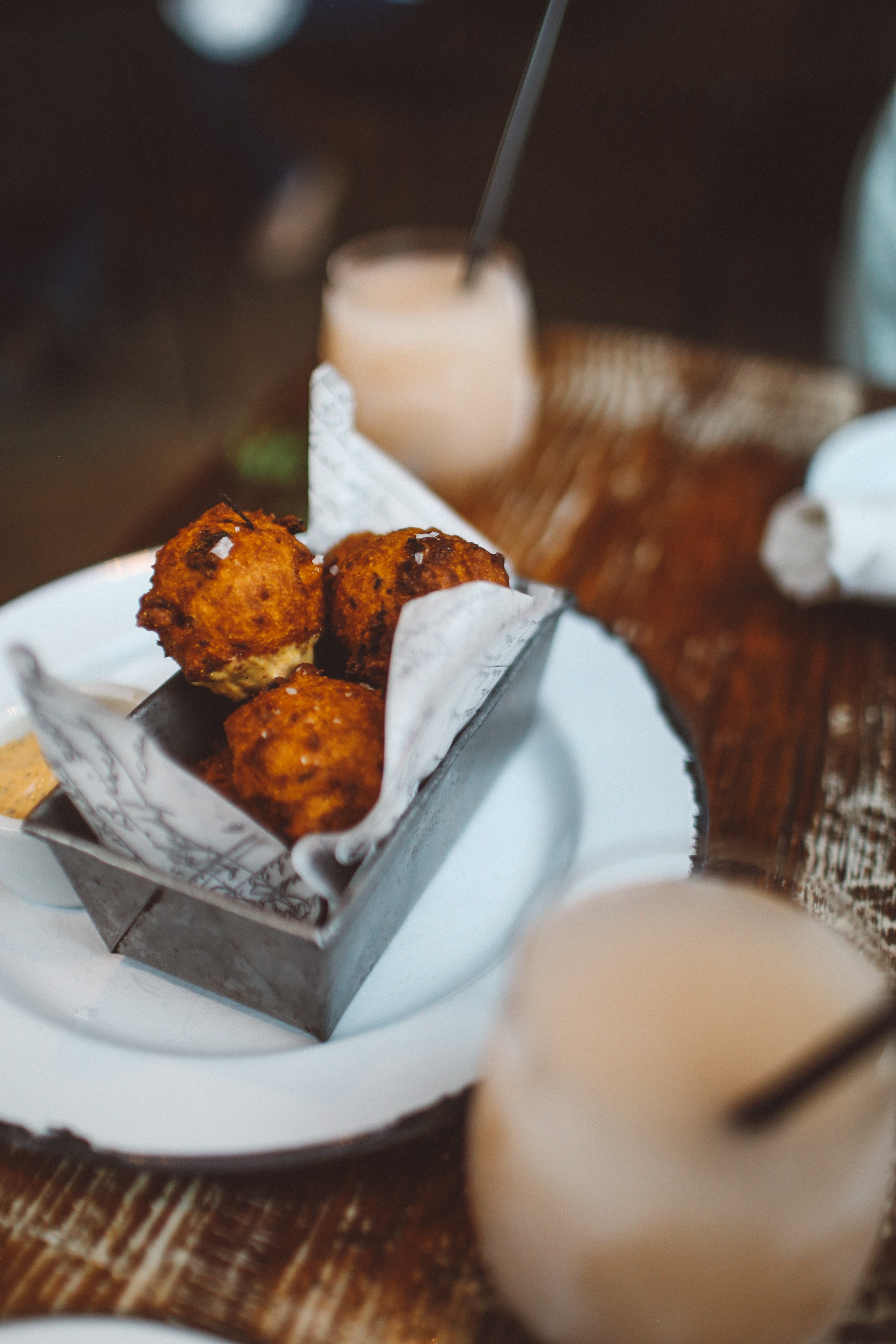 Remember those slushy machines in gas stations? Picture that, but with 15 different daiquiri flavors all lined up on a wall. Pop in, choose a flavor, pay the man $10 and stroll along Bourbon Street with your cold daiquiri to go!
Price: $
*Hand Granade
Ok, so this isn't a place to eat but rather a drink to order. It's cocktail with a  top-secret recipe and only 5 spots in New Orleans are allowed to serve it. I can't think of a polite way to say this, so I'll be blunt: it fucks you up. Robin and I shared one just to see what it's like and I felt DRUNK after just half. We think it's a mix of pineapple juice and an array of 3-5 alcohols. If you're trying to party, this drink will help you do that on a budget because all you need is one!
Price: $
The Carousel Bar is located in the lobby of Hotel Monteleone. While we stayed a few nights in that hotel, we never were able to grab a seat at the bar because it's so popular! It did look like a lot of fun to grab a drink at. The bar actually moves in a circle, like a real carousel!
Price: $$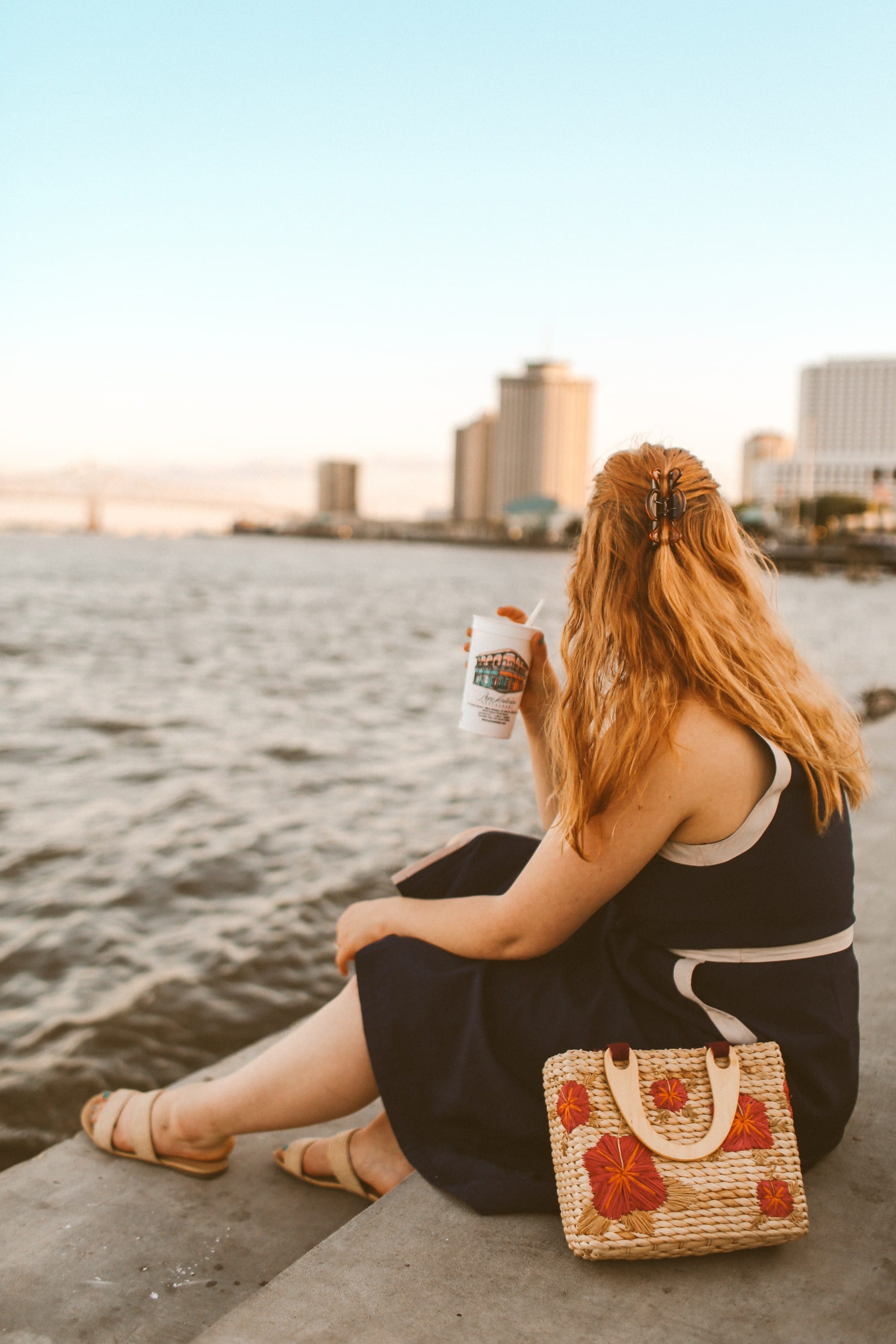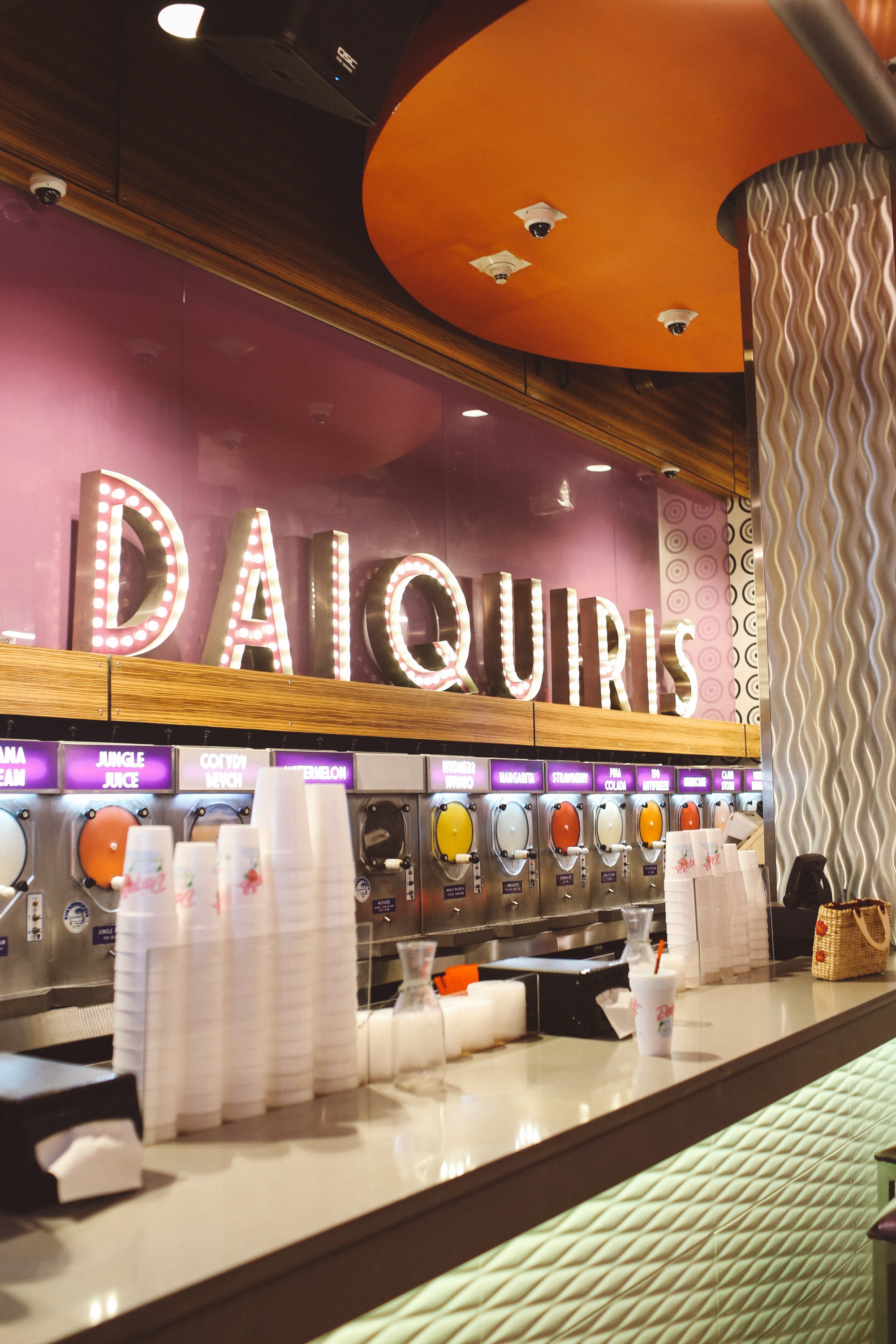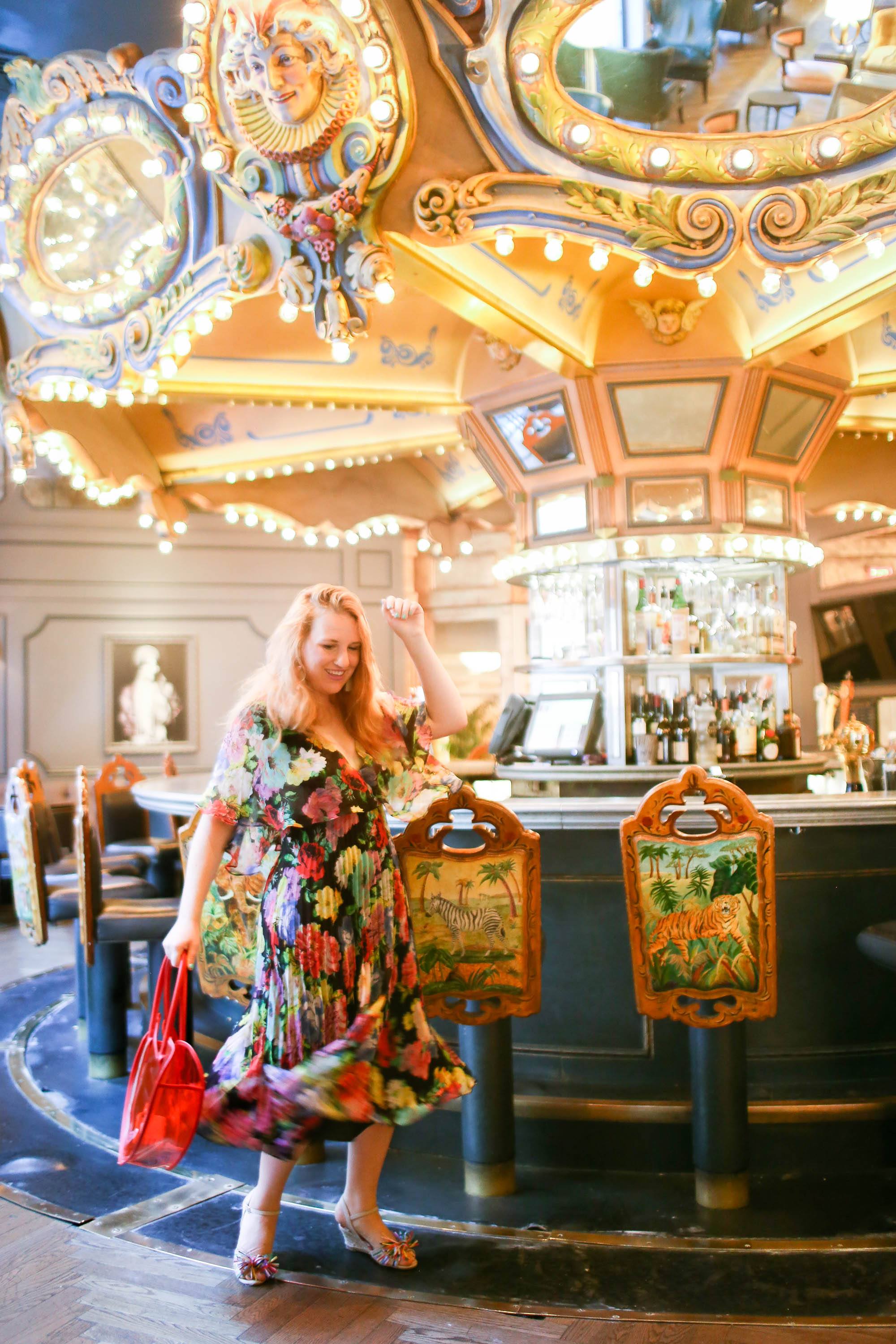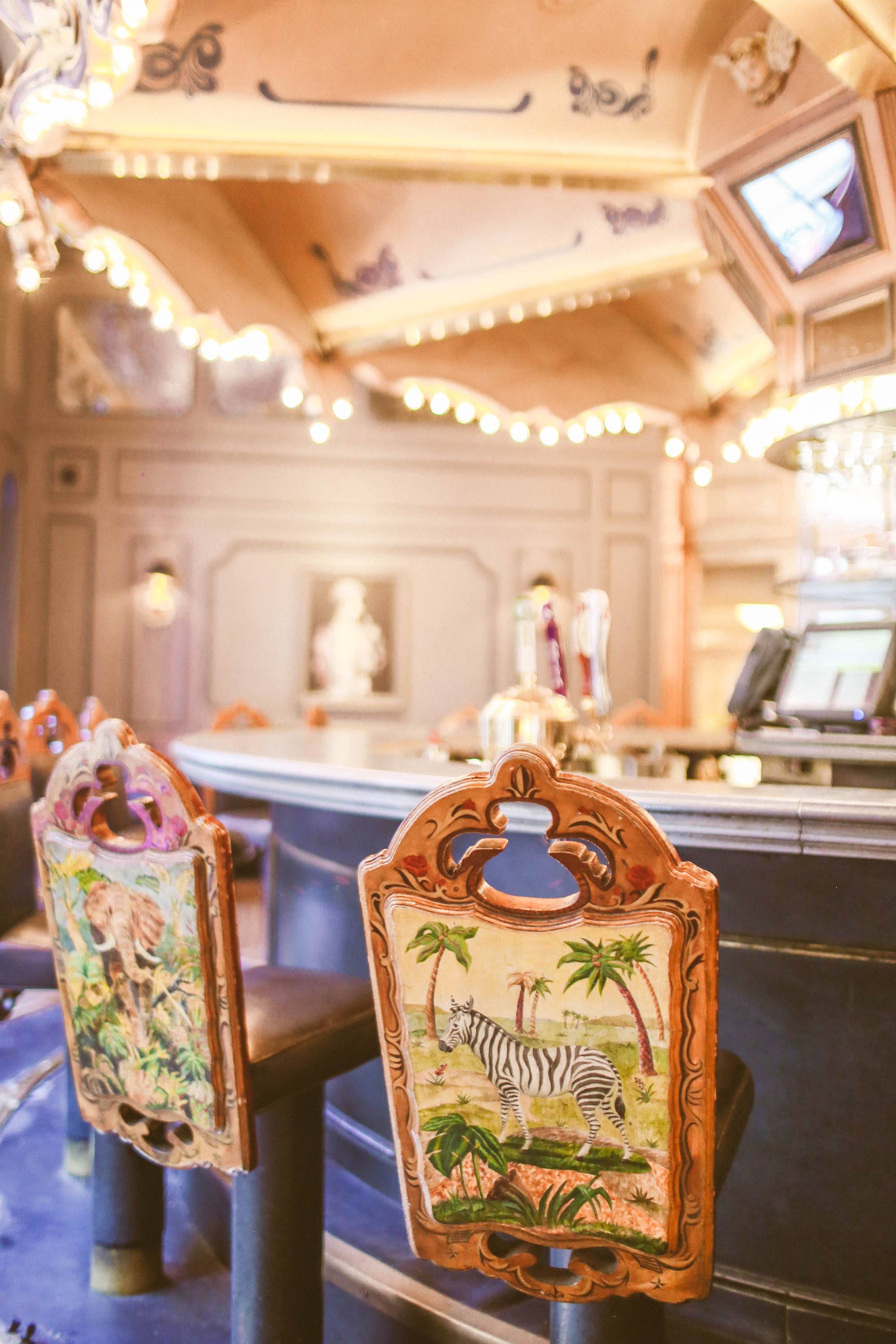 ---
I hope this helps you eat your way through New Orleans! Three very important things to note:
We tried our best to test out everyone's recommendations but again – there is only so much food one can eat each day! When planning your trip, add on an extra day or two just to eat more. I'm serious.
On that note, if your favorite restaurant isn't mentioned on here, please leave a comment below and I may add it!
Each time we visit New Orleans in the future, we'll be updating this list! So check back.
Happy Eating!