There's a lot of ways to get out on the water in Copenhagen (harbor swims, kayak rentals, tour boats!) but renting a private GoBoat with our friends for a sunset cruise around the canals was a truly special memory I won't soon forget.
Robin and I have been seeing GoBoats almost every day we're out in Copenhagen exploring, so when our friends Justina and Shaun were in town for a wedding, we knew we had to book a boat and show them the city from the waterways.
What Are GoBoats?
GoBoats are these awesome solar-powered boats that can fit up to 8 people. It's private, so that means no tour guide to drive the boat for you, but that's the fun part. You and your crew have 100% total control on where you go sailing (within the permitted areas, of course).
And the best part? No boating license is needed! Yes, even for international visitors like ourselves.
Cruise past Nyhavn, Amalienborg Palace, Paper Island, Christiania, the Royal Opera House and all the colorful waterfront houses. I love wandering the streets of Copenhagen by foot, but it's truly the most romantic from the viewpoint of the canals.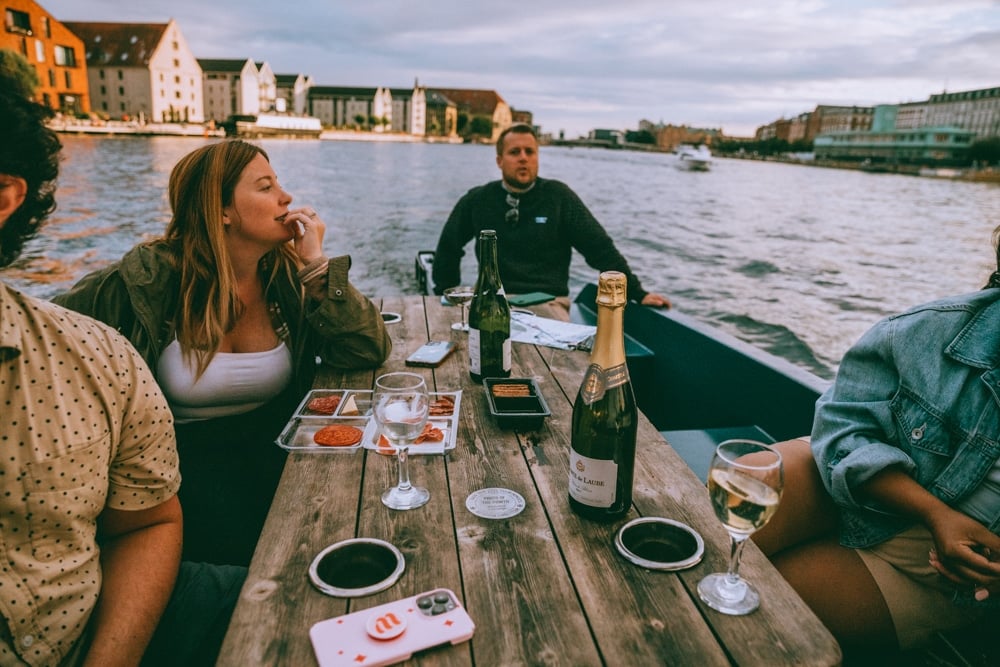 What To Bring On A GoBoat Rental
You don't have to bring anything but it's most fun when you bring snacks. This isn't a party boat, so skip the hard alcohol but do bring a bottle or two of wine, snacks and charcuterie board makings to share for a fancy picnic on the water.
And, if you're really extra like we are, or celebrating something special like an anniversary, grab some flowers. Something about cruising past Christainsborg while sipping wine and holding flowers just makes you feel like the main character.
Best Time For Boat Rental In Copenhagen
You'll have fun no matter the time of day you rent a boat in Copenhagen, but I highly recommend sunset if you can. Sunset, of course, changes throughout the year. We're living in Copenhagen for the summer and did a GoBoat during July, so we booked the 8pm-10pm slot for golden hour through sunset. It started out a bit rainy but we ended the two hours with the most beautiful golden light filtering through the buildings. Core memory achieved.
Another perk of going later in the evening is by then, none of the big tour boats will be running so you won't have to worry about constantly moving over to let them pass. We honestly didn't see many other boats at all that time of night, so it sort of felt like we had the canals all ourselves.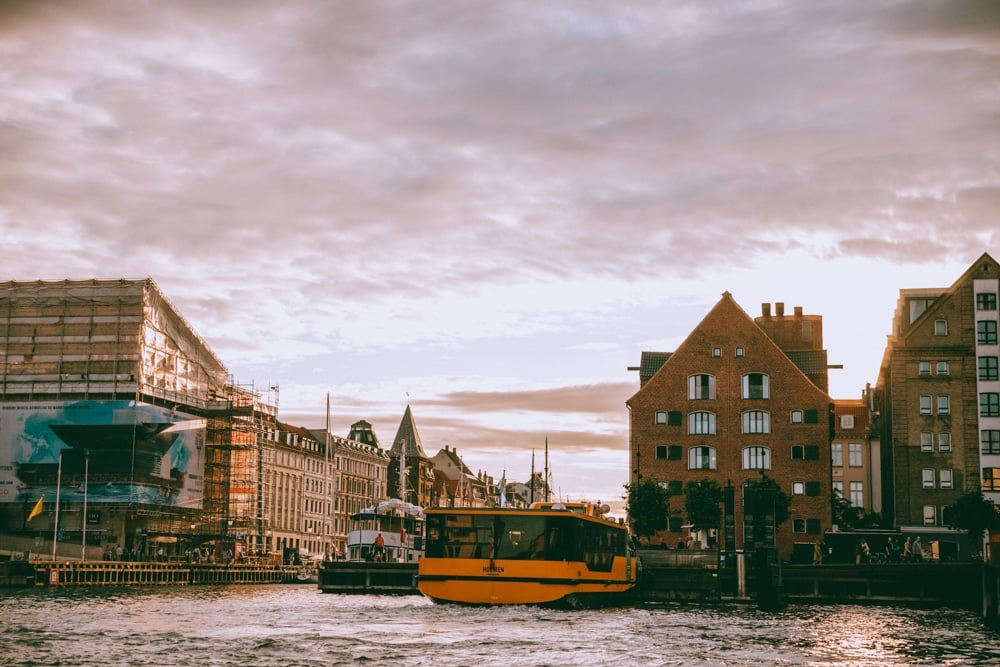 We visited in the summer and only needed to pull on a sweater towards the end of the cruise when the sunset, but if you're doing a ride in the winter you'll want to bundle up. Speaking of winter, these boats are offered year-round, though fewer dates are available in the winter so book ahead early.
If I'm ever in Copenhagen for December, I would totally book a GoBoat for golden hour and sunset. Imagine getting to see all the city's holiday lights slowly turn on and twinkle as you cruise the canals!!
An Experience You Won't Soon Forget
One thing I really prioritize while traveling is experiences that are ultra-local and authentic to the area. Copenhagen is such a water city and getting to spend a couple hours on the "Venice-like" canals of Denmark's capital is something you can't skip out on.
Justina later told me this was her favorite activity on her visit to Denmark and honestly, it's one of my favorite things to do in Copenhagen, too (other favorites are troll hunting and swimming in the harbor, but that's another post for another day.)
When you visit Copenhagen, you need to book yourself a ride on a GoBoat. It's simply the best way to see the city (and the best boat rentals in Copenhagen you can find).
They're also available in Odense, Aarhus and Aalborg (Denmark) along with Malmö ( Sweden) and Berlin (Germany), 3 locations in London and one in Birmingham (UK) and 4 locations in Australia! I personally can't wait to try some of the boats out in other cities when I travel world. This is a truly special company!