If you don't love Hocus Pocus, are you even a Millennial?
Hocus Pocus premiered in the early 90s and has put a spell on countless fans over the past three decades. Thanks to Hocus Pocus' enduring popularity, this cult classic is finally getting a sequel. Yes, Hocus Pocus 2 debuts this September 30th on Disney+!
So gather your coven of girlfriends, brew up this Hocus Pocus cocktail recipe, and get ready to run amok—it's officially spooky season, witches!
The Popularity of Hocus Pocus
Hocus Pocus follows the comedic antics of three diabolical witches who are inadvertently brought back to life by a teenage boy on Halloween night. Bette Midler (Winifred), Kathy Najimy (Mary), and Sarah Jessica Parker (Sarah) star as the scene-stealing Sanderson Sisters.
This movie has it all: 300-year-old witches, musical numbers, zombies, and even a talking cat! Despite looking good on paper, Hocus Pocus was a box office flop when it hit theaters in July 1993.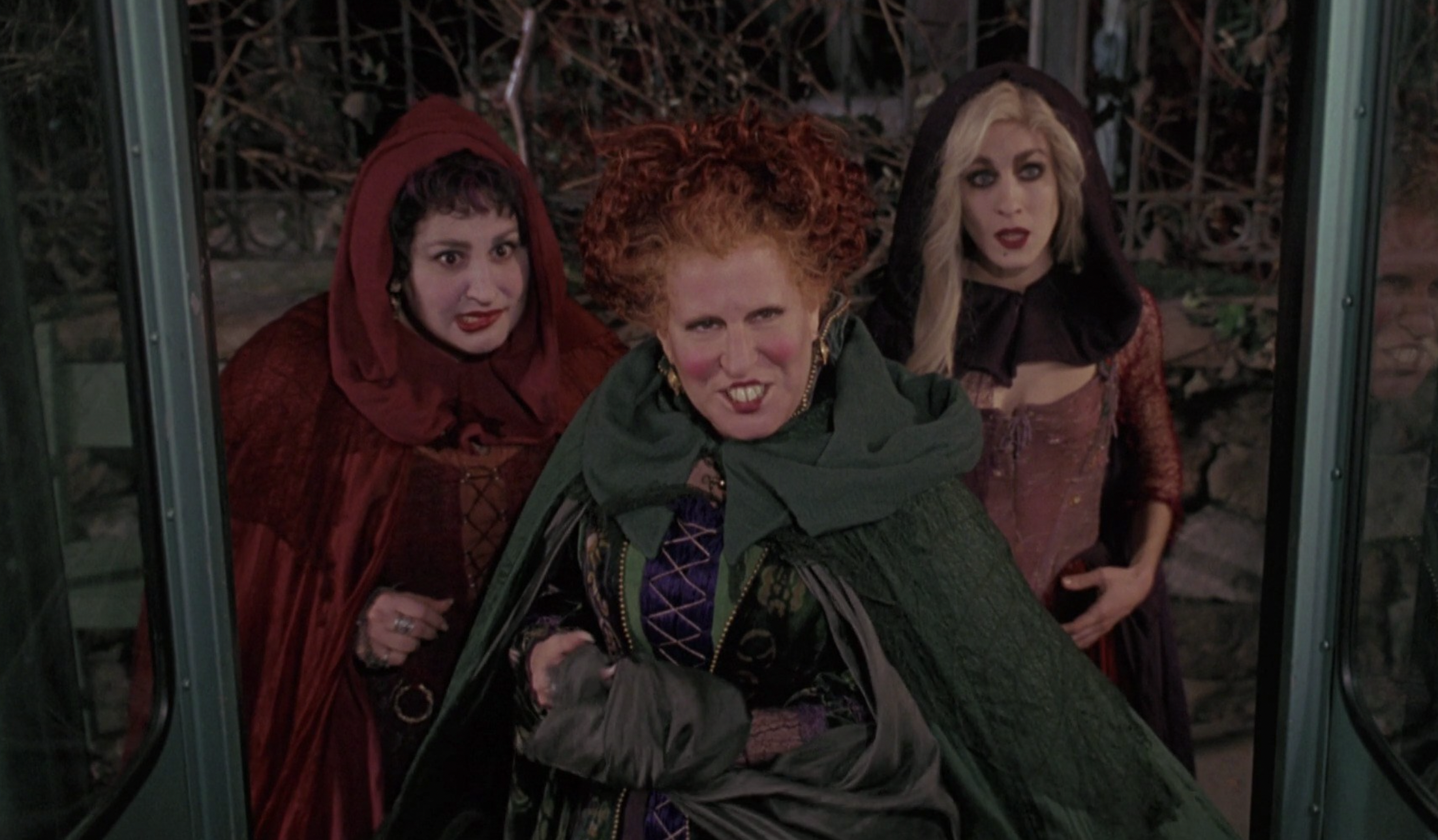 The film was loathed by critics and made a meager $8.1 million on its opening weekend (maybe because it's hard to market a Halloween movie in the middle of summer?).But much like the Sanderson Sisters themselves, this film found new life in the intervening years. VHS and DVD releases allowed home viewers to (re)discover Hocus Pocus, but it was cable TV reruns that really resurrected the movie.
Hocus Pocus became a fixture on the Disney Channel in the late 90s, later joined the lineup of ABC Family's 13 Nights of Halloween, and has been rerunning pretty much nonstop ever since. It's no wonder that Hocus Pocus is one of the most-watched movies of the fall season—it's practically inescapable if you turn on the TV anytime in October.
So though I wonder whether Hocus Pocus is actually as popular as Disney claims it is or if it has merely entered the Halloween canon due to prolonged osmosis, there's no denying that this movie has passionate fans.
But why is Hocus Pocus so beloved? Possibly because it captures that spooky-fun look and feel of the Halloween season. Heck, it even takes place in Salem, Massachusetts, one of the most infamous places to visit for Halloween.
Like many cult classics, Hocus Pocus is also good campy fun, especially when watched in a group that can quote right along with the movie. But what I think Hocus Pocus really has going for it is its nostalgia factor. (And, there are some things in Hocus Pocus that real witches do, but most of it is all Hollywood magic).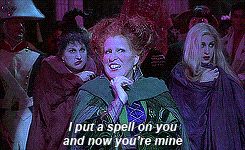 Hocus Pocus 2
Fans of the Sanderson Sisters, rejoice! Hocus Pocus 2 premieres on Disney+ this September 30th. In this much-anticipated sequel, the Sanderson Sisters are once again out for revenge, but this time it's up to three high-school girls to stop the villainous witches from wreaking havoc on modern-day Salem.
Bette Midler, Kathy Najimy, and Sarah Jessica Parker reprise their roles as the child-hungry Sanderson Sisters, and I'm happy to see that creature-actor Doug Jones will return as Billy Butcherson. Joining the cast are Whitney Peak, Belissa Escobedo, and Lilia Buckingham as the young protagonists.
Reviews have yet to roll in, but regardless of the movie's merits, I'm sure fans will be pleased to see the sisters on-screen again. Especially fans who have fond childhood memories of Hocus Pocus.
My Journey with Hocus Pocus
When I was in grade school, I was one of a fearsome foursome of friends. We did everything together: classes, sports, sleepovers, everything. The four of us watched a lot of movies together, too, and Hocus Pocus was among our favorites. We reenacted scenes, cooed over Thackery Binx, and waddled around with our arms interlocked, shouting "Amok! Amok! Amok!"
You've probably already done the math, but I was just a dumb kid (and bad at math), so I was blindsided when October rolled around and I discovered that I had been excluded from the group Halloween costume. There were four of us and only three Sanderson Sisters, after all. I didn't make the cut.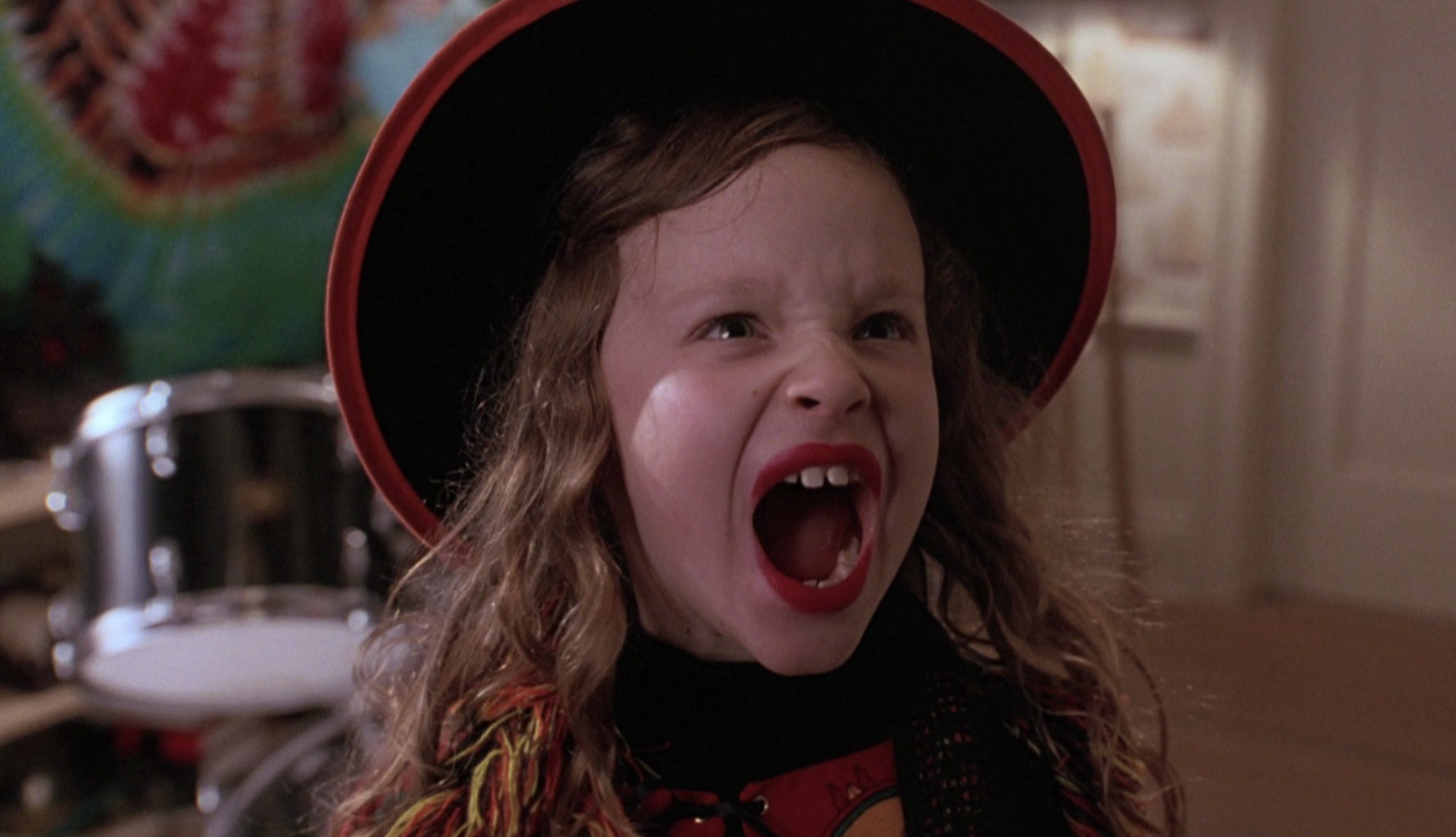 Of course, I was devastated, and I never watched Hocus Pocus again. Or at least, not until 20 years later…
In 2014, a good friend invited me to a Hocus Pocus screening and themed drag show starring Jinkx Monsoon, BenDeLaCreme, and Peaches Christ as the "Manderson Sisters." Despite my soured feelings on Hocus Pocus, I had to go—obviously!
So it's thanks to a lifelong friend and a few iconic drag queens that my relationship with Hocus Pocus was finally repaired. Coincidentally, Ginger Minj, Kornbread Jeté, and Kahmora Hall are credited as Drag Winnie, Mary, and Sarah on the IMDb page for Hocus Pocus 2, so I might feel nostalgic when watching the sequel after all.
Anyway! Let's get back to the Hocus Pocus drink recipe.
How to Brew a Hocus Pocus Cocktail
The legend of the Black Flame Candle says that if the candle is lit by a virgin on Halloween night under a full moon, it will raise the spirits of the dead for as long as the flame burns.
But there's nothing virgin about this Black Flame Candle cocktail recipe! My Hocus Pocus-themed alcoholic drink is inspired by the classic espresso martini, but instead of espresso, we're using cold brew. (Cold brew, witches' brew… you get it!)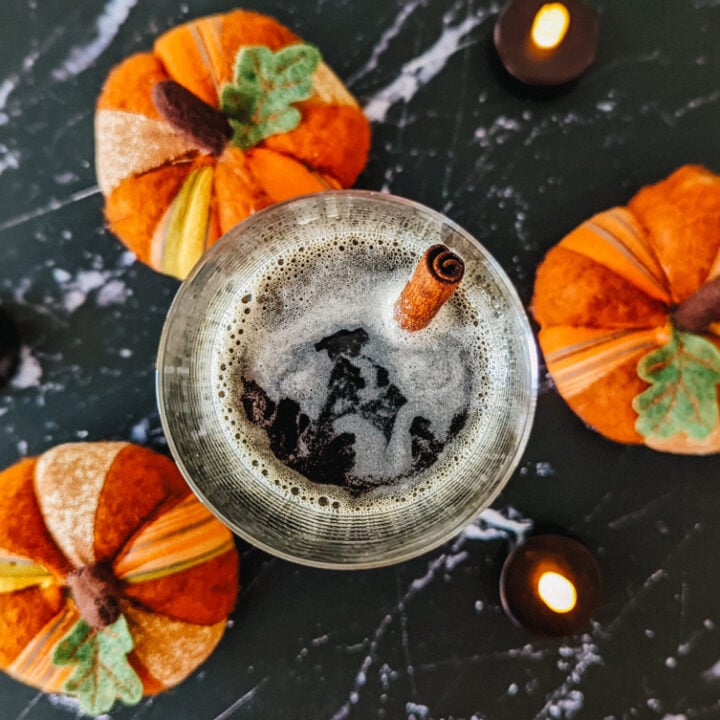 The Black Flame Candle: A Hocus Pocus Witches' Cold Brew Cocktail
Get the Halloween party started with this Hocus Pocus cocktail! Cold brew coffee liqueur and pumpkin spice cold brew combine with cinnamon syrup for a rich, bittersweet drink that's perfect for the fall season.
Ingredients
Cinnamon Simple Syrup Ingredients
3/4 cup sugar
1 cup water
2 cinnamon sticks
Cocktail Ingredients
2 oz Mr. Black Cold Brew Coffee Liqueur (or 2 oz vodka + 1/2 oz other coffee liqueur like Kahlúa)
1 oz pumpkin spice cold brew concentrate (like Starbucks)
1/2 oz cinnamon simple syrup
Cinnamon stick to garnish
Instructions
How to make the cinnamon simple syrup
Add water and cinnamon sticks to a small saucepan.
Bring to a boil, then lower heat and let simmer for 10 minutes.
Remove cinnamon sticks (may be saved for garnish).
Add sugar to saucepan and stir until completely dissolved. (Add a splash more water if necessary.)
Remove from heat and let cool.

How to make a witches' brew cocktail
Add Mr. Black Cold Brew Coffee Liqueur, pumpkin spice cold brew concentrate, and cinnamon simple syrup to a cocktail shaker filled with ice.
Hard-shake until well-chilled and foamy.
Strain into a chilled cocktail glass.
Garnish with a cinnamon stick.

Notes
I recommend using Mr. Black because it's made with vodka and not too sweet.
If you can't find (or don't like) pumpkin spice cold brew, swap in your favorite flavor.
For extra pumpkin flavor, add a splash of easy homemade pumpkin spice syrup!
To give this Hocus Pocus Halloween cocktail some more spooky vibes, use an orange peel as garnish or drop in dry ice!
Whether you're enjoying your annual Hocus Pocus rewatch, hosting a Hocus Pocus 2 premiere party, or staying up late with a Halloween movie marathon, this Hocus Pocus cocktail recipe is sure to be a hit.

Personally, I think the world needs more Halloween adult beverages that aren't sugary-sweet! After a sip of this coffee-rich witches' brew, I think you'll agree. If you're looking for other sophisticated Halloween party drinks, try these magical alcoholic "potions" or a vampire-themed Bloody Mary.
Want more Halloween cocktails to share with friends? Let us what kind of recipes you want in the comments!
Oh, and if you're feeling extra nostalgic and up for a fall trip, head to Halloweentown in St. Helen's, Oregon where they filmed the movies!! Yes, it's a real place!