When decorating your apartment or house, it's super easy to only pay attention to the BIG THINGS like the paint color or style of the rug.
But, it's actually the small details that really pull an entire space together to elevate it and make it all feel cohesive. While renovating our Whimsy Homes cabin, I knew I needed to swap all the mismatched cabinet pulls with stylish hardware products.
Enter: Plank Hardware. The dang cutest cabinet pulls, hooks and rods you could possibly put in your home (or cabin like I did!)
About Plank Hardware
Plank Hardware is located in the United Kingdom, but they also ship to the United States!
It's the birth child of couple Tom and Annie, who bought their first house and encountered a problem many home owners (and, let's face it, renters) have: finding hardware that was stylish, elevating their furniture & doors and most importantly, finding hardware that was offered at a pretty fair price.
So, they decided to start their own company to fill that gap in the market.
I'm biased since I love this brand and how they look in our cabin kitchen, but I must say: genius. They've totally nailed the industry and you can find so many styles and finishes of hardware on their site.
One of the other reasons I loved using Plank Hardware in our cabin kitchen project is their environmental impact mission.
They're constantly reworking manufacturing processes to reduce carbon emissions and keep the supply chain accountable while still making quality materials.
As of January 2023, 100% of new products are sent from their suppliers plastic-free and they are phasing out plastic in customer orders in delivery which is awesome!
While renovating the Whimsy Homes cabin, I've been focusing on sourcing products and brands that have sustainability in mind whenever possible. It's not always possible, especially for something as niche as cute cabinet handles.
The Plank Hardware I Choose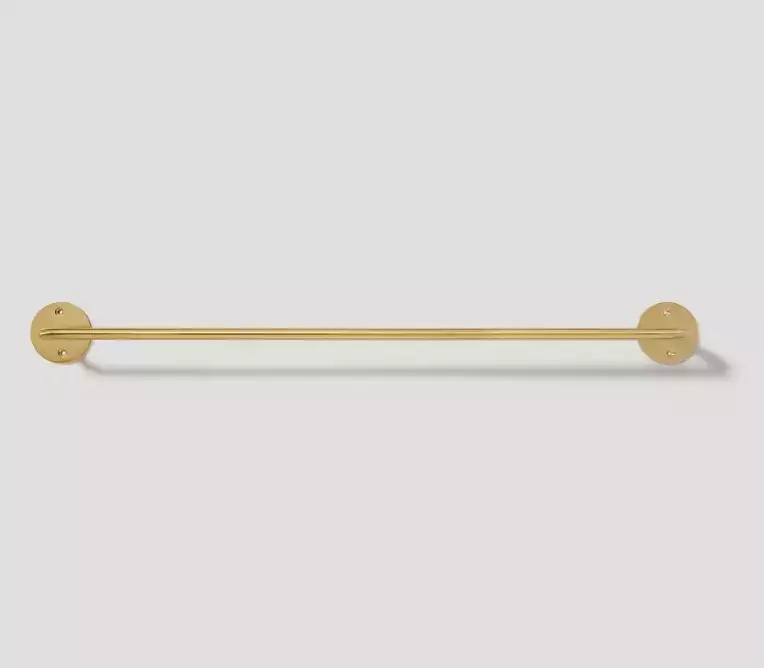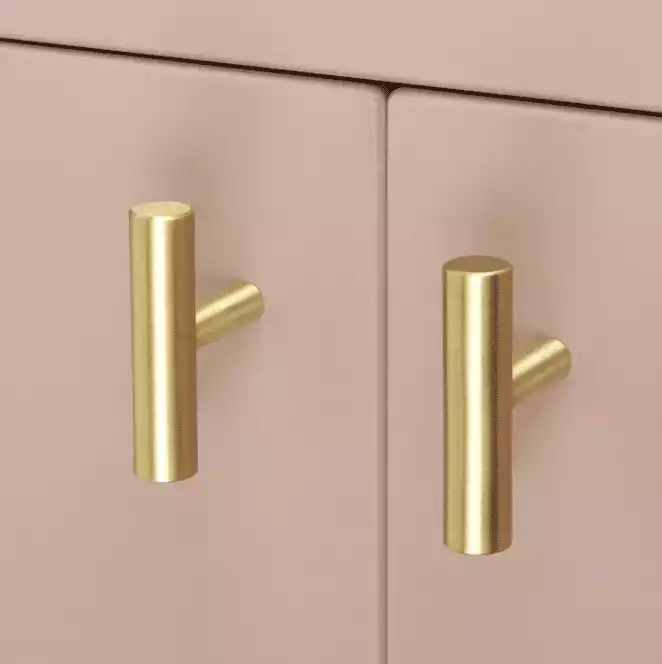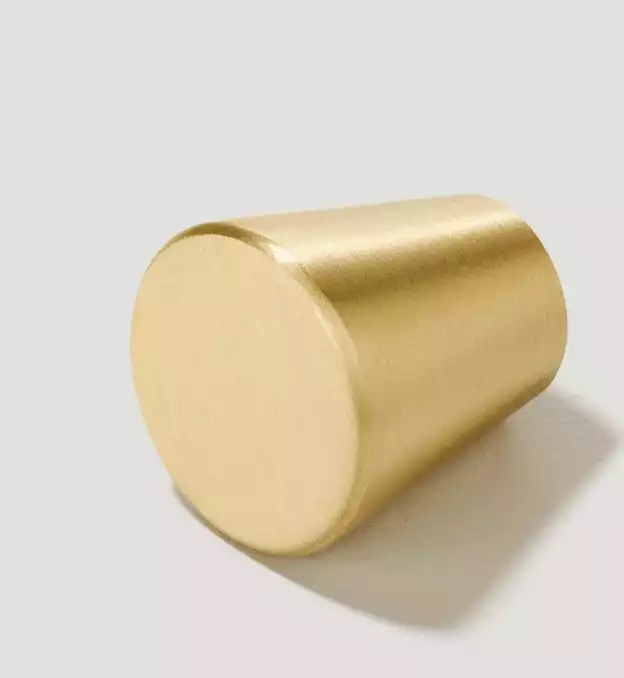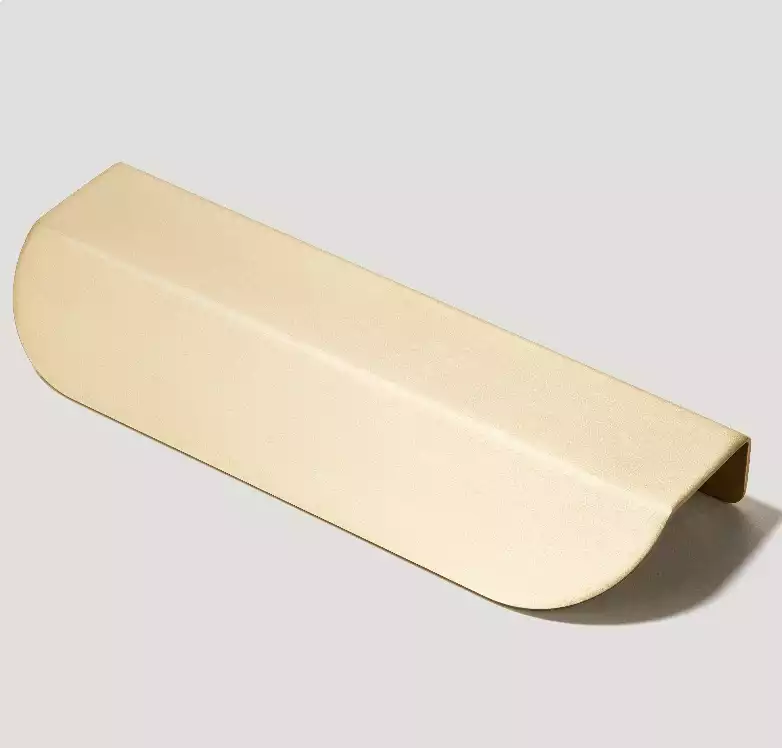 One thing nobody tells you about renovating is you make a thousand little decisions all the time. (What color? size? fabric? pattern?)
Plank does make it easy since everything they offer is incredibly cute and stylish.
But still, I probably spent a whole afternoon browsing Plank's site since I wanted to get it right for our space. We have a brass and gold theme of metal in the cabin, which has been a process since the previous owners went with silver and bronze.
Troubleshooting A Hard Area
But the real challenge was the exact pulls. There's a super narrow area of our kitchen that's only about 24 inches from the cabinet to the island, which isn't that much space to walk through.
So many pulls I looked at online before I found Plank Hardware were just too long and would cannibalize that area. Thankfully, Plank has a few hardware designs that are super snug to the doors, meaning we could keep as much walking space as possible. SCORE!
We did the Fold pulls on the drawers and doors, and then hourglass coat hooks on the back of the water closet door so guests could easily hang up their coats or wet swimsuits with ease.
I just love how everything looks against the pink paint and wood cabinets. Plank's hardware totally pulled the space together.
Our Kitchen Makeover
There's a lot I love about our lil old cabin in the woods, but the kitchen was not one of them. This cabin was built in the 80's and absolutely has not been updated since.
I'll be sharing a whole detailed blog post with all the nitty gritty details of all our kitchen projects once it's totally done (still gotta put in the floors, new oven and sink!) since we have a lot of work cut out for us.
We started by taking down the upper cabinets which were mismatched and just felt clunky in the space. Then added paint, wallpaper and a new fridge but despite all this the kitchen felt off.
We really needed to do something about the cabinet doors. Since they are real wood and original from the 80's, we decided to keep them and restain them.
And that helped SO MUCH! They look totally different in person now but they are a little hard to open since they didn't have pulls and I really wanted to play up the gold/brass theme. So adding Plank Hardware was a no brainer solution here.
Plank Hardware Is Easy To Install
They're so easy to install, too. Plank pulls always come with screws and mounting hardware so all you need to do is drill and screw in.
I tapped Robin to help me and within 30 mins we transformed our cabinets from good to great.
You'll probably need to pre-drill a hole in your doors and then screw the pulls in if you don't already have knobs.
I found the best way to mark where the holes are is to hold up the pulls to the doors and mark through the screw hole with a pencil where you need to drill.
Measure, mark, drill, install. Easy peasy.
Plank Discount Code: Use code WHIMSY15 for 15% off non-sale items (ends July 301th 2023)
Our Kitchen After Plank Hardware
We love our contractor, Tom. He spends a lot of time at the cabin working on projects and the day after I drilled the pulls in, he came over.
He walked in the cabin kitchen and instantly said 'WOW, I love those gold handles on the doors!! They look great guys" (Tom has seen the whole reno process of the cabin so far and low-key feels like our Cabin Dad so I was very happy he approved).
Plank Hardware Review Final Verdict
I'm obsessed (can't you tell?!) As you can imagine, I have a huge never-ending list of cabin projects and I get easily overwhelmed by all the things to do.
This is why I was thrilled to not only discover Plank Hardware as a brand (they have so many cute things that are modern and affordable!) but also just how dang quick and easy it was to get them up in the kitchen.
If you're looking for a simple yet chic solution to sprucing up your doors or walls, try Plank.
I mentally can't handle redecorating our San Francisco apartment dining area right now, but it's long overdue for some love and I'm eyeing some of these Plank knobs for that kitchen doors… because YES they are renter friendly! (as long as you already have knobs to swap them with!)
So, basically, stay tuned because you may see another Plank x Whimsy Kitchen makeover here soon.