So, the forecast calls for a sunny, clear night in the city and you want to find the San Francisco sunset spot to soak in the views? I am here for you!
I've lived in San Francisco for almost a decade now and love catching the sunset dip over the ocean, or Golden Gate Bridge, or San Bruno Mountains or… well, you get the drift. There are some pretty cool sunset spots in the city to visit. Here are my favorites for you to enjoy, too.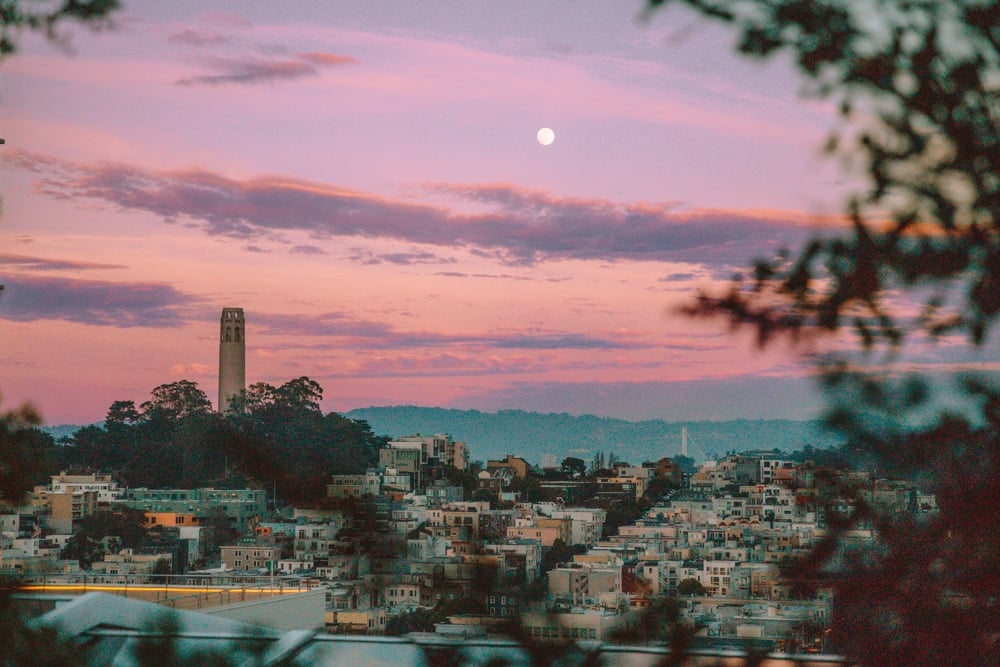 Note: Be Wary Of Karl The Fog
Whether you're a California local or are visiting the Bay Area, it's easy to forget that fog is a major player here that may obscure the sunset. The fog is so famous it's gendered and has a name: Karl The Fog. This cheeky name dates back to the 1980's via the KFOG radio station who made a bit, and then later someone made a Twitter for Karl and it all grew from there.
These days, I like to greet Karl when I see the fog rolling out, but I also curse his name when he ruins my outdoor plans. Many San Francisco sunsets or park days have been foiled by the fog suddenly rolling in. it happens fast! Basically, this is my warning for all visitors that watching the sunset is a fantastic idea BUT keep an eye on the West to see if a fog is rolling in. If it is, skip the sunset plans as you won't be able to see anything but a wall of white.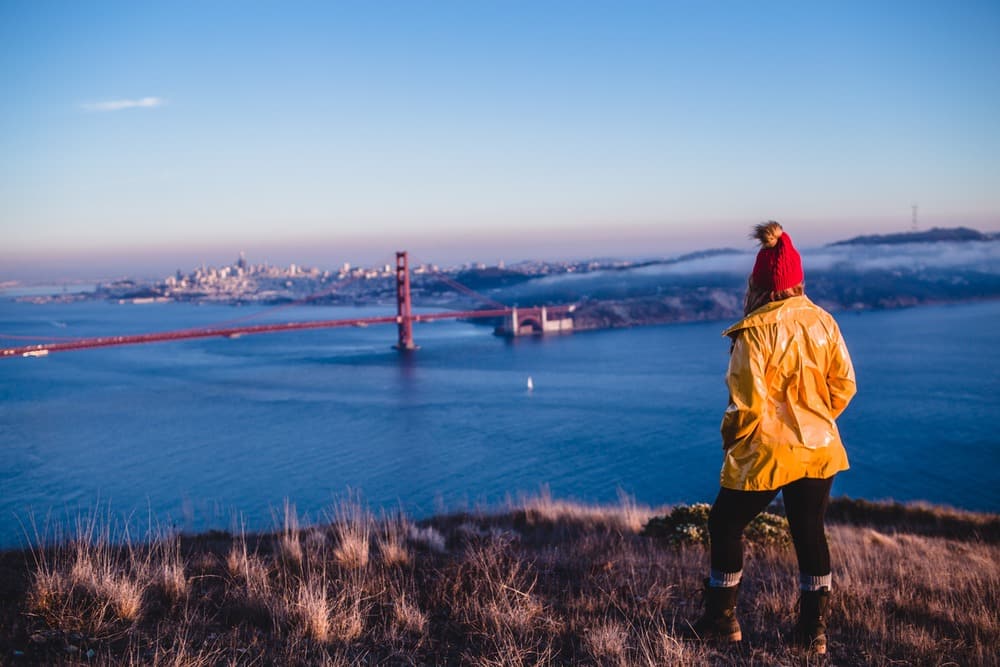 San Francisco Sunset Times
Catching the sunset over the San Francisco Bay will vary based on the time of year. Sunset times are earlier in the winter and later in the summer. Always check Sunrise Sunset times before you make plans.
Also keep in mind that San Francisco is very hilly and depending on what spot you're heading to, the sunset may actually be a little earlier than the official SF sunset time an app will tell you.
San Francisco Guides To Read Next
15 Best Places To Watch The Sunset In San Francisco (According To A Local!)
Now onto my favorite sunset San Francisco spots!!
1. Battery Spencer
I think Battery Spencer is hands-down one of the best sunset spots in Northern California, not just San Francisco. And it's technically not in San Francisco – it's right over the Golden Gate Bridge in the Marin Headlands but that's basically in the city.
This had to go to the top of the list since I myself head here all the time to watch the sunset. It's just stunning. You'll get epic views of the San Francisco skyline, Baker Beach, Crissy Field, Marin Headlands, ocean and Alcatraz. It's a romantic spot for a picnic or a proposal (I've witnessed at least 5 proposals there!) And, it's a beautiful place to catch the sunrise in San Francisco!
The key for Battery Spencer is bringing a jacket and a hair tie as it gets REALLY windy up there. Otherwise, just go on a clear night and do expect crowds. Thankfully, they've added tons of new parking spots over there so it's much easier than it used to be.
How To Get To Battery Spencer: Via car, drive over the bridge heading North and get off at Alexander Ave. Snake through the mountain to Conzelman Road (there will be signs to guide you!) It's a one-way road so if you see a parking spot, grab it.
2. Ocean Beach
The elusive Ocean Beach sunset is coveted but hard to nail down. That's because of the fog, which rolls in off the Pacific Ocean and hits Ocean Beach before heading into the city.
BUT – there are some really wonderful clear (sometimes warm) evenings in the city. Those are the best days to head to the beach to watch sunsets over the Pacific Ocean next to your private beach bonfire. Yup that's right, Ocean Beach has bonfires!!
Just a few days ago Robin and I saw it was forecasted to be in the 70's and clear, so we headed to the beach with firewood and had a bonfire. It was so much fun lounging by the fire and watching the sunset over the ocean waves. I loved seeing the ships sail in and out, and we tried to spot whales but didn't see any.
There's only 16 firepits, so if you don't get one (or not in the mood for a fire) that's ok. This beach is HUGE, you can find any spot on the sand, dunes or wall to soak in the views anywhere along the 3.5 mile shoreline. They're some of best sunset views San Francisco has to offer… on a clear day.
3. Sutro Baths
One of the other best sunset spots San Francisco has is Sutro Baths and Land's End! It's right next door to Ocean Beach but on the other side of the Clif House. Sutro Baths have a super cool history. They used to be actual bathhouses you could bath/swim at, but after various fires over the years, they were abandoned, left in ruins, and adopted by the Golden Gate National Recreation Area.
Today, you can climb all over the old ruins of the Sutro Baths and park yourself on a good spot to watch the sunset. Winter is usually the best time for sunsets here. I always seem to have the most beautiful hazy Sutro sunsets in December – it's actually my tradition to go on December 31st to watch the last sunset of the year from here.
4. Twin Peaks
Ahh, Twin Peaks! A classic place to see the Bay Bridge, Oakland, the tip of the Golden Gate Bridge and the whole city. It can get windy here but unlike the lookout spots closer to the ocean, Twin Peaks is generally where the fog stops or is "trapped". Which means you have better luck getting a clear sunset here!
How To Get To Twin Peaks Sunset Spot: You can get here two ways. Typically you can drive right up to the Twin Peaks parking lot, which is really handy and quick. But, in 2020 the road up to the lot was closed. You can park at the bottom of the hill and walk up the road right now instead.
Visiting San Francisco in June? Come to Twin Peaks to see the famous Pink Triangle art installation they put up on the hill for Pride Month!
5. Ina Coolbrith Park
As you can tell, I'm super biased toward all the sunsets over the ocean. BUT, the best sunset in san Francisco may actually be at Ina Coolbrith park… and that's because it's almost always clear here since it's on the East side of the city.
Ina Coolbrith Park is a very small park between Russian Hill and North Beach that's easy to drive by because it doesn't look like much from the street. But pop behind the tow of trees and BOOM, you'll see an amazing view of the skyline, Transamerica Building and Coit Tower. It faces east, so you'll see all the clouds and pink sky that way.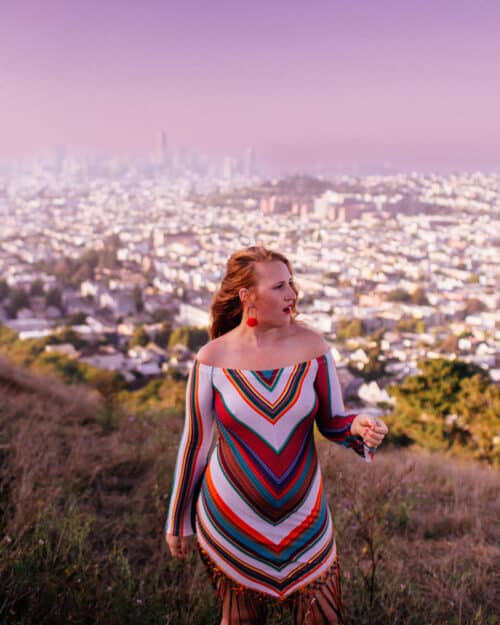 6. Bernal Heights Park
Bernal Heights sunsets are crazy beautiful. This park is basically just a huge hill at the top of the Bernal Heights neighborhood with epic views of the downtown San Francisco skyline, Twin Peaks, South San Francisco and the Bay.
And it's always full of cute dogs! Bring your pup and a picnic blanket to watch the sunset. Since Bernal Heights is well on the other side of Twin Peaks, the sunset will dip over the horizon a little earlier than whatever the official sunset time is.
7. Grand View Park
Looking for the best sunset hikes San Francisco has? We love hiking up to Grand View Park, a hill I lovingly call the "Dr. Seuss Hill" since from further away it kinda looks like something that would be on the cover of a Dr. Seuss book.
Just use Google Maps to direct you to the hill. It'll take you to a road near one of the two staircases. Park there and walk up! There are a lot of stairs to get up to the top but the view is so worth the calf burn. You'll get views of Golden Gate Park including the deYoung Museum, CAl Science building, Strawberry Hill, and further still. You can see the Golden Gate Bridge from the top of here! Along with the skyline, Mount Davidson and the ocean.
There's a bench at the top and plenty of rocks to perch on. It can get windy, so bring a hair tie. If Geocaching is your thing, there is a fun cache hidden up there, too.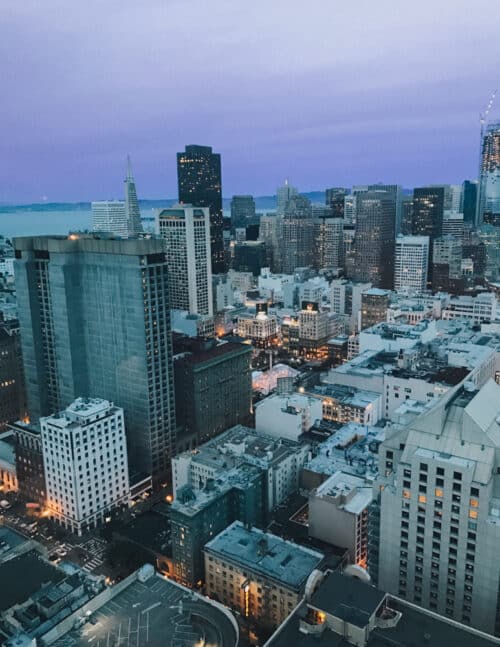 8. Cityscape Bar
Looking for cocktails with a view? Cityscape Bar is the tallest sky bar in San Francisco. One of the best sunset spots in San Francisco to enjoy a cocktail at since it has 360-degree views of the city. It's a bar on top of the Hilton Hotel near Union Square.
It WILL get busy on a Friday or Saturday night so I recommend coming on a weekday instead. And, time it for about 30 minutes before sunset and stay through to twilight to watch all the twinkle lights of the city below.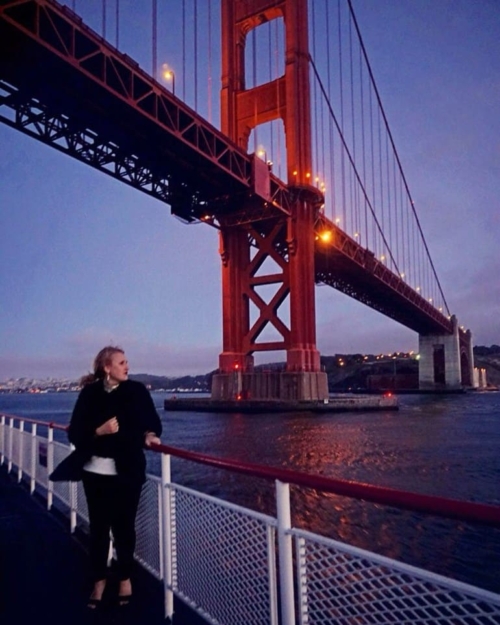 9. Sailboat
If it's a clear night, sailing around the San Francisco Bay on a sunset cruise is such a special experience! There's a few different options for this. I've done both a catamaran and a large fleet with a rooftop. Both took us around the bay, past Angel Island, Alcatraz, and time the cruise to go under the bridge right as the sun dipped over the horizon.
Oh, and on one of the cruises, we even saw whales!! It may feel like a touristy thing but it's actually going to be the highlight of your trip.
For these cruises, even if it's a lovely day outside, the temperature will always be colder on the water and always windy. Pack a good jacket or sweater for your sail!
10. Baker Beach and/or Marshall's Beach
Both these beaches may tie for the best place to watch sunsets over Golden Gate Bridge. These beaches are basically one beach, but are separated by some rocks. They're on the North Side of the city and face the Marin Headlands. You can spot Point Bonita Lighthouse from here!
And, of course, to the right, you'll get a great view of the Golden Gate Bridge in full. Baker Beach has a large parking lot and requires no hike, so it's an easy spot to picnic or visit. Marshall's Beach on the other hand is accessed by a 1 mile round trip hike down the bluff to the beach. It's my personal favorite hidden gem in the city.
Because Marshall's is hard to access, it's usually pretty empty. This is also where photographers tend to capture that classic beach in the front of the Golden Gate Bridge photograph. As with any place in SF, don't come if it's foggy since you literally won't be able to see the bridge (see photos above).
11. Crissy Field
If you're staying in the Fisherman's Wharf, the Marina is an easy walk away and you'll get to experience the city like a local. (Please, get out of Fisherman's Wharf and see non-touristy things!!) Walk past Fort Mason down to the Marina, past the sailboats and Wave Organ. You'll end up at Crissy Field Beach.
From here you can camp out on the beach wall or sand to soak in the views. The Palace Of Fine Arts is nearby and usually really empty (and thus more enjoyable) in the evenings. It's free to visit, always. Or, if you're up for more walking, keep strolling down Crissy Field toward Fort Point.
This is an old battery building at the base of the Golden Gate Bridge!! You can get really cool sunsets here. And, the secret rooftop may be open. If it is, you can walk to the top of Fort Point and stand literally under the Golden Gate Bridge!!!
12. Hawk Hill
Ok, bringing you back over to the Main Headlands real quick. I love Battery Spencer, I'm its biggest fan girl BUT it can get crowded. Or, maybe just want a different view?
An alternative to Battery Spencer is Hawk Hill which is further up so the bridge and skyline are a little smaller, but you're closer to the ocean and lighthouse. And you'll probably run into like, 2 other people so it's a super private way to experience a sunset in San Francisco. This is how to find my favorite sunset spot on Hawk Hill.
13. Billy Goat Hill Park
Billy Goat Hill Park is in between Noe Valley and Diamond Heights. It's another cute, small hill park with lots of steps, trees and of course, a great view of Downtown San Francisco. It sometimes has a swing, though if you know anything about San Francisco you know the rope swings are always getting cut down.
To get here, drive up and park on Beacon Street. From here you can just walk down a few steps to the bench overlook and soak up those sweet, sweet city sunset views.
14. Kirby Cove
On the topic of rope swings, probably the most famous, and hard-to-visit, rope swing is the swing at Kirby Cove. It's hard to visit since it always get cuts down like, a week after being put up so you have to act fast if you get wind on Instagram if someone installed it again. It's a constant war with the rangers, I think.
Even if you aren't coming for the swing, Kirby Cove is a fun spot for a sunset overlooking San Francisco from Marin, but lower down the hill from Battery Spencer. You can hike down and watch the sunset and hike up, but if you can manage it, there's a neat Kirby Cove campground.
Last year Robin and I spent a night camping here. We drank beers on the beach while watching the sunset over the city and the lights slowly twinkle on. And, we got to see the sunrise behind the Golden Gate Bridge in the morning. I can't wait to go camping here again soon.
15. Fort Funston
Fort Funston is one of the best sunsets in San Francisco that is guaranteed to only have locals. And like, a LOT of dogs to pet. Fort Funston is on the South West side of the city. It's a bluff park with trails that weave around two old battery buildings and eventually leads to a beach.
It's mega dog friendly so everyone brings their dog here (which as a dog lover I enjoy since I always get a few good pets in somewhere along the trail). The parking lot is huge so it's always easy to park and walk to find a sunset spot.
16. Fairmont Hotel San Francisco
I think the Fairmont has probably the best city views a hotel room in San Francisco can offer. I mean, when we did a staycation there last year we could see the Golden Gate Bridge, Alcatraz and Coit Tower all from our hotel room window!
We love the Fairmont San Francisco. It's super historical, insanely beautiful and in the basement, you'll find the famous Tonga Room (a tiki bar with a pool in the middle of the room!!) If you're visiting, book a stay at the Fairmont in one of their Tower Rooms facing the Coit Tower. Read my full Fairmont San Francisco feature to learn more.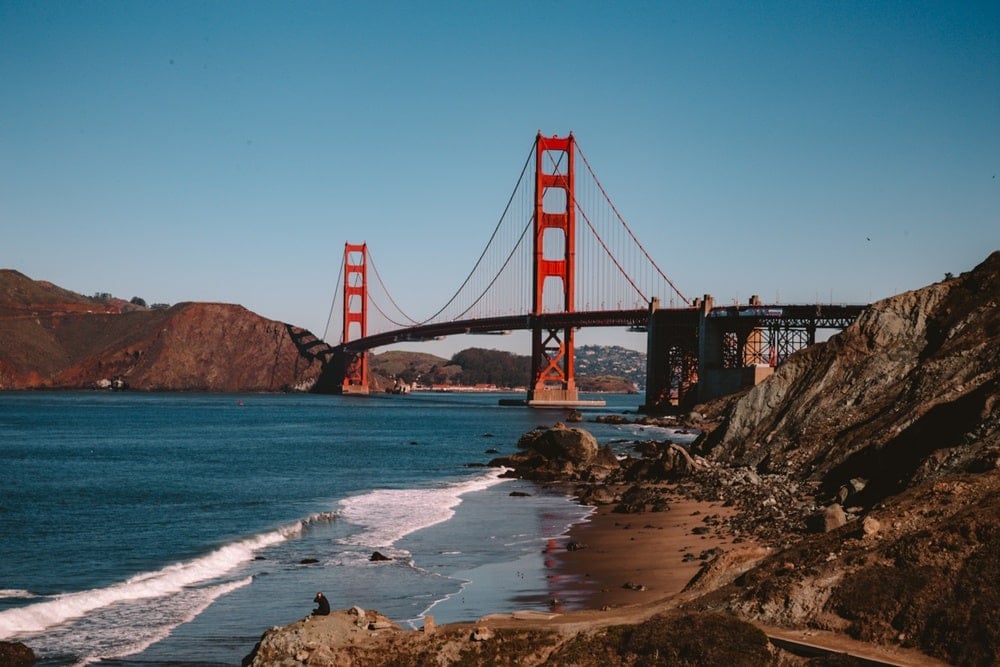 I hope this helps you figure out where to watch the sunset in San Francisco! Let me know if you have more cool spots to add to the list via the comments below so everyone can see.
And again, whether you are a tourist or local I hope hunting down sunset spots in San Francisco helps you fall in love with the city even more than you already do. She's a beaut.
Looking for more North America travel guides? Try These!