Itching to try customized vitamin supplements? I tried both Ritual vitamins and Care/of, put them head to head and bringing you a winner. Don't buy one of these vitamin subscriptions before reading this post.
Ritual vs Care/of Vitamins: I Tried Both. This Is The Winner
Before testing out Ritual and Care/of for my Saw It On Social review series, I was taking over the counter daily multivitamins. ( Prenatal vitamins actually – they have the highest percentage of iron for this anemic gal heyyyyo!)
Both brands are similar in their concepts. You order a one month supply of vitamin packs and they are shipped to you on an automated basis so you never have to worry about buying them again. But that's kind of where their similarities stop.
Each Ritual and Care/Of has different offerings, packaging and price points for their 30 day supply. I break down each brand in detail in separate posts: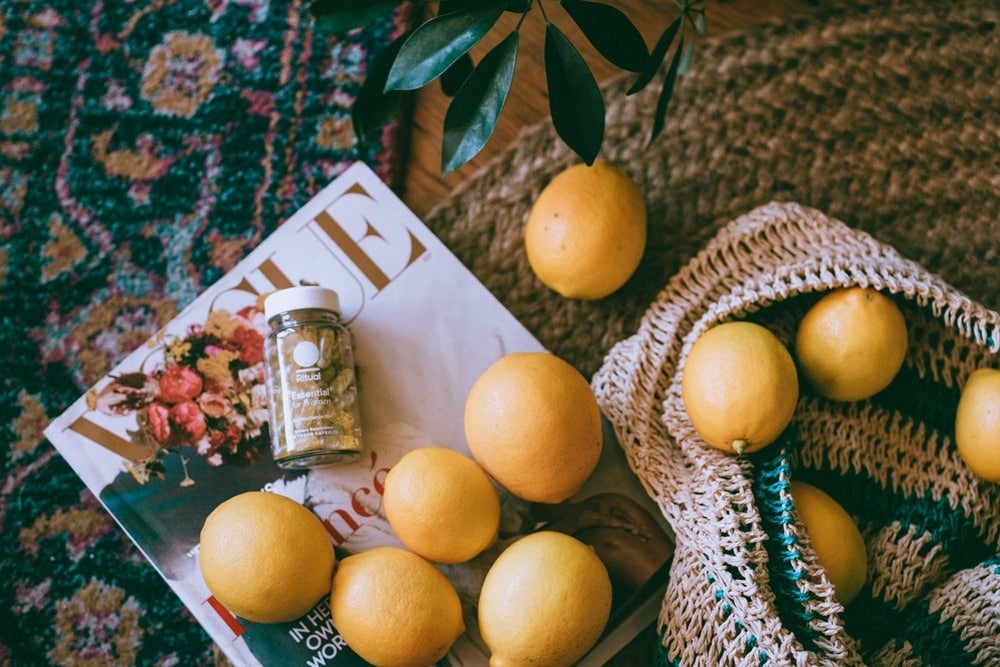 Here's the pros and cons of each of them broken down for any of ya not looking to read a lot right now:
Ritual Essential Vitamins Pros & Cons
Minty taste
Can be taken without food
They look pretty
Vegan
Allergen-free
Transparent sourcing
Lots of discount codes floating around the internet
Not tailored to you
$1 per day (vs 5 cents with drugstore daily vitamins)
Ships slow
Care/of Vitamins Pros & Cons
Tailored to your health needs
Offers minerals, letter vitamins AND herbal ingredients in capsules
Additional products like collagen, energy sticks, etc
Packs are compostable
Easy to travel with
May not get matched with a multivitamin
$.8-$1 per day (vs 5 cents with drugstore daily vitamins)

Ritual vs Care/of: Which Is The Best?
Taking vitamins is a super personal experience. I have some friends who love their Ritual capsules but in my opinion, after carefully comparing the two, I like Care/of better. I loved their quiz which was very detailed (they even asked where i live to use data average sunshine to see if I'm low on Vitamin D!)
I like their additional product offerings, too. Those electrolytes sticks DANG, they are a godsend on mornings when I'm hungover. It's awesome that I can easily add an order of those into my monthly packs.
But my favorite aspect of Care/Of of their Eastern herbal medicines. You can get a pack of supplements with ashwagandha, Shatavari, or milk thistle. These adaptogenic herbs have been used for thousands of years and can be pricey if you buy them separately on their own. (I take this ashwagandha daily and it's $22 per jar.) I think Care/of is absolutely worth if you order at least a couple of these herbal capsules in your pack.
Don't get me wrong, Ritual is great, too. It looks sexy on my bathroom counter and I love the minty taste. But I think Ritual best for people on a vegan diet since the letter vitamins (like Vitamin b12) in their formula are tailored to vegans. Plus their capsules are vegan, non-GMO etc. Otherwise, it's just a very expensive multi-vitamin. If you don't have diet restrictions, try Care/Of or a normal drugstore vitamin.
So, that's my hot take on which is the better designer vitamin! Of course, I'm just one person. If you're a die-hard Rituals fan, I'd love to hear from you below in the comments so everyone can see!
Got questions? Drop a comment or DM me on Instagram and I'll be happy to help.