Ritual vitamins: the sexy looking vitamins brand that you've probably been seeing on your Instagram feed all the time this year.
Maybe I just follow too many Los Angeles based influencers, but I finally got curious about if these trendy multivitamins really are better than the generic brand sitting in my bathroom cupboard, so I tried them out for the next segment of my "Saw It On Social Series" where I give honest unsponsored reviews on all those social-media famous brands & products.
In this post, I'll be sharing what I love and don't love about Ritual vitamins after 30 days of use, along with a verdict on if it's worth the price tag.
Ritual Vitamins Review: I Tried Ritual So You Don't Have To (2023 Update)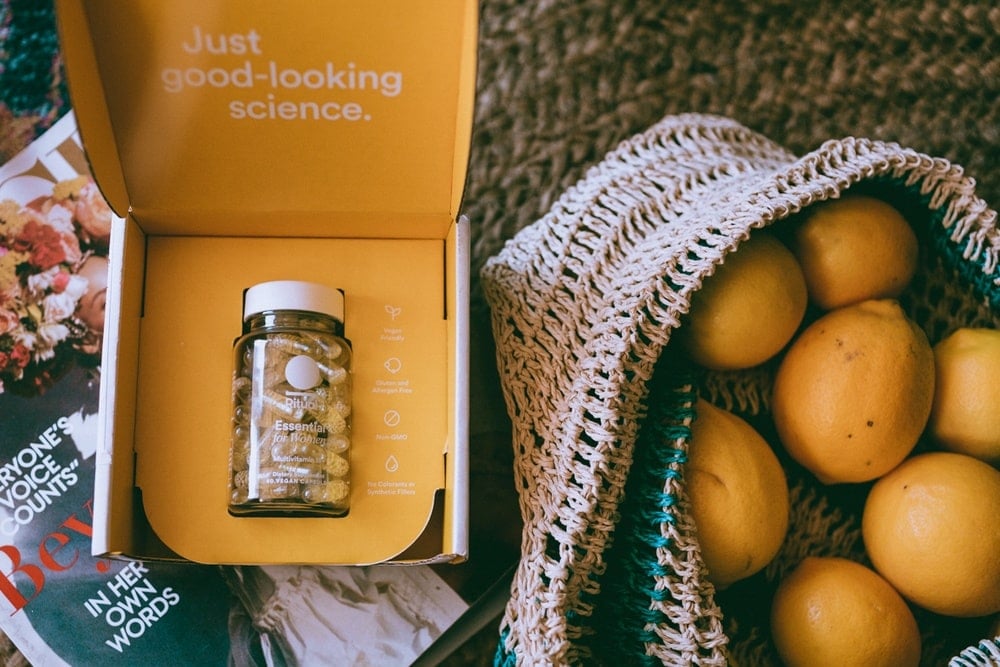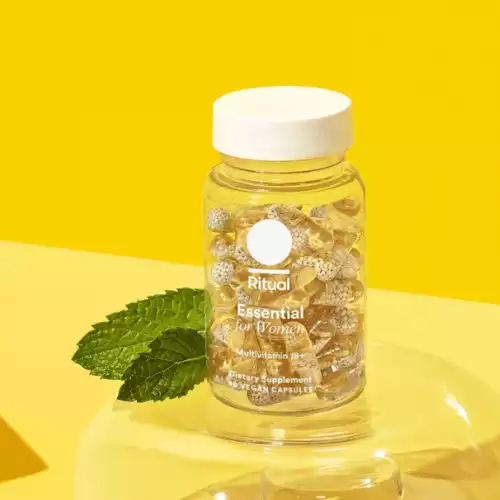 Ritual Essential for Women 18+
Ritual's womens vitamins are pretty, taste nice and are "clinical-backed multivitamin for women 18-49 formulated to help fill nutrient gaps in their diet" but honestly, they are pricey and you can get the same AND more minerals & letter vitamins with a generic multivitamin.
Pros:
looks pretty

easy on stomach

good aftertaste

transparent sourcing

vegan

non-GMO
Cons:
pricey

not as many minerals as a generic multivitamin
Buy Now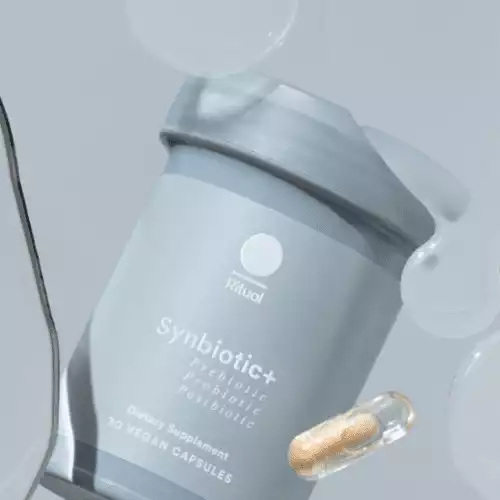 Synbiotic+
These are delayed-release capsule designed to help reach the colon (not the stomach) and have 11b CFUs. They get 4 stars since they are more expensive compared to SEED with fewer CFUs but they are a really solid probiotic option.
Pros:
11 billion CFUs

high quality strains

minty tasty

can be taken without food
Cons:
pricey compared to similar probitoics
Buy Now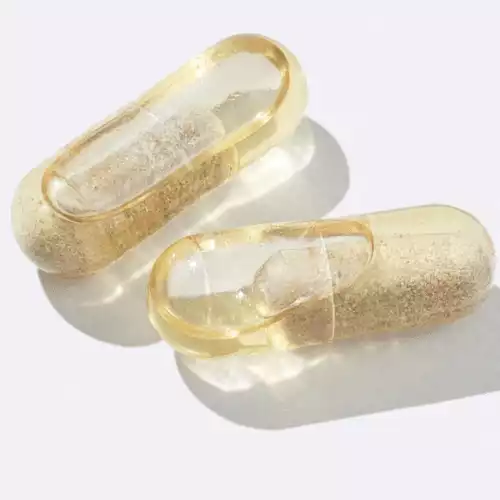 Ritual Essential Prenatal
Look - I get it. When you're trying to get pregnant you want to make sure you have the best food and vitamins to help your goals. Rituals prenatal vitamins are designed to help you and are top shelf quality. But, they don't come with as many vitamins as cheaper products do (12 vs 18-24) and you'll still have to take vitamins for things like iron.
Pros:
vegan

vetted ingredients

supports pregnancy goals

good taste

easy on the tummy
Cons:
fewer vitamins compared to other prenatal multivitamins
Buy Now
What's In Ritual Vitamins? What Makes Them Special?
Ritual is a subscription service that ships vitamins across the United States. I ordered the Ritual Essential for Women 18+. It's $30 a jar, which contains enough capsules for 30 days of use. I've been taking Ritual for almost a month now to thoroughly write this post.
I swapped out daily generic vitamins from Target to try Rituals. I actually take prenatal vitamins, even though I'm not trying to get pregnant (bless up IUD).
I take these because they are the most affordable vitamin out there that also has iron, something I'm always low on without supplement support. (Womem multivitamin bottles seem to be priced lower if they are pregnancy ones but they have literally the same table letters??)
Rituals do have iron (woohoo!) and 9 total ingredients that the company deems to be essential women ages 18-49 to take for bone health, brain health, blood-building and antioxidant support. They pride themselves on having traceable ingredients. They are:
Folate
Omega-3 DHA
Vitamin B12
Vitamin D
Iron
Vitamin K2
Boron
Vitamin E
Magnesium
There are other Ritual products but I am highlighting their Women's Vitamins here. To skip right to the chase: I personally probably won't be purchasing Ritual supplements again and honestly, you probably will be just fine with regular generic vitamins from your drugstore that's a fraction of the price.
UNLESS you fall into a few certain categories. I think Rituals is really great for a few groups of people, and perhaps you are one of those people (in which case, you'll love this vitamin brand.)
But before we go into why I don't think the Ritual supplement company is the best for me, I'll quickly chat pros and cons of Ritual Vitamins, starting with the stuff I do like.
What I Like About Ritual Vitamins
They Taste Minty Fresh (Easy for Swallowing)
I was so surprised the first time I took Rituals to experience a minty taste that lasts for a few minutes. Now I try to remember to take my Rituals last after all my other morning things (Ashwagandha, allergy meds, etc).
If you have a hard time swallowing pills in general, this minty taste actually makes it really easy to go down. I think that's probably one of their biggest accomplishments with Rituals is making a product for people who have a hard time taking pills.
I've never had issues with swallowing so it just a nice little extra perk for me in the mornings. Many people say they love Ritual for this exact thing.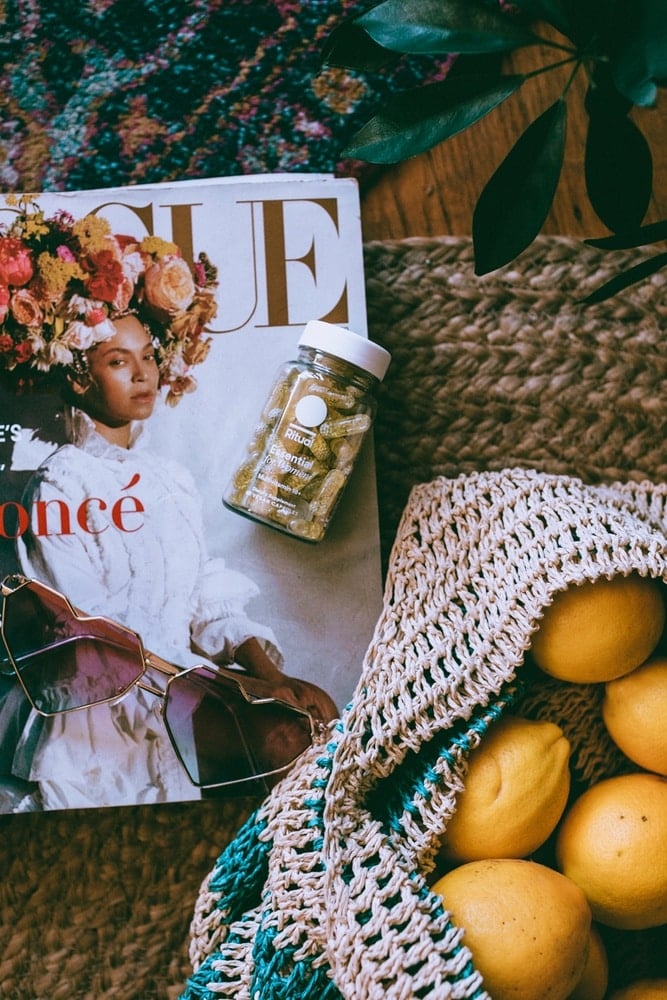 Totally Vegan
Secondly, Ritual is totally vegan (capsules included) and they are fairly transparent on their ingredient sourcing policy. Just click on any of the ingredients and they'll tell you more info, or you can head to their map view to see where in the world things come from.
It's pretty cool. For instance, their Vitamin D is a vegan-certified form from sustainably harvested lichen in the UK.
And beyond having vegan-certified capsules and ingredients, Ritual offers nutrients that are specially targeted for people on a vegan diet after research. For example: vegans tend to be low in Vitamin B12, so the woman's multivitamin has B12 in it.
They're also third party tested to ensure quality and vegan standards and are approved by the United States Pharmacopeia (USP) which is a medically reviewed biologics, pharmaceutical manufacturing company. This ensures they are also free of major allergens and are items that pass the right tests for consumption.
Good On An Empty Stomach
In the customer reviews section of Ritual's website, I noticed a lot of people mentioning that they can take their Ritual vitamins on an empty stomach and not get a stomach ache.
Which sounds too good to be true, so I had to try it one morning and yes, I'm here to confirm: no tummy ache.
This usually isn't a problem for me as I take multiple supplements and pills each morning, some that have to be taken with food so I'm never in a situation where I'm trying to take a vitamin on an empty stomach. But, if you are, this is a great bonus feature.
It's A Cute Bottle
It's a great design and matches home decor well. It doesn't look like a normal vitamin. It looks amazing on my bathroom shelf.
Things I Don't Like About Ritual Vitamins
And now, onto the cons of Ritual vitamins.
They're Expensive
$30 a month for vitamins is really, really expensive compared to what you can find at a drugstore. I buy the Target Up & Up vitamins, which are $10 for a jar of 200 pills. You only take one per day, so that's 200 days of vitamins breaking down to just 5 cents a day.
Ritual on the other hand is $30 for 60 capsules, but you take two a day, so that's only a month, breaking down to $1 a day. That's $360+ a year vs about $18 a year. Yikes.
Pro tip: add your first month of vitamins into your cart and then abandon it. Ritual will probably email you in a couple of weeks with a 50% off discount code so you can try them out at a more reasonable price to decide if they are for you or not.

Ritual Generates More Waste
YES – Ritual does use recycled materials for their bottles and plant fibers for packaging, which is awesome. But since a bottle only lasts a month and you get this on a subscription, you are generating 12x the amount of packaging waste compared to a bottle of vitamins that you can pick up every 200 days on your normal Target run.
Also, they ship these (you can't buy them in-store.) So on top of all that packaging waste, there's the carbon footprint of shipping pills to you each month to consider.
They're not totally free of negative environmental impacts as their site will lead you to believe.
Slow Shipping
On the note of shipping, my first order took almost 3 weeks to arrive. Perhaps it was a one-off me problem, but I was disappointed they took so long. Especially since these vitamins are on a subscription and I almost had my order renew before I even got a chance to try them.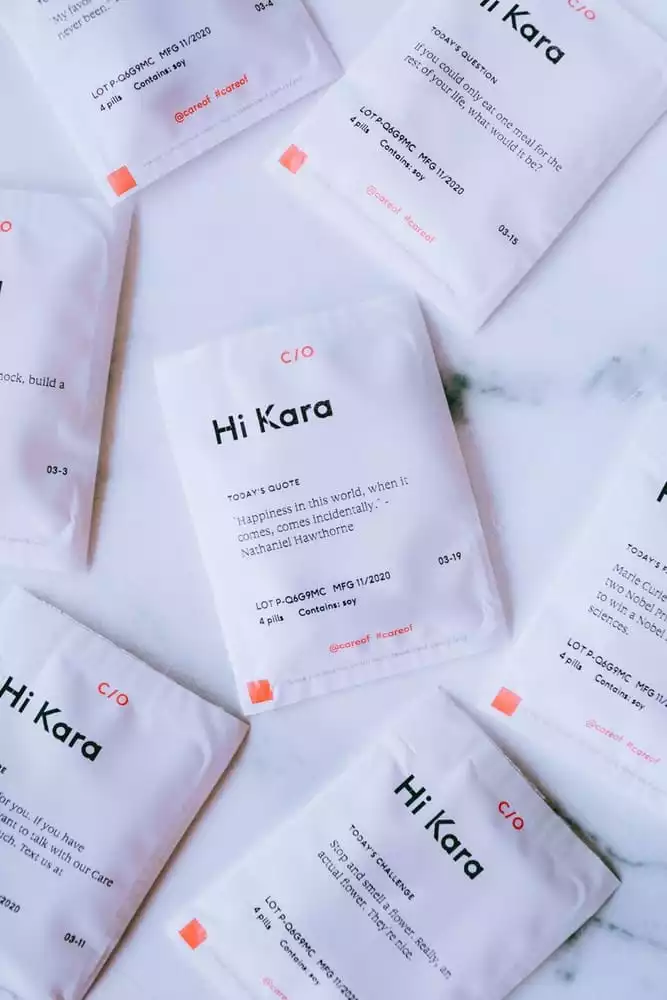 Care/of Vitamins
What I like about Care/of is it requires you to take a pretty lengthy quiz to get to know you, your body, your daily habits and even where you live to help determine if you may be low on a certain nutrient due to your climate. Everyone is unique and your vitamin/supplements should be too!
Shop Now
Our Review
Not Personalized
Ritual vitamins are generic and not personalized to what your body needs specifically. I mention that they aren't personalized because I'm also reviewing Care/Of vitamins and that brand is extremely tailored to what your body needs.
The pack I get from Care/Of is totally different than what you would get if you ordered, but it's the same if we both ordered from Ritual.
Ritual Essential Prenatal, a kids vitamin and Essential Womans + Essential Men's and also one for people over 50 years, but they don't currently offer tailor-made to you services. Just general formulas made by healthcare professionals.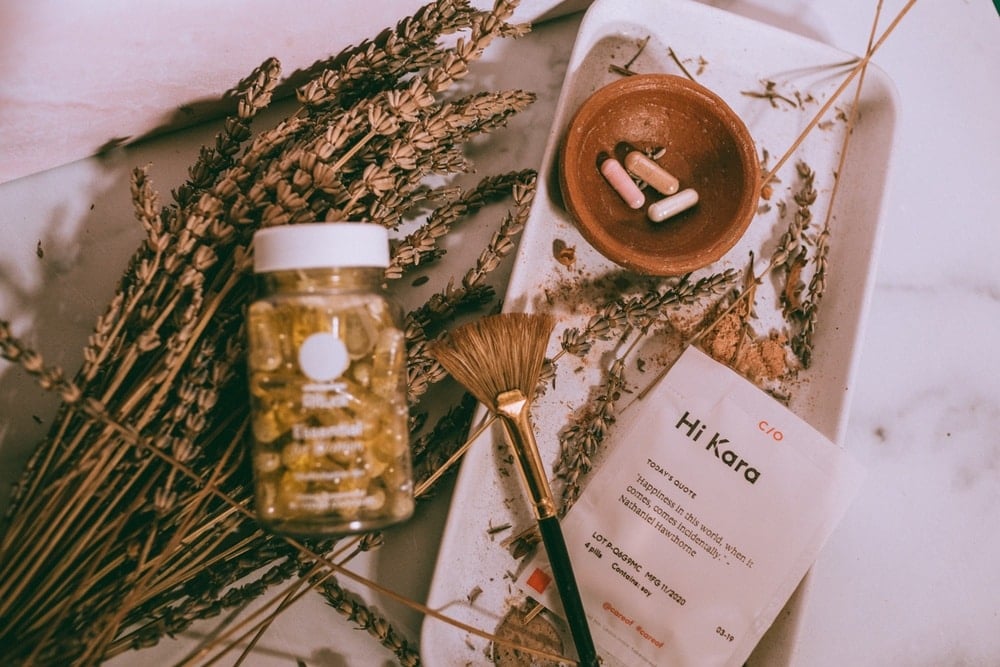 Most People Don't Need To Take A Multivitamin
Yup, you heard me. I asked my doctor friend to give me her professional opinion on if people even need vitamins to begin with and the answer? No.
Most humans get all the nutrients they need from their food, so as long as you aren't eating processed 90's style Lunchables all 3 meals a day, you're probably getting what you need already.
Of course, there are exceptions. I'm anemic (naturally low on iron) and I don't always get enough from my diet so I take it daily to help my body out. If you're on a vegan diet or other special needs diets, you may be low on something that a supplement like Ritual actually can help you with.
Rituals and other companies like to lock onto a table or letter vitamin – like B12 which does support blood cell formation and regulation for example – and make it seems like without their vitamin your body can't make healthy blood.
Or, I've seen reddit posts about Ritual vitamins hair loss threads and how readers have seen messaging around how the pills can help prevent hair loss, but in reality, any multivitamin with biotin can help with that.
In short: the vitamin industry as a whole is a bit of a scam. Which is one that I totally fall for, too. I still take a daily multivitamin (hey, if I'm taking one for iron might as well sneak some extra stuff like magnesium in there, right?)
But opt for the 5 cents a day scam instead of a $1 day one. The jar is less pretty but I save a ton of money.
The ONLY time this isn't true is for folks with special diets (like Vegans) or people like me who are low on Iron. Iron supports red blood cells and it's important to take iron pills if your body can't absorb it well enough from your food.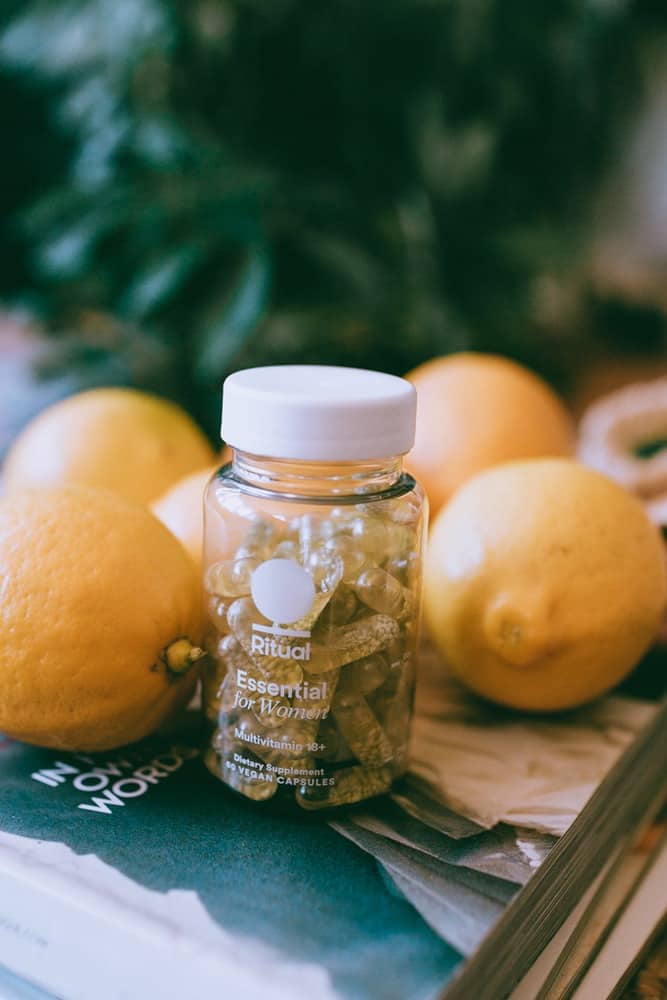 So, do Ritual vitamins really live up to the hype? Are they worth the price tag?
So, are ritual vitamins worth it?
As I mentioned at the start of this post, they aren't worth $1 a day for me just to have a pretty jar sitting next to my toothpaste.
I'm not vegan (I grew up in Wisconsin, don't make me give up my cheese) and I've never had issues swallowing pills. Those are the two value propositions I think Ritual vitamins does best.
But, if you are vegan or a serious vegetarian, taking Ritual daily could actually be really beneficial for you. of course, check with your doctor since I'm a blogger, I majored in Art not medicine, but my verdict is: buy it if you don't eat animal products.
It's sort of a godsend for vegans, as it really is hard to track down exactly what's truly vegan out there and Rituals does a good job of being transparent.
Buy It
You are Vegan
You have hard time swallowing pills
You frequently find yourself taking pills on an empty stomach
You are low on iron and want it in a multivitamin
You have the budget
Skip It
You eat animal products (meat, dairy)
You can swallow pills fine
You take other pills that require food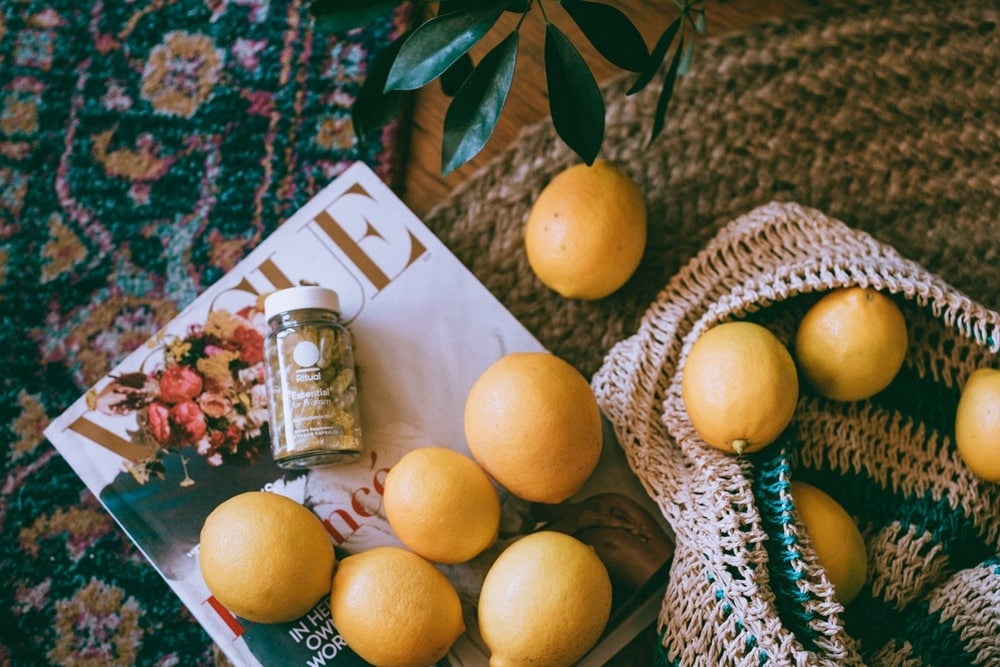 The only last thing to cover is support. I haven't had a reason to deal with Ritual Vitamins Customer Service team so I can't comment on if they are fast or slow.
If you're reading this and have had an encounter, I would love if you could write a quick note in the comment section of this post so we can learn what your experience was like!
Alrighty that's it. I hope my vitamins review is helpful for you. I always try to come into these Saw It On Social review features with an open mind and really ask myself: do my readers actually need this, or does it just look cool on Instagram?
And to recap, unless you are vegan or really have a hard time swallowing pills, Rituals are just too overpriced per dosage to make sense for the average reader. They do look really really nice on my bathroom shelf though…
Don't agree with my Ritual multivitamin review? I'd love to hear from you! Drop a comment below so everyone can see. Got questions? Comment or DM me on Instagram @thewhimsysoul and I'll be happy to try and help.
They also have a men multivitamin and teens multivitamin that I have not tried. I do give the Ritual Probiotic Reviews 4 stars but they are a little pricey and have less CFUs compared to Seed.
The company offers now also a new protein powders for daily shakes that I guess has all the essential proteins and fatty acids you need, so if you have tried that, I would love to hear it.